Here's some of the things I use to make hitchhiking in all seasons and weather conditions possible. Many of them are the replacements of what other people have in their home, because I currently don't have a home or even an address. If you're convinced you or someone else needs one of these products, please use the links provided as it's a simple way to support my travels. There's no extra charges for you. How affiliate programs work is explained here.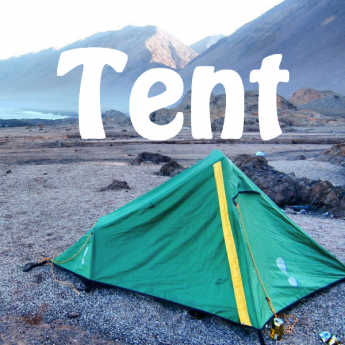 Eureka! Spitfire 1-Person Lightweight 3-Season Tent
Many people like to know what kind of tent I have. Finding a good backpacking tent that fulfills all your needs can be a hassle, but since I've loved and lost many tents, I know exactly what works best! The Eureka! Spitfire is a double layer tent with a water column of 5000 millimeters (very water resistant!). The ventilation is good in all kinds of weather and there's never any condensation inside. The weight is 1,75 kilograms with everything included and it fits inside my backpack. I like the green version as it's very stealthy; no one has discovered me yet when freecamping! In places where it's warm and dry at night, I take the outer layer off so I can see the night-sky. I bought it in a shop in Holland for €90 (great discount) as it was both the last one in stock and used as a showmodel.
Sturdy Backpack Deuter Aircontact Lite 65 Liters
How do I hold my shit together on the road? Backpacks. I'm currently at my sixth backpack since 2011 and it's the first one that costs more than €22. This one doesn't need constant mending though, because it just doesn't want to fall apart unlike the others. This backpack by the German company Deuter was given to me by someone who doesn't need a big backpack anymore, so I didn't actually have to spend €200 to get going. I always advise people to ask around if someone they know has free travel stuff. I use the bottom compartment for all my camping gear and the other pockets for food, water, books, winter/summer clothes, laptop, flipflops and toothbrush stuff. 65 liters is big, but when you carry with you all your stuff and don't fly, it's exactly what's needed.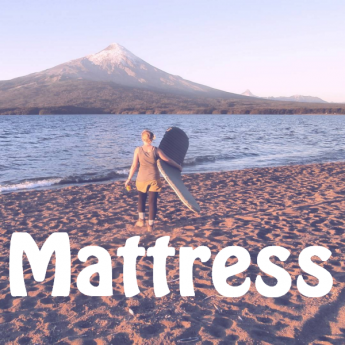 Therm-a-Rest NeoAir Xtherm All-Weather Mattress
This camping mattress is currently the best of its kind. I've used other mattresses, like the "yoga mat" insulation mattresses, but I never saw the point in carrying something around that is 100% more bulky and doesn't provide much more comfort. This mattress is an investment to make, but it's not one I regret. Even on frozen ground I've been warm and comfy, with the only limiting factor being the choice of sleeping bag. I really, really like saving money, but saving on how much rest my back gets was never a sacrifice I'd like to make. I don't own a 'real' bed anymore, but this one comes damn close!
Some Proper Hiking Boots for
All Seasons
Me and hiking boots have a strange history: I used my childhood hiking boots on my first hitchhiking trips (I was 21, my feet stopped growing at age 11). Then my mom got me some proper hiking boots for Christmas: the Lowa Baltoro Women's hiking boots (linked here!). I walked on those for two years straight when I quit my studies. They weren't cheap, but they were the best. Now I have relatively cheap hiking boots from a Dutch brand called "Human Nature" (pictured), a brand you can't find abroad. They're quite leaky after another two years of walking on them. I'd go back to my old German Lowa's in a heartbeat if I had the cash. Your feet need good shoes when you do what I do, so find a proper fit. Bad boots can properly ruin an otherwise fantastic trip!
Did you enjoy this? Tell me about the gear you're using to travel around! Go to Books I Love for reading inspiration and Films I Love to find an inspiring travel movie.