We stayed in Cholpon-Ata in late May, 2021. Watch the vlog to see me do some urban exploring at the abandoned airport of this town with fantastic vistas of Issyk-Kul Lake. This post contains additional information regarding the questions I had while walking around the abandoned terminal.
Cholpon-Ata Airport's History
(Post-)Soviet Airport: Glory Times, Abandonment, Replacement
(As any good article starts:)
According to Wikipedia, Cholpon-Ata Airport was built somewhere in the 1930s. But it was even less glamorous then than how it was during my visit because it was merely a landing strip. The terminal building and other auxiliary buildings were built in the 1970s, probably during the Soviet groovy times of spa tourism to Issyk-Kul Lake. But all good things must come to an end, so the airport closed in 2003.
During my drive from Bishkek to Cholpon-Ata, we also passed something that looked like a military base or something. Turns out, that was the newly-built Tamchy Airport, aka Issyk-Kul International Airport. I paid more attention to it when we returned to Bishkek and this new runway appears to be just *chef's kiss* perfect. They even hired 20 people who used to work at Cholpon-Ata Airport.
Neither of them had/have lights so you can land a plane at night. The main improvement between the two airports is that Tamchy runs parallel to the lakeshore of Issyk-Kul, whereas Cholpon-Ata goes up diagonally starting close to the lake and going up into the hills. The runway length is about 1680 meters and it goes up either 79 or 92 meters. That's a gradient of 4.7% or 5.5%. Not exactly Courchevel Altiport's 18.6%, but not flat either. I'm assuming that the take-off direction was downhill and the landing direction uphill.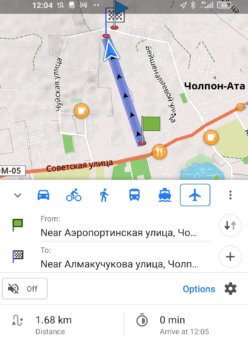 Where could you fly to from Cholpon-Ata in the olden days? Well, I have no idea. To Bishkek, certainly. But perhaps also to Almaty in Kazakhstan and Tashkent in Uzbekistan too. And maybe, if we're being generous, Novosibirsk and similar cities in Russia and Ürümqi in China. It had never received a romanized IATA code but Russia gave it the three-letter ЧЛА code. Nice of them.
According to this article from 2015, it's still possible to land a helicopter at Cholpon-Ata Airport. I mean, why not? You can surely find a decent patch of asphalt to land a heli. Most abandoned airports I visited such as the old Mandalay Airport in Myanmar and the dusty and crusty Mosteiros Airstrip in Cabo Verde would be able to handle that.
Demystifying the Arcane Symbols
The (largely) broken glass windows contain images of a man riding a horse, doing archery with his hunting buddy the eagle.
The other few intact glass stencils have the image of a bird of prey, presumably also an eagle. It looked a lot like an airline logo to me, so I again paid a visit to Wikipedia. The 'list of defunct airlines of Kyrgyzstan' page had shockingly many entries for such a small country. But yes, I eventually found a picture of a plane with the same logo on its tail.
It's from Kyrgyzstan Airlines (1992-2005). It bothers me that this page says this airline only flew on Bishkek, Kerben, Kazarman, and Osh. No mention of Cholpon-Ata. This is going to keep me up at night.

By Konstantin von Wedelstaedt – http://www.airliners.net/photo/Kyrgyzstan-Airlines/Tupolev-Tu-154M/0398905/L/, GFDL 1.2, Link
Thanks for reading!
I might add more details and photos to this story later. If you know more about the history of this airport, please comment below!