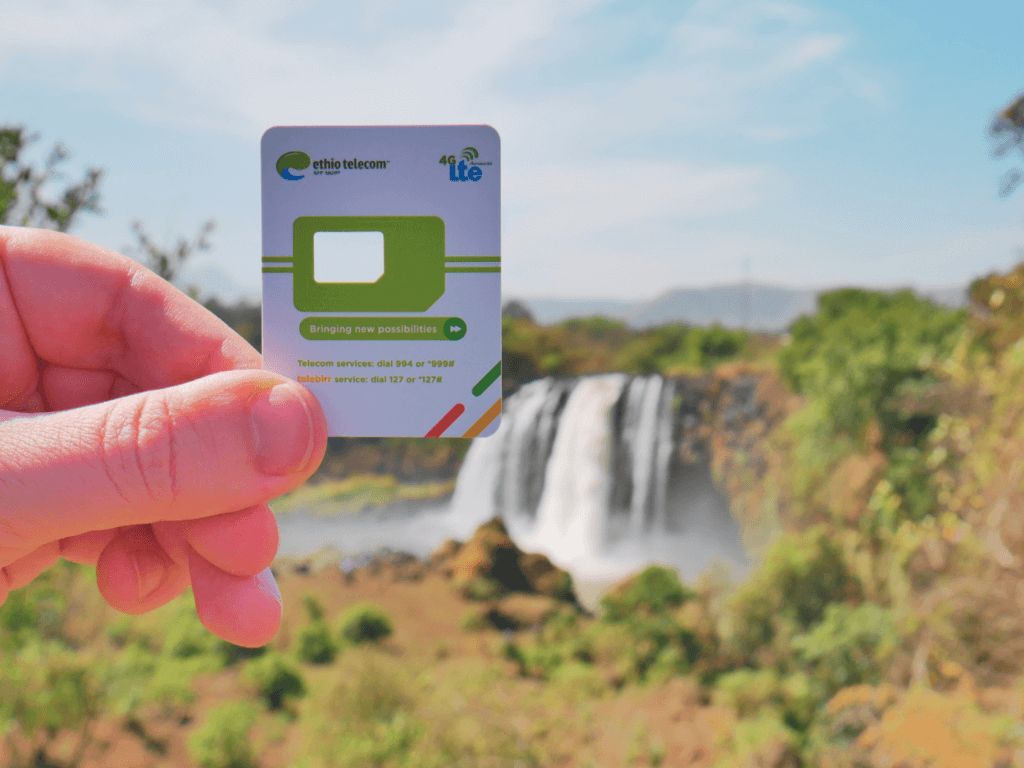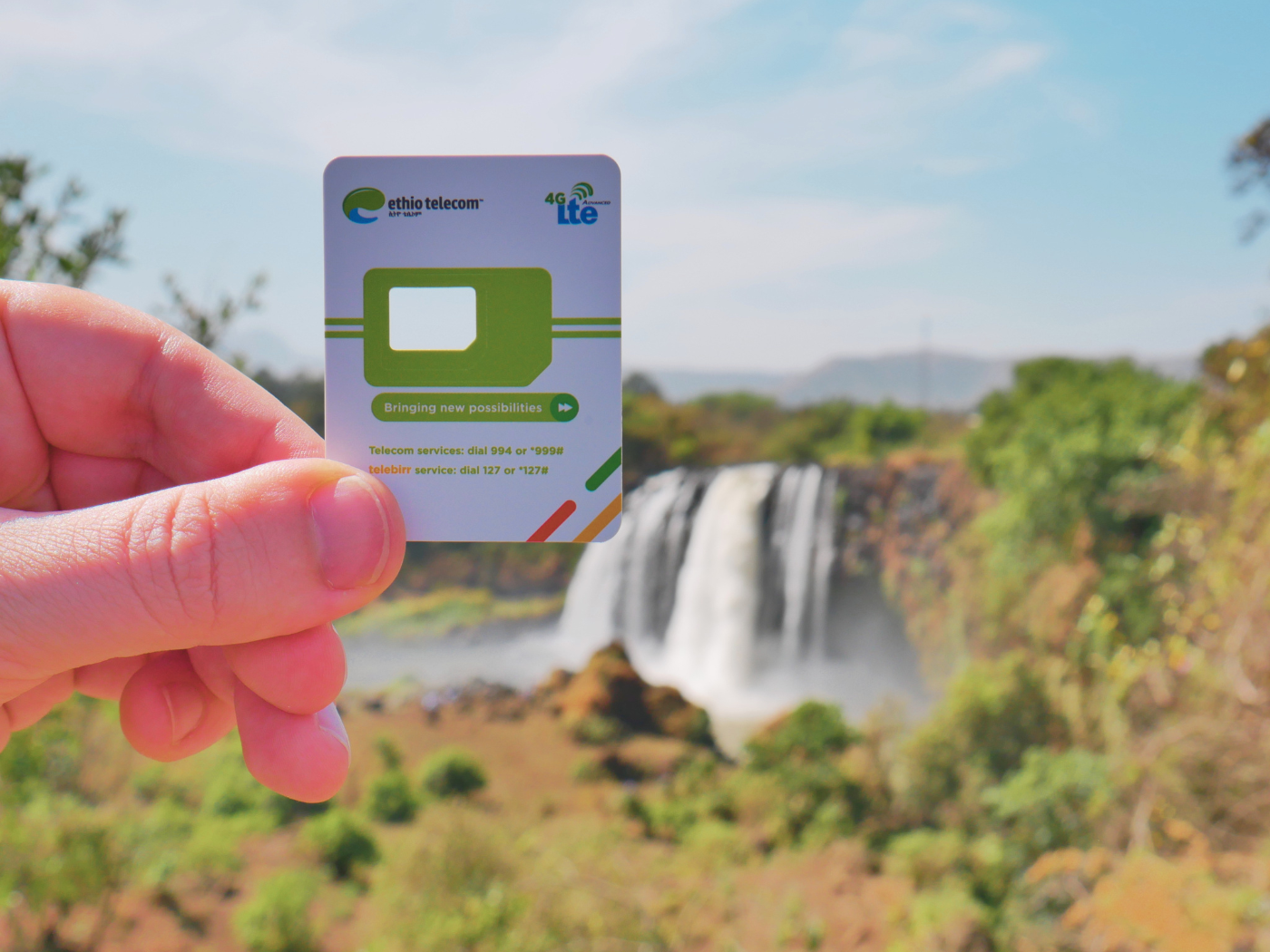 We arrived in Ethiopia on the 26th of January, 2023 and immediately bought an Ethiopian SIM card at the airport. Here's our experience and how you can get mobile data in Addis Ababa and beyond. 
Ethio Telecom Monopoly
Doing the research on what SIM card to buy in Ethiopia was simple; there's only one company. Ethio Telecom (ኢትዮ ቴሌኮም – pronounced ītiyo tēlēkomi) is a government-owned provider. Though this makes things easier than in Madagascar, there's also a risk that the government sets the price too high. Luckily, this turns out not to be the case in Ethiopia, as mobile data is neither really expensive nor super cheap in our eyes as foreign visitors.
If we're putting the price of internet on a sliding scale, with Kyrgyzstan being super cheap and the UAE really quite expensive, Ethiopia takes up a position comfortably in the middle. One factor that may reduce your spending on mobile data is the prevalence of WiFi at your accommodation; almost every hotel or guest house has free WiFi that works quite alright.
Buying the Ethiopian SIM Card at Addis Ababa Airport (ADD)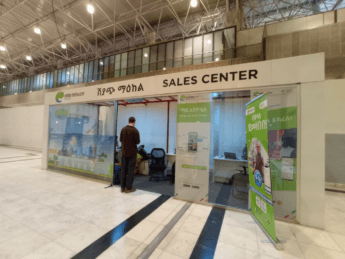 Where to buy a SIM card in Ethiopia?
You can get the Ethiopian SIM card at Addis Ababa Bole International Airport (ADD) upon arrival. One caveat: don't get one of the tourist internet packages; these are very pricey. Unless you know you need the tourist unlimited internet package for one month. In that case, you might get it for US$18 outside the airport, but it costs US$20 in the airport and someone speaks English.
Just talk to the guy in the office about buying only the SIM card for US$1. Sometimes prices of the internet packages may even seem negotiable. You can pay this in US dollars or in birr.
You'll need your passport and have to put in your SIM card in your phone, so they can directly activate it.
How to top-up your Ethiopian SIM card?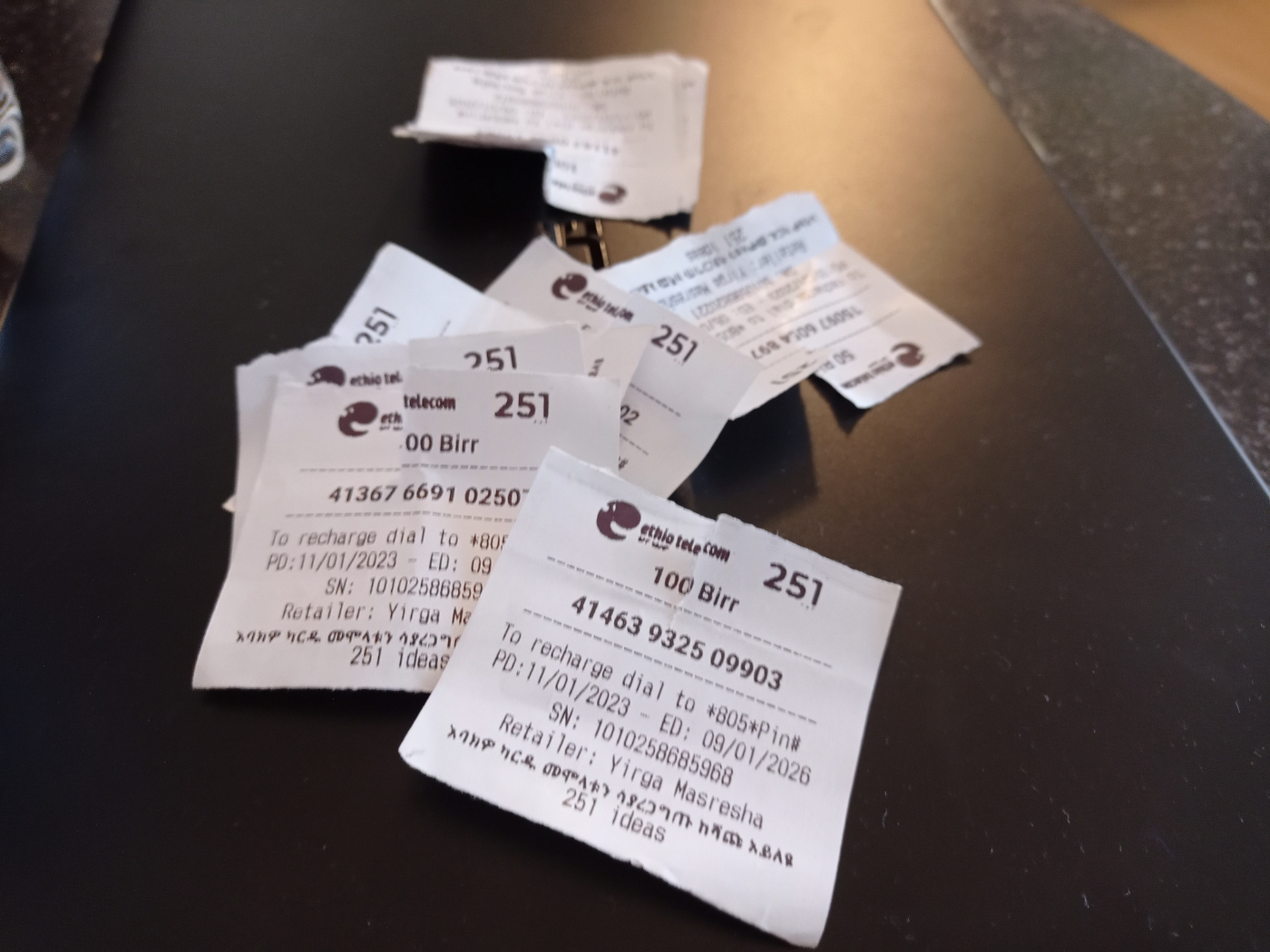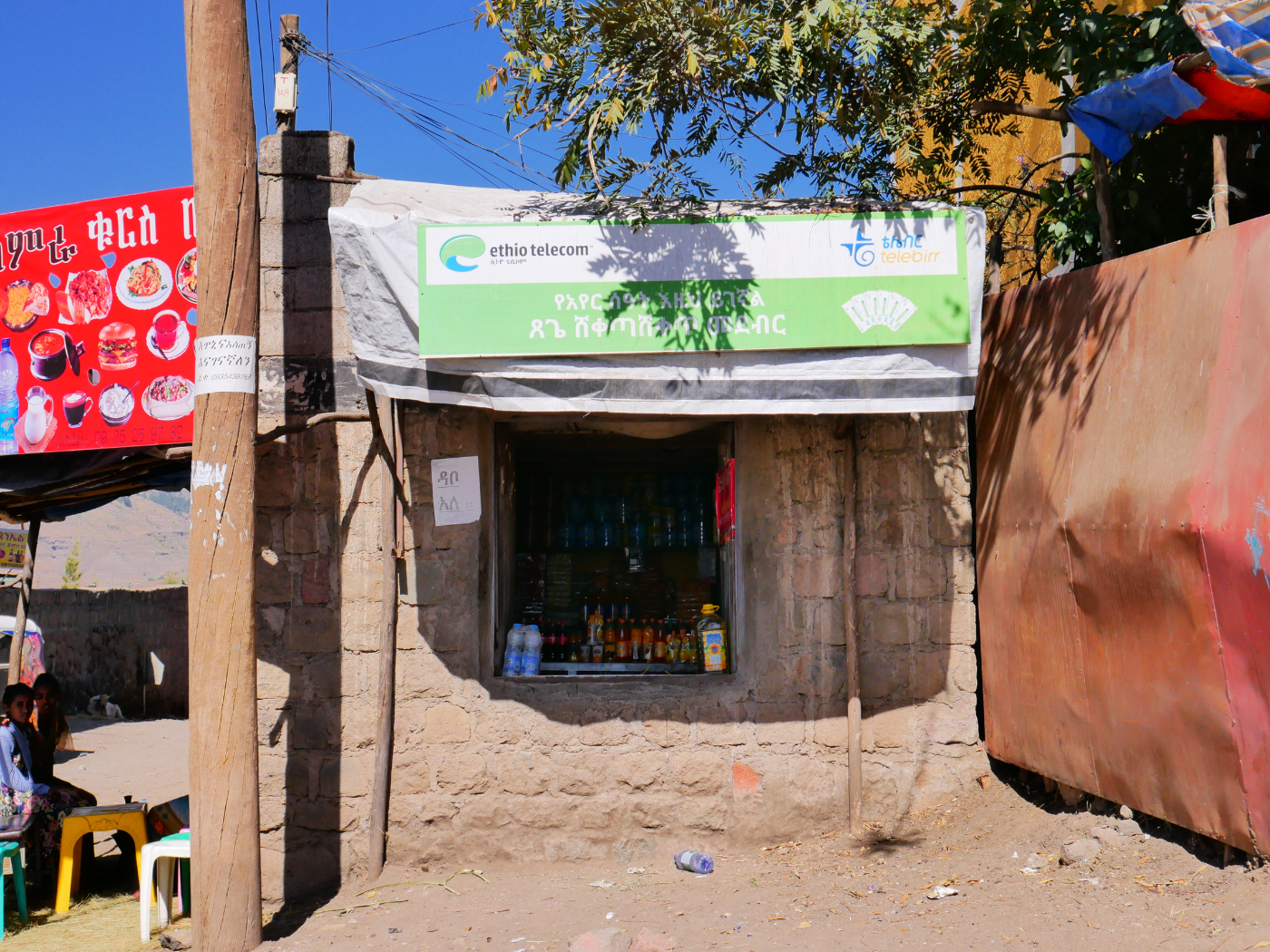 Example of a kiosk that hypothetically sells top-up tickets. In Lalibela.
It can be surprisingly difficult to find top-ups for your SIM card. Your best bet is usually small kiosks that sell drinks and snacks. Asking for "Ethio Telecom money" worked better for us than "top-up". Tell them the amount you need and you'll receive a bunch of receipts, which have a voucher code printed on them. You can redeem them by calling *805*[voucher code]# (it's also written on the voucher). Depending on what's available, your vouchers might be worth 50 or 100 birr, so it can be a bit of a cumbersome process to redeem them all if you need a big package. Make sure to keep track of which vouchers you already redeemed.
How to buy a data package?
You can book your data package with USSD codes. Call *999# and a menu with the options will pop up. It's all in English, so it should be pretty straight forward. Select 1. Packages 🡒 1. For yourself 🡒 3. Internet Package 🡒 3. Monthly (or 2. Weekly if you're only on a short stay). Next, you'll see all the packages and prices and can make a choice. We went for 10 GB, which was 379 birr at the time of writing. Select 1. One time only, and one last time 1. confirm. You'll receive a confirmation via SMS and are good to go. These menus are prone to change, so the numbers might be a bit different when you are going through this process.
FAQ
I'm entering Ethiopia via a land border, where can I buy a SIM card?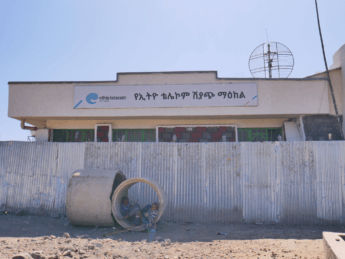 The nearest big town should have an Ethio Telecom office. As a rule, if a town has an Ethiopian Airlines office, a domestic airport, and a Commercial Bank of Ethiopia, there will also be an Ethio Telecom office where you can buy an Ethiopian SIM card. Just ask your hotel where it is. Note that these offices may be closed on Sundays (pictured above, Lalibela office on Sundays). Make sure to bring your passport so you don't waste your time on a useless pursuit.
Where can I find my own number?
You can check your number by calling *111#. It will give you your entire number including the country code +251 but without the +. Ethiopian mobile numbers start with a 9 after the country code, or 09 when calling nationally.
How to check my balance?
To check your balance, call *804#. You'll see the amount of calling credit immediately and receive a SMS with your remaining data balance. During our stay it took sometimes several minutes or even hours for this SMS to arrive.
Should I download the Ethio Telecom app?
Apps usually offer more convenient booking of packages and checking your balance. We found the Ethio Telecom app rather clunky. You have to create a password that you have to enter every time you want to use the app. We often got a message that the password is wrong despite being quite sure it isn't, along with a thread to block the account if we get it wrong again. So we reverted back to the oldschool way with USSD codes and can't recommend the app.
Does tethering work with the Ethiopian SIM card?
Yes and no. It works with Android phones, but not with iPhones. That's why halfway through our stay in Ethiopia, we swapped SIM cards so I could provide internet to both our laptops whenever the WiFi departed us dearly. If you're like us and want to be a digital nomad in Ethiopia, you need an Android phone.
Is the internet blocked or monitored in Ethiopia?
Yes. Some sites are blocked and some traffic is monitored.
If there's a crisis or protests going on in Ethiopia, social media might also get blocked. During my trip, Facebook didn't work anymore from one day to the next. This was probably in relation to some protests against the government from Orthodox believers. The way around this blockade is to turn on a VPN before you scroll.
Supposedly, VoIP services such as (video)calling over WhatsApp, Zoom, Skype, etc. are banned. However, I had no problem using such services to stay in contact with my family. It's still a best practice to turn on your VPN.
Should I download a VPN before going to Ethiopia?
I think Ethiopia is one of these countries where you'd rather already have a VPN before entering. Just in case it becomes difficult to download or sign up for one while you're already on the ground. Know that using a VPN might slow down your internet speed a little bit. Having a VPN in Ethiopia is perfectly legal.
We use ExpressVPN and we were very happy with it in Ethiopia. If you want to try ExpressVPN for 30 days for free, you can sign up via this link. It's a referral link, so if you sign up I might, might, receive €8 from ExpressVPN for pointing you in their direction. Of course, this 30-day free trial isn't long enough if you're staying in Ethiopia for the full 90 days of the longest eVisa. So keep an eye on its validity before you're suddenly VPN-less.
Good info? Consider buying me a t'ej!
Bitcoin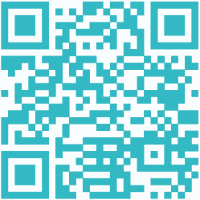 bc1q9a6w08a4gkx4gdvnh7w2vlkfzx4tlwfpfe6jm6
Open in wallet
Sharing this post is an act of kindness