Since 2016, my partner Jonas and I have been publishing travel guides for people who work and travel at the same time. A few other digital nomads joined the team and wrote their own guides about cities they loved and temporarily lived in. To read more about the guides and perhaps buy one for your own adventure, visit the Digital Nomads Guides website.
Guides by Jonas and Iris
Cabo Verde Free Mini-Guide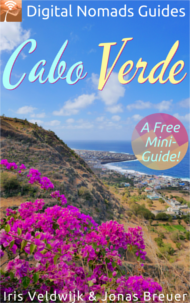 A mini version of our regular guides, this extensive article about Cabo Verde will take away all the mysteries around this island nation. Yes, it's possible to travel and work at the same time in Cabo Verde, but it can be very difficult. Luckily, we made it simple.
From obtaining your own precious SIM card to traveling between the islands with the ferries and booking accommodation, this guide has you covered on your trip to this African archipelago.
If you're looking to buy a different guide, but want to know what our guides are about, the Cabo Verde guide is a good place to start; it contains about half of the content of the regular guides, which are split up in Part I and Part II.
Medellín, Colombia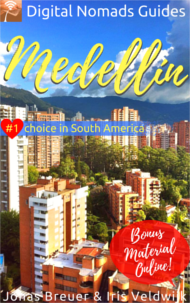 Medellín is the Digital Nomad Capital of South America; it's really a must-visit if you wish to mingle with like-minded folks who are looking for adventure, freedom, and personal growth.
This guide features the regular Part I and Part II, which help you set up your life in the second-biggest city of Colombia. From a reader:
"I wish I'd had this guide when I arrived in Medellín. It would have been a great resource to get me prepared for the city that I currently call home. Now, I've got a lot of catching up to do if I'm going to sample all 50 of those teas!"

—medellinliving.com
Lima, Perú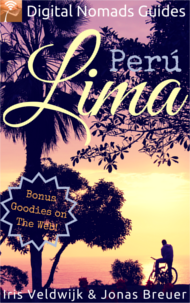 For many reasons, Perú is a prime destination in South America. What few people know is that its capital city Lima is also a good place to live the good life.
In Part I, we help you find your way in this gigantic city with an overwhelming public transportation system. Then in Part II we guide you towards good places to enjoy your labor and the fruits thereof. In the words of a satisfied customer:
"I am currently writing this from a recommended by the authors cafe in Arequipa! I am a brand new digital nomad baby on my first solo working trip in Peru and this guide has been a lifesaver!! Not only does it have great tips for Lima but also other places around Peru that have helped me plan my itinerary based on working recommendations. Quick tips, no extra unnecessary info, fun things to do, and the things you need to know about finding places to work that can be challenging to find on the internet. Thanks for writing this, I'll def be on the look out for other dm guides by you."

—Olessia
Montevideo, Uruguay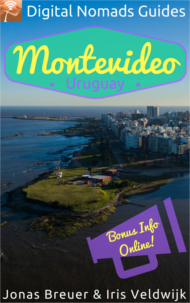 Where's that?
Yes, Uruguay's capital city Montevideo isn't much on many people's radar, but it should! Not only does Uruguay boast South America's fastest internet, it's also just a very pleasant country to stay in.
The coastal city Montevideo feels very calm and safe – especially in direct comparison with some of the more 'hardcore' destinations in Latin America. That's why it's a good place for people who are dipping their toes into the fresh waters of nomadic life. This reader says:
"I found this city guide very useful because I got all the information I needed for planning a trip to Montevideo. The usual problems like visa, fresh money, accomodation and prices, as well as useful phrases are explained in the book. The best part is a long list of locations where you can work with a nice description, MBit, a rating for PowerScore and ZenScore."

—Ines
Buenos Aires, Argentina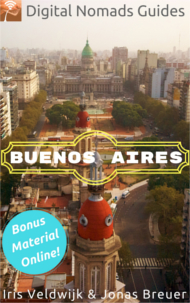 You've dreamt of visiting Buenos Aires, haven't you?
While there are absolutely loads of guidebooks out there on Buenos Aires, none of them cover the digital nomad-angle as well as this one. With so many neighborhoods to choose from, we've made it simple depending on your likes, wants, and needs. One reader says:
"Even though I will only be in BA for a week, I found this guide more helpful and more current than most of the chat forums, Lonely Planet and TripAdvisor guides I read. It's a short, easy read with valuable information about different neighborhoods, how to convert money, find wifi, and much more. Invest 30 minutes of your life to reading this before you visit – you'll be glad you did!"

—Mar
Guides by Our Associates
Playa del Carmen, by Fer Gallart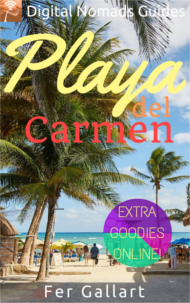 Fer has got your back regarding one of Mexico's most loveable beach cities: Playa del Carmen. If you want to cool down in the Caribbean Sea after a day on your laptop, Playa is the place you're looking for.
But don't take our word for it:
"A quick read that answered many questions. Well thought out for those on a budget and looking to work from their laptop."

—Rick
Many guides will help you be a tourist in Playa del Carmen. Only one helps you live the life of a digital nomad.
Santiago, Chile – by Jess Whiteman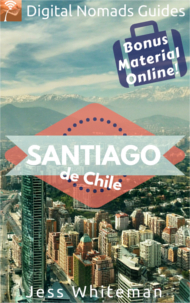 Jess spent a lot of time living and enjoying the life in Chile's metropole Santiago. The result is a beautiful guide that will help you reduce costs and maximize joy in this city that kind of has a reputation for being expensive.
"Very useful info about Santiago. A perfect read for DNs flying to Santiago. liked a lot the way it's written and presented."

—Fernando
After reading this guide, this city at the foot of the Andes mountains can go back on your bucket list. Perhaps even straight to the top!
Get involved in Digital Nomads Guides
Do you want to become an affiliate of Digital Nomads Guides? You can sign up here.
Do you wish to write your own Digital Nomads Guide with our help? Contact us via our website.