Here are some of the things I use to make hitchhiking in all seasons and weather conditions possible. Some items are hitchhiking-specific, while others are good to carry around whether you're hitchhiking, traveling by bus/train/plane. I enjoy preparing very well for all kinds of situations, which makes my hitchhiking gear not as light as other people's travel pack. The items listed here are specifically for solo travel, which is how I started back in 2013.
Since buying new stuff is harmful to your wallet and the environment, I always advise people to ask around if someone they know has free travel gear that they're not using anymore. Do you know a retired traveler/hitchhiker you could ask?
If you're on a computer, just hover your mouse over an image to see the product. On your phone, you can tap and hold to see the same.
The Basics
Black Markers
Some hitchhikers never make signs or get very frustrated with the process. I personally enjoy making hitchhiking signs, especially when the cardboard is good. Harvesting cardboard can be a troubling process, but sometimes it's very easy. Once you have a smooth piece of cardboard, you can start imagining what it will look like. Then, you'll probably be disappointed because it never looks like how you imagined. In this picture, I'm imitating the Hobo font on my hitchhiking sign, with mixed success. Anyway, I use these black markers to write my signs. Usually, I have a bundle of them, so that if one throws a fit, there will be another one with enough ink.
Pocket Knife (aka Swiss army knife)
So how to harvest your cardboard? Well, that's where your pocket knife comes in handy. The model I have has one bigger knife for chopping up food, and one smaller knife that's ideal for getting that smooth cardboard. As knives freak people out, it's best to only grab it when you're not in the direct vicinity of other people. I usually go to a shop that receives stuff in boxes (like a gas station) and ask for cardboard. Then I either let them cut off a piece with a box cutter, or I take the box and chop it up in private. No one has ever called the cops on me for that.
The Backpack
Oh my, I've had many backpacks. But the best one I've had is this red Deuter backpack. The 65+10 liters of space is plenty of space work with; I could dedicate the entire bottom compartment just for camping gear. There are lots of easy pockets for quick access to my markers or my hitchhiking signs. The hip belt and inside frame divide the weight more evenly which helps my shoulders. Even though it's huge compared to me, it's very easy to put on and off without anyone's help. And I've never felt the need to strengthen the seams with superglue. This is the first backpack that I've traveled with for more than two years, but I only spend a maximum of €22 on my previous drama backpacks. Note of warning: it's not budget-airline friendly, so just hitchhike overland or hitchhike a boat to your destination instead.
Camping Gear
Tent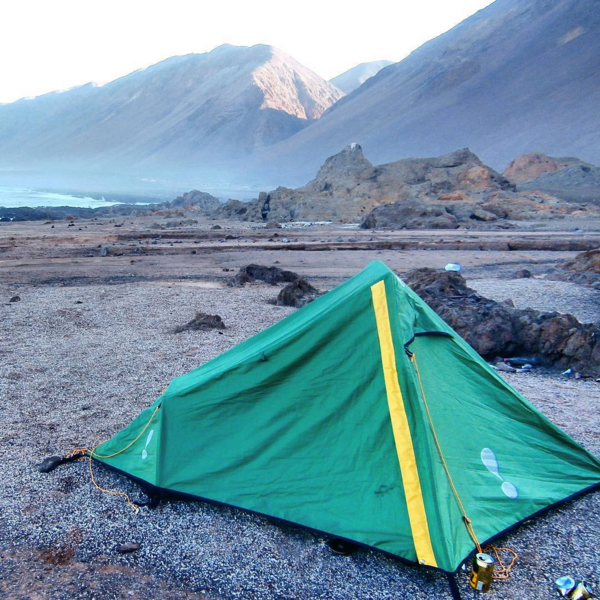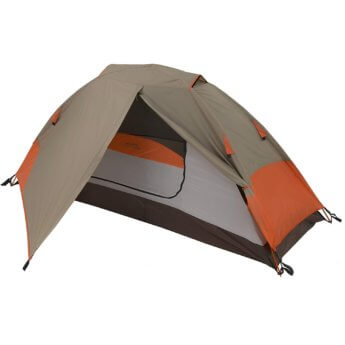 I got my Eureka! Spitfire back in 2015. By now, this model is no longer in production, but it looks like the spitting image of this one.
So I searched and searched for a near-equivalent tent that's still available that you would like. I love my Spitfire, but it's not a freestanding tent that can stay up without pegs. If I had to buy a new lightweight solo tent today, I'd go for the Lynx 1-Person Tent by 'ALPS Mountaineering'. It's the same price as my old tent but without the discount and also comes in nice, neutral colors. At 1.8kg, it's quite lightweight. I'd store my backpack either in the vestibule or in the inner tent itself, which comes with storage pockets. If you're looking for a one-person tent that's lighter, check out this one by Eureka! which is so small it almost goes into bivy territory.
If you're willing to carry more weight but spend less time assembling and disassembling your tent, take a look at this Teton Sports tent.
Camping Mattress
Back in 2015, this was the best camping mattress out there. It insulates really well, it's very squishy, and it folds down really small if you let the air out. I've used the bulky insulation mats that look like yoga mats, I've slept on the bare ground, but a mattress isn't something to save money on if you want to travel long-term. It's your back we're talking about, and I'm also aging so let me assert my knowledgeability on this: take care of your back. This is an investment in your spine.
Clothes
Addendum: clothes are very personal. I can't tell you what you'd be comfortable in, so I'm only sharing the type of clothes I wear when hitchhiking. I'll develop this list over time.
Hiking Boots
As of October 2019, I've only hitchhiked in these hiking boots once across the Donghai bridge in China. So I didn't have a good picture of these boots in action on the asphalt. I got these after my previous hiking boots slurped up the morning dew on grass through their soles. Leaky shoes, yikes! I spontaneously had to make this investment in new ones in a German Decathlon. These boots improved on the previous model manifold: they have a deeper tread in the sole, have thicker soles and the lowest shoelace hooks have 'brakes' on them so your knot won't slip. A contentious point of this model is the velcro strap: I love it, but it also takes forever to put my shoes on and off. But they've been good to hike in since May 2019 whenever Jonas and I weren't paddling our kayak named Zucchini… I digress.
I never wear any other footwear when hitchhiking—not even when it's hot outside. Though good hiking boots are expensive, they're not that expensive if you use them every day for 700 days when they start falling apart. Like your back, you need to take good care of your feet when hitchhiking.
My shoes are partly made of leather. If you're looking for vegan hiking boots, take a look at these fabric+synthetic boots or these shorter vegan hiking boots.
Hiking Socks
To be extra comfy in my hiking boots, I also wear hiking socks to prevent blistering. I usually pick up a new pair from an outdoor store whenever my old ones have been worn out. I prefer the type of hiking socks that has a clear difference between the left foot and the right foot, but if those are not available I sometimes get the non-differentiated ones. Most of my hiking socks are calf-length. Some of them are from merino wool, which is supposed to make the sock comfy both in hot and cold weather and keep them from smelling.
The linked socks are made of merino wool, but the manufacturer promises the sheep are not subject to mulesing practices. If you're looking for vegan hiking socks that don't smell, check out these bamboo/synthetic fiber mix socks.
Anything to Add?
Is there any gear that's indispensable for your hitchhiking trips? I'm curious as heck and I'd love it if you could share what it is in the comment section!
You can also read next about the gear I've used for paddling the Danube river or the items I take with for working online in the Digital Nomad gear section. If you're looking for book or film recommendations, go to Books I Love and Travel Movies I can watch Again and Again to find out what has inspired me before.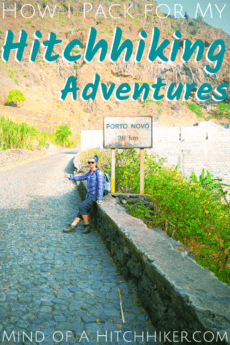 This list of recommendations contains affiliate links. If you buy something via this gear list, I might earn a small commission at no extra cost to you.