From May till September 2019, Jonas and I paddled half the Danube river from Donaueschingen in Germany to Mohács in Hungary. Our experiences self-organizing this trip taught us many things, including what's necessary and what isn't. Here's a complete list of paddling gear we used on the trip in case you'd like to go on a similar adventure! Just hover over an image if you're on a computer and tap and hold an image on your phone to see the item. If you prefer to just see a long list, click here to go to the packing checklist.
If you're on a computer, just hover your mouse over an image to see the product. On your phone, you can tap and hold to see the same.
The Boat
An Inflatable Kayak/Canoe
First off, you need a boat that suits your needs. We chose this inflatable canoe by Sevylor for our adventure. It fits two and a half people, or two people plus luggage. We took out the middle seat and left it behind so we could fit our luggage there. We're very happy with the boat we chose. The kayak itself comes in a minimalist duffel bag to carry it around. You can use black waterproof markers to write a name on your boat, which might or might not be mandatory for your river.
Pump
The trade-off of getting an inflatable canoe is of course that you'll need a pump to inflate your boat. We found this cheap and lightweight pump that has been pleasant to use the many times we inflated Zucchini. It also comes with extra pieces to work with different kinds of valves, like our air mattresses.
Paddles
Can't paddle without paddles! We got the light blue paddles gifted from Jonas' mom. The yellow one we bought ourselves. As an inflatable canoe is a bit wide, it really needs quite a long kayak paddle. We recommend a minimum length of 220 cm[npte]87 inches[/note]. If you don't want to use a kayaking technique, you can also get single-sided canoe paddles.
Life Jackets
Drowning is a terrible way to go. For safety reasons, we really recommend that everybody in the boat (human or pet) wears a life jacket or life vest. We really liked these from Secumar because they have a front pocket and weren't too pricey. The one time I accidentally fell into the water, the life jacket helped me float instead of going in neck-deep.
A Backpack that Fits a Kayak
Our boat came in a not really great duffel bag. Such a bag is good if you have a car and can transport your kayak in the boot, but not if you're on foot like us. To carry 17kg on your back, you need proper straps. I'd used this CabinMAX backpack before on a trip to Cabo Verde and hated it for normal luggage. But to our great surprise, we managed to fold our inflatable canoe named Zucchini inside this CabinMAX. It takes some time to learn to fold and pack the boat efficiently, but it's really paid off to learn to do this well.
A Length of Rope (Bowline)
Sometimes you'll land your kayak on a dock. That's when it's often nice to attach your boat to one of the tiny bollards so you won't lose it in the current. A length of rope to make a bowline really helps in that case. I got my length of rope when I took a ship down the Ucayali and Amazon rivers in Perú to tie up my hammock. If you don't have a good, thick rope of about 1.5 – 2 meters lying around, you can shop around on the internet for that. Make sure you're looking for a 'double braided' rope, preferably nylon. This is a more durable material.
Lashing Straps
What will keep all your luggage inside the boat while you're paddling over some wave action are these lashing straps. I had two from previous hitchhiking adventures, and now I ordered two more for the kayak. This was exactly enough. Make sure you order ones that are long enough. At minimum, you'll need 150 centimeters.
Carabiners
We bought a set of 10 carabiners for randomly attaching stuff. In our final setup, we used all 10 carabiners and even had some extra ones to attach random items. One purpose of the carabiners was to provide a place to attach our phones so we wouldn't drop them in the water. I also used one or two carabiners to attach the kayak sail to my life jacket so I could also paddle at the same time. Each dry bag used one carabiner and everything that had a special spot in the boat (like the cooking set) also got hooked in with a carabiner. Note that we got rid of the little black 'lock' thingies that are on the original set because they were kind of annoying to deal with.
A Bundle of Shoelaces
Meant for securing your stuff a bit more in an easy and spontaneous way. They're much cheaper than any of the more serious straps. They're also good to use for bundling up jackets and clothes inside the dry bags to keep them from unrolling. When the buckle of my dry bag broke, I used a shoelace to roll it down and keep it shut with the same effectiveness as a buckle.
Optional: Boat Mirror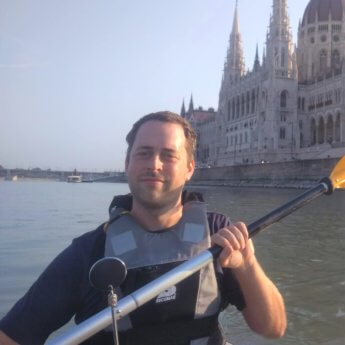 It was small and inexpensive and made quite the difference; our boat mirror helped us spot oncoming traffic behind us on the river. Jonas operated the boat mirror to spot speed boats and cargo ships. Using the mirror is easier than rotating your entire upper body to look behind you. He attached it to the luggage he had between his legs. This is an optional item because you probably won't need it unless you paddle on a river with motorized boat traffic. Jonas stopped using the boat mirror in Hungary when he grew very comfortable with the river and most of the speed boats had disappeared. Instead of a telescopic inspection mirror, you could also use a rowing mirror which attaches to your ball cap, or a cycling mirror which attaches to your sunglasses.
Optional: Kayak Sail
This is a controversial item on our trip. I really wanted a kayak sail, but Jonas was against it. I invested the money into one and then only used it after a long time. It's incredibly difficult to fold it up without breaking it and the wind almost always comes from the wrong direction. After one time sailing, it broke. Then I ordered a new one and got the money refunded by the seller because the first one broke. I never folded it three times again like how it comes in the packaging: I only looped it twice. This time, it survived. We had a lot of fun with the kayak sail, but the conditions need to be ideal for it to be usable. Perhaps it's more a gimmick than a tool!
Optional: Kayak Trolley
So… we didn't have a kayak trolley, carrier, or boat wagon. Every time we had to portage around a weir or dam on the Danube (which was a lot – at least 52 times), we had to physically carry our boat around. Jonas lifted the front, I lifted the back, we both carried the heavy luggage from inside the boat on our backs. In hindsight, it might have been smart to invest in some wheels, but we only had the opportunity to order some stuff when we were already done with 80% of the obstacles. So we didn't end up buying a kayak carrier. We saw other people with kayak trolleys like this guy at a dam near Linz. If you're doing it alone, you must have a kayak carrier as you simply just can't do it in an efficiently alone.
Waterproofing Your Luggage + Carrying Capacity
40L Dry Bags
Your luggage has to go somewhere. We protected our clothes, toothpaste, laptops, sleeping bags, tent, etcetera all inside two of these 40-liter heavy-duty dry bags. They were excellent at keeping our stuff dry in rainy weather. We never capsized with our boat, but we weren't afraid of losing our luggage in case of a capsize because we strapped the dry bags into the boat with the lashing straps.
Personal Dry Bags
Jonas had this 10-liter yellow dry bag and I had a (bigger) red dry bag for the trip. These are of a heavy-duty material because they're exposed to quite some weather. I tied mine on the front of the boat and kept my camera, power bank, and sweater in there. I sometimes accidentally dropped mine in the water and my items were always fine afterward. Jonas used his one a bit less and used it to store his sarong, power bank, and cables.
Waterproof Phone Cases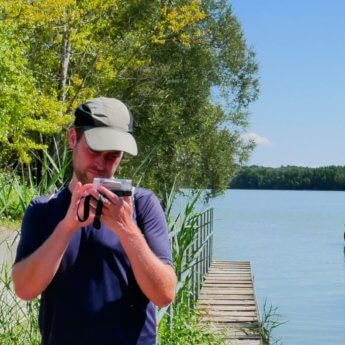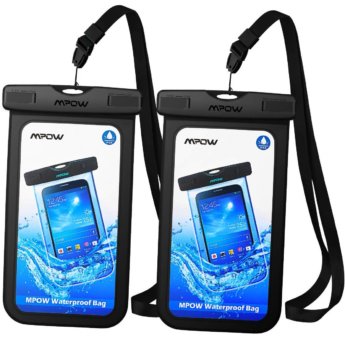 What if phones, but too much? Jonas loved this phone case so much that he would sometimes not take his phone back out of it at the end of a paddle day. We each needed a waterproof phone case in the boat. Jonas has an iPhone and I have a Xiaomi. These cases – it's a double package – fit both our sizes of phones very neatly. We had to disable some functions on our phones in order to make them work inside the case, but it was generally no problem to use the touch screen. We love these cases so much that we're going to take them traveling in non-paddle settings as well.
Silica Desiccant Packs
Yes, we invested real money into something that says "THROW AWAY". These little packs with silica are drying agents. We used them for nearly everything on our trip. We tossed a bunch in the 40-liter dry bags, the personal dry bags, the laptop bags, and inside our waterproof phone cases. They keep everything nice and dry. They especially keep your phone cases condensation-free. If you buy these, make sure they don't end up in the environment.
Optional: Shoe Dry Bag
I'm not suggesting you'd buy a €35 dry bag/pump sack only to stuff your filthy shoes in there. This Sea to Summit pump sack traveled along with me for about three years and used it happily as my clothing bag—until it stopped being waterproof and airtight. On the kayak trip, we stored our land shoes in here while we were paddling on the water, and put our (wet/dry) water shoes and neoprene socks in here while we were on land. It was still mostly waterproof, so if it rained, our land shoes didn't get wet, and when the wetsuit socks were wet after paddling, these wouldn't make the rest of our gear wet. It also kept the sand or mud away from our other items. So if you have some kind of old, used-up dry bag of about 20 liters, you could consider doing the same. Otherwise, a heavy-duty plastic bag that you can shut well and reuse over and over again will also do. Remember to take your water shoes and neoprene socks out of the bag every day so they can dry well.
A Cloth Shopping Bag, Drawstring Sackpack, Stuff Sacks, Mesh Bag
The point of having a few bags inside your bags is to organize what you're carrying and increase your carrying capacity whenever you need it. You can accidentally damage or dirty these bags without major consequences as they're cheap, easy to wash, and quick to dry. We had one plain cloth shopping bag to reduce our plastic use for our groceries. I had one simple drawstring sports bag from my university to carry the full hydration bladders to our launch spots. Inside the dry bag, we sorted some of our stuff like our toiletries inside smaller stuff sacks, which are kind of like packing cubes, but not cubical shaped because that doesn't work with our round dry bags. We used mesh bags to carry around stuff that could get wet and to wash sensitive clothes whenever we had a washing machine. Just look around your house or backpack to see what you can put to use and only order anything you think might be useful to you.
Food & Drink
3L Hydration Bladders
Stay hydrated! We got two of these 3-liter hydration bladders for the trip. On long hot days, we filled them up to 3 or even 3.5 liters (pushing it…) and on short cool days we'd fill them up to about 2 liters. We also used this water to cook sometimes. Note that we had no need for a water filtration system because the tap water in Europe is drinkable and we stayed relatively close to civilization. If your situation requires water purification tablets, add those to your shopping list.
Cooking Set
This 2-person cooking set is seriously one of the coolest objects I've ever owned. But does the materialism live up to the expectations? Yes. The set contains a big pot, two deep plates, two cups, a lid with pasta strainer, two sets of cutlery, a frying pan, and a rubber coaster to not burn the surface. We used the extra space inside the pot to store garlic, tea bags, pasta, and the like.
Camping Stove + Gas Canister
You can't cook without fire. In Europe, this kind of gas cartridge/canister system is very popular. The fuel is isobutane and you just click and turn it in your stove without piercing the gas cannister. We have this stove which I  originally bought in Chile which has a built-in windshield. Cooking outdoors without a windshield is nearly always trouble, so I recommend this one. Getting new fuel isn't very tough in Europe, especially in the countries where there are lots of campsites, like Germany and Austria.
Paddle Clothes
Cape Hats
Our cape hats are indispensable items on every trip, but they were especially good for the kayak trip. Being on the water all day in the sunshine requires some extra protection. Jonas wore my old Eddie Bauer hat – an older model they don't have in their collection anymore – that closes with a bit of velcro under the chin. I have a super-advanced model of cape hat that's very modular and foldable. I highly recommend my version, which features a dust mask and chin cord to keep it on my head whenever it was windy.
Ponchos
Those few rainy days we had, we were very happy that we'd bought ponchos as part of our paddling gear. We got these cheap ones from a Decathlon before the trip. It's best not to invest too much money into a poncho because they get dirty and stuck in all sorts of things. These have a nice hoodie with a drawstring to keep them tied down over your head. The arms are wide enough to not interfere with our paddling motions. They're long enough to cover most of your legs.
Water Shoes
I got my thick-soled, velcro-strapped Subea/Tribord water shoes at Decathlon, but they're unfortunately gone from their collection in black. Jonas bought his on Amazon and got them with elastic drawstring laces. These were one of my two pairs of shoes the entire kayak trip. I loved them so much that I washed them thoroughly after a kayaking day, dried them, and then used them as comfy indoor shoes whenever I could. The thick soles have some grip for slippery situations and prevent the soles of my feet from getting hurt on sharp objects. My water shoes are now part of my regular backpacking travel gear as well, which now features hiking boots, flip flops, and these water shoes. Jonas was quite satisfied with his water shoes, too, but didn't love them enough to take them traveling beyond the Danube.
Neoprene Socks
On Day 1 of the Kayak Trip, it was so cold outside with my feet in the water (with the water shoes on), that I lost sensation in a few of my toes. About two weeks later, we visited the Decathlon in Ulm and that's where I bought these neoprene (wetsuit material) bodyboarding socks. They have kept my feet warm in the boat ever since. Jonas was skeptical about them, but I got them for him anyway and he also found them very comfy. Inside the boat, I would often take off my shoes as if it was my home and just paddle in my comfy socks. These socks really improved my quality of life during the trip.
Fingerless Gloves
These are the generic fitness gloves I used to not shred my hands to pieces on the kayak trip. They were cheap on German Amazon and very breathable during the hot months. These gloves also left a very funny tan pattern on my hands. Jonas only had cheap, full-finger winter gloves for the trip and said he didn't need any gloves. Some people's hands are more sensitive to blistering than other's. In hindsight, I could have invested in higher quality gloves since I used them so much and the velcro kind of stopped latching on. If I had to make the decision today and had access to the products of Amazon USA, I'd probably get these gloves with UV50+ protection.
Land Shoes
After paddling, it was very nice to dry my feet off, get my hiking boots from its dry bag and put on socks and shoes to become a terrestrial again. I had some old hiking boots that had a leaky sole, so in Ulm, I replaced those boots with these new ones from… you guessed it: Decathlon! In the 6+ months I've been hiking in them, the shoelaces have never loosened. They're quite some work with the extra velcro strap, but I'm very happy with them. On the days we didn't paddle, we did quite some hikes in the woods. It's nice to have proper shoes for such occasions.
Sunglasses with UV Filter + Strap
Sunglasses are in my case crucial, but in Jonas' case apparently not. As I sat in the front of the boat, the morning sun would reflect under my cap when paddling eastward. That was highly annoying. I got a strap for my sunglasses to help me not lose the sunglasses when bending over the edge of the boat to look at the water. I prefer sunglasses that don't have feet at the nose, so I can also put the glasses on my head without them getting stuck in my hair when I'm not wearing a hat.
Buff and/or Headband
The headband is very winter-specific, but I've used the buff the entire year. On the very cold days at the beginning of this trip, Jonas used my fleece headband to keep his ears from freezing off. I used my buff – sometimes in combination with the hoodie of my winter jacket – to do the same.
In summer, I sometimes used the buff to keep the tiny hairs out of my face whenever we had a tailwind. For me, that wasn't too warm. It also protects against sunburn and overheating of your skull, but the cape hat does a much better job at that and also protects your eyes a bit more.
Jonas Specific Clothing
Summer: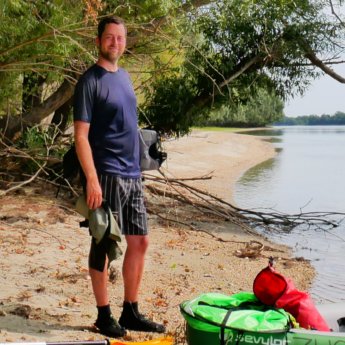 On the very warm days of paddling the Danube, Jonas wore the following items: a quick-drying sports shirt, swimming pants, and sometimes some long johns to protect his legs from the sunshine.
The most important thing was to be comfortable as heck, which worked pretty well. His swimming trunks also had some pockets (one even with a zipper) to store items while standing. The fast-drying t-shirt is great for both paddling and hiking. The swimming pants are also of a material that dries quickly, which you can see is very important on our trip.
Towards the end of the trip, Jonas became often more bare-legged without the long johns, because he found them quite warm. Then he had to use twice as much sunscreen to also protect his legs from sunburn.
Of course, he wears his neoprene socks, his water shoes, and his cape hat. In the boat, he always wears his lifejacket.
Winter: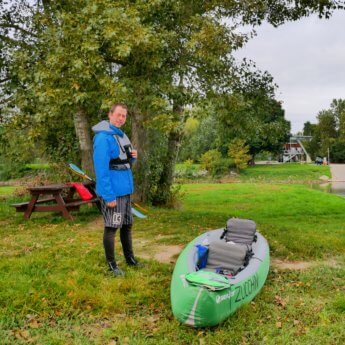 The first change in Jonas' winter paddle outfit is him rolling his long johns down. Underneath his quick-dry paddle shirt, he sometimes wears a thermal shirt if the temperatures are really near-freezing. On top of the possibly two shirts goes his sweater, and then his wind and waterproof jacket. His lifejacket goes over the whole ensemble.
Jonas only wears full-finger knitted gloves in the coldest weather. Those often made it impossible to unlock our phone screens without taking a glove off. Those gloves are rather simple and do a good job. To protect against cold ears and forehead, he sometimes wears a fleece headband I gifted him. If the sun gets out, he might switch to his cape hat and put on some sunscreen. Cozy!
Terrestrial: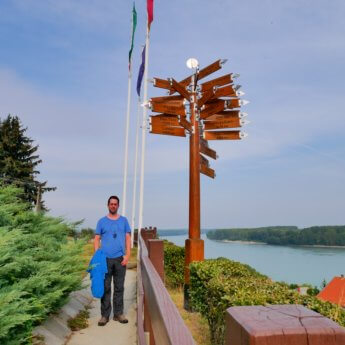 For doing things on land, Jonas wore his zip-off pants and a regular t-shirt. He had one spare of those t-shirts for laundry day.
When it got cold, he wore his sweater and/or his windbreaker jacket on top of his t-shirt to stay warm. For really cold days, Jonas would wear his long johns underneath his zippable pants for an extra layer of warmth and perhaps his thermal shirt on his torso as well.
On his feet, Jonas is wearing common hiking socks or little ankle socks and hiking shoes. He had about four pairs of land socks as opposed to neoprene socks.
Jonas felt more comfortable in these clothes in public than in his paddle clothes if we weren't nearby our boat Zucchini. Not that anyone has judged him for his paddle clothes.
Iris Specific Clothing
Summer: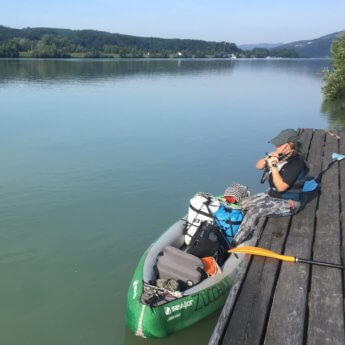 Sunny or shady, hot or cold, I nearly always wore my yoga leggings to protect my legs against sunburn.
On my upper body, I wore a simple sleeveless shirt and then my paddle shirt/rashie on top of that. A rashie is a shirt originally designed for surfing. This is also made of quick-dry material. Over these layers, I often wore my loose-fitting paddle dress. If it was very sunny, I took off that dress and wrapped it around my red dry bag to protect it from overheating. I put the dress on again whenever I had to do human interaction on land.
I always wore paddling gloves, my cape hat, sunscreen, neoprene socks, water shoes, and of course my lifejacket when in or near the water. Very rarely, I'd wear sports shorts instead of leggings and have bare legs in the boat.
Winter: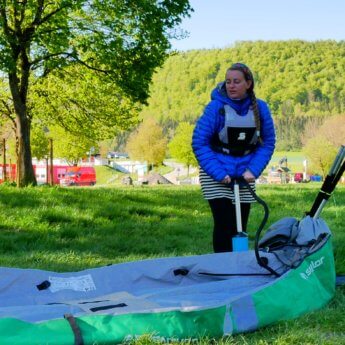 In winter, I often wore thermal leggings over my other leggings. Then on top of that, I wore 2-in-1 running shorts expropriated from the men's department (for its pockets!)
On top, I'd wear the same layer of the simple top, the rashie, the dress. What's new is the sweater and then the lightweight, non-bulky down jacket. The down jacket is unfortunately not waterproof, but it's very comfy nonetheless in cold weather. The lifejacket snugly fit over that.
I'd wear a buff for extra heat and my simple, full-finger winter gloves. When it's cold but sunny, I often put on my cape hat, sunglasses, and some sunscreen.
The full potential of the neoprene socks and the water shoes becomes very clear in cold weather!
Terrestrial:
I also wore zip-off pants, but they had three modes instead of two: long, Capri, and short. They have very generous pockets. On top, I wore another one of those simple shirts, with a regular t-shirt on top, or my paddle dress (if it wasn't smelly). I had three of those simple singlet shirts, one dress, and one t-shirt. In my hair, I often wore a little neckerchief/bandana.
On cold days, I'd often switch to my thermal leggings without my paddle leggings, my 2-in-1 shorts (with great pockets!). On top, I'd wear my sweater and down jacket.
I had four pairs of hiking socks in my pack and wore my hiking boots as mentioned previously.
Camping Equipment
Tent
We borrowed a two-person ultralight tent from a family member. It's from a Dutch manufacturer called Lowland Outdoor and this model was the Trailrunner 2 (not available anymore). Unfortunately, this item didn't spark as much joy as we'd hoped. One problem was the small size of the tent. An even bigger problem was that the inner plastic layer started peeling and flaking. Not very Leave No Trace. When we continue the trip in 2021, we'll probably find a three-person replacement for this tent. A model that doesn't need pegs to stand up by itself would be nice. We're currently looking at this one and this one. Do you have any suggestions? Please leave a comment!
Footprint
When you're freecamping on rocky shores as we did, you might want to think about getting a footprint for your tent. This prevents damage to the floor of your tent, reduces condensation from the ground through your tent's floor, and doubles as a picnic plaid if you pack it somewhere easy in reach.
Inflatable Mattresses
When camping, our backs got a good rest on these mattresses. I already had my Thermarest mattress for a couple of years and Jonas bought this Ecotek inflatable mattress, which is a lot cheaper. Both pack down to about the same size. The advantages of an inflatable mattress instead of a self-inflating mattress are that they're less bulky and much more comfortable. They're about 5–7 centimeters thick, which is very nice if the ground isn't even. The downside is that you need to inflate them, but that doesn't take long with the provided pump sack or the pump to inflate the kayak.
Sleeping Bags
We borrowed my mom's custom-made down sleeping bags for this trip. While these were some great quality sleeping bags, they were a bit too bulky and warm for this trip. Packing it in the dry bag and forcing all the air out was quite a hassle. This – plus the fact that we were 'good weather campers' on this trip in 2019 – means that we'll be looking for new, cooler, smaller, sleeping bags for 2021. I'm currently looking at this sleeping bag or this inexpensive sleeping bag. Do you have a sleeping bag that you're very satisfied with? I'd love it if you could share that info with me in the comments on this post.
Sleeping Bag Liners
This is yet another item that we already owned before the trip. A sleeping bag liner keeps your sleeping bag clean, provides extra warmth, and can often hold your pillow in place. I got my brandless model from a supermarket in Spain, which looks a lot like this sleeping bag liner. Mine has loops on the corners to tie it into your sleeping bag, so you just have to unroll the whole comfy package. Jonas has a fancier brand version which is in mummy shape. On very hot nights, this sleeping bag liner is the sleeping bag itself. When we once rented a house on the Danube in Ercsi that didn't provide bedsheets for free, we saved money on that by using our sleeping bag liners. I always take this item when traveling.
Guy Lines
They can stabilize your tent, function as a clothesline, be used as a second bowline for your boat. During a stormy night, I was very happy I'd attached a few more guy lines to our tent and the ground. The tent didn't collapse that night!
Optional: Camping Pillow
I've never taken a pillow with me on my (camping) trips before, but this time I did. I took the weird inflatable airplane pillow that I'd bought in 2011 with me because of the promise of neck support while sleeping on my side. By now there are newer models that are more comfortable. It worked pretty well, but if you're just as comfortable resting your head on a small pile of clothes I wouldn't bother taking this. For Jonas, I'd found a small rectangular inflatable pillow in my travel stash, which unfortunately was a bit leaky.
Tools, Health & Emergency
Sunscreen (SPF30 at Least!)
If you could promise me one thing, could you promise me you'll use sunscreen on your kayak trip? The effects of the sun are much stronger if you're on the water all day. In summer, we usually reapplied sunscreen twice or even three times a day. On average we spent 5 hours near the water each day – and 4 hours and 19 minutes on the water – which means that we usually went 2.5 hours between applications. We also stayed in the shadow as much as possible and wore hats and I always wore sunglasses unless it was really cloudy. We bought sunscreen in the countries we finished the last bottle, so we didn't really have the choice to find a biodegradable version which I'd prefer.
Make sure to check the ingredients to see if you're allergic to any components. I'm not liable for any reactions you might experience.
Whistle (with a Gimmicky Compass and Thermometer!)
The first time I blew my whistle on the Danube felt incredibly silly, but it was necessary. This whistle is always attached to the carabiner on the right side of my life jacket: easy in reach for those moments when you're not sure if the other (motorized) river traffic has seen you. This is especially useful for smaller speedboats who are swift to turn around.
If you're not paddling on a river with (professional/recreational) river traffic, you won't need this. The compass on it doesn't work that well – which was my original reason for buying this piece – and I barely use the thermometer. But the whistle is very effective to let people know they're on a collision course with you.
Swiss Army Knife
I've had this Victorinox Swiss army knife since forever. It's been an indispensable part of my traveling gear. The most useful things on this model are the scissors, the can opener, the tweezers, the corkscrew, and of course… the toothpick. The two blades are also kind of useful to chop garlic and onions (we enjoy cooking for ourselves). While we mostly used it on land, every now and then we needed scissors while in the boat. Just be careful to never get the pocket knife wet between the hinges and don't take it in your hand luggage on an airplane.
Travel Towel
Don't panic! A towel is one of the most massively useful things a paddler (or hitchhiker) can have. Dry yourself off after a refreshing swim in your river. As long as your river is swimmable and it's safe to do that. When you get a microfibre towel, it has the advantage that it packs down very small and dries very quickly. But you have to make sure it dries well otherwise it starts stinking.
Mosquito Repellent + Cooling Cream + Electric Shock
If any species can fuck off, it's mosquitoes. Mosquitoes kill more humans than humans do. I'm often a victim of their blood lust, so I carry around a small arsenal to repel them and lessen the damage. So here we have mosquito repellent, some gel that cools down a bite and poison ivy rashes, and then a more experimental item called a mosquito bite zapper. The zapper numbs the itch so you don't increase the damage by scratching it and I love this thing. But you shouldn't use it if you have a pacemaker. In addition to this, I also take vitamin B1 (and only B1) pills, because outdoors people say that it makes your blood smell strange so the mosquitoes will bite your partner instead. You can't overdose on vitamin B1 because you just pee it out, but I won't link the product because I'm not a doctor (also I couldn't find it). I still get bitten ever so often and I'm always looking for new tactics. Do you have a tip for me not to get devoured by mosquitoes? Please please please share it with me in the comment section!
Make sure to check the ingredients to see if you're allergic to any components. I'm not liable for any reactions you might experience.
Superglue + Electrical Tape + a Bike Puncture Repair Kit
These are also two things I always take with when traveling. On the kayak trip, I used the superglue to strengthen the straps of the CabinMAX and fixed many items that spontaneously broke. I went through two tubes of superglue. I used the electrical tape to fix some slight damage to one of the dry bags, on my paddles where the black layer had faded, and to keep Jonas' Macbook charger from breaking. The bike puncture repair kit (not pictured) was just in addition to the repair kit that comes with the inflatable kayak/canoe. We used that once on an area of aesthetic damage (no real puncture). We left the bike repair kit in the Netherlands after finishing the first half of the Danube kayak trip.
Sewing Kit
Again, an item that's been traveling with me for about six years now. My sister originally gifted me with this travel-sized sewing kit. I tend to fix items and clothes until they're really falling apart. After day one of the kayak trip, a buckle of a dry bag was broken. I temporarily fixed it with thread and superglue until I could buy a new buckle. The most important items are a few needles, needle threader/cutter, some buttons, and a seam ripper—though your pocket knife can do some of these functions too. In addition, I got myself a big needle for fixing thick materials and thick thread to match the needle.
Torch/Headlamp
As someone who has gone through at least four head torches in the last six years, I've finally found one that suits all my needs. This one has a white, green, and red light, many different strengths of white light, and a rear safety light that also blinks. I prefer the green light at night when camping because it's much less intrusive when you go for a wee. I recently discovered there's even an emergency whistle on the thing. If it would be rechargeable, it would be 100% perfect, but this is pretty damn close. Note: the rear light doesn't mean you can use it to kayak on a busy river at night. The rules on the Danube in Germany are that you'll need a larger flashing light beacon. We never kayaked in the darkness and would probably advise against that since I'm rather night blind.
Emergency Space Blanket
This mylar blanket has also been part of my kit for 6+ years. It cost me €3 back then and I feel prepared for hypothermia/hyperthermia conditions. I once had a very close encounter with deathly hypothermia, so for me it's a no-brainer to take this with me everywhere I go. It's very lightweight and takes up little space. This one is gold on one side and silver on the other. If you wear the gold on the inside, it prevents overheating (hyperthermia) and if you put the silver on the inside, it helps prevent undercooling (hypothermia). I haven't used mine yet so it's still nicely folded in the packaging.
Wax Earplugs
Germany's best product, these wax earplugs block out most noise for a quiet sleep. We love these so much we asked a German who was traveling to Medellín in Colombia to bring us a few packages. He fully understood us.
Laundry Detergent
I… I'm using an old coffee tin to carry around laundry detergent—and have been doing so for years. The advantage is that this product is widely available everywhere, the downside is that it's not very good for nature. I never use this type of laundry detergent in natural environments. I'd love to use biodegradable laundry detergent for travel – like the linked one from Sea to Summit –but it's hard to find such products on the ground.
Black Markers (for Naming your Boat)
Normally I use these for making hitchhiking signs, but on the kayak trip, I used them to name our boat the heroic name Zucchini. When buying a black marker, make sure it has a chiseled tip for a better chance of making your writing legible. I usually find the thin Sharpie ones good, but I also know people who love the markers with a bigger tip. Upon arrival in Mohács, I took my time to put on a fresh layer of ink on our boat; the color fades a bit due to sun and water exposure over time.
Personal Care Products
Only you know if you floss, brush electrically, use anti-dandruff shampoo, use underwear, or shave your head. This is just a friendly reminder to pack your toiletries and other personal care items!
Optional: Digital Nomad Equipment
Day Bag
We use our 20-liter day bag for everything. When we go to the supermarket, we bring this bag plus an extra fabric bag to reduce our plastic use. On hikes, it can contain a hydration bladder on the inner pocket and carry snacks in the side pockets. Most of all, we use it for storing and carrying around our laptops. This is a very good backpack that I've used already since 2017.
Waterproof Laptop Bags (Bag them twice!)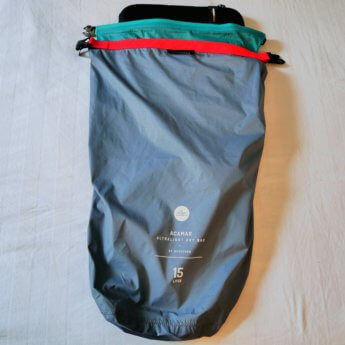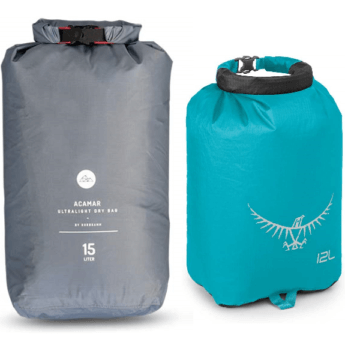 Your laptops deserve some extra love and care. That's why you should bag them in their own ultralight dry bag. This 12-liter dry bag from Osprey fits both our laptops, which are 13 inches and are in their own protective pouches as well. This is also the location where you should keep your passports. With two such laptops, there isn't much space left anymore for cables. Because we were very nervous about being on the river with our laptops, we bought an extra dry bag of 15 liters to put our laptops in again but this time with the cables and the WiFi repeater. This entire package went inside one of the big dry bags.
WiFi Repeater
If only I'd had this 'mango box' when we were still paddling in Germany… Oh, the trouble of slow internet there!
This box basically boosts the WiFi signal. It can also do other cool things, but this is its primary use. We ordered it when we were in Linz, Austria, and then used it pretty much everywhere along the Danube. This helped stabilize our uninterrupted work hours on our non-paddle days.
Your Tech
And finally, you'll need to pack up your laptop, phone, camera(s), power bank(s) and cables in all the waterproof layers and paddle away with it. We took pretty much everything from our Digital Nomad gear list, besides the laptop stand, the keyboard+mouse, Jonas' Kindle, and his land backpack.
If you're working online during your travels, you probably already know what to pack. But if you're unfamiliar with bringing tech along on your multi-day travels, you might not yet know what is the tech that sparks joy, and what is the tech that's best left behind. Focus on those items that help you navigate your surroundings and record your adventure.
The Packing List
These are all the items mentioned in the article but listed without further commentary. If you check-off an item on this list, the browser will save it for later when you come back to this page. Happy packing!
For Brands
Are you selling a product relevant to paddling that you want us to use on the Danube in 2021? Get in touch with us and let us know what it is!
Save for Later on Pinterest?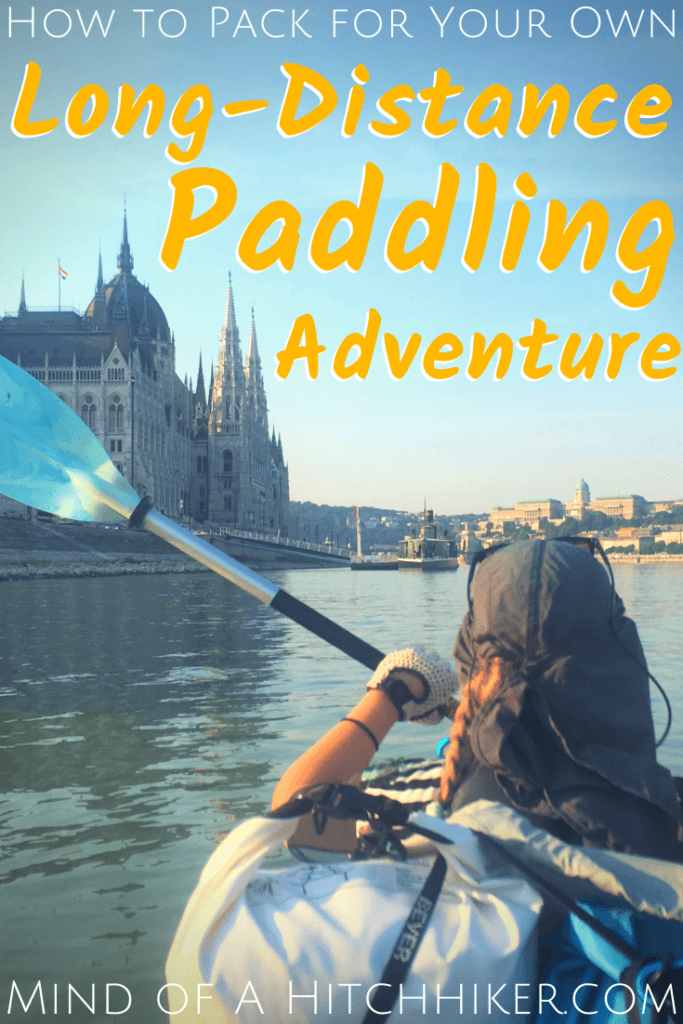 This list of recommendations contains affiliate links. If you buy something via this gear list, I might earn a small commission at no extra cost to you.