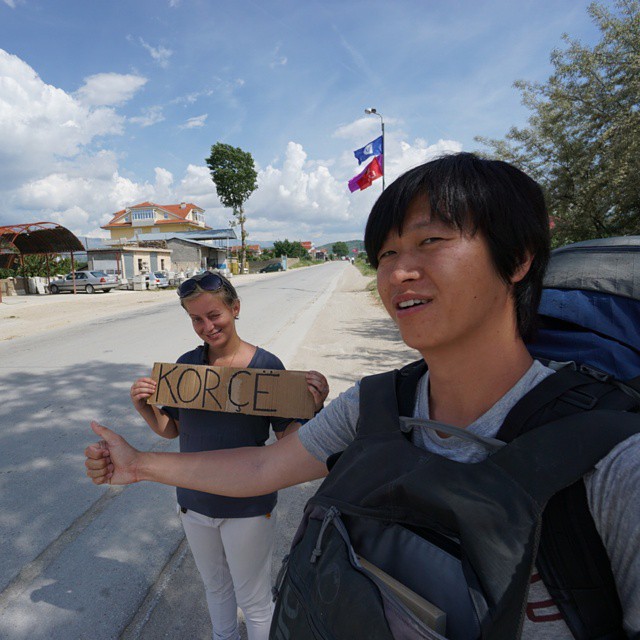 Remember this guy from one month ago? His name is Dongbum and he's from South Korea. We met in Kotor in Montenegro and ran into each other again yesterday in Pogradec, Albania. He also had a hitchhiking sign, so it clicked. There seems to be a kind of Balkan Trail, just like there's a Gringo Trail in South America and the Hippie Trail in Eurasia. I sometimes look at this map of backpacking trails by Sandalsand to get the big picture. I'm still not sure if where we are now is part of the Balkan Trail, but the coincidence was too big to not hitchhike together for a little while.
Today Dongbum would have gone to Macedonia but then the plans changed again like the mayhem it's been the past couple of days at the hostel in Pogradec. Long story short: the hostel project didn't take off because of the person who owns the building. Dongbum arrived there right on time for the unceremonious closing. And now we're in the metropole of Leskovik—joking, it's a rural village.
Now he might go to Greece. We had six rides hitchhiking today and it was quite fun until the rain started and it turned dark. Now we'll try to find some urban camping spot, ask to sleep in the mosque/a bar/someone's house, or head for the woods.
And oh! I learned some Korean writing today. That was pretty cool as well, in spite of my hangover that just refuses to leave. I can't say I understand how the writing system works. I think learning the Korean alphabet (is it an alphabet?) requires a clear head and a stable hand.
Happy hitching with my Korean friend! 😀
#Shqipëri #autostop #nonstopautostop #Korea #southobviously #noplans #random #camping #freecamping #staytuned
(at Leskovik, Korçë, Albania)