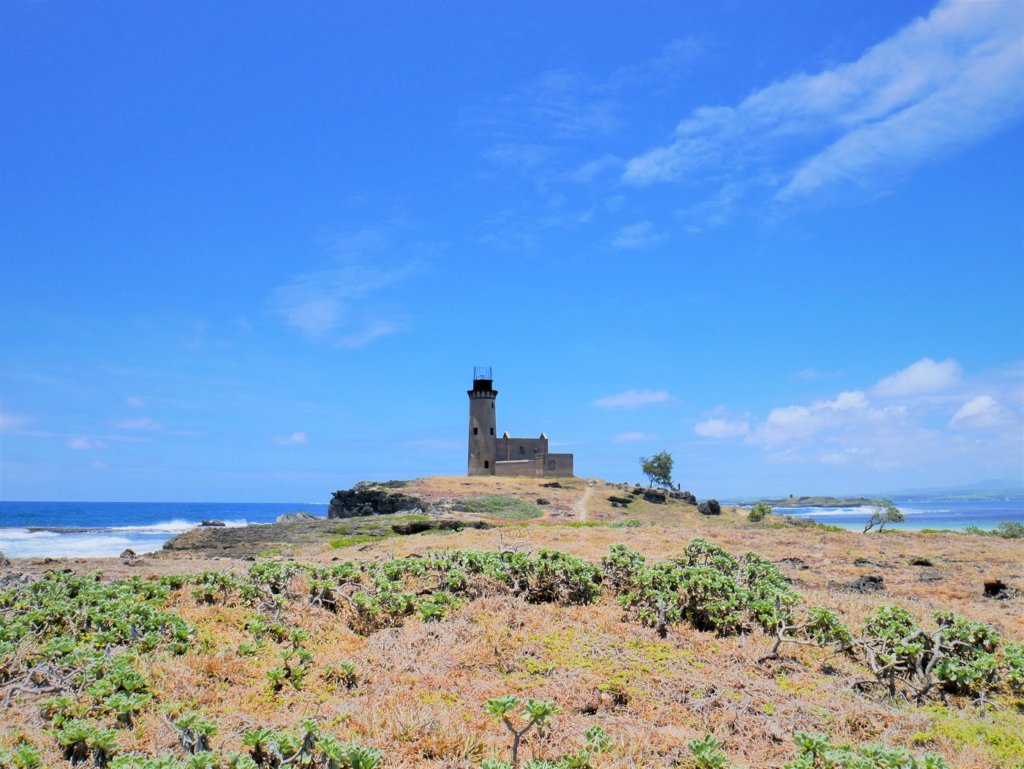 All this happened on December 9th, 2021. I passionately wanted to visit the abandoned lighthouse at Île aux Fouquets (also known as Île au Phare) from Mahébourg. We joined a boat trip organized by a snorkeling shop/tour operator in Mahébourg. This included three snorkel sessions. This post doesn't contain underwater photos taken by me, so if you're disappointed because I only took pictures of concrete, you've been forewarned.
Arranging the Trip
After some early day cocktails, we walked back home via the famous 'Case Nautique'. It's a few blocks from our house, but so far we never managed to visit while it's still open. We arrived there after 17:00 and it was closed again. I took some photos of the opening times and the prices for kayak rental when a guy turned the key and opened the door.
We mostly wanted to inquire into kayak tours, followed by renting a scooter, and lastly trips to the outer islands. We'd also be down to rent a kayak without a tour, but on the sea, we think it's nice to first go with someone who knows the area and the best mangroves.
The business owner had a very cool map of the coast of Mahébourg to show the different things they offer. We inquired into a bunch of things. The tour to kayak up the river would be in two days. I asked about visiting Île aux Aigrettes and Île aux Fouquets in my rusty French and he said those are also possible to visit, although you can't land on Île aux Aigrettes without taking a tour.
Another couple was going to snorkel at Île aux Fouquets tomorrow, so if we wanted to join that tour, it would be a little cheaper than if we'd want to do it solo. Rs. 2000 instead of Rs. 3000 for the both of us, snorkels and flippers included. They'd first make a stop next to Île aux Aigrettes and then drift snorkel with the current, then go to Île aux Fouquets where we could go on land, then snorkel at Île de la Passe followed by one more snorkeling spot. I asked if we'd also land at Île de la Passe but the answer is unclear. We got his WhatsApp and told him we'd discuss it and then let him know tonight.
I argued in favor of joining the Île aux Fouquets trip and Jonas was on team join a kayak tour. Since we wanted to do something the next day, we decided to do the Île aux Fouquets trip. The owner of Case Nautique (I think his name is Brummell) immediately confirmed our trip. We had to show up at the shop at 9:15.
Getting Snorkeling Gear in Mahébourg
Snorkeling is something I tolerate but don't truly enjoy. At Case Nautique in the morning, we received clean and good-quality snorkels from a staff member. We also received swimming flippers that we'd probably not use because I hate them—meaning I don't know how to effectively use them. The owner spotted our shoe sizes in one glance and though I am not a fish and will not tolerate using them while swimming or snorkeling, they fit perfectly.
We walked to the slipway two blocks away from the shop where the boat was waiting. The other people on our snorkeling tour – a German couple – also showed up armed with a bottle of sunscreen. Smart. We'd applied sunscreen at home. We introduce ourselves but it's into one ear and out the other.
Brummell warned us not to walk into the water on the slipway because it's heckin' slippery with algae. Instead, we had to hop onto the beach to the side and then walk into the water. Only while feeling the sharpness underneath my thick-soled water shoes, I noticed the beach is a graveyard of seasnails. In the water, it was a graveyard of wet sea snails covered in algae and floating organic matter, but it wasn't too slippery.
The captain of the motorboat was preparing some stuff and we climbed aboard. I found a nice shadowy spot at the front of the boat. Our snorkels and flippers had somehow also made the journey from the shop to the ship. Once we had all boarded, we sailed off towards our first stop: Île aux Aigrettes.
Snorkeling at Île aux Aigrettes
Brummell explained some stuff about the corals here in the bay. This bay on the east coast of Mauritius is officially called the Grand Port Bay, but people often call it Mahébourg bay. The reefs form a nice protective barrier of the bay on which the big waves and the occasional cargo ship crash. Outside, the water becomes deeper, but inside the bay, it's quite shallow (here's a nautical map) and even small motorboats such as ours need to be careful at times. Our captain – I didn't catch his name – takes an indirect route to Île aux Aigrettes to avoid going over shallow patches of coral and potentially shredding the fish we hoped to see.
We sail to the southern edge of Île aux Aigrettes. The island has a funny shape; there are no gentle slopes to enter the water, but rather a sharp, hollowed-out edge that hovers over the water. Though the water today is rather flat, the island must be made of some material that lets simple wave action eat away at it.
Brummell explains that we don't need flippers for this section, because the current will push us in a northwest direction around the island. All we have to do is put on our snorkels and float. We all stuff our face masks in our bags or clothes we leave behind on the boat. Of course, I'm the last one to hop into the water.
The snorkel goggles fit just right but the pipe is horrible and gets stuck on my hair. I try really hard to make it work, but breathing through the pipe is just uncomfortable. And whenever I see a fish I panic a little and feel like I can't breathe with that weird and unpleasant thing in my mouth. Did something just touch my leg? Oh god, kill me now.
The friendly captain sees my troubles and I'm thinking of getting back aboard and waiting till we go to Île aux Fouquets—the reason I'm doing this. Instead, he pulls up to me and throws me one of those lifebuoy rings. I decided to give that a try, but first I take the stupid pipe off the snorkeling goggles. For the rest of this snorkeling session, I'm using the flotation device to keep high above the reef and its smelly inhabitants. I just hold my breath and stick my head into the water and take a big breath when I run out of air. Works for me.
I'm finally getting a little bit into the snorkeling. Though Brummell said the reef here is one of the best in Mauritius, it's just as beige to me as it was in Providencia (Colombia) and Belize. Something I did film in 2017:
Here too, there are colorful patches of corals, of course, but they don't happen as often as in the over-saturated and color-corrected stock photos you find of coral reefs and their inhabitants: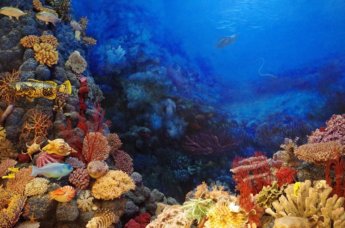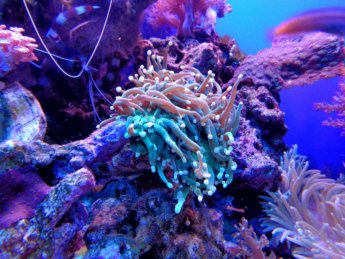 Come on, this never happened: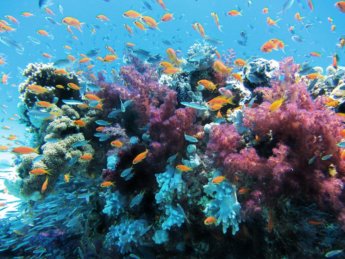 These clownfish only exist in your acid trips: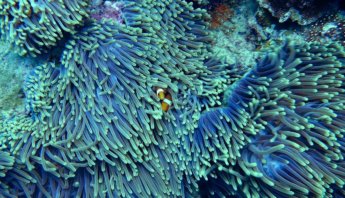 This is the most realistic-looking stock photo I found. I mean, look at these surreal and colorful saltwater dildos I never met. Now that's something to get excited about: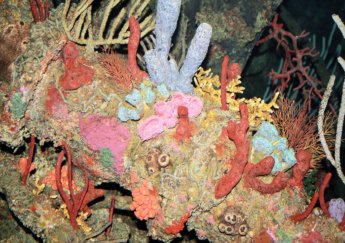 But the reality is more that there are some colorful fishes around I'm not thrilled to meet on a backdrop of meh. So I'd rather be like this wise stock photo guy and be in a boat above all that shit: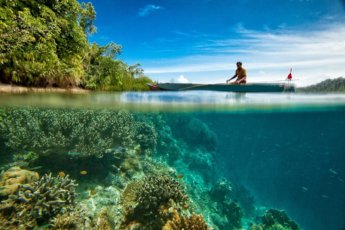 Now you might think "Oh, you poor basterd, the wonders of snorkeling are totally lost on you," but something happened during the last snorkel session that you'll read later on.
During the first snorkel session that just didn't seem to end, the current dragged us away. I saw several crab or lobster traps at the bottom of the sea. I even managed to swim against the current enough to catch Jonas and point out the big colorful fish stuck in the small cage. Poor little guy. I see Brummel dive down to the trap to do something with it while the current drags me away.
Back aboard the boat, we talk about the things we saw underwater. Brummell talks about the fishies we saw underwater. Brummell explains that he… eh, closed the cage on that poor fish instead of opening it. I do not understand the reason. It is followed by the Germans tastelessly saying that they like some fish in the sea, but others on their plate. I roll my eyes in vegetarian.
The Germans are super excited about the fish and corals they saw. They tell their origin story of how they ended up in Mauritius and it turns out they're 110% into snorkeling. Like, that's their jive. They booked all their snorkeling tours around Mauritius in advance and will do this shit every fucking day. When Brummell asks them if they also want to land at Île aux Fouquets or want to continue snorkeling, they laugh at the suggestion to be on land and say more snorkeling.
Oh dear lord Jebus Crikey, we couldn't have been a worse match.
Wakashio Oil Spill Cleanup and Salvaging Efforts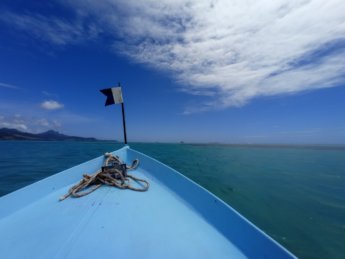 As we approach Île aux Fouquets, the heap of islets falls out of alignment and you can finally see it's three different islets. A Mauritian coast guard ship appears and approaches us. Brummell tells us to put on our face masks. I don't know the exact risk, but apparently, the coast guard has begun to venture into fining people for not wearing face masks… on a boat… on the open sea.  It's a good thing our faces had dried already from the snorkeling, but man, wearing a face mask while still dripping wet felt stupid.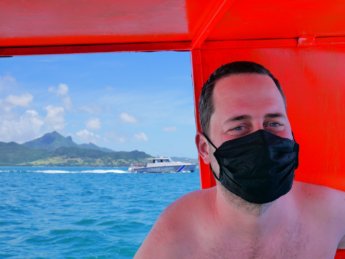 Our captain guides us through the shallow waters towards the ships that are here to clean up the remains of the MV Wakashio. I was looking for shipwrecks to swim or snorkel at before coming to Mauritius when I came across this very recent shipwreck. Likely the worst environmental disaster in Mauritian history only happened in July 2020 when the MV Wakashio crashed on the reef. All crew survived. The ship didn't contain any cargo at the time of the catastrophe, but two weeks later, oil spilled into the sea and floated into the Grand Port Bay.
The long cleanup operation began, which did take the lives of at least three people who didn't ask for any of this. As you can imagine, the environmental threat to Mauritius' coral reefs and marine life was (is) massive. This country relies on tourism, many of whom come for the colorful fishies.
Brummell tells us how this cleanup works. While the shipwreck remains at the crash site, it's being disassembled by various boats and chopped up in smaller pieces in a quieter part of Grand Port Bay. The main players are a crane ship that does the heavy lifting and a barge that transports the scrap metal to Port Louis. Various other boats such as tugboats also help. The crane ship travels back and forth from the shipwreck site to the barge lying in the bay.
During our Île aux Fouquets trip, both ships were in the bay. We pass both of them real close and see some items such as the propeller lying there. It's such a shitshow to clean this up it makes you want to join VHEM. Not chronologically, but here are some satellite photos from the shipwreck, the crane, and the barge/tugboat ensemble: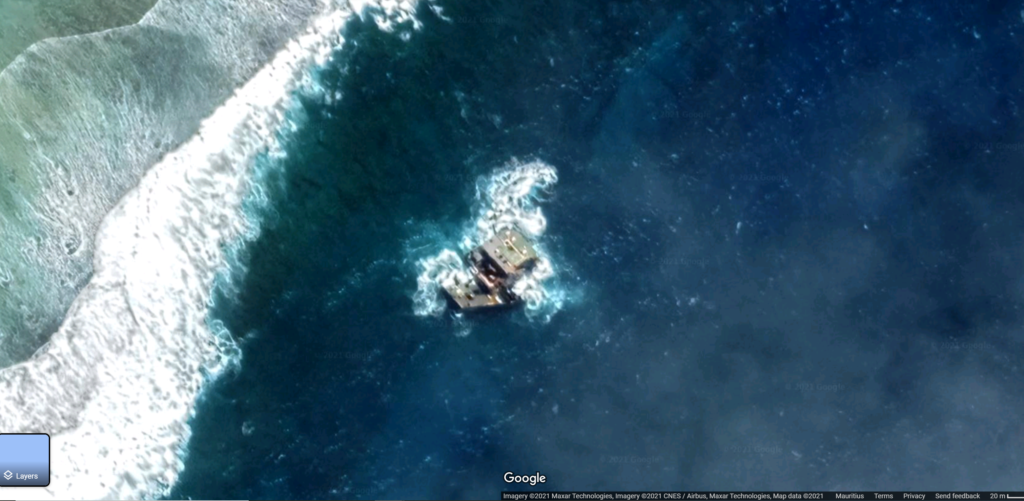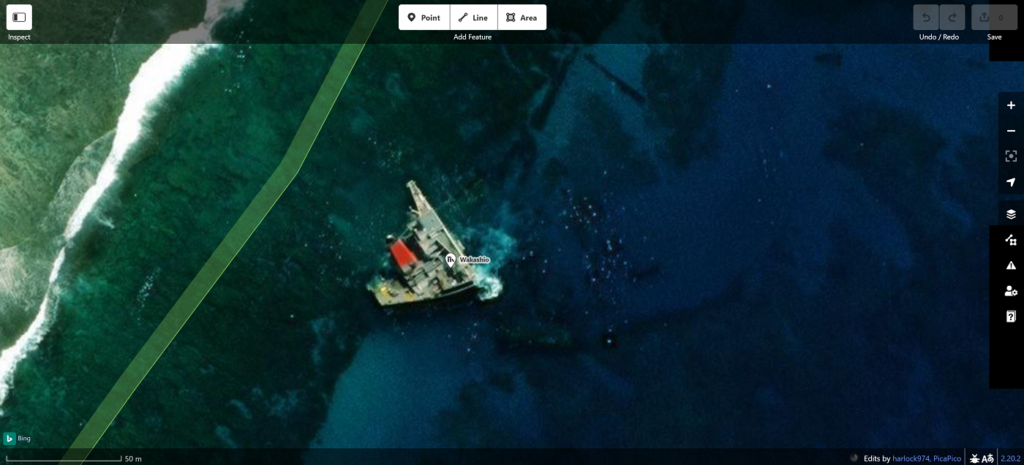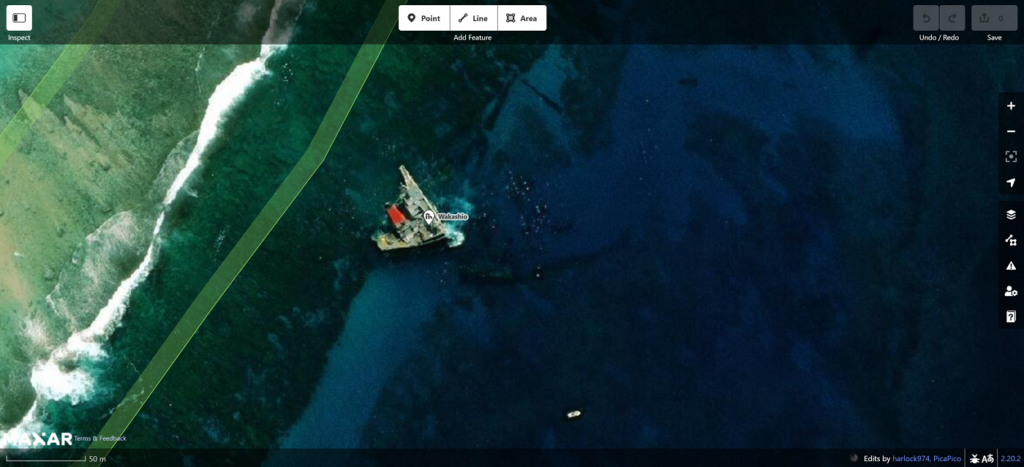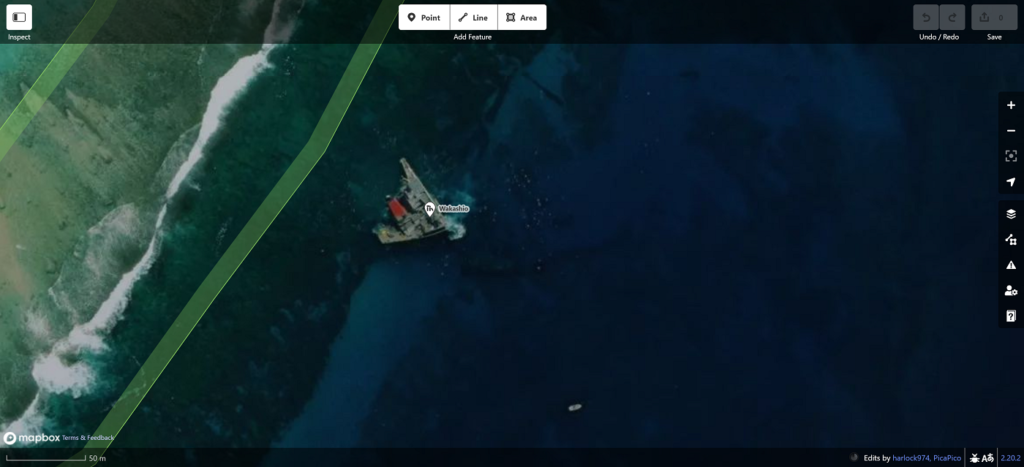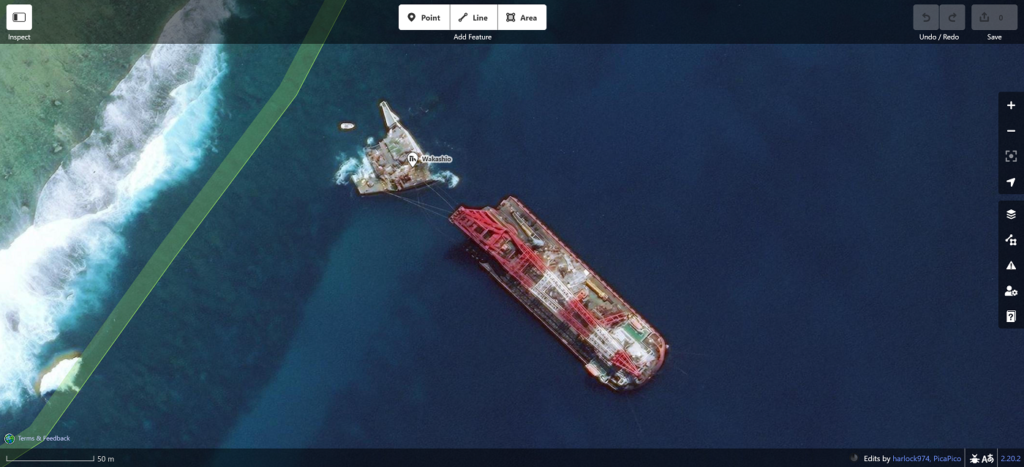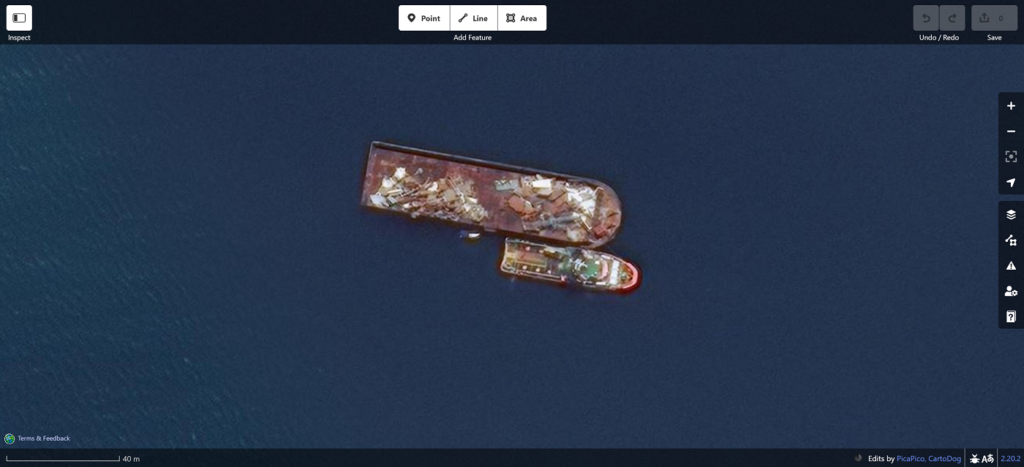 The coast guard ship passes the cleanup boats on the opposite side and disappears onto the open ocean. Meanwhile, we're approaching the sandy beach of Île aux Fouquests. I'm stoked.
Urban Exploring at the Île aux Fouquets Abandoned Lighthouse
So the deal is that Jonas and I will explore the island for 30 minutes while the others go snorkeling in front of Île de la Passe. Brummell warns us to not walk too close to the edges of this reef island since the cliffs are unstable. He also says not to try to go up the stairs of the abandoned lighthouse since the steps are unstable. I repacked my backpack to have all the water we need and my big camera. Jonas brought more water, sunscreen, and snacks. We hopped out of the boat into the crystal clear and shallow water. 30 minutes is not going to be enough for me.
On the island, we still have phone reception with our Mauritian SIM cards. We first walk up to the abandoned lighthouse and the sign that speaks of its history. I take a photograph because there ain't the time to read this. Then we check the state of the building before entering the abandoned lighthouse of Île aux Fouquets. Much like Chornobyl, I can see how visiting this abandoned lighthouse is someone's first urban exploring experience. There is already a group of tourists present on the island that's not wearing snorkeling clothes. Probably the resorts themselves can arrange a trip like this as well, minus the snorkeling.
Inside the tower, the elements have withered away the top floor leaving a rusty metal floor behind. The tower itself has a winding staircase but the crucial bottom steps are missing. This reminds me of the abandoned mosques of Al Jazirah Al Hamra in Ras Al Khaimah, UAE; the bottom steps of the minaret staircase were (intentionally) missing and we couldn't climb up. I mean, technically it would be possible to overcome this hurdle by climbing, but I think it would be unwise—particularly if you haven't updated your tetanus shot in recent times.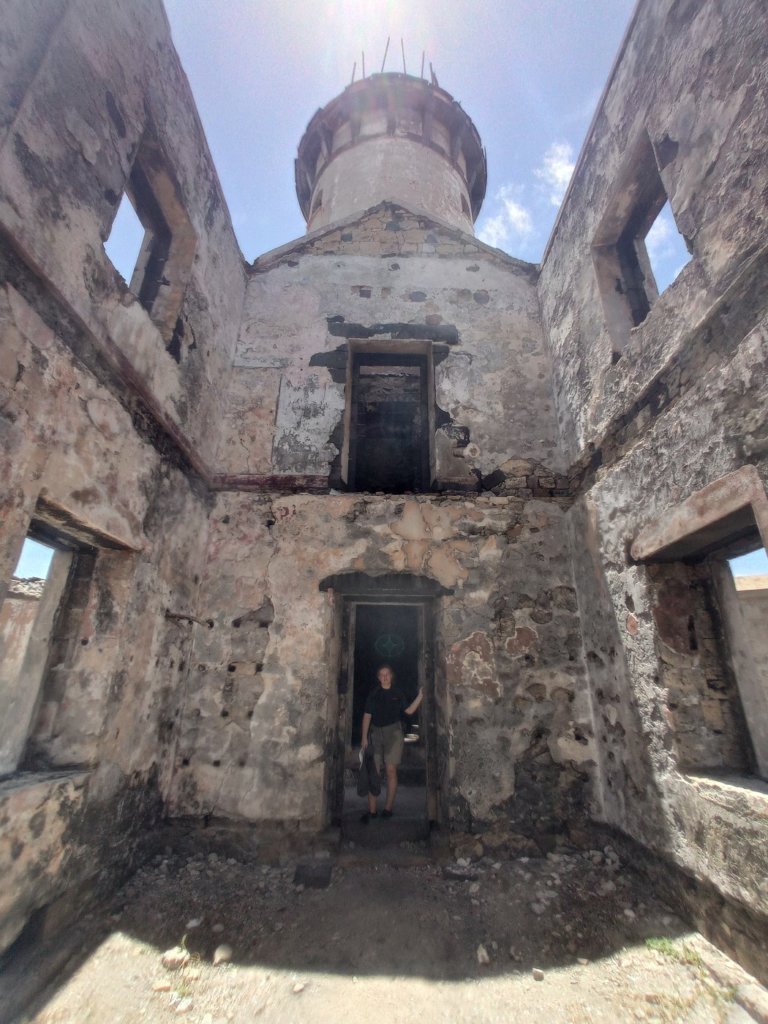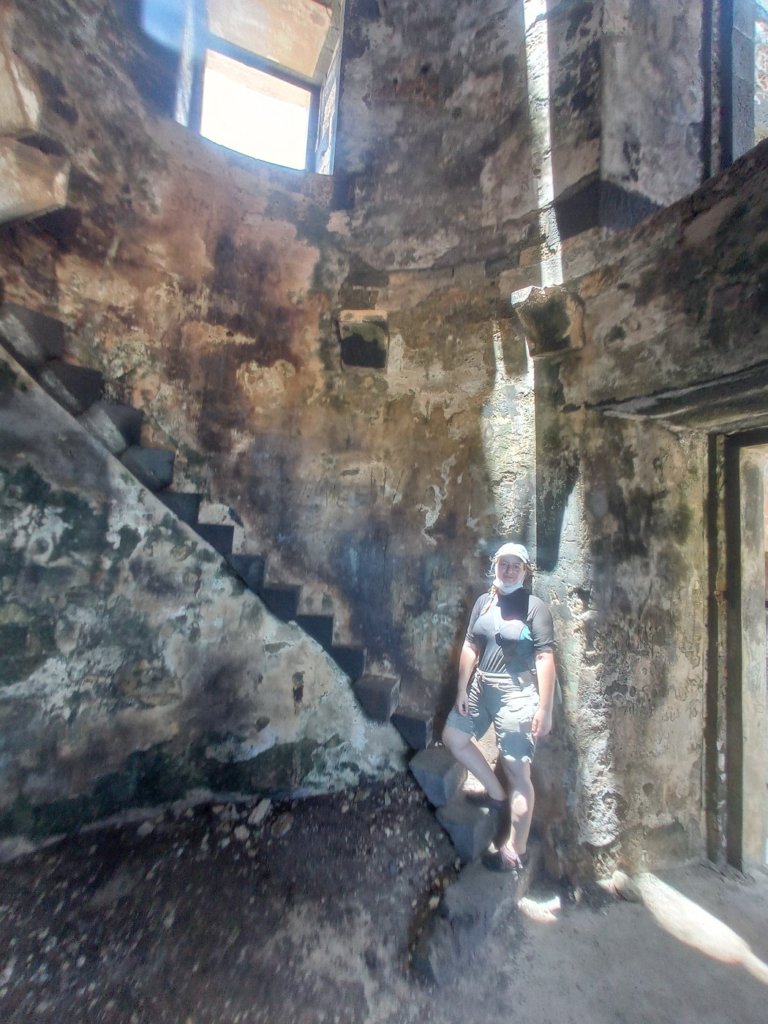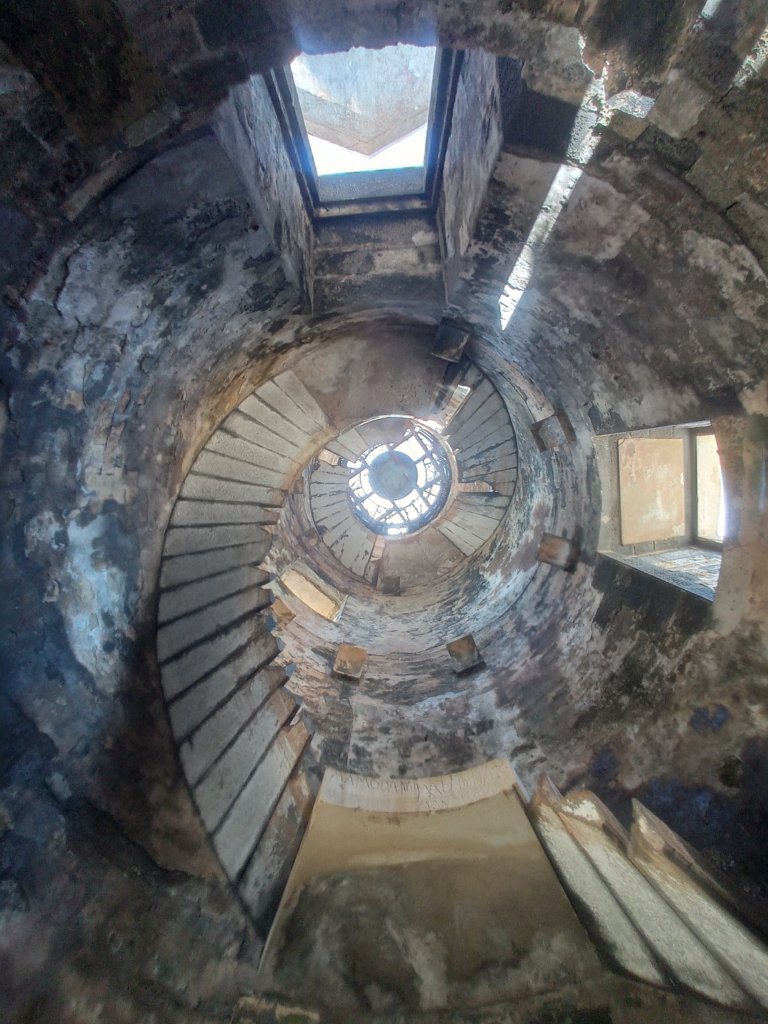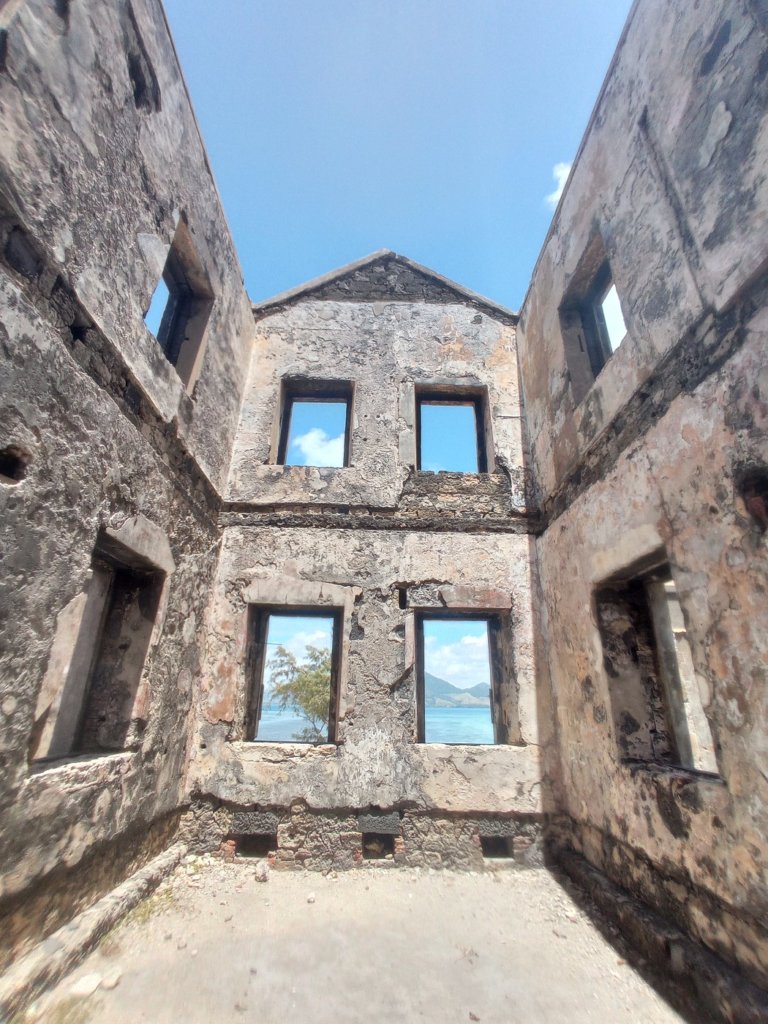 We wander around the rest of the building with its aesthetically pleasing missing roof when another boat with visitors arrives. Jonas and I wander off to the southwestern tip. We don't approach the cliff edge. From here, there is a pretty good vista of the nearby Îlot Vacoas (access prohibited) and Île de la Passe where our boat is dropping off the German snorkel fans. I see two boats floating in the clear waters. It's allowed to visit the Île de la Passe and I hope we're still doing that today.
We surround the lighthouse and visit the other side. Jonas says our time has run out, but I think we still have five to ten minutes. And I can't see our boat yet, so I think it's okay to walk off to the northeastern side of the island. This walk is a bit further and goes via a small beach. I'm very happy to be wearing my thick-soled water shoes because they're multifunctional and keep me agile. I can walk on the sharp volcanic rocks and still feel stable.
At the other end of Île aux Fouquets, I see Île aux Fous and Île Marianne. I should also be able to see Rocher des Oiseaux but it's either hiding in the surf or much lower than Île aux Fous that's lying in front of it. These islands are also protected natural areas that humans can't visit, though it's nice to see them. I make my way around the island to the east side where there are no more reefs, just the endless Indian Ocean. Since this island forms an outer barrier of Grand Port Bay and Mauritius Island itself, the waves coming from the deep crash into it with a force.
Past some caves with plastic trash left behind by the humans, I see our boat waiting in the bay and encounter Jonas on the way who is about to make the same trip around the northeastern side. He tells me he doesn't actually know what our boat looks like. I point out the one with the umbrella with the captain sitting in its shadow. We make our way back to the little beach and walk in the water to hop into the boat. I don't know how much we're late, but it's probably been 40 minutes on the island. And though I'm happy with all the things I saw there, that wasn't enough time.
Snorkeling in Front of Île de la Passe
The captain isn't mad that we're a little late. The Germans are probably even happy with the extra snorkeling time. We carefully and slowly make our way to the snorkeling site at Île de la Passe. The waters are quite shallow and scraping your boat on the reefs is pretty bad.
Once we're caught up with the German couple and Brummell, we also hop in. I take my sweet little time of course and see Jonas already in full snorkel mode.
I leave the breathing tube aboard the boat. The captain throws me the ring buoy. I was thinking of swimming to Île de la Passe since that's not likely to happen without me going rogue. But I can't see a suitable landing spot like a beach from the water and it's still a long distance from our second snorkeling spot. It's so close yet so far. Damn, I should have made this a requirement of the trip.
I stick my head into the water and see fish that are as thrilled to see me as I am to see them. Supposedly, this is the piece of the reef where the endemic Mauritian clownfish likes to hang. But I don't think I saw any or knew what to look for. So I Googled a picture so you'll know what to look for:
However, I did encounter one show-stopping fish. This fishie's blue, black, and white circles on its entirely pancake-flat body were kinda cool, I have to admit. And it was quite small, like the palm of my hand! That's a good, unintimidating size for a fish. It also hung out close to the corals in one place. Sometimes it would hide its dazzle camouflage pattern by facing me directly and mouthing angrily at me.
Given it was staying in one place, I found Jonas and pointed out the fish to him underwater and he was like, ok, cool. I know he had been snorkeling harder than I had, but come on:
Jonas didn't seem to understand or appreciate that I had just found the fish to end all need for snorkeling. Colorful fishies don't get better than this. This is the one fish to rule them all. All debate has ended.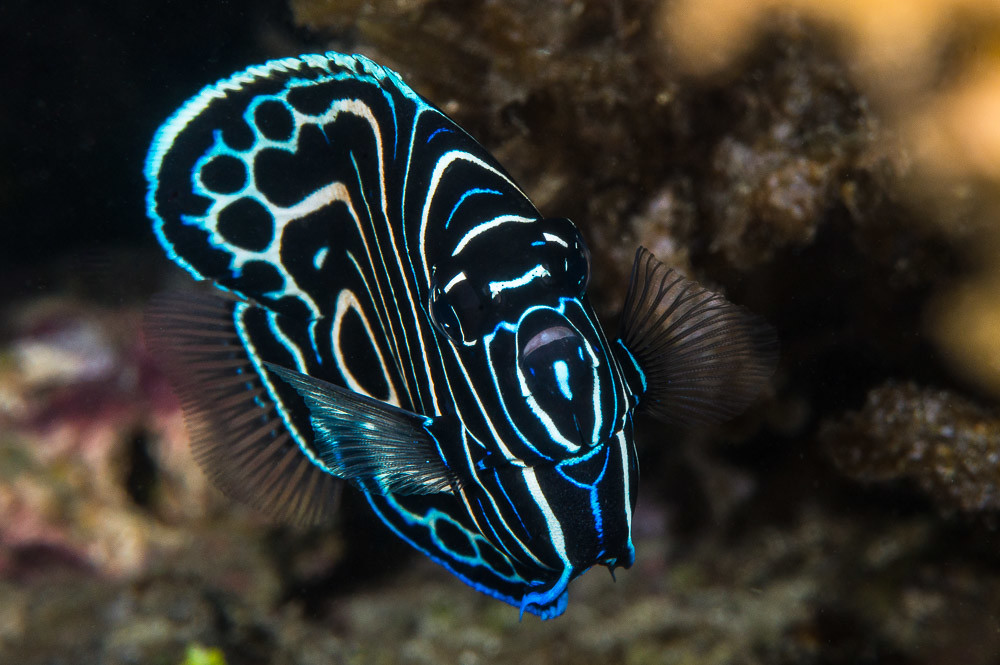 As photographed in French Polynesia by Francois Libert and shared on Flickr. License: CC BY-NC-SA 2.0, unedited.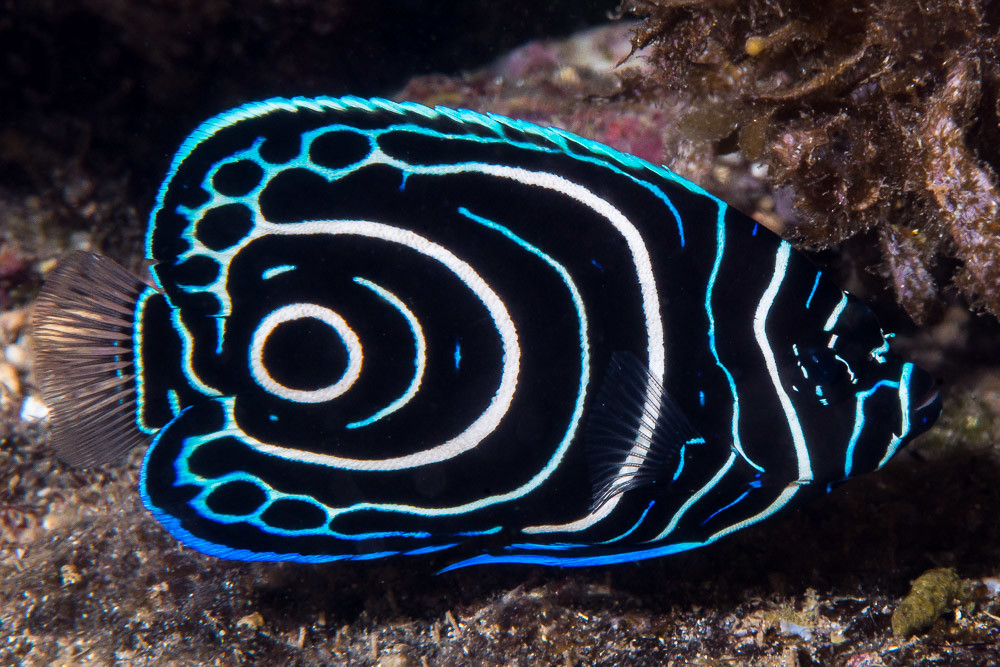 As photographed in French Polynesia by Francois Libert and shared on Flickr. License: CC BY-NC-SA 2.0, unedited.
While writing this post, I learn that this is a juvenile emperor angelfish. It only took me four hours of Googling before I found a post with a picture and name, because how the fuck am I going to end up on the right page for "blue fish Mauritius"? Glad I solved that. Edited to add: afterward Jonas also told me that he did see the black clownfish and he did like the blue fish I found for him.
Back aboard the boat, Jonas and I feel hungry. We open the bag of madeleines we brought and eat almost half of it in five minutes. I look at Île de la Passe one last time before we zoom off.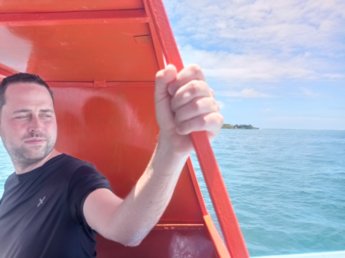 Final Drift Snorkeling Session in Grand Port Bay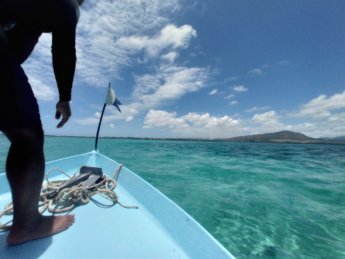 It doesn't take long until we're at the next snorkeling spot in what's frankly the middle of nowhere. There's another reef here apparently and we hop in again. Captain throws me the ring buoy. I stick my head into the water and see more fucking fish, but this time also some cool purple spikey balls. Sea urchins are another example of the endless horror show that is marine life. One audacious fish approaches closely and is making angry mouthing faces at me, like the fish equivalent of "Get off my property!"
I am… pretty done with it. I'm afraid of getting a sunburn and having the ring buoy press against my stomach makes me have a second tasting of the madeleines. The wind has also picked up with increased waves as a consequence, so I also have the occasional saltwater swirl for dessert. So I drift to the boat and hang out close to it. I analyze how the anchor works in the sand and swim around dodging floating sea crap and shallow corals. When it's time to go back aboard, I'm ready to climb the ladder.
We go back to the slipway in Mahébourg and receive the warning to not step on the slipway but on the beach next to it again. The warning now receives some gory details in the form of "people have cracked open their heads on the concrete," which I already thought had been implied.
We drop off our snorkels and unused flippers at the shop and walk home. It had been fun, but the highlight was always going to be the abandoned lighthouse at Île aux Fouquets.
Information + Prices + Packing List + Map
The first step is to contact Case Nautique in Mahébourg to say you're interested. This is their location. You can also write them on WhatsApp (+230 5251 8271). Once you've discussed all the things you want to do (land at Île aux Fouquets/snorkel/perhaps visit Île de la Passe) get a quote. A custom trip without other people appears to start at Rs. 3000 (€60 or US$69) in 2021.
Make sure to apply (reef-friendly) sunscreen before you snorkel enough time in advance for your skin to absorb it. But the best way to protect yourself against the sun is always clothing. In many shops around Mahébourg and the rest of Mauritius, you can buy swim shirts/rashies to protect your upper body from the relentless sun.
For the rest, make sure you pack the following:
Dry bag for your valuables
Waterproof phone case
1.5 liters of water per person
Some snacks that don't mind the heat
Cape hats
Sunscreen (at least SPF 50)
A sarong or towel
Sunglasses
Thick-soled water shoes
A camera you're willing to take underwater
Good info? Consider buying me a coconut! 🥥
Bitcoin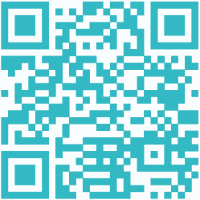 bc1q9a6w08a4gkx4gdvnh7w2vlkfzx4tlwfpfe6jm6
Open in wallet