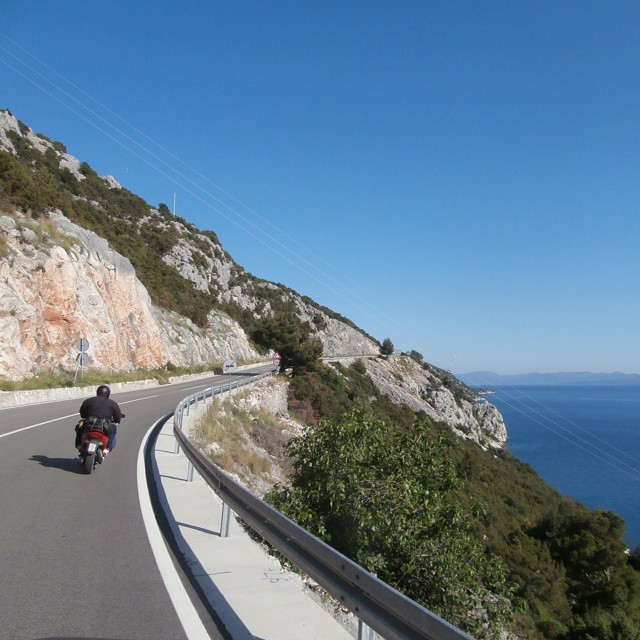 I took this photo while hitchhiking the coastal road of Croatia from Makarska to Kupari nearby Dubrovnik in a truck. There's more than one 'Autoroute du Soleil' and the French don't own the rights to beautiful north-south holidaymaker routes! If you're wondering where you need to go to travel here, look up Croatia's D8 road. It's part of an international road called the Adriatic Highway. It goes from Croatia to Bosnia and Herzegovina, then Croatia again followed by Montenegro.
Here are a video and the Google Streetview version of that video for location accuracy:
2020 update: The only reason why the Adriatic Highway passes through Bosnia and Herzegovina is because of Neum; the reason why Bosnia and Herzegovina isn't a landlocked country. Of course, it's a little annoying for Croatians to have to cross the border to travel to the Dubrovnik-Neretva Exclave. So Croatia is planning to build a bridge around Neum to a Croatian peninsula. The bridge's name is Pelješac Bridge and they hope to finish in 2022.
I kind of want to be the guy on a motorbike. Look how happy he is experiencing the freedom of riding a motorbike on a sunny coastal road in May. In terms of two-wheeled vehicles, I've never graduated beyond riding a bicycle, but I imagine that driving a motorbike is like driving a car but with more fresh air. I did hitchhike a few motorbikes, so I know what it's like but with a worse view and without much responsibility besides sitting straight up.
My original route to Albania and Malta didn't pass through Croatia at all, but I'm happy to have included a bit more in my itinerary.