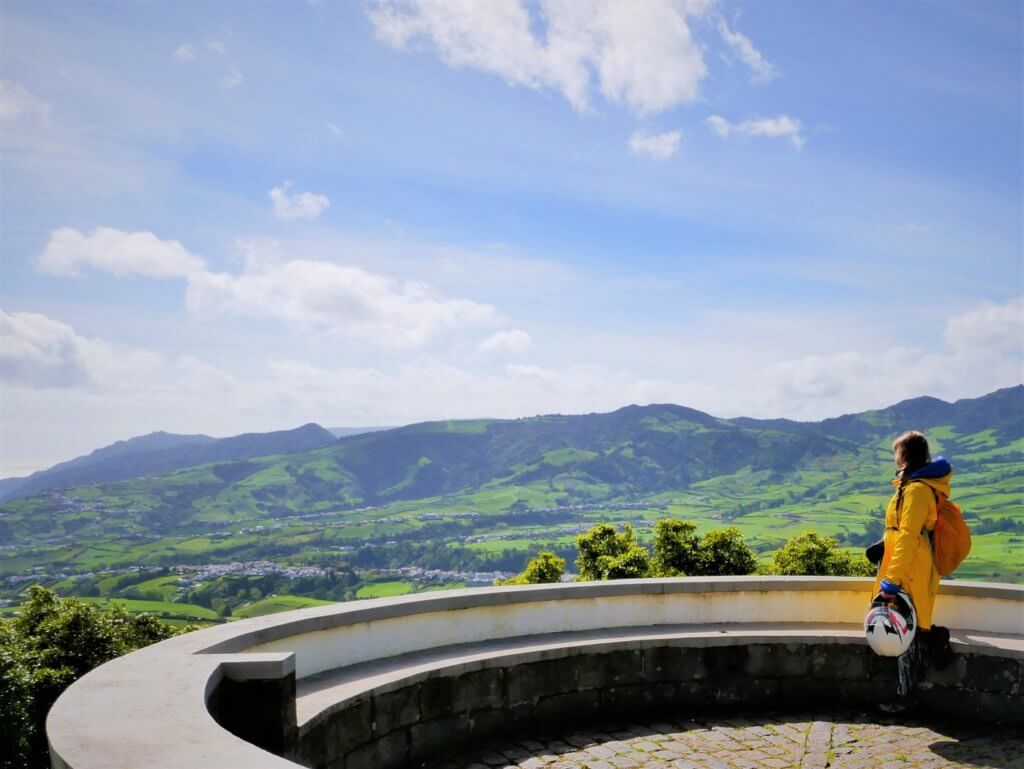 This is about our one-week stay in the Azores from the 12th till the 19th in April 2019. We flew in from Praia, Cabo Verde, and departed for Lisbon, mainland Portugal. To explore São Miguel Island, we rented a scooter for a few days. Ponta Delgada is an excellent base to zoom around the island to all the funny corners. Unfortunately, I didn't hitchhike. You can see all the places and our routes on the map at the bottom.
Background
While planning our nearly 90-day stay in Cabo Verde, we realized we needed a return flight. By the time we needed to leave Cabo Verde, it would still be too early to start our kayak trip down the Danube. That's why we thought of staying another two weeks in Lisbon. But when we looked for flights, we realized we could also fly to Ponta Delgada on São Miguel Island in the Azores. So we decided on a split stay: one week in Ponta Delgada, one week in Seixal, Lisbon. So this is one of the few times where we booked a real flight we really intended to take to show to immigration during our arrival in Sal, Cabo Verde.
By the time we were on Santiago Island in Cabo Verde, it was time to think a little about what we wanted to see and do in our one week in the Azores. We concluded that renting a scooter or motorbike for at least a few days would be optimal.
Day 0: Arrival in Ponta Delgada (Friday, April 12th)
On the 12th of April, we boarded our flight to Ponta Delgada from Praia. It was a huge fancy airplane but it was nearly empty. After seeing the last bits of the Cabo Verde archipelago, we flew over and through the nothingness of clouds on our way to São Miguel Island. I'd hoped to at least spot something of Santa Maria Island on our descent, but nope, just rain and clouds.
Our arrival was similarly rainy. We made our way to our Airbnb by taxi and settled in. Next, it was time to buy groceries. After three months of limited choices in Cabo Verde, going to a Portuguese supermarket felt… decadent. The supermarket was huge and quiet. They had everything, and within everything they had options. A true paradox of choice, since we took forever to find everything we wanted. And of course, everything was wrapped in plastic. It was extravagant. But we were also quite happy to see our beloved Queijo São Jorge again and were looking forward to making vegetarian lasagna.
Day 1: Exploring Ponta Delgada (Saturday, April 13th)
São Miguel Island is such a stark contrast with all islands of Cabo Verde; one's enchantingly dry, the other marvelously green. Both are pretty in their own ways. But after three months of relatively little greenery, it feels like the cones in my eyeballs that process these shades had taken a long rest and now I'm putting them to work to the point of overdrive.
After a morning of work, we packed our bags to wander around Ponta Delgada on foot. We first walked from our Airbnb to the church on a hill called Ermida da Mãe de Deus with its knotted trees around. From there, we walk to the marina/harbor where we found information about the ferries to other islands of the Azores Archipelago. Not for this trip, of course. This trip is just a short sample of the Azores; we already set the intention to come back for more.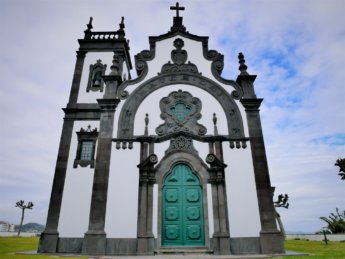 From the marina area, we walked into the downtown area with the city gates (portas da cidade) and quite some tourists around. The cute streets are super skinny with even skinnier sidewalks and yet still accessible by cars. I hope that the local government will soon realize that you can pick one: pedestrian friendliness or car friendliness. The two cannot coexist.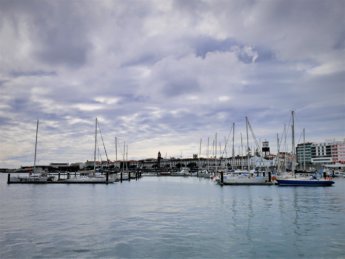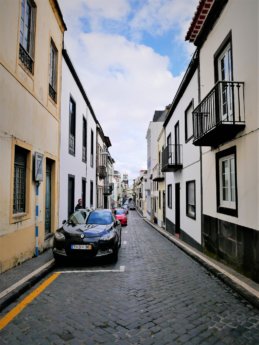 There's some street art around to add some color to cloudy or rainy days, of which the Azores receive plenty. We ended up at the Jardim Mártires da Pátria, a small park, where we sat down on a bench to relax a little and absorb our coordinates on this planet. It started to drizzle, so we made our way to a hotel lobby that also functioned as a café. The young woman who worked there complimented my helix piercing on how golden and shiny it was and asked me how I keep it so clean. It caught me so off guard that I only mumbled something awkward like "Thanks, I just shower with it." I really need to exercise my people skills again.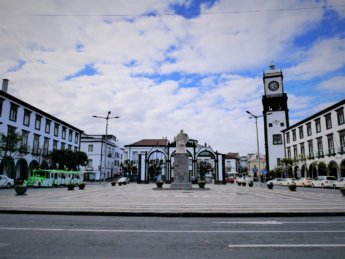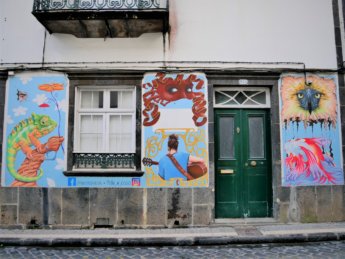 From there, we Googled where we wanted to eat. There was a burger place nearby called Supléxio that served craft beers and, well, burgers. It was super hip and very delicious, although I semi-joked it was time for me to go vegetarian after this. Besides the meatiness, I struggled a bit with the sudden increase in fanciness and quality; I'd eaten a lot of burgers in Cabo Verde to avoid the seafood issue, but the Cabo Verdean burgers aren't exactly artisanal. The sun had set by the time we were out. There was a queue of people waiting for our spot to free up.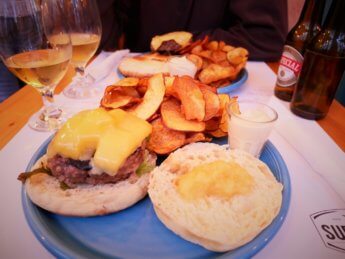 From there, we walked back home to hang our coats to dry and cozy up with a liter tetra pack of wine (€0.82), a blanky, and some Netflix.
Day 2: Fajã de Baixo (Sunday, April 14th)
After another round of morning work, we walked due north from our home to a Parque Urbano in Fajã de Baixo. This isn't a super special corner with lots to see, just something we could reach on foot that looked pleasant. While the walk in the park was very pleasant, the route on the way there wasn't very pedestrian-friendly. My OSMand+ map showed a small volcanic peak in that area that I'd hoped to reach. The hill turned out to be a forested mountain bike trail. We found that out the hard way when a young guy came crashing down the mountain, missing me by a hair.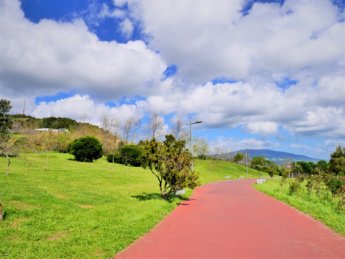 We turned home via the supermarket where we got some nice craft beers to sample.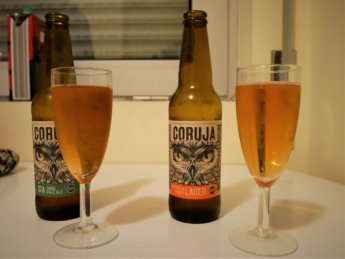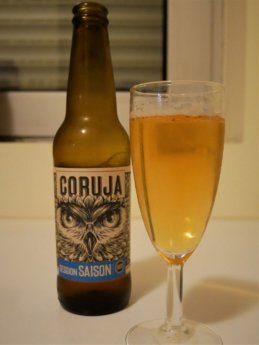 Day 3: Renting a Scooter to Explore São Miguel (Monday, April 15th)
We worked all day until the early evening when we picked up our rental scooter. First, we had trouble deciding on the right days to rent the scooter, since we were looking for good weather. However, the weather in the Azores doesn't give guarantees for no rain, so we just had to deal with it. We wanted a regular tiny scooter, but the only reasonable rental was this machine that was more motorbike than a scooter, although it was still 125CC. Jonas could still rent it with his German car license and not his Colombian driver's license.
The guy from the rental place picked us up by car to bring us to the shop, which was a really cool bit of service. Everything went well and we even received gloves with it, which was cool because it gets cold on the scooter. The price for Monday evening till Thursday morning was a reasonable €60. Two full days to drive it around as far as we can.
Since our mishap with a rental scooter in Setúbal taught us a hard lesson in the differences between Spanish, Portuguese, and Galician, I double-checked that the bike needs gasolina (gasoline) and not gasóleo (diesel). The rental guy got really upset with us for even suggesting that the two words are too similar for wildly different fuels. Like how could we not know the difference?? I swear, he almost didn't rent out that scooter to us.
After we deescalated the tension, we drove off with our heavy scooter. We didn't need to go anywhere, so we parked it underneath our Airbnb's window and took the helmets inside.
Day 4: West São Miguel by Scooter (Tuesday, April 16th)
Today, we committed to finally exploring the island of São Miguel. We packed a day bag for the trip and put on our most scooter-friendly clothes. We both have waterproof and windproof jackets for the task. At first, we needed to stop quite often to adjust things. Jonas didn't like wearing gloves, but I did. Sometimes he'd navigate with Google Maps talking in his ear, but at other times I'd have my phone out and would be telling him where to go.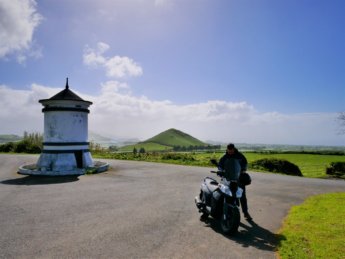 In this way, we reached Sete Cidades and its famous vistas. It's incredibly wow. The famous blue hydrangeas weren't in bloom yet. Somehow it was still too early for that.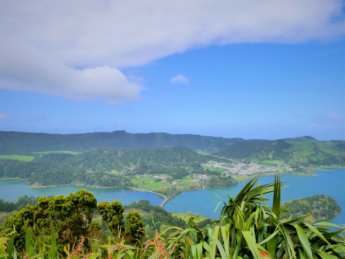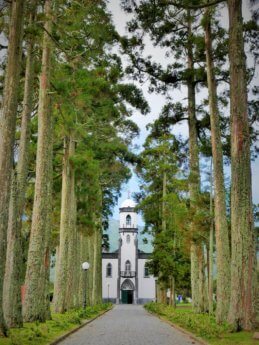 After Sete Cidades, we drove on to the lighthouse at Ponta da Ferraria. It was closed when we were there, but it's apparently open for visits only on Wednesdays between 14:00 and 17:00 during summertime and 13:30 and 16:30 during wintertime. And they reserve the right to close to the public at any moment during that time because they've got a Big Important Job to do. I have a feeling they don't receive a whole lot of visitors. Good for them.
Jonas was quite exhausted from the driving already. We drove back via tinier roads in the direction of Ponta Delgada. We also tried to go via the road that bypasses the airport's runway via the coast, but part of it was inaccessible due to construction.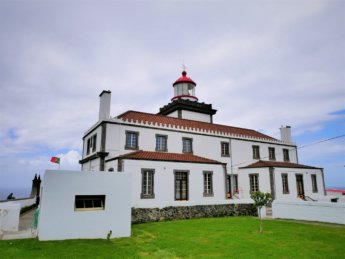 Day 5: East São Miguel by Motorbike (Wednesday, April 17th)
This would become a very long day in which we covered more than 140 kilometers by scooter. We traveled out east. We first went to some mountain lake called Lagoa de São Brás that looked interesting to me on the map.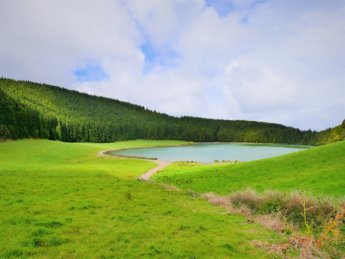 After some viewpoints, we also made an extended stop at Cascata da Ribeira dos Caldeirões—a waterfall park. There's also a nice café to have a coffee and recharge.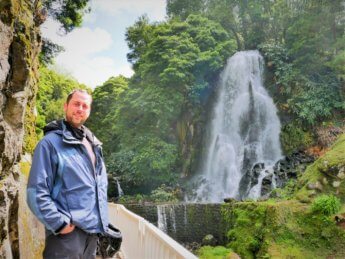 We needed to make a refueling stop. Again, we needed to triple-check which pump to use. We had a short chat here with some locals who thought it was really cool that we rented a motorbike instead of a car. Yay, free kudos. They also asked if we're a casal—married couple. I managed to squeak out we're namorados. Obrigada, coruja verde!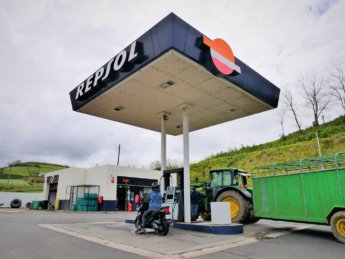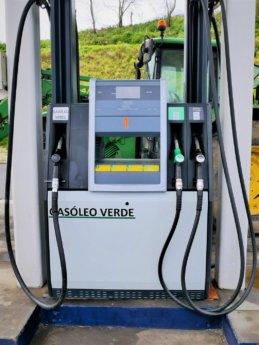 At the east coast of São Miguel island, we visited the lighthouse called Farol do Arnel. There are some absolutely stunning cliffs there.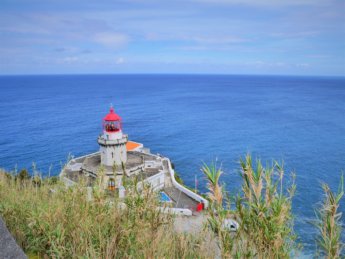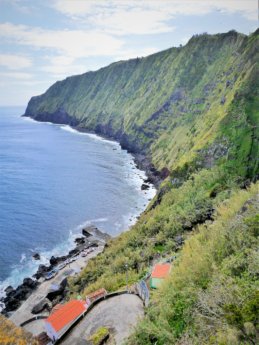 Day 6: Decathlon (Thursday, April 18th)
Today we had to return the motorbike. But we first wanted to take her out for another spin, first stopping at the local Decathlon of Ponta Delgada. We had been working on our packing list for the kayak trip down the Danube, but some things are better bought in person.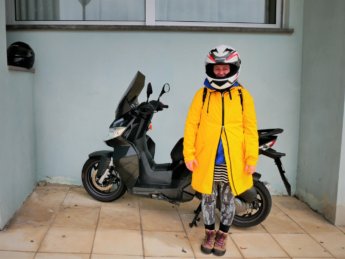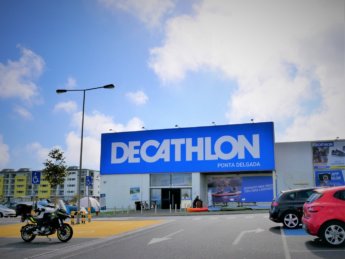 I was happy to see that there were many kayaks parked out the door in front of the shop. I definitely got into the mood. Inside the shop, I bought a rashie to be my paddle shirt, some amazing water shoes with a thick sole, and an amazing pot-pan-plates-cutlery set. Our next flights included the option for checked-in luggage at no extra charge, so bringing this back wouldn't be a problem.
After that, we drove to the Santa Clara lighthouse south of the airport's runway. Some happy-looking rooftop dogs said hi as well.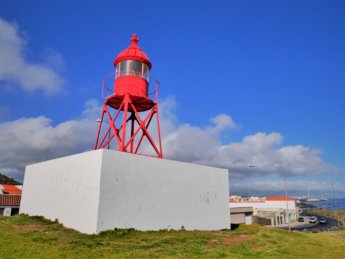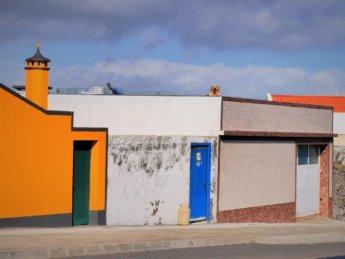 Then it was time to drive back to the Azores Easy Rent shop and drop off the scooter, the helmets, and the gloves. We got a ride back in one of the rental cars. The guy was like "this is a hybrid" or something like that and I think he was very happy with his newest rental addition because he was listing all the cool specs. This was, of course, lost on me.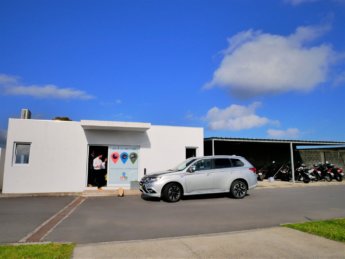 At home, it was time to pack up again for the flight to Lisbon the next day. Now how do I fit all these new outdoorsy items like a frigging pot and pan set?
Day 7: Flying Business Class to Lisbon (Friday, April 19th)
During the seat selection of our Azores Airlines/SATA flight to Lisbon, Jonas spotted that you could select business class seats at no extra cost. So we did that, wondering if we'd get it in the end.
Feeling giddy about it, we departed for the airport. The news that our 15:00 flight had been delayed came after we'd already left our apartment in Ponta Delgada. Shit. First, it was 'only' delayed by 2 hours. We waited an awfully long time at the airport and they delayed the flight even further till 4 hours and 20 minutes. The silver lining of all this is that if it's over three hours delayed (or something like that), you can receive a lot of money according to the EU rules.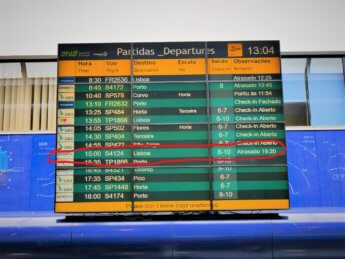 At last, not long before sunset, it was our turn to board the plane and finally leave. The business class seats were just… wider. I managed to get a glass of wine to drown my sorrows. We'd arrive in Lisbon a long time after dark and then we'd still need to take an Uber to Seixal.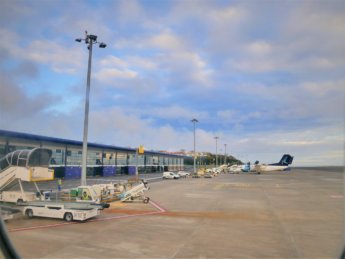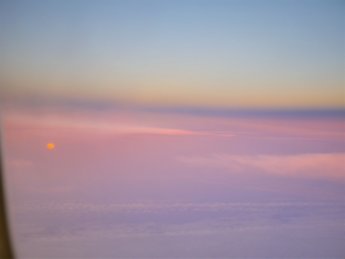 Tips for Renting a Scooter or Motorbike in Ponta Delgada
If you're not from the EU, bring your international driver's license
The weather changes quickly, so pack warm and waterproof clothes—even in summer
If you have motorbike gloves, bring them
Make sure to fuel only GASOLINA and not GASÓLEO. You do not want to make this mistake
Take it easy when driving. If you turn a corner, the wind can suddenly hit you very hard
We recommend renting with Azores Easy Rent. They pick you up and drop you off for free if you're staying in Ponta Delgada
Map of Our Trip and Ponta Delgada POIs
Thanks for reading! Consider buying me a pineapple juice
Bitcoin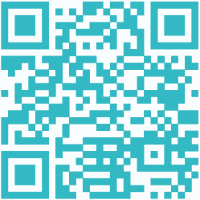 bc1q9a6w08a4gkx4gdvnh7w2vlkfzx4tlwfpfe6jm6
Open in wallet