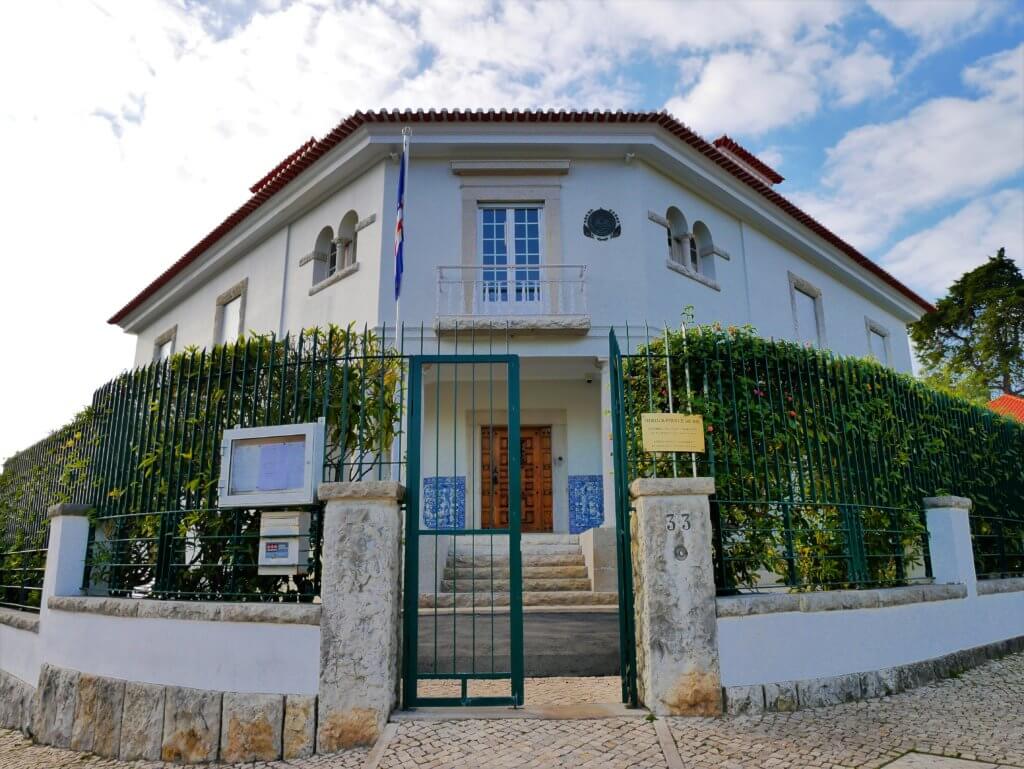 Disclaimer: This article on securing a 90-day visa Cabo Verde applies mostly to EU+ citizens. This new visa policy only applies to holders of EU, Switzerland, Liechtenstein, Norway, Iceland, and UK passports. Passport holders of other nationalities can still apply to a Cabo Verdean visa at embassies and consulates the regular way. If you don't want to read the backstory, read Part II and click The TL;DR or What to bring for a visa extension.
The Escape
After spending two winters in Maastricht, the Netherlands, I'm finally freed from that place. I did some courses, wrote a thesis, then fled to Lisbon, Portugal. The idea was that from there, me and my partner head off into a real sunny and warm place near the equator. That place is called Cabo Verde and it's 10 islands in the Atlantic Ocean. The main reason for going there is because the climate table of the Netherlands looks like this:
And the climate table of Cabo Verde looks like this:
That's reason enough to leave Europe in winter!
But in all seriousness, I really disliked 2018, in which I had to endure (or 'tolerate') weather I would normally hitchhike the hell away from. It's no wonder that the name of my first blog was 'Escapist' because that's what I was really doing: escaping. I escaped from the weather, that horrendous university, and institutional tedium. So in the spirit of my old blog, I am now once again Escapist. This time I know it will be temporary.
Booking the Flight
My partner and I booked the flight to Cabo Verde somewhere in November 2018. We decided for a stopover in Lisbon, as it's 10°C warmer than in the Netherlands in winter, and 10°C colder than Cabo Verde, so the difference is gradual. We booked the flight fully knowing that the deadline for my bachelor's thesis would fall in that month, and that if I didn't work ahead on the thesis, things would become very stressful.
With this in mind, we booked a flight from Lisbon to Cabo Verde for 15 January 2019. Juggling family's Christmas dinners and New Year's, we decided to fly to Lisbon from Köln Bonn Airport in Germany with TAP on 3 January 2019.
Finishing the Bachelor's Thesis
What a shitshow.
No really, I was a month ahead of the other kids graduating at the same time, until the Christmas holidays. I needed my advisor to look at the work before I felt confident enough to hand it in. I sent it on 28 December 2018. He said he'd have time to look at it in the first week of January. The whole 12 days I waited for his response, I was plagued with nightmares and sudden panic attacks. So much of my future depends on this study debt going away. It's not a joke.
On 9 January 2019, he sent me his feedback. I spent the next day incorporating it into the thesis and then finally, finally… I uploaded the damn thing on the university's website. I've anticipated this moment since 2010 when I started this grand mistake of a curriculum. The moment itself was anticlimactic AF. You just upload it, check if it truly uploaded, then close the window. My good friend and employee of the faculty handed in the actual, physical, paper-version of the thesis which is something I'm incredibly grateful for.
It's done. What's done is done. I did it. And I'm never doing this again.
Many people have congratulated me for 'accomplishing' this, to which I don't really know how to respond. I find it a bit weird… as if I've done something good. While for others studying might feel like an accomplishment they worked hard for, for me, it doesn't feel like that. It's more like people are congratulating me for getting out of prison, while obviously, I shouldn't have committed the crime (of going studying) to begin with. I just did my time, and it's nothing to be proud of.
Lisbon in Winter
We flew out of Köln towards the sunshine. Sunshine Lisbon has, but central heating it has not.
We essentially went from a place where it was 0°C outside and a comfortable 20°C inside, to a place where it's 15°C outside and inside. I'm not complaining. It's just something I hadn't forecasted. Luckily, there are plenty of blankets.
The day after arrival – a Friday – we directly went to the Cabo Verdean embassy. The embassy is located in the Belém area, not far from the Torre de Belém. A quick Google search showed us that the embassy was too far to walk to, but also not easily reachable by public transport. Uber it is. The area hosts many embassies, so between the tennis courts and international schools, I spot the embassy of Ukraine and Norway. The road leading there is called the 'Avenue of the Discoveries', which, no matter how inaccurate the name, did apply to the discovery of the Azores, Madeira, and Cabo Verde archipelagos; those islands were uninhabited when the Portuguese settled them.
Our Uber pulls up outside the gate of a beautiful building on a street corner. I spot a Cabo Verdean flag at the entrance. This is the right place.
Lisbon's Cabo Verdean Embassy
Around the back of the building, there's a parking lot with diplomatic vehicles and the place where people pop in and out. There's a little waiting area that's quite busy, full of Cabo Verdean people and – I presume – people like me who want to go there. We get a ticket from the machine and learn that the word for visa is 'visto' – which completely messes with my head. We pick a seat and wait our turn.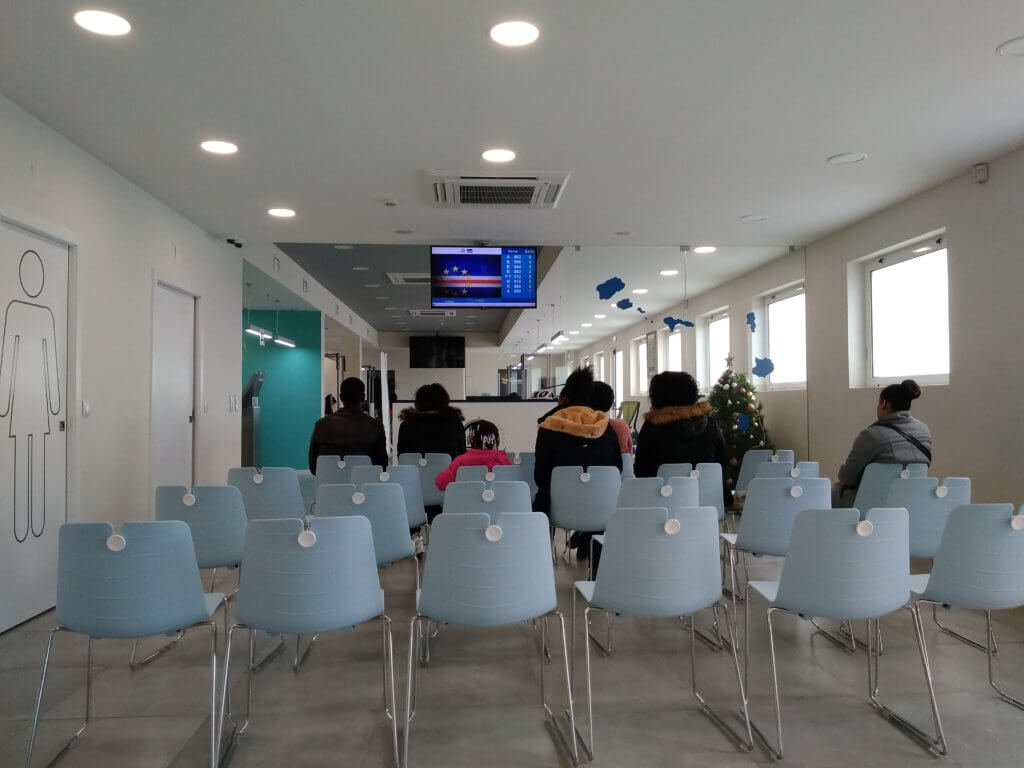 Our number gets called up and we go to the desk. A lady is sitting there, she observes us, and she already knows what's up. Even though I've been practicing my Portuguese in Duolingo now for over a month, the first thing I ask her is 'Fala Inglês?', even though I could have totally asked her 'Queremos um visto turistico de noventa dias'. She responds with a friendly 'No', and she immediately gets her English-speaking colleague to come over. I'm a little disappointed that I didn't have the guts to try out my fresh knowledge in Portuguese.
The Colleague
Her colleague is a friendly guy who directly gets down to business. We ask for a tourist visa of 90 days, which his colleague also heard and understood. Both go on to produce some A4 copy of a folder that explains the new policy. It's the 4th of January today, so the new policy has only been in effect since then. The folder has some information about something called EASE. This is the Cabo Verdean version of the US American ESTA: an online electronic visa application form, supposed to make things faster and easier.
Jonas and I squeeze in a few more questions, like can we apply for 90 days online? How much does this EASE thing cost? If we can't get 90 days directly, do we need to extend? The answers were not really what we hoped for: get an EASE visa for 30 days, 5 days before you enter Cabo Verde. Then extend inside the country to 90 days. We thank them for their help and make our way out of the embassy, empty-handed. So we fill up those hands with some Pastéis de Belém on our way home.
The Facebook Groups
We're in Lisbon for another 10 days, and we use it to get into Cabo Verde-themed Facebook groups for tips. I don't have any success with finding English or Dutch-speaking groups that are active and have a good membership. But Jonas finds three German-speaking groups with regular activity: one about all of Cabo Verde and two specifically for the island Sal – our arrival island. 
Jonas posted about our experience in Lisbon in one of the Sal groups and asked for help on what to do next. He only got two valuable responses. One from someone who told us that the honorary consulate in Hamburg still hands out 90-day visas for €45 in 2019. The other said that when you overstay, the worst thing that can happen to you is that you need to pay a €125 fine when leaving the country. And if you convince them that you don't have enough money to pay the fine, you might get away with not paying it at all. This is good to know, but definitely the worst-case scenario for us; we want to be legal, think it's incredibly rude to intentionally overstay, and don't want to repeat the experience I had in Perú. The other comments on Jonas' post are people grateful for this up-to-date information.
While we can't act on the information that the honorary consulate in Hamburg still sells 90-day visas, Jonas sends them an email. The next Monday, he gets a response from them saying that despite the new policy, they still do 90-day visas, and also at the embassy in Berlin. We then send the embassy in Lisbon another email about this, asking again if they really don't do 90-day visas anymore. They respond with a negative and, again, a link to the EASE folder. We're resigned.
Getting the EASE
Officially, a visit to Cabo Verde is 'visa-free' for the nationalities mentioned before, and what you pay for the EASE is just a 'security tax'. This is, of course, an example of elaborate mental gymnastics to justify the costs.
On January 10th, five days before our flight to Sal, we go to the website https://ease.gov.cv to sign ourselves up. The website is in Portuguese, French, and English. EASE stands for "Efficient, Automatic and Safe Entry of travellers" – and I wonder what 'safe' means in this context. The acronym would imply that it's no biggy to sign up online, but Jonas is a programmer and knows a shitty website when he sees one. The online form throws us out multiple times and definitely has that online-scammer kind of feel to it when inputting your credit card data.
It's €31 per person and you have to sign up individually. Once you finalize the registration, you have to wait for an email with a verification code. But their server only sends out confirmations twice an hour. So we wait… and we wait… and then, finally, there's that email with the important verification code.
My form doesn't accept the verification code, so I have to resend it. This is when I let Jonas finish my form because he already successfully went through it and I'm about to scream. He wraps it up, and we both receive a confirmation email that the process has started. Now Jonas gets nervous because he paid for that and we're still waiting for the confirmation. We both get an email we need to print out and bring to border control in Cabo Verde.
A Spontaneous Return Flight
Jonas' previous research in Facebook groups and online taught us that we don't need a return flight when entering Cabo Verde. The night before our flight, we start looking for return flights 'just for fun'. Just a little research so we know what to expect of the prices in mid-April – as close to our 90-day limit as possible.
Flights are already quite expensive, and they're markedly cheaper when flying from Sal. Getting way ahead of our travels, I tell him I planned the trip that we could visit 7 out of 9 islands and then fly back from Praia on Santiago island, not Sal. We discuss this and try different things on different flight websites. The flights from Praia to Lisbon often stop on Sal, which I find not ideal and quite expensive unless we only stay in Cabo Verde for 85 days. I utter my protest, saying I'd like to stay between 88 and 90 days.
A Pleasant Surprise
Then Jonas finds something to Lisbon via Ponta Delgada for €180 per person – a good price that includes luggage – on day 88 in Cabo Verde. Excitedly, I tell Jonas "Do you know where Ponta Delgada is? It's in the Azores! Where the cheese comes from!"
A little backstory: the last 11 days in Lisbon, Jonas and I have been consistently eating São Jorge cheese from the Azores. It's a special kind of delicious. I'd been sharing random tidbits of information about the Azores with Jonas our whole stay, also kind of planting the idea to one day travel there. I've wanted to go to the Azores ever since I spotted them on a map as a child.
My eyes light up as I add: "and then we'll stay in Ponta Delgada for a week!" and Jonas also puts on his thinking face. He plays around with the flight matrix. He eventually sees that the flight from Praia to Ponta Delgada, and then from Ponta Delgada to Lisbon stays the same price even if you squeeze up to 12 days in between the flights. We settle on a 7-day stay in Ponta Delgada on São Miguel island in the Azores and book the flight.
Flying TACV from Lisbon to Sal
We head to the airport on the 15th of January. We take it easy since our flight is somewhere in the afternoon. We're flying TACV (Transportes Aéreos de Cabo Verde) to Sal, which doesn't have an online check-in system, which unfortunately lessens the advantage of flying hand luggage-only.
We thought we were early for the flight, but so is everybody else; the line at the check-in desks is enormous, and we wait more than 20 minutes before it's our turn. The check-in lady does her thing, then asks something we were totally unprepared for: "Do you have a return flight?"
Jonas produces our freshly-booked return flight from Praia. She notes it down and accepts it even though it's so far in the future and presumes we're allowed to stay 90 days. Shook, we walk away with our boarding passes. "So, that information was false," says Jonas. "Good thing we booked our return flight then" I respond. Even though we don't know what the outcome would have been if we didn't have a return flight – would we be banned from the flight? Would we have to book something expensive and shitty on the spot? – we do know that Jonas has to warn the people in the Facebook group about the 2019 policy.
In-Flight
To our surprise, the TACV flight is operated by Icelandair. A pilot named Jónsson says some things over the intercom in English. The flight attendants seem to be Cabo Verdean, as they speak Portuguese.
We have individual screens. I watch some depressing Icelandic movie called And Breathe Normally. In between scenes I look out the window to spot the Teide mountain on Tenerife as we pass over the Canary Islands. I remember the holiday to Tenerife my grandma took me on as a kid. Back in the movie, one of the leads plays a woman from Guinea-Bissau – like Cabo Verde, a former Portuguese colony – but she speaks only French and English, which confuses the shit out of me.
We get food, a child screams that sets off another child's screaming, and the sun goes down. Pretty normal things. We lower altitude and fly over Sal, to approach the runway from the south. We can already see the lights in Santa Maria, where we will be staying for a few days. Our landing is smooth. On the tarmac, our group gets divided into people who have a connecting flight to Dakar in Senegal, and those who get out in Amílcar Cabral International airport (SID).
Going through Immigration
At immigration, the group gets divided into Cabo Verdean citizens, non-citizens with EASE, and non-citizens without EASE. We go into the non-citizens with EASE line and wait. When it's our turn, we present our passports and EASE confirmation email. The lady types in some things then she gives us our stamps and we're in!
This part was very easy. The next? Not so much…
Want to read more about how I finally, actually got my 90-day visa to Cabo Verde? Click here to read Part II about securing that sweet visa and see what happened next!
Want To Save This Information For Later? Pin This!