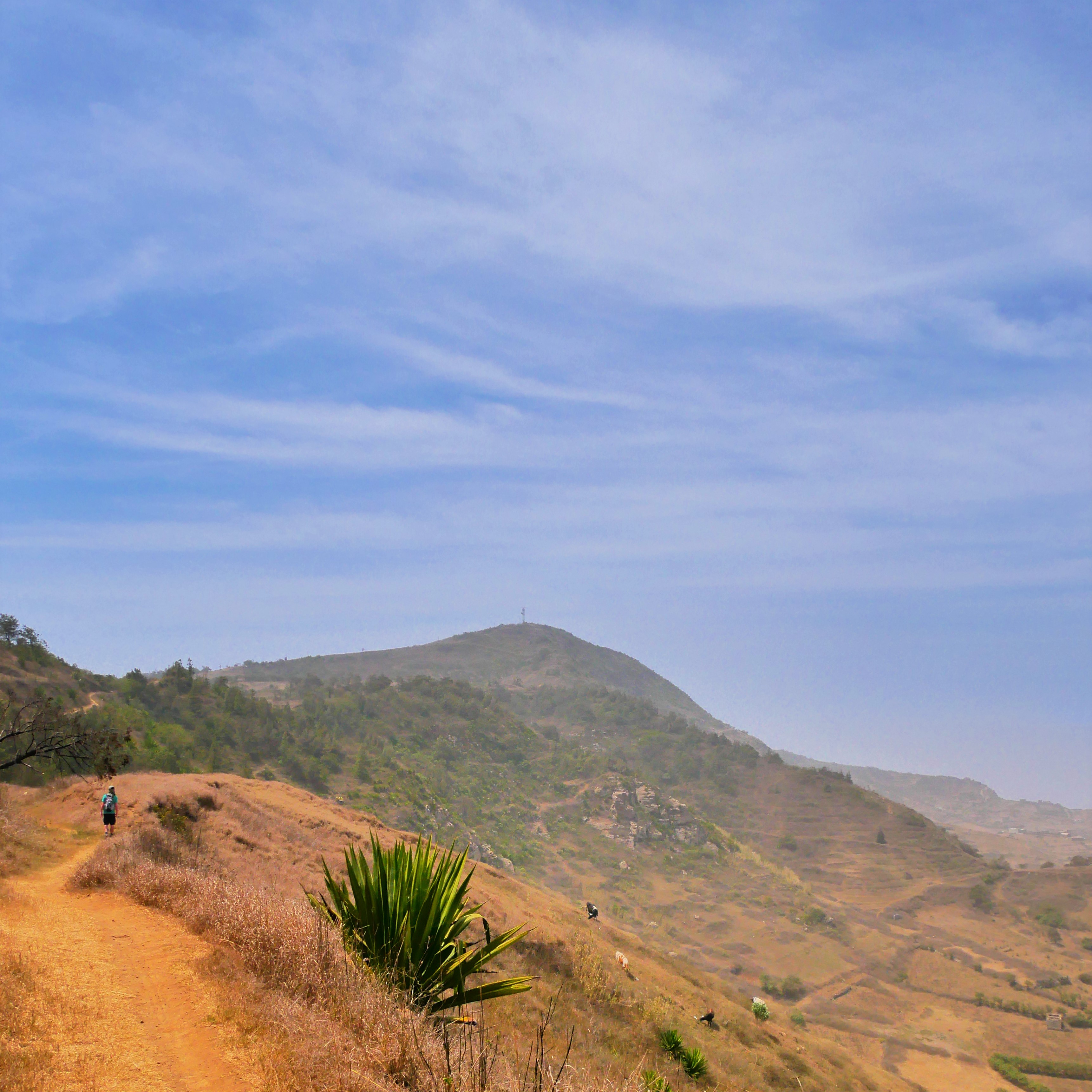 This article is about the highest peak of Brava island named 'Fontainhas' in Cabo Verde. It is not to be confused with the hike from Chã de Igreja/Cruzinha to Fontainhas/Ponta do Sol in Santo Antão!
Intro
Fontainhas is at 976 meters the highest point of the tiniest island in Cabo Verde: Brava. Brava is truly tiny; you can walk pretty much across the entire island in one day. I did this hike to the peak from Nova Sintra to Cachaço. Nova Sintra is the biggest settlement in Brava, and probably where you'll be staying at.
Hiking to Fontainhas without a guide is very easy with the right tools. If you have a smartphone, make sure you have an offline map app like Open Street Maps (OSM), which has all the hiking trails. You can make this a through-hike to Cachaço and then take an aluguer back (unless it's Sunday). You can also make it a round trip back to Nova Sintra via another trail. Or you can hike to Nossa Senhora do Monte, from which there are more regular aluguers/taxis to take you back.
I hiked through to Cachaço, which I wouldn't really recommend unless you're fine waiting all day for a hitch, an aluguer, or a taxi back. More on that later. Here's an aerial photograph of Brava (left) and Fogo (right) by the European Space Agency (ESA). The round crater on the island is the crater of Fontainhas. Cool, right?!
The Fogo, Cabo Verde islands lie in the Atlantic Ocean, around 600 km off the west coast of Africa. This image was captured by the @CopernicusEU #Sentinel2 mission on 22 January 2018 and features in this week's @ESA_EO #EarthFromSpace programme
🎥 https://t.co/O1O05oeDzM pic.twitter.com/cXt0dz64q4

— ESA (@esa) November 18, 2018
OK, I see you're being distracted by that big-ass volcano on the other island, so I made some notes: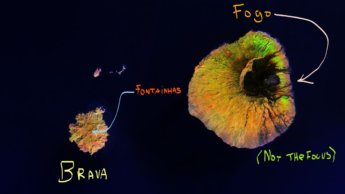 Do you see that sweet crater?!
The Hike to Fontainhas
Events happened on Tuesday 12th of March, 2019
It's our first full day in Brava. Jonas and I started the hike quite late in the morning at 10:10 from Djabraba's Ecolodge. We ate a lot of the included breakfast, which we usually don't do before a big hike. We walked through Nova Sintra to pick up some more water, then set off from the center to the edge where one of the hiking trails begins.
The day was sunny as usual but had quite a bit of pó di terra, or ground dust as a visual obstacle. I questioned whether we should still pursue this hike, or do something else that day, but we decided it would be fun either way. This would be our third highest peak of an island in Cabo Verde, after Monte Gordo in São Nicolau and Monte Verde in São Vicente.
First, it's like walking through Cabo Verde's version of suburbia; lots of houses, often big villas, next to skinny trails in quiet neighborhoods. A woman in business-casual gear walked down while we went up, leaving behind a trail of perfume that wouldn't abate. I've been at this hike for a whole five minutes and already smell pretty bad.
Sometimes, the trail cuts through a bigger road suitable for cars. It would have been possible to drive up here with a taxi and make the hike a bit shorter, but I wouldn't have enjoyed the process of trying to explain where we're going, let alone negotiate a price.
The Little Green Church
The real trail starts at a little green church with blue doors. There's a wayside sign indicating very early where you can go to from here. When reading the Fontainhas hike's description on paper that morning in the hotel, it kept talking about passing a blue house and then making an important maneuver. We still have no clue what blue house the paper was on about, but the little green church was practically the last building we encountered here.
We thought we already covered quite a distance, so we had a drinking break next to the church in the shadow. It was my turn to carry the backpack. My app said it wasn't that far anymore, but that the steepest stuff would start here. I looked ahead and saw some antennas on the biggest peak in the surroundings. "That must be it," I thought.
We continued our hike over the excellent trail. From up here, we had some views of Fogo in the distance, slightly veiled in clouds and dust. We approached the peak quickly and thought we were in for a quick return and then a midday nap. Then at a ridge, we see another peak, quite far away. "Shit, it's not this one is it?" I comment, "I suppose so" Jonas responds. We look on the map to confirm, and yes, this is a false peak. Fontainhas is still a few more kilometers.
Animals on the Trail
From this flatter part of the trail, we had a beautiful view of the fertile valleys of Brava's interior. It's much greener up here. A man with a packed donkey is on a lower-lying trail, and he's moving quickly. Before we know it, he's behind us with his high-speed donkey. We take a right turn, and he picks left.
Our new trail is very skinny and has lots of tiny scratchy bushes. The same paper from this morning that spoke of a blue house also spoke about the trail not being very visible in the rainy season. We're in the dry season but could totally see how with a little bit of rain, these tiny scratchy bushes become big angry bushes that overgrow the trail. We continue on this trial nonetheless.
Until a young cow with spiky horns stares deeply into my eyes and moos loudly. I freeze. Jonas freezes. We approach a little more carefully, but the cow moos louder and with more attitude. There are more cows than just this one, and all of them look like they're out for blood. I never knew cows could be territorial, and shit, it's on our path. I'd read some story about a woman being trampled to death by cows in Austria a few weeks before. So I turn to Jonas and ask if he's comfortable.
Jonas isn't comfortable and says he respects creatures larger than him too much to mess with. We go down into a field of sorts at the foot of Fontainhas. For about 20 minutes, we dick around being off-trail until we reconnect to the hikeable trail a safe distance from the cows.
The Last Leg to Fontainhas
The last stretch of path is pretty straightforward and scratchy. There's a radar installation on top of the peak, perhaps for the old airport Esperadinha. It looks broken. The antennas, on the other hand, look mighty fine. There are no holes in the fence around the structure either, which is kind of rare in Cabo Verde.
Behind the antennas is a little stone to mark the actual peak. From here, we have a really nice view of almost the entire island. Nova Sintra isn't visible from here, but we can see Nossa Senhora do Monte and a bunch of other places we don't yet know the names of. It's 12:25 and not too sunny or hot. We high-five for the accomplishment and decide it's time for lunch. We stay at the peak for 40 minutes.
Hiking Back, or Forward?
At the peak, I got the idea to continue our hike to Cachaço. Jonas had the idea to walk back to Nova Sintra via an alternative route. Our paths wouldn't split until 1.4km (?) from the peak, so we could postpone the decision until then.
It's 13:20 when we walked through fields and lost track of the trail. A man chaperones a cow, which soothes me, and we wave from a distance. We just followed GPS to eventually refind the trail after many an orchard of… I don't know, you tell me?! Looks beautiful, and possibly edible?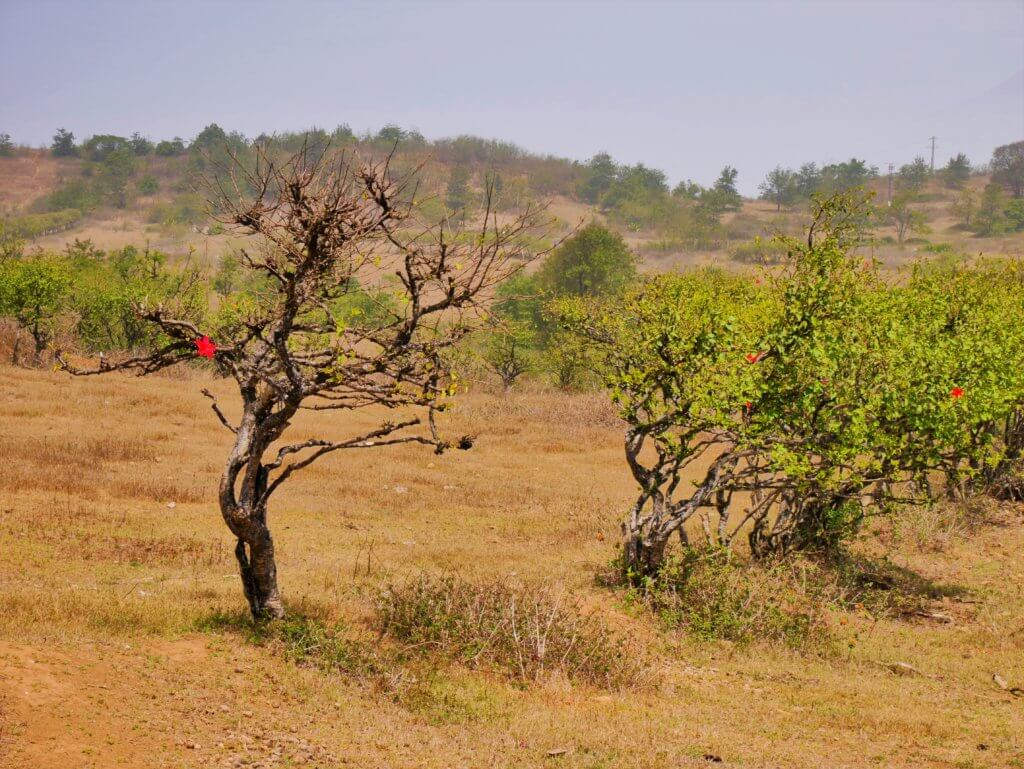 A different valley appears after the path turns right between two cliffs, we arrive in a different valley. It's windy, but also very beautiful. A man on a donkey rushes down on what we already suspected to be donkey trails.
We arrive at the crossing, where we have to decide what to do next. Jonas wants to return to Nova Sintra, based on our experiences that it's difficult to catch an aluguer in the afternoon in Cabo Verde. I propose continuing south to Cachaço, the end of the road on the tiny island of Brava. We have plenty of individual cash to go our own ways, which is what I propose next, but Jonas decides to join me to Cachaço, on the condition that I pay for our transportation back to Nova Sintra.
Hiking down to Cachaço
The quality of the path declines only slightly, but some parts are steep. We sometimes question which way to choose when the path forks. Our map helps immensely to choose the best option. The trail is long but widens when the slope flattens.
We arrive in Cachaço at 14:45. Where our trail connects to the main road of the island, a disturbed-looking cow trots by as if it has errands to run. We turn left towards the center of the town, looking for food or a cold drink. We encounter a bunch of loud, possibly drunk people near a house that stands out from all the others. On my map, it says we're next to hotel Ka Dencho, but it doesn't look like something you'd find online. We enter a shop before the village's church and buy two cold drinks from a young man.
Outside, the argument among the villagers seemed to have become more heated. We politely say hi to everyone as we pass by the situation. We return to the place where we entered the road and occupy a comfortable flat space on the roadside wall. A donkey follows the path the cow took towards a certain house. The pack animals seem to understand better what's going on than we. Knowing that Jonas is done walking for the day, I open a game of Minesweeper on my phone as we wait for something to happen.
We wait in the shadow, as absolutely nothing happens.
The Wait
We chat occasionally, and I remark that there are many naturally blond people in Cachaço. The donkeys seem to rule this part of the street, and we see many an altercation between donkey and dog or chicken over turf. I'm beating my high scores in Minesweeper under the pressure of passing the time. I'm still fit to walk back via the main road to Nossa Senhora do Monte but know better than to bring that up.
At 15:35, a Hilux aluguer arrives in town. Ten minutes later, another Hilux, this time privately owned and driven by a white lady. Then the silence continues again, only to be interrupted by the desperate braying sounds by donkeys across the valley. They scream in response to one another. It's depressing me. I want to cuddle all the donkeys, make them feel better.
At 16:10, a fancy SUV enters the town. So far, none of the vehicles have left. Some people are also hanging around the walls, chatting and waiting for the aluguer to go – at least we think. We're waiting for a critical mass, but the people continue their business after a little while. One guy approaches us and suggests we could pay for the aluguer to be our taxi and take us immediately, but I reject the idea without even asking for the price. I suggest Jonas we start walking back, mostly to forget about how much time we've been waiting and to speed up the feeling that we're returning home.
Hiking Back
At 17:20, we walk away from Cachaço in a calm pace and converse. It's 6 kilometers to Nossa Senhora do Monte and 11 kilometers to our accommodation in Nova Sintra. I know the idea of not making it back at night is very stressful for Jonas, as we'd experienced a few days before on the island of Fogo. We'd tried to get back from Mosteiros to São Felipe, and the only vehicles available were taxis who were charging an extortionate €40 for the trip back. Eventually, we hitched back a free ride in the back of a pickup truck and didn't suffer financially, but we could not really anticipate this of course. The insecurity is something I've grown to be at peace with over the years.
A white car passes us in the wrong direction. Ten minutes later, as we wait in a narrow part of the road, this same white car returns. I lift my thumb and the driver stops. A young man is behind the wheel, and an older lady sits behind him. I ask him where they're headed, and they respond with Nossa Senhora do Monte. We get in without further questions. Jonas in the front, me in the back next to the lady.
We're not really sure whether this is a taxi, a shared taxi, or a hitch. I'm ready to pay, but then also renegotiate our own destination after we drop off the other passenger. But we get dropped off with her in Nossa Senhora do Monte, and the guy asks us to leave the vehicle to park it tightly. We ask him how much it is, but he nods in "don't worry about it". We thank the driver and wave goodbye. The lady has already gone off to somewhere.
Between Nossa Senhora do Monte and Nova Sintra
We continue our walk to Nova Sintra, only 5 kilometers away. Since these are the main two parishes, there must be aluguers between the two. It's only a matter of time and patience now before we get a ride home to Nova Sintra.
We walk through Cova Joana and past a viewpoint. Nobody with a more advanced vehicle than a donkey has passed us yet. The next village is Cova Rodela. The sun is already quite low in the sky, but at least we know we'll be back home somewhere in the evening.
We hear vehicles, but every time we see them pop out from different valleys, they travel in the wrong direction. It's all very strange. A rather large white SUV finally comes from the right direction, and again I lift my thumb hopefully.
The Final Ride
The vehicle stops, and the door slides open. We're invited in, but I first ask if it's a taxi. The driver says no and looks very excited. We get in and see a familiar face: a lady we'd met in Cachaço who had also waited with us on the wall with a basket of goods.
Our driver asks us in English where we're from, and we answer. He smiles at us through the rearview mirror as he tells us it's "The first time I ride with two white men in this car". We learn that the vehicle is some kind of free social transportation for the people and that it's probably connected through a local church. The driver apologizes for his English – for which I think there's never a need – and says he's never seen people like us do boleia ('hitchhiking' in Portuguese from Portugal). Hearing this word for the first time in Cabo Verde warms my heart.
Our driver drops us off at the Praça in Nova Sintra. Dusk is here at 18:50. I still offer him payment for driving us here, but he insists it's for free. Jonas and I walk to the restaurant of Hotel Cruz Grande for dinner. We made it, but this was too much for Jonas. Hindsight is a powerful thing, and I'm not sure whether extending our hike in the wrong direction was such a good idea in the end.
We discuss the events of the day and make-up over dinner. Back at Djabraba's Ecolodge, we take a nice warm shower to wash off the dustiness we've gathered from hiking up our third peak in Cabo Verde.
Save for Later? Pin this!