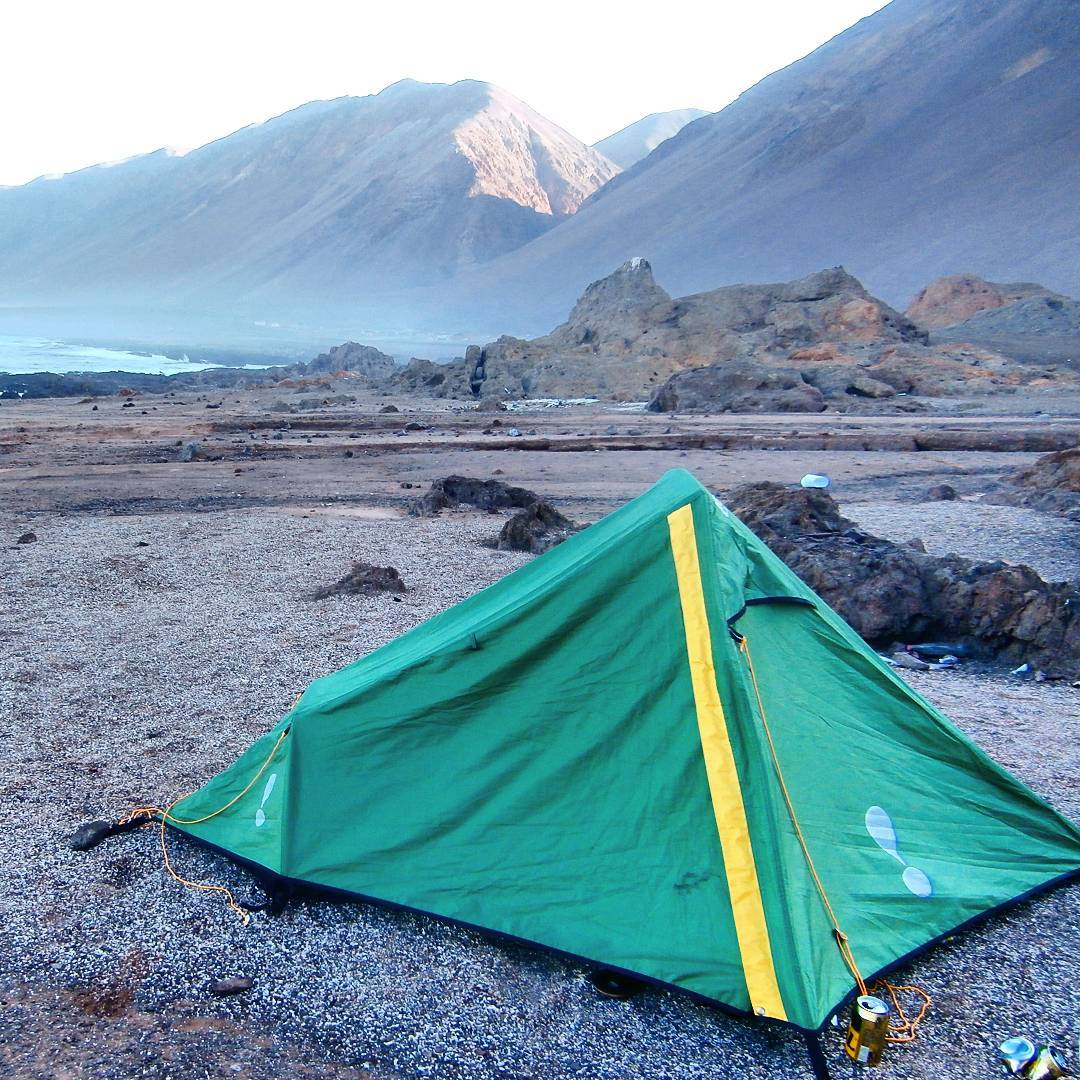 It's tough to give a summary of the things I've done in northern Chile in the past weeks. But it involved a lot of freecamping at this beach or that beach, and the ruins of ghost mining towns in the Atacama desert region. This beach between Tocopilla and Iquique, found on the amazing app discovery called iOverlander (there's an android version too! And of course it's free), was one of those memorable places.
The morning light was sheer perfection, with the Chilean Coastal Range mountains rising up from the sea and only giving a little space for putting up my tent in between. I was a little worried about how far the water would rise during the night, but it didn't even come close to my feet. My improvised camping stove – made of a beer can – has the wrong fuel. So I couldn't make coffee, but that's about the only thing that could make the morning after camping more perfect.
My camping gear is near complete now. I hope it will give me all the freedom I need on the road to take care of myself. My tent is my casa, my mattress and sleeping bag my cama. Just the cooking equipment I have is completely redundant; I can't seem to find spiritus (denatured alcohol, to keep your cheese fondue hot and awesome!) anywhere besides the Netherlands, where it's a regular household product.
The problem of investing in a real backpacking camping stove is that all outdoor companies have designed their own and sell it together with a specific gas tank. If you buy one system of one brand, you're bound to only buy their fuel, but you can't find their fuel on every continent just like that. It's kind of like how Apple and Samsung make different chargers and that they don't work on each other. Electricity is electricity regardless of device, so is almost all the fuel for camping stoves. Ah, the world would be such a better place if they just made one system functioning for all… Rant over.
It's time to hit the road again though, next update will be the human settlement of Pisagua!