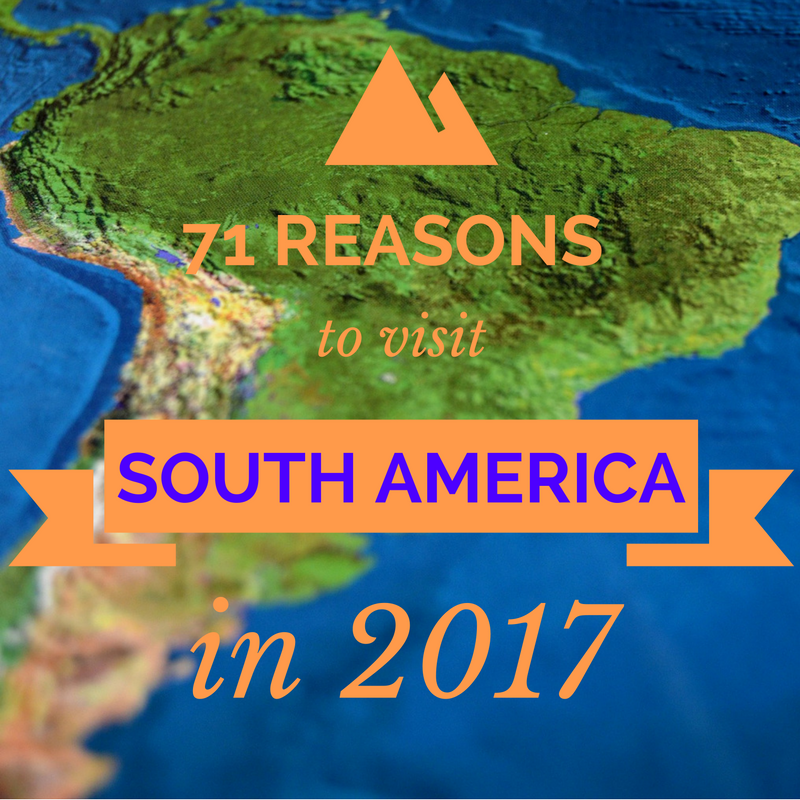 Whether you're a hitchhiker, a digital nomad, or a holidaymaker, South America is absolutely phenomenal. Let's not hold off on that long-desired trip to the southern hemisphere any longer! Without further ado, here's your randomly ordered justification to go ahead and get south the coming year:
1. Firstly, pick up fifty shades of Spanish! As a result of colonialism, South America is quite homogeneous language-wise, with Spanish and Portuguese being the most spoken. Or mix 'em up and you get "Portuñol". Learn just enough Portuguese to make your trip to Brazil easy-peasy with Duolingo or Memrise. So instead you want to learn an indigenous language? Skip to number 9 on this list.
2. Want heat? This way to the equator. Crave the cold? Then hide in the Andes or head to the "End of the World".
3. Watch a rocket loaded with satellites being launched from French Guiana's spaceport near Kourou. Before you go, make sure to check the launch schedule to time your presence or take the free tour—en Français.
4. The Cape2Rio yacht race will happen again in 2017. If you're in South Africa and you're an experienced sailor and a team player, this is probably the most epic way to make your way to Rio de Janeiro in Brazil! Yes, some boats are still looking for crew. If you're not on board, be on the shores in Rio to watch the ships roll in. It starts on the 26th of December this year, but the main fleet will leave on January 1st.
5. Digital Nomads Guides will publish new travel guides! Where will the next ones take you? Lima, the capital of Perú? Or Medellín, Colombia?
6. The Nomad Cruise will depart from South America/the Caribbean to Europe in May 2017. If you're looking for an easy and affordable way to cross the Atlantic Ocean without flying, this is great for starters! I was on the boat in 2015 and it's sort of like living with your parents again. In November 2017, there will be another cruise going from Europe to South America/the Caribbean.
7. Inhale some ancient civilization at Machu Picchu, Perú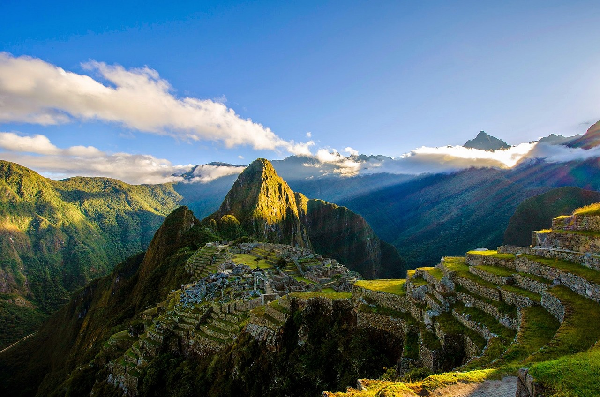 8. Surf's up in Iquique! Albeit not for beginners, Chile has heaps of coastline and big waves. Otherwise, you can just watch the pro's do it.
9. Pick up some Guaraní in Paraguay! What's Guaraní you say? It's one of South America's many indigenous languages and it's spoken by people in Paraguay, Argentina, Bolivia, and Brazil. Duolingo also has Guaraní, caveat: you learn it from Spanish. So to participate in the Duolingo course, you must already know quite some Spanish!
10. The first-ever Spanish-speaking DNX will come to Buenos Aires, Argentina on the 1st of March! A great event for (aspiring) location independent entrepreneurs.
11. There are lazy beach towns for backpackers everywhere! For example, visit Pisagua in Chile, Boca del Río in Perú, Cabo Polonio in Uruguay and Puerto Pirámides on the Península Valdés in Argentina.
12. The backpacking culture is so well-developed in South America, that there's always a good deal going on somewhere. Grab a copy of the free Get South! guides in any tourist information or hostel in Argentina, Uruguay, and Chile to get discounts on hostels, car rentals, and completely random stuff, like a trip to the dentist. They have short descriptions of popular tourist itineraries in these three countries.
13. A woman president?! So… that ceiling has looooong been cracked in some South American countries!
14. Roquefort empanadas are a thing in Argentina. ROQUEFORT! Blue cheese! Oh joy!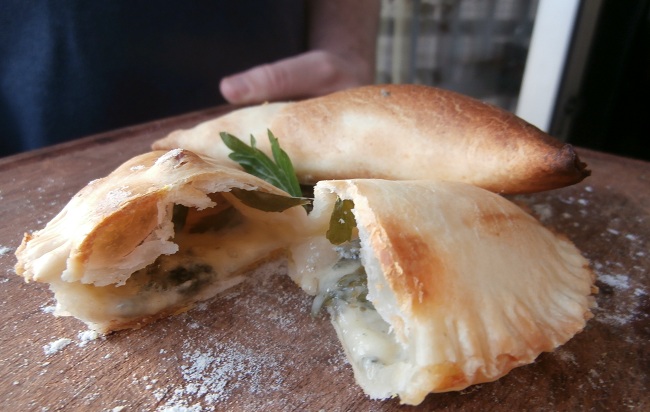 15. Hacker Paradise will organize a workation to Buenos Aires, Argentina, from January 8th till March 4th and will continue onwards to Lima, Perú, from March 12th till May 6th. Entrepreneurs will unite over at least two weeks while working on their own businesses.
16. Share a mate with new friends in Uruguay, Argentina, or South Brazil, or drink the refreshingly cold version tereré in Paraguay! These highly-caffeinated drinks will keep you energized for a while. Just remember: don't move the straw!
17. Three countries you never hear much of stand out in South America: Guyana, Suriname, and French Guiana. They were colonized by the Brits, Dutch and French and these are also the main languages. These small territories have loads of natural wonders. And they form a gateway to some Caribbean island nations.
18. Spectacular waterfalls are spread out all over the continent. For example, the Salto Ángel (Angel Falls) in Venezuela is the tallest waterfall in the world with the water dropping nearly 1.000 meters. The Iguazú Falls on the border of Brazil and Argentina are easier to reach, but also more touristy. Don't worry, there's plenty of stunning cascades to be found that are neither hard to reach nor flooded with tourism!
19. It's fairly easy to hitchhike in South America. That is to say, this is my own opinion. But in one year's time I've covered 20147 Kilometers (12519 Miles) by thumb—and I'm not the only one who's done this!
20. Wine, vino, vinho…. South America produces some high-quality wines of fame and obscurity. So the most famous are the vineyards of Mendoza, Argentina, that grow Malbec, Cabernet Sauvignon, and friggin' Chardonnay grapes. Want to drink something truly exciting? Try the Tannat wines in Uruguay. In the same vein, get a bottle of Chile's national grape Carménère, which can't be sold under that name in the European Union. Try it where it grows!
21. But you don't drink alcohol? Drink something funny! Chile has a summer drink called "Mote con Huesillo" and, for lack of a better description, it's some wacky stuff that will kill your thirst instantly on hot summer days. Street vendors sell this sweet peachy drink with a spoon because there's a wheat meal hidden inside as well. So it's not for gluten-free diets.
22. Love pets? Become a house sitter and save money on accommodation. There are quite some good listings in South America and it's the perfect way to stay in a place a while longer. Check out websites like Nomador and TrustedHousesitters. What's better than exploring Lima with a dog?
23. You won't lack vitamin C. Fruits and vegetables are often really cheap in South America. Ecuador seems to be the fruity epicenter of it all! Even in notorious Chile, you'll get a bag of avocados (paltas) for cheap when in season. The result? Cheap juices are sold everywhere. And someone came up with the glorious Palta con leche!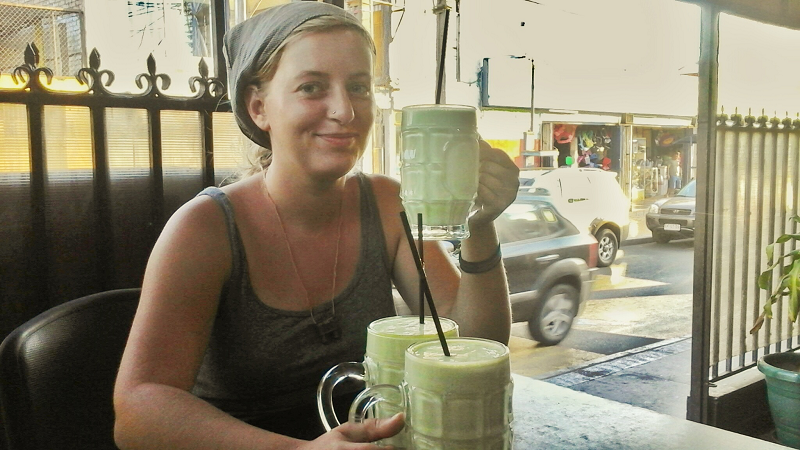 24. The cheapest place to launch a trip to Antarctica is from Argentina and Chile. To clarify: it's still ridiculously expensive. But if you're adamant "tick it off the bucket list" and you have a minimum of US$2.200 to drop, sure dude, go ahead. Alternatively, find a job in Antarctica.
25. Pichanga – it's exactly what it sounds like. Chile invented this irresponsible meat-heap-meets-salad creation and somehow it's grossly delicious. So what goes approximately in it? Two or three types of grilled sausages, diced ham and salami, olives, avocado, onion, cucumber, pickles, tomato, carrot, hard-boiled egg, and french fries, all glued together by melting Emmentaler cheese. Share it with friends or eat it for breakfast, lunch, and dinner for two days (true story).
26. Disgusted by that last point? Volunteer at an organic farm and get food and accommodation included. It's called WWOOFing or WorkAway and there are farms in South America that are looking for helping hands with the coffee beans and avocados.
27. The Atacama desert is the second driest place on earth – after Antarctica – and it's absolutely fascinating! For instance, one obvious destination is San Pedro de Atacama, a village overloaded with tourists in the high season. From there you can make an overpriced trip to the Salar de Uyuni salt flats in Bolivia, cross into Argentina, book a trip to the Chajnantor Observatory, visit the Valle de la Luna (Moon Valley), which by the way closes at night…
28. Visit the world's largest telescope at Cerro Paranal in Chile, part of the European Southern Observatory (ESO). There's also La Silla observatory and the previously mentioned Chajnantor/ALMA, both in Chile, but Paranal is one of the easiest to visit. It's funded by the EU and tours are for free, which you have to book in advance – unless you're me.
29. Want to reach the cosmos in a different way? Head to Perú to open up your soul through an Ayahuasca ceremony. This type of plant medicine is (preferably) consumed in the presence of a shaman and leads to powerful spiritual experiences. Watch out for scams and always be careful with hallucinogens. Never be pressured into doing something like this; it will be a negative experience instead of a beautiful one. Besides Perú, you can find the plant in Ecuador, Colombia, and Bolivia.
30. Paõ de Queijo from Belo Horizonte, Minas Gerais, Brazil. Puffy cheese rolls that taste so, sooo goood!
31. Imitate Ernesto "Che" Guevara and his The Motorcycle Diaries by getting yourself a motorbike and touring the continent's far off places and consequently starting a (personal) revolution.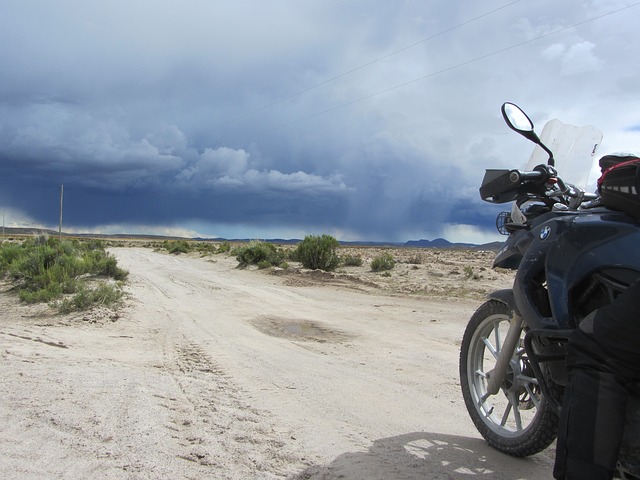 32. The Dakar Rally has been held in South America for a while already. On January 1st, the mean machines will start their adventure in Paraguay. The 2017 edition will take the vehicles through Bolivia and Argentina as well. So catch them en route and tell me what it was like!
33. The non-vegan cocktail Pisco Sour is widely served in Perú and Chile and this is where the pisco in the sour originated. Drink local!
34. The long-distance bus/coach system is renowned in many Latin American countries. I'm not an expert on public transportation, but five years ago when I was a travel rookie, I took a trip to the Iguazú falls and there was champagne on the bus. As a result of the high competition, companies offer a 180° reclining seat, AC… never mind, I don't know what I'm talking about.
35. Freecamping is allowed and/or tolerated in many places in South America. In Chile, it's even a habit to camp on the beach in summer – complete with grill and a sandy pajama party with friends. On quieter days, you might wake up all alone to the sounds of the Pacific.
36. During such summer parties, Chileans tend to drink mélon con vino, also known as Melvin. Yep, they carve out a melon and fill it with wine, sugar, and optional ingredients. Can't wait to try this? Spanish Wikipedia knows how.
37. Surinamese food is the best possible mix of everything. Sadly, that's due to its painful history of colonization and displacing people. I can tell you the food is good already because there are many places in the Netherlands where you can sample it. If it's good there, it must be friggin' glorious in Suriname itself.
38. Bizcochos are Uruguayan's favorite snacks. They can be savory or sweet, croissant-shaped or not, marvelous or OK. Munch with your mate, coffee or tea. Don't scream "bizcocho!" at random in Colombia, you might be catcalling. Certainly don't be that person.
39. Talking about slang words, Chileans win at inventing new – incomprehensible – words. My favorite is "polola" or "pololo" which means girlfriend or boyfriend. Admittedly, I was imagining something totally different. Get the slang basics with this youtube video by Flama. And take notes!
40. In the Gran Chaco area of Paraguay, there's this community that seems a little odd at first: the Mennonites. This is one of the few areas where you're better off conversing in German (Plattdeutsch dialect) than Spanish or Portuguese. Most Mennonites are involved in the farming business on the vast plains of northwest Paraguay.
41. Reinheitsgebot or not, microbreweries are popping up steadily in big cities like Montevideo and Buenos Aires. Beer lovers can try something local and made with love, instead of the big brands.
42. Odd sodas on the continent are Inca Kola in Perú, Mauby in Guyana, and Colombiana (aka "champagne soda") in Colombia and Brazil's now-mainstream Guaraná Antarctica. Argentina has a soda named Pritty, which I can only describe as a "dusty lemon" taste. Try them before you judge!
43. You can make a trip to South America as adventurous as you like, or keep it chill and predictable. Regions with an established tourism industry offer package tours for those who don't like planning much, like Bolivia's Salar de Uyuni salt flat. Other regions are so far off the beaten path even locals will call you insane.
44. As if Perú wasn't yet the food capital of the continent by its own merit, there's this Chinese-Peruvian fusion cuisine called "Chifa". Never has it been more clear that immigration causes magical things. So you're not in the mood for ceviche? Ask for the local Chifa and someone will point you in the right direction.
45. Hammocks are standard furniture.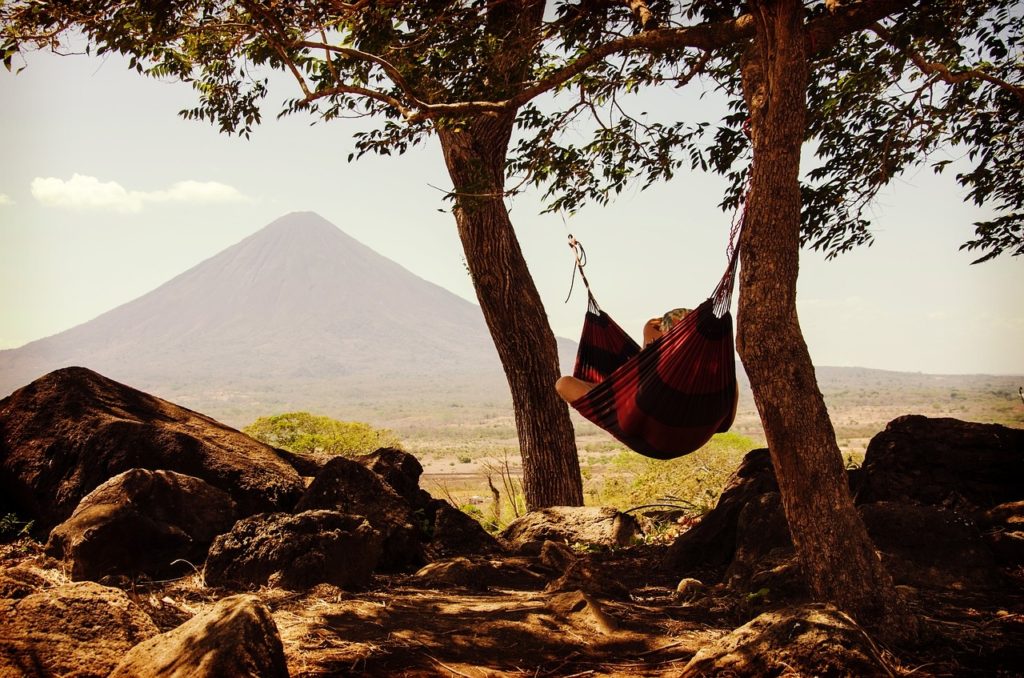 46. Hear the cracking sound of glaciers in Patagonia – before they're gone.
47. Go downhill skiing or snowboarding in the Andes mountains. Bariloche is the main winter sports hub in Argentina and from Chile's capital Santiago it's less than two hours' driving to four ski resorts. Other Andes-nations don't have such established ski destinations, but if you're adamant you might find something.
48. So snow ain't your thing? Instead, go sandboarding in Perú from the dunes of Huacachina.
49. Walk on the equator in Ecuador and make some jokes about being in "Middle Earth". Also, there are cheap-ass bananas there.
50. Try out the fastest WiFi on the continent in Uruguay with a cup of cortado and – most importantly – your Montevideo Digital Nomads Guides, written by yours truly.
51. Reversely, you can unplug yourself, do a "digital detox" and go on a yoga retreat. For example, Medellín in Colombia has plenty of studios and yogis to help you find your fit.
52. Many cities and towns have excellent street art to pimp your Instagram account with or to simply admire.
53. Ecuador has one of the most lenient visa policies in the world. In other words, many passports among the lowest rankings of the Visa Restrictions Index can enter. So you own a tough passport? Ecuador, for example, will likely welcome you for a stay of up to 90 days.
54. It's fairly easy to strike up a conversation with a local in most South American countries. Just hang out on a bench in the town's most central square and meanwhile, someone's bound to be curious enough to talk to you. If not, just go people watching and chill.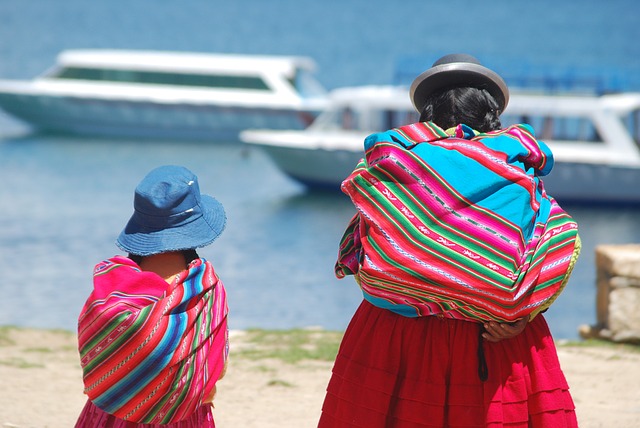 55. Coworking spaces are happening in the bigger cities of Brazil, Chile, Argentina, Uruguay, Colombia, and Perú. So join a fresh coworking space and help build a community revolved around entrepreneurship and location independence.
56. Fetch a strong cup of coffee or visit the source. Sorry, you can't have both! That is to say: the coffee standards tend to be higher in the richer regions of South America – where they don't produce coffee – or where the gringos tend to go. You can wake up in a hostel dorm, have a cup of instant coffee, and then visit a coffee farm in Colombia.
57. Love this home rental website called Airbnb? They've got nearly everywhere in South America covered if you're in need of accommodation that isn't a hostel, hotel, or campsite.
58. If you're in need of a residency, Paraguay will open its doors to you with minimal requirements. During your stay in South America, there are many opportunities for aspiring stateless people and flag theorists.
59. Chivito, the sandwich from Uruguay, is an overloaded bun that knows the way to an omnivore's heart. How do you say omnomnom in Spanish?
60. Ecovillages and permaculture farms are sprouting everywhere on this continent. So if you're looking to be one with nature, grow food in a sustainable manner, and be part of a small community, you'll find one. For example, try Ecoaldea Espiral de Luz close to Samaipata, Bolivia, the Inti Eco Lodge, and SublimeWe Research Village near Iquitos, Perú, and the Feminist Eco Village yet to be founded in the Guiana Shield, or search one on Global Ecovillage Network. Some have requirements for joining.
61. Cabin in the woods, a cabin at the beach, a cabin in the mountains… South America has loads of them for rent and for sale. Whether you want to go full hermit or not, certainly make sure it's in a stunning place.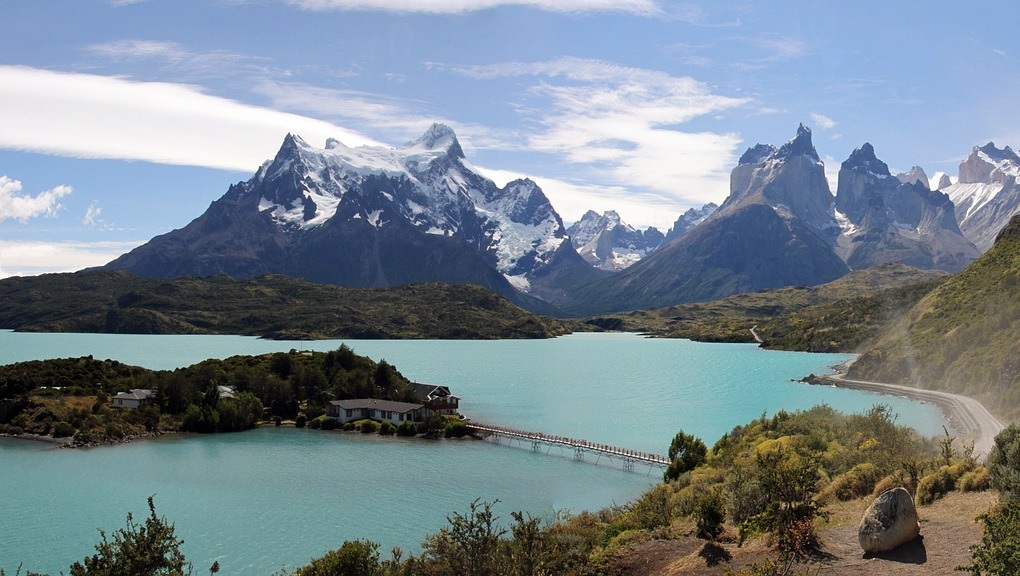 62. The Caribbean, you're so close to it! Launch your island-hopping expedition from Colombia, Venezuela, or Guyana to the island nations of Aruba, Trinidad and Tobago, Curaçao, Grenada, or literally anywhere you like. Perhaps try hitchhiking a yacht?
63. Go kitesurfing in South America's sweetest kiting spots in, for instance, windy Uruguay, Brazil, Colombia, Argentina, and Chile to hone your skills. After that, get off the beaten track with some of the very obscure spots at incredibly gorgeous lakes!
64. Party hard at the bustling nightlife in Medellín, Buenos Aires, Santiago, Lima, and many other cities. But you got no moves? You can take dancing classes almost anywhere.
65. There are strong activist movements for social justice in all Latin American countries. United by language and culture, many of the problems span across the borders and so do the movements to fight against them. Violence against women is a pervasive problem, but the #NiUnaMenos  protests in mainly Argentina and Perú show that people are fighting the good fight.
66. A Salteña is a type of empanada mainly found in Bolivia. They're standing straight up instead of lying on their side, making them Stegosaurus-shaped. They're generally filled with any type of meat, egg, peas, olives, raisins and what not – no salteña is the same!
67. The Nomad House retreat will come to Buenos Aires in March 2017. So if you're an aspiring digital nomad and you want to surround yourself with fellow remote workers in a great city, become one of 18 people invited! Make the package complete with your Buenos Aires guide for digital nomads. This is insider intelligence; the workation isn't on their website yet!
68. You were wondering when I was going to mention the chimichurri-doused Argentinian steak, the Uruguayan asado (grill) houses, and other meat fests, right? Well, I just did.
69. Are you a vegan and feeling discouraged and excluded by this post? Don't worry, there's plenty to eat for you too. It might be harder to find, but especially in the big cities, there are many health shops and vegan restaurants that specialize in any munchetary choices/restrictions.
70. Traveling to South America won't freak out your loved ones as much as other regions.
71. Lastly, Iris, aka Mind of a Hitchhiker, will still be hitchhiking here in 2017!
Disclaimer:
To clarify, I haven't visited all these places and tips in person (yet), mind you: I've been hitchhiking all this for crying out loud. If I had visited all these places, I'd be broke AF as a result of super-fast travel and couldn't continue my trip in a sustainable manner.
On a different note, like in all places on earth, there's rampant sexism in South America and racism, too. Their colonial history can be a painful topic to some people, so be sensitive about these issues.
Meanwhile, the non-lethal Zika virus is making rounds in some Latin American countries. People get robbed in South America as well as in any other place.
In short: watch your stuff, take care of your health, apply sun cream regularly (there's a freaking ozone hole), apply common sense, and/or trust your gut feeling. Bad shit happens everywhere.
Above all, enjoy South America!
So Are You Totally Convinced? Pin This Beauty!