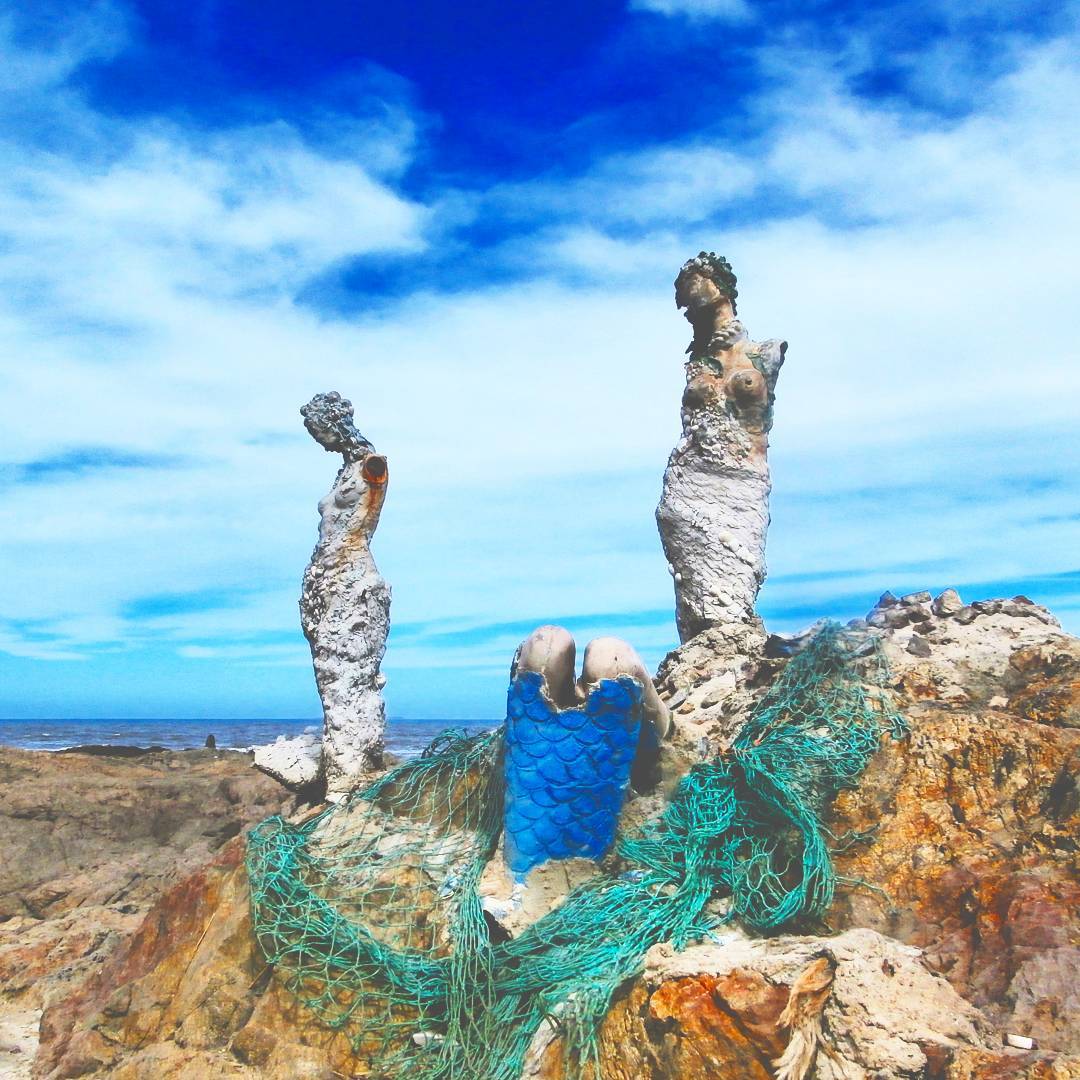 This photo is from Punta del Este, Uruguay—not to be confused with Ciudad del Este, Paraguay. It's a town at the end of the widest river in the world: the Río de la Plata. East of this point is the official start of the Atlantic ocean.
The first time I heard about Punta del Este was back in 2011 when I did a Spanish course in Buenos Aires, Argentina. My Brazilian friends and I were planning a trip to Colonia del Sacramento in Uruguay. I was talking to my teacher on the topic of Uruguay and he mentioned a town that combined riches and crime at the land's end. He told me it was a beach resort like on the French Riviera, but one where dodgy types would also conduct their business. One could obtain a freshly forged passport, driver's license, birth certificate, and so forth in this hell-hole-meets-sandy-heaven. Or so I had been told. A counterfeit clean slate, for a mere US$5000. Just thinking about it made me giddy.
Ever since leaving the South American continent as a 20-year-old student, I had been dreaming about going to this thrilling place. Especially when things became tough and when I just wanted to disappear from my bullshit. I imagined a place where the air was thick with humidity and people wearing too much bling. Yachts, champagne, and people talking really fast. Some folks would even try to sell me drugs without questioning my height or age…
Now, as of 2016, I've finally been to Punta del Este… and I think I might have gotten it confused with Ciudad del Este in Paraguay if anything at all!
You see, Punta del Este is just a town at the beach: busy in summer, ghostly in winter. When Jonas and I hitchhiked into town with our drivers Marcelo and Sonia, I saw the white town appearing from the highway. Endless rows of tall white buildings bending along the bay. From a distance, it's quite impressive, but from up close the only reaction is:
"What have you done to this place?"
Before I headed out to Punta del Este, I was staying in Uruguay's capital Montevideo – writing another travel guide. Facebook dropped a couple of location-targeted ads on me. One of them for ridiculous apartments for sale in the 'T***p Tower' of Punta del Este… "Shit…" I thought, "Nothing good can come out of this."
Our drivers dropped us off at the rambla. When looking around, I thought any of these buildings could be that specific tower. Honestly, they all looked like a T***p creation. I thought of asking someone on the streets, but there was no one there. The place was void of life. I walked around between the tall buildings and guesstimated the math on this.
If one of these buildings is has 12 floors of apartments and 20 apartments per floor, that is 240 empty apartments with fucking beach view per building. I see about 50 of these monsters in my near vincinity. That's 12000 empty rooms that no one is using. That's bigger than the population of my hometown.
Knowing all this, it felt counterintuitive to check into a hostel. There's so much unused space around, but the buildings are not squattable and an Atlantic storm was coming. Jonas doesn't like the idea of squatting when we don't really have to. Over the following days, I did find some signs of life in the town. There are guys painting the structures even whiter before the season starts. Some people are patching up leaking and broken things of the real estate someone else owns. There were a handful of businesses with an "Open All Year!" sign and there were always some tourists at the Los Dedos statue. I got a picture like that too:
In hindsight, I think it was the best time to visit Punta del Este because in the high season the population swells tenfold. I can't imagine the waiting line to take a photo with Uruguay's most famous landmark. The land's end of town and the southernmost point of Uruguay on land is probably my favorite spot. On a walk there, I passed by the marina and imagined trying to find a boat to the continent of Africa from here. Continuing my walk, I ran into a number of mermaid statues that were falling apart. I wonder if they'll fix these too.
Did you enjoy this story? I kindly ask you to share it with your friends and leave a comment! 😀
Got Pinterest? Pin This Please!