I solemnly swear to not tell you how to make money online and try to sell you something you don't need. I'm also struggling. While generally speaking you don't need much as a Digital Nomad, there are a few items that made the difference over the years. Some of the Digital Nomad Gear in this list are Jonas' idea and only he uses them. Other items are my suggestions. Here's a list of items you might not have thought about that make your digital nomad life a lot smoother. Let's start with the basics.
If you're on a computer, just hover your mouse over an image to see the product. On your phone, you can tap and hold to see the same.

Digital Nomad Gear Basics
Iris' Laptop (Asus Zenbook – 13 inch)
I've had this laptop since early 2018 upon return from South America. I really enjoy this laptop with its fingerprint scanner and high-quality touch screen. It has a lot of space on the disk, but it's best not to rely on the hard disk completely and make online backups. The 13-inch size is perfect for travel; it's not too small to work on, but also not too big to carry around. It weighs about 1.5 kg which is really light. My keyboard looks a bit differently because I ordered the weird Belgian version and then added Russian keyboard stickers on top.
It runs on Windows 10, has a very compact cable, an SD-card slot, two USB slots, headphone port, HDMI hole, and a few other things I never use. Unfortunately, it seems to have quite a weak WiFi receiver – something that didn't show up in the specs – which has been shit on occasion. It came with its own laptop sleeve, but it was a very thin one so mine is in two sleeves.
Jonas' Laptop (MacBook Pro – 13 inch)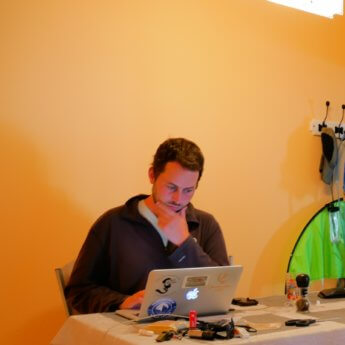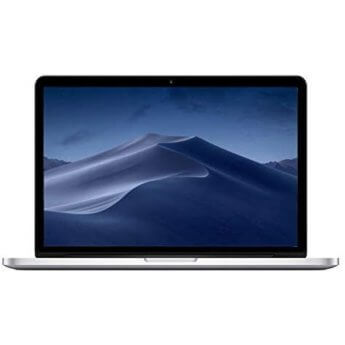 Jonas is actually the real Digital Nomad, so pay close attention to him. He's been using a 13-inch Macbook Pro since 2015. Barring a few minor hiccups like an expanding battery, an ever-deteriorating charging cable, and a "shabby screen" according to the good people of an Apple repair shop in Budapest—it has held up remarkably well. As it's an Apple, this laptop doesn't come cheap. But it works quite well especially in combo with other Apple products and that's what Jonas pays for.
Since our laptops are the same size, it's easy to carry both of them in one backpack. Not that having a partner with an unequal laptop size is a dealbreaker.
Iris' Laptop Sleeves
Here's a picture of my two sleeves. I usually stack them. The top one that looks like an envelope came with my laptop. It's really nice because you can use the flap as a mouse pad. On the other hand, it's really thin and doesn't protect your laptop much. But it fit inside my neoprene laptop sleeve from my previous laptop, so now it's in two sleeves. It's something I've gotten used to, so it's nay bother to unpack and repack each layer twice.
Jonas' Laptop Sleeve
The major difference between Jonas' laptop sleeve and mine is that mine has two zippers. I think both are made of the same material as well. His laptop fits very snugly in this sleeve, while mine uses both sleeves. Anyway, it protects your laptop from small-time damages.
Waterproof Dry Bags (Two of Them!)
I have a very militant opinion about putting your laptop in its sleeve and into at least one of these dry bags—and not only when you're going kayaking or walking in the rain. I guess I still need to say this: they're not for submerging your laptop underwater; they're just for rain showers and other humid situations. These 12 or 15 liter dry bags protect your precious tech against moisture and dust. I've had the blue Osprey one already for a few years. I introduced Jonas to this one, which he enthusiastically agreed with. Both our laptops fit in one Osprey model, though you can only roll it twice instead of the required three times.
For the kayak trip, we got a second one that's bigger from a brand called Nordkamm, only available on German Amazon. This one rolls down three times with ease and has plenty of space to still put the cables in. The material of this one also feels a bit nicer and sturdier. Having two of them is also very nice because when Jonas and I travel alone, each of us can still have their own dry bag for their laptop.
Day Bag(s)
We use our 20-liter Eddie Bauer day bag for everything. When we go to the supermarket, we bring this bag plus an extra fabric bag to reduce our plastic use. On hikes, it can contain a hydration bladder on the inner pocket and carry snacks in the side pockets. Most of all, we use it for storing and carrying around our laptops. This is a very good backpack that I've used already since 2017.
Since late 2019, we got Jonas his own mini day bag from H&M for those times we're going our separate ways.
Advanced Items
WiFi Repeater Box
I'm still not exactly how this mystery box works, but if you place it halfway between the WiFi origin and your computer, it boosts the signal. This is especially useful in countries with shit internet, like Germany. It also helps when your computer has a weak WiFi receiver or when you're sitting at the far end of the signal in a café. Jonas knows how to modify it in a way that it also kind of hides the identity of its internet users, kind of like a VPN. It also comes with an internet cable to plug it into the phone line like in the olden days. My VPN wasn't working in Shanghai, so Jonas shared his private connection with me through this yellow box to circumvent the censorship. Worked like a charm!
World-to-World Travel Adapter with USB Ports
Once you venture outside of your home plug sphere, you'll likely get irritated at how many different types of plugs there are. I used to carry around a different mini-adapter for the USA and Argentina, but that's no real solution. There are many types of travel adapters out there, but you want one that both adapts to all types of wall sockets and also receives every kind of plug. This way, if your laptop cable breaks in Malaysia and you're forced to buy a UK-style, you'll still be able to use this cable in other countries.
I found this rotund model in Thailand. It's as universal as it gets, protects your devices against power surges, and has two USB slots. It's such a great travel adapter that Jonas ordered one from Lazada while in Malaysia to replace his clunky old one without USB ports.
Laptop Stand + Consequences
I was a bit confused when Jonas wanted to spend real money on a piece of plastic that lifts his laptop up higher, but it's a piece of plastic that sparks joy to him. A laptop stand lifts your laptop high enough for the screen to be right in front of your eyes. This is better for your neck, back, and ultimately protects you from all kinds of office-related syndromes (citation needed).
The big downside of carrying around a laptop stand is that you'll also need to buy a mouse and a keyboard to keep using your laptop; only then you'll reap the full benefits of your posture improvement without losing the circulation to your hands. Jonas found this keyboard and mouse combo that's both lightweight and fairly compact.
Hand Luggage-Only Backpacks
Jonas has used this 46-liter Osprey backpack since late 2015. It's been holding up pretty well. Jonas flies a bit more than I do and he hates checking in his luggage (don't we all). But instead of trying to avoid flying as much as possible, he adapted to airlines' standards and got himself a smaller backpack. Unfortunately, the backpack didn't come with its own rain cover, but he had one from an old backpack that fit his Osprey too.
I also used a CabinMAX backpack that I could take with me on the plane for Cabo Verde, but I hated every minute of it. Eventually, I found out that the CabinMAX fit my entire inflatable kayak in it, so it found a use for it after all. The backpack I'm using for my non-kayak trips is this Deuter Aircontact Lite 65 + 10 Liter, which is a beauty and a beast and needs to be checked in on the plane.
Leisure Time
Kindle Paperwhite
Jonas has been reading all kinds of books on his old Kindle Paperwhite e-reader since 2013. As always, you'll need a protective case with it. The battery lasts forever and you can store tons of books on it. By now there are newer and better editions of the Kindle out that are even waterproof. It's nice because when I'm sleeping and he wants to read, the light coming off the screen isn't actually very disturbing. While Jonas is living with this advanced reading tool, I only have the Kindle app on my phone or carry around regular books. Be like Jonas.
HDMI Cable
Oftentimes, Airbnbs have really nice TVs. But they only feature local programs and tons of ads and I don't want to live like that. It's a real shame to want to use a big TV, but not being able to watch anything to your liking. Cue in the HDMI cable!
Controversial item? Oh yes absolutely. The HDMI cable doesn't do anything for our work and allows us to slack away hours of our time. Luckily, I have no problem admitting I'm not 100% productive all of the damn time and enjoy sitting down and watching series like a commoner. We plug in the HDMI cable into the big-ass TV, plug in the other end into one of our laptops, et voilà! We can watch Netflix, iTunes stuff, etcetera.
In our experience, the ideal length of an HDMI cable is 2 meters to reach around any big TV and still plug into our computer. Once we had a cable half that length and we were constantly suffering.
Headphone Splitter
This is how Jonas makes me listen to his podcasts. But honestly, this is how you make anyone listen to any podcast. And yes, we're still living in the age of headphones with cables. Anyway, it's a small little tool that's easy to carry around. It makes listening to music or podcasts together with someone just that much easier.
Anything to Add?
Is there any Digital Nomad gear that's indispensable to you? Let me know what it is in the comment section!
You can also read next about the gear I'm using for hitchhiking or for paddling the Danube river.

This list of recommendations contains affiliate links. If you buy something via this gear list, I might earn a small commission at no extra cost to you.