When booking Ukraine, I knew that I was gonna celebrate my 30th birthday in Kyiv. This happens to also be the same town where I celebrated my 22nd birthday back in 2013 during my first medium-sized hitchhiking trip. A few things have changed: I'm not a happy single anymore but a happy partnered individual. And as a partnered individual I am also not hyper-poor and on the brink of developing scurvy anymore. I believe they call this 'progress'.
Jokes aside, quite a lot has changed. My interests have changed. And though I think getting blind drunk, getting banged on the head, and having stranger sex is super-hecking valid, drinking below the hangover line and taking home the same person you've been with for the past five years also has its charms.
Speaking of getting banged on the head, my mom asked me this year if I'm gonna get another "helmet with a candle in 2021". More on that down below.
How I Spent My 30th Birthday in Kyiv
Vegan Hot Dogs at the Bessarabka
First of all, we did a big activity – visiting the Chornobyl Exclusion Zone – the day before. The first idea was to do that tour on my birthday, but then I decided it would be better to do it one day earlier to not join a tour on the weekend and to make sure I have the energy to return to that one bar from my early adulthood memories. We got home from the Chornobyl tour at like 21:00, so there's no way we could do anything beyond bathing, washing clothes, eating a falafel roll, and retiring to bed. I just wanted to do calm shit on the day itself.
On my actual birthday, we slept in and then drank a coffee on our beautiful pigeon-shit-stained balcony in the center of Kyiv. When we got hungry, we walked to the Bessarabian Market (Ukrainian: Бессарабський ринок) where I ate a vegan hot dog at Green 13 Vegan Kitchen with amazing melted cheese and Jonas had some kind of wrap.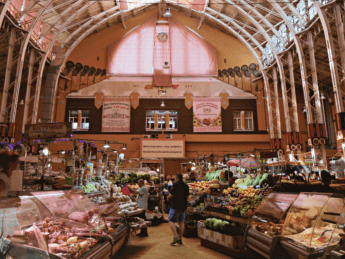 I always consider hot dogs the less superior trash food. Who in their right mind chooses a hot dog over a hamburger? And yet, I've had many vegetarian and vegan burgers in my life, but never a hot dog. That's why I was so excited about finally trying this after also trying to get this at Dogs 'n Tails in a different food market in Kyiv.
We had some cups of craft beer from the beer shop Tsypa on the premises and it was delicious and wholesome, but not too wholesome.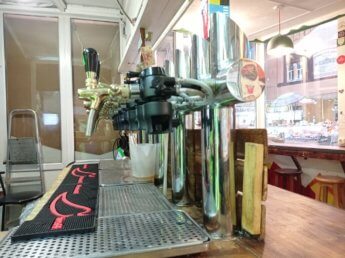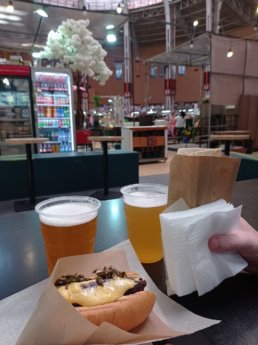 Maidan Nezalezhnosti Cotton Candy
Since it was Saturday and we read that Khreshatyk Street (Вулиця Хрещатик) is pedestrianized on the weekends, we headed that way. Spoiler alert: the weekend pedestrian zone is a lie and cars were still doing their loud noisy thing.
At the Maidan Nezalezhnosti (Майдан Незалежності), I looked for the café I went to eight years ago to meet some friends of friends but couldn't find it. There was a cotton candy (Ukrainian: солодка вата—Russian: сладкая вата) stand with different flavors, including sugar-free, strawberry, and apple. Though I mostly hate anything sweet, cotton candy is my childhood weakness. I got a mixed version with blueberry and banana (₴ 70) and Jonas and I sat down somewhere to pluck it. Jonas doesn't like this stuff, so it was mostly on me.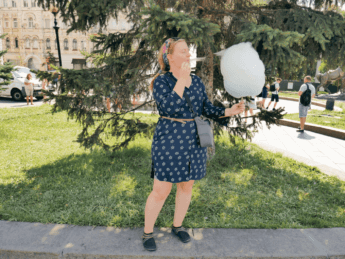 After a while, I was kind of done with it. A Romani child holding a baby came to us to ask for money. I said no to money, but I said "Хочешь?" while pointing at the cotton candy. She hesitated for a moment and then said "Давай" and I handed over the cotton candy. Jonas was amazed at me being nice to a child since I hate all children. I told him it was mutually beneficial because I had had enough of the cotton candy. A minute later, she walked by us again and said "Спасибо" one more time.
After that, we went down to search for the Globus supermarket at Maidan Nezalezhnosti, which was advertised but it hadn't opened yet. We encountered another beer shop there that does take-home craft beer, which I know from Kyrgyzstan and Uzbekistan as zhivoye piva or 'live beer'. The lady tapped us a liter of wheat beer (say after me: pshe-nich-no-ye pi-va). Then we walked home to chill, take a nap, watch some Feeding Steven, etcetera.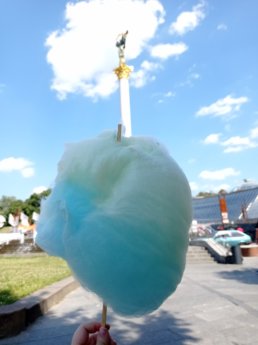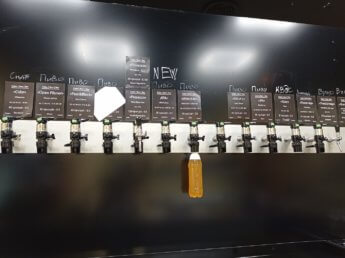 Georgian Vegetarian Food for Dinner
In the evening, we found a place within walking distance from Палата №6 to eat at: Oh, mama! It was in Tbilisi. Kyiv has so many Georgian restaurants and there's such a mutual appreciation and understanding between these two countries that it sometimes feels like they need to get a room.
Back in 2018 in Belarus, I celebrated my birthday with Georgian food as well. So I guess if Georgian restaurants are available (not in Malaysia), this is a birthday tradition.
It was really busy and impossible to get a table at the terrace, so we found one inside. There were these really cute khinkali pillows that look incredibly easy to make. We ordered some Saperavi wine with a funny salad with peanut sauce, some cheese-mint khinkali, and a khachapuri Adjaruli with lavender, dyeing it blue. They called it the 'sun setting over the Black Sea' or something like that and it felt near blasphemous. So it's like hipster Georgian food or experimental or whatever.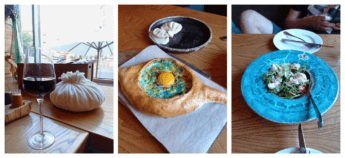 All these carbs formed an excellent base for the drinking we wanted to do next.
Walking to Палата №6
The thing I 100% wanted to do on my birthday in Kyiv that Jonas would have been fine with replacing, was going to this bar called Палата №6. Back in 2013, I was staying in a hostel on my birthday and with a group, we went to this bar that night. The person from the hostel said they did a birthday special called a 'helmet' in this bar, so I ordered that. You can read about that here.
All you need to know is that it was a very memorable experience and that I thought it would be fun to take a trip down memory lane eight years later with Jonas. Would I order a helmet again? We'll see about that, I told Jonas. I remember it was quite painful despite the head protection.
Walking to Палата №6 from Oh mama! It was in Tbilisi wasn't as straightforward as hoped. We had to walk via the Kyiv Circus and there was no clear pedestrian infrastructure there. Up to this point, we had appreciated the walkability of Kyiv a lot after the too-hot-to-walk Uzbekistan and unwalkable Malaysia. All those accolades for Kyiv pedestrian infrastructure… we retracted those statements.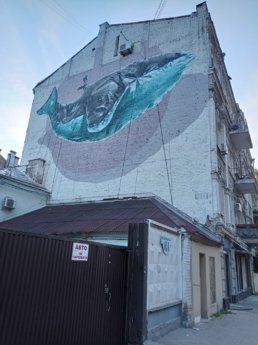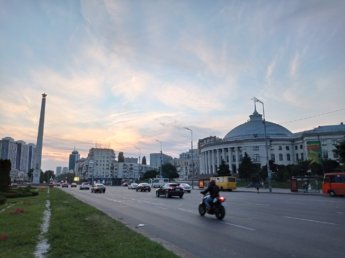 We ended up in some barrier strip of land regretting not taking an Uber for the 1.4 kilometers. Though we made it to the other side of the road, this was a terribly hostile walking experience.
Once at the coordinates of Палата №6, I wasn't so sure I could find it. The alley to the backside of the Soviet-era block that I thought we needed to take was blocked by a metal fence. We walked to the other end of the building and found another gate there, though it was open. We walked in there and over the parking lot that I didn't remember at all. Using GPS to gravitate to the Google Maps location, absolutely nothing in the environment jogged my memory.
There used to be Oktoberfest beer tables outside eight summers ago. Yes, I remembered it was in the basement of a building, but there was at least some evidence that there was a pub here. Now? Nothing. Not even an ashtray.
I found the stairs to a basement and there was a door there with the tiniest of windows. Light poured through it. This is it.
I asked Jonas to pose with the stairs and eventually, some people came out of the pub to smoke. It still exists. It still fucking exists.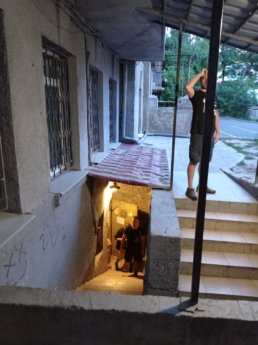 To Helmet, or Not to Helmet?
Inside, I grabbed the photo I had of my 22nd birthday in Kyiv to compare the interior with then and now. Things had changed, but it matched. I remembered the part behind me in the old photo to be much bigger, or at least empty without tables. All staff wore scrubs or lab coats to fit in with the theme of the short story by Anton Chekov.
At the pub, we were told we couldn't sit at that part of the bar because it was reserved. Jonas had never seen a section of the bar reserved for people and couldn't get over how strange that was to him. While looking at the menu, Jonas asked the barkeeper if they still have the birthday special. The barkeeper shook his head in what-do-you-mean. Jonas asked "The special with the fire and the helmet?" and the barkeeper was "Oh so you want to do a helmet? Okay, let's go!" and I shook my head in no please don't.
So we sat down at a table and later a server came by to tell us this table was also reserved, so we moved to a spot at the bar that wasn't reserved and looked like it could have been from the photo. We ordered a Mai Tai and a Caipirinha and Jonas took some photos with me to mimic those old photos. We actually found the 'helmet' and 'spritz' on the menu under "extrem cocktails" in the back. ₴ 100, not too expensive.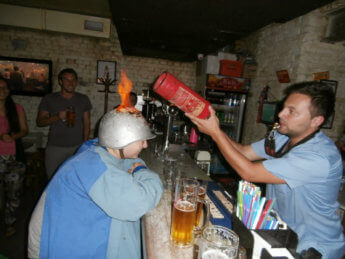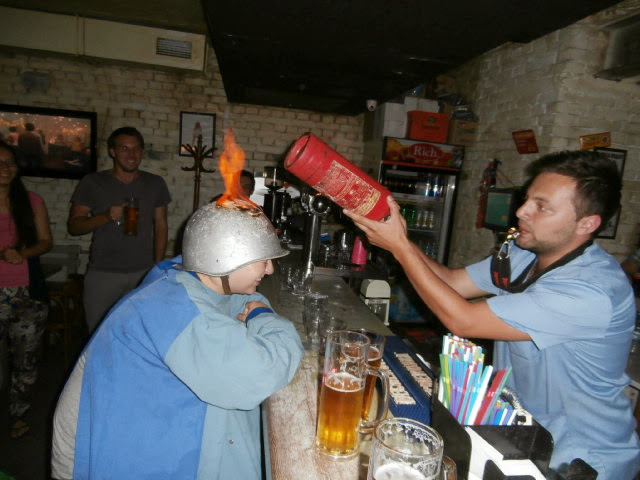 While drinking our classy-ass drinks, we discussed whether I should do it again. I held a monologue on how I don't need to pretend to be 22 still and that it got me drunk real fast eight years ago. Shots make me vomit and I know what alcohol I like and dislike by now. I have no interest in getting drunk tonight, but if we're lucky, someone else will order the helmet and Jonas can see what it is.
After cocktails, we ordered a Chernihiv lager and a Hoegaarden witbier. One thing new, one thing familiar. I told Jonas I wanted to smoke a cigarette for old time's sake. You can't buy one single cigarette at the bar, but I was confident I'd later be able to bum a cigarette off someone despite the fact that everyone in Kyiv moved from cigarettes to vaping in the last eight years.
Every now and then between big orders of 30 shots, the barkeeper would ask if we wanted to do a helmet. "Come on, it's fun!" he'd say, but I'd made up my mind.
Helmet, but Someone Else
Eventually, a small group of people entered the pub. The reserved section of the bar was for them. The barkeep got the helmet out and the server locked the door. I told Jonas he was gonna witness a helmet and that we had to get up to witness this phenomenon from a better angle. We first stood by the locked door, not understanding that this was the danger zone. So we stood to the side.
By the time I started filming, the guy in the helmet already had a flaming napkin on top of his head. The barkeeper slurped a good amount of spirits, wiped his mouth on his sleeves, and then spit it into the flame above the guy's head.
Oh my god, I'd totally forgotten about this. Jesus what the fuck.
There was a piece of flaming alcohol on the floor by the door where I'd been standing earlier. The tradition continued with several objects being slammed on the helmet and the barkeep and the… birthday boy (?) doing high five with flaming hands. It was fantastic and at the same time so much worse than I remembered.
A few things had changed since my helmet: the guy in the helmet had already chugged his three alcoholic drinks before the slamming started. Also, he was wearing a fabric doctor's coat and not a water (or blood?)-proof coat like I did and the helmet I had was from WWI or something and the new helmet is of a different kind.
One Vice for Old Time's Sake
We drank one more round of beers and discussed the helmet. Two women from the same party-hard group ordered a 'spritz'. For that one, you need to sit on a sort of stretcher in a straight jacket. The barkeeper prepares a gigantic syringe with booze and then you're being force-fed the medicine. It's not such a carnage as the helmet.
Once we were done, us wise old people even got a bottle of water before we left. What a smart and mature thing to do.
We paid and departed the basement before 23:00. We encountered a group of people and I asked if I could have a cigarette. A woman with great hair gave me one and a guy lit it up for me. I thanked them and they went back inside the pub.
The nicotine hit me hard and I felt good and bad at the same time. Perhaps smoking is worse than getting it over the head with a fire extinguisher, but it's the bad thing I can do on my birthday in Kyiv without feeling it in my body for days. This is fine.
We took a taxi home and went to bed soon after. It was a good day.
Final Notes on My 30th Birthday in Kyiv
Did I really just write 2300 words on revisiting a pub? Yes, I did.