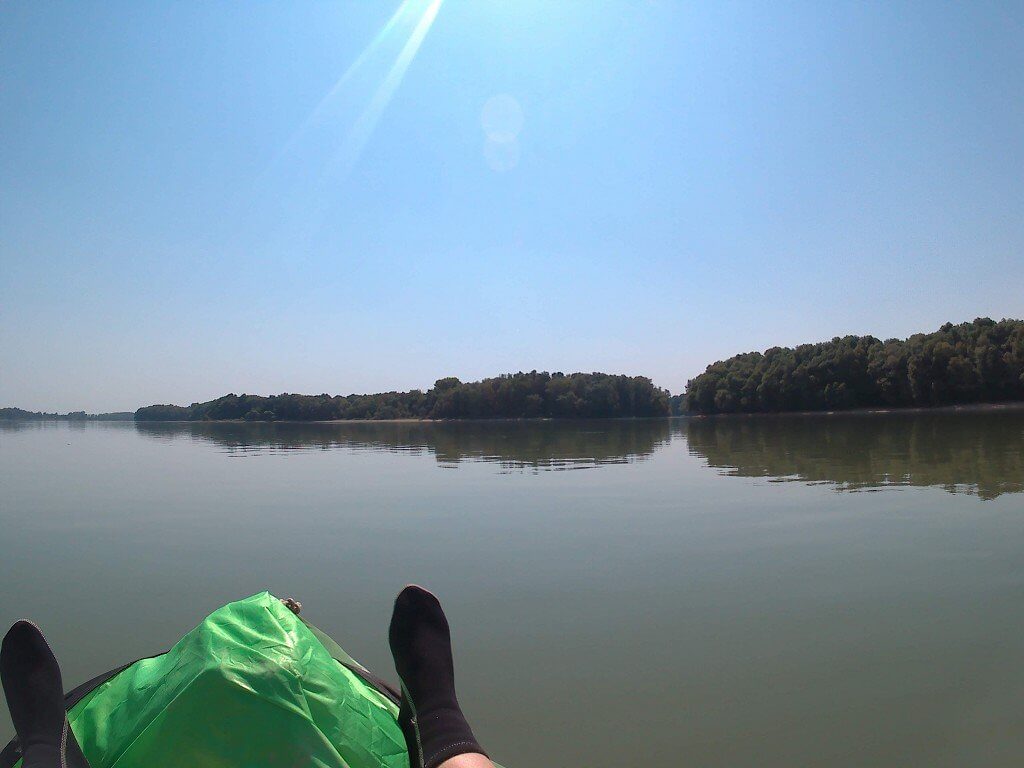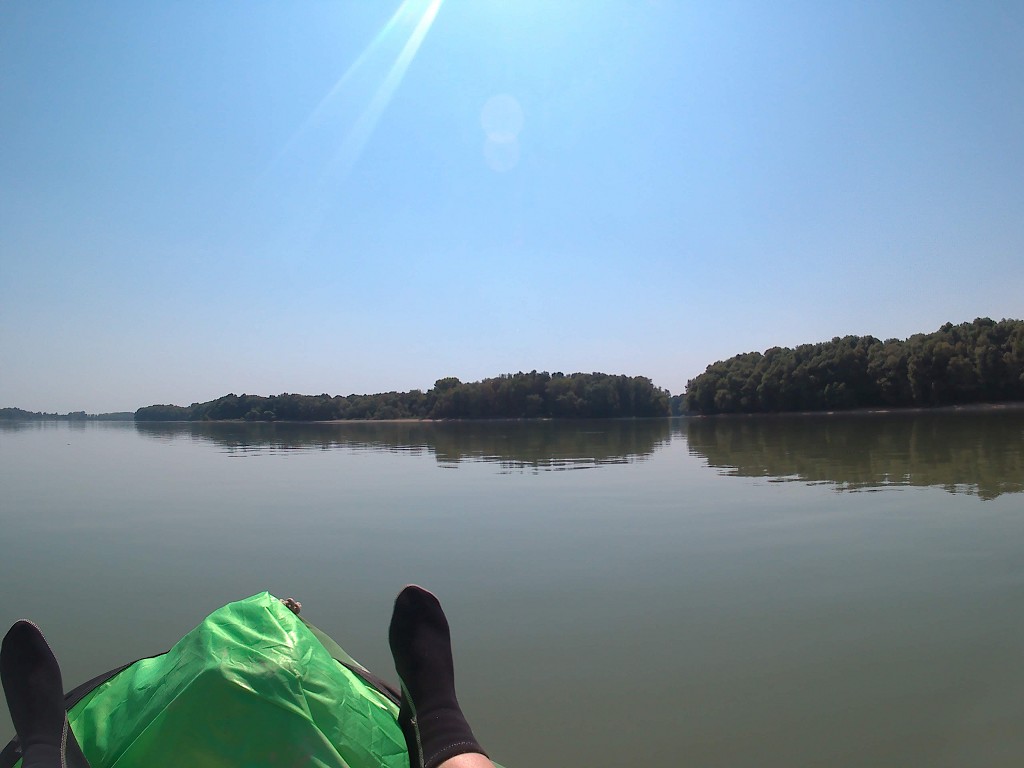 Events in this story happened on Monday the 2nd of September, 2019. We paddled our buoyant Zucchini from Ercsi to Dunaújváros in Hungary. This was a total distance of 36.3 kilometers.
Our Stay in Ercsi
We stayed in an Airbnb owned by a Dutch family. It's their summer holiday home, but they'd already gone back to the Netherlands. It's a very cute house with two bedrooms and a generous garden. The interior details were surprisingly clichéd for Dutch people: blue Delftware tiles depicting windmills, wooden clogs and ancient wooden skates on a wall, some sign in the garden about showering before using the pool which was definitely an inside joke.
But the most clichéd thing was that they hadn't provided bedsheets included in the (rather high) price. Contrary to typical Airbnb etiquette, we could have gotten sheets had we paid €20 extra. This isn't really helping Dutch people repudiate the label of 'stingy'. So we got out our own bedding from the white dry bag and camped in their home. We, too, have weirdly specific hills to die on.
Ercsi itself is a very cute town. I spent most of my time trying to have a local cat warm up to me, but I didn't manage to hand out any head scritches. With afternoon temperatures of upward of 33°C, we didn't venture out much. But it wasn't necessary to leave the house for our entertainment; one quiet Sunday afternoon was disrupted by the threatening loops of a stunt plane over the skies.
We also got some important stuff out of the way, like booking the accommodations in Budapest and Bratislava until leaving Europe for Asia. September rolled in and I realized the end of paddling is really near.
Learning More About the Danube
I also found a new website called Danube Portal, which actually has all the information we've ever needed in one website… It taught us that the water levels in Ercsi at the time of staying there were nearly at non-navigable levels.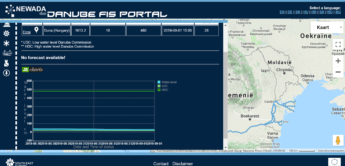 With some more Googling, we found out that in October 2018, it actually happened that the water levels of the Danube were low enough for shipping to come to a standstill. Someone's Viking cruise from Passau to Budapest was canceled, which made them vocally sad. Jonas and I are still of the opinion that the cruise ships are The Worst, so we definitely experienced some Schadenfreude when we read about this. And it might happen again in 2019.
Leaving Ercsi for Dunaújváros
We arrived back at the river at 7:55 in the morning. This time, we'd use the slipway of the ferry while it was on the other side to reenter the river. I'd spent a lot of time painstakingly cleaning my muddy shoes after arriving in Ercsi. By 8:15 we were paddling toward Dunaújváros.

We directly crossed from the right shore to the left to enjoy the morning shadow from the trees. We're heading in a southern direction today, just like the previous paddle day and the remaining paddle days to come. Despite the distance ahead of us, we weren't directly in a hurry and took our time to make everything comfortable inside the boat. While doing other stuff, we slowly turned around. Jonas was very disoriented when he looked up and didn't directly recognize the church tower of Ercsi and the direction of the current.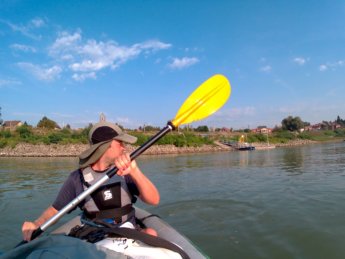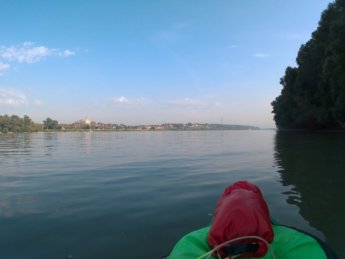 The quiet left shore of the Danube smelled like a campfire, but we didn't see the campers. Some lone fishermen set up their gear on the beachy shores of Csepel Island waiting for a catch. It's a Monday morning and I wonder if there really isn't another place for these men to be. It must be almost the end of the summer holidays for most people, but these guys don't look like they ever get a holiday. And I somehow doubt that these men will stop going out to fish when the temperatures drop with such dedication for the catch.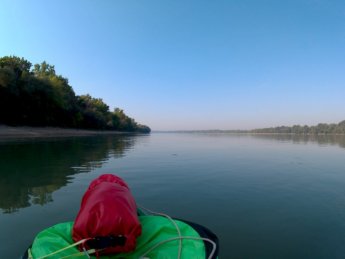 As the kayak trip is nearly ending, I feel the urge to take footage of different angles from inside the boat. So here are six minutes of video of me filming the morning sun through the trees sideways:
Buoy Maintenance
It's 9:00 and we're often sticking to the shipping lane due to shallowness near the shore. A green buoy near the center of the Danube indicates that the left side is quite shallow, so we move closer to the middle. The green buoy is in desperate need of some tender loving care, as it caught an entire tree – probably from some previous flooding.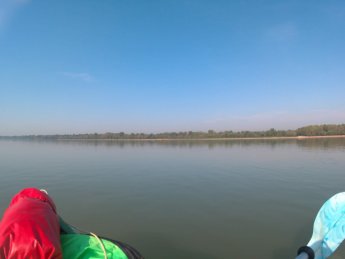 We receive a bit of tailwind and I deploy the kayak sail. The river is basically void of any other traffic, so we're comfortable to paddle in the shipping lane without needing to be too vigilant. There's a semi-sunken barge on our left. The lack of water in the river also causes the current to basically come to a halt, so we need to put in the work with our paddles to move forward.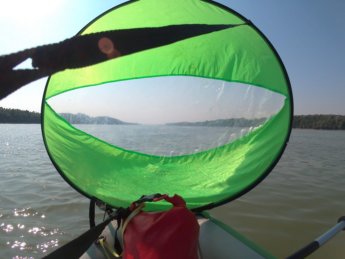 At 10:50, we cross paths with the ferry between Adony and Lórév – the only Hungarian town with a Serb majority. Lórév means 'horse ferry' in Hungarian and it has historically always been a relatively easy river crossing site, already since Roman times. During the record-low water levels of 2003, archaeologists even found the wreckage of a Roman ship.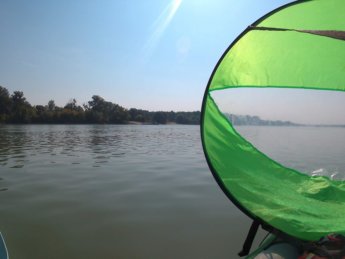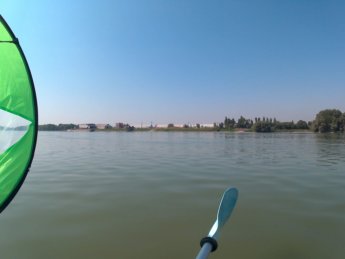 The horseless ferry today is basically a floating pontoon for the cars to drive on and off, and then a little ship that's on one side of the pontoon and attached with ropes that pulls and pushes the pontoons. It looks a bit improvised but seems to work quite well. We've seen this ferry model in other places in Hungary as well.
After the ferry, we saw a moored ghost barge. They're also at risk of touching the bottom of the river with these water levels, which is why some captain put them pretty close to the center of the river. The threat of low water levels is quite serious.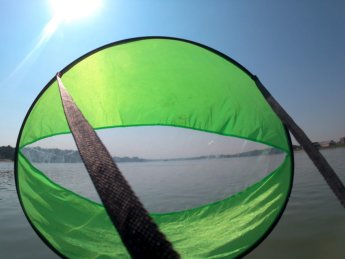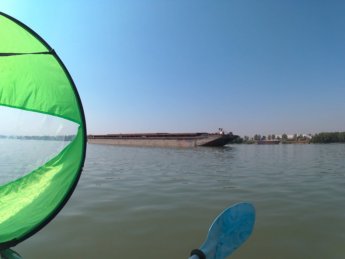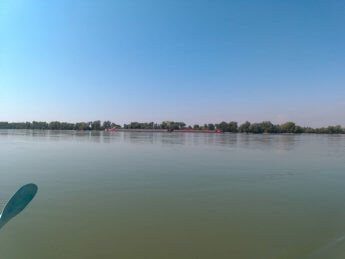 The Last Summer Day
At 11:10, we held a 40-minute break on the left-hand shore right after Lórév. Behind us, we heard gunshots from hunters. Our breaks have been getting longer and more comfortable with all the experiences we've gained.
Next, we pass a cute town named Kulcs. The houses look adorable and many people are enjoying what I've dubbed as the last summer day for Hungary. The forecast informed us that the high temperatures will go away soon and probably won't come back. I'm quite looking forward to paddling in lower temperatures.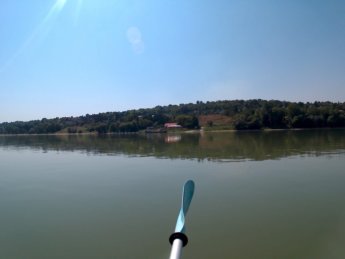 At Kulcs, the river turns a bit to the right. That's where the Danube splits up around the Rácalmás Islands Nature Reserve (Rácalmási-szigetek Természetvédelmi terület). It's technically a shortcut, so I ask Jonas if he'd like to paddle there. It looks promising, but the chance of just repeatedly running aground is also quite large, so we choose not to. But we cross to the right-hand side in anticipation for landing in Dunaújváros anyway.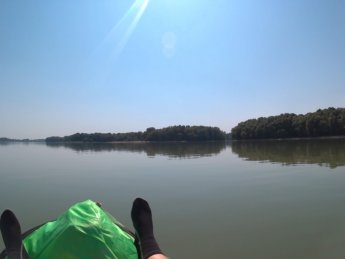 One Last Break Before Dunaújváros
The Ráckevei Danube around the big river island of Csepel rejoins the Danube in an underwhelming way: we couldn't even see the confluence. We hear some more gunshots from the forests surrounding the river.
It's after 13:00 by now and we're making good progress to arrive in Dunaújváros. The floodplain forest of Racalmás Island slowly disappears and a big water tower (I guess?) appears on the horizon. We try to make one more break on the right-hand shore, but the beach has disappeared and been replaced with riprap. We could cross back to the left-hand side, but we don't really want to do that, so we try to land at various spots before we find something on Szalki Island. Szalki Island is already in the city limit of Dunaújváros.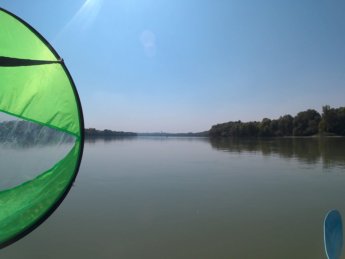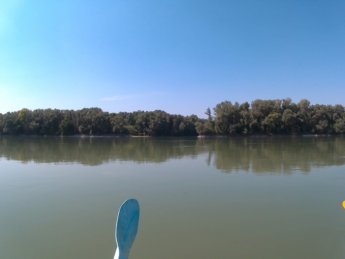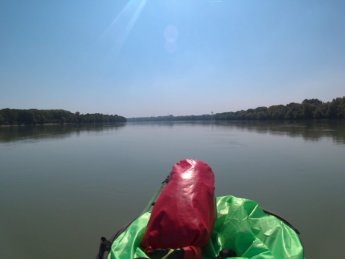 We hold a 50-minute break until 14:55 and then paddle the final kilometers to our researched landing spot in Dunaújváros.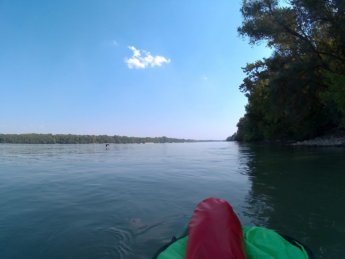 Arriving in Dunaújváros
Right after the tip of Szalki Island, we had found a landing spot on satellite. But it didn't exist anymore. The embankment was very steep riprap going up about three meters with a fisherman dutifully occupying the spot. Shit, what now?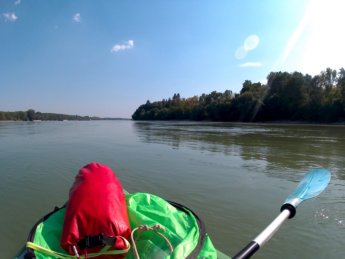 We float on downstream in the afternoon shadow of the west-side shore. We see the dark outline of something that could work as an exit. It could be a floating dock that might be too high for us to be useful. I'm looking on my map to find more information about it and then spot the word "kajak-kenu" on my map. Yes! That will do!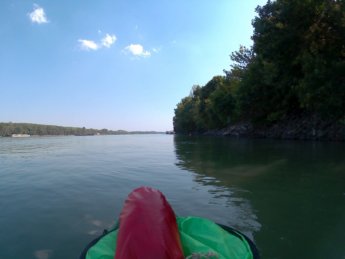 Minutes later, a bunch of young adults paddle in racing kayaks or canoes upstream and past us. We see the wooden dock that spawned them and land our boat there at 15:15.
President of the Kayak Club
Upon the high embankment, we put Zucchini out to dry and relax a bit in the grass. There's indeed a kayak and canoe club here in Dunaújváros, and it's a big one. They apparently got funding from the EU to place a nice sign at the entrance and build a very cool website (in Hungarian) about all things kayak and canoe in Hungary. Both the sign and the website inform us that paddlers can camp at the club, store your boat, make a campfire, take a hot shower, use the kitchen, etcetera.
After some time, the parking lot of the kayak club gets a bit busy. Family-sized cars park very close to Zucchini and I don't really trust their parking skills; one person drove the front of their car into an extinguished fire pit. There's a derelict pontoon, so we put everything on top of there and relax a bit more while the boat dries.
Then a man shows up in a shirt with the Sardinian flag. He's walking around talking to a lot of people and encouraging some young kids to carry a huge canoe down the pontoon. He walks over to us and introduces himself as the president of the kayak club of Dunaújváros.
He asks us about our trip and then invites us to stay at the campsite. We already have something cozy booked a few kilometers inside the town, so we politely decline. Then he wants us to at least store our boat at the kayak club, which we think about. But packing up Zucchini into the backpack isn't such a big deal, so we again decline his kind offer. Especially not knowing whether the kayak club will be open when we leave very early on Thursday to Harta.
What he can help us with, though, is calling a taxi. Our accommodation in Dunaújváros was simply too far away (and a 60-meter climb uphill). So he called us a taxi while we folded Zucchini into the CabinMAX. The taxi arrived and brought us to our Airbnb in the center of Dunaújváros. We stayed there for three nights.
Enjoyable Story? Please Share It!