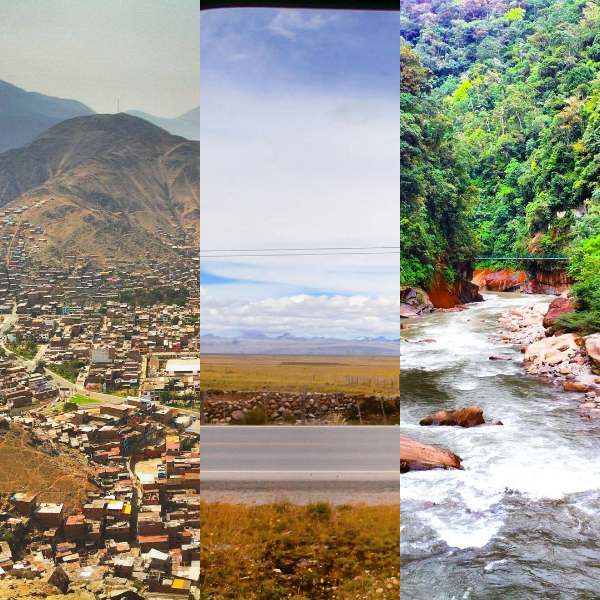 OK, maybe Lima's desert is not called the Atacama, but the "Peruvian Coastal Desert", but this was the more poetic choice for obvious reasons.
On the 20th of April, I left Perú's capital Lima for a city named Pucallpa, a journey of 789 kilometers, four nights and five days. A map for reference:
I wanted to hitchhike, dammit. I had just spent five weeks exploring the enormous capital of this country for the sake of writing the next Digital Nomads Guide. It was fun again to really get to know a city, but I really needed to go back to my favorite activity: catching rides with friendly strangers and going places I've never been to before.
With nearly 10 million people in its metropolitan area, I knew getting out of Lima was going to be no easy feat. In the weeks before I had already been practicing with using public transportation with an app specifically made for making sense of Lima's monstrous city bus system. I needed to use two buses to get out of town. One to get to the center. Then swap into another that goes to a little village on the Carretera Central (the central highway), where hopefully I'd be able to stop a car. Projected commuting time: four fucking hours.
The grand plan was to hitch from Lima, cross over the Andes (for the 4th time) and ride it down into Pucallpa, a city at a side river of the Amazon. From there I wish to take a boat ride to Iquitos through many sweltering nights on the meandering river. Iquitos is the largest city on earth that's only reachable by boat or plane!
Day 1: Lima to La Oroya
The second bus I take from the Plaza Grau in Lima will take me to Chosica. There's a bunch of buses that do this route, and I picked one that's both tiny and completely empty, because of my backpack. I get to sit next to the bus driver, which means I have to wear a seat belt but have more space for all my stuff. I always feel bad for occupying space with my stuff. In Perú, they will cram the buses completely full of humans of all ages. I ride this bus for hours through crap traffic and dodgy areas till the bus enters Chosica. The bus empties fast and the driver asks me where I'm going exactly. I say "Ricardo Palma", the next village after some crossing. It's actually where he will turn around his bus, so we drive there.
Once out of the bus, I start walking in direction northeast to hopefully find a good spot to stop a truck. It's terribly hot outside and very dusty. I see some sandbags placed along strategic points against the floods from a month ago. To the untrained eye it might look like nothing special. A tragedy happened here. There's some construction work up ahead, which means slower traffic. Some passing trucks already beep as if they're asking me if I need a ride (yes please!), though they can't stop safely. There's simply no shoulder along this skinny road.
The construction workers see me lift my thumb and advise me on a spot to stop the bus. I thank them kindly for the tip, only to ignore every word they said. Around the spots where the construction workers stop the traffic, a micro-economy of food and drink vendors has appeared. I'm only hungry for a ride.
A little further I see a potential parking spot. I decide to make it my home for now. I take out my "Oroya" sign and do the thumb thing. After about ten minutes someone stops their car. It's a nice family car and looks rather new. It was already quite full, but they seemed adamant to take me. The driver climbs his car and starts tying my backpack onto the roof rack. He tries to make small talk already. He rearranged the whole seating situation in the overpacked car to make space for me. Once I'm inside and we drive off, I notice something is wrong.
This isn't a family going on a trip or visiting remote relatives. It's a fucking colectivo – a shared taxi! I feel terribly sick to my stomach. My first ride in a while and I can't even correctly identify if people want my company or my money. I know the good people of Perú understand what the cardboard sign and the thumb on a gringa mean here. (Who the fuck makes a sign to take a bus?) Now, this guy is about to guilt-trip me into paying up. I'm ashamed to say it, but in the end, I did.
Day 2: La Oroya to Huanuco
Refreshed by a good night's sleep in a dirt-cheap hostal in La Oroya, I hit the road again in the morning. The altitude really gets to me after five minutes of walking. I'm better prepared for today: first I'll get to the peaje (toll booth), then get a ride directly to Huanuco. Seriously, I need to start making some distance today. After the crossing in direction Junín, I see some trucks appearing and decide to give it a try. The second truck stopped in the middle of the road, not giving a damn about the other traffic.
Miguel drives me to the peaje during a 30-minute ride. He drives some stuff that needs to go to a cement mine somewhere after the peaje. He's friendly and very busy being a safe driver on the curvy roads on the altiplano (high plain). It's nice to be protected from the 4000+ meters above sea level winds in the cabin of the truck. I get out before the toll booths and wish him a pleasant day.
The peaje has all the facilities a hitchhiker can dream of. They work a lot better for hitchhiking in Perú than the grifos (petrol stations). There are two vendors selling snacks and drinks and I buy some kiwicha (delicious Peruvian cereal bar) from a young woman. This is my breakfast. The traffic is stable and I'm looking for a truck that is not too heavily loaded. Within 20 minutes, I got a truck ride going all the way to Pucallpa!
Inside the cabin is a 20-year-old woman named Jocelyn from Lima. The driver's name I didn't catch, unfortunately, but it started with L so let's call him Lorenzo. He was 32. We drove past the Lago Junín, where the wind untied his truck's tarp. So we made a stop. The road is in good condition and the landscapes are mesmerizing. Snowy peaks surround the horizon to the west. Driving through the little villages is time-consuming. The entire economy revolves around a village being located at a road. People try to sell stuff through the window and parked vehicles clog up the passage. Lorenzo is a very safe driver, who beeps ahead for blind curves to warn others not to do silly shit. His overtaking of other vehicles doesn't make me question my life's choices.
Lorenzo is from Pucallpa and Jocelyn is basically another hitchhiker. They are on the road already for two days and expect to arrive in Pucallpa after midnight. After passing the junction to Cerro de Pasco, the great descend begins. I considered hitchhiking with them a little further to Tingo María, but the hours of going down winding roads tired me too much to stay alert. I shared my road cookies with them to keep everyone's tummies jolly and eyes wide open.
We made a stop for food some 50 kilometers from Huanuco. Leaving the truck I noticed I was – yet again – wearing the wrong clothes for this type of weather. It was warm and humid, and my warm clothes felt out of place. The little roadside restaurant had a much-needed toilet and a free shower for Lorenzo. It's quite common when hitchhiking in Perú that a truck driver makes a shower stop. Both were very hungry, but I wasn't. During lunch I learned that Jocelyn was quite the funny character. We talked quite a bit and she pointed at the (breathing) chicken in the room when asking if I really wasn't more hungry. She pointed at my eyes and said that's how she knew I was a visitor to Perú.
"No hay mucha gente con ojos azules aca" ("there's not many people with blue eyes here")
Then she pointed at my skin:
"Y yo soy casi negrita en comparacion" ("And I'm almost black in comparison")
I never know what to say. It's just a statement, so I guess there's no need to say anything. This is such a common thing people tell me in Latin America that this exact scenario has played out about 100 times.
When Lorenzo is done bathing and dressed, we continue our ride to Huanuco. It's way bigger than I had expected! Tired but satisfied with today's hitches, I say goodbyes and buen viajes before heading into town.
Day 3: Huanuco to Tingo María
A short day! I had done my research about Tingo María and its national park before I left Lima, so I knew I wanted to make a stop here. While not exactly far away, the curvy road still makes it a challenge. I left Huanuco by mototaxi (rickshaws/tuk-tuks) and followed the road out of town until there was a nice shoulder. Where in Lima one would have to cover this distance by citybus, all the other towns are fully dependent on dirt-cheap mototaxi traffic. I barely had enough time to enjoy the beautiful mountains surrounding the city, before an expensive-looking SUV appeared in my peripheral vision. Thumb up and peaje sign up, it stopped!
The newer/better/bigger the car, the more chances you have to actually hitchhike it. This rule applies from Albania to Perú, in countries where there might be shared (unofficial) taxis roaming the streets. The driver Guido seemed like a friendly guy who would help me get to the peaje, but he was actually going all the way to Tingo María. It was OK with him to ride all the way to Tingo María. When talking about where he was going, it seemed he was going further and further every time. He even mentioned going to Pucallpa, my ultimate destination! I felt like I had pushed it a bit already by waiting with a sign for the toll booth but driving further. Either way, I wanted to visit that national park I had read so much about.
The ride went fast and smooth. Guido's fancy vehicle had AC and things like that. He wasn't very talkative, so we mostly listened to music. He did this weird thing where he would listen to a song for like 30 seconds or until after the refrain, and then skip to the next song. The music was great, though, so I didn't really know what the problem was.
I thought the road between La Oroya and Huanuco was curvy and a long way down, but apparently we had to descend even further. At some point during the journey, the small green shrubs and mossy mountains were replaced by ever larger and greener trees. It's the start of the jungle! Something in the air changed in that typical tropical way and it made me feel that way a new adventure does.
We arrived in Tingo María just after noontime. I thanked Guido for the ride and wished him a good trip to Pucallpa. Early as it was, I had enough energy to do some touristy stuff I barely ever do. I found a cheap place to stay, ditched my heavy stuff and headed for the national park. The feeling of having all the time in the world is the best!
Day 4: Tingo María to Aguaytía
The next day I was super confident I would make the last stretch to Pucallpa. The previous two days, I had had rides with people going all the way to Pucallpa. It must be possible to arrive before sunset. I caught the first ride with a pickup truck with siblings Janet and Henry inside. They weren't going to Pucallpa, but they did take me for 20 minutes towards a roundabout. They took a left, I went right.
Then I waited for a good two hours at a police checkpoint in a small village. The traffic was incredibly little and the sun broke through the clouds. There was no shadow, but I had sun cream. The police people saw my Pucallpa sign and tried to stop a bus for me. It's always weird to explain to people who think they're helping me, that this is in fact not why I'm here. It's one of these things that might make you feel guilty, but A) I didn't ask for their help and B) they didn't ask what I was looking for. Some people might think that it's picky not to take the bus, but I don't go around telling people who are waiting for the bus "Why don't you hitchhike?" either. Always stick to doing what you want to do, because disappointing yourself is worse than disappointing others.
Eventually, a pickup truck stopped some 100 meters behind my waiting spot. The front was full, with four people and their stuff, but the back had space. By this time I had already set my expectations to only reach Aguaytía and not Pucallpa. They confirmed they were Aguaytía bound.
The back of the pickup is probably my favorite seat. The view is uninhibited by dirty windows or objects, it's nice and breezy and to me, it's the ultimate feeling of freedom and adventure. Wind in your hair and things like that. We drove for quite some time until we made a stop at some waterfalls. I was invited in and only figured out then that they were actually Brazilian. This explained their comfort with putting me in the back, as this was my first pickup ride since Uruguay and it's a lot more common to do in Brazil.
The Velo de La Novia waterfall is inside a natural park. My drivers handed over a paid ticket for me without hesitation. That was really nice of them! Sometimes it happens that people don't just help you out with a ride, but you really join their group – and their plans. The big waterfall was a really stunning view and definitely worth the detour. The three men and one woman went swimming, but I stayed on the shore. It was super busy with excited kids around the waterfall and its lagoon.
After their refreshing dip, we continued to Aguaytía. At some point, the car slowed down and a guy with a rifle jumped in the back next to me. They'd picked up another hitchhiker! The guy wore a military uniform and wanted to share his mandarins with me. He was only in there for 10 minutes, before he jumped out as elegantly as he had hopped on.
Not much later, I was in Aguaytía. The drivers got lunch. I got out of the pickup truck. They told me they were going to Pucallpa tonight, but I didn't want to ride through the night in the back. People tend to overlook the speed bumps on dark roads and that's how a hitchhiker breaks her butt. I called it a day.
Once I had the opportunity to take my pants off I saw they had stains. There were some tar-like spots, probably from something that had been lying in the pickup. Armed with Google I managed to find a way to clean out the spots. It said petroleum jelly could work, so I sacrificed my last of lip balm to save my pants. It worked! Tragedy avoided.
Day 5: Aguaytía to Pucallpa
Today really had to become the last day of hitchhiking, as I was done with splitting distances in half. The distance I needed to cover was just 160 kilometers.
But nope. I didn't get a ride until 14:00 with a truck driver named Julio. He was only going 8 kilometers to the next village, San Antonio, but I had already decided to say "yes" to everything that would move me forward for free. Confused by my presence, he asked me what I was doing and why I was going to Pucallpa. I told him about the mystery boat to Iquitos. He seemed pretty confident these boats leave every day.
When it was time to get out of the truck, he asked me how I was planning to get to Pucallpa. I told him that I was planning to go there by camion (truck). He touched his Jesus Christ icon dangling from the ceiling and asked me if I knew who this was.
"Es Jesús", I said.

Julio: "El te llevara a Pucallpa" ("He will take you to Pucallpa")
Somehow, the chances of that happening seemed very slim to me. And then we said goodbye.
The next ride came only thirty minutes after my last. Once you have your first ride, hitchhiking almost always gets easier. At least that's how it often works for me. A big truck stopped. Headed for Pucallpa? Yes!
The next three hours I drove with a truck driver who introduced himself as "General", from now on: the General – not Jesus. The General wasn't very talkative, but a friendly man nonetheless. I tried to share my food with him, but he wasn't particularly in the mood to snack, perhaps because his truck was so clean. That's why I also refrained from eating during the ride, but I did have to drink a lot of water after so many hours in the sun.
The ride flew by and before I knew it, we were entering the outskirts of Pucallpa. I climbed out of the truck and said my goodbyes to the General. There were a bunch of mototaxis waiting to bring me to the center. It was another 10 kilometers to the center and the sun was setting.
That was quite the journey on land, but the one on water still has to begin. Amazon, here I come!
Enjoyed this? Share this story or pin this picture!