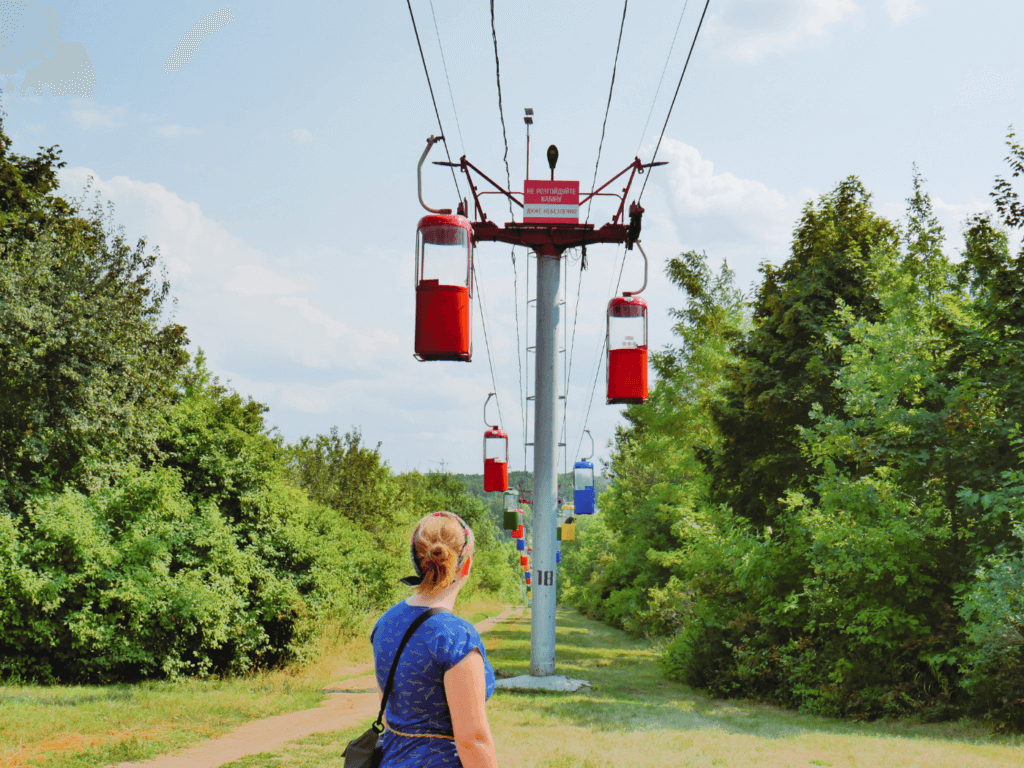 We rode the Kharkiv cable car on Wednesday, the 25th of August, 2021. I guess technically, it's a gondola lift or an aerial tramway or something like that (Spanish: teleférico) and I've seen the Kharkiv one referred to even as a 'zip line' (which it is absolutely not), I'm gonna keep calling it a cable car because it feels right.
Learning About the Existence of a Cable Car in Kharkiv
My friend Nina from Roaming Pencil hails from Kharkiv. When I told her we were going to her old city, she mentioned a cable car as one of the things to do in Kharkiv. When I started doing some digging into it, I was immediately in love with this fancied-up Soviet brainchild. The cabins are tiny and come in the colors red, green, blue, and yellow. Any still-standing picture screams this is for children.
We finally went to the Kharkiv cable car after all the Ukrainian national holidays in late August had finished. After picking up some (vegan?) tofu bowls from the bowl place downstairs Foodies Talks Jonas arranged an Uklon from our apartment to Gorky Central Park of Culture and Recreation (in short: Gorky Park). That's where the lower station is. Our plan was to take the cable car to the upper station in Sarzhyn Yar park and then walk from there to the metro station to return to our apartment. A nice small day trip with not too much excitement.
We sat down next to a Beans & Brews bakery and café to eat our tofu bowls while looking at the cable car from afar. It looked so peaceful from our park bench, looking at the primary colors floating by through the tree branches. Gorky Park is also very well-maintained and there were loads of gardeners and cleaners making the rounds to keep things tidy. We got some coffee and canelés from the café next door before heading to the cable car.
Is This Mean Machine Dangerous?
When we approached it, we saw it wasn't a calm and kid-friendly as the pictures had made me imagine; the cable car doesn't slow down at all at the station. Some people were exiting the station on their way down and one of them let out a little scream of getting away with not dying. A one-off? On the other side, two people were boarding the cable car and they had this look of determination in their eyes. Slam! Something banged shut after the people had boarded and the gondola swung while ascending fast.

I looked at Jonas and said that even for us – two able-bodied people – this might pose a problem.
If you've been to Kyiv and taken the metro escalators, you might have noticed that they're VERY fast. Same here. I got flashbacks to those escalators; we've also seen people painfully falling on the escalator while trying to hop off. Just like that, the Kharkiv cable car stops for no one.
But still… this is what we came for. So we bought two tickets and stood in a small queue waiting for other people to board, but they all didn't for some reason. Perhaps they were mentally preparing? Anyway, an old guy ushered us onto the platform. He placed me at a spot at the beginning. Jonas had to board it at the end of the platform after me. A small car circled around the big wheel and I realized how small the target was. The guy grabbed my arm and the cabin and swung me inside. I don't know if Jonas got any help, but suddenly his body squashed against mine in a non-sexy way and we were already going up.
Possibly the Best Thing in Kharkiv
This is amazing. You need to close and 'lock' the cabin doors yourself—if you feel like doing that. The doors are only half-doors and the top part is completely open. It's there to let fresh air in but also gives plenty of opportunities to accidentally drop your phone over the edge into the forest down below.
Jonas and I are a little high on adrenaline and are amazed at the existence of this ride. It's absolutely incredible. Why is it so fast? Even if it would be a little slower, it would make boarding a lot less hazardous. But I guess someone did the math on this of how many people you can transport up in one hour at what speed and how many injuries are acceptable. Jonas said, "I thought Ukraine was ready to join the EU, but I'm not so sure anymore."
There are two seats that you can fold down and once I tried it out, it almost flipped back up again with me squished in it. We tried to move carefully because every time you take a step, the cabin swings quite a bit. The cabins reminded me of the Minsk Ferris wheel in yet another Gorky Park; if the wind isn't right, the air in the cabin goes stale fast and suddenly it's a hot box.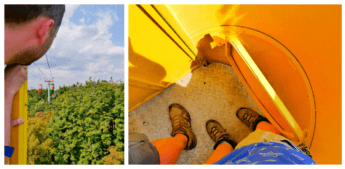 Though the Kharkiv cable car was built in Soviet times in 1971, it doesn't completely feel like a vestige from the past. The lower station looked look up-to-date and despite their small size, the cabins aren't Soviet Soviet.
Arriving in Sarzhyn Yar from Gorky Park
After establishing that Jonas can barely stand, we sit down for the rather long ride that takes us across screeching dinosaurs that move their heads and tails back and forth, a road busy with cars, and a wild valley with really dense bushes. Our adrenaline has gone down and we try to enjoy it like a normal ride. I guess the second time you take Kharkiv cable car, it's already a lot less novel and exciting.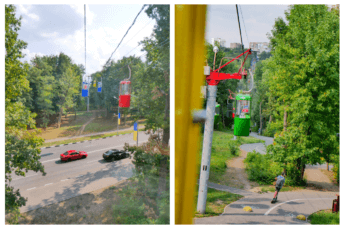 When Jonas moves his head I can see the upper station. We go over how to disembark the cabin. I will go first and we will unlock the swing door once we're over the fence at the station. There are people two cabins ahead of us and we pay attention to how they do it. There's an attendant who helps them off as well. I get ready to snatch a stranger's arm and Jonas will probably have to fend for himself again.
The attendant grabs the cabin and my hand and I hop off without breaking or bruising anything. Jonas also made it before our yellow cabin disappears into a maintenance hub. Hidden from view, it swings around the circulator thing and picks up people on the other end of the platform who have been spaced out and separated by gender as well.
We survived the Kharkiv cable car.
I spend the next twenty minutes just observing how the cars go into the maintenance hub, how it looks from below, and how people get on and off. We saw a woman trip over her son's three-wheeled scooter and almost knocked out her teeth on the floor if not for the attendant who caught her. She definitely got bruises on her shins from that.
Then we walk through Sarzhyn Yar from the wild and forested parts to the landscaped parts. There's a Jesus cross-shaped bath and so many people cooling off. It's a very well-maintained park again and it's thoroughly enjoyable to walk in here away from the crazy Kharkiv traffic. We take the Kharkiv metro (₴ 8 for one ticket) for the first time on our way home from Botanichnyy Sad station to Arkhitektora Beketova station.
We had a fantastic time.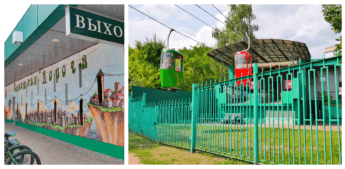 Kharkiv Cable Car Vlog (<1 minute)
And here's the mini vlog:
Kharkiv Cable Car FAQ: What to Expect
Even though it might make getting on more comfortable, there's no hint that the operators of the cable car will slow it down just a tad bit anytime soon. Just deal with it.
Is Kharkiv cable car wheelchair friendly?
Unfortunately, no. The cabins/gondolas are too small to fit a wheelchair. Also, the cabins don't slow down at the upper and lower station, so anyone with limited mobility will have trouble getting on and off.
Is Kharkiv cable car pet-friendly?
Unfortunately, no. It says in the rules that you can't take animals with you.
What are the opening times?
Closed on Mondays.
Tuesday to Friday: 11:00 till 21:45
Saturday and Sunday: 10:00 till 21:45
How much does a one-way trip cost?
₴ 30 per person. In 2021, that's about €0.95 or US$1.12
How to embark and disembark Kharkiv cable car safely?
To embark: grab cabin with right hand and step in with left foot.
To disembark: grab cabin with left hand and step out with right foot.
What are the specs of Kharkiv cable car?
The one-way distance is 1385 meters. The maximum height above the ground is 26 meters. It takes 18 minutes to go one way but I guess that depends on how fast they make it run.
One cabin can hold 160 kilograms or about two adults. There are 124 cabins including some funky ones.
What to wear on the cable car?
Try to not wear anything that can get stuck when embarking or disembarking. Think of scarves that are too long, clothes with loops, backpacks with loops and hooks, etc. Make sure to tuck those loose things in before going on the ride. If you get stuck with any of these when disembarking the operators might not have enough time to stop the ride while you're being dragged.
Can I eat and drink aboard the Kharkiv cable car?
Officially, no. But this is one of these rules that's not really enforced. Please don't drop your trash out the window.
Can I smoke on the Kharkiv cable car?
Officially, no. But I've seen people use the twenty minutes of chill to kick back, light one up, and enjoy the ride with some nicotine. They probably also throw their hot cigarette butts out the window, which is reprehensible. If you're gonna smoke, be diligent about it and clean up after yourself so the next person can enjoy your cabin without smoke smells.
What conditions prevent one from riding the Kharkiv cable car?
Cardiovascular diseases, nervous diseases, disorders of the vestibular apparatus (i.e. people with balance problems), spinal diseases, and pregnant people.
Though not in the rules, I should add that people who are too tall – in this case taller than 2 meters – might struggle not getting brain damaged.
Can I have sex on Kharkiv cable car?
Uhh, I read the rules thoroughly and there wasn't something that specifically mentioned this. One review on Google Maps said:
"There is a local urban tradition: if you rode the cable car and did not have make love there, then it is not considered that you did not visit Kharkiv.👍😄🔥 I recommend that you take 2 bottles of wine like champagne with you and drink with the girl between the stations (there and back). A beautiful view over the park with such an accompaniment will leave a vivid impression of walking above the ground. A particularly great time to visit is May, when the trees are blooming in Sarzhin Yar. From the scent of flowers, fresh air and a wonderful view, you will have a magical mood!"
Is Kharkiv cable car stroller friendly?
Also no. There is not enough floor space to fit a stroller. There's a 95% chance you'll trip and smack your face on the concrete when exiting with a small stroller.
Is Kharkiv cable car kid-friendly?
There's one of those things that judges how capable your child is by their height. This is set at 110 centimeters and taller. There's also an age requirement: only children over 14 can ride alone.
Can I sue them if I or my child gets hurt?
No. This isn't the USA. The rules state that you must assess for yourself if the risk is worth it.
Good info? Consider buying me an espresso
Bitcoin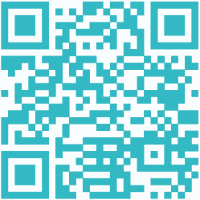 bc1q9a6w08a4gkx4gdvnh7w2vlkfzx4tlwfpfe6jm6
Open in wallet