When joining a beer sampling in Kharkiv with Eugene and his friends, we mentioned we're also going to Odesa during our trip through Ukraine. He opened his phone to show photos from beautiful spots in Odesa, such as the swamp tram (video link) that goes to Khadzhibey Estuary. We'd shared our experiences in the Kharkiv cable car with him. We thought it was hilariously unsafe for something that's painted in primary colors. He then mentioned there's another such cable car in Odesa, and oh boy, that one hasn't seen a renovation.
Eugene showed some pictures from inside the cable car and it was a thing of beauty; no windows to keep those flailing hands inside, paint peeling off, and an overall vibe of decay. Beautiful and a little scary.
More than a month later, we find ourselves in Odesa. We found an apartment within walking distance of the Odesa cable car because it's just that important to me. I'm so ready.
Odesa Cable Car Lower Station
The lower station features a nice large building with symmetrical stairs for the entrance and exit. Someone is painting the handrail of the stairs we ascend, showing some signs of care and maintenance. We go up the entrance where there's a booth and lots of (warning) signs. One of them says it's prohibited to keep the cabin doors open during the ride—makes sense. And there's an unbelievable amount of mentions that dogs – neither big nor small – are allowed on the ride.
We pay a whopping ₴ 160 for both of us to ride this thing. Our baseline for what to pay lies at ₴ 60 for the both of us at the Kharkiv cable car.
We go through the turnstiles and first I'm taking some photos and videos for this post before we hop on. I knew that the Odesa cable car hadn't undergone a massive renovation in recent times. I knew that the cabins were very open and even less 'safe' than the one in Kharkiv. What I didn't anticipate is that all the cabins have a theme. They're painted in bright colors and have artworks all over them. The best way to see all the cabins is of course by riding the cable car.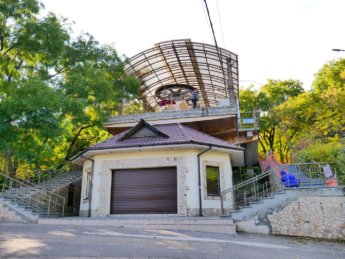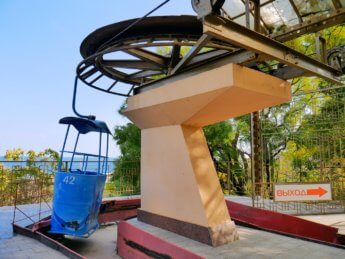 The lady waited for us to be done before showing us how to get on, though we knew how to do that. I stand at the start of the platform and Jonas towards the end. I grab the cabin with my left hand and step into it with my right foot first. Immediately, I try to make space for Jonas so he doesn't slam into me. He hops on and it's a lot less exciting than that first time in Kharkiv, but still a proper "What the fuck, how is this a thing?" moment.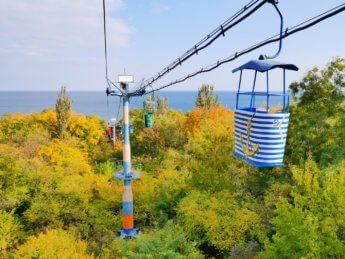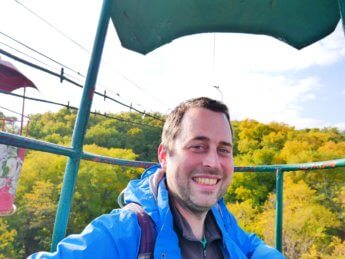 Riding the Канатная Дорога to the Top
I have no idea how long this cable car is. The one in Kharkiv turned out to be a very long ride and we had to sit down. Jonas compulsively stands in these things for some reason and I have to remind him he can sit.
That's how we both get to see all the charming themes of the cabins. The artworks we see pass by are about mermaids, authors such as Arthur Conan Doyle, butterflies, sailing, sea animals, Odesa's city flag, Charlie Chaplin, chess, football, Einstein, panda's, and the like. It's super cute, even with the rust stains shining through.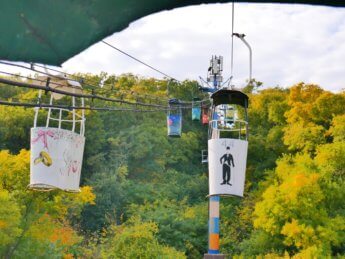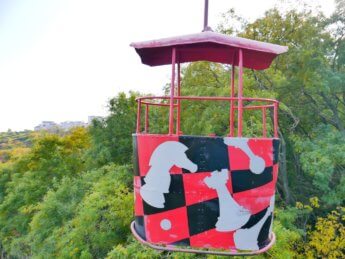 There are more angry-sounding warning signs atop the support poles we pass. One says "Don't rock the cabin"—sage advice because that indeed sounds very dangerous. Another such sign is on the next pole, but I can't read it because a cell tower obscures the view. It might have said the same.
Below us, we can see the trees in autumn dress and behind me, there's the Black Sea. We go up quite a bit to the edge of the cliff where most of Odesa is located on. Sometimes we pass through something of a tree tunnel when we get so close to the branches we could almost touch them. There are some funny noises coming from the cable car, the ropes, and when we pass over the wheels of one of the support poles. I look at my feet and see a few unintentional-looking holes in the bottom of the cabin. Taking these cable cars always feels a little risky and perhaps one day the headline of a tragedy.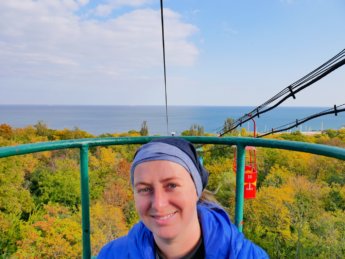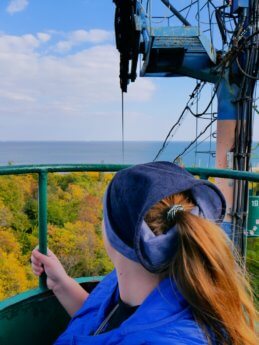 I missed when Jonas stood up again and ask him to sit down. The ropeway has straightened out and it feels like we might arrive soon. We spot something through the forest and it's indeed the upper station. We discuss how to disembark.
Failing at Disembarking
I had literally written about how to disembark such a cable car in the blog post about Kharkiv. They turn in the same direction (anticlockwise), so it should be the same. But at the moment, I had a total brain fart and couldn't tell left from right or even think it through logically. I thought we had to disembark with the right foot first and hold on with the left. Or was it the other way around? There's not enough time to reread my own article.
We continue our misinformation campaigns until we approach the platform. Jonas opens the little doors of our cabin and I'm standing in front of him to hop out first. The lady at the platform decides to give a last-second shout "Левой рукой [incomprehensible] и правой ногой приходите!" and all I picked up was "left". So I hop out with my left foot first and make a little imbalanced twirl before coming to a standstill. Jonas does the same and also notices it felt wrong.
So it should have been the right foot.
The lady shakes her head in un-fucking-believable and walks back to her booth between the cabins. Of course, we fucked this up. But to us, it didn't matter because we didn't fall or get hurt. It just bruised my ego a little that after nearly 6 months in the former Soviet Union, my Russian listening skills are still this shit.
Our cabin disappears in the maintenance hole and reappears a few seconds later. I take some more photos of the nice cabins before we head out.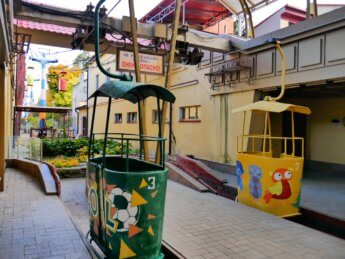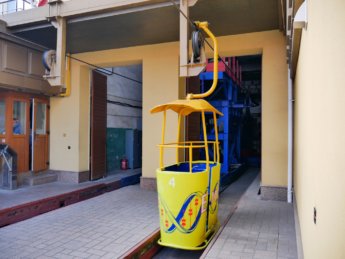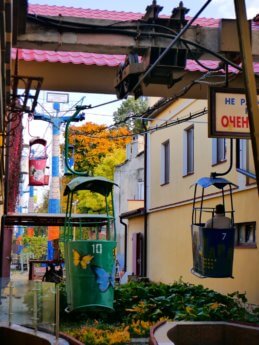 The exterior of the upper station is under renovation and isn't as nice as the lower station. The access road to the cable car leads to a very nice arch called Moorish or Mauritanian in style made by a Russian architect.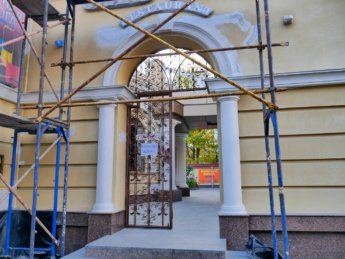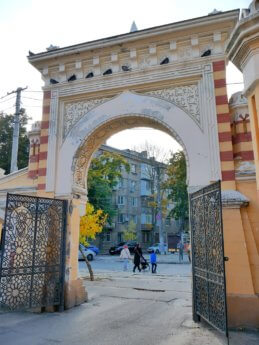 I'm very happy we had this experience riding the Odesa cable car, although it's a bit shorter and much pricier.
The Reviews of Odesa Cable Car
Later, I look up the reviews of this place. And with a 3.8-star rating and over 2.500 reviews, some people are not too enthusiastic. Except for this guy who puts it well although the horror doesn't come only from the height.

It also sounds like many people have fallen. About the exit strategy, I only found mentions of the left-foot, right-foot thing in Russian (poor tourists), such as the following warning cries:
Левой ногой заходишь в кабинку, правой выходишь. You enter the booth with your left foot, exit with your right.

Да ну нах за 60грн "запрыгивайте с левой ноги, выпрыгивание с правой" и всё на соплях держится, 2 звёзды чисто за вид. Oh, well try it for ₴ 60 "jump on with the left foot, jump out with the right" and everything is kept together with snot, 2 stars purely for the view.

Из кабинки выходите ПРАВОЙ ногой, иначе можете упасть. Leave the booth with your RIGHT foot, otherwise you may fall.
Odesa Cable Car Prices + Working Hours + Info
Location of the lower station. Location of the upper station.
Monday – Sunday from 9:00 – 19:00, but only in favorable weather and during daylight hours.
One-way fare: ₴ 80 per person as of 13th of August, 2021
Children under the age of 3 ride for free but they might not survive.
It says that they can make the cabin stop on the platform for an extra ₴ 150 on top of the ticket price. However, I think if you'd ask for this they'd probably tell you off.
There's also a group transportation fee, but the pricing didn't make sense to me.
You can't take animals aboard. The penalty for violating the rules is a whopping ₴ 300.
Pro tip: do it on a sunny day or at the very least, not a rainy day. Sitting in this cable car in the pouring rain is a recipe for both misery and disaster.
Good info? Consider buying me a kompot!
Bitcoin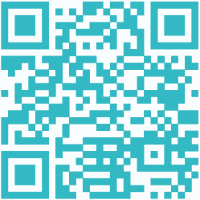 bc1q9a6w08a4gkx4gdvnh7w2vlkfzx4tlwfpfe6jm6
Open in wallet
Sharing is caring ❤️