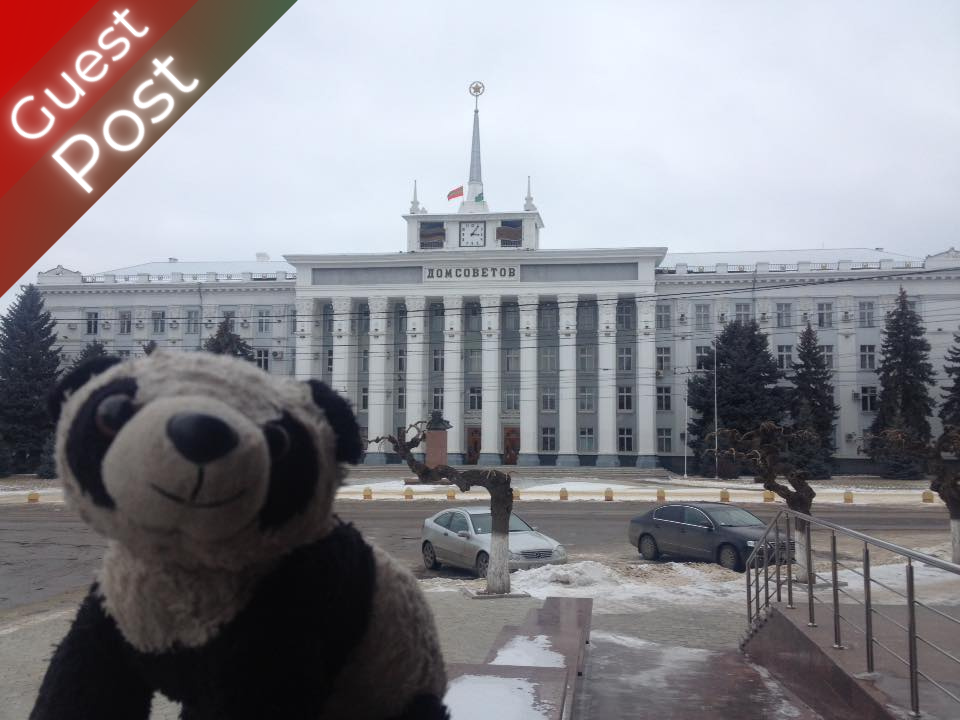 After stumbling across Heidi's blogs about Transnistria and Gagauzia on A Southern Space Cadet, I (Iris) wanted to invite her to write a guest post for Mind of a Hitchhiker. I really enjoy her love for unrecognized or partially recognized states. Enjoy her guest post, learn something new, write a comment, and make sure to check out Heidi's blog and give her a follow on social media!

Featured photo: House of Soviets: Tiraspol with an appearance from Dieter the Panda, my travel mascot
Transnistria's time capsule
Transnistria is an unrecognized state nestled between Moldova and Ukraine. Its "capital", Tiraspol (Тирасполь), is roughly between Chișinău and Odessa. Transnistria is legally part of Moldova and recognized by the rest of the international community as part of Moldova. The Russian Federation does not even recognize its statehood.
Transnistria has several times asserted its independence yet also expressed a keen interest in being absorbed by the Russian Federation. After the annexation of Crimea in 2014, Transnistria requested to be annexed to the Russian Federation as well subsequently. They are still waiting for this request to be granted to this day.
While the Russian federation enjoys having an influence on this separatist region of Moldova, trying to absorb it as part of the Russian Federation deems to be trickier. The geography does not help. There is a little thing called Ukraine separating the two. Transnistria would only be nothing more than an oblast such as Kaliningrad, but less convenient than Kaliningrad. However, the status quo enables Russia to say so in the Republic of Moldova's geopolitical position.
Transnistria was one of the case studies for my master's thesis several years ago. I visited in February of 2017 when I wanted to learn more about the region firsthand while writing my thesis. As a nerd for autonomous regions and unrecognized states, I was quite excited to go as it is the first one that I've visited. I went again with friends in June of 2019 just for fun and to experience the place in the summer. The first time I went, I was a little shafted by the weather.
What is it like to visit Transnistria?
The most exciting thing to see is Tiraspol and Bendery (Бендеры). You can walk around and see most of the main things to see. You can take a trolleybus between both Tiraspol and Bendery. Most of the things to see in Tiraspol are along the main drag (25th October Street). You can get your fix at seeing all kinds of Soviet monuments. You can browse the Sheriff (Шериф) supermarket, a Transnistrian company owned by some oligarchs with many different monopolies all over Transnistria, and even a football team. There is an entertaining museum near the Parliament called the museum of local lore.
In Bendery, you can see the fortress and more Soviet monuments. If you would like to see more, you can go to the north and see Ribnitsa (Rîbnița – Рыбница), a much more industrial city. Walking around can look a bit like a time capsule, mainly because most young people have left because of limited opportunity, so you see many elderly people walking around these Soviet monuments.
In a way, it can appear to be a bit of a theme park for foreigners. Although, to 300,000 people, it is a real place. You can take in the local people by going into some cafes and pubs. It has a more laid-back vibe. The glitzy clubs are not as commonly found in Transnistria as they are in Russia or Ukraine.
Is Transnistria safe?
Transnistria is relatively safe to visit. It used to have a reputation as being a bit dodgy, but the de-facto government has made strides to combat corruption and police shakedowns. The more significant crimes are also less due to some Ukrainian and Moldovan governments' measures with border controls.
The people, for the most part, are rather polite. If you do not speak Russian, it presents a bit of a challenge. But some of the younger people working in some places, have some basic knowledge. This is not any different than most countries in the former Soviet Union.
I had my bank card fall out of my pocket scarf in a restaurant, and the sweet manager found me on Facebook to tell me that she found it. This brings me to this point, if you are dependent on paying by card, you can't in Transnistria. You have to withdrawal rubles, euros, or dollars and exchange them for Transnistrian rubles. They have their own money, which is useless anywhere else. You can exchange almost any currency for it. Here you can check the official exchange rate.
Also, there is a friendly Couchsurfing community; I stayed with a lovely couple in Ribnitsa that I found on Couchsurfing. They had a mini party with some of their local friends; we had a blast. I messaged with a couple of other people and interviewed some people as subjects for my thesis. They were pretty enthusiastic about telling me about this region and giving me their perspective. Most of them were from there, but not permanently based there. They either worked in Odessa or Chișinău.
The couple I stayed with went on to move to Spain the next year and are now in Australia. In case you are wondering how you can travel with a passport from a country that does not legally exist, nearly all Transnistrians have at least a passport from somewhere else. They often have a Moldovan passport, while some have Ukrainian and Russian passports, and even some manage to get one passport with Romania. Because no recognized state legally recognizes Transnistria, they cannot use a passport from there unless you are going to South Ossetia or Abkhazia.
How do you visit Transnistria?
The easiest way to get there is from Chișinău, but there are various buses from most Moldovan cities. An official "visa" isn't needed for anyone. You hand them your passport, and they ask you if you want a 12-hour or a 45-day pass. For the 45-day pass, you need to have a confirmed reservation. You need to leave before the time listed on the printed form they give you. However, a good thing to note is that the last buses and minibuses depart Tiraspol around 18:30. It is best to keep that into consideration if you are just going for the day from Chișinău. A taxi can be pretty expensive.
The police in the past have not always been understanding. As I mentioned, the "de facto" government has been taking initiatives to crack down on bribery and police shakedowns. 
You can also enter from the Ukrainian side. Quite a few busses are going from Odessa. You can quickly get to the "border" and change buses there.  However, it is not recommended to enter from the Ukrainian side and proceed to the Republic of Moldova after Transnistria. Moldova and Ukraine have teamed up in the last five years to crack down on illegal smuggling through Transnistria. The Moldovan border control can be a bit suspicious about it if you try coming from Transnistria to Moldova with no entry stamp for Moldova.
There are mixed accounts of people's experiences with this way as well. I got held up for a bit in 2017 when I entered from Ribnitsa; the border control found my Ukrainian stamps before seeing my Moldovan entry stamp. I would recommend taking an official Ukrainian-Moldovan border, and just visit Transnistria once you are on the Moldovan side. 
Disclaimer: This was based on the situation a few months before the COVID-19 pandemic. The status of entering Transnistria might have changed since then. Please consult the entry policies of both Transnistria and the Republic of Moldova before making any plans to visit Transnistria. 
When is the best time to go?
Definitely don't visit Transnistria in February! I preferred the weather when I went in June. Like pretty much everywhere else in Eastern Europe, you will get a better feel for things if you go during a time of the year where people are out and about. People in that part of the world tend to congregate inside overheated places anytime between November- April. I would recommend the other months. 
What is in store for Transnistria's future?
The status quo of Transnistria can't last forever. Or can it? The recent COVID-19 epidemic has a grip on this region along with the rest of the world. Transnistria was a lesser priority for the Russian Federation before the COVID-19 epidemic; it will probably go down in the list. Moldova recently elected a Pro European president to go with the Pro- European parliament. The new Pro-European government of Moldova will have more motivation and incentives to fix this frozen conflict.
It's likely in the future that the status of Transnistria will be similar to the Gagauzia autonomous region. However, don't worry if this is the case; it will probably continue to give the image of a Soviet time capsule so you can still visit it and feel like you stepped into a different era.  Ironically, one of the biggest enablers of this Soviet nostalgia for this breakaway state is the curiosity of random western backpackers.
A handy map to visualize Transnistria
Use the side menu to make sections appear and disappear. This map contains information about Transnistria's sights, its borders, and its transportation. If you click the star, you'll save this map to your own Google My Maps library for later use. If you download the parts of the map you'll need, you can use this map offline while roaming around Transnistria with just GPS.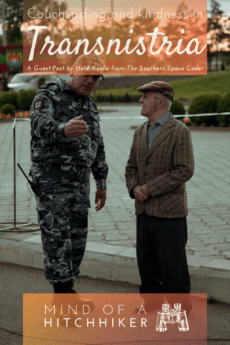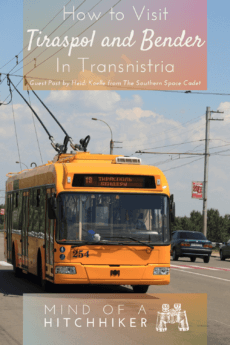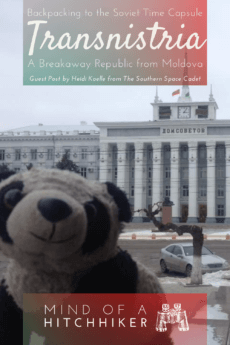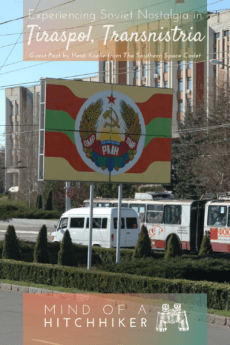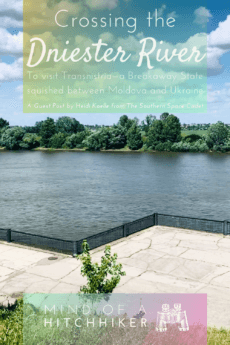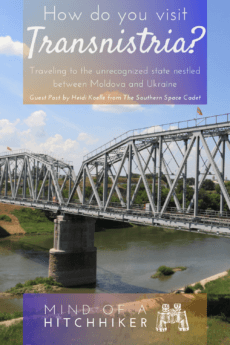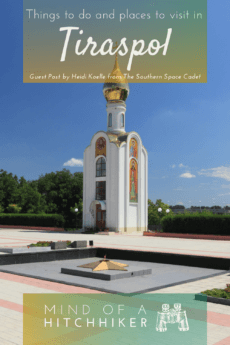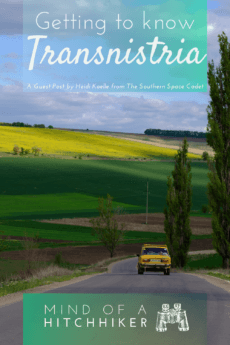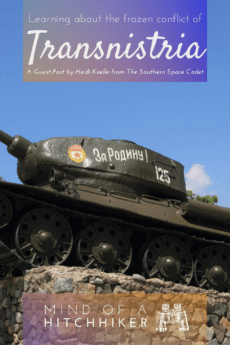 Photos for pins from Unsplash and Pixabay (Photos by Karen Grigorean, Anastacia Quince, Jacques Bopp)

Heidi Koelle is a blogger who strives to blend her top interests: Geopolitics and Travel. She is usually found in some Central or Eastern European capital city but makes surprise appearances in other parts of this planet whenever she feels like it.