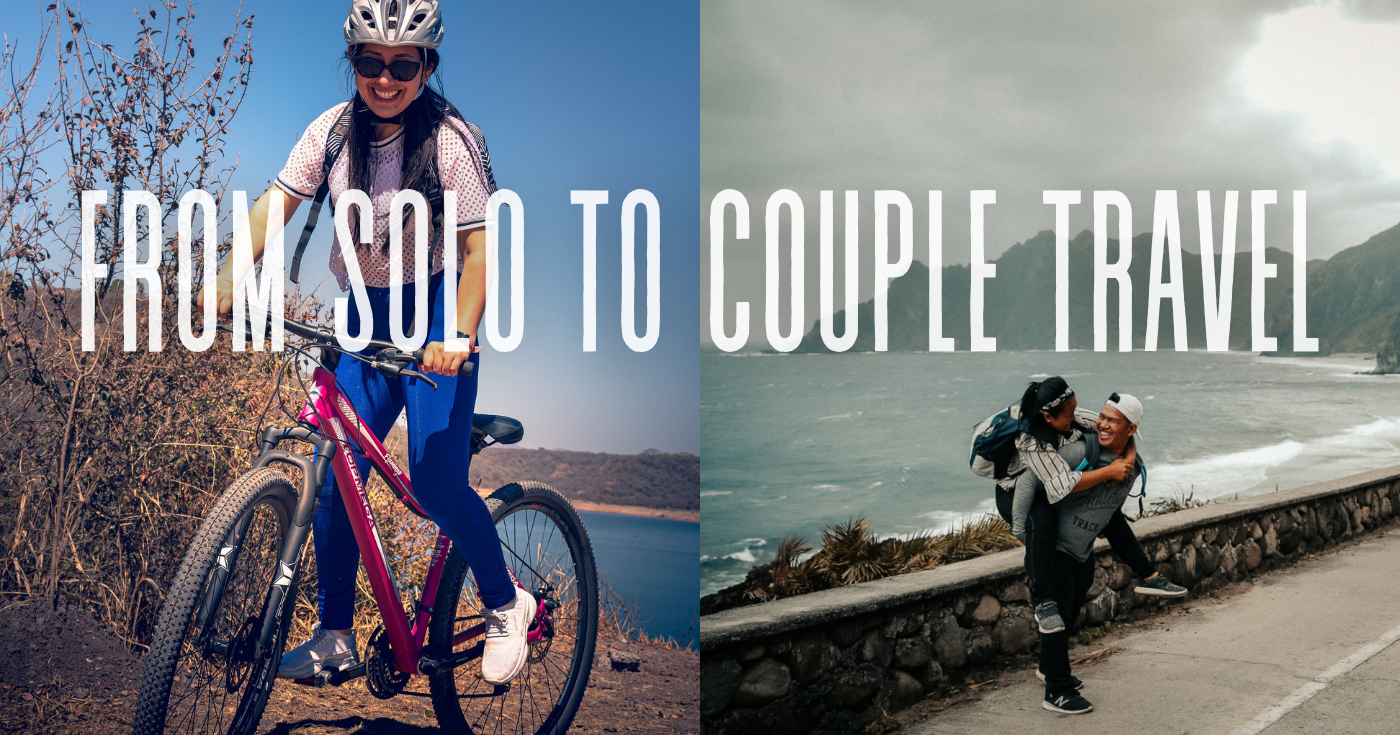 You've read the hashtags #solotravel #coupletravel and might follow some travelers based on these attributes. But what about the people who started out as solo travelers and then found someone? I asked travel bloggers to share their experiences on how the transition to couple travel has changed their travels. Adjusting to a whole other person while adventuring definitely comes with its challenges, disadvantages, and, of course, advantages—otherwise, we wouldn't do it.
Kate (+ Partner): Solo to Long-Distance to Couple Travel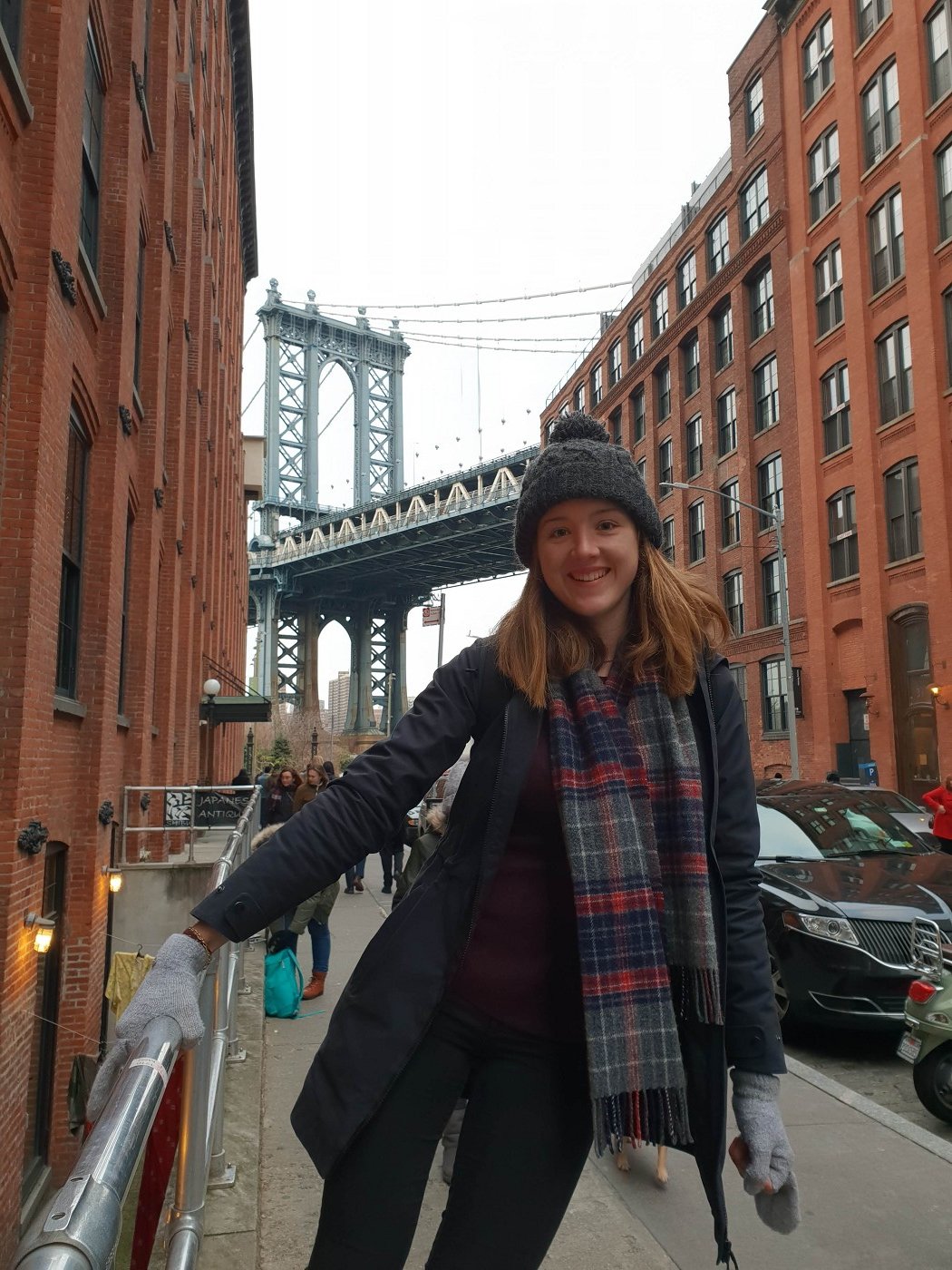 Solo in Dumbo, New York City, USA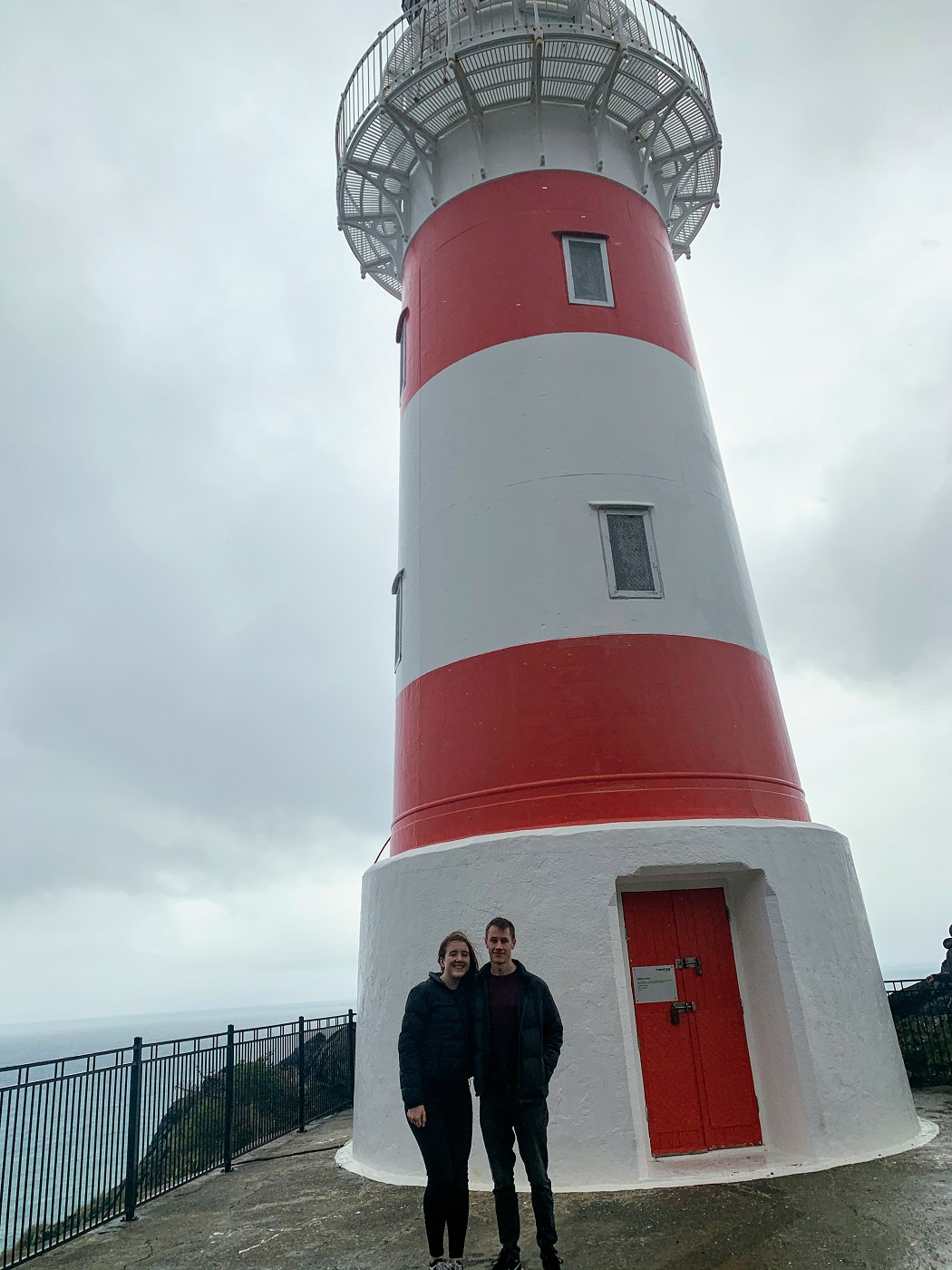 Together at Cape Palliser, New Zealand
Before the COVID-19 pandemic hit, I had really hit my groove with solo travel. I had spent three months backpacking across America, Europe, and the Middle East in 2018/2019, two weeks in Ireland, several solo trips in my home country and a month in India booked. I loved the freedom of being able to go wherever I wanted whenever I wanted. Then two things happened: borders slammed shut and I started dating my boyfriend.
Initially, we were a long-distance couple, him in Sydney and me in Wellington. I envisaged lots of international trips back and forward and meeting in exotic destinations. That lasted about one month until the end of March 2020 when lockdowns started. Now we both live in Sydney and travel is back on the agenda. But it looks very different from my single traveller days.
I was ready to book flights the second the border opening was announced. I am someone who loves planning trips almost as much as travelling and I like to have several trips planned, up to a year in advance. My boyfriend is not the same, this is a man who will book his flight the day before he leaves, who had never conceived of planning more than one trip at a time. Why should he book another holiday when he hasn't been on the next one yet? This approach has worked well for him before, he doesn't see the need to pre-plan further. So, while I was chafing at the bit to resume travelling, he was and is far more cautious.
As a result, we are yet to leave Australia and have no plans to. We have completed several domestic trips around New South Wales and to the Australian Capital Territory in 2021 (albeit with several COVID-related cancellations thrown in) and have two more booked for 2022 but the international border remains a barrier for us.
Part of the problem is our different goals for a trip. For me, any travel is worth it. I want to be out in the world, seeing and experiencing, and understand that not every trip will go as planned or be as I imagined. My boyfriend weighs the cost and time required to travel from Australia (being located at the bottom of the world, travel is neither a quick nor cheap exercise) and sets the bar high. For a trip to be worth it, he expects the full experience. A COVID-restricted or deserted country is better seen down the track. Maybe, he's right about this. I've never denied being impatient and our travel budget is finite, so it's probably good that somebody is being cautious about this.
At this stage, I have taken a solo trip off the table. While I would love to just go and have had the time to do so between jobs, it doesn't feel right when we have not yet had the chance to do that together. I think this will change after we have travelled overseas together, if I have an extended break from work again.
In the meantime, I will keep making plans for when he is ready to go. Because I am the planner in our relationship, our trips still very much follow the style of my solo travels. Because I visited so many countries on my own, there will be lots of opportunities to revisit. That's not something I've previously considered but something I'm actually excited about now as I will get to share my favourite places in the world with my partner. Those moments will be worth the wait.
Written by Kate from Kate Abroad. Follow her and her partner's travels on Instagram @kateabroadblog
Kerry (+ Jason): Similar Tastes in Travel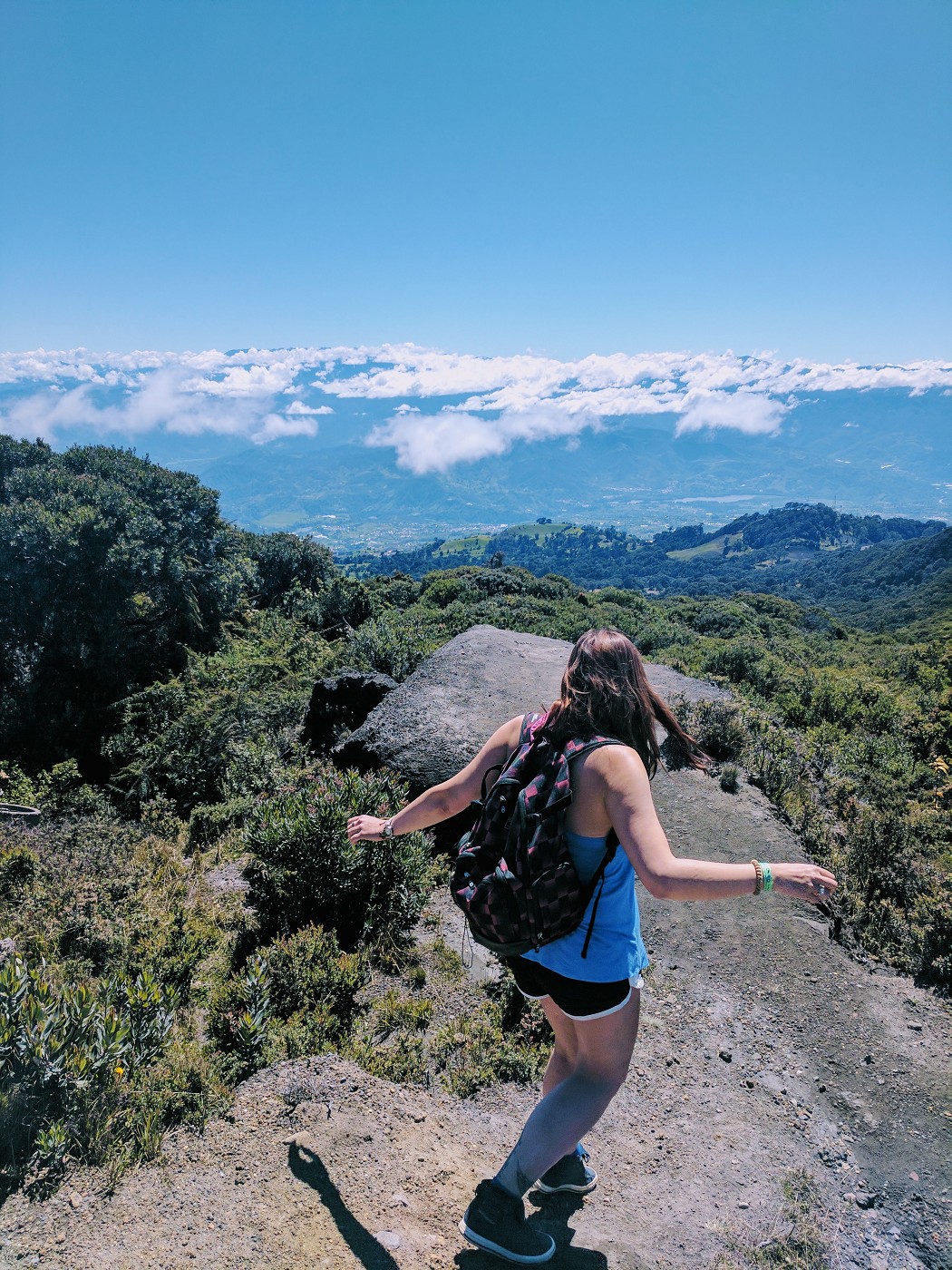 On Irazú Volcano near San José, Costa Rica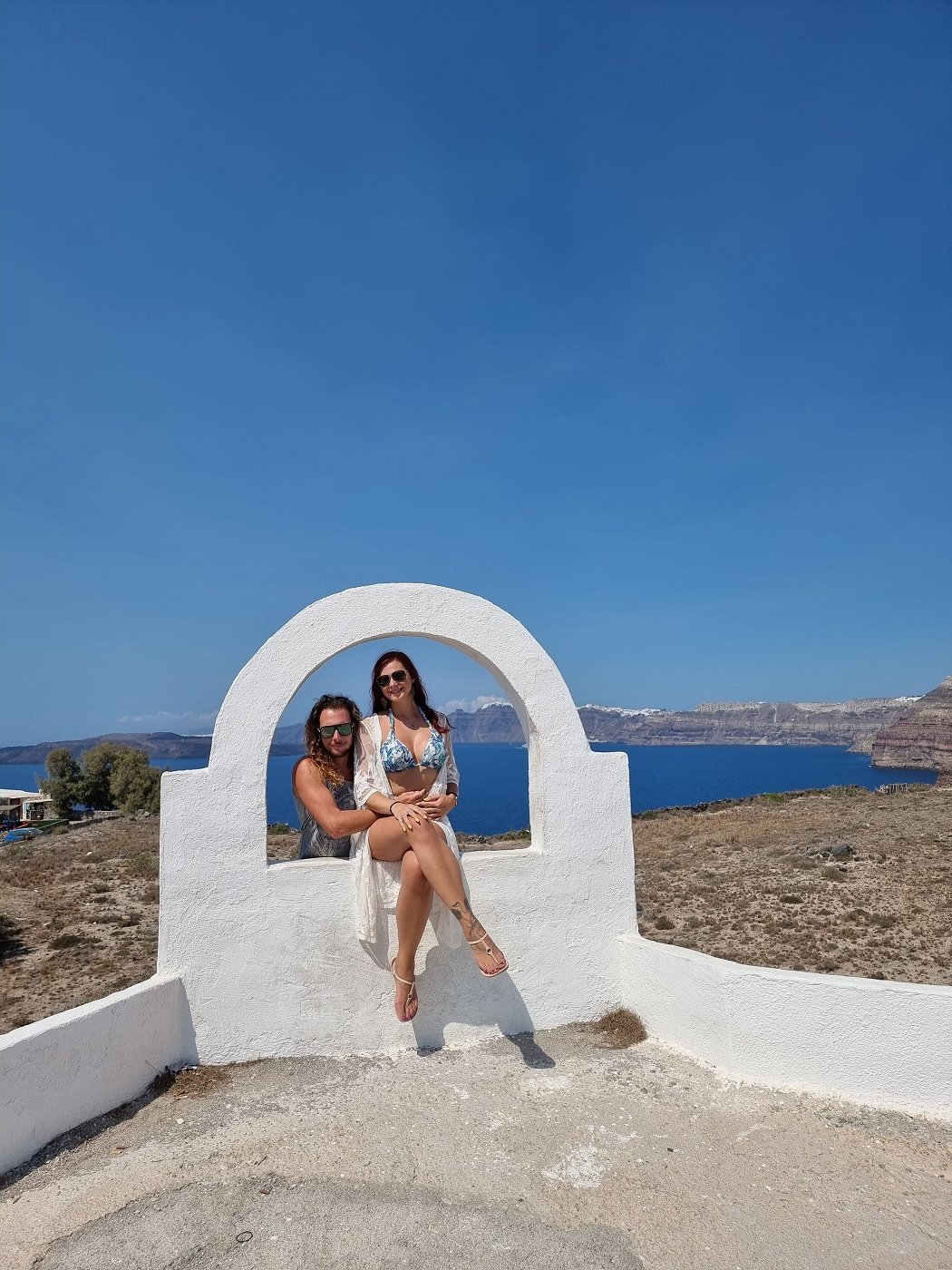 In Santorini, Greece as a couple
My passion for travel started when I embarked on a solo backpacking trip around Southeast Asia in 2010. Travelling for 6 months on a shoestring budget and in my early 20s, travel was certainly different to how it is now. Solo travel provides the freedom to move from place to place and do what you want, when you want to do it. I visited all the big countries in Southeast Asia with one of my favourite places being Kinabatangan River in Sabah, Malaysia. My solo travel didn't just stop there, I've been to several places solo as part of smaller trips such as, France, New Orleans and even Orlando Florida.
Since meeting my fiancé in 2019, I had only done one solo trip and that was because it was booked before we got into a relationship. While I loved solo travel, it was sometimes lonely. It's amazing to finally have found someone I can share these experiences with and I'm lucky that we have similar tastes in destination or activities. I do however find that we're going to more beach-type of places rather than city breaks or backpacking trips. Mexico, Greek Islands, Italy, Maldives and Egypt for example. We even got engaged during a beach sunrise while on holiday in Santorini. That being said, a lot of our travel choices has been dictated by covid risks and choosing package holidays which have better protection.
I look back and reminisce on my backpacking experiences fondly, but I'm happier than ever that I've now got someone I can make memories with. Our next step is to book our honeymoon, and this will be our best experience yet.
Written by Kerry Hanson from VeggTravel. Follow Kerry & Jason's travels on Instagram at @adrenalinejunkiez_
Eloise (+ Ben): Overcoming Fears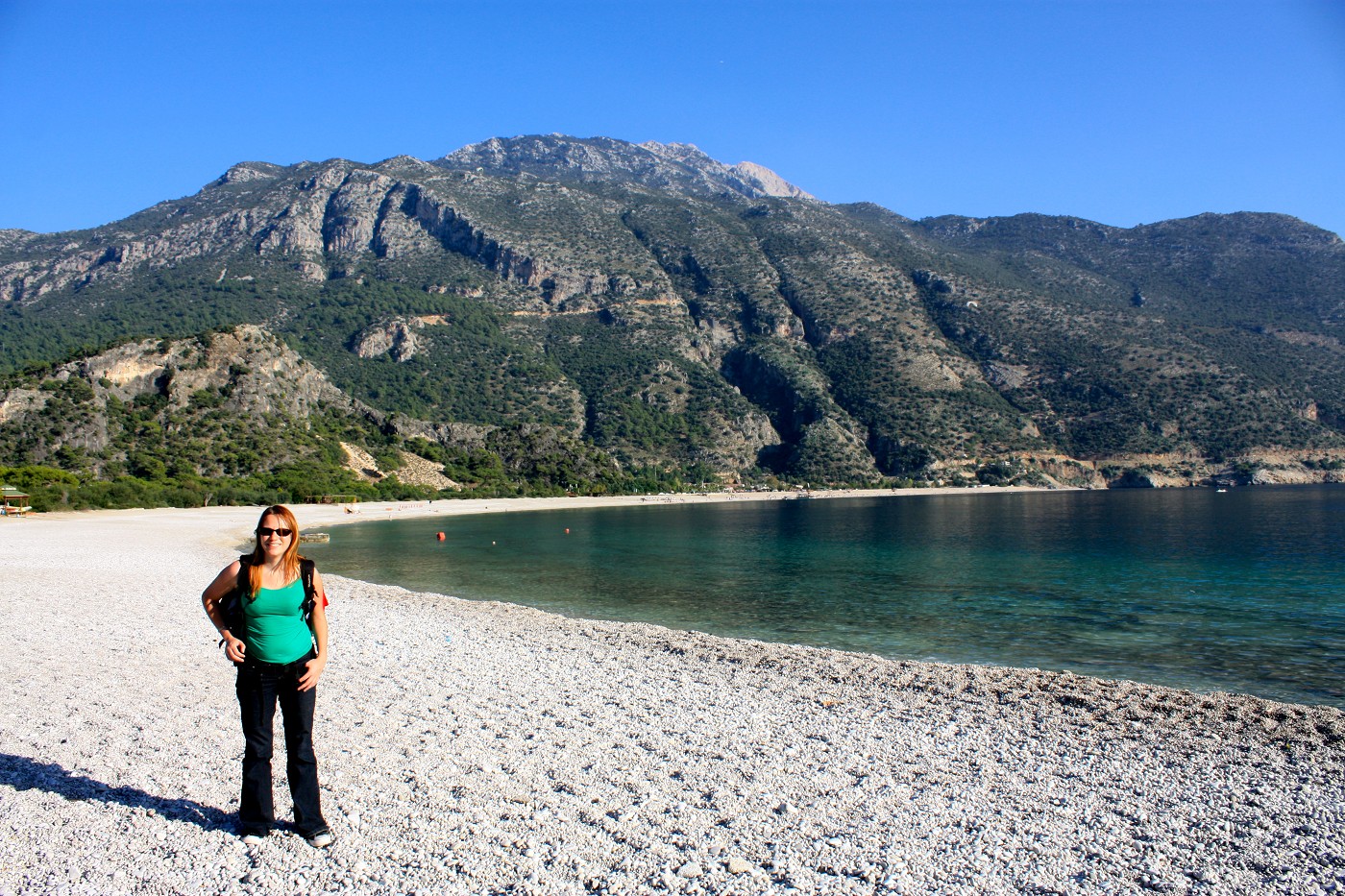 Solo traveling in Ölüdeniz in southwestern Turkey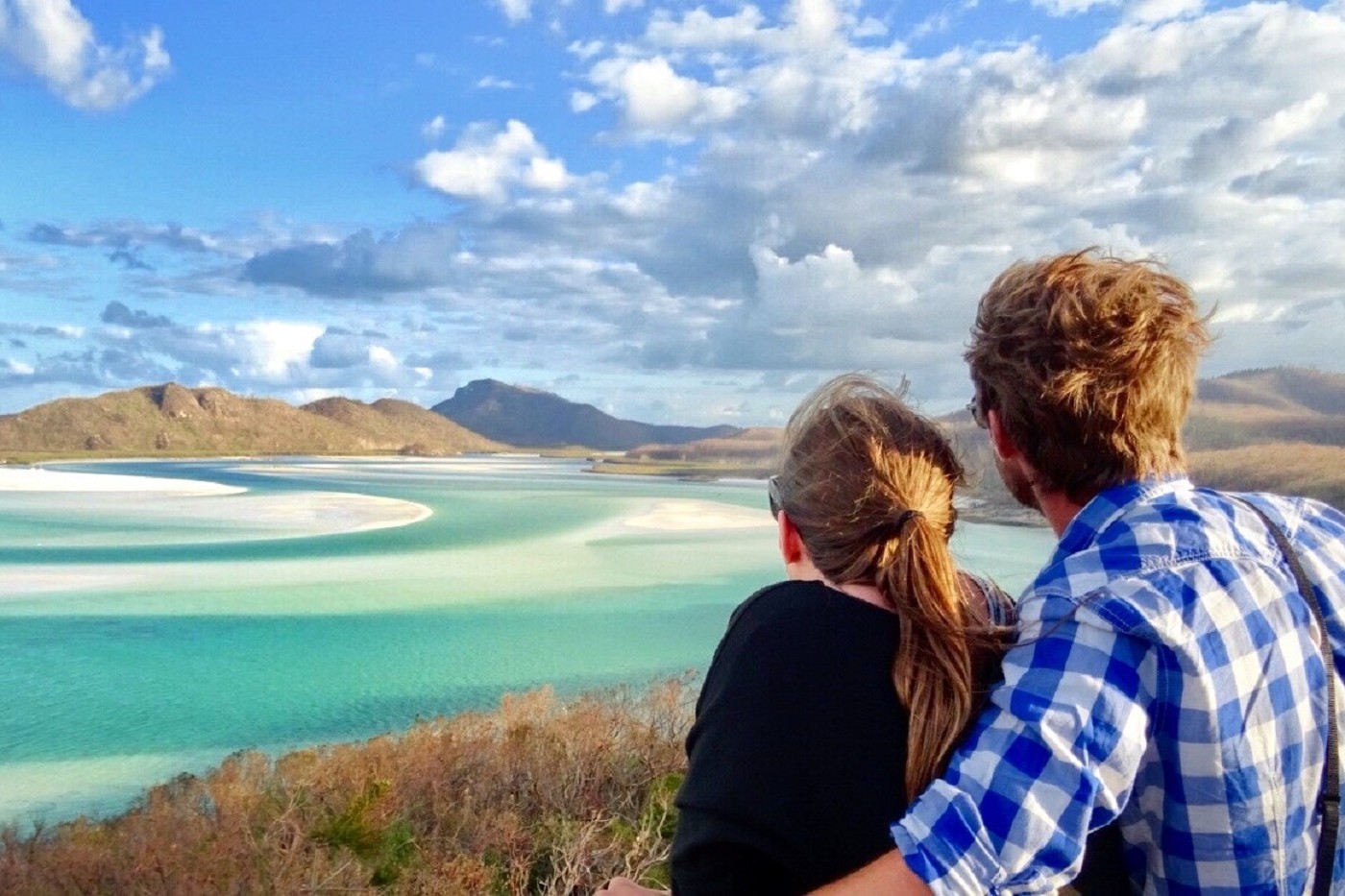 Couple traveling in the Whitsunday Islands, Australia
I used to mostly travel solo before meeting my partner. And I loved it. I lived abroad for a few months, in England when I was 19 and Turkey when I was 24. I travelled a lot by myself or with friends I had just met on the road or at hostels. This happened mainly in Europe (France, England, Germany), Malaysia and Australia. I had a lot of time to travel and wouldn't plan much for my solo trips to stay flexible. 
Then, I met my partner in Brisbane about seven years ago. Since I only travelled solo once when I had to attend training for work in Bangkok and stayed a bit longer to explore the city. So my way of travelling has changed a lot since I am no longer single.
He made me settle down, and with only four weeks off per year, I now need to plan my travels more carefully. I cannot find last-minute deals as I used to when I was more flexible with time, destinations and activities.
My trips have become more adventurous and challenging than when I was travelling solo. I already loved hiking but would stick to the most popular trails. Although I've always liked the idea of travelling to remote places or going out of my comfort zone, I didn't feel confident enough to do it solo. Now, I often go off the beaten track scrambling or canyoning. Our first overseas trip together took us to the top of one of the highest mountains on Earth, Mount Kilimanjaro in Tanzania. Without a trusted partner who knew me well, I would have turned around before reaching the top.
My partner's experience and confidence regularly push me out of my comfort zone. He's good at finding ways to make me feel safer when I start thinking I may not be able to pass an obstacle. For example, he helped me overcome my fear of scuba diving. Although I loved the idea of exploring the underwater world, I had found many excuses not to try it before. I'm now addicted to blowing bubbles, and it has changed how I pick destinations and activities when I travel. We went together to New Caledonia, Vanuatu, Solomon Islands and Mexico. These are all fantastic destinations for scuba diving that were not even on my list before meeting him. 
Of course, travelling solo had advantages that I lost. For example, I don't meet as many people now that I travel with my boyfriend. I have also increased my budget for accommodation, activities, and travel insurance (for all the adventurous activities!), which was hard to adjust to as I initially felt I was wasting money. Budget is often the only thing we disagree on during travel planning. But I do not miss travelling solo. On the contrary, I want to share all the best experiences in my life with my partner, including travelling.
Written by Eloise from MyFavouriteEscapes.com. Follow her and her partner's travels on Instagram at @miieloise
James (+ Kevin): Decades of Travel, Now as a Couple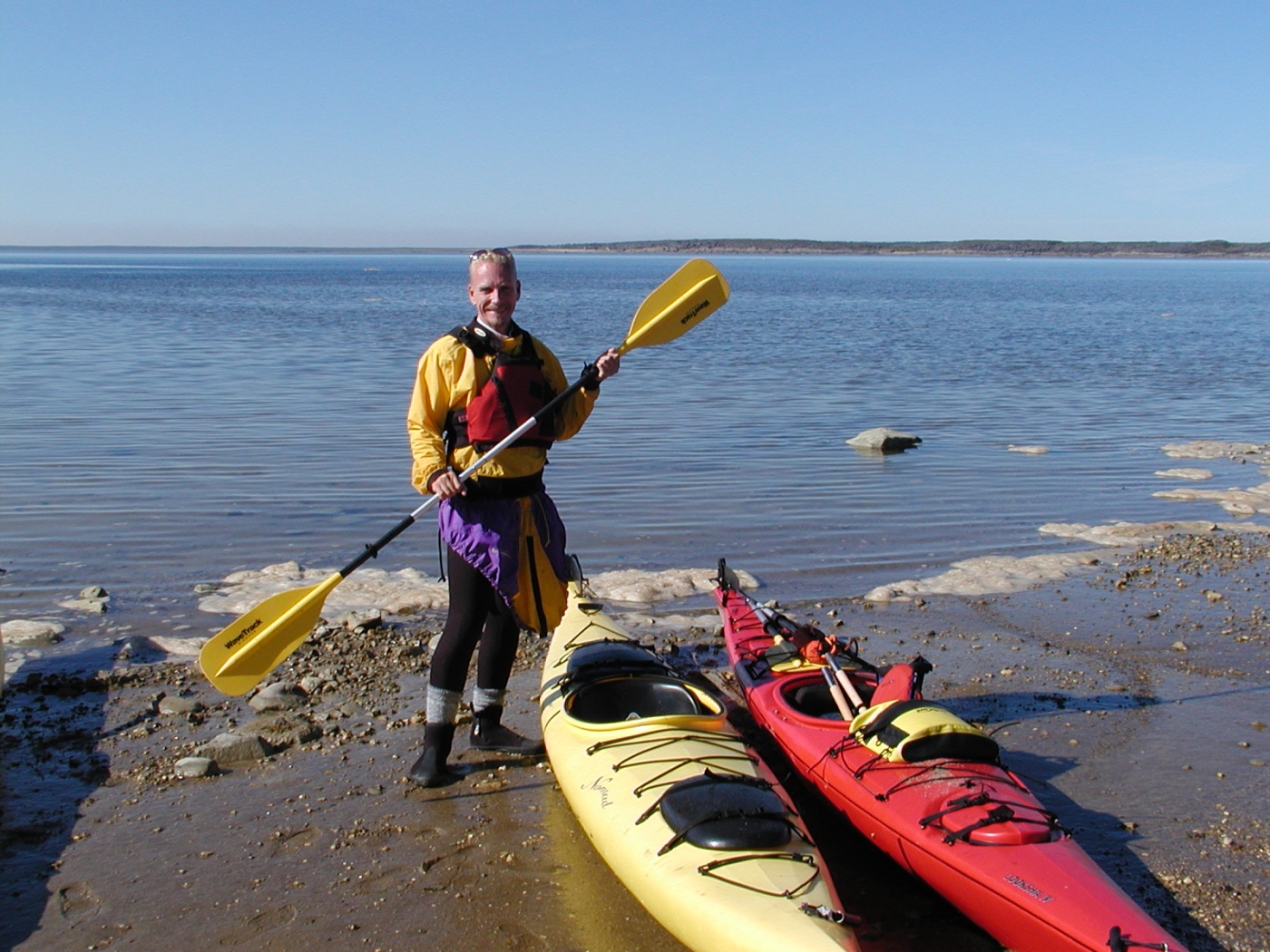 Adventurous paddling in the Hudson Bay in Churchill, Manitoba, Canada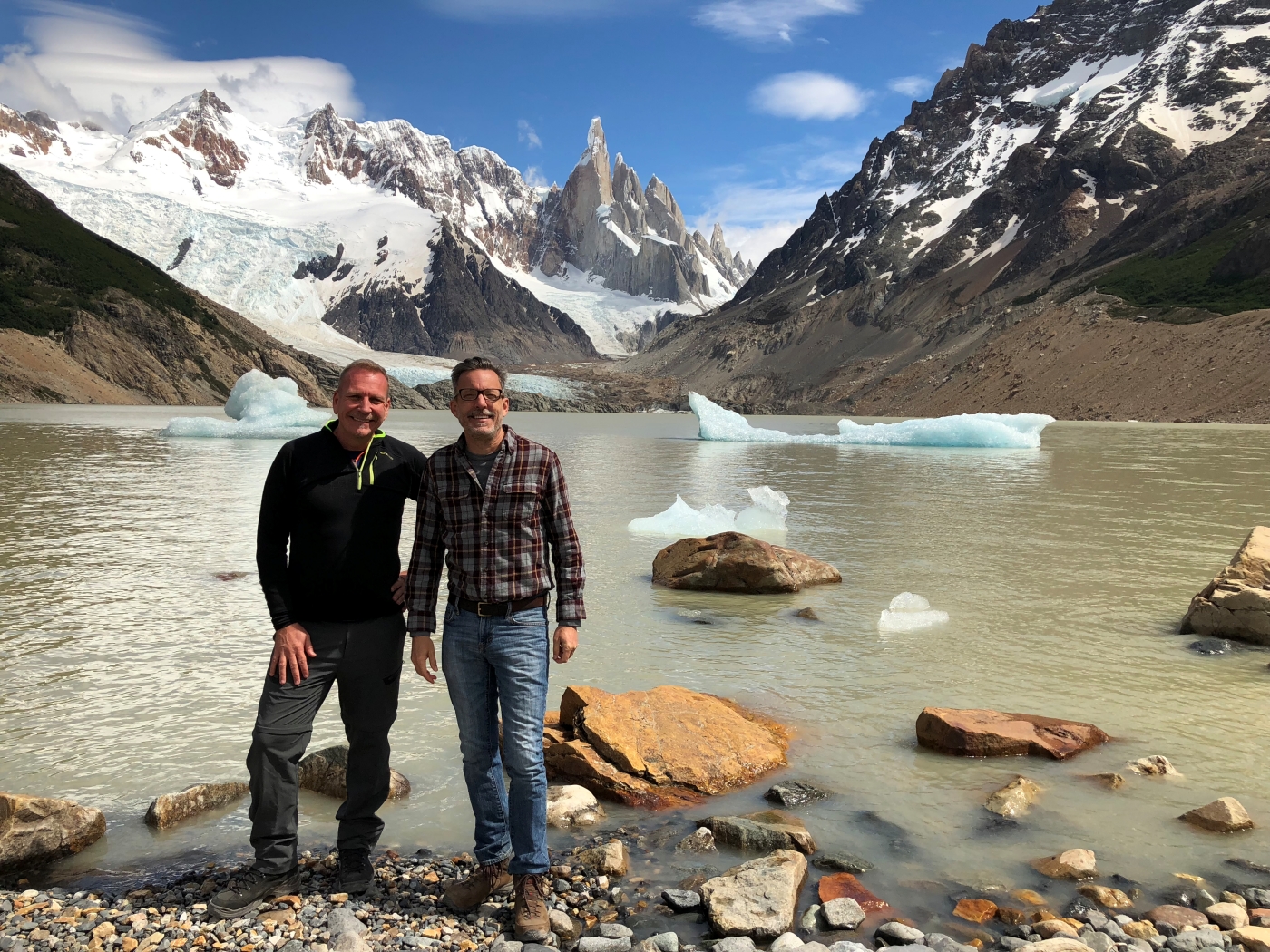 Couple travel in Argentina's Patagonia at Laguna Torre, nearby El Chaltén
I first started traveling over 30 years ago. I spent the first 13 years backpacking around the world by myself, long before being a 'digital nomad' was a thing. By myself, I traveled to about 75 countries and all 7 continents. I lived and worked in London and Japan, worked on a Caribbean cruise ship, volunteered on a kibbutz in Israel, and even spent a couple of years back home in Australia working on island resorts. I learned scuba diving; went skydiving; saw mountain gorillas in Africa, penguins in Antarctica, and llamas in South America; went trekking in Patagonia, the Mountains of the Moon, and the Scottish Highlands, and much more.
I was able to travel for months on end, and had a great deal of flexibility, going where I wanted, when I wanted. However, I also traveled extremely cheaply, and skipped many activities to save money. I also started to get lonely in the last couple of years, as I headed into my mid-thirties. 
Then I met Kevin while staying for a couple of months in New York City. After a whirlwind long-distance relationship, we decided to be together, and I returned back to Australia (and he left NYC) and we settled down in Sydney. We moved back to NYC after three years, and here we still are. 
My nomadic days were over, as Kevin's career wasn't mobile, but he knew how important travel was to me, so he embraced traveling more, and was open to more adventurous things. Travel now consists of two two-week vacations each year, either to places in the USA or internationally.
Travel has definitely changed for me. Having more money and less time means I travel at a different pace, cramming more in, but also able to do more. Traveling together has meant that we have brought each other's interests to our travels. Kevin is an architect, so I definitely focus more on the built environment than I did before. He has also studied art and architectural history, so is able to bring that dimension to our travels. On the other hand, I've introduced more adventurous activities like white water rafting, glacier hiking and canyoneering into our travels. We've found a happy mix between the two.
I've been to some new places with him, like many of the US national parks and cities, Buenos Aires, Italy, Borneo and India. However, I've also been back to many places that I traveled to by myself, and the experience has been completely different the second time around.
Many have been much better. There are several places I've gone to for longer and done much more when traveling with Kevin. For example, I'd spent just one day in Stockholm when traveling solo. With Kevin, I spent two weeks – dancing around the maypole in Midsummer, sailing around the archipelago, learning to make cinnamon buns, and visiting some historic homes. I went back to Patagonia and did hikes and saw glaciers that I'd skipped when going there by myself because I'd been trying to save money.
I had hated Morocco the first time I went by myself – it had seemed such a hassle and I didn't want to buy anything in the markets. Going back with Kevin, who loves to buy handicrafts, I was able to enjoy the markets much more, and do other activities that either weren't available or would have cost too much for my budget-conscious solo-traveling self. I took an Arabic class, learned some Moroccan cooking, took some food tours, learned additional mosaic work, rode a camel in the desert, and much more with Kevin. 
However, there are also some places that I've enjoyed less. I had loved Guatemala when traveling by myself. I'd spent a couple of months learning Spanish in addition to traveling around. It just seemed a little less interesting the second time around.
The only times I travel solo now are if I travel for work. I enjoy these trips, but must admit I miss Kevin. I definitely prefer having someone to share the positive – and negative – experiences of travel. 
Written by James Ian from Travel Collecting and Parks Collecting. Follow him + Kevin's travels on Facebook @travelcollecting
Vicki (+ Eduardo): Solo Student Travel to Location Independence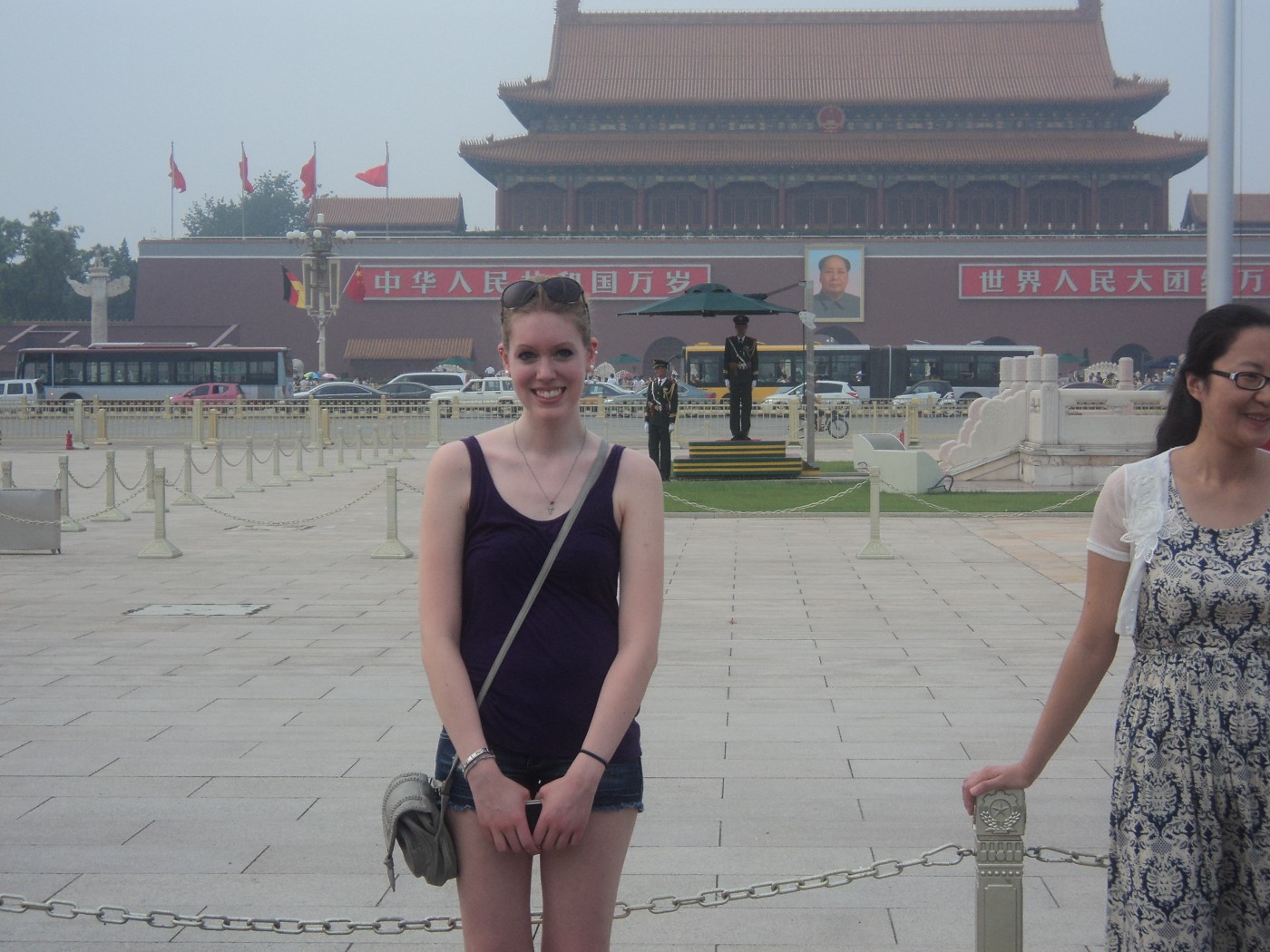 At the entrance to the forbidden city in Beijing, China while solo traveling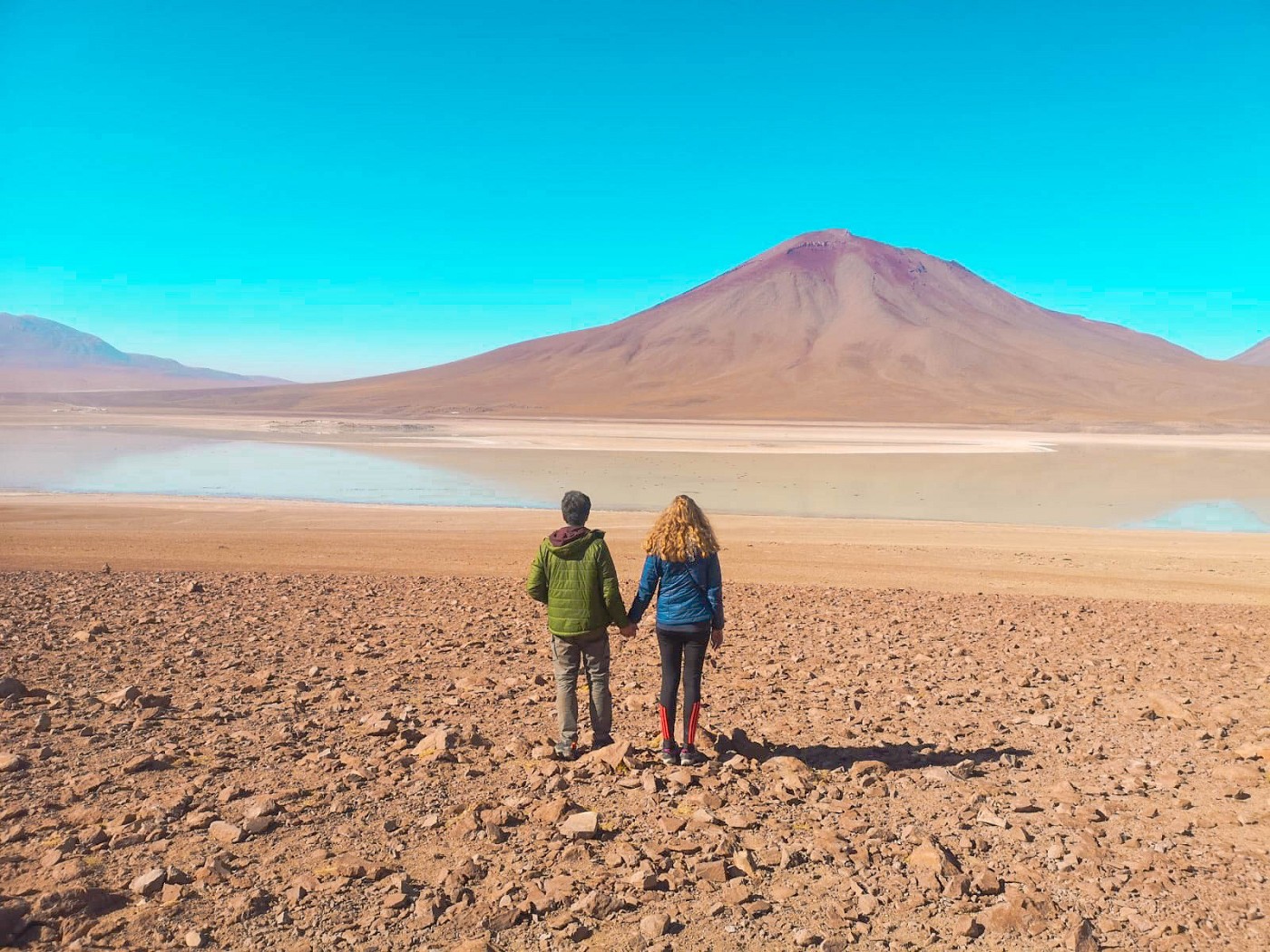 Togethar at the Laguna Verde/Laguna Blanca in the Bolivian Atacama close to Chile
I started traveling during my tourism management studies. Since I studied in Germany, it was easy and cheap to visit different destinations in Europe. But also some long-distance trips like China, Sri Lanka, and Taiwan were on my list. On one of these trips, I met my now-husband Eduardo. At first, I traveled again alone for three months to the Maldives before I moved to Barcelona to join him. Since then, we have mostly traveled together, while I also enjoy taking day trips in Catalonia on my own.
The most significant difference in our travels as a couple is that we experience a lot of long-term, long-distance travel and round trips together. When traveling alone, I usually looked for a project abroad, like a job, studies, or internships. From my leading destination, I then took shorter trips and excursions. This was the cheapest way to travel and discover many new places during my studies. My husband and I both work location independent, so we can work while we travel, allowing us to move around freely. Moreover, I don't have to depend on semester breaks anymore for traveling, which allows us to travel for several months at a time.
When I traveled solo, I met many people along the way, so I was often traveling with a group of people. While I had tons of fun with the groups, you have less flexibility in your daily schedule and sightseeing. When we travel as a couple, we are often sightseeing just the two of us and not in a group with other travelers every day (even though we also like to meet and hang out with travelers afterward).
The type of accommodations on my trips has also changed since I travel together with my partner. As a solo traveler, I almost always slept in hostel dorms. This was the cheapest option and also great for meeting new people. With my husband, on the other hand, we usually sleep in a private double room.
Written by Vicki from Vickiviaja. Follow her and Eduardo's travels on Instagram @vickiviaja
Jiayi (+ Lukas): More Courageous When Traveling Together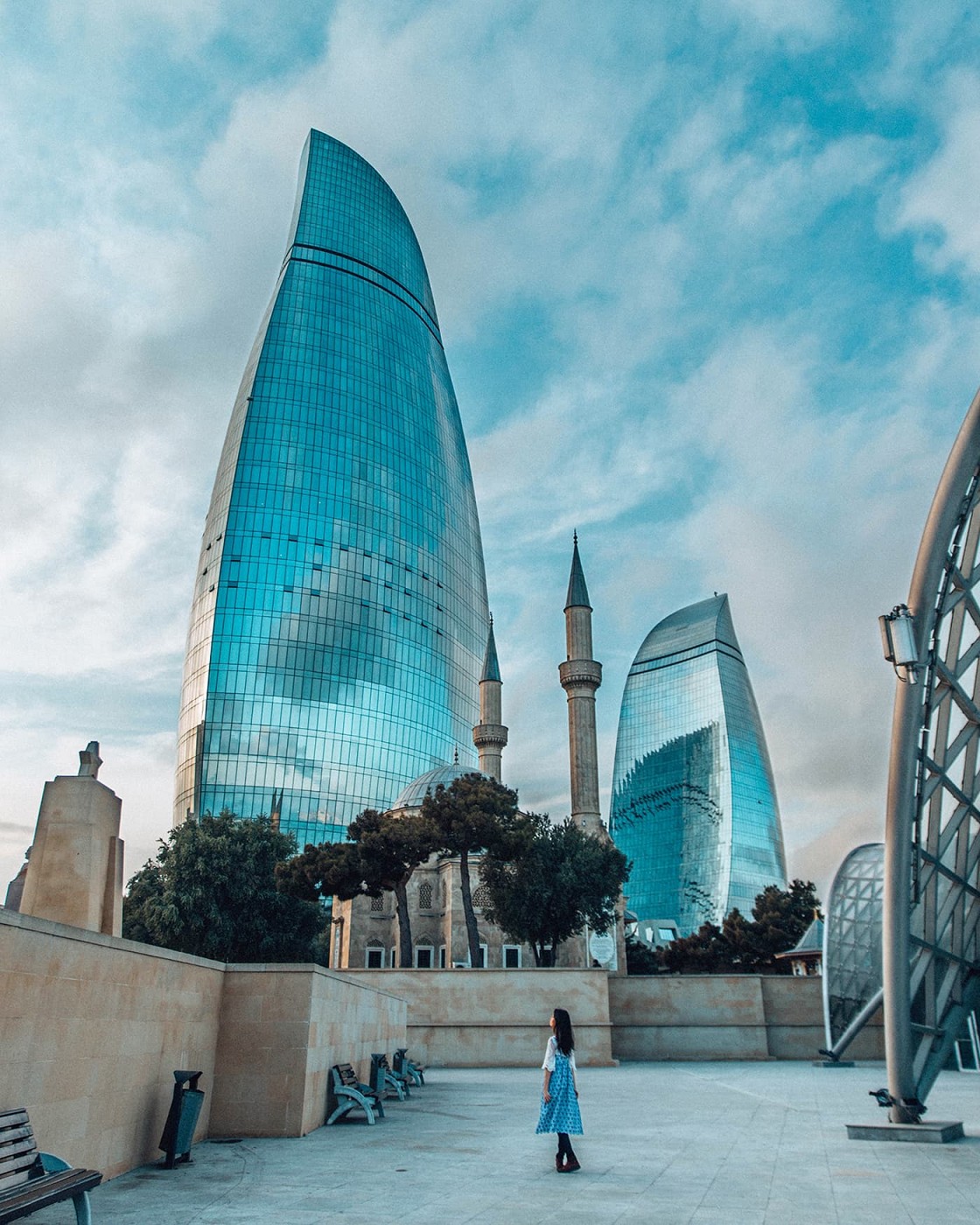 Solo in Baku, Azerbaijan at the Flame Towers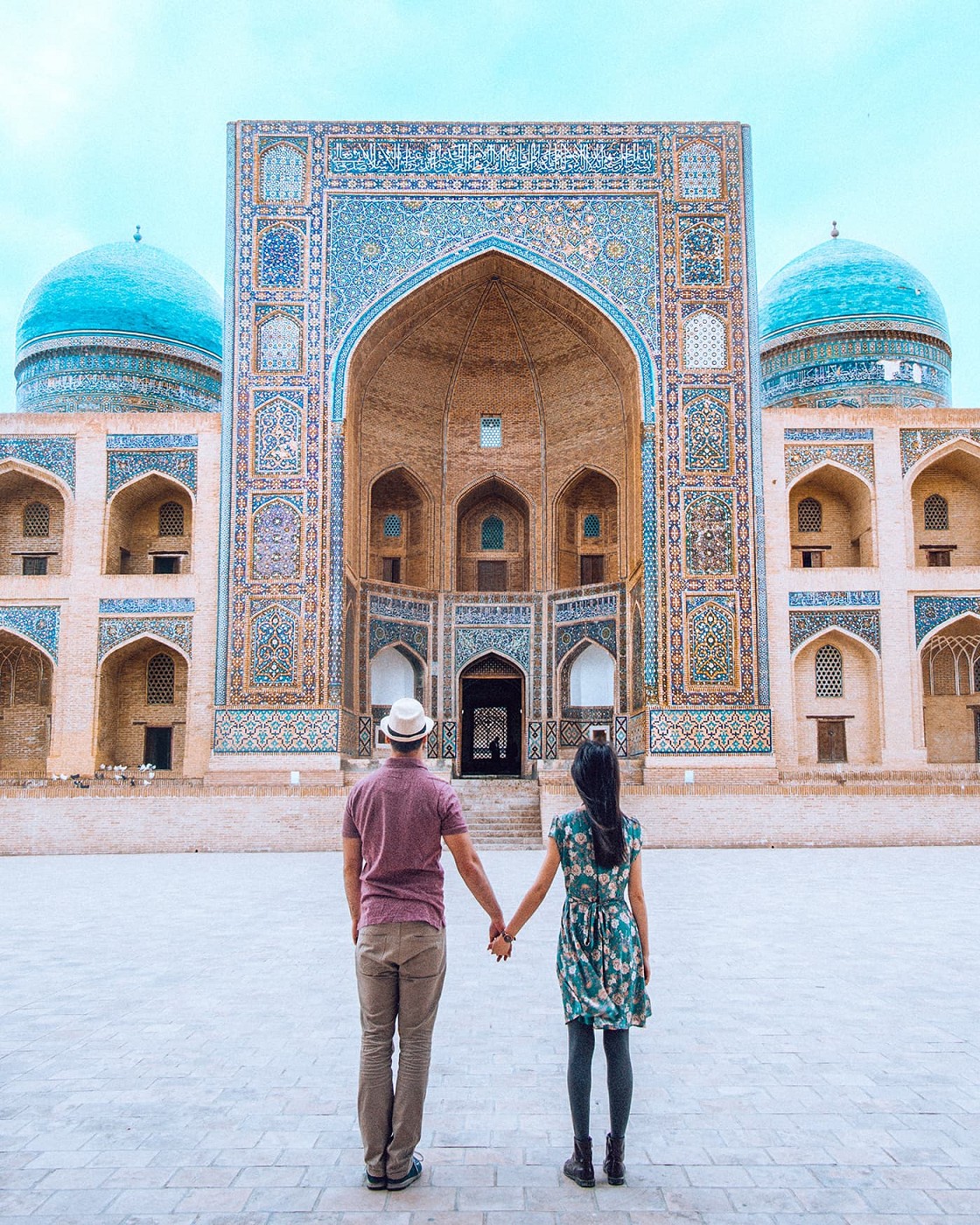 Mir-i-Arab madrasa in Bukhara, Uzbekistan
Before meeting my partner Lukas, I used to solo travel to a lot of places around the world. I spent a month in 2013 traveling by myself in Peru, 4 months in France in 2013, 3 months in Japan in 2014, and 3 months in Australia in 2014.
While I enjoyed exploring new places on my own, I also loved doing activities during those trips that'd allow me to meet other travelers and locals. For instance, during my time in Peru, I spent time volunteering at a local school. And in Japan, I hopped around cities like Tokyo, Kyoto, and Hiroshima and made friends with other travelers on the high-speed train.
With that said, most of my solo travels involved activities that were rather comfortable for me. While I saw lots of beautiful attractions and natural wonders, my trips didn't feel super adventurous. I guess traveling solo already felt like stepping outside of my comfort zone, so I didn't want to push it too much by adding more thrilling items to my bucket list.
I met Lukas in 2015, and I was very happy that he shared my love for seeing the world. We've embarked on many trips together since then, including Uzbekistan for 10 days in 2017, Oman for 10 days in 2019, and Scotland for two weeks in 2021.
Lukas is a lot more of an outdoorsy person than I am, meaning I slowly adapted to his love for hiking and adventuring in the wilderness. In 2021, on our visit to Scotland, we did a lot of scenic and remote hikes on the Isle of Skye. These hikes weren't easy, at least not for me, and I honestly would not have done them had he not been so keen on them. 
With that said, I'm really grateful that Lukas has always encouraged me to go outside my comfort zone and to try things that I'm afraid to do. He's pushed me to become more adventurous and courageous when I travel. Plus, the hikes we've done were completely worth the challenge.
I still travel alone sometimes if Lukas cannot come with me. In 2019, I took a solo trip to Azerbaijan and Russia, and thoroughly enjoyed going at my own pace and spending time with locals. I've found that there are definitely perks to traveling both by myself and with my partner, and I would not trade either of the experiences for the world.
Written by Jiayi from The Diary of a Nomad. Follow her + Lukas's travels on Instagram @thediaryofanomad
Asmin (+ Iris): Still Soloing Sometimes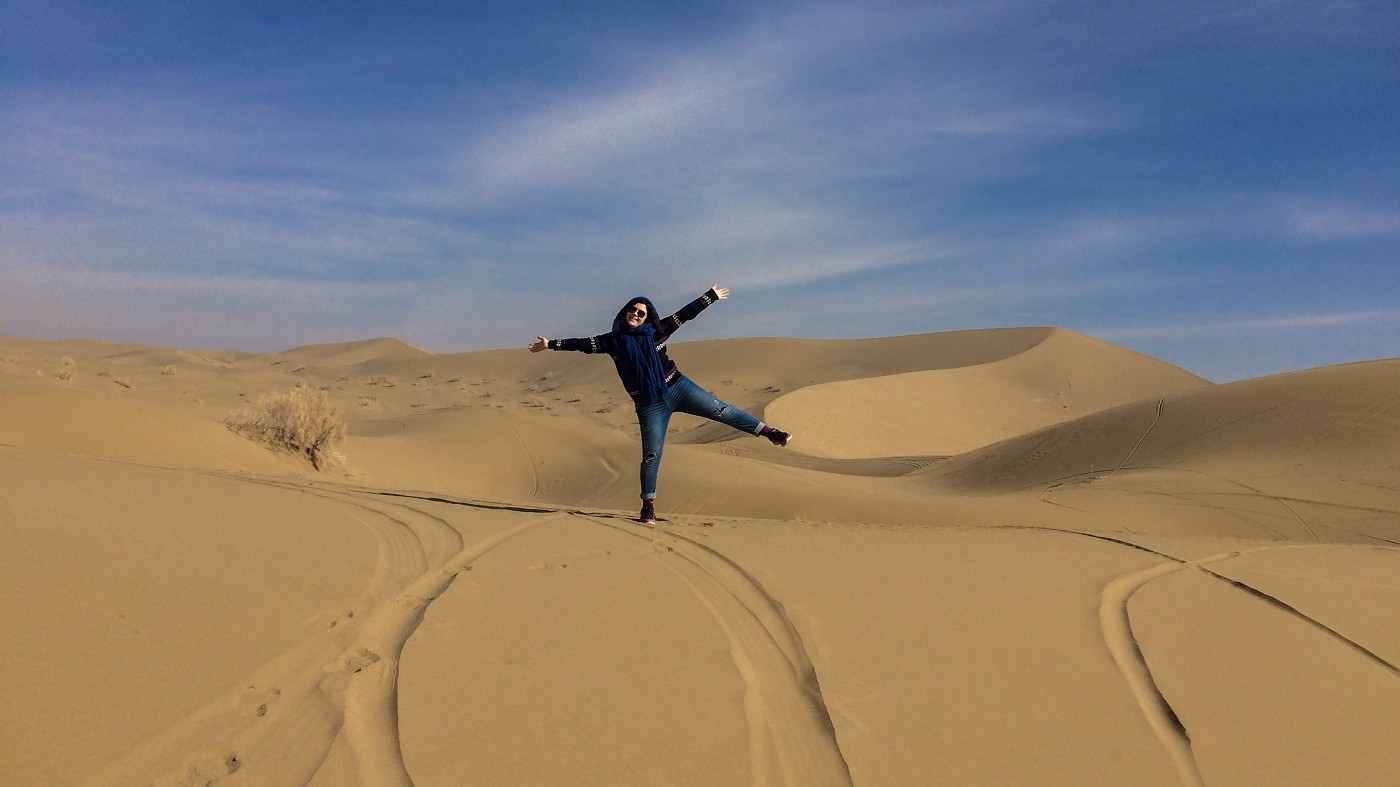 Solo traveling in the Varzaneh Desert nearby Isfahan, Iran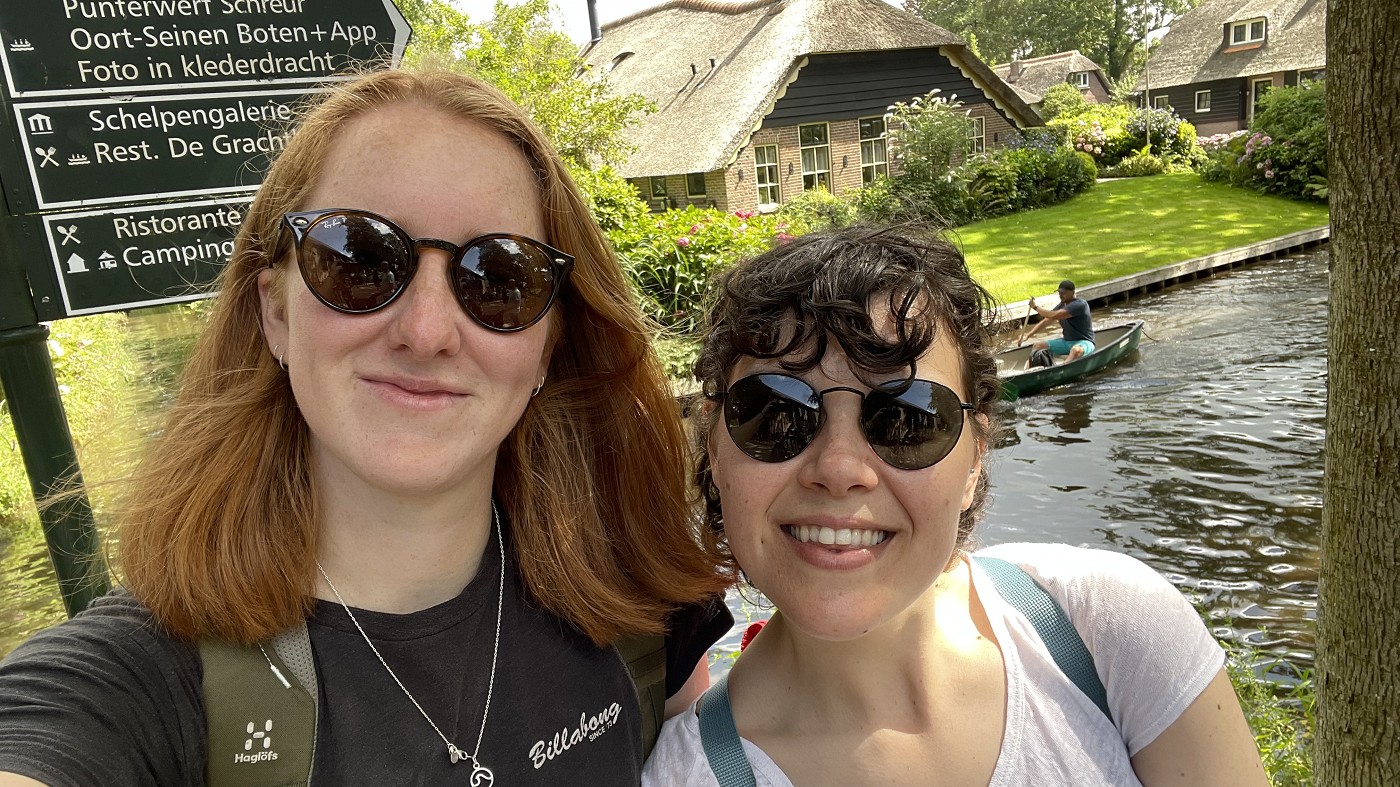 Couple travel in Giethoorn, the Netherlands
When I started my travel blog, I hadn't have met with my current partner yet. However, it is still an under-construction project. So there are no significant changes in my blog. 
I have been solo traveling since September 2015. It all started when I moved to Poland for my exchange year. I was so excited about having a visa and free movement in EU member states. But most of my (European) friends have already visited many places that I wanted to go to. After a while of disappointment, I wanted to go anyway. My first solo trip was to Norway and Sweden in October 2015. I can confidently say that was one of the best decisions I've ever made.
Between September 2015 to October 2016 I solo traveled around Europe, namely to Austria, Belgium, Denmark, France, Germany, Hungary, Italy, Netherlands, Poland, Slovakia, Ukraine, and United States. I have traveled with my Erasmus friends in Poland during the year, but I remember loving the freedom, excitement, and growth of solo traveling. It was like a poison in my veins; even after traveling with friends, I needed a solo trip to unwind.
After my exchange year, I could not travel extensively because of the school workload and less accessible cheap travel options. Later in 2017, I solo-traveled in Turkey, the Czech Republic, and Slovakia; at that time, I was also in a relationship. I still kept solo-traveling, not only for my partner was not interested in traveling, but I also enjoyed discovering new places alone. My solo trips continued with Bosnia and Herzegovina and Iran in 2018 and to Azerbaijan, Georgia, Italy, San Marino, Sweden, the Netherlands, Norway, Ukraine in 2019. 
In 2021, I travelled in the Netherlands and Curaçao with my partner, but I love travelling solo. So once in a while I travel solo; in September 2021 I had solo camping and hitchhiking trips in Turkey. I think I would keep travelling solo in the future even if I am in a relationship. In the next two years, I am not planning to become a full-time traveler due to school responsibilities. In this case, I don't think I will stop travelling solo soon.
Couple traveling is different than solo traveling in so many aspects. Not only do I need to adjust my travel destination and my day according to my partner, but I also need to change the activities I do during the day. My partner is a photographer, so I need to travel to a specific place at a particular time to take some pictures. Also, I spend much more time in specific locations since my partner has some photography ideas and wants to take photos of certain things in specific ways; our activities sometimes evolve around that.
Additionally, our hobbies are different; for example, I am a scuba diver, while my partner is into surfing. When we were in Curaçao, we tried to arrange surfing and diving. I find learning new things and experiencing new hobbies in the new destination joyful. So traveling with someone you love and enjoying a recent activity, which that someone loves, is even more precious. When I travel solo, I have certain things to do in mind with possible unknown adventures, but my partner sometimes brings possibilities that I haven't thought about.
I think the most significant change is the way I travel. I love hitchhiking and Couchsurfing, and I often use them while traveling. That's why I taught how to hitchhike to my partner. We tried hitchhiking together, and we enjoyed it. However, my partner does not prefer hitchhiking and Couchsurfing everywhere and does not feel comfortable and safe all the time. So when we travel together, I cannot travel in these means most of the time, which is okay, but I need to adjust to it, and sometimes I miss it.
Also, while traveling solo, I always meet with locals, spend some time with them, and go to places with them. But when doing traveling as a couple, I don't do those things, or the way I do changes naturally. Since it is couple travel, my partner prefers to do things together and enjoy activities together. Although it is totally fine that my partner does things alone for some time, we could meet later and share our experiences.
Sometimes, I feel like I restrain my partner from doing certain things when I do not want to join that activity; she ends up not doing it. Also, I think I sometimes miss the freedom of doing things without a need to consider somebody else's plans, feelings, and thoughts. I miss learning, experiencing, and cherishing things alone in my way.
Becoming a travel couple has expanded my horizons of places to visit. Now, when I travel to places, I check their inclusivity, I travel to LGBTQ+ safe places, I sometimes check whether those places are recommended for couples, I do more research on restaurants, bars to go, I care more about their inclusivity, whether they are women-owned business since we discuss more these topics. During my couple travels, my partner taught me more about photography; I receive feedback and tips all the time and developed my eye. On the other hand, I taught my partner hitchhiking, Couchsurfing concepts, and different youth opportunities that provide traveling and cultural exchange possibilities.  
Written by Asmin from My Foodsteps into the Dreams. Follow her travels and those with her partner Iris on YouTube @myfoodsteps and on Instagram @myfoodstepsintothedreams
Kaidon (+ Natasha): A More Three-Dimensional Experience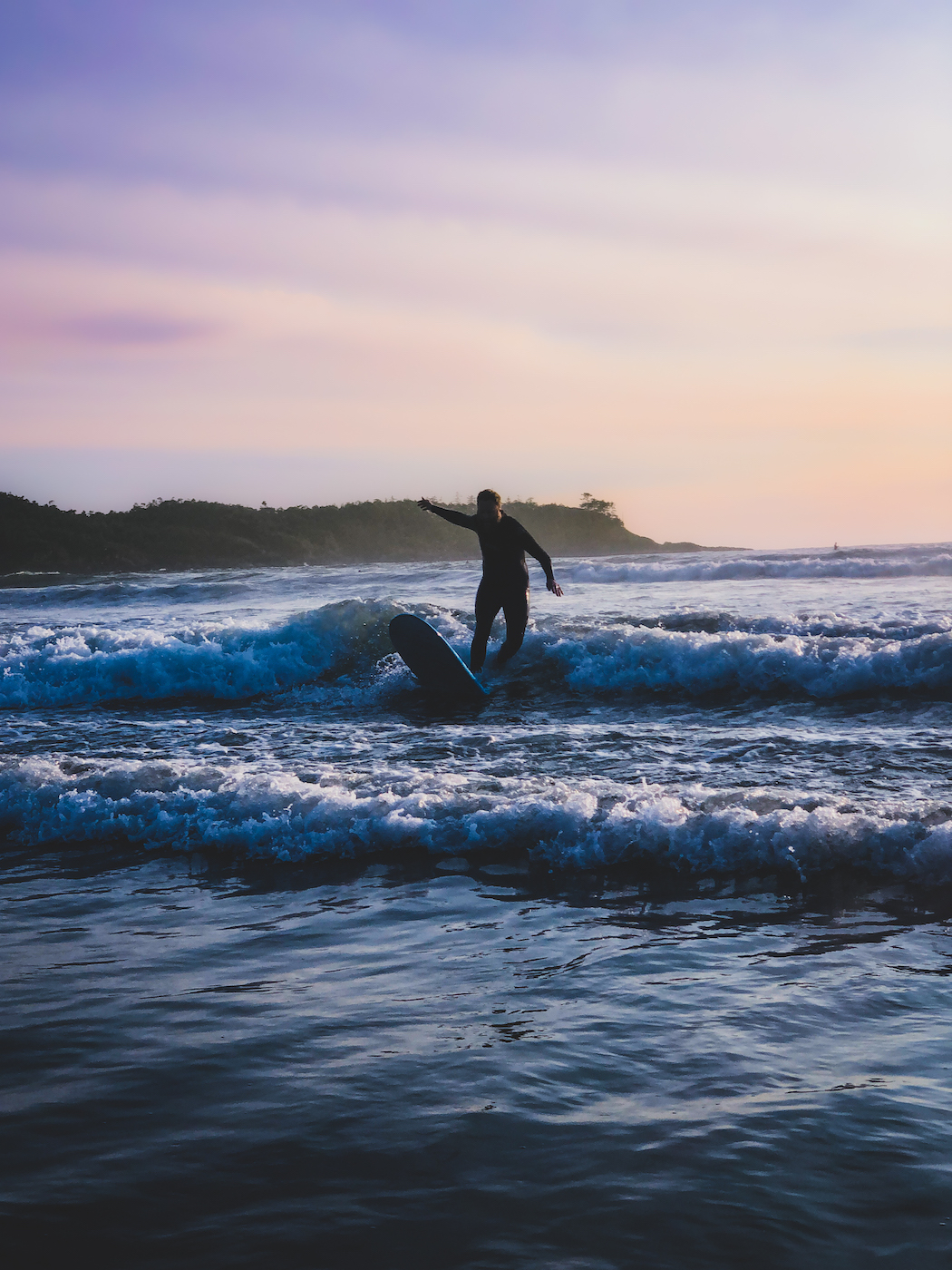 Solo surfing in Canada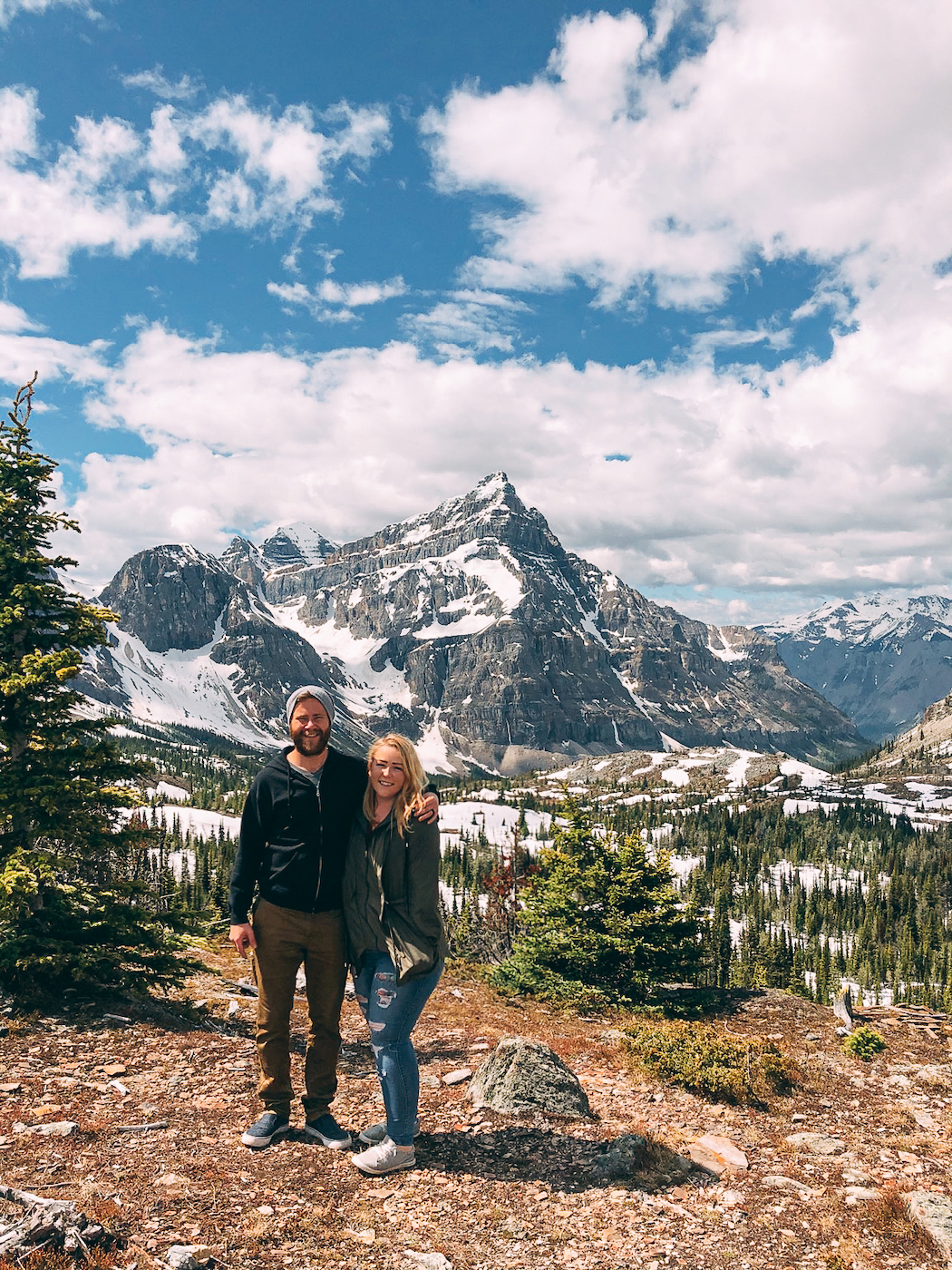 Taking it all in together, also in Canada
Prior to meeting my better half, I had bachelor-traveled my way through North America rather extensively. Living out of the back of my car and accountable to no one but myself, I would thru-hike along coastlines on a whim and spend my zero days surfing. It was a simple, un-itinerized method of adventure that was oftentimes interspersed with gaming on my laptop in the nearest crappy diner just for an opportunity to eat something not cooked over a camp stove. I wasn't (and am still not) much of one for spending countless hours strolling through cities or stopping to admire the view. I crave the challenge of travel; of exerting myself somewhere so completely that by the time I'm taxed, I simply lace up my boots and move on. 
Meeting my wife meant compromising on… well, all of that. She is slow, steady and thorough everywhere she goes. Instead of rolling out of bed when I'm good and ready, I'm now shaken awake by a smiling face eager to start the day. While I rub my bleary eyes or slowly begin to pull yesterday's clothes on, she is already dressed and ready to go; map in hand and camera slung around neck. Unlike me, she is a massive documenter of adventure (let's just say our travel blog wouldn't exist without her relentless and comprehensive note-taking), so instead of tramping on past a pod of whales, a sunset or whatever other photogenic thing might be around, we stop. We drink it in, something I'm rather unaccustomed to, like we're bloody dehydrated. Naturally, I had to allow my style of traveling to conform to hers and vice versa. 
While it may sound as though we hold each other back from how we want to travel, I couldn't disagree more. I think that adopting these new styles of traveling allow for a more three-dimensional experience; stopping and savoring these experiences has encouraged me to get more out of them. Since coupling up, I've stepped foot in countries I never thought I'd see – most recently in Iceland, where we walked behind waterfalls and slept under the northern lights; an experience I likely would have never had if I'd kept at my pace.
Even given that, though, we make a point to travel apart from one another about once a year, both finding that traveling solo is not only healthy for us as individuals, but for our relationship as a whole. It allows us each to develop our own individualities and gives us the perspective of how much we care for each other when we take time apart.
Written by Kaidon Nickel from Planes, Trains and Karcz. Follow him + Natasha's travels on Instagram @planestrainsandkarcz
Iris (+ Jonas): Non-Stop Digital Nomad Couple Travel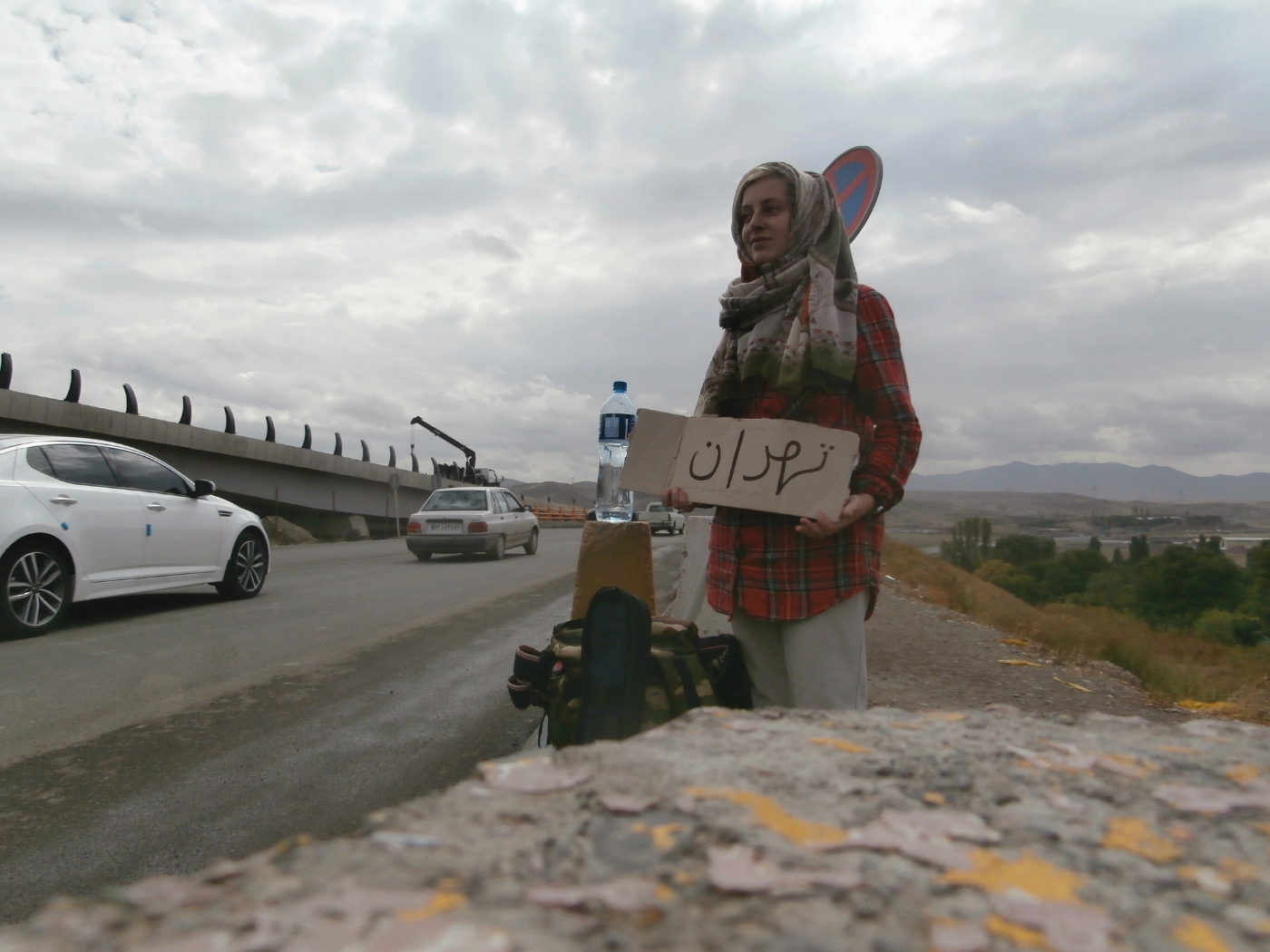 Solo hitchhiking from Zanjan to Tehran in Iran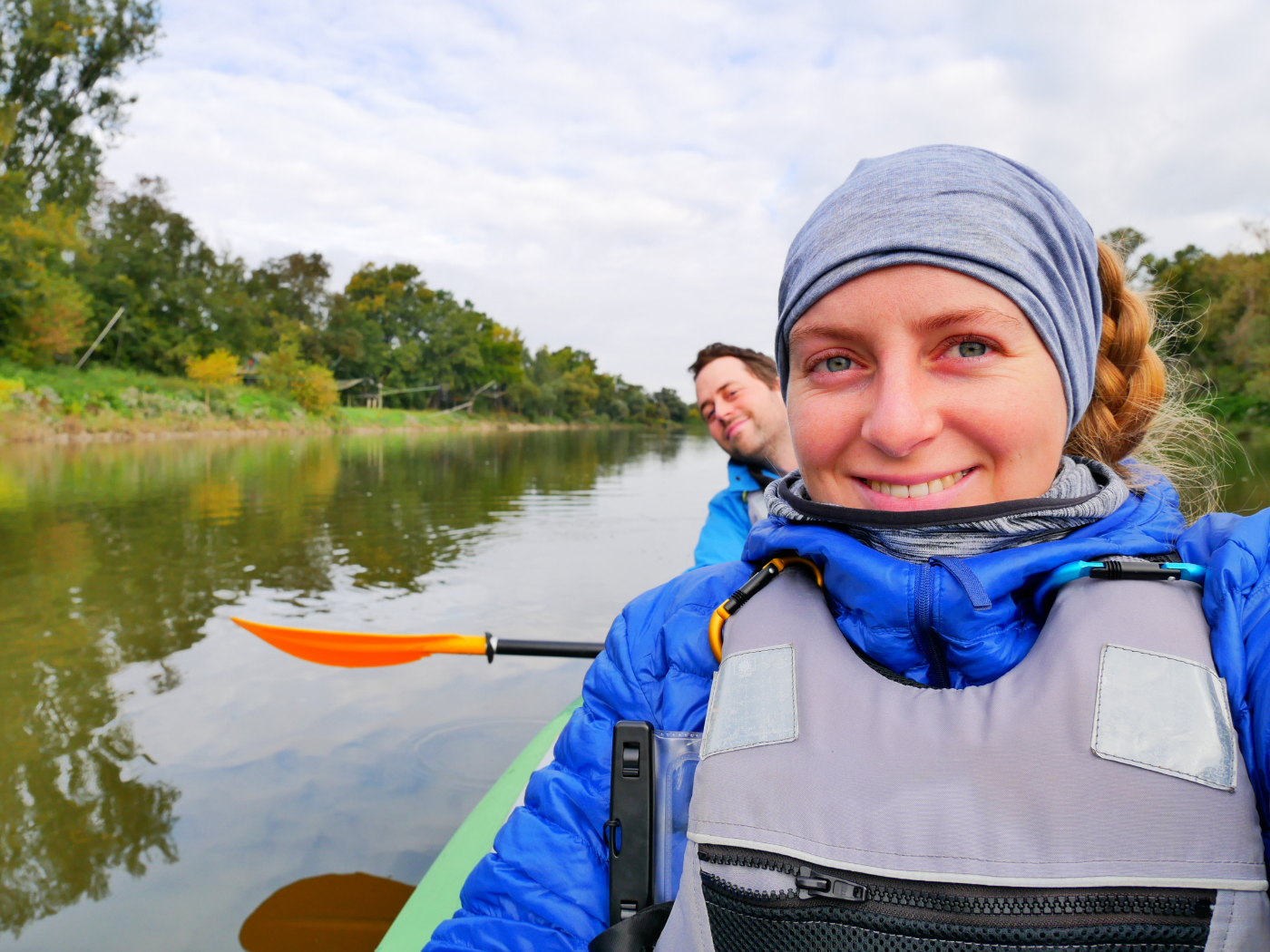 Couple travel by kayak between Slovakia and Austria on the Morava River
Thank you (couple) travel bloggers!
This was my first organized collaborative post and I'm grateful you were part of this. Thanks for sharing your stories. Happy travels and may the road treat you well!
Thanks for reading! What's your experience?
Did you make the transition from solo to couple travel? Does couple travel sound appealing to you after reading this? Comment below with your experiences!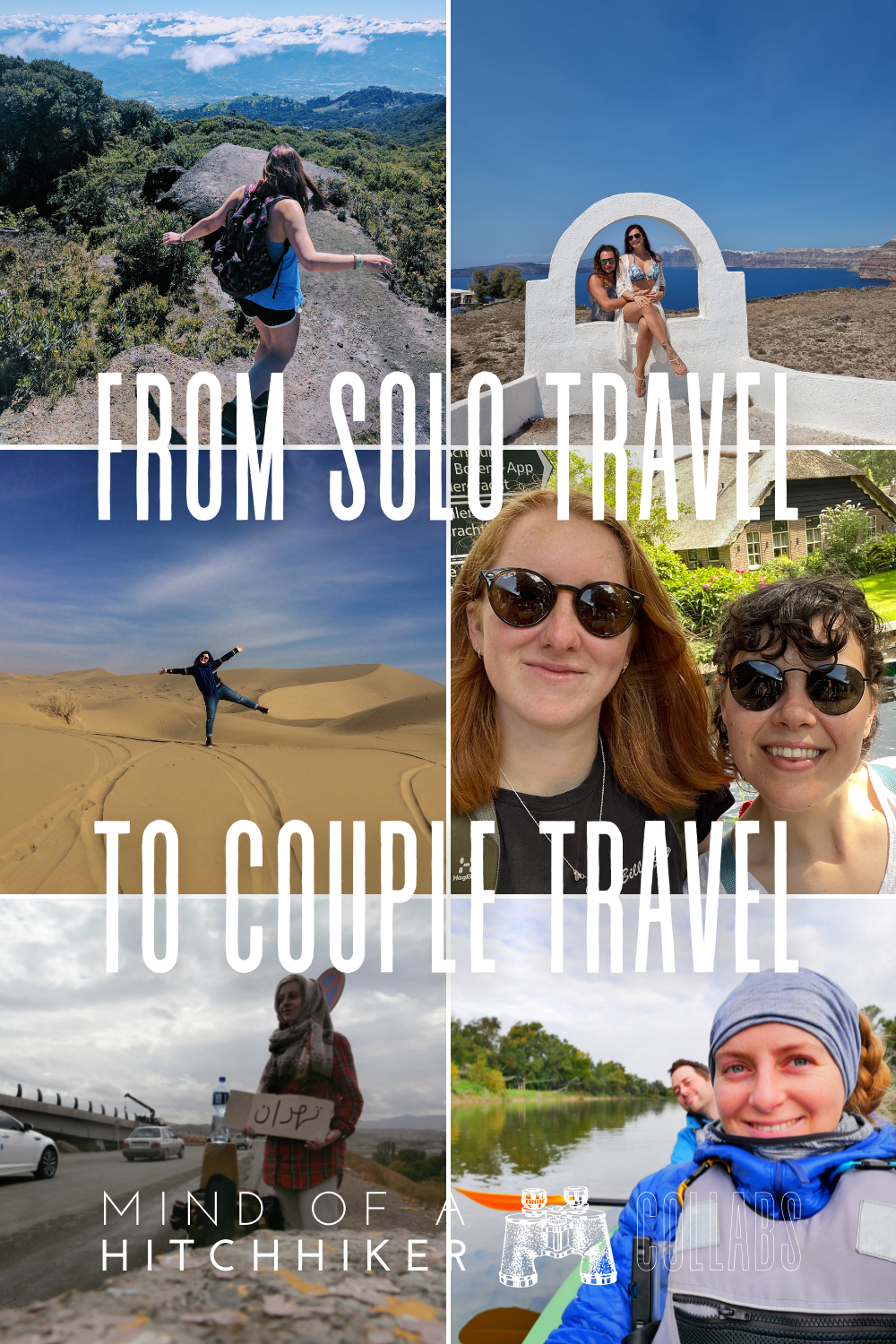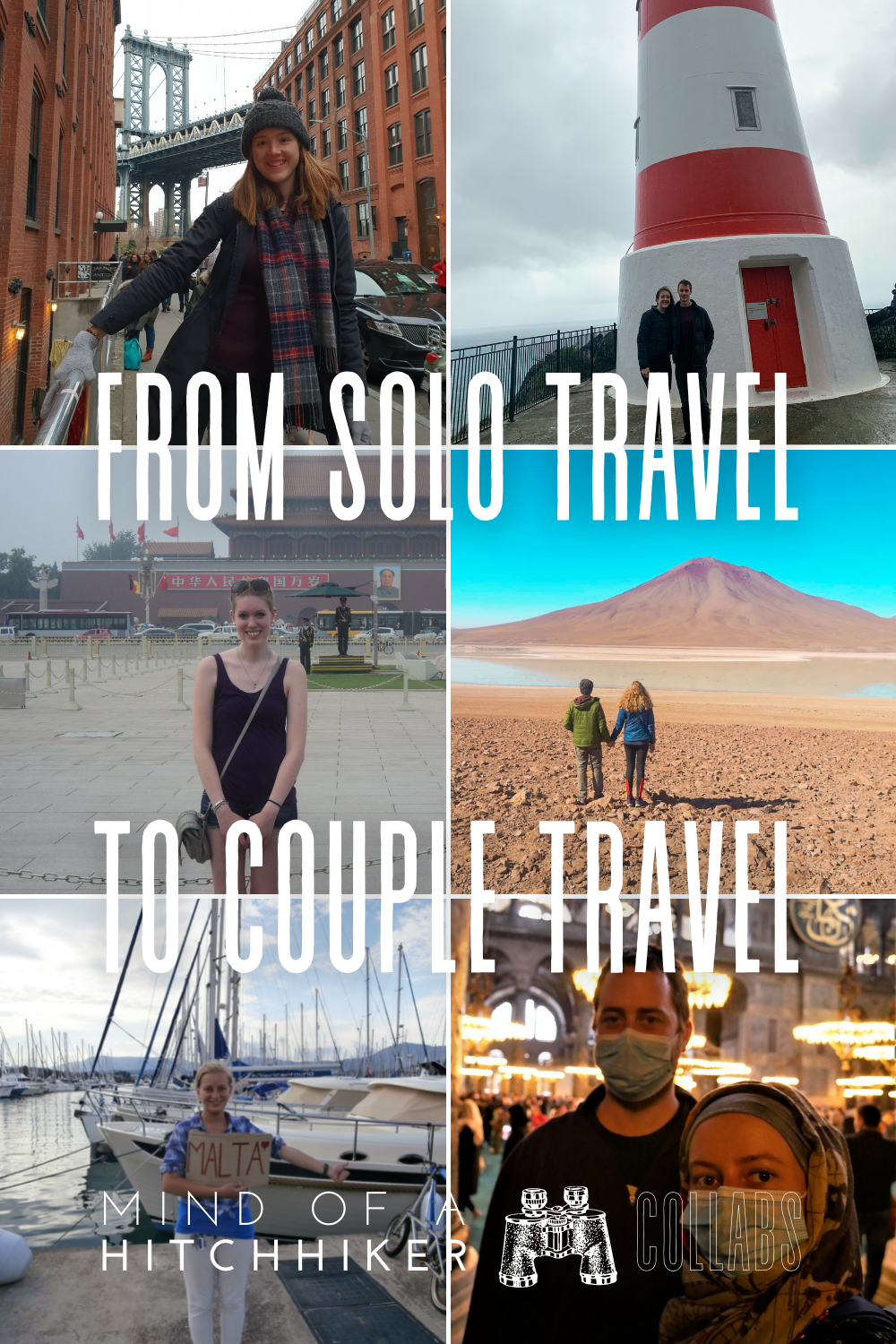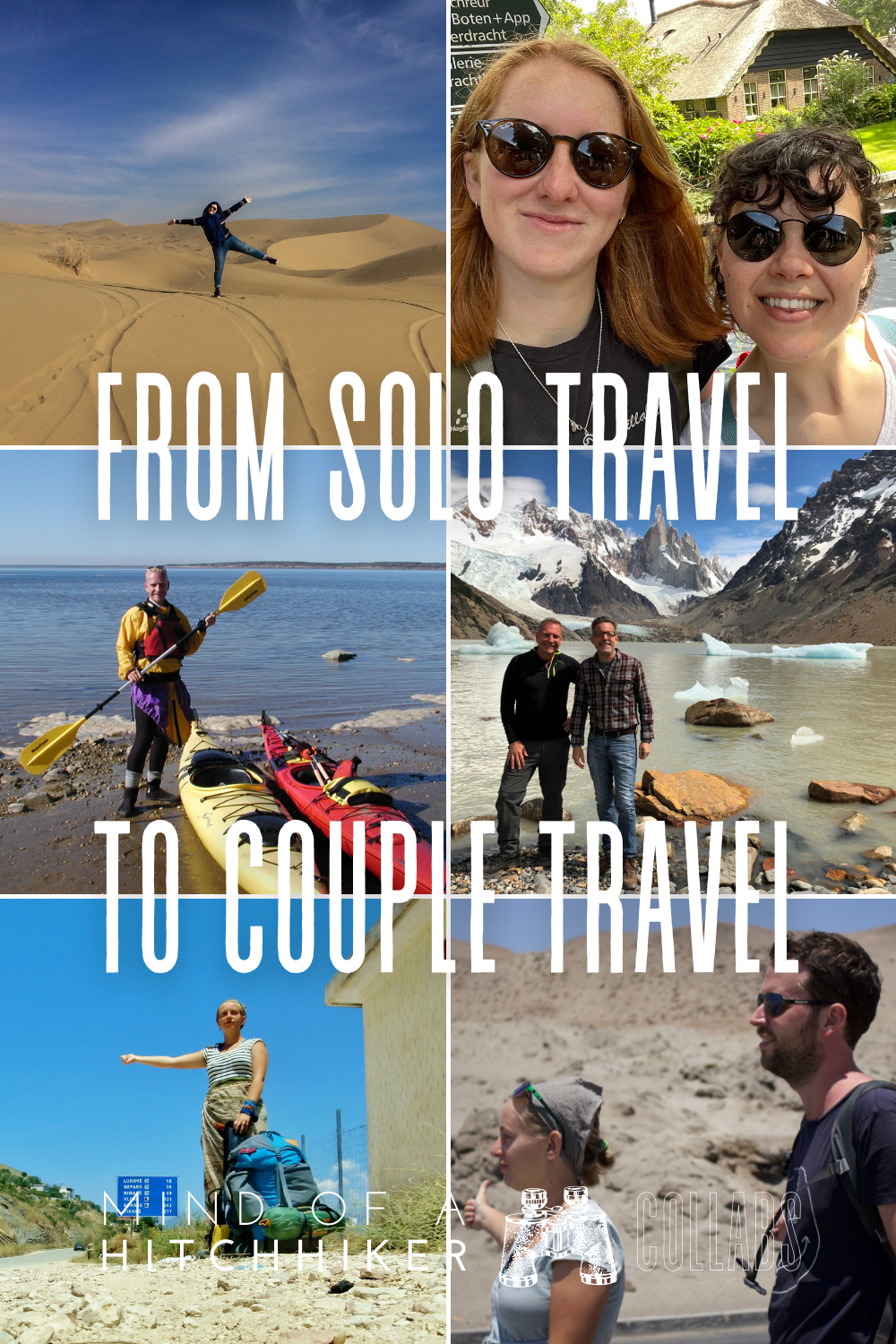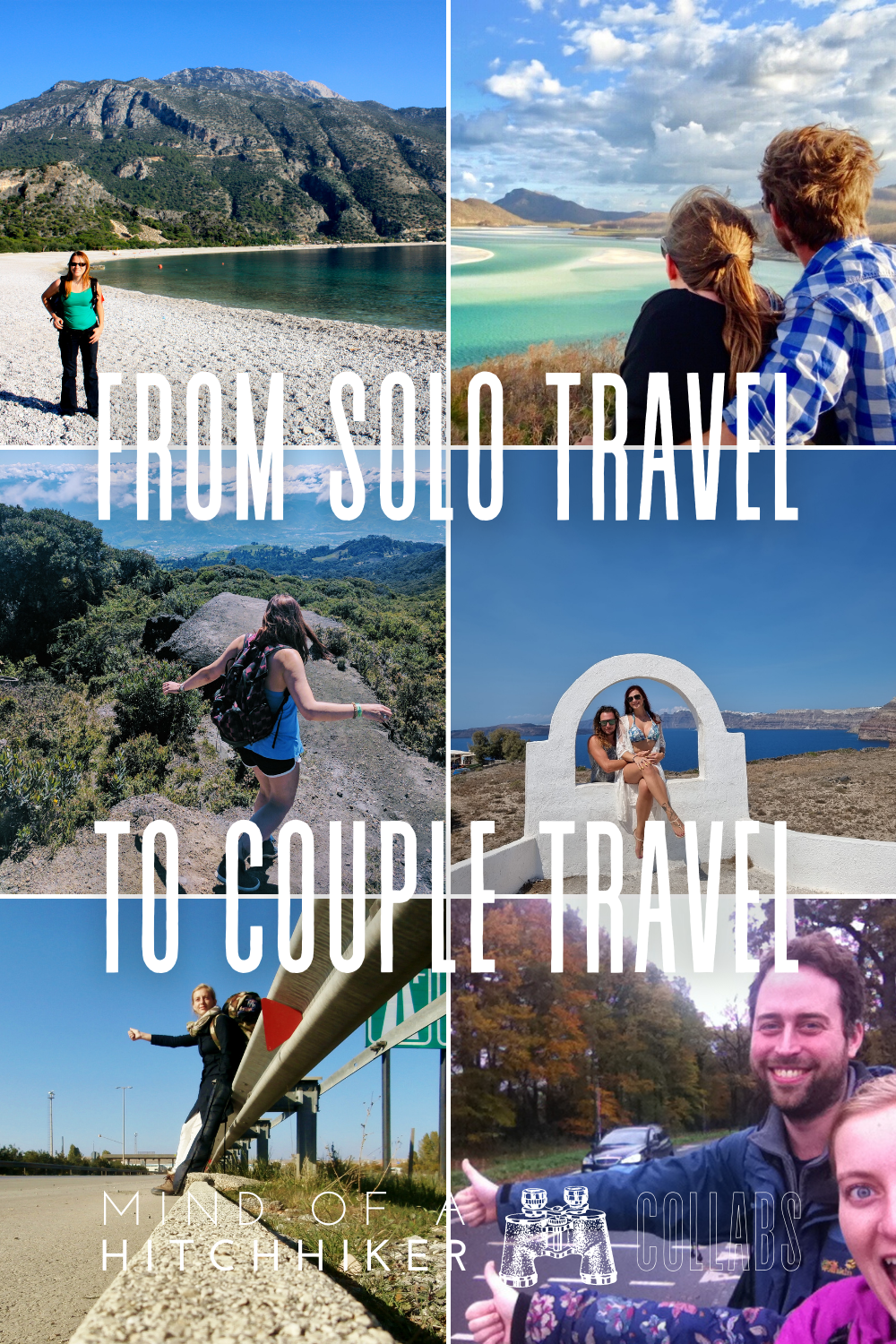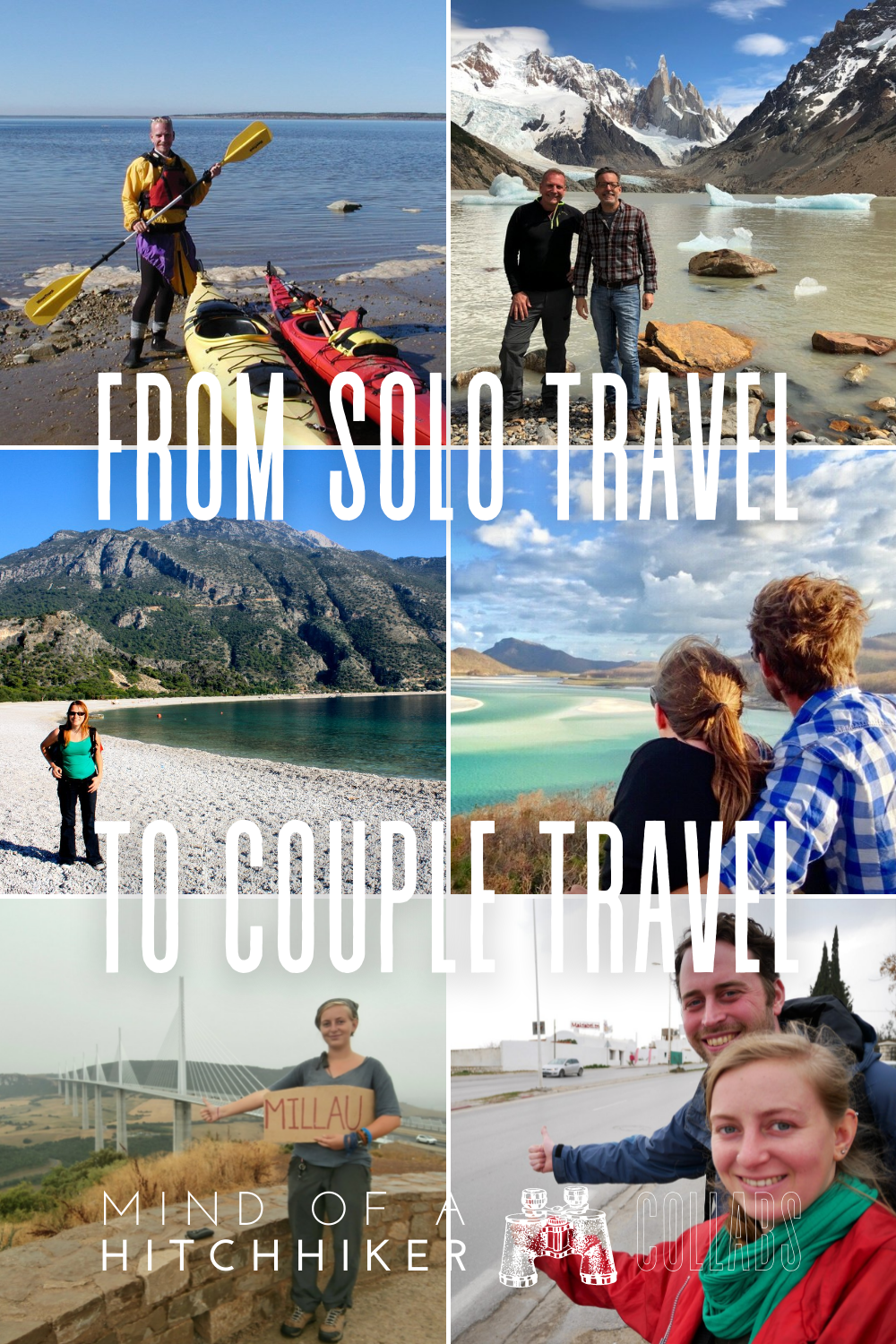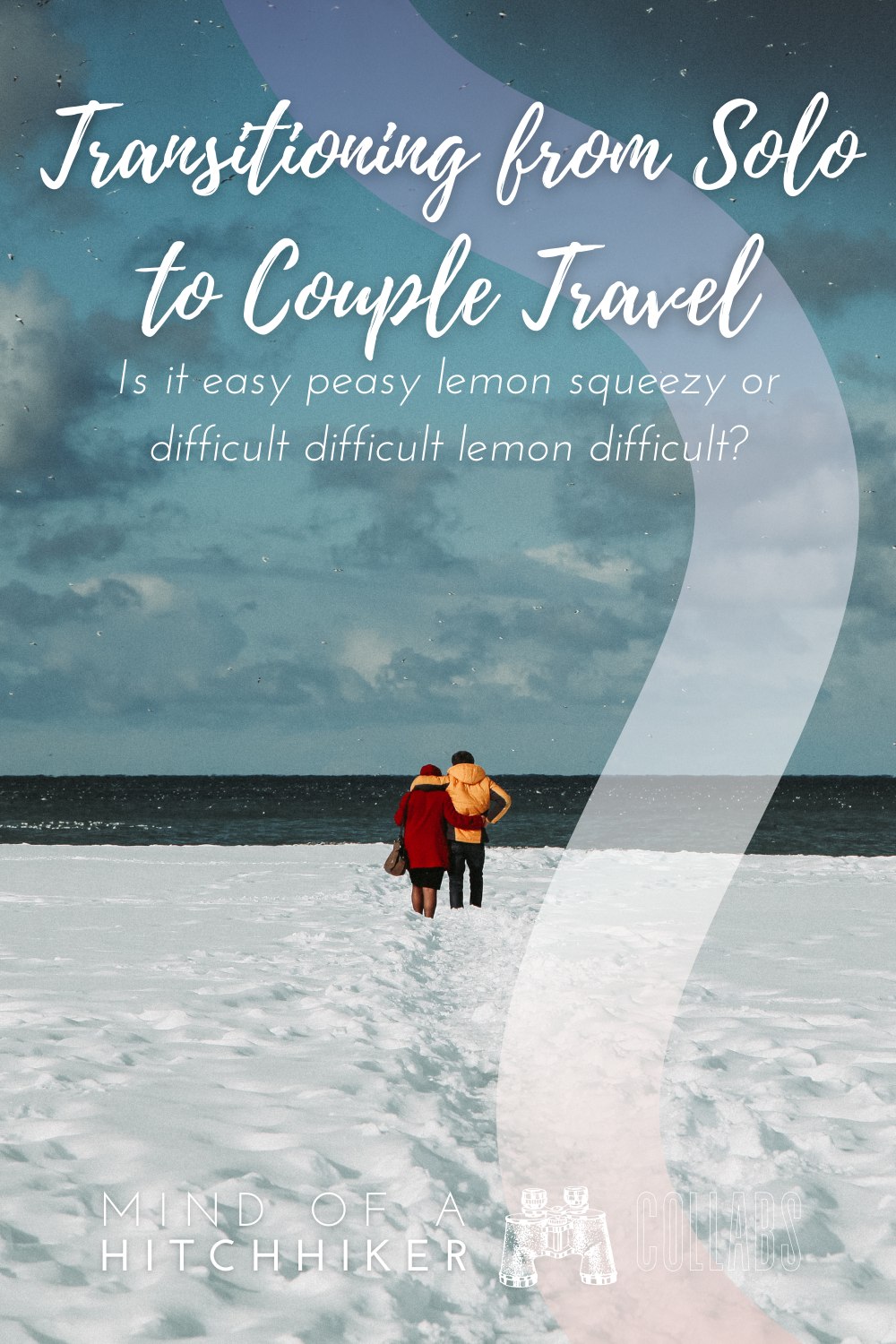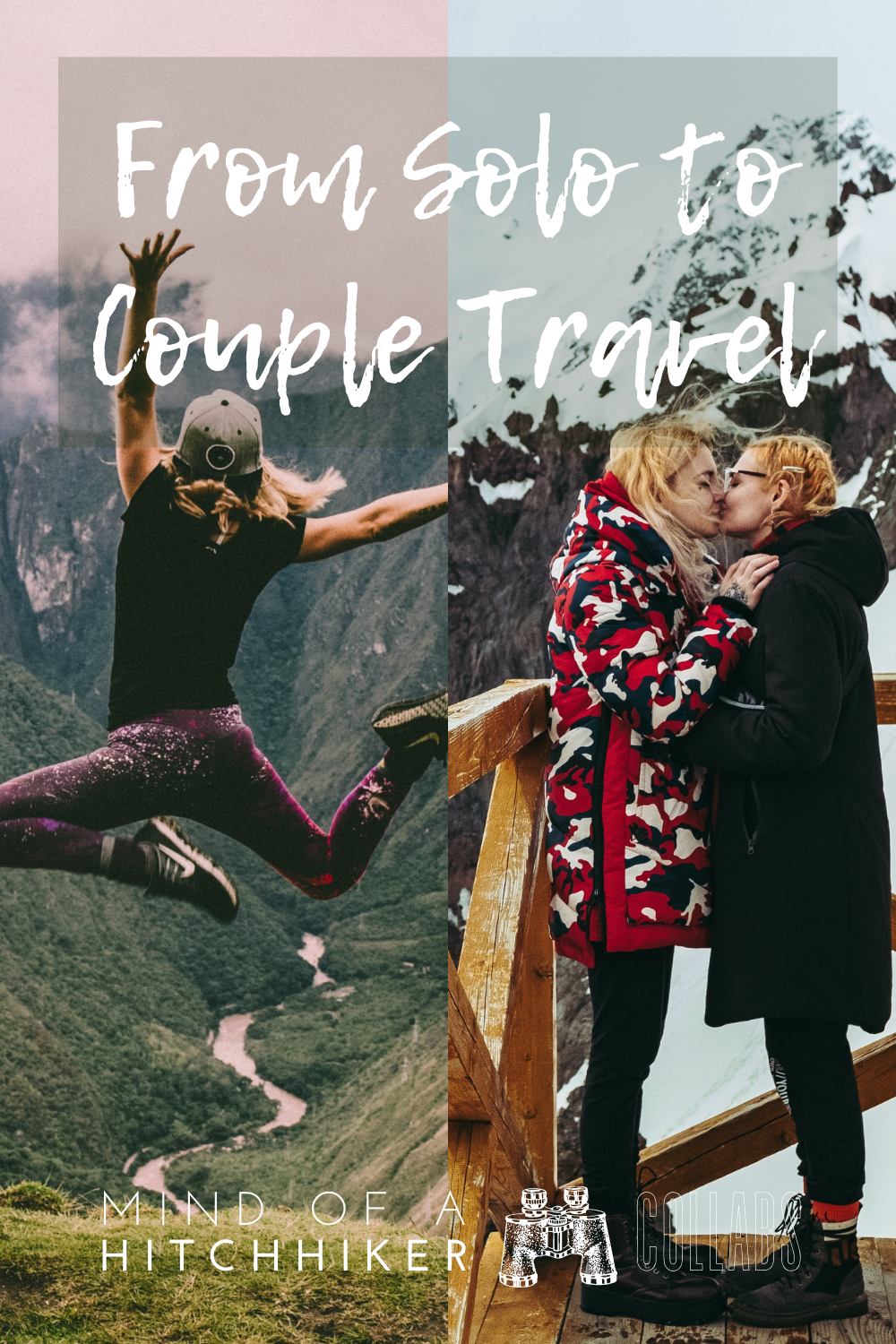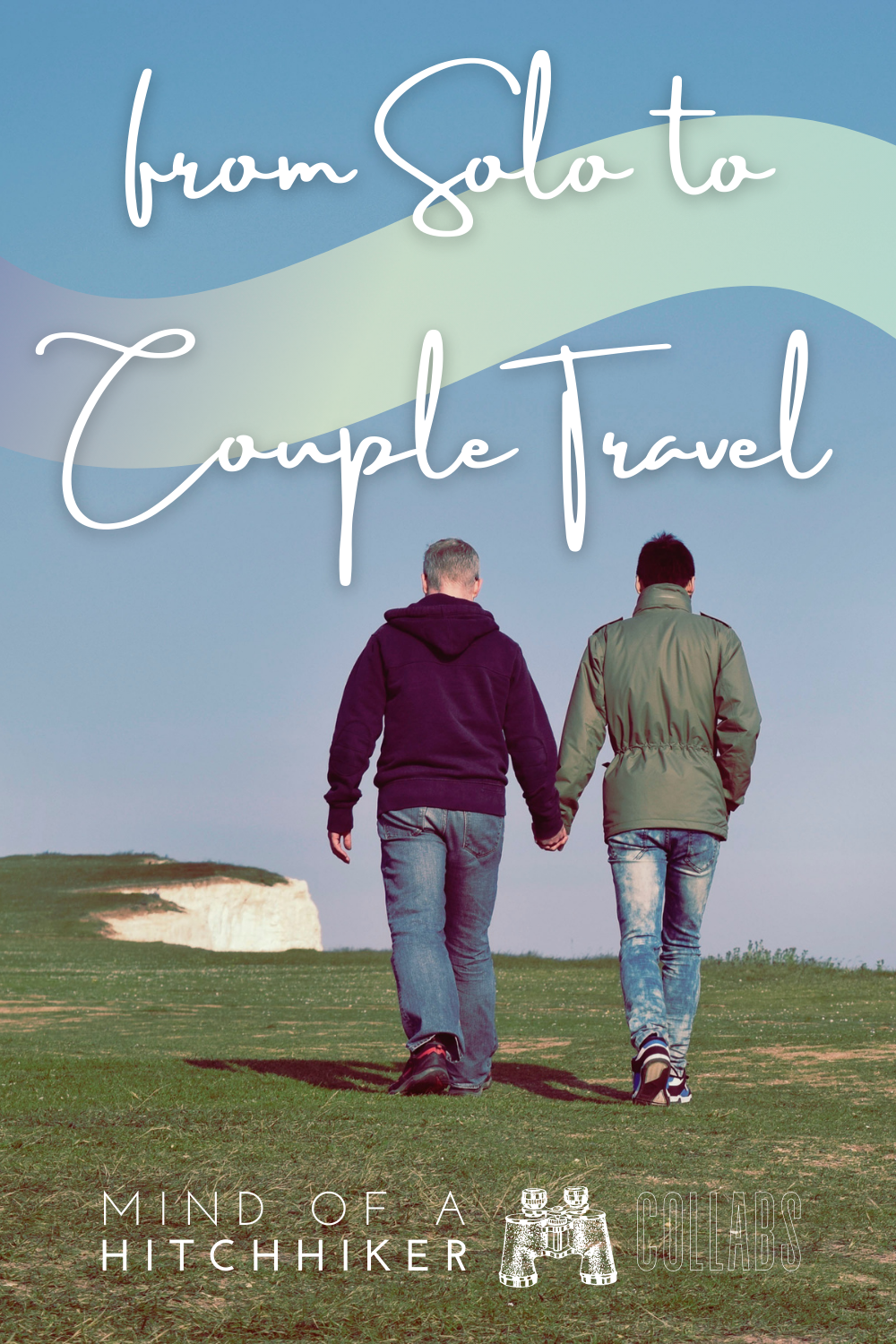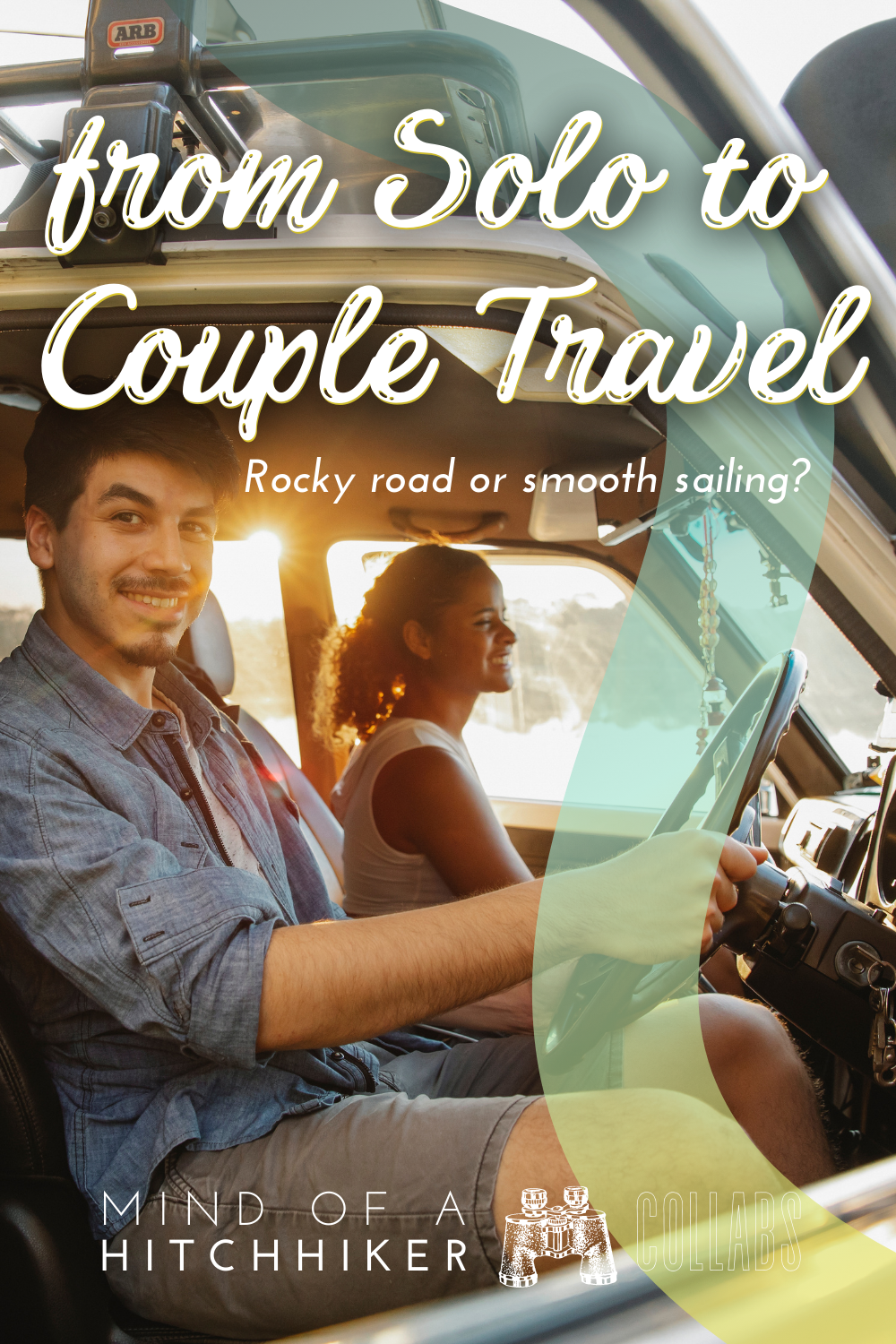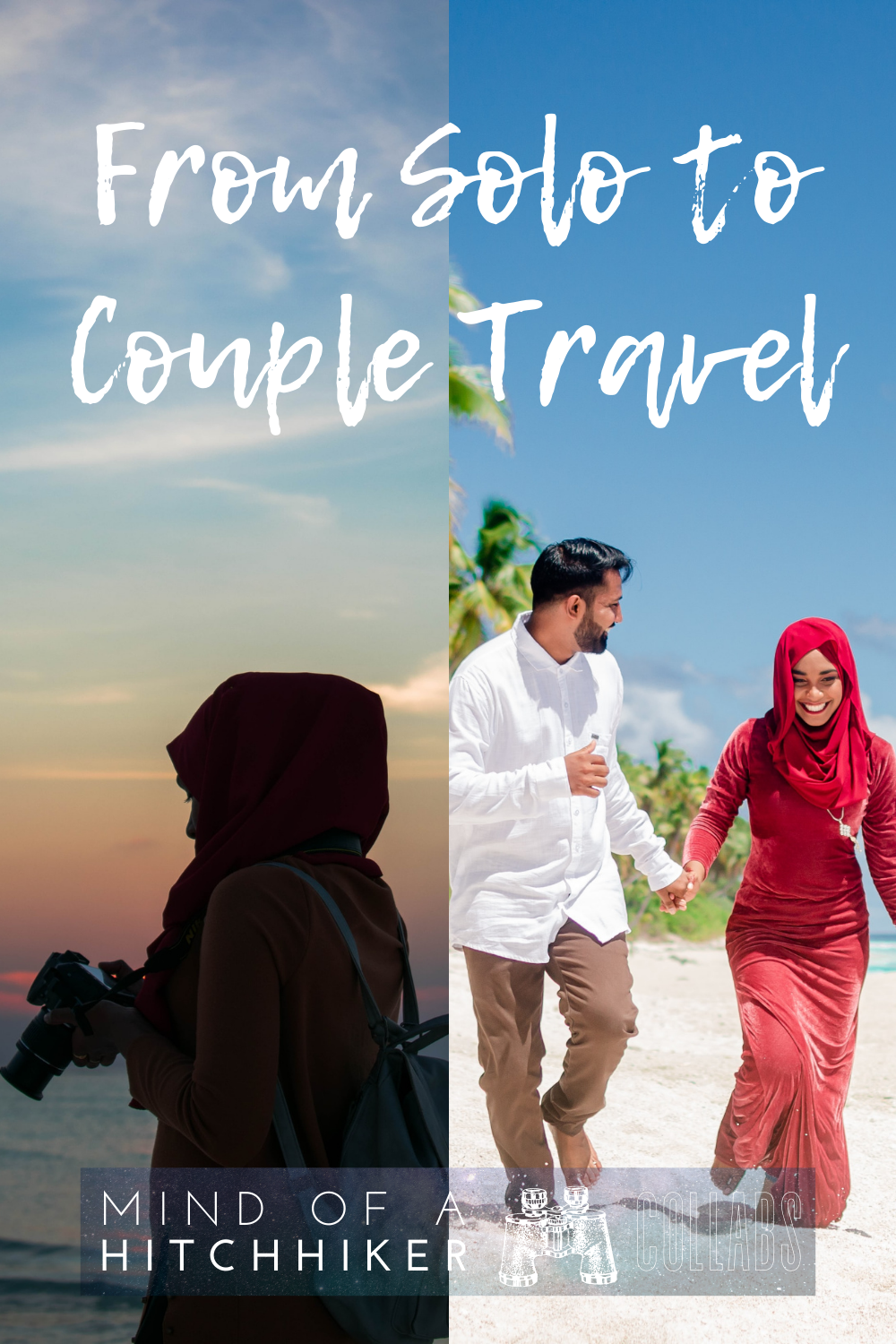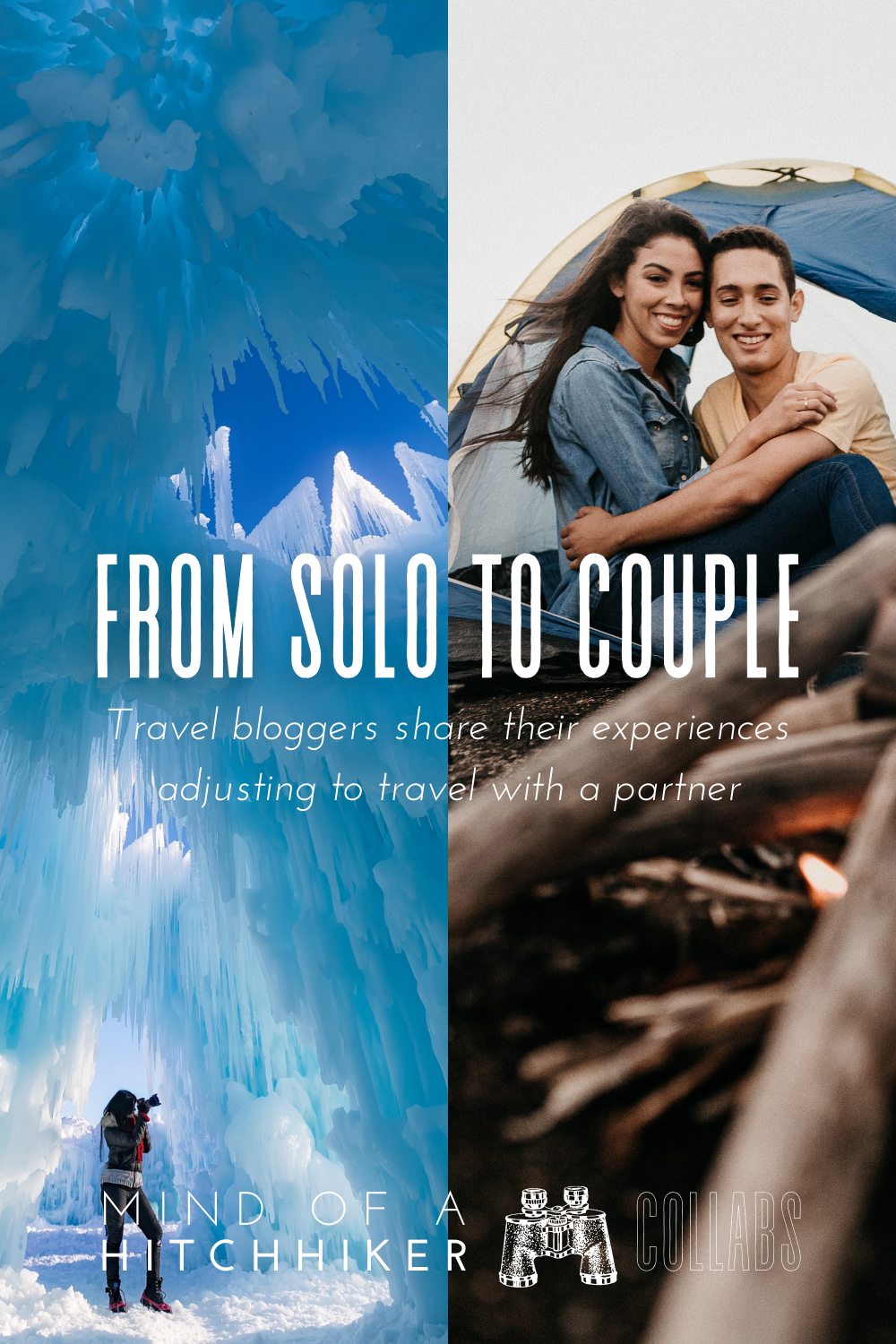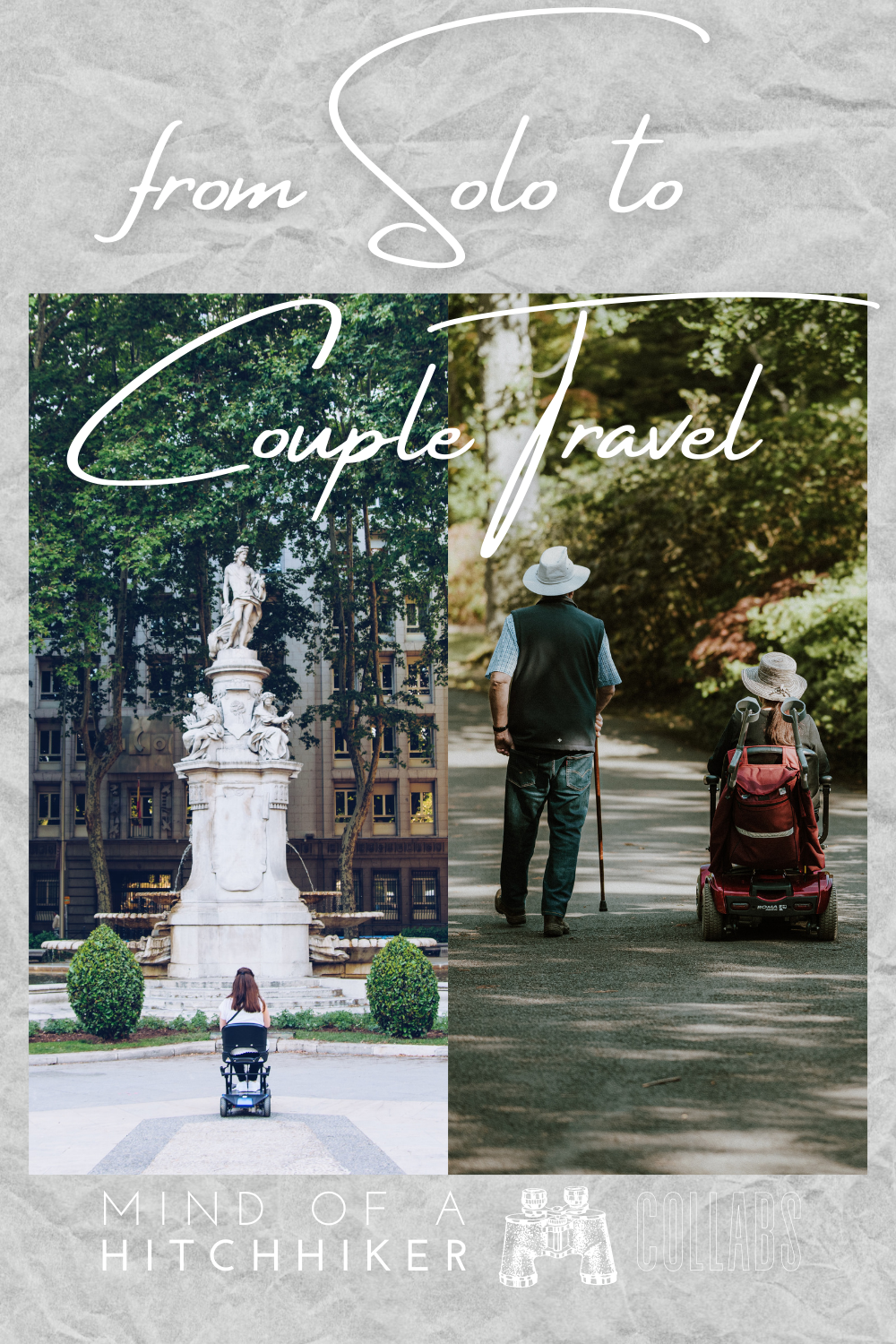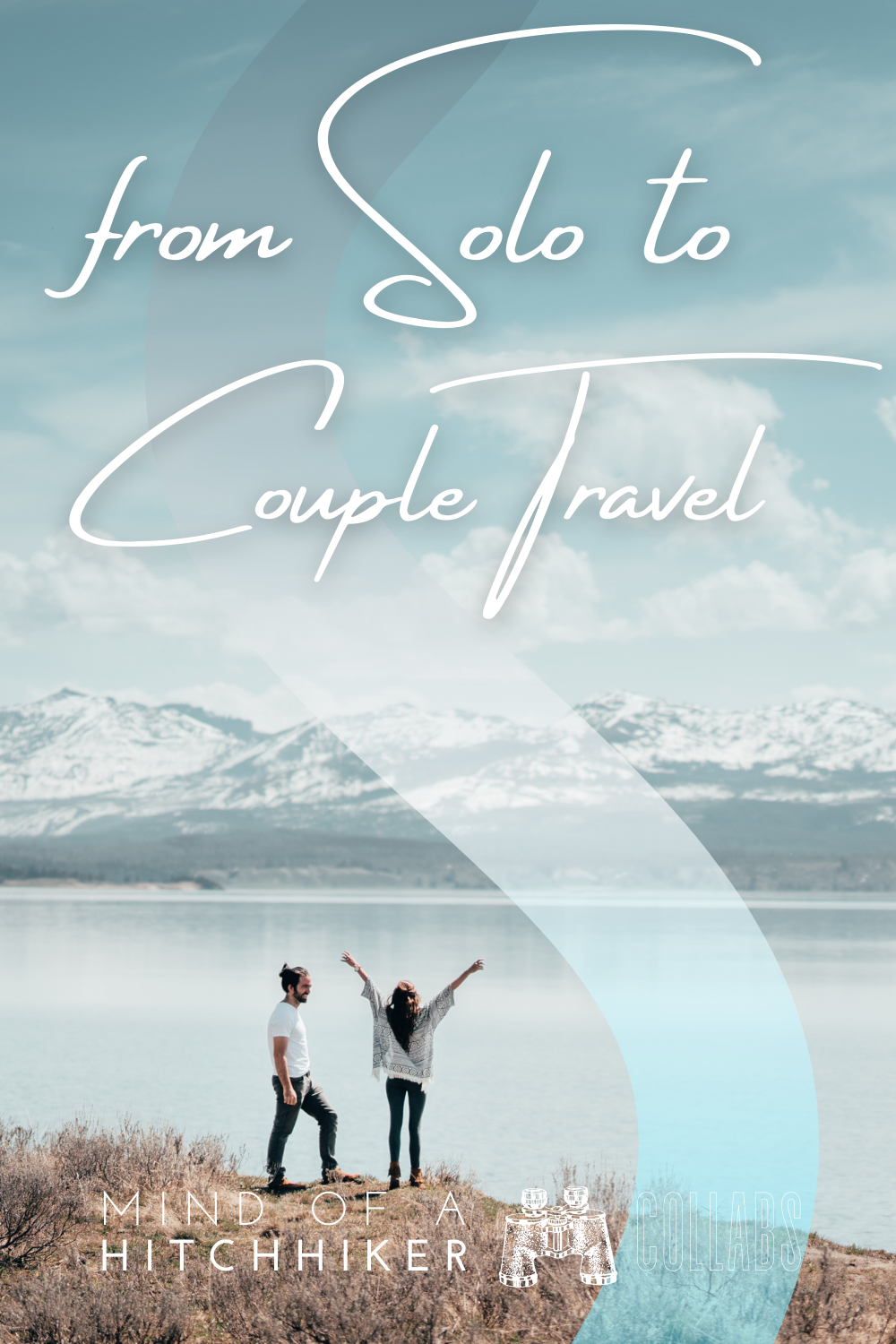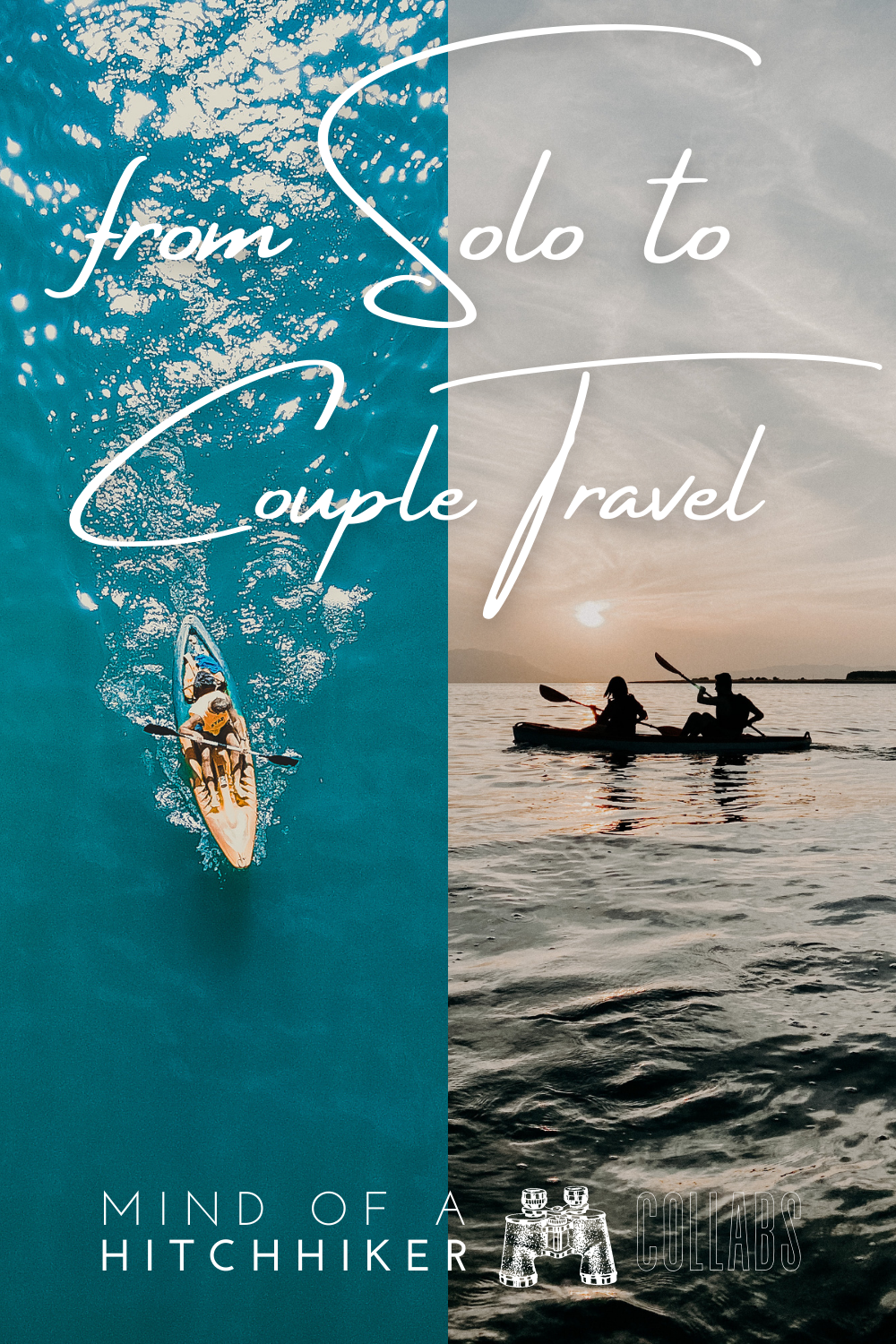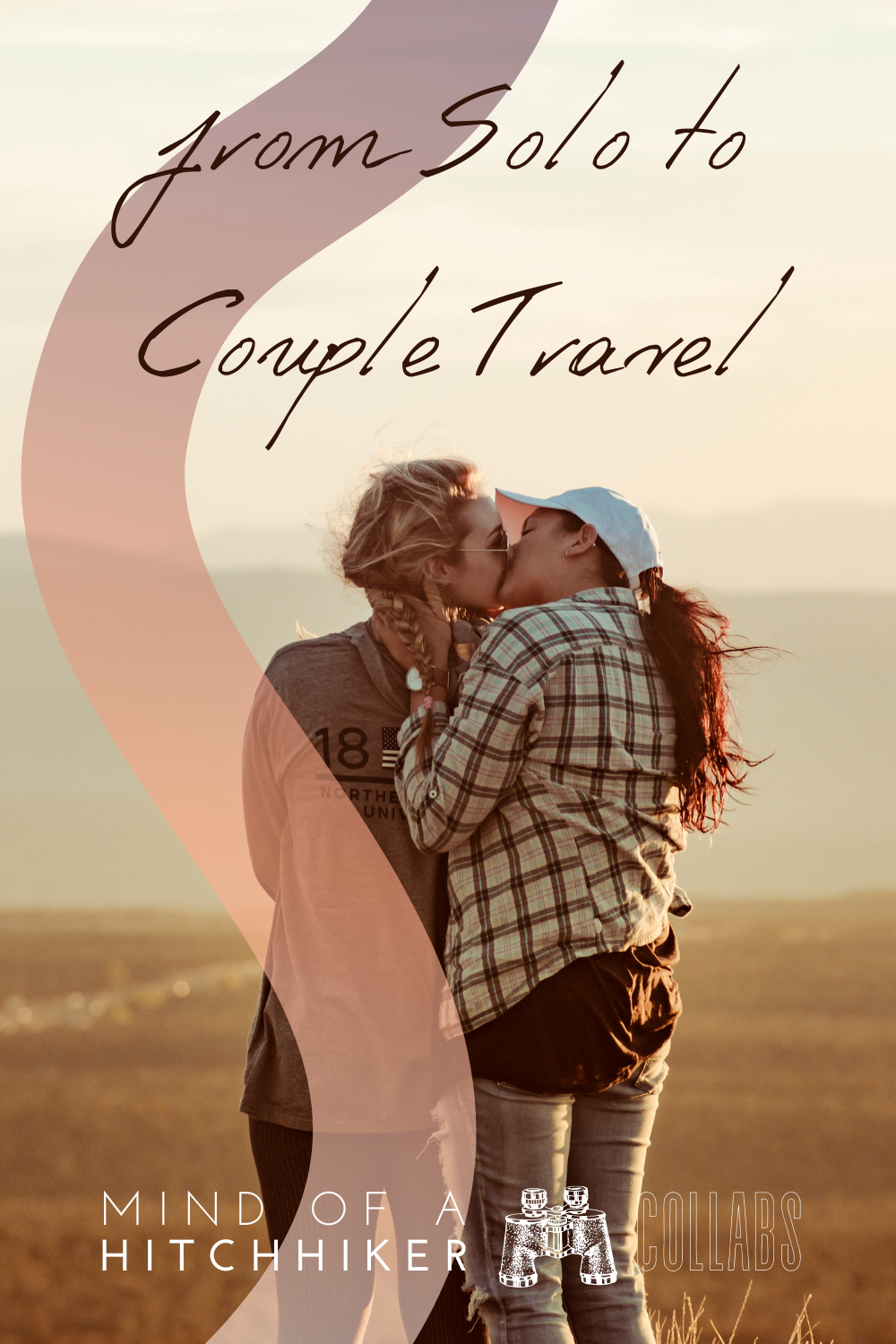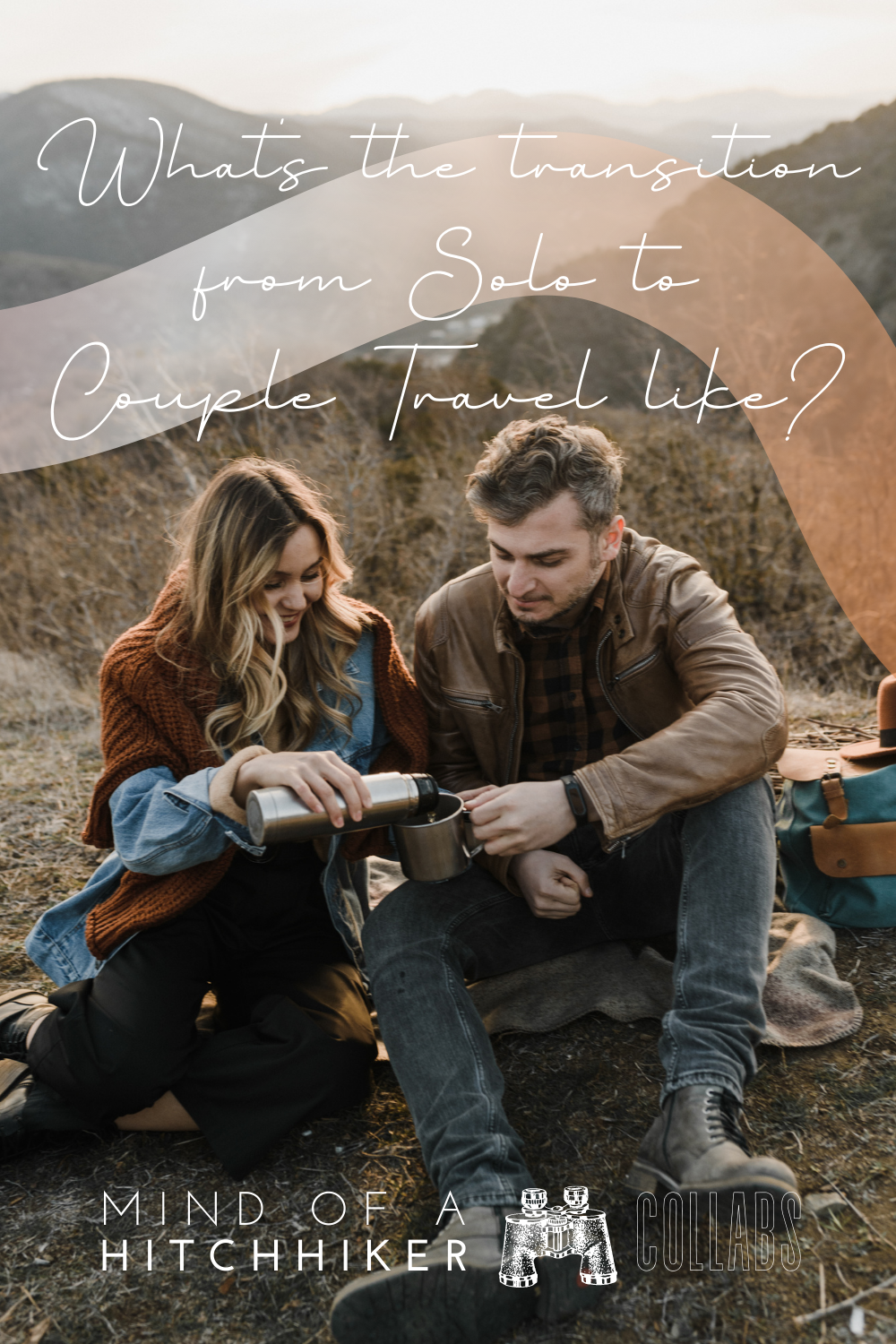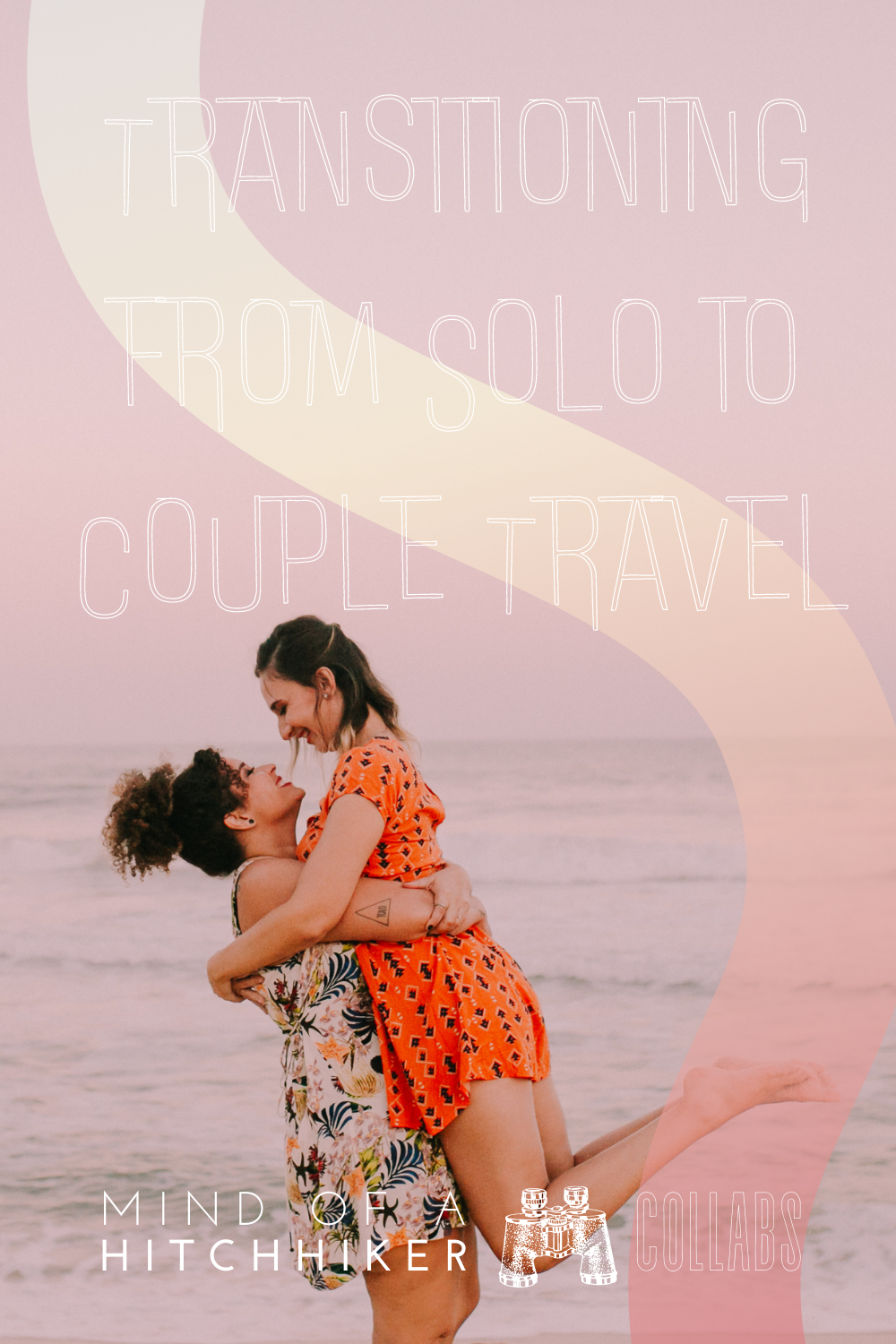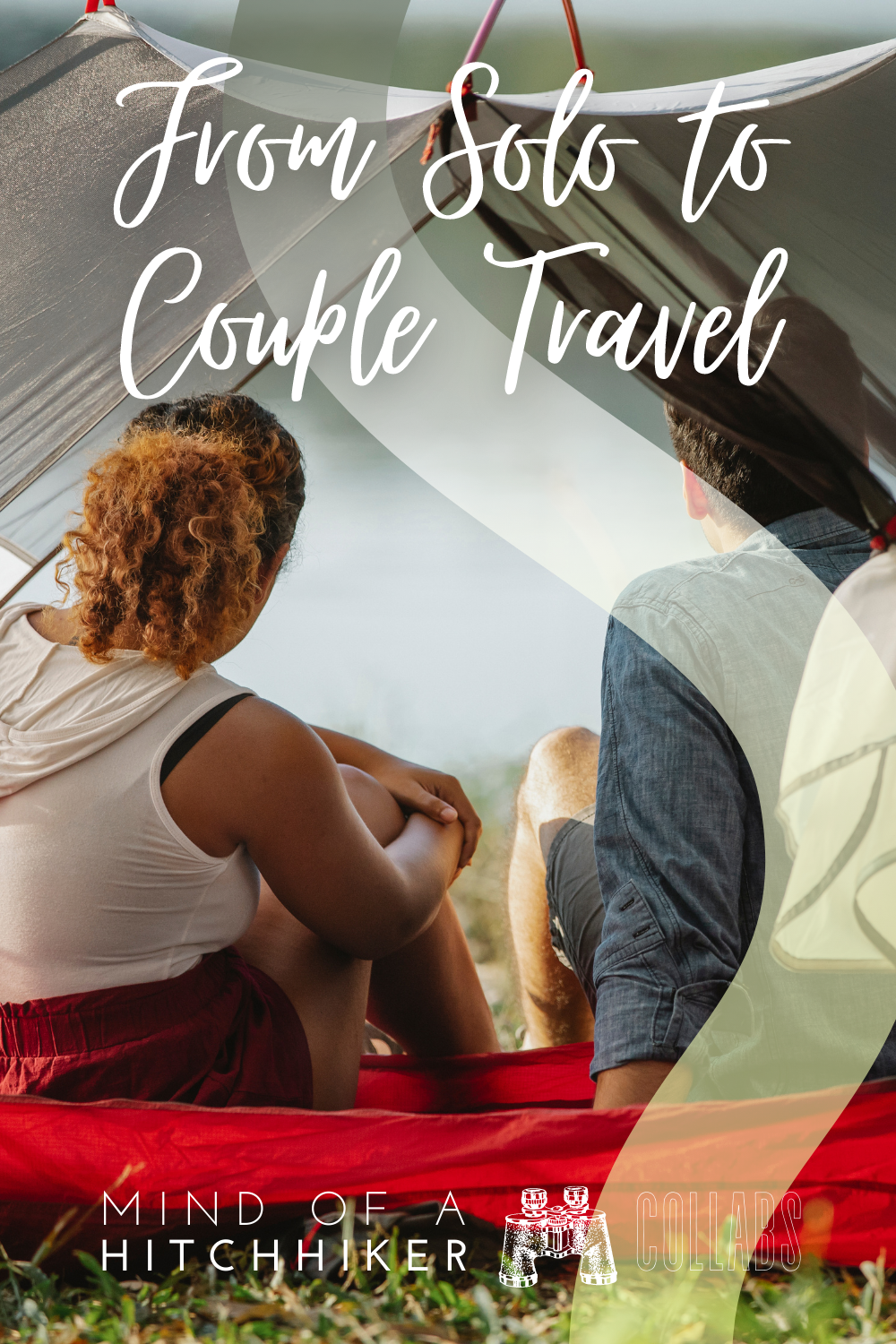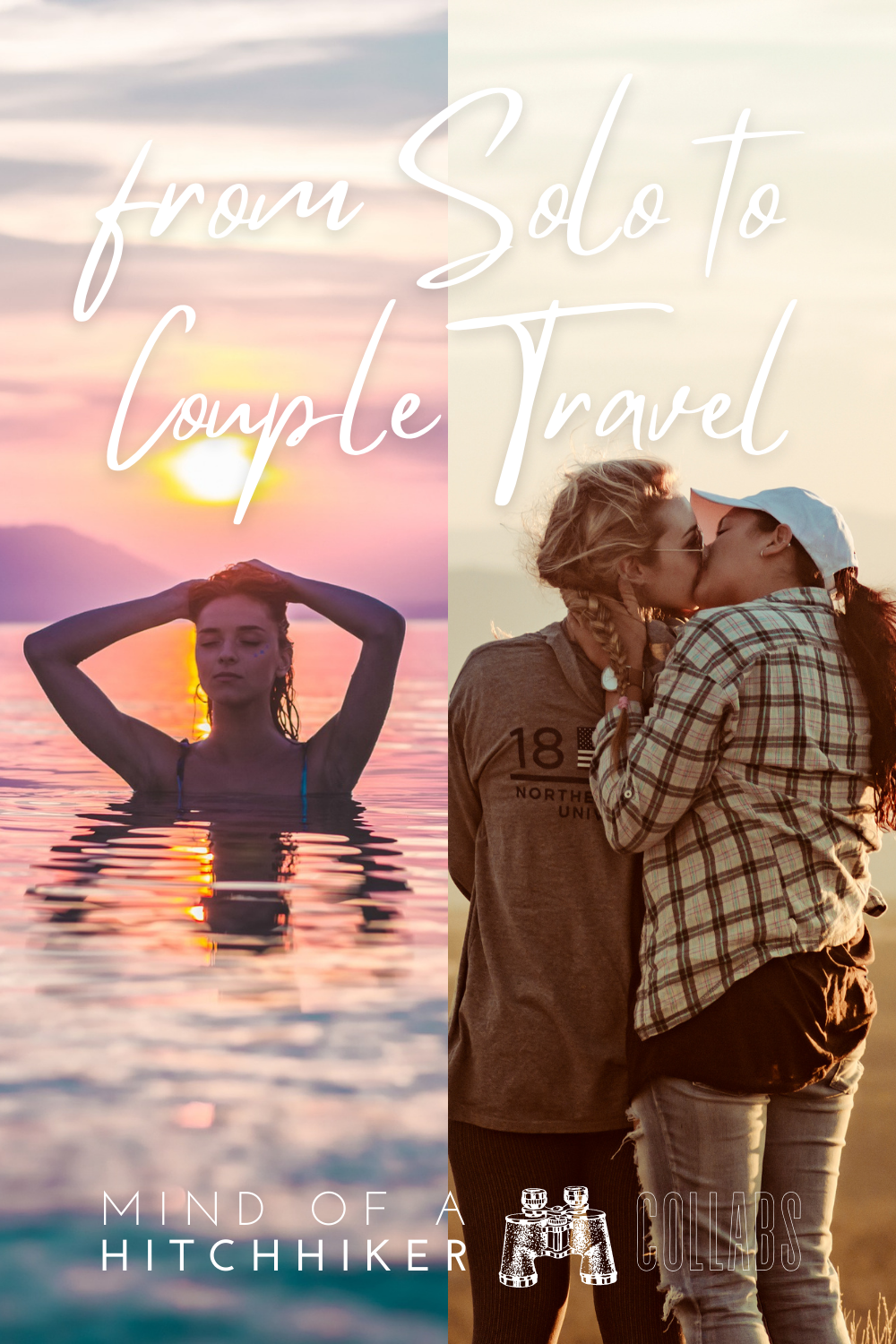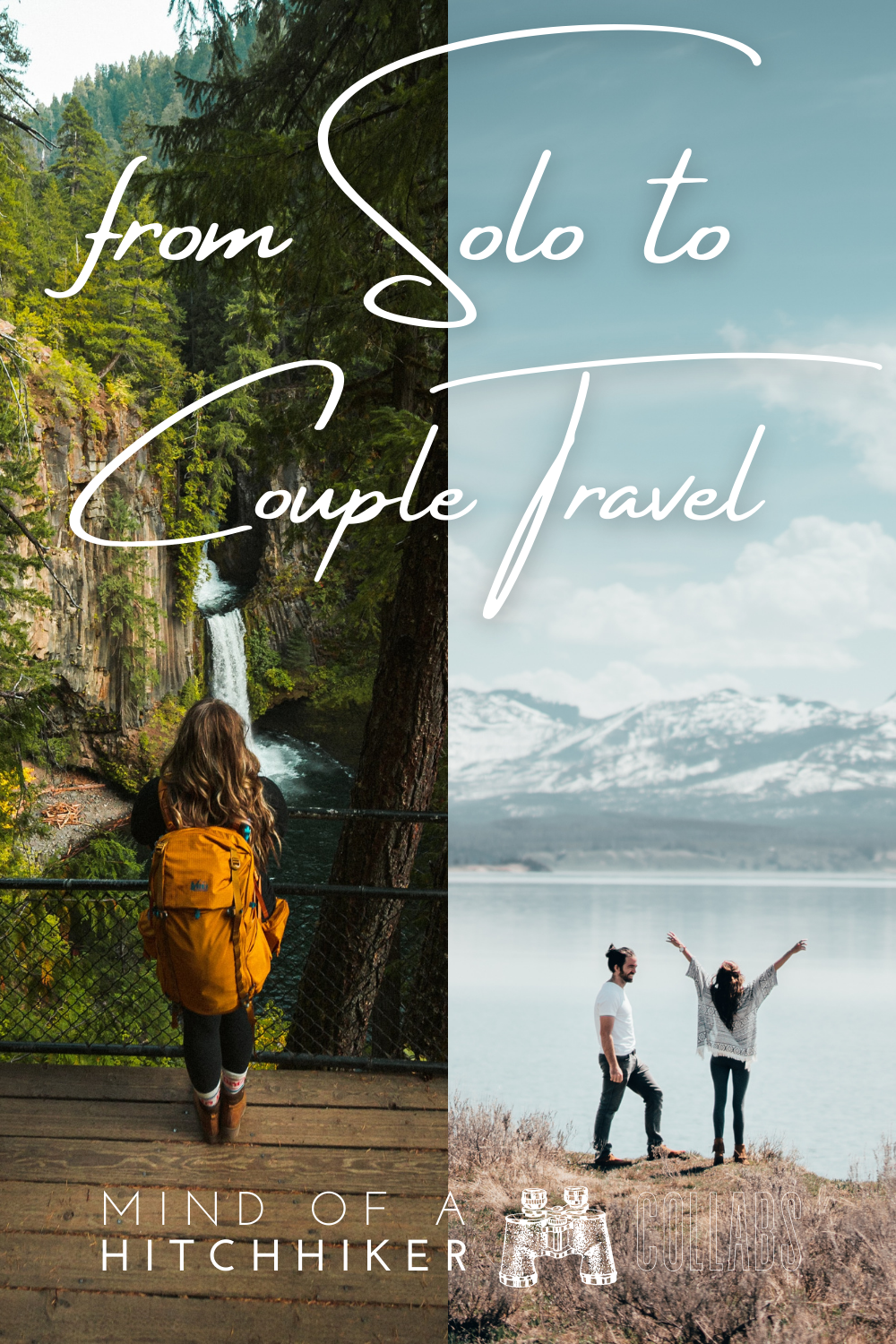 Some free stock photos for the pins + featured photo sourced from Unsplash.com and Pixabay.com from the photographers: Rax Arn, Vilu Photos, John Alvin Merin, Sean Pierce, Peter Conlan, Karsten Winegeart, RJ Guzman, Oliver Sjöström, Annie Spratt, Carlos Navas, Vitor Monthay, Durmuş Kavcıoğlu, Maria Vlasova, and Rakicko.