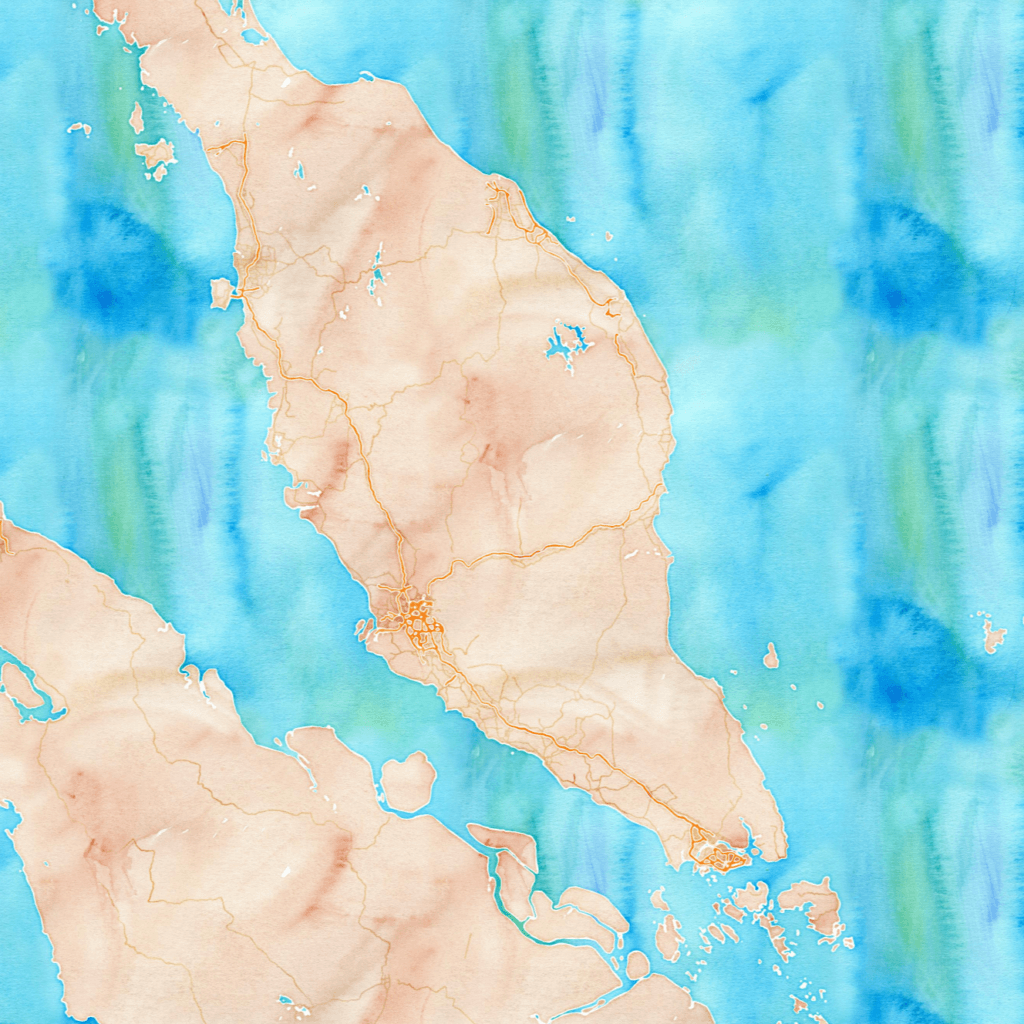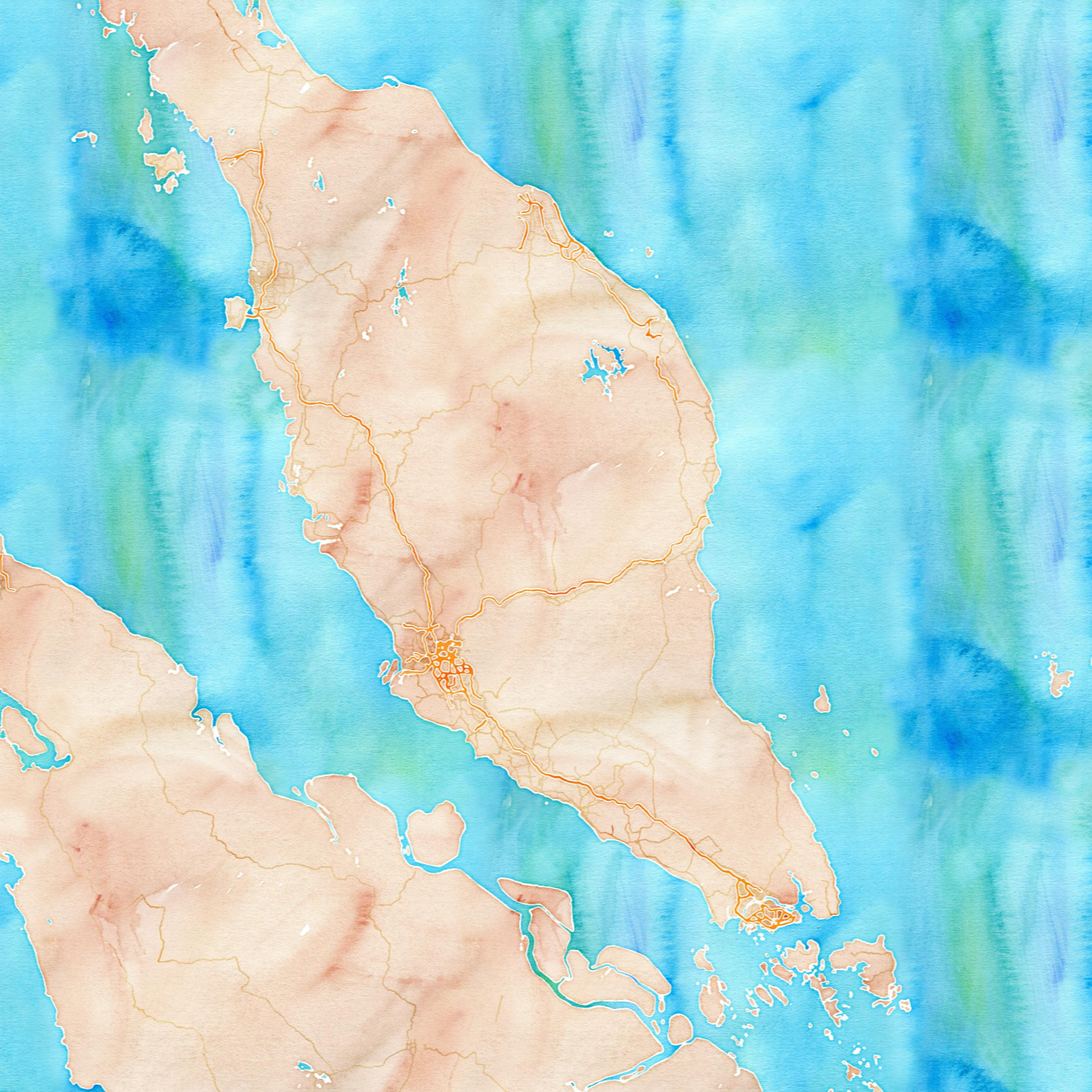 This little diary is a continuation of the 'Pandemic in Penang' diary I've kept during Malaysia's harder lockdown. Long story short: we were traveling in Malaysia and other Asian countries when the coronavirus lockdowns caught us in George Town, Penang. We stayed there during the various phases of lockdown, from MCO to CMCO and RMCO ("Recovery Movement Control Order"). When interstate travel opened up, we planned our departure from Penang to travel within Malaysia's borders. "SOP" stands for "Standard Operating Procedure".
Days since we entered Malaysia: 168
Days since the start of the Movement Control Order (MCO): 148
Travel days since we finally left Penang: 23
Diary + Developments
Saturday, 1st of August: A fine selection of Ipoh's cave temples
We drank a morning coffee and then got a Grab to the Kek Lok Tong cave temple – the first of many temples this day. It was to make up for the lack of activities on my actual birthday the day before.
Unexpectedly, this first cave temple already had a lot to see and enjoy and we stayed there quite long. The cave was huge and had an exit on the other end with a few small lakes. There's a huge pebble walk, which – if you don't know – is a path walk on barefoot to give yourself a massage. I'm not a fan, but I know someone who is.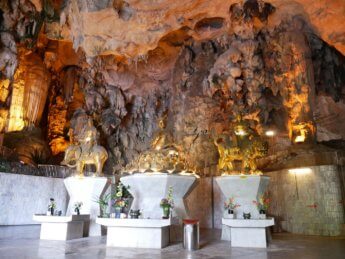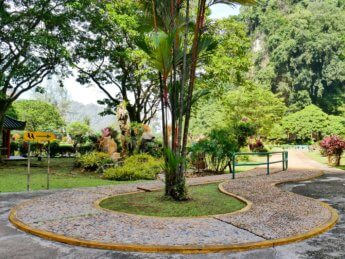 From the Kek Lok Tong temple, we went to the Ling Sen Tong temple, which was a very colorful place and was quite busy. The thick smoke of incense made Jonas walk a little faster at times. From there, we visited the Sam Poh Tong temple, which leads to probably the most beautiful temple I've ever seen through a cave.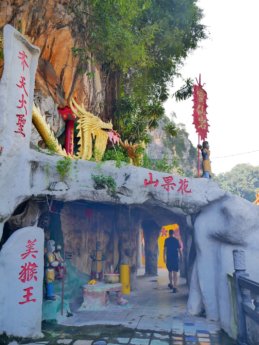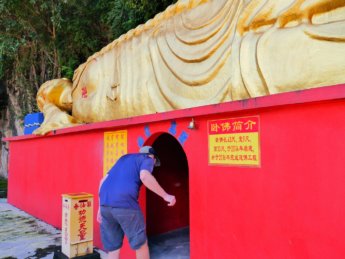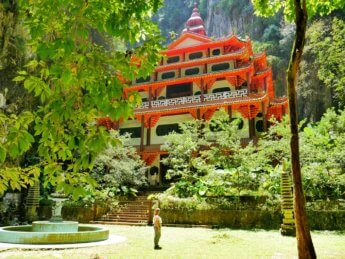 The plan was to walk or Grab from here to Mirror Lake, but it was a little late in the day and we were tired and hungry. After trying to walk to the main road but encountering a sign that warned us of mean dogs, we decided to Grab to a restaurant. This was a very short distance, but the road we had to cross was pretty dangerous even by car.
I can't figure out the name in Chinese characters, but it's this one on the map and has a big banner saying Restoran Sayur-Sayuran/Vege Restaurant. The place is also an atelier and they've got some pretty nice art. The food was also amazing and the two guys that were working there were also very kind. We didn't go to Mirror Lake in the end.
Then we took a Grab back to the Old Town of Ipoh. Our Grab driver was a 63-year-old man of Sri Lankan descent who knew a lot about Ipoh. We had a great conversation and he gave us tips for hiking up Bukit Kledang and also said Mirror Lake is a lie and not worth the trip. He knew a lot about Ipoh's history and the buildings. He also said Mirror Lake is a lie and not worth the trip. It was almost like hitchhiking.
In the evening, we finished the wine bottle we'd opened the previous day and chomped some more cheese. That concluded the birthday activities.
Friday, 31st of July: My first pandemic birthday (many to come?)
The inevitable birthday during a global pandemic finally happened. I'm sure we'll still be subject to restrictions and abnormalities for Jonas' birthday in December. This year my birthday coincided with Eid al-Adha, meaning many Muslim-owned businesses were closed.
I'd finished my video about kayaking to Pulau Tikus the night before, but it wouldn't render with my video editing software Camtasia. It's a rather long video and it was really stressing me out that I hadn't put this project behind me yet. So we spent the morning of my birthday eating the tiny slice of burnt cheesecake and finding a way to produce the video and eventually upload it to YouTube. I'm so happy it's done, but it's also time to find a new video editing software.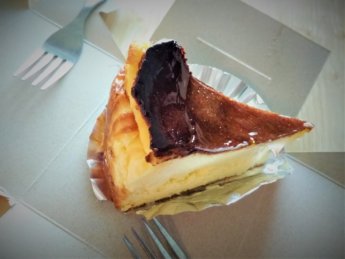 Since this fucked up our entire programming for the day, we decided to move my birthday to the 1st of August. We can do this sort of thing.
The real birthday gift was the call from Airbnb customer service. They agreed that it was reasonable to leave the filthy apartment in the Majestic in Ipoh. The manager of the filthy Airbnb had ignored our booking alteration but declined a later request to get our money back. This probably prompted the call with customer support in the USA, who resolved the conflict in our favor. We got back the money for nine out of ten nights we'd booked, plus half the money for the first night because the other party was so uncooperative. That was a total of €280 we retrieved from that regrettable experience.
Lunch was a cheese board with naan and red wine on the balcony during a thunderstorm. I guess it's a good thing we didn't go on a hike or to visit cave temples today.
In the evening, we tried going to a Chinese restaurant called Ninety Six Vegetarian to eat chee cheong fun, but it was closed. From there, we called Vegan Delights Cafe to ask if they were open, then took a Grab there to eat dinner. During our one-night stay at the Majestic, we'd ordered from them. Eating at their restaurant is a much nicer experience though; the owners are really sweet people.
After that, we wanted to go back to Beer Teller to have drinks and shisha, but there was fuckery going on. There were two or three groups drunk men starting shit and harassing the staff aggressively. I contemplated calling the police, but with our shaky immigration status in Malaysia, I felt utterly powerless. We walked from there to a place Enrico had spotted called Miners Arms, which is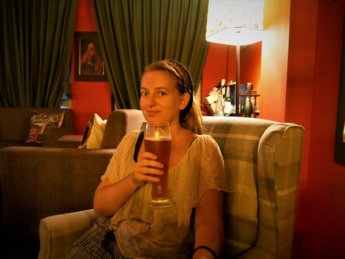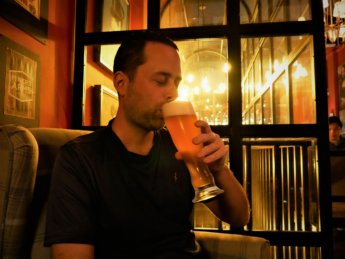 Thursday, 30th of July: Swimming in the hotel's pool + eating Korean street food at the mall
Our doorman's tip came through and we had a lovely swim in the pool after doing some computer things. My video from kayaking to Pulau Tikus in Penang is approaching the final stages.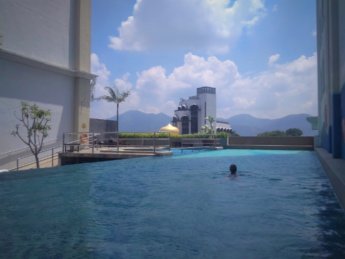 In the evening, we went to Ipoh Parade. It's a mall with a Jaya Grocer, which is our favorite Malaysian supermarket brand. It has a separate shop with haram products such as pork and booze. That's where we got some Korean soju and red wine for my birthday. In the main supermarket, we got a variety of cheeses with naan to be enjoyed on our balcony. Life's good.
Once we had our groceries, we went up to the top floor in the mall to visit MyeongDong Topokki (명동 떡볶이). They do Korean street food dishes such as tteokbokki, which all the characters in the K-dramas talk about.
We tried to communicate that I was looking for a vegetarian dish on the menu, but this didn't really work. I got a cheese ramyeon (aka 'ramen') and Jonas the soy-garlic tteokbokki. He ate all the sketchy things from both foods so I could eat the (hopefully) vegetarian leftovers. He didn't touch the obviously fishy side dish, which I shoved far away from my nostrils. Korean food is still a struggle, but I guess it's better to go through the learning curve here in Malaysia where we can (generally) communicate in English than in Korea where, according to our Texan friends, you just don't know what's going on. To make this simulation as real as could be, we also got the Korean chopsticks, which I so far have found a little bit harder to handle.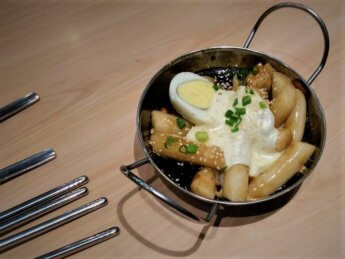 I don't really like cake, but cheesecake is an exception. We came past a bakery that sold burnt cheesecake, which is something I've seen before in Penang and really wanted to try. We got one slice to share on my birthday.
Wednesday, 29th of July: A tip from our doorman
We just worked hard on our individual projects this day and then had a few beers at Beer Teller, a place we'd spotted the previous day with Enrico. It has shisha, so I thought it would be nice to return here for my birthday.
When we arrived back at our condo, our always happy doorman gave us the tip to use the swimming pool in the hotel. We thanked him and decided to give it a try the following day.
Tuesday, 28th of July: Meeting up with Enrico in Ipoh
In the morning, we did some computer stuff from our comfy new apartment. I edited my video for a few hours and Jonas did his web development magic. We tried visiting the pool, but we realized that it's the hotel pool, not the condo pool. We can see both pools from our balcony, and the condo pool looks much more epic due to its treacherous depths. It's not family-friendly, which we love. So we messaged our host about it to ask if it's open or about to open. He messaged us back that building management would convene on reopening the pool the next day. So we wait.
In the afternoon, we met up with our Malaysian friend Enrico we'd met in Penang a couple of weeks prior. Ipoh is his turf, though he didn't always live here whenever he was in Malaysia. He'd discovered some vegetarian restaurants within walking distance from our apartment, so we walked there together and ordered some delicious veggie food. His experience of living in Malaysia is a vastly different experience from our – in the grand scheme of things – fleeting visit.
Then we walked through the Old Town to various places until the heat brought us to an OldTown White Coffee café. We'd drank instant coffee from this brand before in Penang. The company hails from Ipoh and it's a point of local pride. I'm sad to say that when looking up the brand, I found out it had been bought by Dutch company Douwe Egberts in 2018.
We continued our conversation there until it was time to go home. I'm confident we'll meet again. I somehow developed a blister from the flipflops I've walked around in for years.
Sunday + Monday, 26th + 27th of July: Traveling from Taiping to Ipoh: not a great start
What a shitshow.
We wanted to take the 11:50 train from Taiping to Ipoh, so we left the hotel to arrive there 20 minutes in advance. Upon arrival, we saw that the train was delayed by about 40 minutes. This isn't the worst thing in the world, but we had been quite uncomfortable at the Bukit Mertajam train station five days prior when we traveled to Taiping. This is because the waiting area doesn't have airconditioning. The 45-minute train ride was very pleasant.
Our Airbnb host in Ipoh had been very responsive up until this day. We had asked him if an early check-in would be possible, but he'd stopped answering. We thought that our worst-case scenario was having to hang out in a café or restaurant for a few hours upon arrival.
Our first Airbnb in Ipoh was in a condo called the Majestic. Everything was closed around it, which might mean that Sunday is also a problem day in Malaysia. So far we hadn't noticed that Sunday was special, especially not in Penang. We eventually found a cute restaurant to eat some vegetarianized noodles while we waited for the cleaners to be done in our apartment. Then we got the key, took the elevator to the right floor, unlocked the door and…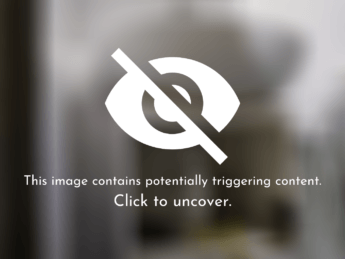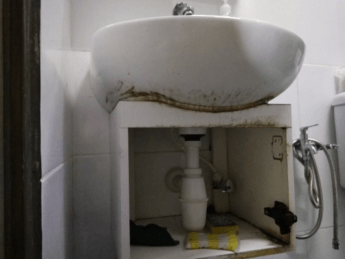 Yikes!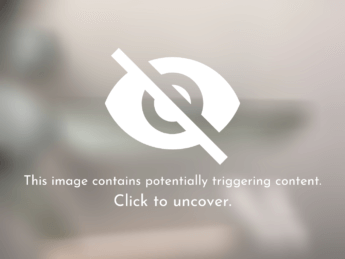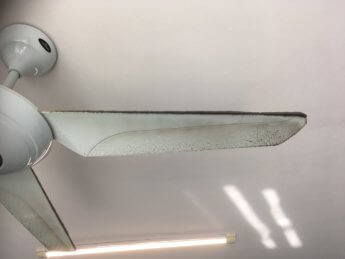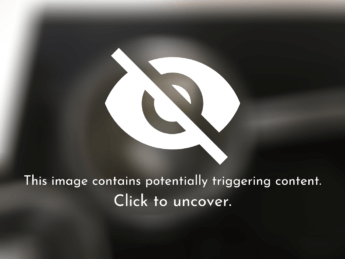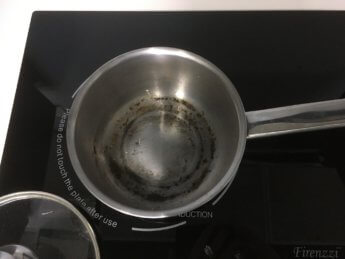 The apartment was so filthy that I'd decided we couldn't stay here for ten whole days. I found another Airbnb and booked it, promising Jonas I'd cover the costs if Airbnb wouldn't agree with our assessment. We contacted our host in the filthy apartment and told him this wouldn't be fixable in one day. He didn't accept our booking alteration, so we knew we had to let Airbnb be the judge. It would have been €255 for me to pay, which is a lot if you don't actually make any money.
The next day, after one crappy night of sleep and lots of sneezing and itchy eyes, we left the shitty apartment as soon as we could check-in at the new apartment. The new one is in the Old Town of Ipoh, so we had to take a Grab. The new place is really nice and not a health hazard.
Here's to hoping we get our money back from the run-down place. Stuff like this with Airbnb has never happened to us before, despite the many horror stories out there. Still, I feel a little bit homesick to the worry-free apartment we had in Penang. I'd forgotten that travel can be tough at times.
Saturday, 25th of July: Jonas drives an ATV
After relaxing at the hotel and moving some projects forward the previous day, we wanted to do something exciting again. Jonas really wanted to go to the ATV adventure park at the foot of Bukit Larut and drive a quad. We'd messaged them on Facebook a few days earlier asking if we needed to reserve a quad (or two) at a specific time. They said we can just show up instead. Which we did.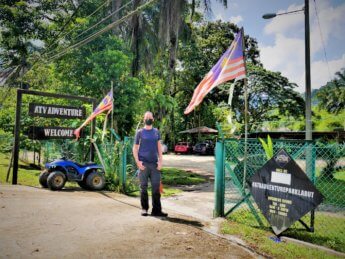 But when we got there, all the quads had been rented by a big family. Of course. So the woman who ran the place suggested we'd visit the botanic gardens across the street for forty minutes. The botanic gardens were closed. Of course. So we went to the restaurant of a hotel called Kamalodge next door to have a drink and wait.
Once we returned, I couldn't find a helmet to fit my awkward head. I didn't feel like driving, so I would sit on the back of Jonas' quad. We first had to do a few practice laps over bumps and through muddy water before starting the tour. I wasn't feeling it, so I decided to get off and let Jonas go by himself.
We were about to arrange a Grab for me with Jonas' phone since I've been shadowbanned from using Grab somehow. This was a little cumbersome, but then the woman who runs the place offered to drive me back to the Novotel. This was very nice and almost felt like hitchhiking since I sat in the front seat. She told me about how Taiping never had a COVID-19 case and a little about the history of Taiping. That was very kind.
Back at the hotel, I continued working on a big video about kayaking to Pulau Tikus. I had a good 1.5 hours of working alone while Jonas was having the time of his life. Once he returned, I was happy with what I got done and Jonas was still high on adrenaline from the fun ATV adventure. Somehow, he wasn't very muddy. The guy who he did the quad tour with drove him back, which was also very kind.
He told me it was a good call of me to not join the ATV adventure if I wasn't feeling well, since it was a lot of bumpiness. The tour also went all the way to the Sungai Larut, which is the same stream as where the Burmese Pool is at, but a bit further downstream. Jonas enjoyed it a lot and directly searched for other places to do quad trips, such as in the Cameron Highlands. I told him to maybe slow down a little.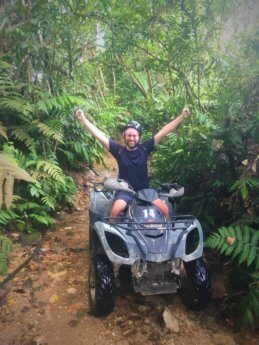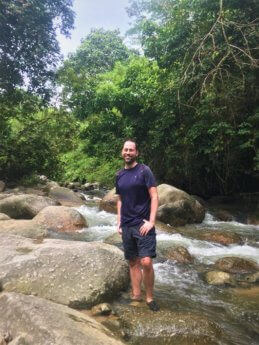 FYI: we paid RM 150 for one person on one quad. It includes the helmet and water shoes if you want to change. For two people on one quad, it would have been RM 200. I recommend contacting them on Facebook beforehand and booking a specific timeslot and a number of quads in advance so you won't struggle as we did.
Thursday, 23rd of July: Soaking at Burmese Pool
Jonas wanted to head out early today, so after the hotel breakfast, we took a Grab to the waterfall at the foothills of Bukit Larut. The Grab couldn't drive all the way, so we walked part of it up past gangs of monkeys. There are two Hindu temples there, of which one is under renovation and the other one is active. Jonas and I still haven't set barefoot in a Hindu temple yet. We're both not sure what the rules are. On the other hand, we're both quite comfortable with Buddhist temples since Thailand and especially Myanmar.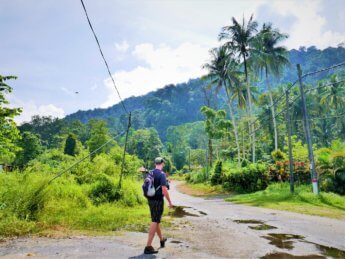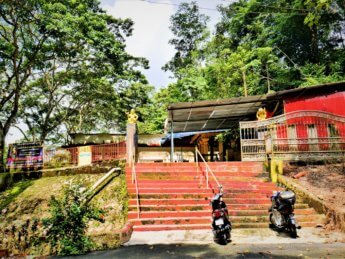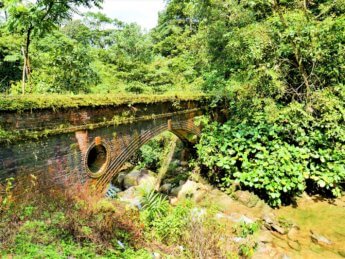 The waterfall here is the same that we look out on from our hotel room, but only the lower end of it. There are some side trails that would probably lead us closer to the action, but there are yellow tape and signs in Malay saying something about not going there during the MCO.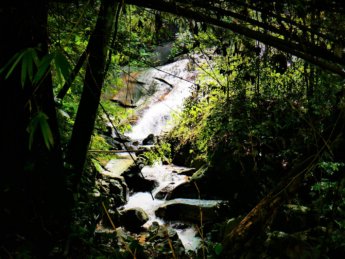 After that waterfall, we walk to the entrance road of Bukit Larut, also known by its colonial name Maxwell Hill. We're inquiring about the jeeps that go up the track to the summit some 1000 meters up. A guy in uniform tells us it's closed for today and only figure out later that the jeeps won't drive to the summit until 2021 because the track is under maintenance. Someone else tells us we could hike it up, but we'd rather do a smaller hike. Jonas also really wants to drive an ATV ('quad') in the foothills instead.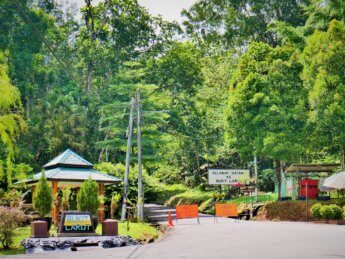 One family shows up to the park entrance and wants a photo of their adult son with us. I quickly put on my face mask to comply with the rules. This tells us that we're still (or again?) a rare sight in Malaysia. I don't know, maybe Taiping isn't that much on the tourist trail after all.
Then we walk to Burmese Pool past the well-maintained Taiping War Cemetery. That's where Allied WWII soldiers are buried from various nations and religious backgrounds.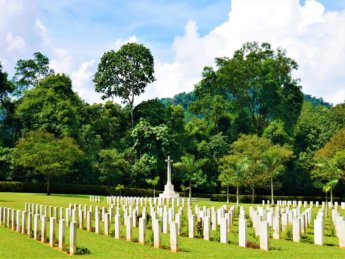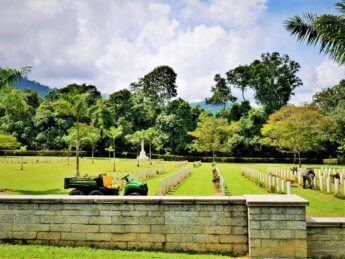 At Burmese Pool, we enjoy a soak. It's a river with plenty of cold water coming down Bukit Larut. A group upstream holds a barbeque and there are only a few other individuals enjoying a dip in the water. We chose a spot downstream from the bridge to soak. Meanwhile, rain clouds are closing in over the valley. We know we can't stay too long here.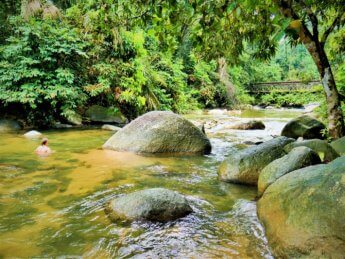 On the way back, it takes a while for our Grab to arrive. We have a chat with an older Muslim woman who speaks better English than us and is curious as to where we're from. The roads close to Burmese Pool are nearby a driving school. Nearly all cars on this stretch are driving lesson cars with a big L and sometimes young and insecure drivers behind the wheel. One woman in a car (not a driving student) stops for us while we're waiting on the corner and asks us what we're doing here and if we need anything. I tell her we called a taxi and are waiting for it to show up. Perhaps she would have given us a ride back to town, but we'd already arranged a Grab and her safety from us is still more important than my desire to hitchhike.
Our Grab shows up and the driver tells us he just drove from Penang to Ipoh and only happened to drive by Taiping. So apparently it's not outrageous for people to take a Grab for more than 100 kilometers. We're still not sure if it's better for Grab drivers to have really long rides or if it's better for them to have many short rides. Once back at the Novotel, Jonas realizes we only paid for the Grabs today and that we didn't need to pay entrance anywhere.
Wednesday, 22nd of July: Taiping Lake Gardens
Waking up in a different bed for the first time in four months is quite strange. We're taking it easy today, so we first go to breakfast and do some work. At breakfast, there's no buffet because of the new SOPs. We have to pick one of three breakfasts: American, Malaysian, or Healthy. We go for Healthy Breakfast because it's vegetarian, but it comes with a bucket of unhealthy Froot Loops which we ignore.
In the afternoon, we head out to visit Taiping Lake Gardens (Taman Tasik Taiping). It's not far on foot and quite enjoyable despite the humidity and the heat. Rain is in the forecast, which just seems to be the standard guess. We manage to visit this park in between showers. The road that surrounds it is often interrupted by a tree supported by metal beams. The disproportionately-large Novotel towers over the city and is always an easy reference point – much like the Komtar in Penang.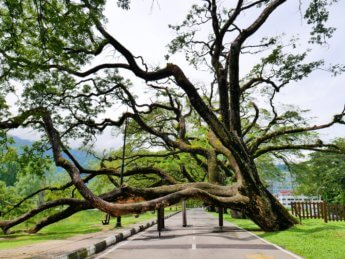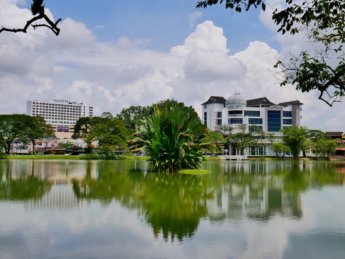 Taiping Lake Gardens used to be a tin mine before they turned it into a city park. That's why the lakes have such irregular shapes. We spotted one monkey, two giant lizards (or tiny alligator? The jury is out), one turtle, many butterflies, and dragonflies. There are many cute bridges, including a zig-zag bridge.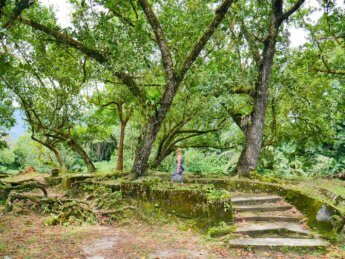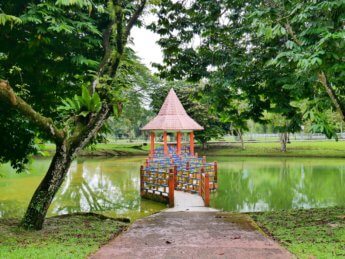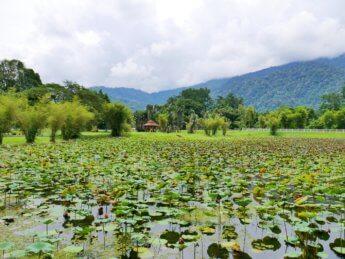 In the evening, we eat at the more upscale Jia Yi Dao (家一道) vegetarian restaurant and eat like royalty, but without much food waste and certainly without the price tag. The food they serve here is again a whole different category of Chinese Buddhist vegetarian food. It costs double of what we paid at Tian Tian the day before.
Tuesday, 21st of July: Traveling from Penang to Taiping
Our train would only leave at 16:11, so we had the whole morning and part of the afternoon to finalize packing, cleaning the apartment, and enjoying the view one last time. We wanted our last meal in Penang to be two dry noodles with a side of satay from Pinxin, so we ordered from them one last time. It's our absolute favorite delivery food.
At 15:00, it was time to go downstairs with our heavy backpacks and get into a Grab to the Bukit Mertajam train station on the mainland of Penang. We finally drove over one of the two huge bridges, which I'd hoped to hitchhike across. Hitchhiking is off the table for now, because the Malaysian government still forbids it to ride with non-family members in a non-taxi.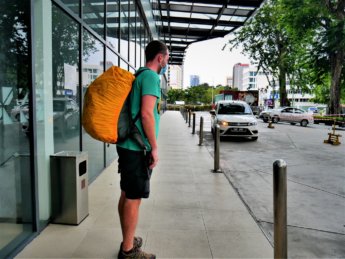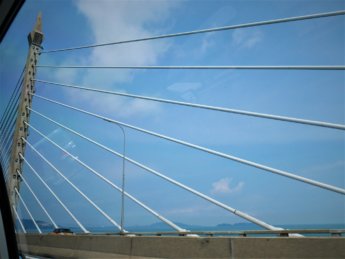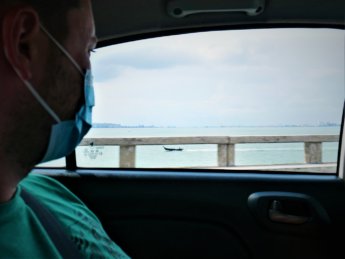 At the train station, we used the MySejahtera app (Play Store or App Store) for the first time. MySejahtera is the Malaysian government's app to track COVID-19 and is optional. We hadn't used it in Penang because Penang had to be different and used something called PG Care, which just required a QR code scanner. The MySejahtera app hadn't prompted the 'update risk status' survey on my phone yet, so when I checked in it said I was "high risk" in red. Shit. I finally got the survey and filled in. Then my profile turned green ✔️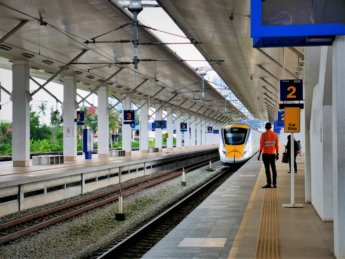 The train ride to Taiping was less than an hour and our tickets cost us RM 48 in total when bought online. The train was really pleasant, clean, and modern. There was a restaurant aboard our car with quite a big menu. It also had a small prayer room, clean toilets to wash one's hands, and a TV screen with COVID-19 information in Malay and English. I kept my mask on the entire ride and looked out the window onto the green hills and palm oil plantations. And then we arrived already.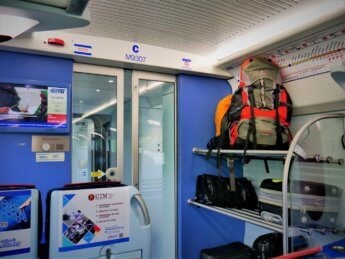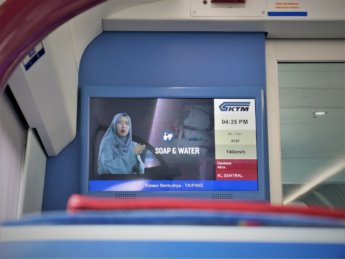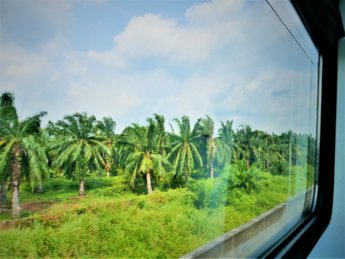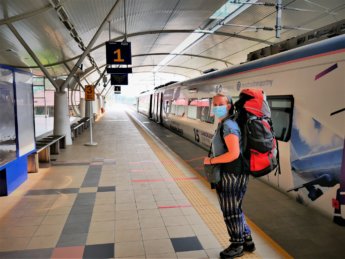 On the other side, we took another Grab to the Hotel Novotel. The first Grab, the train tickets, and the second Grab had cost us RM 89 in total. For RM 136, we could have taken a Grab all the way from Tropicana 218 to the Novotel.
We checked in and asked about the pool. Unfortunately, they'd kept their pool closed. I'm not sure if the SOPs are much more stringent than they are for condos. Anyway, we found our way to the room, which has a pool view, lake view, and garden view. There's even a waterfall in the hills. It's pretty nice with the moody rain. I'm happy to be traveling again.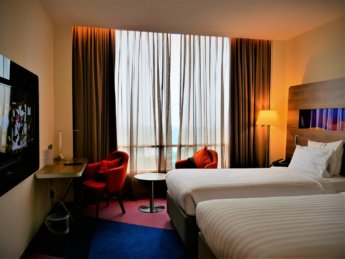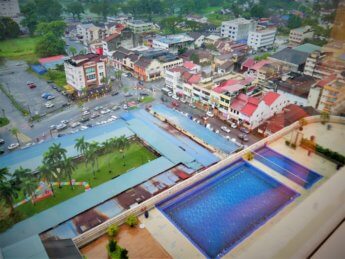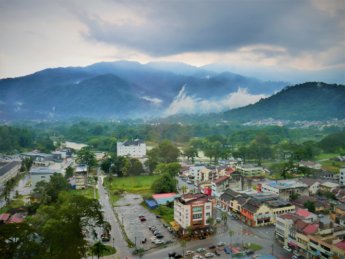 In the evening, we check the daily cases update from MalaysiaKini before heading out for food. The number of new coronavirus patients has steadily gone up in the last days. This worries me a little. Perak – the state in which Taiping is located – has two active cases. Pulau Pinang – the Malay state name for Penang – is still at zero cases.
We go to the food court we look down on from our hotel room to get some vegetarian food at Tian Tian (天天) restaurant. By now, we know enough about the food here to know what to order with confidence.
Background: Traveling in Malaysia on our expired tourist visas
Our entry stamps into Malaysia told us we could stay within the country until May 26th, 2020. With the various lockdowns, Malaysia's government allowed us to stay beyond that exit date with every extension of the Movement Control Order (MCO). Malaysia's government also encouraged domestic tourism once the state borders reopened. Although we're not Malaysian citizens, we'll gladly contribute to domestic tourism in Peninsular (West) Malaysia.
We say Peninsular Malaysia because the states of Sabah and Sarawak (and even little Labuan) are a bit difficult to travel to. I'd LOVE to go to East Malaysia, but they make their own immigration rules. That's why we'll stay in Peninsular Malaysia for now until we run out of places to visit on the mainland.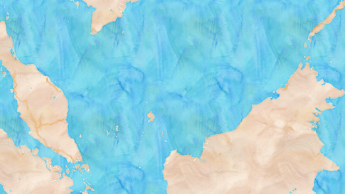 The unpredictability of the pandemic makes it difficult for us to plan anything other than travel within Malaysia. We could see how Malaysia might form a travel bubble with other countries like Brunei and Singapore, but those plans might be wiped off the table at the slightest increase in cases.
My travel philosophy right now is to stay put in this region and wait until travel bubbles start to emerge. The advantages of staying within a remote travel bubble can really give us cool travel opportunities without mass tourism from abroad. It's an opportunity to explore places in depth. Sometimes I do feel the itch to leave Malaysia and see something new or familiar but different. I still dream of traveling to Timor-Leste and South Korea. But right now it's best to stick to what the pandemic has dealt us: beautiful Malaysia.
Thanks for reading! Feel free to share