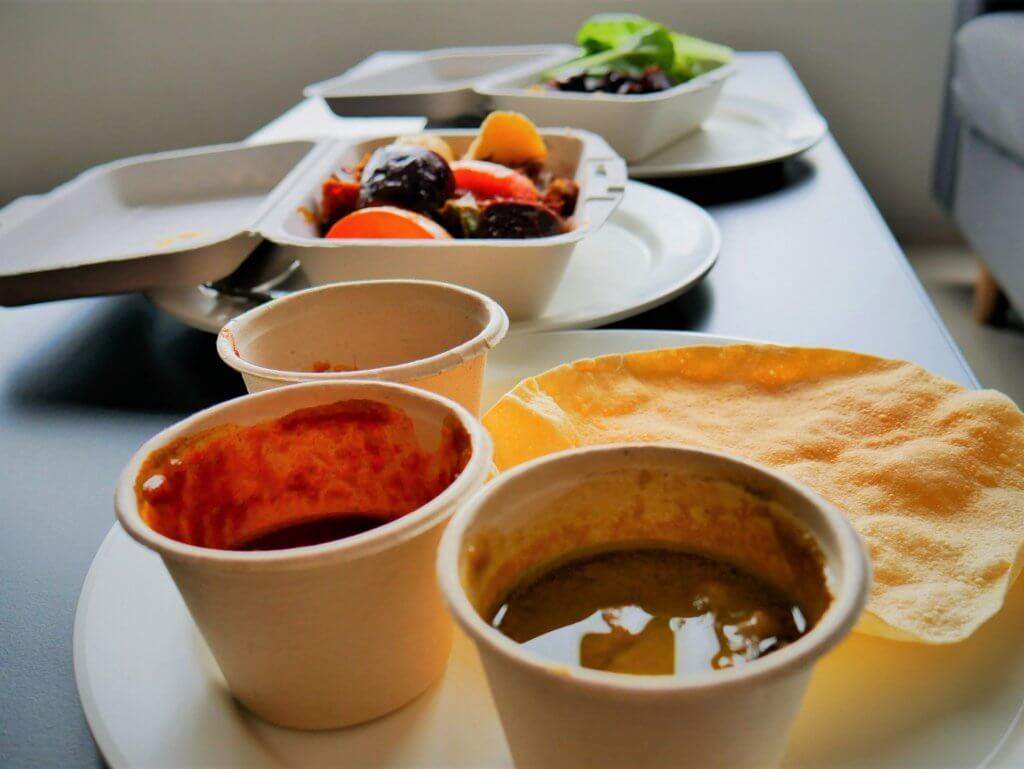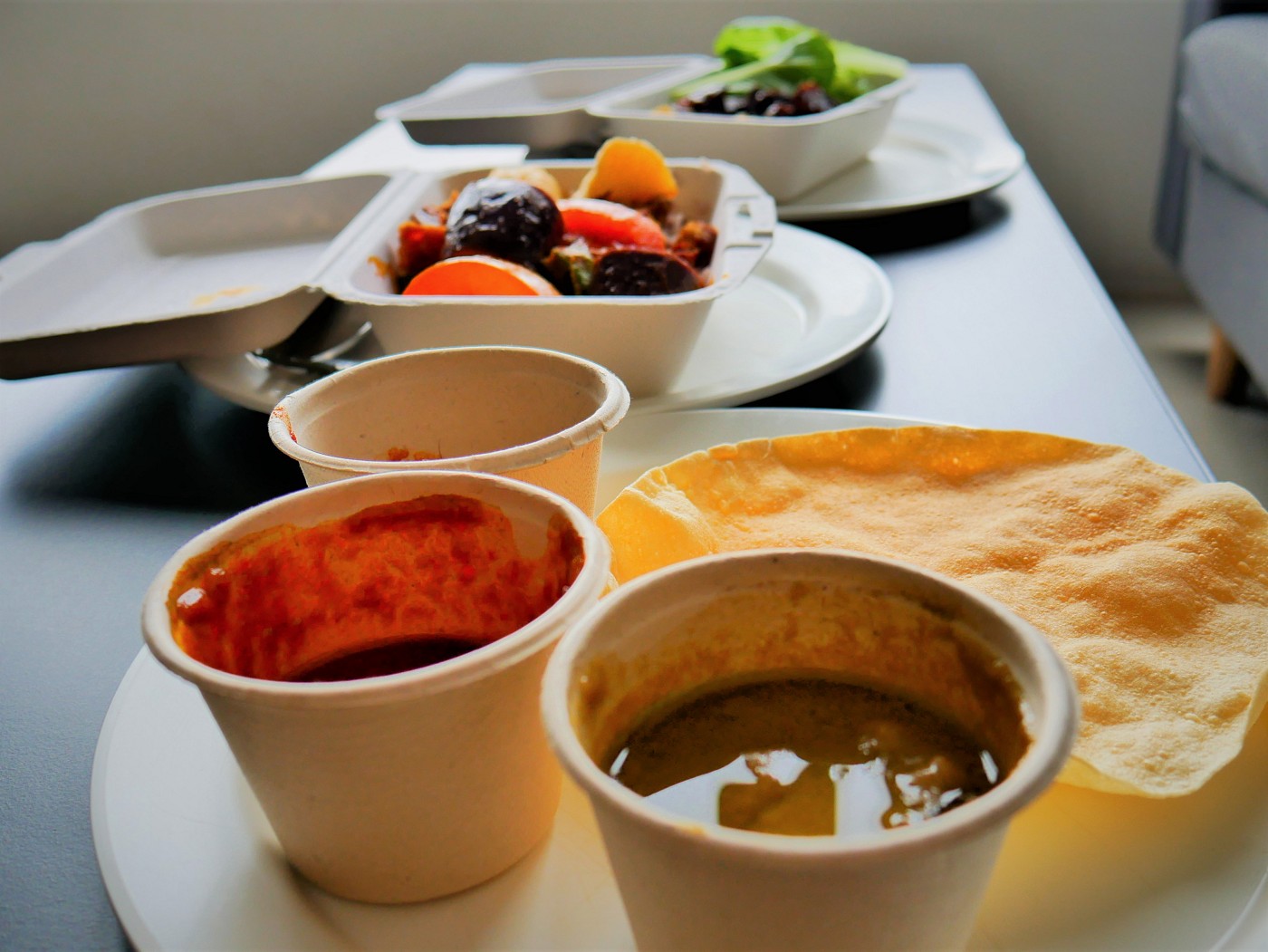 During the lockdown in Penang, Jonas and I have become somewhat vegetarian delivery food connoisseurs in our area of George Town. Our kitchen is slightly underequipped and we tried to limit our supermarket visits during the height of the pandemic in Penang. That's why we ordered most of our meals (twice a day) online. Over the course of 121 days in Penang, we've ordered from 31 different restaurants. We only included our favorites on this list.
Most of our food came through Foodpanda and Grab, although we also used Folo. We were happy to support local restaurants and delivery drivers, but packaging-wise it had quite an impact. We mostly ordered from the vegan/vegetarian places that have biodegradable packaging, though.
Know that all these delivery apps use a delivery circle; if you're in a different part of Penang, you might not have the same restaurants available as in this list. This list is based on the location of Tropicana 218. I ordered the restaurants by putting our favorites at the top. Full-vegan or vegetarian restaurants are marked with 🥬 emoji. I included some emojis for spiciness 🌶️, being Jonas or my favorite dish 🏆, and a novelty indicator ⚗️ to point out something that had super interesting flavors to us who are from Germany and the Netherlands: two rather bland cuisines.
Only one restaurant wins 🤑, which represents the best value for money.
Pinxin Vegan Cuisine 🥬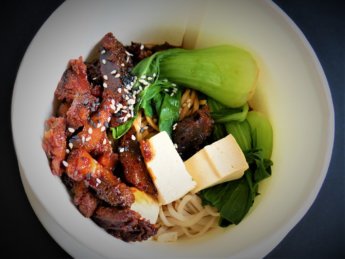 Click here to order Pinxin from Grab. You can also visit and order from their website or message them on Facebook.
The absolute best food in Penang comes from Pinxin. Everything they cook is healthy, wholesome, and heckin' delicious. Pinxin also happened to be the first restaurant we've ever ordered from in Penang, so we've managed to build up quite a repertoire of dishes we've eaten from here.
All food at Pinxin is completely vegan. The food comes in some kind of biodegradable packaging. The dishes are mostly based on Chinese/Malaysian cuisine, but they also make some mean western-style food. I've personally tried every single noodle and spaghetti dishes, so I can tell you what are the best things to order as they appear on their menu:
Food from Pinxin is on the expensive end of the delivery food spectrum, but it's absolutely worth it. Order before 19:00 to get the best food. Sometimes the noodles are a little shorter if you order later. You'll get the best from their chefs if you order for lunch.
After the lockdown, we've also visited their restaurant in person. They have good rules for social distancing and hygiene and we recommend going there in person occasionally as well. They have a shop where you can buy jars of their homemade sauces and sides. If you go there again, you can return the (cleaned) jars to the owners to save resources. Their in-restaurant menu contains a handful more dishes from almost every category that sometimes isn't (yet) sold online. That's how we ate their nasi kandar for the first time.
Idealite Vegetarian 🥬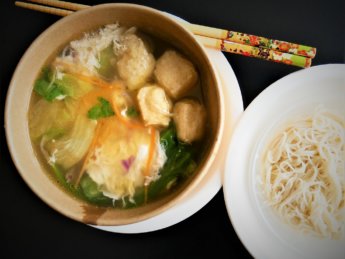 Order Idealite from Foodpanda or on GrabFood. You can also message them on Facebook.
There are a couple of Idealite restaurants across Penang. When I first read their online menu, it sounded very good until I hit the eventual "vegetarian fish head vermicelli". I decided to message them on Facebook to ask if they are truly vegetarian, which they are. They also have dishes that are vegan, but you might want to double-check with them via Facebook. Over the last few months, Idealite has been my favorite place for the salad, the egg-drop ginger noodle soup (pictured), and the wholesome beverages. It's nutritious and delicious!
Ordering one main per person will get you full, but if you're very hungry it might be nice to order one of the snacks on the side. Idealite wins first prize for the best sauces ever. Almost every dish comes with some special sauce that is just so good. And the eryngii mushrooms they use are perfect to chew down on.
We later visited Idealite in person at the Gurney Plaza mall. They're very serious about their wholesome shū (舒 – comfort) food. It's one of these Chinese vegetarian restaurants that doesn't use garlic or onion because of a Buddhist restriction. They're also very serious about hygiene. All in all, visiting this restaurant raised its esteem even more in my mind than before. I'm sorry I ever doubted you, even though I cannot bring myself to order the vegetarian fish head vermicelli.
Flip Burger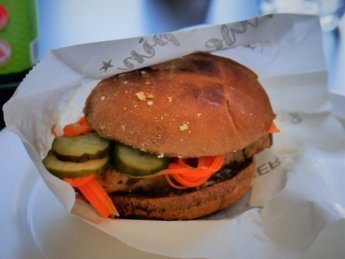 You can click here to order Flip Burger from Grab (not Foodpanda currently, but it might come back). You can also check out their website or message them on Facebook.
In Penang, there are two branches of Flip Burger. The one in George Town hides in Paragon Mall. They're a non-halal restaurant that also has seven different "meatless" burgers made of a vegetarian patty. They are the best vegetarian burgers in George Town, hands down.
When you pick a burger, you also get to choose one side dish and one beverage. We always choose the sweet potato fries (heavenly!) and the Japanese wafu salad, which we then share with each other. For beverages, we always choose coke zero and Japanese green tea. Their packaging isn't biodegradable but everything always arrives intact. Their boxes can be washed and reused to store food.
During the late lockdown, Flip Burger ran out of meatless patties—which was probably our fault. We messaged them on Facebook about it and they followed up when they could sell us their vegetarian burgers again. Once they returned, we ordered again and also visited their restaurant in person in Gurney Paragon Mall.
The Leaf Healthy Recipes 🥬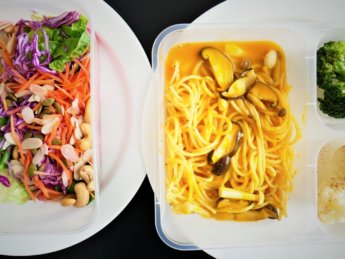 Type in "The Leaf" into the Folo app to find the restaurant. You can also message them on Facebook.
Food from The Leaf is probably the healthiest you'll find in Penang. Their food is all vegetarian or vegan, low in sodium, but at the same time very delicious and complete. Every meal comes with a side of steamed veggies and/or a small salad. If you just want a very tasty vegan salad, this is the place to get your food. It's flavorful, but never too spicy if you order one of the Asian dishes.
They also have some really nice and interesting homemade drinks to slurp along with your food.
Hungry Bowl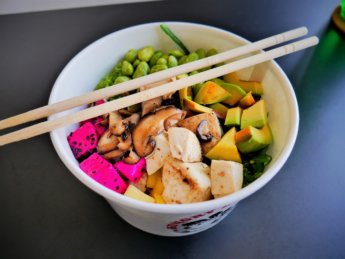 Order Hungry Bowl from Foodpanda.
For just RM 16, you can create your own scrumptious bowl at this restaurant. This place isn't only for vegetarians and vegans, so you might have to Google a bit to find out what ingredients are up your alley. Some items cost an additional few ringgit and we always recommend getting a drink along with your bowl.
We actually encountered this restaurant for the first time on foot during the CMCO. Inside their restaurant, they're actually running three businesses: VC43Cafe, Tic Tac Toast, and Hungry Bowl. Their packaging is really great and never created accidents.
Mr. Shawerma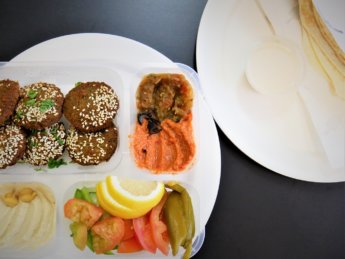 Order Mr. Shawerma on Foodpanda. You can also contact them on Facebook.
Falafel is still my go-to vegan/vegetarian meal wherever I go. It's always nice to not have to worry about the chefs using smelly fish sauce or shrimp paste. Mr. Shawerma's falafel platter (pictured) costs RM 29 but feeds two people. It features six scrumptious falafel pieces, a big dip of hummus, two smaller dips of baba ganouch and muhammara, a salad with plenty of acid flavors, and two wraps with a tahini dip. If we're very hungry, we might order a Greek salad on the side or an extra box of baba ganouch or hummus. If you don't finish it, just drop it in your fridge and spoon it up the next day.
Sri Ananda Bahwan Garden Restaurant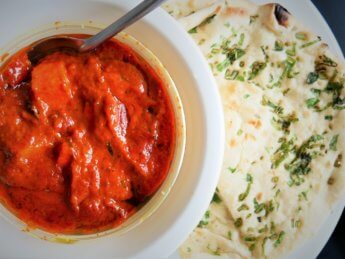 Order Sri Ananda Bahwan on Foodpanda. You can also message them on Facebook.
One of our favorite Indian delivery restaurants is Sri Ananda Bahwan. Throughout most of the lockdowns, Woodlands wasn't available, so we searched for another place that does paneer dishes and found this place. This is the kind of food that ignites my wanderlust and piques my curiosity. It's so flavorful and filling you'll need to take a nap afterward. Order three or four food items to feed two hungry adults.
There's also a purely vegetarian Sri Ananda Bahwan restaurant in Penang, see map.
Woodlands Vegetarian Restaurant 🥬🤑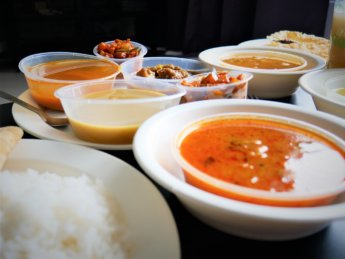 We already knew Woodlands as a top-tier vegetarian restaurant to visit before the lockdown. During the MCO, we couldn't find them on the delivery apps, so we mainly ordered our Indian food from Sri Ananda Bahwan. During the RMCO, Woodlands suddenly appeared on Grab so we ordered from them.
They had a special deal when we ordered: one maharaja thali (🌶️) for RM 25. This seemed like a low price, so we thought we needed to order two to get full plus two masala teas to slurp. Ooh boy did we miscalculate that!
The Grab driver delivered our food with a car. It was too heavy to lift through the window, so he had to get out of the car and get two huge plastic bags with lots of rice and liquid food in there. Plus two teas. It was heavy. We only noticed the gravity of our choices once we opened up the bags in the kitchen.
One Maharaja Thali will absolutely get two people full. It can probably feed four people. It was so much food, that we didn't have enough plates or enough space on the table to fit it all. We tried to put as much on the table as possible and still had to improvise with the food. In total, we ate from it for five days. We reheated the food on the stove and still had enough rice left to eat some with two curries from Sukhothai, see further down this article.
All in all, it's really great and diverse food that keeps well in the fridge. None of it was too spicy for us and we managed to eat it all. Despite its dangerous looks, I highly recommend biting into the chili (⚗️) that comes with the papadums. It's actually just really salty and roasted and not spicy at all. I believe they're 'mor milagai' chilies, but I know nothing.
Lily's Vegetarian Kitchen 🥬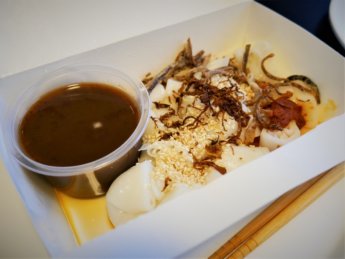 Order Lily's Vegetarian Kitchen on Foodpanda.
This is one of the few places that we visited first before we got them delivered. Lily's is a business that operates a vegetarian café and a vegetarian restaurant in Penang. We've only been to the restaurant, which focuses on affordable Chinese food. Getting it delivered will cost you a bit more than in the restaurant, but it's still perfect for those days you can't or don't want to go out. Don't feel bad about that.
Try out all the vegetarian versions of the famous Penang-style cuisine.
Roti Canai Rizqi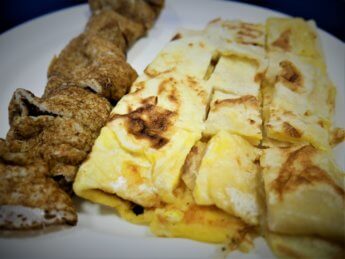 Order Roti Canai Rizqi from Foodpanda.
There are about a thousand places that make roti in Penang. I don't know how Rizqi became our go-to roti place, but here we are. Not all their food is vegetarian, so often I stuck to vegetarian food while Jonas ate the curries that came with the food. Because we have this system where we calculate how much to order based on the price, we ordered waaaay too much food the first time. That's how cheap it is. But it's good to know that the roti will survive in the fridge for a day. Just expect to eat pancakes for a while.
This place is good to order from if you're a mixed vegetarian/non-vegetarian group; if you order enough, you'll receive bags and bags of chicken-based curry, a beef gravy curry, and a vegetarian dal (lentil curry). It will be a proper roti party. We still don't know what the rule is when you get a dip, but most of them won't be vegetarian and it's a game of roulette. Since everything is made with ghee, none of it is vegan.
The rotis come wrapped in a piece of plastic that's then wrapped inside newspaper to keep it warm. It will stay warm forever in the newspaper wrap if you run out of plates. If they cool down, the pancakes become harder to chop.
Wheeler's Café & Bar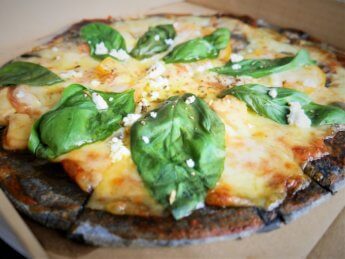 Order Wheeler's on Grab and on Foodpanda. You can also visit their website or send them a message on Facebook.
The best pizzas in Penang originate in the kitchen of Wheeler's. They used to write cute messages on the box during the hard MCO, but unfortunately, they've stopped doing that. It's still a damn good pizza though, with a very thin crust and lots of cheese. Many of their pizza doughs are of the charcoal kind, which is very 2020 and I'm not sure if it will last. Their pizza boxes have improved over time.
Another thing they're good at is broccoli. I can't put my finger on it, but their vegetarian pasta dish has the best broccoli I've ever eaten.
Besides pizza, they also have delicious pasta and breakfast dishes inside their restaurant. Many vegan and vegetarian things they have there don't appear on their delivery menu, so it's worth going there in person. Although the place attracts a lot of children, it can be nice to visit in the evening to add a beer to your food.
That's Nacho Cheese

Order That's Nacho Cheese on Grab. You can also message her on Facebook.
This spot was originally reserved for Holy Guacamole, but then we saw we could order from That's Nacho Cheese on Grab. We actually went to this place in person the first time and then ordered it to our home. The Californian lady Ladaun who runs this Tex-Mex restaurant just moved from another place to inside our delivery circle, so that's probably why we hadn't heard of it before.
The best thing you can do for yourself is to order the veggie quesadilla, the vegetarian quesadilla taco, and the classic veggie nacho fries. You can also build your own taco and make it vegetarian – and maybe even vegan – to your liking. It's yummy comfort food and her new location in the food court Red Garden Food Paradise is also a great place to visit if you're looking for a good time.
Din Tai Fung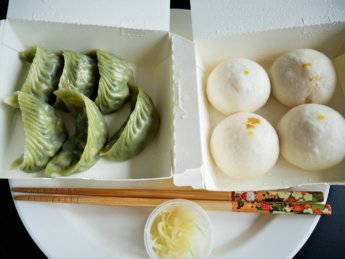 Order Din Tai Fung on Grab or Foodpanda.
This non-vegetarian dumpling restaurant makes a few dishes that are of interest to vegetarians. Pictured here are the vege mushroom dumplings and the mini lava custard buns. This is a perfect small portion to eat along with your leftovers from that time you ordered too much roti. Especially the lava custard buns are gooey goodness. Don't forget to peel off the paper on the bottom!
They also have a nice steamy veggie dish called organic pea sprout with garlic and the vegetarian mushroom buns. It's not something you'll order all the time, but it's very nice to order every now and then. They also have vege & mushroom fried rice, mushroom & egg tofu noodle soup, and mushroom & egg tofu dry noodle, which sound vegetarian but we haven't ordered them yet.
Janxden Greenlife Cafe 🥬
You can order Janxden Greenlife from Grab or Foodpanda. If you have questions, message them on Facebook.
We originally ordered from Janxden because they had pizzas, but we stayed for their other dishes. Pictured here is the salted egg fettuccine ⚗️, which is a whole lot of interesting flavors. Salted egg flavor isn't exactly up everyone's alley, so we also highly recommend their black pepper burger 🏆 (Jonas).
In the end, we regret not ordering more often from Janxden. Their menu is huge and has so many interesting vegan and vegetarian flavorful goodies we'd love to try.
Yun Shan Ge Vegetarian House 🥬
Order Yun Shan Ge on Grab.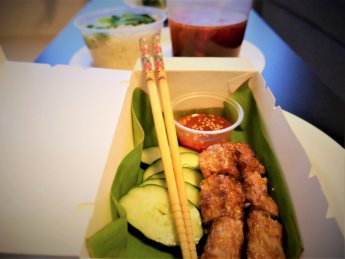 We didn't order a whole lot from Yun Shan Ge, which we now regret towards the end of our stay. It's so good!  Yun Shan Ge falls into the category of Chinese Buddhist vegetarian restaurants. They also have a lot of dishes from Malaysian cuisine. We walked past their restaurant once, but we weren't hungry at that time. It's a little fancy.
They're in the business of 'mocking' a lot of non-vegetarian dishes, such as the Loh Bak in the picture, which is normally a pork sausage.
Honorable Mentions
Sukhothai Beef Noodle House

Order Sukho Thai Restaurant from Foodpanda or under the name Sukhothai Beef Noodle House on Grab.
So, the Thai food we order from Sukhothai isn't actually vegetarian. This one is for the flexitarians. The panang curry (left) and massaman curry (right) are usually made with chicken. We always put in the phrase "Can you replace the chicken with tofu, please?" in the comment box under the dish. This works in about four out of five orders and we recommend ordering here for lunch, not dinner. If it didn't work, Jonas had a lot of eating to do.
But yes, these dishes – plus the highly-recommended fresh rolls with peanut sauce (top) – are absolutely mouth-watering good. We also sometimes ordered the Pad Thai, but it often smelled like it had fish sauce despite our requests not to use it and it always came with pork sausage, which I would collect for Jonas.
Halab Penang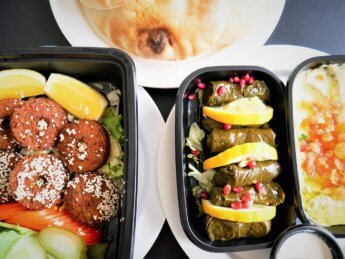 Order from Halab on Foodpanda or Grab. You can also message them on Facebook.
Halab Penang is a Syrian restaurant that also does an excellent falafel platter. The big advantage of ordering from Halab is that they have vegetarian dolma (i.e. grape leaves). So delicious! It's a bit more expensive than Mr. Shawerma, but you definitely won't regret ordering from here. If you're in it for the big monch, get some extra hummus Beiruti on the side. The falafel will come with two to four puffy pita breads which are great for dipping. Order before 18:30 to make sure you get many pitas.
Holy Guacamole
Order Holy Guacamole on Foodpanda.
An alternative to That's Nacho Cheese is Holy Guacamole. The times we ordered from here it was always the most expensive delivery food we got. But it's super tasty and it's clearly marked what is vegetarian. We recommend the pumpkin taco, the mushroom taco, their signature holy taco, mushroom fajitas, mushroom burritos, and mushroom quesadillas. Two adults should order three or four of these items to get full. We didn't even get to their vegetarian salads because it's on the expensive side!
Subway
Order Subway on Grab or Foodpanda.
Yes, it's just Subway. But it's a reliable place to order a vegetarian or vegan sandwich from if you crave something familiar and easy to eat. If you're planning a day trip somewhere near Penang, it's also nice to order some sandwiches the evening beforehand. They stay surprisingly firm and you'll have a delicious meal on your hike. Just remember to take your trash and beware of the monkeys!
Burger Society
Order Burger Society on Foodpanda.
There are only two vegetarian dishes at Burger Society: the vegelicious burger and the eggcellent burger. I messaged with them beforehand to establish that those burgers are indeed vegetarian. They said the vegelicious is made from black bean mushrooms and broccoli, and the eggcellent is just egg and cheese. The latter sounded just like a sandwich and not a burger, so we doubled down on the latter and ordered two vegelicious burgers.
It was a very delicious burger with more of a diner taste than Flip Burger. The patty was really great, especially with the melted cheese on top. The flavors are a bit more of the greasy spoon type, which not all people like all of the time. For an extra fee, you can get fries or a coleslaw salad on the side.
We chose this place during the time Flip Burger didn't have their meatless burgers, so we wouldn't have discovered it if not for the desperate craving for burgers. We'd definitely order from here again, even if Flip Burger is available.
Danish Briyani House (Lebuh Penang)
Order Danish from Foodpanda or Grab.
A third Indian option is Danish Briyani House. We didn't order very often for them, but Jonas loved their cheese naan so much that he begged me to put it in.
Restaurants That Are Mo More ⚰️🥺
Not all great restaurants made it through the lockdown.
Blue 🥬
We used to order Blue on Grab. Here is Blue's Facebook page.
Towards the end of the CMCO, we spotted a vegan restaurant called Blue on the platform. We'd never seen them before, so we assumed they were new to food delivery. For a few weeks, we occasionally ordered from Blue and dined on their tempeh, spicy dry noodles, and pesto spaghetti. A few weeks in, we saw they were offline. Once they were online again, we directly ordered from them, but then they somehow called us to tell us they had to cancel our order because they're out of business. We confirmed this sad news via their Facebook page.
Comparison of Penang's Food Delivery Platforms
Foodpanda
It's cheap and usually very fast. This is probably the reason why Pinxin left Foodpanda because their food takes some time. The best thing about Foodpanda is that you can also order via their website, which makes browsing for a place with two people or more very doable. You can also select something that if an item isn't available, it will either automatically cancel the order or still deliver you the other food or drinks in your order.
GrabFood
Grab is a must-have app in Penang anyway. The nicest thing about the GrabFood app is that you can tip your drivers in-app and don't need to carry cash to do so. Only recently they've also put their restaurants on their website for browsing. This is still a rather unpleasant experience and ordering via the website is clunky at best. I'm sure they'll change this soon.
Folo
We ordered from only one restaurant via Folo, but it was always a good experience. The nice thing about the Folo app is that the restaurant has your phone number in case they don't have something or want to double-check your request. We always tried ordering something special from The Leaf, but it was almost never in stock. They would call us about it and either replace the missing item with something else or give us a voucher for the next order. They also have a nice website.
Other Food Delivery Apps
Besides the three mentioned here, there's also DeliverEat, Quick Sent, and a few other players. Not all of these apps or websites have great programming. Sometimes your favorite real-world restaurant will only deliver through some obscure app. A few other places also let you order via Facebook message (very unreliable) and let you pay with one of the many Malaysian e-wallets. Without a Malaysian bank account, you won't have access to this. A pity!
About Vegetarianism/Veganism in Malaysia
Credit goes to Enrico Chee (on Instagram!) with whom I shared a vegetarian meal and who helped me navigate the language barriers.
Vegetarians and vegans might have a hard time upon arrival in Penang. There are so many different cuisines with different philosophies about food. If you're a foreigner, it can be very hard to navigate what is what. That's why we often started with the restaurants that very clearly mention 'vegan' in the name, or put in the work to make their delivery page very clear.
The easiest non-hipster restaurants for finding vegetarian food are the Indian ones. There are many Indian restaurants across Penang that only serve and deliver vegetarian food, which they will advertise in English in their restaurant name. I'm fuzzy on the details about religion and vegetarianism, but Hinduism and Buddhism both help create these options. They're not so great for vegans because they use a lot of honey and milk-based products, such as ghee.
What doesn't help with the possibility of miscommunication is that many Chinese-Buddhist vegetarian restaurants will have dishes like "fish head bihun" or "stir-fried noodles in oyster sauce" on their menu. It's supposed to be implied that the fish head will be made of some kind of mock fish. It made me think this type of cuisine is on the side of "fish don't count" vegetarianism, which would be a complete nightmare to me. Why would they use fish sauce or oyster sauce? Where do they draw the line?
Some of them add the adjective 'vegetarian' to it or use alternatives like 'vege' and 'veggie'. Even though I know now that it's truly vegetarian, I still won't order anything with the word "fish" or "shrimp" in it because sea creatures make me gag more than land creatures. And that oyster sauce? It's actually vegetarian oyster mushroom sauce—a distinction I wouldn't just omit.
Anyway, the words you'll be looking for are:
Sayur-sayuran in Malaysian. It translates roughly to "vegetables"
素 (Sù) or 斋 (Zhāi) in Chinese characters. The former translates roughly to "vegetarian" and the latter to "fast" as in fasting.
Vegetarian or vegan in English.
Want to Go IRL? Here's a Map of All Restaurants
No post is complete with a pleasant interactive map to track down your favorite Penang eats. Here you go:
Feeling Thankful for the Tips? Buy Me a Salted Lassi
Bitcoin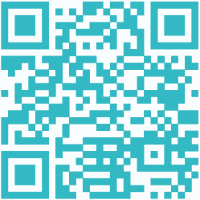 bc1q9a6w08a4gkx4gdvnh7w2vlkfzx4tlwfpfe6jm6
Open in wallet
Thanks for Reading! Please Share Your Favorite Vegetarian Restaurants in the Comments!