Mind of a Paddler
I've decided to expand my mode-of-transport horizon beyond hitchhiking. This is because hitchhiking is kind of like my comfort zone by now, which means that I've stopped learning, expanding, and evolving. For now at least.
As you may know, I've been traveling together with someone for a while now. There are many downsides to traveling as a couple – like longer waiting times when hitchhiking – but there are also some advantages. One of those advantages is the long-term planning of things that kind of requires two people. Operating a canoe or kayak on a long river is one of them…
I've done a week-long canoe trip with my father, step-mom, and sister on the Dordogne river in France. It was something not self-organized, so our stuff was brought from camping to camping every paddling day. I was still a young kid with little arm-power and a distaste for being the youngest in a group. I was in the kayak with my sister. My sister and I couldn't cooperate for shit. It was a big drama that is still somehow a topic until this day. But one can enjoy the activity while not enjoying the company. That's why it's good to do something on one's own terms, with people of one's own choosing instead of assignment.
It happens that my (travel) partner, Jonas, has "doing a long-term kayak trip" on his Dreamline – i.e. something he really wants to do. So when I suggested the idea to paddle a river for an extended period of time, it was received with unexpected enthusiasm. Also, Jonas and I have paddled together before on some lakes and the open sea, so we know that we can be a good team.
We'll try our gloved hands at the Danube.
Why the Danube?
Danube, Donau, Dunav, Dunaj, Duna, Dunărea, Danúbio, Tunë… All names for the same river that flows northwest to southeast through ten countries and many (capital) cities. It's the second-longest river in Europe after the Volga – which only flows entirely through Russia. The Danube is about 2850km long and flows from Germany to Austria, Slovakia, Hungary, Croatia, Serbia, Bulgaria, Romania, Moldova, and Ukraine.
When I went on my first solo hitchhiking trip through Europe back in 2013, I encountered and crossed the Danube river a couple of times. I even swam in it in Budapest, albeit very shortly due to the crazy current. That's when I got the idea of kayaking down the entire Danube, from the Black Forest to the Black Sea.
I also have a list with cool trips or itineraries I'd like to do, but it's not as fixed. Once I had the dream to do the Mongol Rally or to take the Transsiberian Train. Now I'd… rather not do those things (too organized). Other dream itineraries for me are surrounding the Caspian Sea (by any means), hitchhiking the Australian coastal road counter-clockwise, and crewing sailboats (anywhere).
But the Danube river trip always seemed a bit tricky, as I admit I never wanted to do it alone. I once met a British guy in Georgia who had (white water) kayaking experience and liked the idea. Cool. But somebody like that is unlikely to commit to a plan.
So when I returned to university to finish my studies and lived together with Jonas in one place for a year, we could do such things as a feasibility study. So that's what we did in 2018, besides writing useless papers, watching Netflix, and playing GTA V a lot.
Researching & Planning
We assumed that I'd graduate university in January 2019. Jonas did quite some research on which kayak would be suitable, how long it would take, and whether we'd want to join a tour. There are people that organize a yearly kayak tour of the Danube river from Ingolstadt in Germany to the Black Sea in Romania. They're on a very tight schedule and finish the whole trip in 2,5 months.
Kayak Tours
Jonas is an established Digital Nomad and I am too, sort of. This means that we travel and work full-time. Taking 2,5 months off work is technically an option for Jonas, but it's not ideal. And I absolutely loathe group travel and organized travel. Also, we like to take things slow, and maybe pick the days we're out on the river based on the weather forecast instead of paddling on – rain or sunshine.
Even if I was interested in hanging out with a group of people, we'd have not a lot of things in common; the people who do this trip in 2,5 months, or are (close to) retired from a lifetime of location dependence, or have to beg their bosses to take that time off work. They'd consider it a "once in a lifetime" trip, and think you can only do a few of those. While there's nothing wrong with that lifestyle or way of thinking, it's not my philosophy of travel and life; I'm aiming to live full-time in "once in a lifetime" mode while sharing that invaluable information with you people on the internet.
What Kind of Kayak?
So we decided to self-organize. But graduating in January means it's still too damn cold in Europe to do anything outdoorsy (except for skiing). That's why we hid in Cabo Verde for three months. Our reasoning was that come April/May, the weather would be good enough to spend multiple hours a day on a tiny inflatable boat. This one in particular:

That's right. We decided that an inflatable kayak would be the most flexible vessel for a kayak+work kind of trip. Turns out we actually bought a canoe and not a kayak, but canoe+work doesn't roll off the tongue very well.
There are multiple differences between a kayak and a canoe, some of which aren't very easily defined with modern designs. The main difference to me is that a kayak can be closed on top around you with the help of a spray skirt, and a canoe has higher raised walls and is open from the top. Jonas has a clear kayak preference because he isn't afraid of flipping and drowning while stuck in a kayak while I am terrified of that. He thinks canoes are wobbly and flip easily and has always felt safer in a kayak even though he's never done a 'Kayak roll'.
Another difference is the paddle: a canoe paddle usually is one-sided like a shovel, and a kayak paddle is double-sided and can usually be 'feathered' – i.e. you change the angle between the two blades. I really wanted double paddles and so did Jonas, so we ended up with a canoe that we propel with kayak paddles. Some passionate paddlers may frown upon that choice, but we're already messing with the whole concept by getting an inflatable canoe.
Mapping & Scheduling
Towards the end of our stay in Cabo Verde, I started measuring the river in Google Maps and marking each camping along the way. Our guess is that in the beginning, we'll be able to paddle 15km per day. After one week of paddling, we'd probably want to chill somewhere indoors, so we'd have to find an apartment, holiday house, or Airbnb. Our paddling speed will probably increase as we get more experience.
The scheduling led to the guesstimate that we'd like to do a one-week on, one-week off rhythm. Going all the way from Donaueschingen (the origin of the Danube) to the Black Sea would mean it will be very tight or even impossible. That's why we'd decided to split up the kayak trip and aim for Budapest in 2019, then travel for 1,5 years outside of Europe for variety, and then return and paddle from Budapest to the Black Sea somewhere in 2021. This is of course if it turns out we enjoy it. If we don't enjoy it/absolutely hate it, you might soon be able to buy our kayak equipment very cheaply off of us.
Ordering & Booking
We'd order everything we'd need for the trip off Amazon. Amazon has its own return policy of about 14 days. This means that we couldn't order our stuff to our parent's houses months ahead of time in case we'd want to return an item. Not every item has the same delivery date either, so we had to order some items to my mom's house in the Netherlands, and other items to his mom's house in Germany.
So we had to communicate these dates to our parents and book return tickets from Lisbon and order about 25 items to two different addresses and pick up items from a different address within four days and ask my sister to bring over a kickass tent and book the train tickets plus first accommodation in Donaueschingen. Luckily, Jonas is the most organized, competent, and versatile person I've ever met. But of course, we both got a bit overwhelmed with all the decision making involved in this endeavor.
The more we fixed, the more we realized that this trip is becoming a reality. Before that, it was all talk and no action. We could still back out and continue traveling by hitchhiking. There is no shame in that. But when thinking about it, this is really something we'd like to do. Those are our individual desires, but our collective venture.
Unlucky Planning Jackpot
But there is one thing we didn't take into account in our planning: public holidays. We left Cabo Verde on the 12th of April for Ponta Delgada in the Azores. That was during Semana Santa (i.e. the week before Easter). We flew to Lisbon on the 19th, which was Good Friday. Lots of businesses were closed until Tuesday. Then on the 25th of April, Portugal celebrates the Carnation Revolution in the Dia da Liberdade, or "Freedom Day". This was new information to us. So we had to deal with more irregular opening times, people being drunk in the streets, and fireworks (which is something I'm terrified of).
We arrived on the 26th of April in the Netherlands, which is one day before King's Day. It was also during the May holidays, which meant that Schiphol Airport was hella busy. So King's Day led to more irregular opening times. We left the Netherlands by train to Germany on the 30th of April. The first of May is International Worker's Day (Tag der Arbeit) in Germany, which means everything is closed and people riot/strike. This is also the one public holiday that the Netherlands does not participate in. Also, the region in Germany where Jonas is from does something called Maibaum, which is a difficult concept to explain.
So yeah, we had the whole jackpot of public holidays.
Testing & Packing
In the Netherlands
Once in the Netherlands, we had to unpack and test all of our gear. There were quite a few packages at my mom's home, including the unliftable package of the inflatable kayak. In the four days we were there, we tested out pretty much everything except putting the kayak into the water.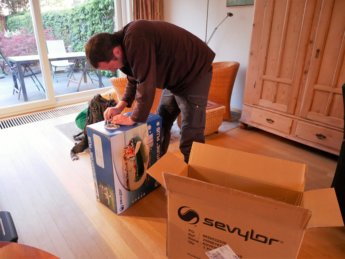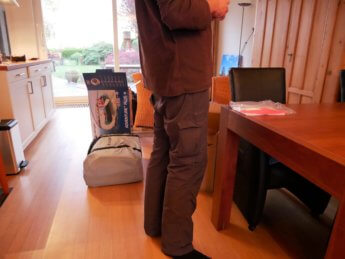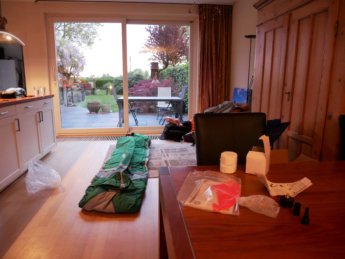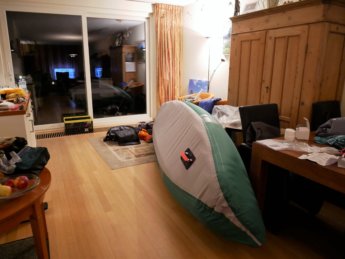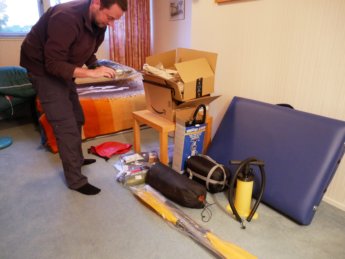 We inflated the kayak and attached the kayak sail to the front. We had to watch several YouTube videos to understand how to refold the kayak sail as it was absolutely counterintuitive. One night we set up the tent my sister had brought over from Spain. It was a good test because it rained the whole night long. The next day, we tried the ingenious cooking pot that I'd bought in the Decathlon in Ponta Delgada in combination with my old Chilean stove.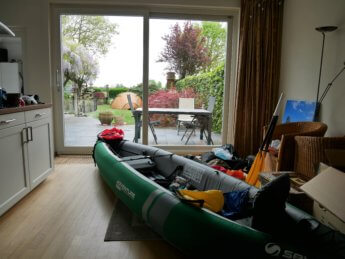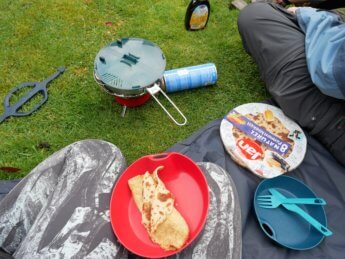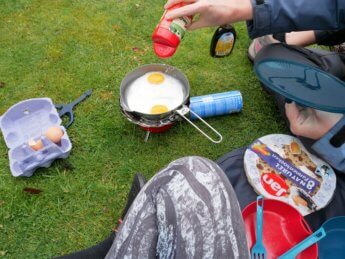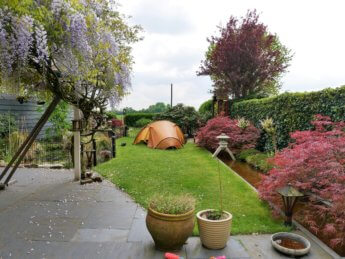 We also visited my grandmother and went out to eat with my father and step-mother. Then I had to manage my mom's household and recycle all the packaging. My mom had arranged that her neighbor would be able to drop us off at the train station, for which I had to make the first contact.
It took quite some time, cursing, and effort to pack everything up. We managed to squeeze the whole kayak into a backpack I'd used in Cabo Verde, an extraordinary feat of our packing skills. It's a little silly, but some of the most important stuff we ordered arrived in Germany instead of the Netherlands… like the waterproof bags that would carry all the items we were currently folding and packing. So we had to find a temporary solution to that issue. That solution was putting everything in the grey duffle bag that was the original packaging for our inflatable kayak/canoe. One item also had to be returned and some other stuff had to be ordered.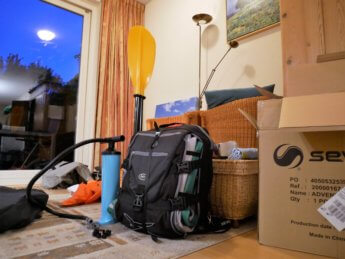 Jonas left behind his loyal Osprey backpack. We managed to pack half the amount of clothes we usually pack. Everything that wasn't directly useful for kayak+work – and general health and hygiene – got left behind. We truly packed a skeleton pack: the bare-bones minimum required items to perform this task… and it was still heavy as fuck.
In Germany
The friendly neighbor lady dropped us off at the train station (thank you!). En route to Germany, there was some trouble on the tracks. So we ended up taking four trains instead of the minimum of two. That wasn't a very pleasant experience with our heavy packs: one kayak backpack with one paddle, one huge duffle bag with all the other items, and one trusty Eddie Bauer day bag with our laptops.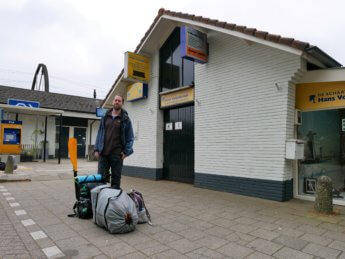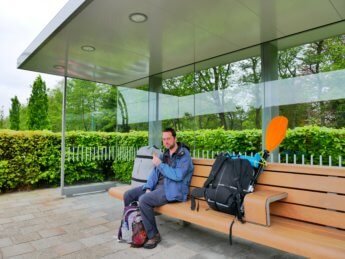 The German leg of the train trip started with getting into the ICE train in Utrecht, which was significantly more comfortable even though we had to unexpectedly switch trains. We enjoyed the spacious restaurant car instead of the regular seats because we didn't really know what to do with all our heavy luggage. We had a Weizenbier (wheat beer) to inaugurate the start of our paddle trip in Germany.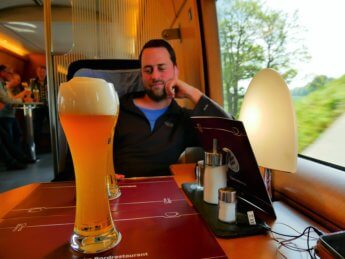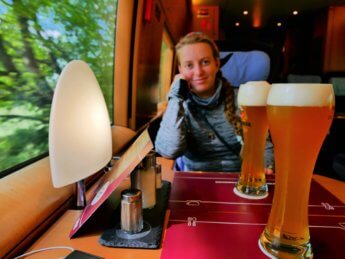 In the train right before we got out in Siegburg, I pointed out on the train line map where Donaueschingen and Sigmaringen are. A young brown-haired woman overheard us and said: "Hah, I'm from Sigmaringen!" which surprised us a lot. At Siegburg train station we ate a döner kebab (it's tradition) and then took a bus to Jonas' mom's place. From the bus stop, we still had to hike uphill. We were physically and mentally done.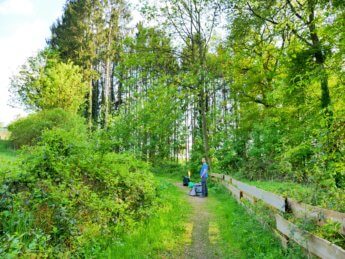 But there were new packages waiting for us in Germany. We got our life vests, the waterproof bags, the hydration bladders, gloves, waterproof camera box, and more. Jonas' mom and step-father are also into kayaking, so we received one of their spare paddles for our trip. Our total expenditures on the items are about €800, of which €350 is the kayak itself.
For only three days we enjoyed staying with Jonas' mom, going on a hike (and testing out the hydration bladder), finishing Harry Potter and the latest Game of Thrones, and shortly catching up with Jonas' brother. I packed the camping backpack (the white one) and we packed the clothes/cooking gear/other items backpack together (the blue one). It went all very fast when we're suddenly at Siegburg train station ready to head off to Donaueschingen in the German state of Baden-Württemberg.
Traveling & Preparing
On Friday the 3rd of May, we took our last train ride before we'd do a ceremonial ship launch. We had to first take a train to Köln/Cologne to then get onto the InterCity (IC) train with destination Konstanz. We spent about four hours on that train and followed the Rhine until we entered the Black Forest and passed the Rhine-Danube watershed. Jonas is German, but he'd never actually been in this region of Germany. The Black Forest or Schwarzwald was always one of these places that he'd nod at, but not really know what all the fuss is about.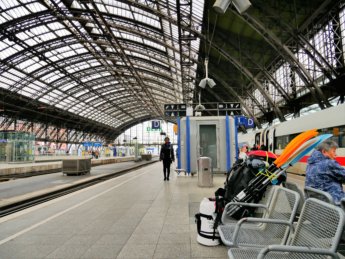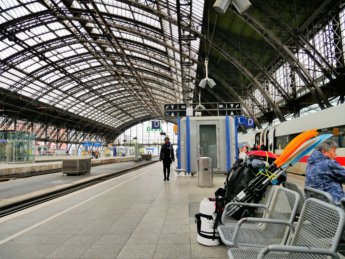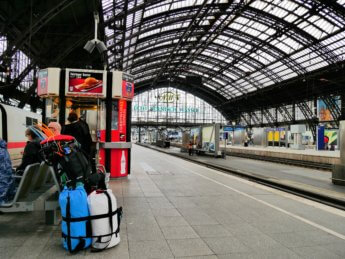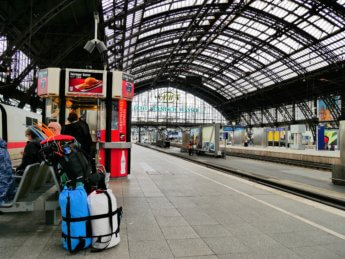 The Rhein-Donau Wasserscheid is a continental divide; a drop of water that lands on the ridge has a 50% chance of ending up in the North Sea and a 50% chance of ending up in the Black Sea. The train we took crosses the divide in a tunnel nearby Sommerau in Baden-Württemberg in case you were wondering.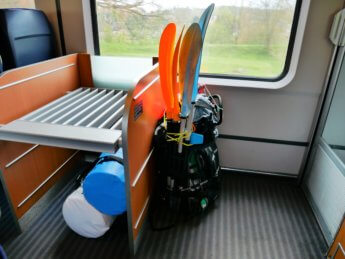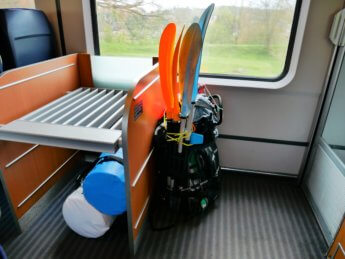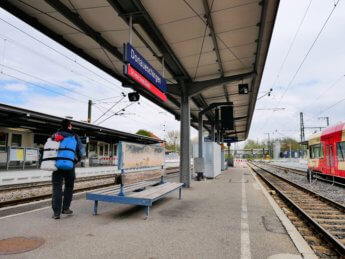 We walked from the train station in Donaueschingen to our very expensive hotel. We'd booked one night in the Wyndham Garden. With the weather forecast in mind, we decided to stay another night so we didn't have to paddle in wet snow. Yeah, we thought we were smart by starting in May when the weather in Europe is better, but that didn't completely work out.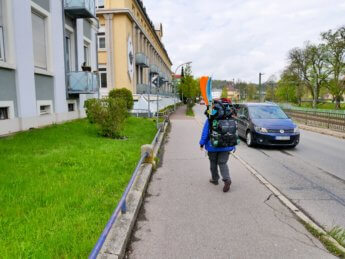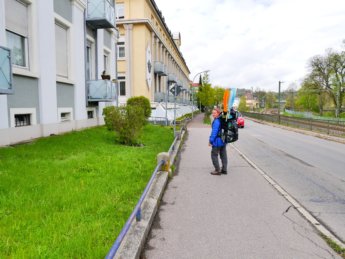 In the hotel, we did some more research into the first stretch of the Danube from Donaueschingen to Sigmaringen. And we Googled some bad news…
Not the entire river is navigable, due to four problems: one is a protected nature area (and that's OK), the second is that one area the river flows underground, the third problem is that on two stretches, we'd need a permit, and the fourth is that we can't just go in the river anywhere in Donaueschingen, but only in parts where the embankment has stairs. Then we still have a few minor problems, like not having a proper Geofencing app and problems with not being able to unlock our phones easily in their waterproof pouches…
But we'll see!
Donaueschingen: Origin of the Danube
The Town
Donaueschingen lies 686 meters above sea level. It has about 22.000 inhabitants but is still big enough to have a Lidl, several hotels, and a major train station. It's very adorable and situated in a beautiful area of Germany: Der Schwarzwald (the Black Forest). The train line that connects the smaller and bigger villages here is also called the Schwarzwaldbahn.
Two smaller rivers named the Brigach and the Breg connect east of Donaueschingen's city center. They both originate nearby Triberg, also in Baden-Württemberg state. The Brigach flows through the town from the northwest and the Breg only joins in at the end of town coming from the southwest.
On that Friday (3rd of May) we arrived, we directly went onto a hike next to the Brigach. Our hotel was right next to it, so we dreamt of just putting in the boat at the earliest opportunity and start paddling on the Brigach. That wasn't allowed, even though we didn't test the limits of German law enforcement. So we walked around to find a proper location for the launch.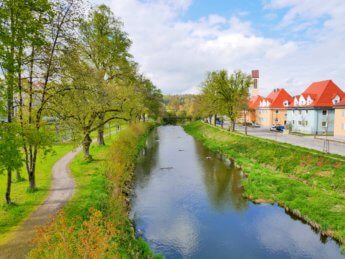 The Hike to the Confluence
We walked next to the Brigach for about three kilometers until the confluence. Right in front of our hotel were many little rapids and shallow parts. Our Meine Pegel (water depth gauge) app told us the water levels were good enough (50cm), but it didn't look like that at all. I wondered where they measured this depth.
The part of the Brigach we saw was riddled with boulders, plant material, and buoyant ducks. It was shallow and there were many minuscule rapids at sedimentation areas. So we keep walking until we don't see obstacles, making notes in my OSMand+ app for future reference.
The most promising location on the Brigach was the bridge on the Max-Egon Straße. There were two sets of stairs leading down to the water. But after that, there were still obstacles, like the tree that was stuck under the next bridge on the Josefstraße.
After all that, the city park appears and the traffic subsides. We walk past some museum and spot the Donautempel (Danube temple) across the Brigach. Some water flows into the Breg from the odd building. We read on a sign that this is where the source of the Donau merges with the Brigach, but the river after that is still called the Brigach and not the Donau for a 1,5-kilometer stretch…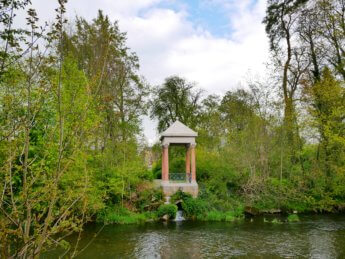 The water is deep enough and there are no obstacles in the water, but we can't find a good place to get down to the water. We walk past some private bridge, tennis courts, and swimming pool when the path disappears. We continue anyway though wet grass and nettles to the confluence.
The Zusammenfluss of the Brigach and Breg
There's a memorial of some people's wedding at the Zusammenfluss and some seats. We walk down the embankment to a grassy and pointy end that's at the water level. This is the first time we see the Breg. It has quite some speed.
Maybe this would be a good spot to launch, but it's a good three-kilometer hike from our hotel. We decide to try at the stairs earlier first, and maybe then consider getting in later. We'll see. The weather forecast for Saturday is incredibly bad; wet snow and sub-zero nighttime temperatures. We had already sort of decided to stay another night at that expensive hotel. Let's just hope the water level rises.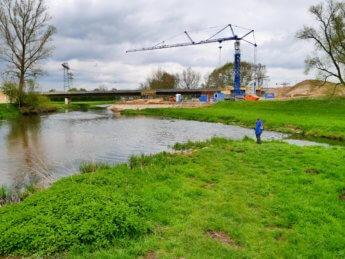 We take some photos at the confluence and head back the way we came, only to cross the river at the big car bridge to visit the Donauquelle – or the alleged source of the Danube.
The Source of the Danube
While Donaueschingen isn't the only place that claims to be the source of the Danube, it did make it a tourist attraction. There's a karst spring in town where water bubbles up from who-knows-where into a beautifully decorated… puddle. It's right next to the Saint Johan's church in the city center and is opened year-round. From there it flows via the short Donaubach into the Brigach.
I really wanted to visit it because I didn't know yet at that time that it was an actual spring. I just thought it was a random pool of water meant to be symbolic. Once there, you can see water and air bubbling up from the bottom. Many people have thrown in coins. There's a statue of two women. The older supposedly represents Baar, the mother of the young Danube. Baar is the region of Germany where the Danube originates. The female figure representing Baar points her finger to the east-southeast, to tell the young Danube where to go. That's also where we're going.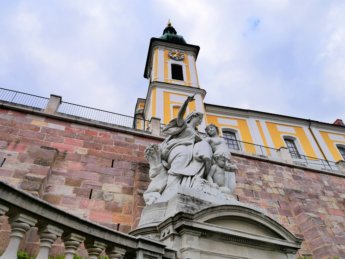 There are two signs. One says "678 meters above the sea" and the other one saying "2840 kilometers from the sea". Then there is a map of the entire river course near the elevator on the higher ground. I'm supposed to paddle all that. Suddenly it feels so real.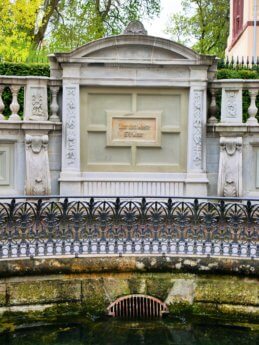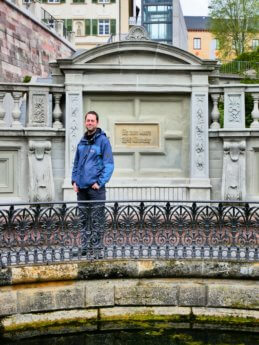 We walk back and spot a plaque in the wall that we hadn't spotted yet the first time we walked past it. It's an outline of the Danube's course through all its 10 countries and the word for 'Source of the Danube' in eight languages. It's… overwhelming to be here at the origin of a river this big.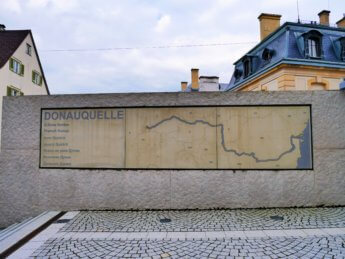 Visiting the Pegel (Water Depth Gauge) in Donaueschingen
The next day we work for a few hours, eat the breakfast buffet at the hotel, and work some more. The wet snow came as promised, and we didn't regret not starting our trip today. I learn that due to its geography, Donaueschingen is the coldest point of Germany. I can see how that's true.
We still have to satisfy my curiosity about the water depth gauge (Pegel). Towards the evening, in a gap between the bad weather spells, we head out towards the monitoring station in the Brigach just north of our hotel in Donaueschingen.
When we arrive, I see why the water levels are optimistic at the measuring point; the river narrows and collects it much deeper. Somewhere here, a sensor transmits this data that we have 52 centimeters to paddle into the app I'm using. So we can't really rely on this information.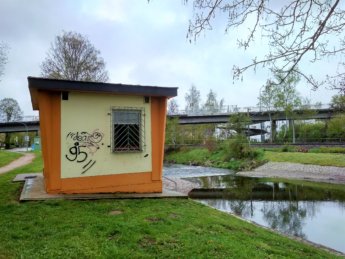 Knowing this, we eat some Italian food before finalizing the packing. Tomorrow we will paddle the first 15.4 kilometers to Geisingen. We'll see if it's doable and enjoyable.
Click here to read about our first day from Donaueschingen to Geisingen.