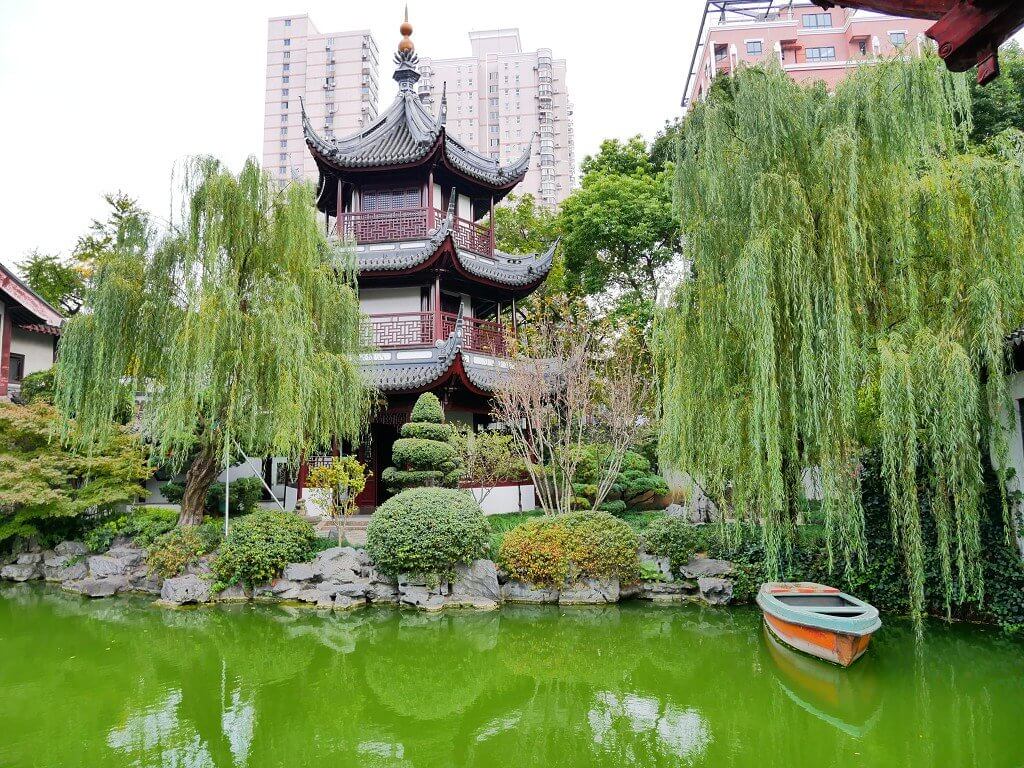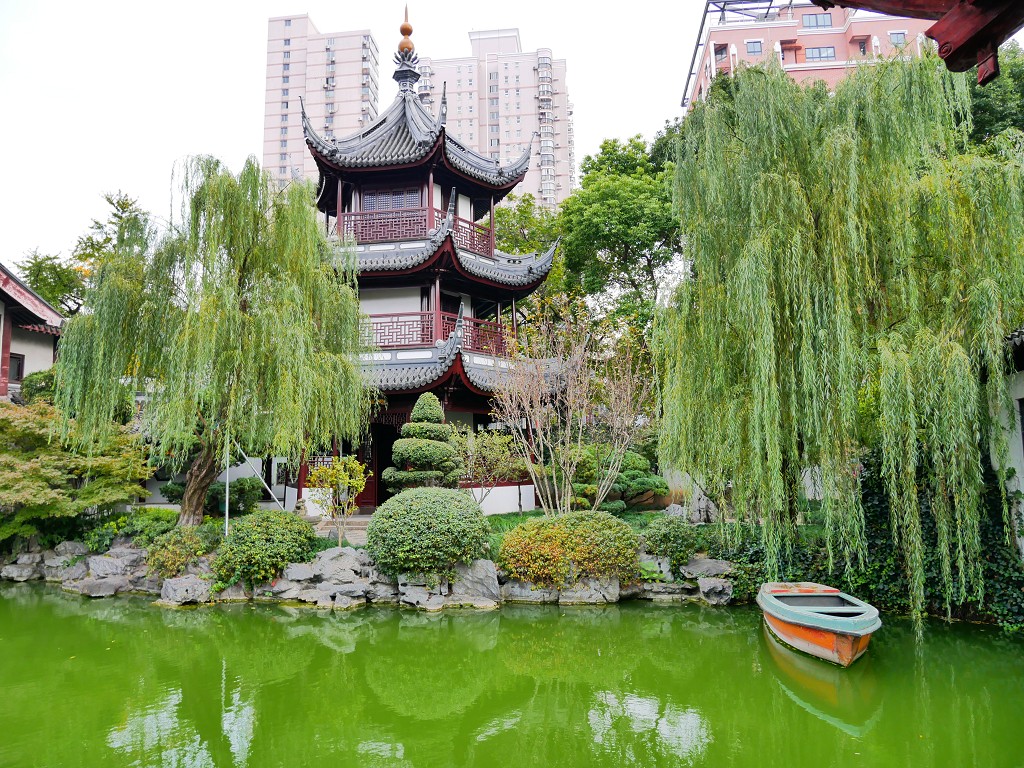 This is about October/November 2019 when I visited Shanghai for a five-day stopover. This happened from Thursday the 31st of October till Tuesday the 5th of November, 2019. That's when we flew on to Chiang Mai, Thailand. We traveled to China visa-free with the 144-hour on arrival visa.
Though it's our personal itinerary, this article also contains a wealth of information on things to do and see in Shanghai on your 144-hour visa. Here you can find a handy map of our itinerary and the sights. Here's a list of must-download apps for your trip to Shanghai or elsewhere in China.
Day 1: Infirm and Jetlagged
Passing Immigration: China's 144-Hour Visa on Arrival
After flying 11 hours and 20 minutes from Amsterdam Airport Schiphol (AMS) to Shanghai Pudong Airport (PVG), I was very much destroyed. I expected this to be zero fun. Turns out it would be a lot of negative fun. I hadn't slept more than 30 minutes during the whole ordeal. So when we landed, I walked through the whole immigration and customs progress like a ghost – following Jonas around.
The first thing on the agenda at 6:55 in the morning was a fingerprinting session, for which we received a receipt we never needed. Next, we walked through an open gate with a sign above it that informed us that they were reading our body temperatures, in case we're arriving with illnesses. I still wonder how I passed that thing because I felt really really shit. Some more walking and a train brought us to the immigration area. That's where we had to find the 24/144-hour transit area to get our temporary visas on arrival.
We first made a stop at a drinking water machine, which only served hot water and warm water. Jonas suddenly remembered that in China, drinking cold water is considered unhealthy. So we filled up our bottles with lukewarm water. Some Dutch people came after us to the machine and I helped them figure out the machine.
We spent a great amount of time filling in the little yellow and blue forms with too little space for addresses. The anxiety got worse when I screwed up my phone number and had to start over. We also filled in the phone number of the lady who rented us our apartment for five nights. When queuing, one guy walked by to check our forms. He didn't like that our exit date was actually closer to 144-hours away than a mere 24. We gave him more proof of our departure in the form of our flight out with East China Airways from Shanghai to Chiang Mai, Thailand. He used his phone to calculate whether that was indeed within 144 hours and then it was OK.
When it was our turn to enter China, a young woman compared my passport to my face while her supervisor creepily hovered behind her with a blissful smile at his colleague. A machine told me (in Dutch) to scan my fingerprints again to confirm it's still me. The young woman went through the paperwork I'd just painstakingly filled in and then stamped and stickered my passport with this fresh transit visa. We got in!
Finding an ATM and Leaving Shanghai Airport by Maglev Train
We got to baggage claim where my backpack had already been placed next to the conveyor belt; I was the last person with luggage from that plane. I repacked my backpack so I only had one large piece of luggage to lug around. Before leaving the airport, Jonas and I quickly made a bathroom visit – before (presumably) all toilets would become squat toilets. We had to scan our bags one more time at customs before we were outside.
In the arrivals hall, Jonas found an ATM. He tried to get cash, but it didn't work. He could also not exactly read what would be the problem, so he tried again and got declined a second time. That's when I really started feeling like shit. Jonas eventually left me with all our luggage while he went to look for a willing and able ATM. I sat on my backpack with some tissue paper sniffling and waiting for Jonas to return. He returned with a full wallet from the departures hall, where there's apparently still one ATM that's always full. It seemed as if one of the arrivals had emptied the machine before us.
Now, it's a good thing to mention that Jonas had already been to Shanghai in 2009 and that he lived in Qingdao to the north for about six months in that year. Jonas had done the research on our arrival, which Maglev train to take, and generally how to get to our apartment in Jiangning Road (江宁路) Residential District. At this point, I was just following him.
If you didn't know, the Maglev is a train that uses magnetic levitation to bolt over its tracks at high speeds. The Shanghai version – one of the few in the world – reaches a top speed of 430km/h. BUT! Like any train, it abides a schedule. And according to schedule, it only reaches its top speed between 9:00 –10:45 and later in the day between 13:00 – 16:45. Otherwise, it will go at a meh speed of 300km/h.
Taking the Maglev to Longyang Road
We arrived so early in Shanghai, that there was a chance that we'd take the slow Maglev before 9:00. But after all that ATM drama, the next scheduled Maglev was actually the one that departs Shanghai Pudong Airport at 9:02.
Both the regular metro and the Maglev are incredibly well-signed from the airport. We followed the signs to the

 and got to the ticket office. The prices were:
One-way 50¥
Return 80¥
If you can show your boarding pass of that day: 40¥ one-way
We showed our boarding pass from that morning and got the discounted ticket. I don't know how it works if you want to arrive at the airport by Maglev and don't have a boarding pass yet, so I recommend taking the Maglev from the airport and not per se to the airport.
Now about the usefulness of the Maglev: it will zoom past everything and let you off at Longyang Road (龙阳路) station, where it connects to Shanghai's regular metro system. This will save you ~15 minutes of time versus taking the regular metro Line 2 from the airport also to Longyang Road station.
The advantage of taking the Maglev: (1) it's a cool experience in a 90's futuristic sense and (2) it saves you those 15 minutes. The disadvantage of taking the Maglev is (1) you'll probably need to continue traveling on Line 2 afterward anyway and (2) it's 4x more expensive than a regular metro ticket. The choice is yours to make.
In the waiting area, we encountered the Dutch people from the watercooler again. I asked them whether they managed to get cash at the ATM, to which they said: "Yes… and no". It turned out the young woman had made the last withdrawal before the machine was empty. This solved the mystery whether it was Jonas' card or the machine. I made some more small talk and found out that the Dutch woman is only staying in Shanghai for 17 hours before flying on to New Zealand for six weeks. Just six weeks—I'm thinking… Just six weeks and then making this entire torture trip again.
What was it like again to be young and resilient enough to fly such long hours, make a stopover in a non-destination city to explore it for 17 hours, only to get back on the plane and fly some more? Without murdering anyone? What was that like again?
We took the Maglev at 9:02 and it was very cool 8 minutes and money well-spent. My feelings of misery went away for that blissful time. This was also the first moment I saw Shanghai from ground level instead of the sky, which dispelled the first misconceptions I had about the city. At one point, the train in the other direction zoomed past us. I only noticed when it was already too late. I asked Jonas on the train whether he liked it. He reminded me that he'd already taken the Maglev once before.
Shanghai Metro: Longyang Road to Jiangning Road with Three Trains
At Longyang road, we had to switch over to the regular metro. I was feeling decrepit again and Jonas was looking for food. I begged him to first put me up in our apartment and then look for food. Outside the station, there were a gazillion little sparrows. It reminded me of Mao Zedong's attempt at speciecide of this lil' bird during the Four Pests Campaign.
We took

 from Longyang Road to West Nanjing Road (南京西路) in direction East Xujing (徐泾东). That's where we switched to our final train 

 to Jiangning Road (江宁路) station in direction Jinyun Road (金运路).
What we didn't know is that to switch from 

 to 

, we'd need to do an 'Outbound transfer'. This means you leave the station and if you don't have a fancy Shanghai metro pass, you'll need to buy another ticket. It was also a very long walk between the two train tracks that my feet barely managed. There were also no free seats on the trains since the Maglev, which I now started to feel the consequences.
A First Glance at Shanghai
Upon arrival, we left the station via exit 4 and saw the outside world for the first time. It looked… very nice. It was only a little after 10 in the morning, but it felt like it must be the afternoon already. We were at a crossing and my mind turned the map 90 degrees, which is a level of disorientation that takes a lot of effort to undo. We crossed two streets to get to our street, which went through the middle of a block. My offline map didn't have that level of detail. It's a good thing we looked up our street on Baidu Maps Streetview before we departed the Netherlands.
We found our building and the doorman allowed us to go upstairs. Jonas had a better idea of where we were going—and I just followed him. At the office, Jonas told me that he hadn't received an answer about doing an early check-in into the apartment from our host lady. He had texted her from his German SIM card, which is always a gamble whether such a message even arrives. She eventually showed up and we handed over our passports. The bad news was that if we wanted an apartment now, we had to go down the elevator, go to another building, go up the elevator there and then find our way to a specific door.
Our host lady opened the door and showed us around the small but self-sufficient apartment. Her English was pretty understandable to me, but Jonas seemed to have some difficulties. She asked whether we were on WeChat, to which Jonas said no until I interfered. She added me on WeChat, which proved a really smart decision later on. Once she left, I encouraged Jonas to go outside and find some street food or anything that makes him happy and gives me some alone time.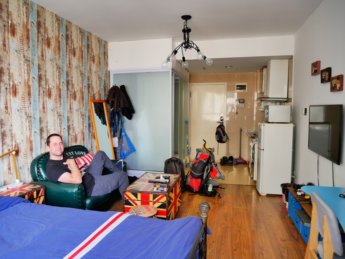 I wanted to crash, but I felt very dirty, so I first took a shower before I occupied the bed. There I messaged my friend Wei on WeChat to tell him that we'd arrived.
Jonas returned at some point during my slumber with some goods from a convenience store. He told me that it's not beneficial to get rid of my jetlag if I slept now, but I couldn't fight it anymore. I felt very sick and the room was spinning. I hadn't slept since I woke up at 7:00 in the Netherlands… how many hours ago? What I knew was that I'd been awake for nearly 24 hours. I can't do this shit anymore.
The Whole-Ass Day
So Jonas allowed me to sleep. I woke up at sunset at around five o'clock in the afternoon. My first thought was "SHIT! I FUCKED UP BIG TIME!" which was true, but also what else could I have done.
I still didn't feel well and I needed something to support myself to find my way to the bathroom. I wasn't going out tonight and I wasn't sure whether I would see and enjoy anything of Shanghai and China at all during this… extended layover.
Luckily, Jonas was feeling great and felt like running errands in our neighborhood. He went out to find xiaolongbao (小笼包), which is a Shanghainese specialty dumpling, on my request. He brought them home from a local dumpling restaurant about two blocks away. Jonas also found some other food and drinks that seemed good for sick people, like DIY bubble tea with adzuki beans. He'd also found some kind of microwave meal with meat and tofu in it. That was the first meat I'd eaten in… probably a month.
My notifications showed some WeChat messages from my friend and fellow hitchhiker Wei, who wanted to meet us that night in Shanghai. I messaged him back that it wasn't going to work tonight, feeling a bit crap about that. It happens so often that you try to meet someone while traveling, but it just doesn't work unless both parties work towards making it happen. I already saw a lack of initiative lead to us not meeting.
Jonas set up the VPN to get access to watch a TV series on Netflix, just like we'd normally do. I remained in a dilapidated condition of perpetual dizziness. Whatever it was, it didn't seem like it would go away any time soon. I just sat on the couch trying not to move too much while Jonas played the next episodes until it was bedtime again. And then I had to go to sleep again even though my mind wasn't weary enough to do so.
Day 2: Exploring Our Residential District Jiangning Road
Why am I Fine?
The next day, I felt like I'd already ruined our stay here in Shanghai. We woke up very early and I wasn't sure how I'd be feeling that day. I thought it would be good to get some more of that amazing bubble tea so that I could survive at home while Jonas had fun in the city.
I carefully made my first steps of the day through the apartment and noticed that I… felt fine? I'd felt like I'd be taking my last breath soon enough just eight hours earlier and now that was all gone. It was suspicious. With that attitude, I got dressed and we left the apartment to check out the little shops Jonas had spotted the previous day.
Walking Around Our Neighborhood
It was surprisingly warm and sunny outside. I was terribly overdressed for the weather, though we'd done our research on the climate here. It was the first day of November and it should have been under 15°C, but it was somewhere in the low twenties. Our first challenge of the day was finding a cup of coffee.
We walked two blocks southwest to visit a café. This was based on Jonas' research, so I just followed him while also checking the map to fix my orientation issues. The streets were clean and busy with electric scooters. Every other minute, an individual street cleaner or a small group would walk by and find something to pick up. We walked past a bakery and café chain called BreadTalk, which Jonas remembered from 10 years ago. He says it's Japanese, but I find out much later it's Singaporean. It was attached to some kind of new mall, which would soon have an H&M. So far, everything has looked remarkably similar to what I already know. We didn't sit down there for coffee, but Jonas told me he really wanted to go to BreadTalk one of these days.
Two Coffee and Baked Goods
Coffee. It's not really a thing in China as their main drink is tea. But we wanted a cup of coffee to kind of ease into the culture. Perhaps it would make us feel better, which I think coffee has never actually done before.
We found a nice-looking café named Cuiqu at the end of the second block. Their menu had some coffee drinks and then some big savory meals that don't really fit the palate of coffee. None of it came cheaply, so we just ordered two coffees and sat down to observe from inside the calm space of a modern café. We talked about what we saw outside. There's a massive amount of scooters on the streets and – unfortunately – also on the sidewalks. Most of them were delivery scooters.
We were the only people in the café. Every now and then, some delivery guy came in to pick up a coffee order and then quickly drive off. Only a few times someone came in to order a coffee and sit down to drink it. They'd pay with their phones, which is something we'd also like to do.
I wanted to get the WiFi password so I could check my WeChat for new messages from Wei. The barista understood my question and started typing in the password on my phone, which didn't work at first. She left the counter to ask her colleague, but it worked when I typed it in but with the first letter in uppercase. I tried to communicate to her that I'm connected now and it's all good, but I realized I have zero useful vocabulary to do that. So I handled the rest of the interaction non-verbally, which has been something I haven't had to do since… hitchhiking in Iran? Turkey? I'm not sure, but it feels like a long time ago.
Afterward, we were quite hungry. A few hundred meters from our café was another café called Baker & Spice which sold pastries and other baked goods. Among those pastries were Portuguese pasteles de nata and canelés, which are French but I fondly remember them from Latvia. We got some snacks including that scrumptious canelé which we ate outside on the terrace. There were some other white people who frequented this café, judging by the fact that they used this café to work from or take a break on their morning jog.
We walked back to our apartment via different streets. I asked Jonas why again we chose this neighborhood to stay in, rather than the city center. He answered me that back when he visited Shanghai for the first time, he stayed in the center and found it too touristy. He'd read on some blogs that Jiangning Road Residential District (江宁路区) is kind of more the expat neighborhood. It has a good mix of local businesses and international offers. So far, I'd mostly seen the international aspects of this neighborhood.
Local Businesses
On our walk back home we came past scooter central, where many food delivery guys with their scooters were passing the time until the next order. An advertisement with the Aldi logo looked a bit out of place to me. Jonas interpreted it as there must be an Aldi here, while I thought a graphic designer must have just liked the logo. There was also something going on with office workers' exercise or something, as a group of people in a similar uniform followed the instructions of their supervisor while some music played.
We turned the corner of that street and arrived in a different world. There were small grocery shops selling vegetables and fish. The sidewalk got a bit more slippery and we saw our first unkempt (street?) dog. Just two blocks over we'd seen small dogs on shiny leashes with sweaters that had just returned from a spa day. Jonas had told me that this often happens in Chinese cities: one moment you're walking into the year 3019, and at other times you step into the less prosperous and more smelly China of old.
Jonas pointed out the dumpling place where he'd gotten the xiaolongbao the previous evening. I wasn't hungry anymore. We did need to buy some groceries for at home. Perhaps some teabags and another one of those bubble teas, for later. Jonas pointed at a supermarket with the name Dia% across it. I'm wondering what's going on here. First the German Aldi, now the Spanish Dia%? Unfortunately, the shop is closed. We try to look through the door to see if there are any… olives or other typical Spanish items. But nothing looks familiar.
Our 1.5-kilometer hike also brought us past the Jade Buddha Temple, which is a popular place to visit with tourists. I ask Jonas if he's already visited that place, which he – to my surprise – hasn't done yet. With both our travel experiences, it's sometimes surprisingly difficult to find something to do that neither of us has done before.
But we're not feeling up to visiting the temple yet and make a beeline for our apartment. We drop by a small convenience store chain called Lawson to get some ginger tea, bubble tea, and TV snacks. Then we go home to relax a bit with a cup of sugary ginger tea by the window. A few mosquitoes fly into our apartment to haunt us later at night.
Visiting the Jade Buddha Temple
After our relaxation at home, we left for the Jade Buddha Temple two blocks away. I put on some clothes that I deemed more suitable for visiting a temple in this surprising heat. I thought of leaving my passport at the apartment but eventually took it with in case I needed to show ID.
Tickets cost 20¥ per person. Inside it was quite busy, both with locals and with tourists. The courtyard opened up the view of the temple's roofs with the giant towers of Shanghai looming over in the background.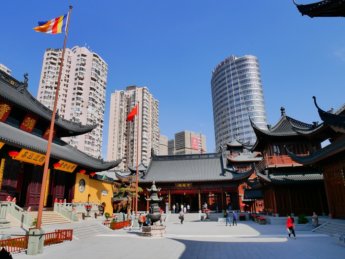 The rooms on the premises contained various rooms with Buddha statues with fresh fruit. Many people came by to pray. An occasional monk walked by going about his business. There were two calligraphy rooms for people to meditate on the Buddhist scriptures with ink and paper. Towards one end of the complex is a rather large building with a restaurant. Behind the restaurant were some shops and another room with more Buddha statues.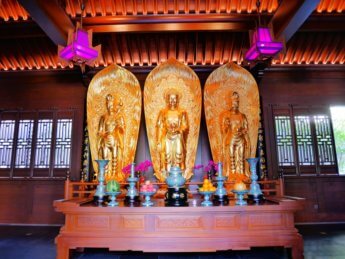 I realized I know very little about Buddhism and Chinese Buddhism in particular. Jonas also couldn't provide me with more answers.
Police Registration
When we walked home, I had somehow connected to a WiFi network. I had a WeChat message from our landlady. The message said we urgently needed to meet to register us with the police. We walked home with a lot of confusion because we were pretty sure we didn't need to register for the short time we were staying in China.
Below our apartment complex, we met our landlady on the streets. She said the immigration office called her about registering her guests. Aha, so they did process our arrival cards and read the section about "telephone in China". She said she could take our passports and go to the police by herself so we didn't have to waste time on this. We both had our passports on us, so we handed them over and off she went with them. No need to go upstairs, we walked off in a different direction.
Tech Malls and Street Food
In the heat of the afternoon, we crossed the bridge across the Wusong/Suzhou river into Tianmu West Road District (天目西路街道). The sidewalk disappeared for a bit and we passed a large number of small restaurants. Jonas could eat, but he has a preference for restaurants with picture menus. I didn't dare to order something from the menu yet without extensively using Google Translate beforehand. We decided to wait until we were more hungry.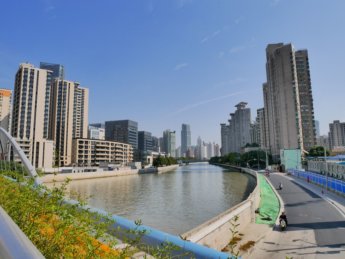 Across the street to our left was a big tech mall. I was looking to buy a digital drawing board here in China, so we crossed the street to find out. While the tech mall was very interesting, it quickly became clear that variety wasn't their specialty. Most of the shops sold smartphones and accessories. I was also in the market for a new phone case, but they only had the simple ones and not the wallet model.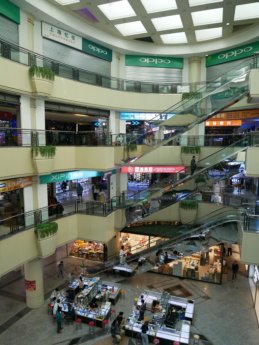 Communicating what we were looking for wasn't that hard. I showed my phone case and pointed at all the fucked up parts on it, and then said the word Xīn (新) – which means 'new'. The answer was always Méiyǒu (没有) – which means 'don't have' or simply 'no' and is one of the most-used and recognizable words.
When we left the mall, we wanted to walk a bit further to make it a round trip without backtracking. We followed a road past a hotel and a construction site to another bridge across the river. Underneath the shadow of the bridge at the waterfront were a few street food carts with many people hanging around. It was by far the dodgiest corner I'd seen of Shanghai, but looks can be deceiving and Jonas' appetite can be mighty.
We approached the buffet. The man running the place asked Jonas if he wanted noodles by pointing at his bag of noodles with very large cooking chopsticks. I think he asked Jonas if he wanted rice (米 – Mǐ) noodles, but what do I know. The guy drops some noodles in his pot of boiling water and Jonas gets to pick some toppings. Jonas uses his favorite phrase Bù là (不辣 – not spicy) and another man points out all the items that are (supposedly) not very spicy. Once the noodles are done and dropped in a large plastic container, Jonas gets to grab his toppings. But the layer of noodles is so thick that there isn't much space left anymore for non-noodle food. We pay the man the 8¥ we owe him, thank him, and cross the river to go back home.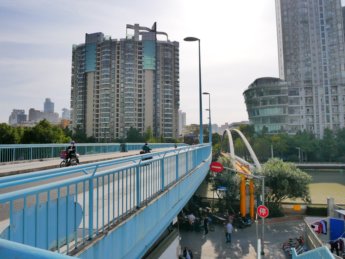 I pick up some food and another DIY bubble tea from the Lawson in our block. Jonas' street food was not particularly spicy and definitely too big a portion.
Meeting an Old Friend
In the evening we're meeting Xiao Wei – a hitchhiker I once met shortly in Lima, Perú. Back then in 2017, he told me his hitchhiking days were almost over; he'd seen almost everything he wanted to see in the world and it was time for him to do something else. He made a career change from a hitchhiker to a businessman.
We meet him at exit 4 of our metro station Jiangning Road. He wears a suit and carries around a professional-looking backpack—something to fly with. We hug and I introduce Jonas to Wei. Then we walk to the shopping mall we'd walked past that morning. Wei suggests we go to Starbucks, which is also about the only place that's still open.
He drops his backpack with his laptop and other valuables at a table and walks to the counter to order. "They have cameras here," he says in response to my question whether he's not worried his backpack will be stolen. Jonas quickly makes an ordering decision so he can sit down with our backpacks before other people occupy our table. I get some kind of oolong tea which Wei orders. I pay close attention to hear him say Wūlóngchá (乌龙茶) for the word Chá because of the whole 'two words for tea' phenomenon.
It's before 17:00 and Wei still has to do some work thing for his boss. He jokes about how he's a slave to his work, which I can't decide on is sarcasm or how he actually feels. I can't imagine what the transition from hitchhiker to office worker must have been like. I'm also not sure still why he chose the change since most people try so hard to escape the office life.
Wei has a philosophy about life in which you have two axes of development: a horizontal one that helps you explore the world and get to know many different things, and a vertical one that helps you deepen your understanding of one or a few particular things. His travels accomplished his horizontal development. Now his stationary life – supposedly – accomplishes his vertical development.
Tonight he still has to fly from Shanghai back to his home in Shenzhen – right across the border from Hong Kong. Hong Kong is where he does most of his work, but living there is too expensive; just a handful of families own the far majority of properties in Hong Kong, which gives them a virtual monopoly on the housing prices.
The Return of Our Passports
We say goodbye to Wei and wish him a good trip home. He later tells me that his flight had been delayed by a good three hours or so. I'm not sure whether a steady job ever justifies the utter boredom of waiting for a delayed flight to show up.
Back at our home, our host messages us that she wants to come by to finish our registration. She has some more details for us to fill in for the police registration. Fortunately, that can all be done via her mobile phone. One of the problems she encountered with Jonas' passport is the three-letter abbreviation for Germany. The Netherlands often receives the abbreviation of NLD or NED, which is simple. As Germans know very well, the world doesn't agree on a single name for Germany. So we had to find Germany for her in her list of country abbreviations. It wasn't GER. It was DEU.
She showed us on her phone that the registration was successful and returned our passports. What a relief. We waved her goodbye and then enjoyed a Belgian Weizen beer we bought from the supermarket earlier with some Netflix to wind down.
Day 3: Visiting the Highlights in the Center
Familiar Food
Emboldened by the success of the previous day, we left the apartment to see Shanghai's city center. Jonas walked past a food cart right outside our apartment and stopped. I saw that twinkle in his eyes of spotting familiar food. The lady prepares a crêpe on a round hot plate, then cracks open an egg on top that she smears out over the fresh pancake. She adds scallions, some meaty thing, and some spicy depending on the client's wishes.  She folds it up and puts it in a small plastic bag to chomp on while walking. Jonas wants it, but not now because it's not easy to travel with one of those. We'll try to get this food tomorrow and pick up some baked goods from BreadTalk for now.
We took the metro to the People's Square in the center of Shanghai. We took line 

 for one stop and then switched to 

. Jonas had prepared a nice walking itinerary that would take us to most of the sights, starting at the People's Square.
But at the People's Square metro station we had some trouble finding a good exit at first, leaving us wandering in the vaults of Shanghai's underground world until we saw a window that showed daylight. It's kind of strange how comfortable Shanghai's subway system is; nothing feels absent down there and I'm in no hurry to get out. One huff of the Brussels Metro will leave you wishing for the sweet release of death. And yet the people here are wearing face masks.
A Wedding Market at the People's Park
Once we were above ground, we get a good enough GPS signal to see we're in the People's Park. We decide to first stroll through the park to see what is up this Sunday morning. There's some kind of amusement park here in the style of the many Gorky parks in the former USSR. But it's in a better condition than the one we've been to in Minsk, Belarus in summer 2018.
We walk through a gate that leads away from the kiddie stuff and enter some kind of marketplace. Tons of (mostly) women sit in a neat row on both sides of the path with an umbrella and some laminated A4 paper. Sometimes there are pictures next to the text, which are mostly pictures of men. What are they selling? I turn to Jonas.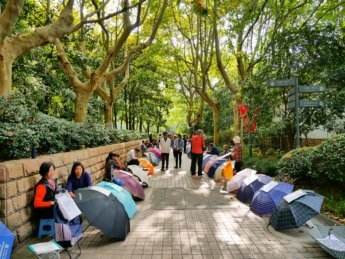 "I think it's a wedding market."
He points out that there are always a few numbers listed in their classifieds. "1[Chinese character] 72" must mean 1 meter 72 centimeters for height. There's a number representing age and one long string that's clearly a phone number. The rest we can't figure out without the help of a translation tool (which I did at home).
Based on prior knowledge of China's missing women and derailed sex ratio, I'm assuming these ads are 100% men—which isn't at all true. Some of the ads feature pictures of women. I'm wondering why the mothers of the single guys aren't swarming these rare birds for a quick match. Everyone just sits at their own umbrella scrolling their phones. I wonder what the success rate is of this.
One ad of a woman says:
"Family with an only daughter, May [19]76. Unmarried. Shanghai native. Bachelor's degree. Current [job at] foreign trade administration. An annual salary of 100.000¥. Height 1 meter 63, shapely, good looks. Requirements: the age difference of the man is [a maximum of] 5 years. Bachelor's degree or higher. The annual salary is about 100.000¥ and the height is about 1 meter 75. Healthy body. [phone number]"
Just thinking about my mom spending her Sunday at the town square seeking a husband for me without my consent. How embarrassing that'd be:
"July '91. Never married. College degree, but currently unemployed on Mind of a Hitchhiker. An annual salary of €negligible. Height: short. Shape: has a shape. Looks good from few angles. Will never have (your) children but hey, you've read all the other great selling points. Requirements: between half her age plus seven and 42 years old. Must have finished high school or higher. The annual salary of about the modal income of the Netherlands. The height about taller than she is, which isn't hard to do. Healthy body. Here's her phone number: [redacted]"
We walk off the singles market and enter a more wholesome part of the People's Park. There are people doing Tai Chi and groups of women in beautiful robes practicing a dance with fans. We want to sit down and eat our baked goods. It's nice that despite the many gatherings of people in the park today, it's still rather quiet. Normally I don't feel that comfortable around many people, but somehow it's all very non-threatening.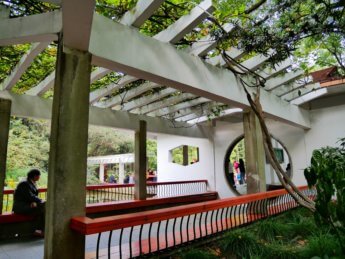 We walk around the park for the next half hour and enjoy the beautiful gardens with ponds reflecting the skyscrapers around it. An older white woman is singing along with her guitar. I don't think she's busking, but just enjoying herself on the zig-zaggy bridge in the busy park.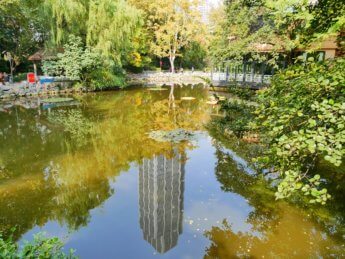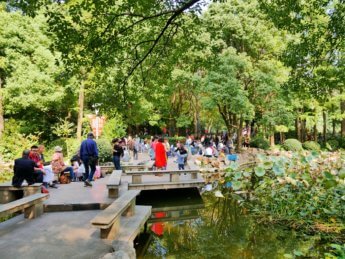 I'm still pondering the wedding market and how fucking sad it is that marriage is such a life goal in itself. That singlehood isn't valid and somehow something shameful. That the only valuable relationships happen within the confines of a miserable and pathetic contract between souls. How even people who aren't even involved in a potential relationship are desperate for that relationship to happen. As if it's that terrible to be single. How freeing it would be if we'd live in a post-marriage society where we stop sending people on a wild goose chase for something completely meaningless. Press Y to honk.
The People's Square and the Shanghai Museum
We walk back over the wedding market past the metro station to go to the People's Square. That's where the Shanghai Museum is at, which is a building I have no intention of entering, but I do want to see its exterior. What I'd seen online was that it looked kind of concrete-y and brutalist. These are a few of my favorite things.
The GPS in China is always a little bit off, but as long as you know in which way it's off, you can still figure out where you are. The walk to the People's Square was much further than anticipated. It was still early in the day, but my feet had already started to hurt. We crossed a huge road and entered the park that surrounds the Shanghai Museum. We thought we'd arrived, but no, there is still more walking to do here.
Finally, we made it to the fountain in front of the Shanghai Museum. And it was… not brutalist. I mean, it's not a bad building. It's pretty cool and impressive and… shapely. But the grey exterior is made up of tiles. Some of them are shiny like bathroom tiles. Coming to think of it, everything is a bit too shiny for my tastes. Concrete with a glossy finish. I'm sure China has its fair share of exposed concrete architecture. Just not this one right here.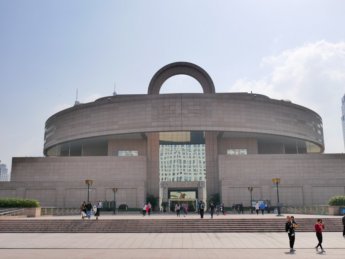 There's another building visible from the People's Square that drives home the brutalist point a bit better: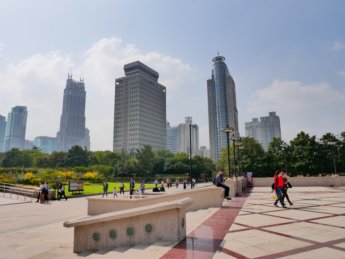 Nanjing East Road Pedestrian Street
We walk back to the metro station to cross two streets. There's an exit that goes through a shopping mall called Raffles City, which has a much-praised food court. We get the golden lava croissants from the BreadTalk to see if it's really as good as I think it is. We walk around the mall looking for a place that could sell a digital drawing board, but we don't find any. But they do have nice (western) toilets in the building.
I lead the way to Nanjing East Road Pedestrian Street (南京东路步行街), which is a major tourist zone and one of the busiest shopping streets in the world. A pedestrian zone sounds kind of nice now that we've walked on streets with tons of electric scooters and cars for so long. This made me oblivious to all the major red flags.
The pedestrian zone isn't really only for pedestrians; lots of tiny tourist trains drive the entire length of the street. It's also incredibly busy with pedestrians, of course. Pedestrians who are looking to spend money also have the worst walking pace in the world. As this is probably also where the scams happen, I was clutching my camera and feeling uneasy. I was just getting agitated at everything, but Jonas was scanning for food.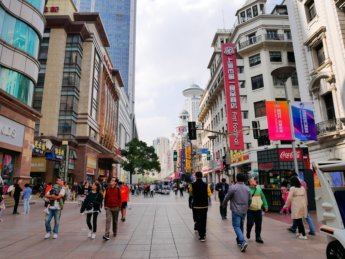 He got an overpriced yogurt from some booth and we sat down to eat it. That's when we witnessed a fight between a few people on the opposite side of the street. Jonas told me that Chinese people tend to be very conflict-averse and focused on keeping their act together, but when they lose one's face, they completely lose it. The argument involved one woman and two men and I wasn't much impressed by the level of public berserkness; they broke it up themselves.
The Bund and the Sightseeing Tunnel
We continued our walk to The Bund/Waitan (外滩), which is where that famous Lujiazui (陆家嘴) skyline of Shanghai you might know from the pictures is at. I was relieved when we left the pedestrian zone and crossed the big road to the sightseeing spot at the Huangpu River (黄浦江). It's incredibly impressive and quite busy.
A white woman who looks like a fresh-off-the-plane expat gazes at the skyline with magic in her eyes while going for her early noon run. She has music in her ears and I imagine it's some kind of upbeat music of invincibility and settlement. I can imagine the excitement that must bring before expat-fatigue inevitably settles in. That's when one goes to an expat Facebook group to preach their lament to the choir.
We snap some photos in the bright sunshine and then head to the Bund Sightseeing Tunnel. Jonas told me that it's an underwater tunnel where you can see things from a little train. He also told me he had taken it before and that it's very silly, but I don't know… doesn't a train trip under the Huangpu River in a glass tunnel sound kind of cool? Even if the water is very dark, filthy and you can't see shit, that sounds like a pretty rad way to cross a river. I mean… it's called the 'sightseeing' tunnel.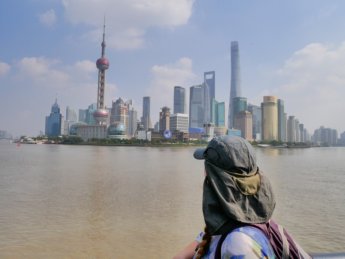 All the colorful stuff targeted to kids again doesn't set off my alarm bells as we go down the escalators. The entry fee is 50¥ per person for a one-way ticket, which I think is really cheap for what I'm about to experience. We get further down to the train track level and see the tiny train cars that travel down the tunnel. I grab my camera to film it, just like the one other passenger in our car: a western tourist who's a grown-ass man. If he films it, it must be not for kids… right?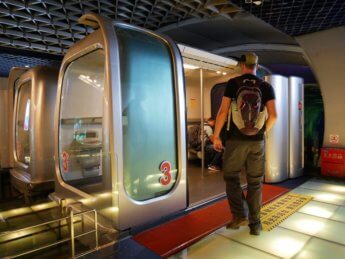 Alas, Jonas and I had had a big miscommunication. The tunnel isn't made of glass at all. It's just a dark tunnel where they installed light and sound effects to make it super trippy. It's indeed super fucking silly and also way overpriced. At least there were no children in our little train car as that would have made it prohibitively expensive. I'm not sure if our fellow commuter knew it was going to be like this beforehand. I'm totally stupefied by the experience once we're on the Lujiazui side of the river.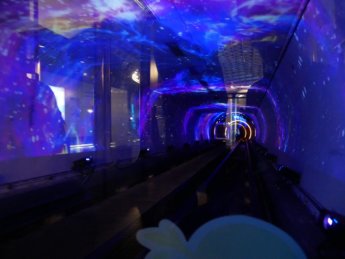 What the fuck was that?
Clearing Up the Air
"I told you it was silly," Jonas said. Silly is an understatement. To clear up the air, I tell him what I expected and he understands my bafflement at what we got. "An actual underwater tunnel you can see through would indeed be cool."
I drop it once we're up above the ground on the Pudong side of Shanghai between the skyscrapers. We're close to the Oriental Pearl Tower and walk in its direction. It's too expensive to go up the tower, though I do love going up a good radio or TV tower anywhere in the world. We go through security at the premises anyway to check out the Xiaomi store there.
Via the Lujiazui pedestrian roundabout, we walk to a shopping center and decide to rehydrate at Starbucks. The whole day trip program is going much faster than anticipated. Jonas only expected to make it to this side of the river in the late afternoon, but it's still rather early. My phone automatically recognizes the WiFi network since connecting at the Starbucks with Wei, so I just have to get another authentication code to log in and get WiFi. I help Jonas figure out how to connect, too, so we both spend some time scrolling. I asked Wei where to buy (washable) facemasks since I was under the impression that fashion stores sell these. He tells me to try at a pharmacy (药店 – Yàodiàn) instead.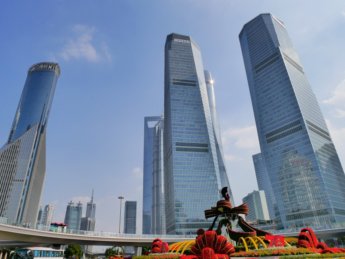 We're not really hungry, but we could eat. So we head out of the Starbucks and go to a business about two or three doors down toward the pedestrian roundabout that sells xiaolongbao. We ask the host with Google Translate whether the xiaolongbao is with beef (Niúròu – 牛肉). She grabs her phone and talks into it, then it patiently informs us in English "I am afraid we made the observation that the xiaolongbao is pork." That's it. There's absolutely no reason for Chinese nationals to learn English if the translation apps are this good.
Despite my disdain for meat in general and pork in particular, I agree to eat there. Jonas spots some kind of fermented peanuts dish he remembers from 10 years ago on the menu, so he also orders those.
The peanuts arrive first and they're just that: peanuts. The xiaolongbao arrive and though it looks really good, I just don't like it. Jonas eats my meat while I eat the husk of the dumplings. There we are, eating peanuts with chopsticks. Ordering mistakes were made that day.
We visited the Super Brand Mall across the pedestrian roundabout to get cash from an ATM and face masks from a pharmacy. I showed the shop attendants the phrase Wei messaged me to find facemasks and the lady points us to the right aisle. There was a bit of drama when paying for the facemasks since the cashier didn't have the right change. She got a bit angry and her helpful colleague found it hilarious that she got angry. Then we decided to head to Lujiazui (陆家嘴) metro station to cross the river again to get home.
One Last Stop: Another Tech Mall
But there was one last place I wanted to visit in search of a graphics tablet: a tech mall back in the center. I found it on the OSMand+ map under the name "Shinesun Digital Plaza", but on Google it goes by Xinshang Digital Plaza (新尚数码广场). We took 

 to the People's Square and then swapped over to 

 to Dashijie station.
Above ground, we found our way to the tech mall, which definitely looked more promising than the one we'd visited a day earlier. Showing people the text of "digital drawing tablet" (數位繪圖板) and the Chinese brand I was looking for (Huion – 绘王) got us upstairs to some people who knew better what I was looking for. But they didn't have it either. The shop owner showed me a Kindle that can also be used as a sketchpad, but that still wasn't what I was looking for. But the people have an incredible can-do attitude, so one person translated to us that he could order it now and it would be here in three hours delivered by motorkbike. We thanked him for the help and the offer and then left the mall.
To get back to our apartment, we walked back past Dashijie station and on to the People's Square with a quick stop at the Tourist Information (seat toilets). We took the same route back we'd taken that morning via 

 and then changing to 

 at Hanzhong Road to get home. We got some drinks at the convenience store and finished watching Disenchantment with our feet up.
After a short nap, we wanted to go to a local business to smoke a shisha. Stupidly, we took a nap, which turned into one of those long naps you can't wake up from. We instead did some late-night research on Baidu Maps about how to get to Yangshan to squeeze in a little hitchhiking adventure for me the next day. We screenshotted the entire journey so we wouldn't depend on WiFi access during the trip. I pack the day bag so we can hopefully leave early.
Day 4: Visiting Yangshan and Hitchhiking the Donghai Bridge
The Big Day
Alas, we left quite late on the day that I'd most looked forward to. Once we're outside our building, Jonas scans the street for the food cart lady, but she isn't here today. Perhaps it's the time of day.
This part of the trip was mostly my research. I felt very prepared to travel to Dishui Lake, then take a local bus across the Donghai Bridge, then hike around some natural area there with lots of viewpoints, and then return to Shanghai by hitchhiking.
First, we went to our metro station Nanjing Road. At an underground bakery/café named Ichigo, which sounds more Japanese than BreadTalk. We're planning on visiting Japan later on this 1.5-year Asia trip, so it's good to know they can bake delicious stuff. I don't know, maybe it's that I watched so many Tasty Japan videos on Facebook about baking fluffy and jiggly cakes that I think Japan is a country of bakeries, too.
We hop on the train of  

 and take it all the way to Middle Huaxia Road (华夏中路). There, we switch to the overground  

 which we take to its terminal station at Dishui Lake (滴水湖). The cityscape slowly gives way for lowrise buildings, small farms and gardens, and lots and lots of water. No wonder there are so many mosquitoes around.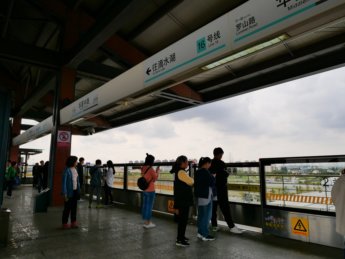 On both trains, we find seats for the entire ride. That's a first on the Shanghai metro.
Dishui Lake
We arrive at Dishui Lake station a little before noon. There's some kind of exhibition to raise awareness of the plastic problem in the oceans. Though recycling and separating the trash is way further in for example Germany, I think China is catching up rather fast. China used to deal with a lot of imported trash from western countries. The environmental awareness of single-use plastics etcetera is definitely gaining traction.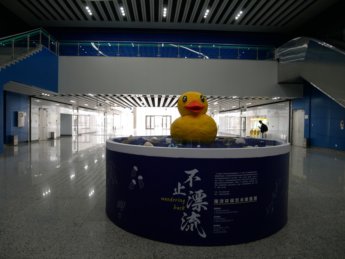 We walked around the esplanade and got a (pricey) coffee from one of the stands. It was bloody hot and it took forever to get to drinking temperature. Jonas (the bigger coffee drinker) helped me finish it.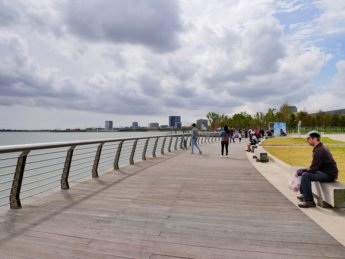 We walked back past the metro station to the bus station I'd marked. After asking for the bus to Yangshan Port (洋山港) we figured out we'd just missed it. The next one would leave at 13:50, so we had about 40 minutes to relax at the lake before we'd take the bus outside Shanghai Municipality (上海市) and into Zhejiang Province (浙江省). On our 144-hour visa, we were allowed to also visit Zhejiang and Jiangsu (江苏省) provinces besides Shanghai.
At Dishui Lake, we spent some more time strolling around in the sunshine. Faraway on the lake, we saw some people doing flyboarding (hydroflighting). A few minutes later, a speedboat competition started. People here really aren't in the autumn mood yet. And we totally miscalculated the clothing we'd need to pack for the normal climate in early November in Shanghai.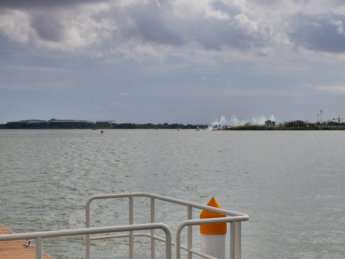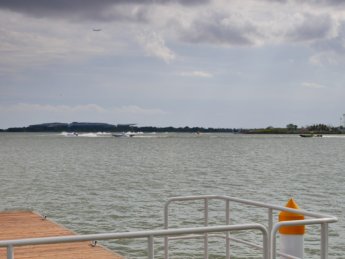 The Bus Ride to Yangshan
We returned to the bus station well ahead of time. At the designated platform, we waited for the correct bus to show up. We had to match the license plate to the sign of the platform. There were a lot of people waiting for this bus, but it wasn't a problem to still get on. Jonas confirmed with the driver that this bus is indeed crossing the Donghai Bridge to Yangshan, and that was it.
The lady who sold tickets on the bus as we left the station had an easier job thanks to technology; all passengers just showed their WeChatPay QR code and she just quickly scanned everyone. Beep, beep, beep, beep, beep. It was done so fast.
Until she got to us, of course, because us commoners don't have WeChatPay We don't really know how many stops there are, so we tell her we need to get to the terminal station. To the tune of 14¥ per person, we got our tickets after dealing with cash and change. The other people who still needed to pay for their ticket turned their heads to look at what the holdup was. Ah, the stone age people with their paper money.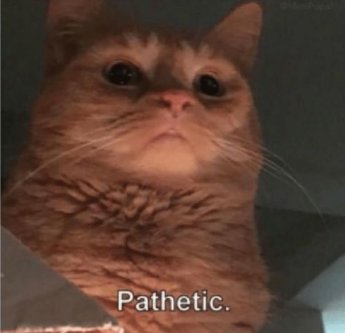 We drove through some free trade zones and made a few more stops at other bus shelters. Then we arrived at the Donghai Bridge Toll Gate. But it was closed…
We waited rather pointlessly while the bus driver chatted with the toll person. It was incredibly unclear what exactly the issue was. Perhaps it was too busy on the bridge or they otherwise wanted to limit the weight on the road. But we could look at the highway and its traffic, and it wasn't busy at all. Other cars either waited patiently or turned around upon arrival to take a different route. I got very itchy from this and thought about getting out of the bus. After about 15 minutes, we finally got access and drove onto the run-up to the Donghai Bridge.
It was amazing. Such a cool bridge!
We drove the whole 32.5 kilometers hovering about 15 meters above the water and the tide. There's so much going on in the water; there are smaller boats, huge container ships, wind farms, and distant rocky islands. I'm enjoying this thoroughly.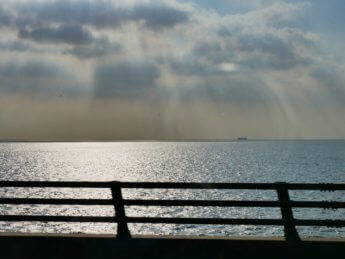 The highlight is the climb up to the high cable-stayed part of the bridge which creates a navigation hole up to 40 meters high and 400 meters wide. That bridge is built to last 100 years since opening in 2005 and withstand 12 typhoons and 7 earthquakes.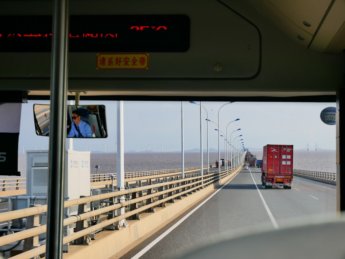 On the other side, we first land on the Shengshi County (嵊泗县) part of the Zhoushan Islands (舟山群岛) archipelago. We first land at Big Turtle Island (大乌龟岛). There's another shorter bridge to reach Greater Yangshan Island (大洋山岛) followed by a tunnel through a rocky mountain.
A sign informs us that the last bus back to Dishui Lake bus station goes at 17:30. Sunset would be at 17:09. So if hitchhiking back wouldn't work, we could still catch that bus after sunset to have an easy out.
We get out of the bus at the second last stop at Donghai Avenue, Tongxin First Road (东海大道同欣一路). The bus continues further to the end of the island and the end of the road. We might have paid a little too much, but that's the price of miscommunication. Many people get out of the bus with us at this stop.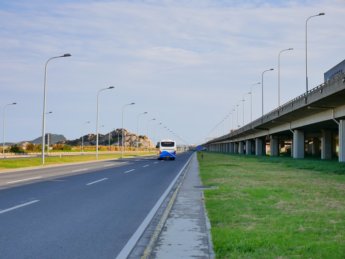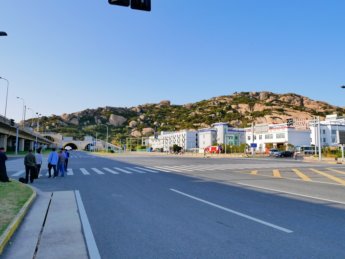 Yangshan Shilong Scenic Area (洋山石龙景区)
We all cross the road to the scenic area I'd spotted on my map. On the other side, my first priority was finding a toilet. The staff of the Seafarer's Hotel let us use theirs and then we were off to the scenic area I'd spotted on the map.
It's called the Yangshan Shilong Scenic Area (洋山石龙景区) and it was built after many of the islands former inhabitants had been resettled to other islands or the mainland. In order to build the Yangshan Deepsea Port, the engineers have done a lot of land reclamation in the area to make it suitable.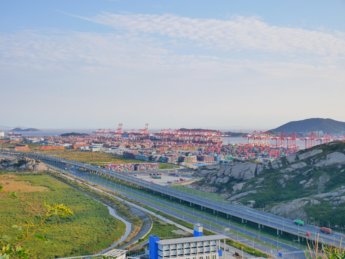 The entry fee was 30¥ per person. We hiked up the stairs to the nice viewpoints with sights of a really cool temple and the incredible Donghai Bridge in the distance. There were two German guys with an English-speaking tour guide, which were about the only foreigners we'd seen that day. The sun was getting very low in the sky and this made me quite anxious. I still really wanted to hitchhike.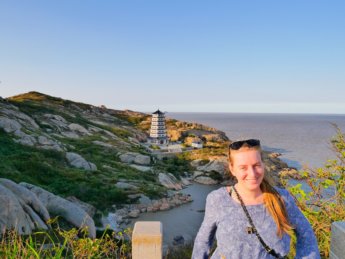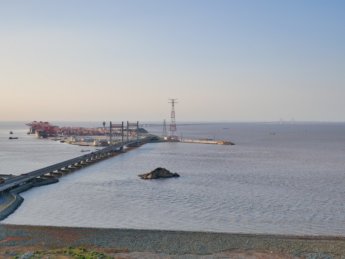 Which we did!
To read about my first hitchhiking experience in China and how we got back to our apartment, come read this article:
Day 5: Temples and Tourist Traps
I Don't Want to Leave
On our last full day in Shanghai, I felt a bit melancholic that we'd be leaving so soon already. We checked for the morning street food cart, but the lady wasn't there. Jonas became anxious about the food. We'd only seen her sell this kind of egg pancake. He really wanted it.
On a mission to explore the old city of Shanghai, we took the

 from Jiangning Road to Xintiandi (新天地) and then swapped over to 

 to Yuyuan (豫园).
We first walked around and visited the Gucheng Park before going to the Yu Gardens. This park was very pleasant and had some beautiful cats hanging around in the bamboo forest. A girl was feeding the cats breadcrumbs. Once I showed up to pet the cat without food, she shared her breadcrumbs with me and her family took the opportunity to take some photos of us feeding the cats.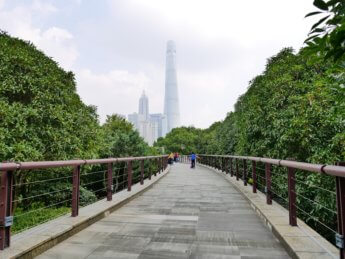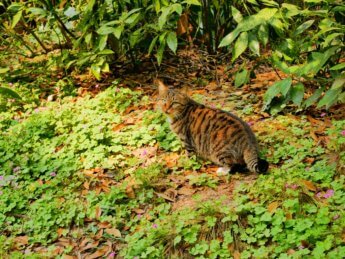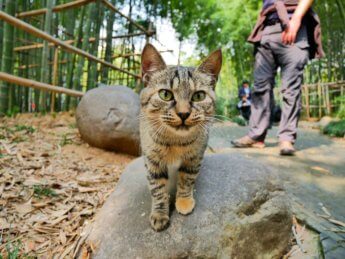 The Yu Gardens are a major tourist attraction in Shanghai, but I never expected it to be this major. It was Jonas' first time here and he had really looked forward to visiting this, but it was… a mistake.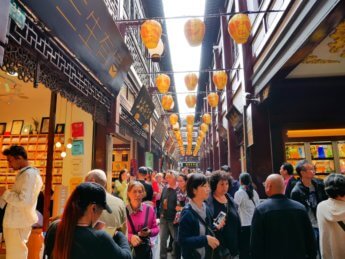 Once we entered the complex, it was insanely crowded. Too crowded to walk almost. And the garden was actually more like a shopping mall. We tried a sample of some local alcohol to make it work, tried some food, and got a bubble tea, but it was uncomfortable to be there. Worst of all, the Yu Gardens themselves were under renovation. I can't say I'm surprised it's so busy with this kind of enthusiasm. We didn't stay long.
Islam, Confucianism, and Daoism
We continued walking to the next sights Jonas had picked out. There was another tiny pedestrian roundabout close to our next sight: the Xiao Taoyuan Masjed (小桃园清真寺). That's a mosque complex with a special fusion of Chinese and Islamic architecture and a separate women's mosque. I'm not super familiar with Chinese architecture (yet) and I'm having a hard time seeing anything but a modest mosque in a sea of distant high-rise towers.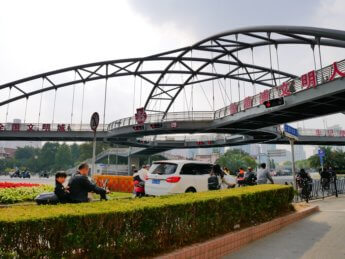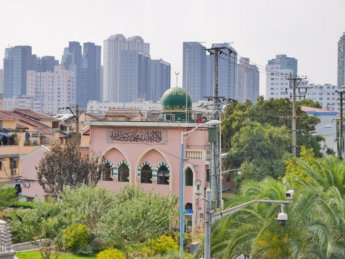 We were outside appreciating the building when a woman in a hijab came out of one of the main buildings. "As-salaam Alaikum," she said, which I reciprocated with a "Wa Alaikum As-salaam." She raises her eyebrows as if she's surprised and then smiles and nods in mutual understanding. Jonas is impressed with my promptitude.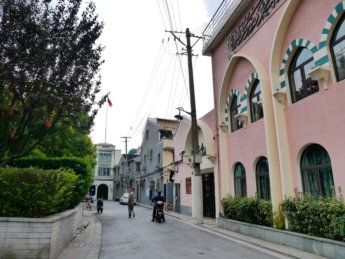 Jonas leads the way through the low-rise neighborhood to the Confucian temple. We get a little lost in the small streets, but eventually, we find our way to Shanghai Wenmiao (上海文庙). The entry fee is 10¥ per person. We enjoy the tea exhibition, the beautiful gardens, and pagodas. While relaxing in the garden, a man approaches us. I'm not sure what he wants, but he puts his face really close to my camera that's lying on the table and then states that he just wanted to look at my camera. "Panasonic." He says. "Yes." I respond with a smile.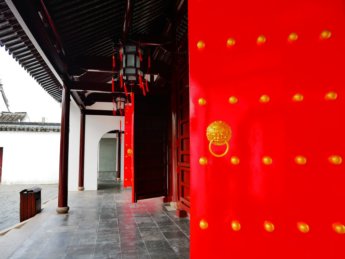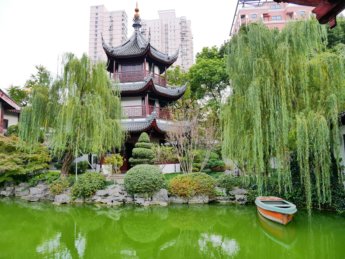 Next, we walk to the old city wall (古城墙) and the Dajing Pavilion (大境阁), which is a Daoist temple. Jonas didn't feel the need to go in, but the entry fee was only 5¥ per person, so why not. They had some cool calligraphy and instruments inside of which I can't remember the name. The Daoist statues were also pretty cool, but I realize this is really not a religion I've ever learned about. There's not much left of the old city wall except for this part. Jonas remarks once we're outside again that it looks like a pretty climbable wall and not much of an obstacle.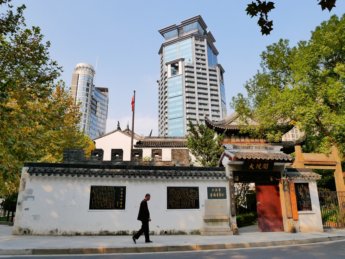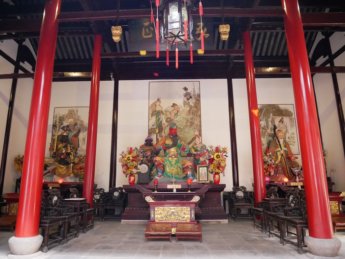 Halal Food
Now that we're almost back in the center, we continue walking back to the People's Square. We noticed that no matter what you do, you always have to switch metros. And the distance you have to walk underground can be very, very large at times.
Jonas recognized the halal symbol on the outside of a restaurant (حلال). We were passively looking for food—and dumplings in particular. Jonas knows I'd rather not eat pork anymore since the last xiaolongbao, so a halal sign definitely sparks joy. And by now, I even recognize the characters for beef (牛肉).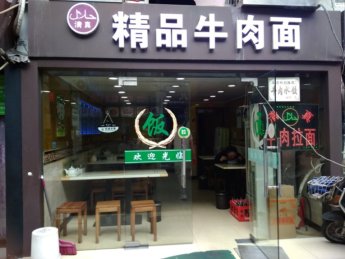 A girl in hijab in an "I'm not a rapper." hoodie walks out of the restaurant. This is the right place to be.
Next, we eat some amazing dumplings before we try finding a digital drawing tablet for me one last time. We almost walk out with knockoff AirPods for 200¥. We pass Shanghai Christian Church Moore Memorial Church (上海基督教沐恩堂) before reentering the metro system to go home early to do some pre-packing.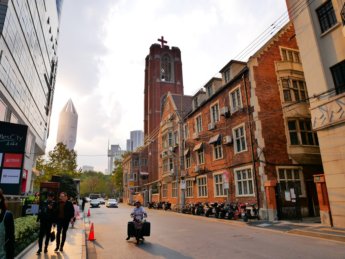 The Worst of Shanghai
Jonas really wanted to eat hotpot before we left, so he found a place in our neighborhood called Haidilao Hotpot. It had really good ratings and people in a Shanghai Expat Facebook group were raving about it and said it had a good price. So we walked there and also checked out the location of the metro station (Changshou Road) we had to use the next morning for our departure to the airport.
The hotpot place contained more red flags than a glorious communist parade.
First, there were some greeters by the special elevator that took us up to the restaurant. They were very adamant to urge us into the elevator. We skipped whatever floors are in between and went straight to the restaurant. After the doors opened, a bunch of young female and male greeters with impeccable skincare greeted us some more and asked if we had a reservation. Of course, we didn't. So they convoyed us to the cheap seats and started assuming what we wanted to eat, drink and be entertained by. Jonas and I were constantly attended to by a person, which kept us from talking to each other and actually discussing what it is that we want. We wanted to look at a menu, that's for sure.
Looking at a menu was a real problem, but they brought us unsolicited snacks and drinks kept waving and blabbing and smiling for no damn reason. By now we'd been escorted to the bar, which had a Weizen beer – my Achilles heel – on the menu. I told Jonas to stop touching the entrapment snacks and talk to me. Someone, of course, came in between us and I told them to go away.
This was my personal hell; this was Disney World.
Supermarket Hotpot
We left soon after. I was quite frustrated and Jonas was hangry by now. This wasn't going well.
But then… as we crossed the street on our way home… we saw the shimmering lights of the true beacon of hope: Aldi!
We decided to say fuck it, we're cooking for ourselves. As I strolled around the shop looking at all the items that were familiar yet strange, I stumbled upon a homemade hotpot kit. It required no pot, nor a microwave or other heat source. Just add water!
I showed the self-heating hotpot to Jonas who was intrigued. We decided to take it home and try it out.
We found a video about the process to make sure we didn't actually misunderstand something vital. There was a package in the contraption with big warning signs that was the heating thing. We put all the ingredients in the advanced plastic container and dropped the heating pack in the cold water in the layer underneath. Now we let the chemical reaction happen.
It worked incredibly well! The hotpot kept boiling for a very long time. There were the tongue-numbing peppercorns in there that give that funny sensation (málà – 麻辣). In the end, we were both stuffed and very happy we didn't get sold on the annoying family-friendly hotpot place. We dodged a bullet there.
Then we finished up packing with our German Weizen beer from Aldi and went to bed for an early departure to the airport and Thailand.
Day 6: Departure to Chiang Mai, Thailand
Jonas' Dream Come True
Our alarms went off at 5:00 in the darkness of Northern Hemisphere November. We finished up packing without so much as a hot drink and then left the apartment. Jonas had begged the food gods to provide him with one of those egg pancakes, and they delivered. On the same corner we'd seen her a few days earlier, the pancake lady patiently waited at 6:10 in the morning for hungry bypassers to make a stop.
While still discussing with Jonas what he wanted, she squirted some pancake dough on the hot plate and started prepping the food. It smelled amazing and we got one each. Jonas' palate went into a full-nostalgia mode as he munched his hot pancake from the little plastic bag it came in. He couldn't remember the name of the dish for the life of him, but he was certain he'd eaten it before in Qingdao.
The Long Metro Journey
His food was gone before we even entered the subway station Changshou Road (长寿路). Both of us were really good at operating the metro ticket machines by now. We took 
 for two stop to Jing'an Temple (静安寺) and then switched to 

 which goes all the way to Shanghai Pudong International Airport. That's a crazy long journey for the time of the day and I'm very happy we made it worth it by staying for five nights in Shanghai.
I finished my egg pancake on the train, which felt a bit strange since almost no one was eating. More and more seats freed up as we got closer to the airport. Making such a long journey by metro was fine on the day to Dishui Lake and Yangshan, but that was without luggage. Just having our backpacks around wasn't a lot of fun anymore.
We arrived at the airport and found our way to the check-in desk. I dropped my heavy luggage on the scales while Jonas held on to his. I was looking forward to Thailand and Chiang Mai in particular, but I also felt like I just wasn't done yet with Shanghai and mostly China as a whole. Both of us had had a really great time here.
My luggage got picked out by the machine for having a battery somewhere, so I had to go to a special room where a man asked me to open my backpack to find the battery. He gave me some hints on where to look, but I had no idea what item had a small battery. Eventually, I went through one of the bags and picked out my headlamp. The man enthusiastically grabbed it, looked at it, then gave it back because it was harmless. My luggage had to go back to the check-in lady and then passed the scan. I think it's very cool that they let me take it out rather than just violate my luggage and then steal an item from me. Very cool indeed.
The Flight to Chiang Mai
We had more waiting to do. All the Western people in all of China seemed to be behind security. I put my brand new face mask on to prevent inhaling all the harms of airplane air while Jonas walked around looking for coffee. His mission failed and then the intercom called for us to board.
The wait for the flight wasn't that long and before we knew it we boarded the China Eastern Airlines flight to Chiang Mai. The plane was largely empty and this time there were no children in our vicinity. Finally, I could catch up with some sleep.
Map of Our Shanghai Itinerary
You can collapse or open up the menu in the sidebar. That's where you'll find the specific days with the sights and destinations and the routes of how to get there. Happy traveling!
Great! You Made It! Here's a Pin: