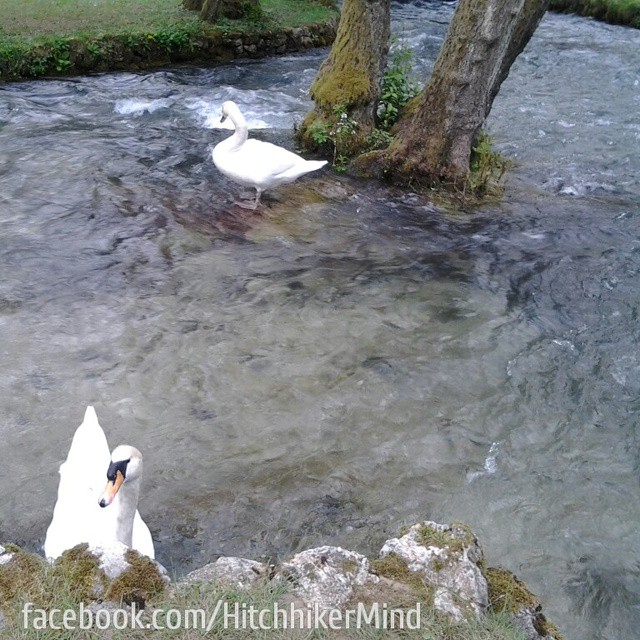 I'm spending the afternoon in Vrelo Bosne park in Ilidža, west of Sarajevo. That's where the source of the Bosna is at. That stream becomes the river Bosna that is the namesake of the country Bosnia and Herzegovina. It flows from here northward until it contributes its water to the Sava river. The Sava river ends up in the Danube river in Belgrade. As I hitchhiked from Belgrade to Sarajevo in one day, I guess it's possible to follow this stream back to Belgrade.
But I guess it's not completely walkable all the way to the border because of Bosnia's landmine problem. I wonder at what point the river becomes deep enough to kayak? I guess that kayaking is the safer way to get from the Bosna river to the Sava and Danube. Safer than walking in the wild. I'm actually super afraid to step onto a landmine and think the EU should help pay for a big demining campaign here in Bosnia and Herzegovina.
But I digress… Back to Vrelo Bosne.
These swans had a jolly good time in the strong-ish current of the young river. Lots of visitors to Vrelo Bosne park fed them. I'd be happy too. I was looking for their cygnets, but I could only find them of another couple elsewhere in the park. I didn't feed them because I didn't carry any… swan snacks and I'm also quite afraid of these beautiful but moody-ass birds.
#BiH #Sarajevo (at Vrelo Bosne Ildza Bosna & Hercegovina)