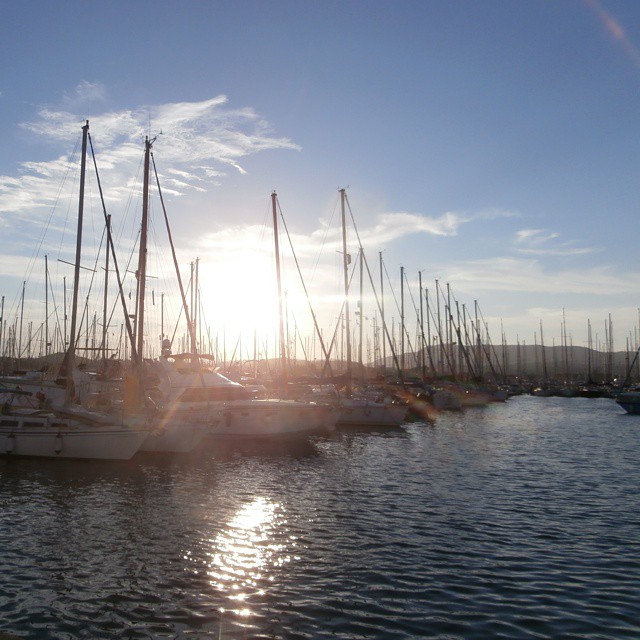 D-Marin, which I call "Gouvia Marina" has been my home for almost a week now. I've experienced the sunrise and sunset for so many days. Witnessing these daily events here is still so spectacular when you notice that the density of masts resembles a forest. Sometimes, I forget that I'm already on a tiny island in Greece. Corfu feels like the mainland now.
My rhythm each day has been as follows: wake up on the deck of the motor yacht. Don't worry, the owner suggested this to me for finding a boat hitch, so I have their permission. After awaking, I prepare a little day bag with my stuff. I carry around my tablet, my hitchhiking sign, a bottle of water, and my diary. Most other people also awaken with the sunrise, so I say hi to everyone in the marina that's up. I know most people by now, so I know not to ask the ones I've already asked if they're going to Italy and can take me.
The docks of Gouvia Marina are very, very long. I walk the most efficient route my brain can come up with. Whenever there's a new boat, I try to see if the people are there and then I say hi to them. I ask them if they're going to Italy, which is usually a no. Apparently, the main sailing direction on the Mediterranean Sea during June is eastward, not westward. I thank the people who talked to me for the chat and wish them fair winds.
The people I encounter quite often at the marina are the people that are doing maintenance works on their boats here. They're usually not going anywhere, so it's mostly those new people that I need to catch. If they've just arrived, they're more likely to also leave soon after. These marina fees are racking up quite a bill for some who are simply making a stopover.
At noon, I go to the café or the shop to refill my water bottle and perhaps eat a snack or drink a coffee. Then I make more rounds or relax a little at the café to write in my diary or write these blog posts. There's a Greek guy who works here who often comes to say hi and buys me a beer in the afternoon. I picked up a few words of Modern Greek, though it's unlikely that Greek people will take me to Italy. I pass the time.
Then after the afternoon heat, I make my rounds again. This is usually when I meet another bunch of new arrivals. I ask them about their sailing plans and if they'd like to take a hitchhiker. I tell them I've never been motion sick, that I know how to sail a dinghy, and that I play guitar. Or I can do other tasks aboard. Then the answer is usually a no.
After sunset, I make my way back to my sleeping spot. Sleeping on deck is incredibly nice in this summer weather. There are starts to stare at and the boat wobbles a little bit to rock me asleep.
#Gouvia #GouviaMarina #yacht #yachting #Corfu #Greece #Hellas #barcastop #Italia #Otranto #sailing #sunsetporn (at Gouvia Marina Corfu)