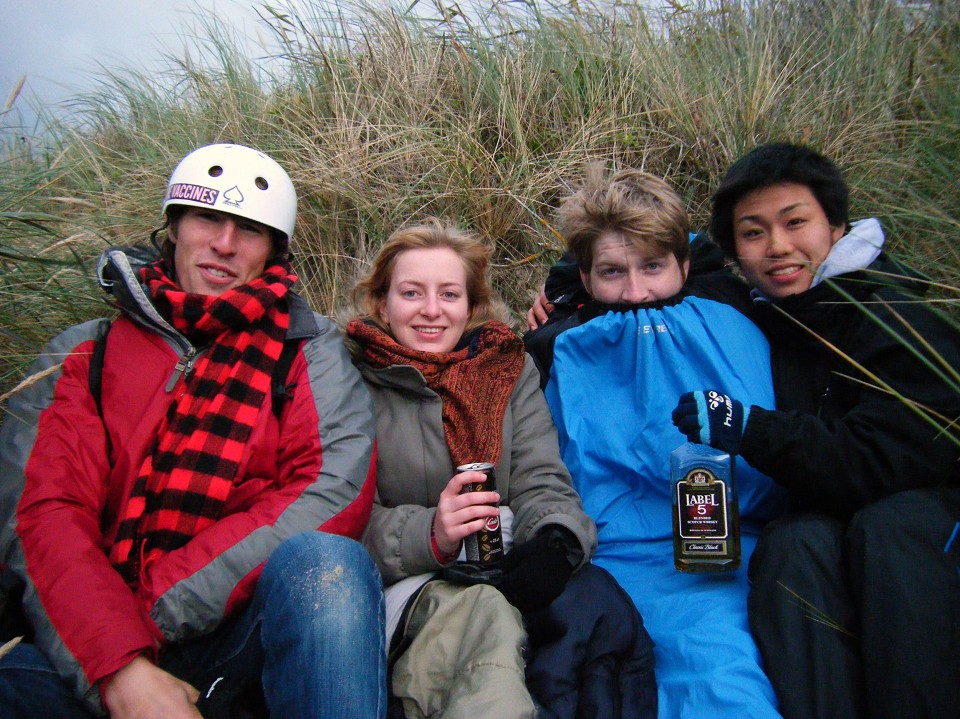 I wrote this story about a cycling trip from Aalborg to Skagen back in 2012. At that time, I lived in the Danish city of Aarhus for my semester abroad at Aarhus University. It first appeared on one of those travel blogging websites. Back in 2012, I still thought I'd grow up to become an accountant. A lot has changed in between. When I became serious about travel blogging, I moved this content from the travel blogging website to my own—almost eight years later.
At the time of writing, I was 21 years old. I don't agree much anymore with the NLOGtone, the writing style, my actions back, and my general insufferableness from then, so please forgive me. I also took the liberty to fix typos, change phrasing for clarity, take out absolute gibberish, and reformat this illegible beast. It was probably more work to fix this than the time it took to write it back then.
Entry #2: Epic Cycling Trip to Skagen was Epic
Originally appeared 22nd September 2020
Dear readers,
Yesterday, Friday the 21st of September 2012, I took off to make a cycling trip to 'The End of Denmark', otherwise known as Skagen. I left at 5:30 in the morning – not having slept – by bus, to pick up my bike at Aarhus School of Business (ASB). From there, I cycled on to the train station to meet my traveling companions. At Aarhus Central Station, I met one guy from Japan (Leo) and two guys from the USA (Erik and Reid). They looked very ready with their packed backpacks and fancy bikes, but only two out of four had brought sleeping bags. From there, we took the train to Aalborg while getting to know each other a bit more.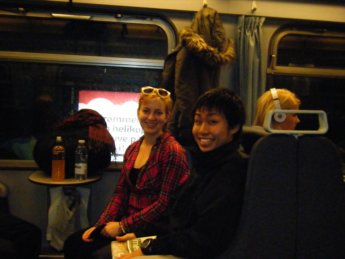 I had only met Erik before. He created the event on Facebook and it seemed like a nice adventure to me.
The plan was to cycle the 104 kilometers from Aalborg to Skagen or Grenen, wherever our bike tires would get stuck in the sand.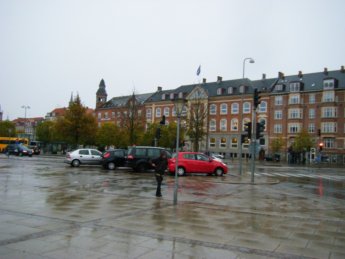 Leaving Aarhus for Aalborg by Bike and Train
It was pouring in Aarhus. Pouring in Aalborg. Pouring rain everywhere in Denmark. Not optimal conditions, but what the heck, we are hardcore and badass and not here to whine about a little (read: huge) amount of rain. Trying to leave Aalborg was a challenge since it was A) a strange city B) we did not have a map C) it was pouring D) it was windy and E) it was not flat at all.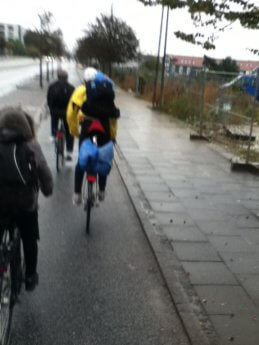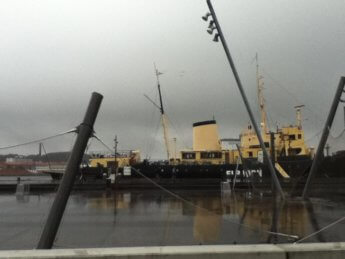 While cycling over the bridge, several trucks, buses, and cars passed us by so closely that we received that demotivating splash of water over us. Cold and wet, we reached another train station, where we discovered that there were no trains going to our next stop Frederikshavn. The reason? A boat had hit the railway bridge that led over the river we had just crossed. Our only option was a bus that came once every hour.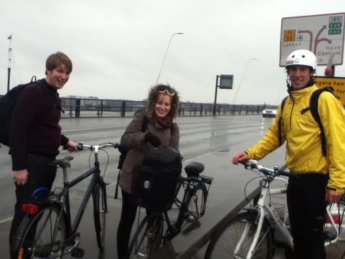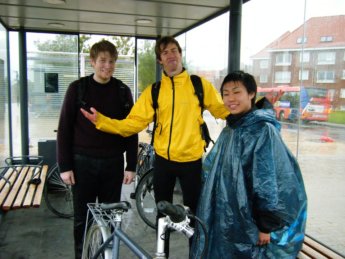 The first bus did not have space for our bikes, so we had to wait for another hour. In the meantime we found some protection against mother nature at a bus shelter, self-medicating with some much-needed Carlsberg. We were all in a bad place with our minds, but we were joking about the absurdity of our situation and how the other exchange students – who had organized a bus trip to Skagen for the following day – were wusses. Going back to Aarhus was not an option. We're not quitters. Eventually, we made our way out of the most depressing city of Denmark, by bus, with our bikes.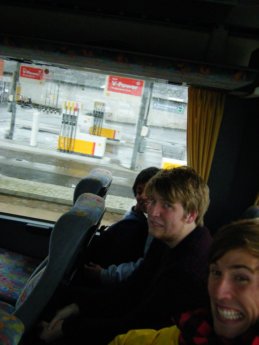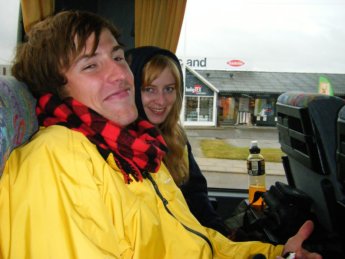 Getting out of Aalborg
A warm bus ride followed and dropped us off in the place where we wanted to be: Frederikshavn. Frederikshavn has a very important harbor for international boats, to Oslo and beyond. Here we are, at Skagensvej, the road to our final destination. It follows the coastline from a distance, which makes it fairly flat, but still, the wind lasted and became our new enemy number one. We fought through, talked each other up when one was tired and joked around. Back at a 7-Eleven in Frederikshavn, we had bought, in Erik's words, our "liquor jacket" named Label 5 – a welcome new companion on our adventure.
We were counting down the kilometers/miles, traversing small river streams, seeing the landscape change ad hoc, and enjoying the cloudy but light sky above us. This was as much sunlight as we had seen all day. We passed towns as Jerup and Napstjært, where there was a random farm with alpacas and goats, Ålbæk and Hulsig before hitting Skagen.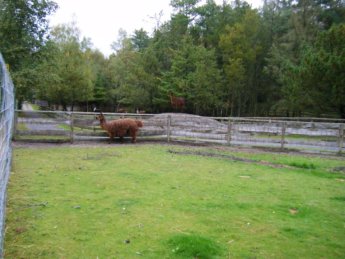 In Ålbæk Erik had bicycle problems (which he could fix), so another break. Just as a test I tried stopping cars for hitchhiking. Two cars in five minutes is not a bad catch, but Erik fixed his bike and we moved on.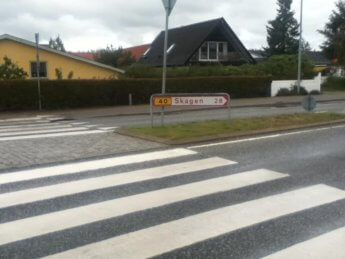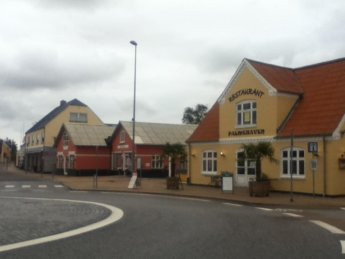 We could hear and smell the sea in the east while following the sound of the cars on the road and seeing the railroad sometimes in the west. We entered an amazing landscape of dunes and heather, then suddenly a pine forest loomed up in front of us. The sun was setting and the dusk took over to light our path. With only a few kilometers left, we brisked up our pace to hit Skagen.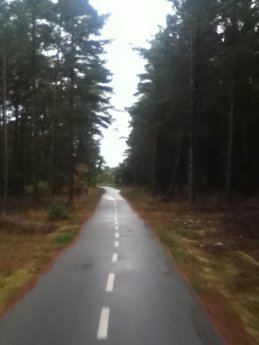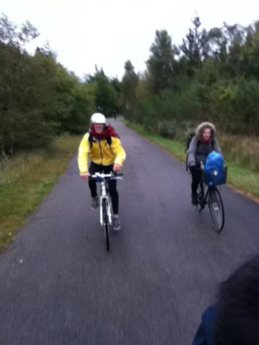 At some point, we encountered a sign that said "Skagen 10". The next sign told us it's 12 kilometers away. So I took the sign. It soon got dark, which made wayfinding even harder and made us lose sight of the landmarks like Den Tilsandede Kirke.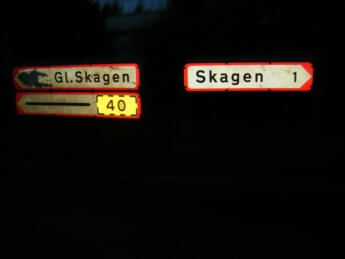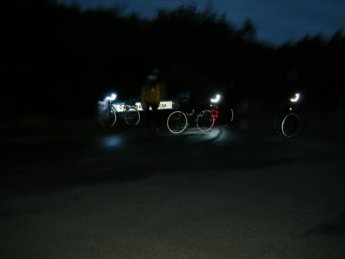 Warming Up in Skagen
There we entered a ridiculously expensive hotel with a piano man to ask for directions and maybe a hostel. We found the hostel, where nobody was there and the door open. We could just all in to warm up. Checking in was not an option and the plan to sleep at the beach was still there. Since I had not really slept in thirty-five hours, I just had to do that to revitalize myself. We had dinner and Scotch, we could make use of the bathroom and relax while other hostel visitors were coming in at times, not knowing that we were not really supposed to be there. The funniest thing happened when the night guard came by, locked the front door, and said hi to us, without asking whether we were guests.
Through another door, we left at 4:30 on the 22nd of September to make a cold night-ride to the northernmost point of Denmark, called Grenen. The night was black as we cycled through the city, up north, until we saw the lighthouse. The lights on our bicycles weren't that great, so the incidental illumination on our way was a welcome surprise.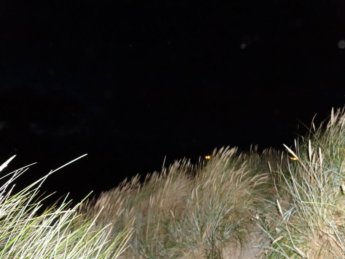 Almost getting blown off my bicycle, twice, we reached the end of the path. There we parked our bicycles, except Reid with his fancy bike. We began hiking towards the dunes and the sea. We found a place on a dune on the eastside within the high grass to snuggle in our (lack of) sleeping bags, waiting for the sun to rise upon us to warm our checks and replace the – moderate – cold. As a reward for our wacky efforts, some of the clouds had disappeared to show us Ursa Maior and Orion.
Enjoying Grenen
The next morning – a few hours later – we woke up to the mild light of dawn through the clouds. Cooled, but not cold, everybody woke up to have a morning ice-scotch-coffee. We took a cozy picture of us together thanks to the timer button and my tripod. Then we got up to make it to the aim of our travel and the point of only return: Grenen.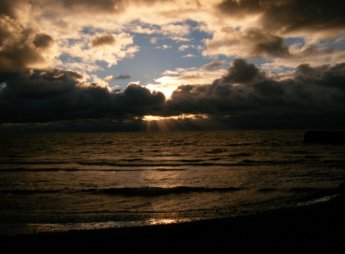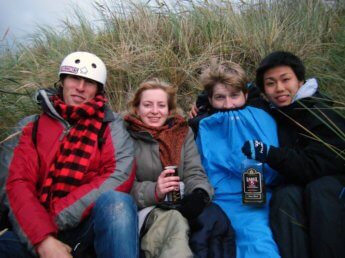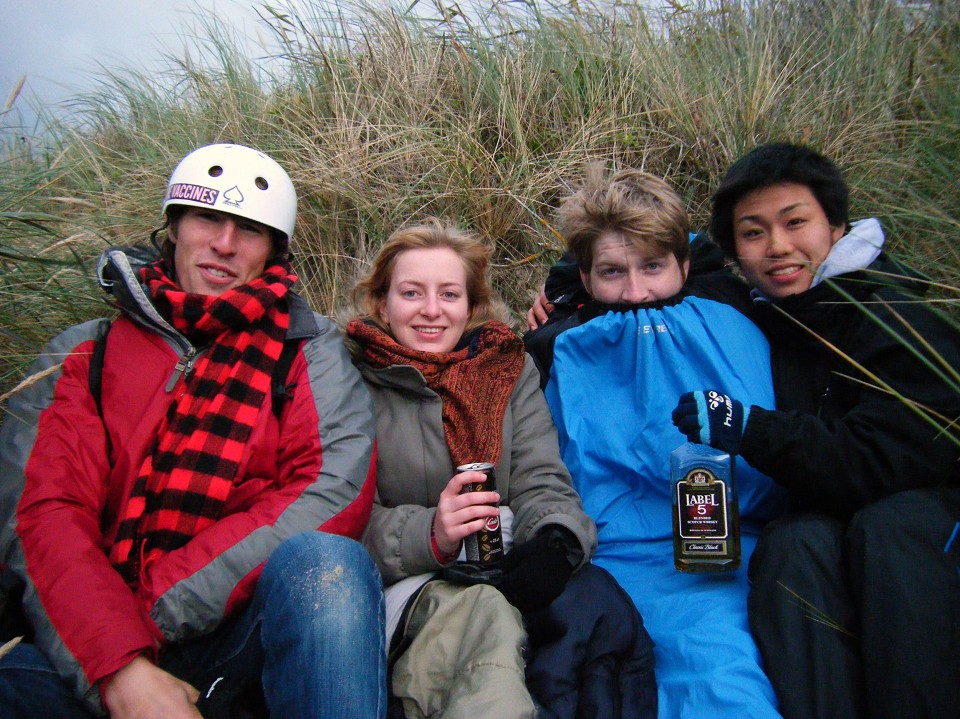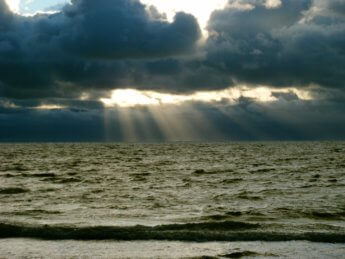 The daytime showed us what we'd mostly missed the night before. The lighthouse, the dunes, the vegetation were all so nice with a little light.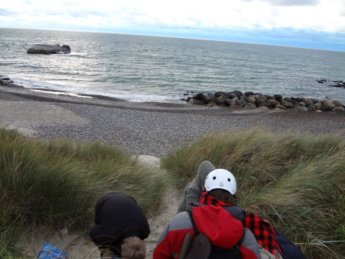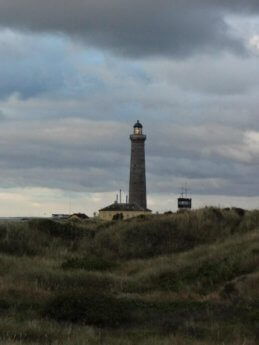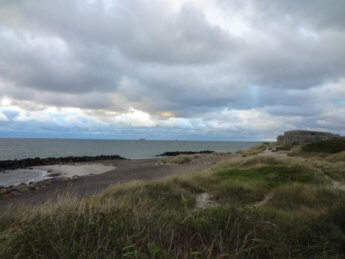 At 7:00 there were remarkably many visitors already.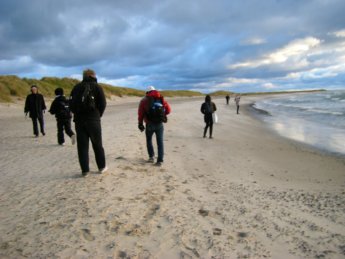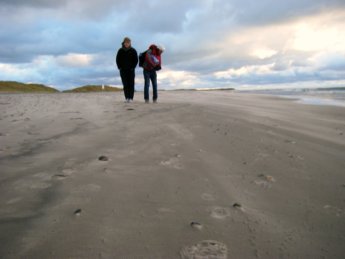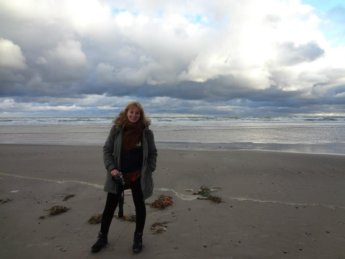 The sandy spit was split in two by the sea. So we had to take off our shoes to walk through the shallow water to make it to the actual point of Grenen. At Grenen, the North and Baltic seas clash. (Edit: it's actually the Skagerrak and the Kattegat, both of which are small seas or straits.) There was a strong wind coming from the North Sea, as I ran through the cold water. Eventually, I got used to the feeling, making me able to enjoy these forces of nature, while incidentally seeing a jellyfish stuck in the sand. We took many pictures.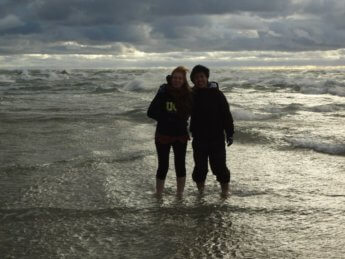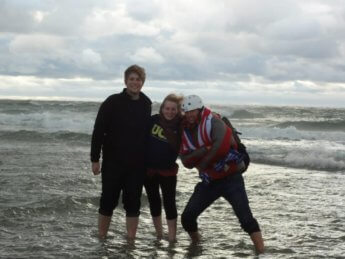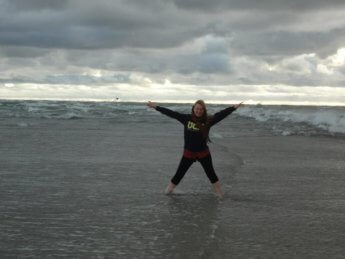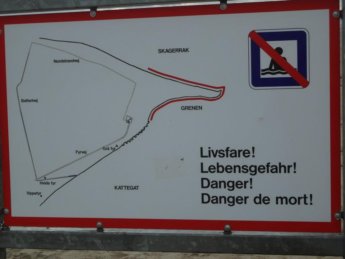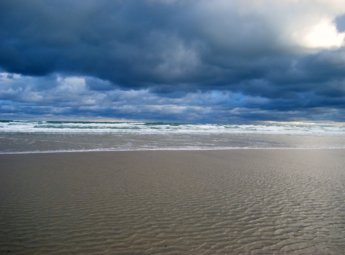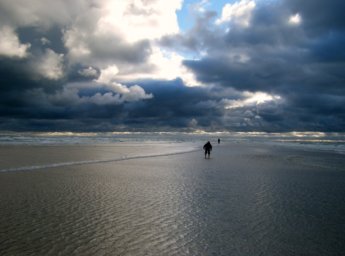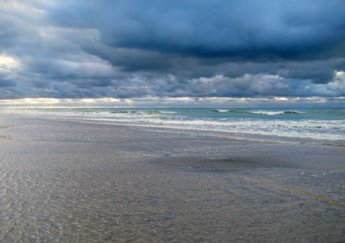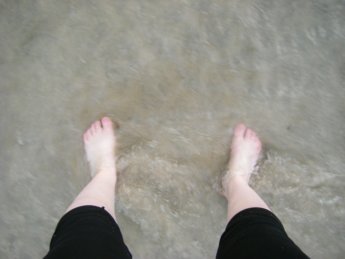 The US Americans had brought "an American flag" and wanted to take some photos. Uh… I don't know what kind of flag that is, but surely it's not the flag of the USA. Perhaps it's the simplified version?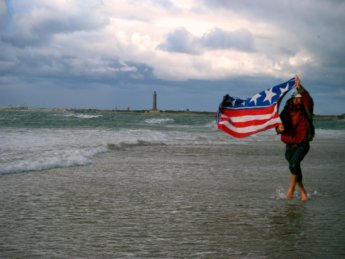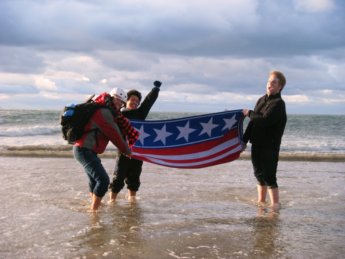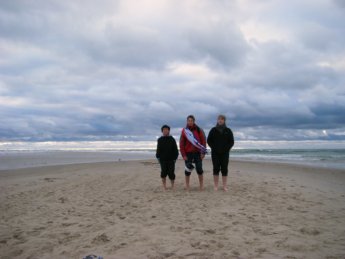 It was beautifully intriguing to see how these seas zipped together to be one for a moment, only to unzip and repeat. After some time we left, put our shoes on, and started the hike back while stopping for some food, and climbing one of the many bunkers, which gave another perspective on this remarkable phenomenon. Then we returned to Skagen.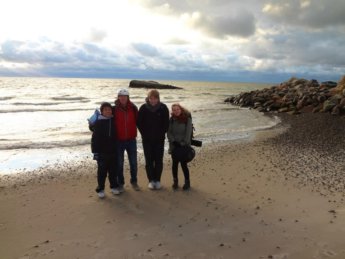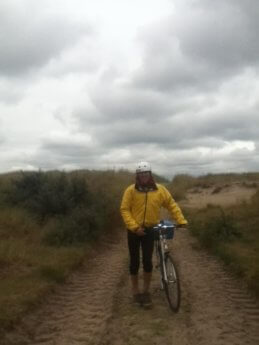 The Return to Aarhus
Once again in the center of Skagen, now in daylight, we got some breakfast and prepared for the long trip home in Aarhus. I separated from the guys. I took the bike, then train, then a bus, then a train, then bike again, then a bus, and finally on foot, until I was home in Risskov.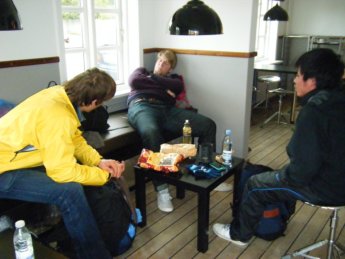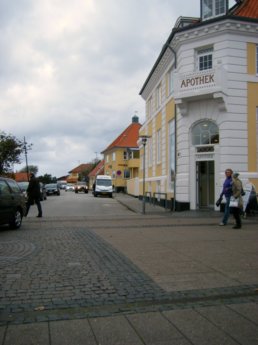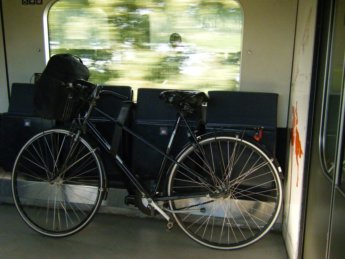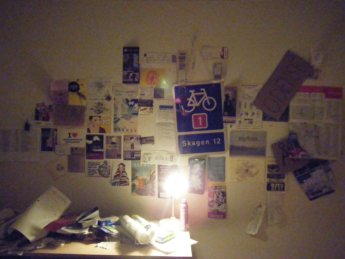 Route Map Cycling to Skagen/Grenen
In total, I only cycled about 60 kilometers on this trip. Also, it appears that we haven't actually visited the actual northernmost point in Denmark, which is a bit more westward from Grenen.
Thanks for Reading this Blast from the Past!