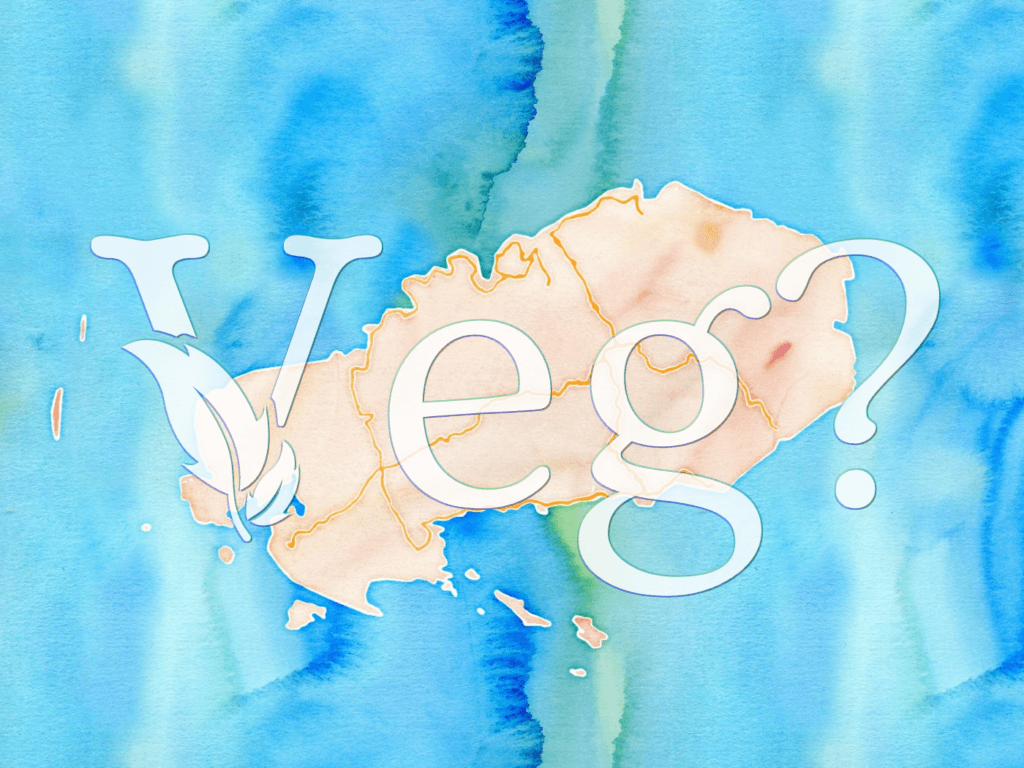 Finding vegetarian food in 'mainland' Mauritius is incredibly easy. But is it also possible to maintain a vegetarian diet on the smaller island of Rodrigues? I found out there are quite some restaurants in Port Mathurin and the rest of the autonomous island that serve delicious meatless and fishless foods. Below you'll find them with a description and a location on the map. These restaurants are in no particular order. All of them are in Port Mathurin unless indicated otherwise.
What's the Food Situation in Rodrigues?
Vegetarian-Friendly Restaurants in Port Mathurin
Now let's talk about the best veg-friendly restaurants in Port Mathurin and elsewhere in Rodrigues. All of the following restaurants are located in or near the island capital. For restaurants elsewhere across Rodrigues, scroll down.
Rodrigues Friendly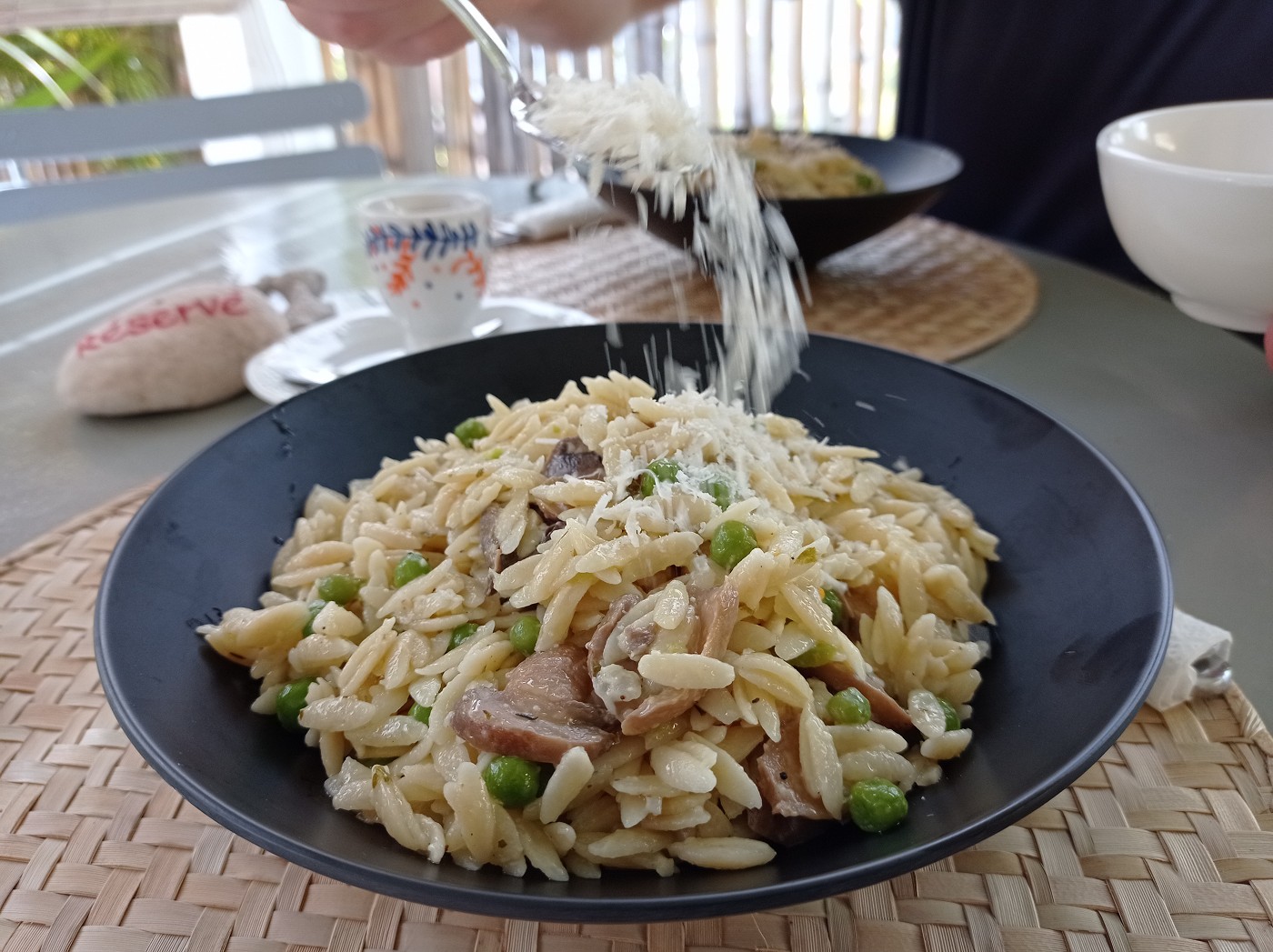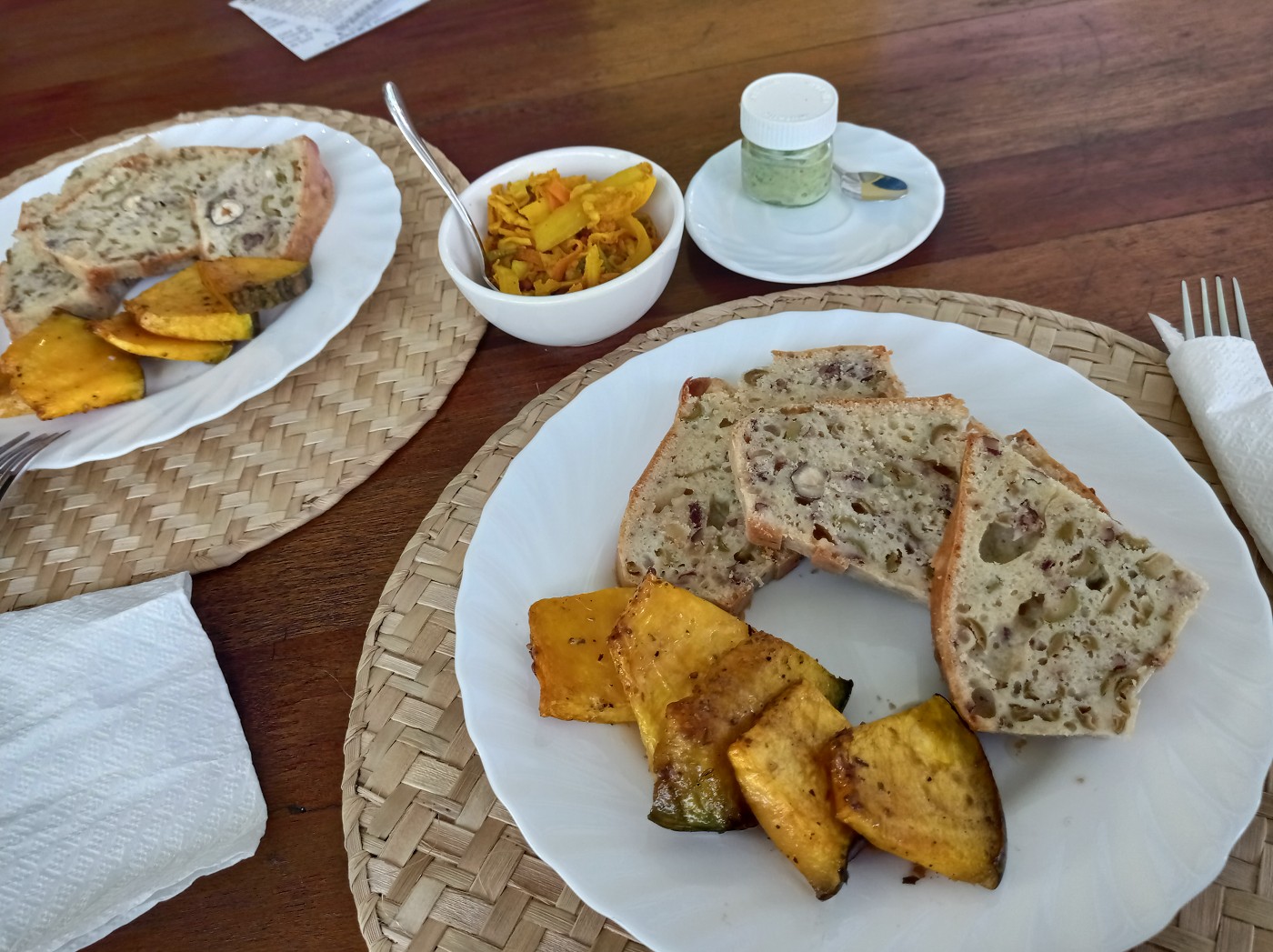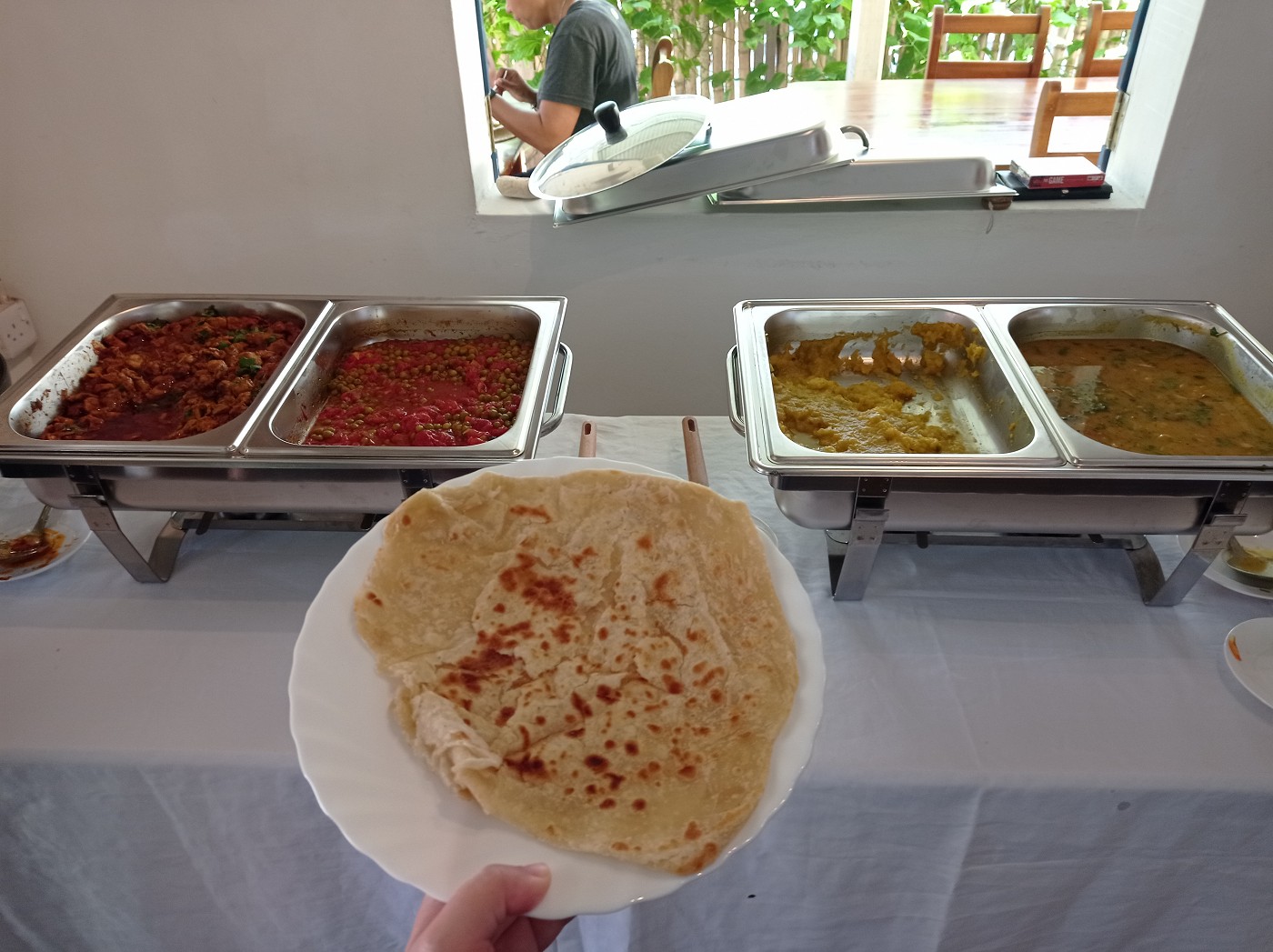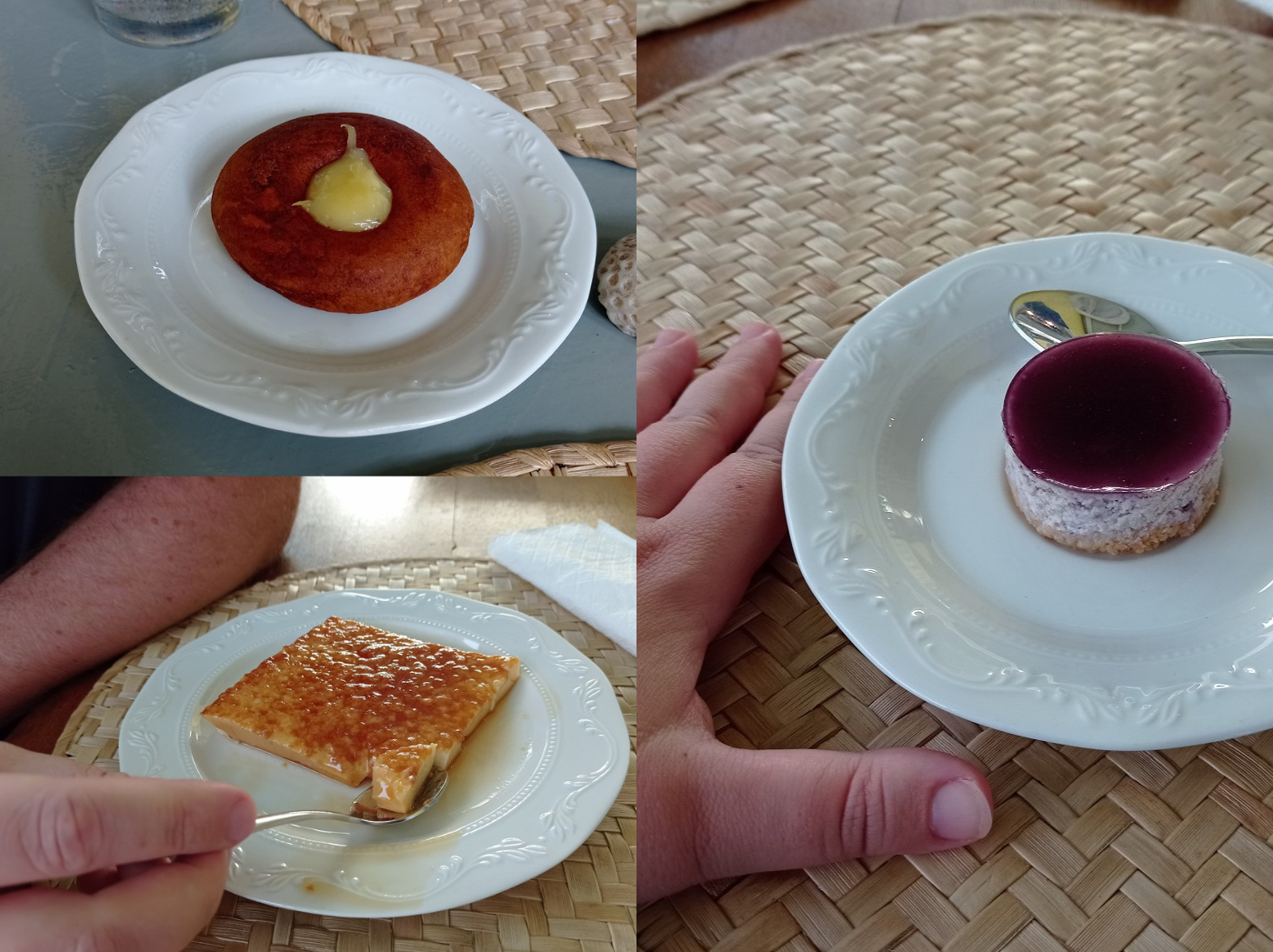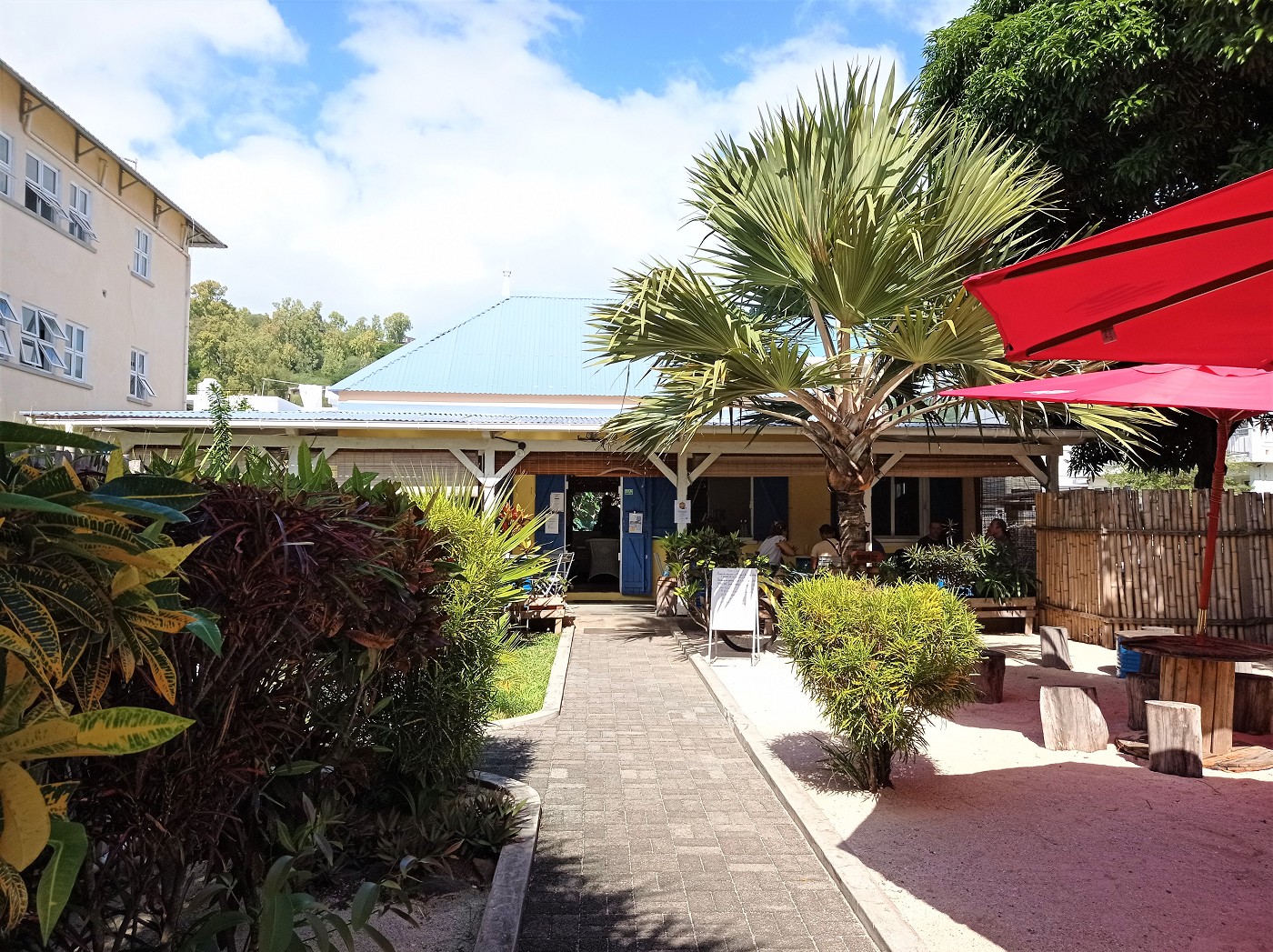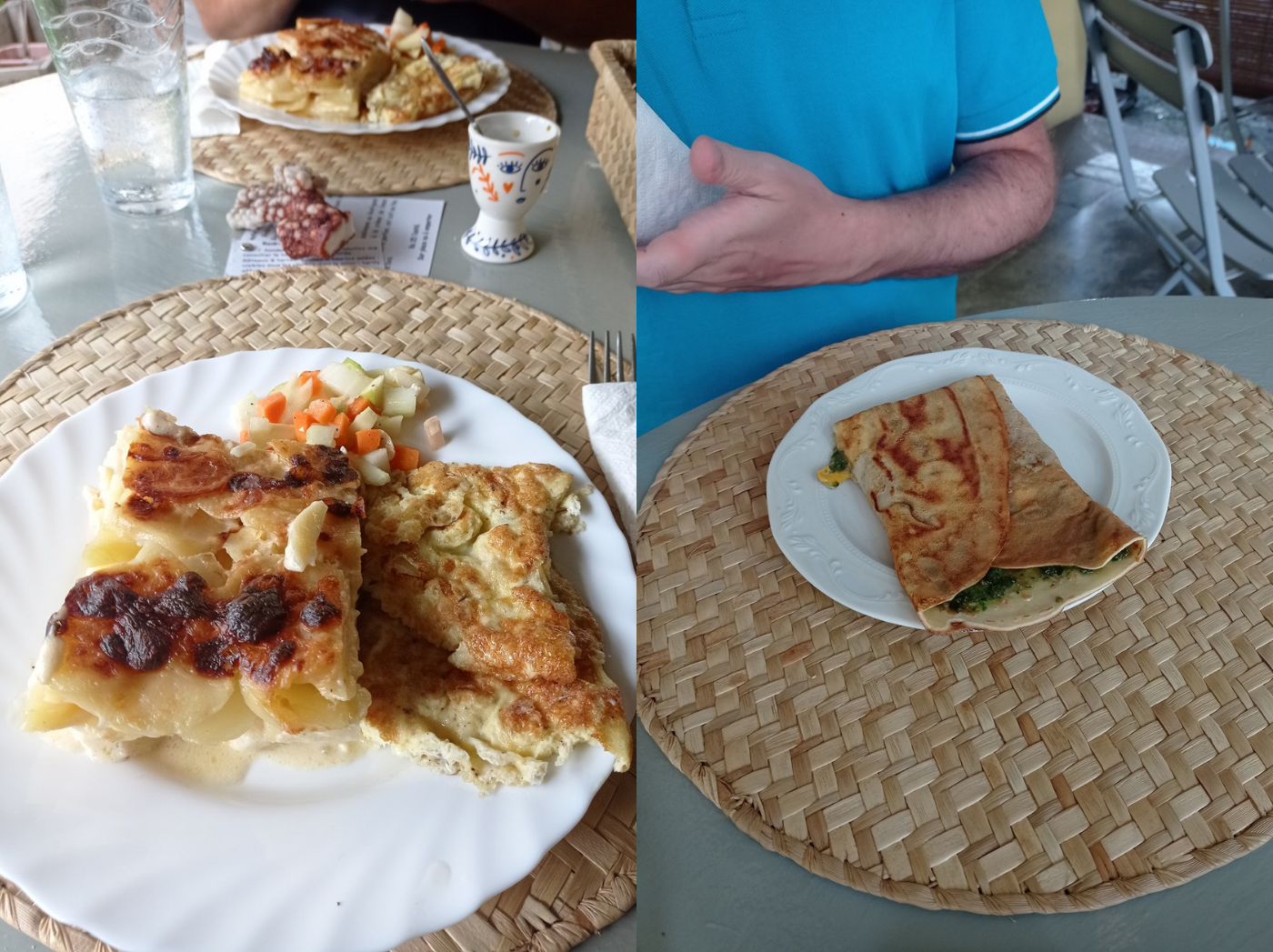 Opening times: Monday, Wednesday – Friday from 9:00 till 16:00. Tuesday from 9:00 till 13:30. Saturday from 8:30 till 13:30. Closed on Sundays. Contact them on Facebook or by phone: +230 5498 0010
Rodrigues Friendly in downtown Port Mathurin is probably the best place to start. Besides offering an ever-changing menu that always includes vegetarian options, they're also a tour operator. The owners Claire and Christian post the up-to-date menu on their Facebook page, so you can figure out when to come for quiche day. You will be on a first-name basis with them on your second visit. They're very responsive on Facebook as well, so it's very easy to reserve your lunch a day in advance. Besides quiche, they also serve crêpe and delicious pasta. They have a SodaStreamer, so if you crave sparkling water, this is one of the few places that has it.
Faratha Chou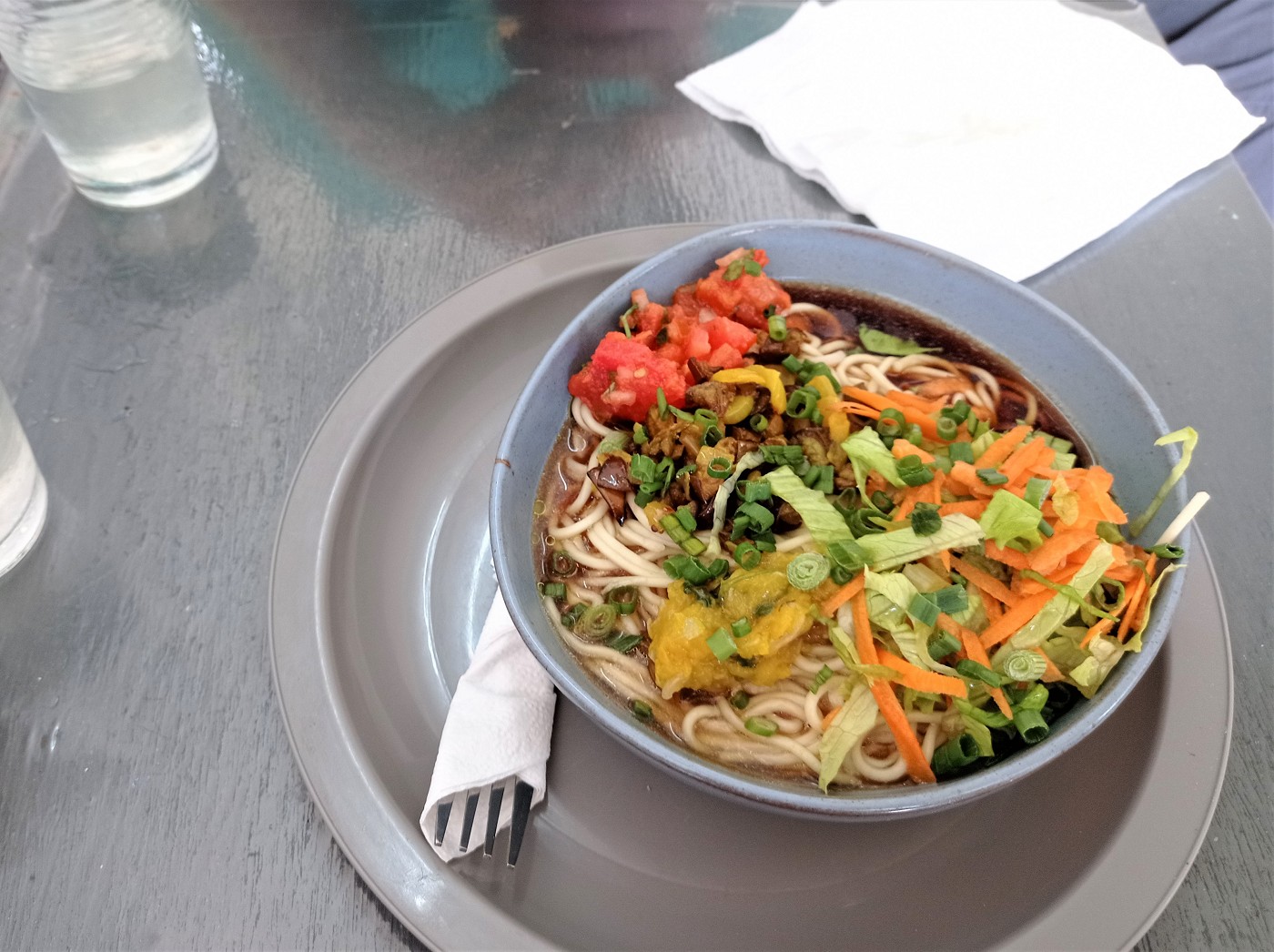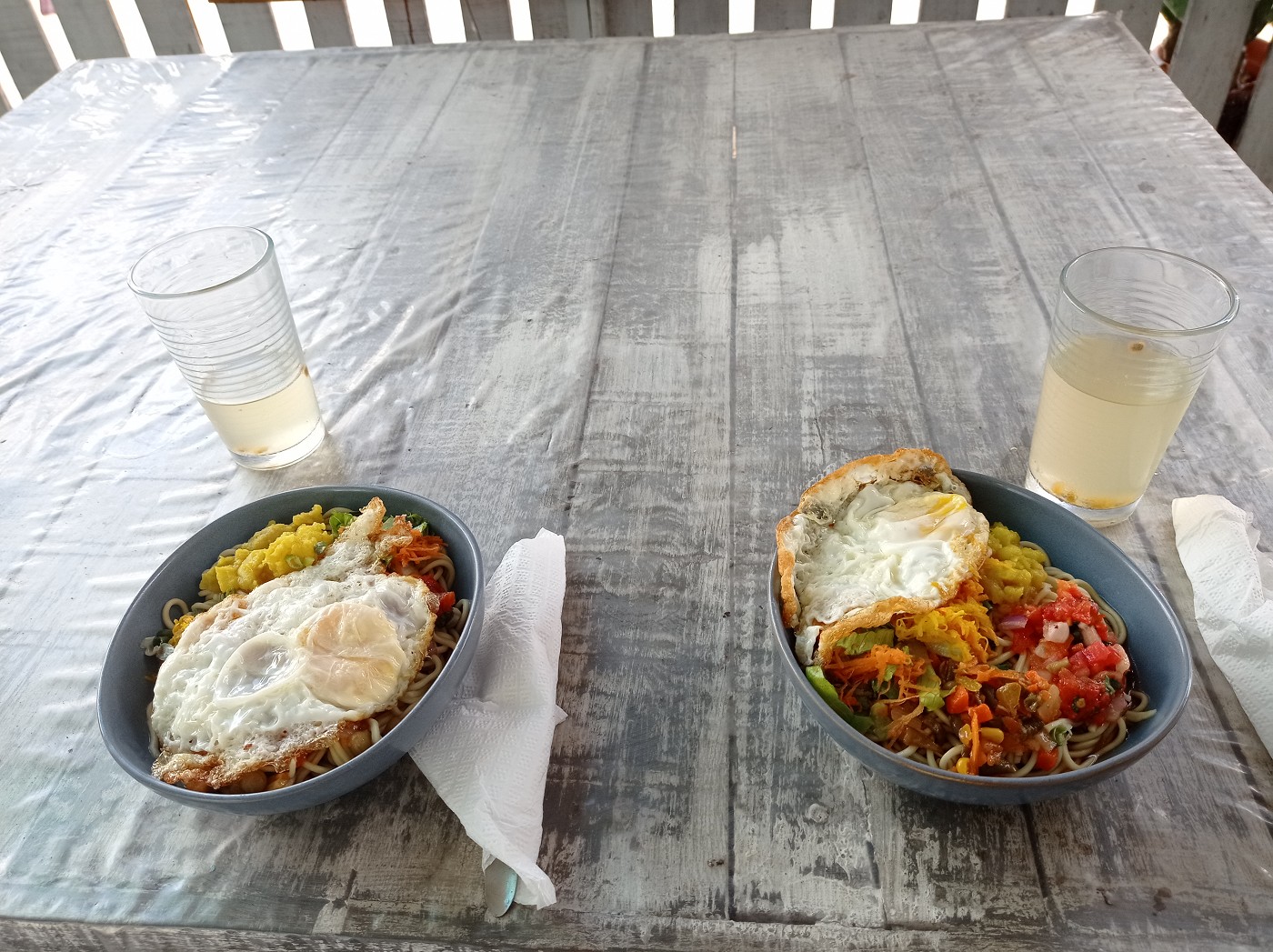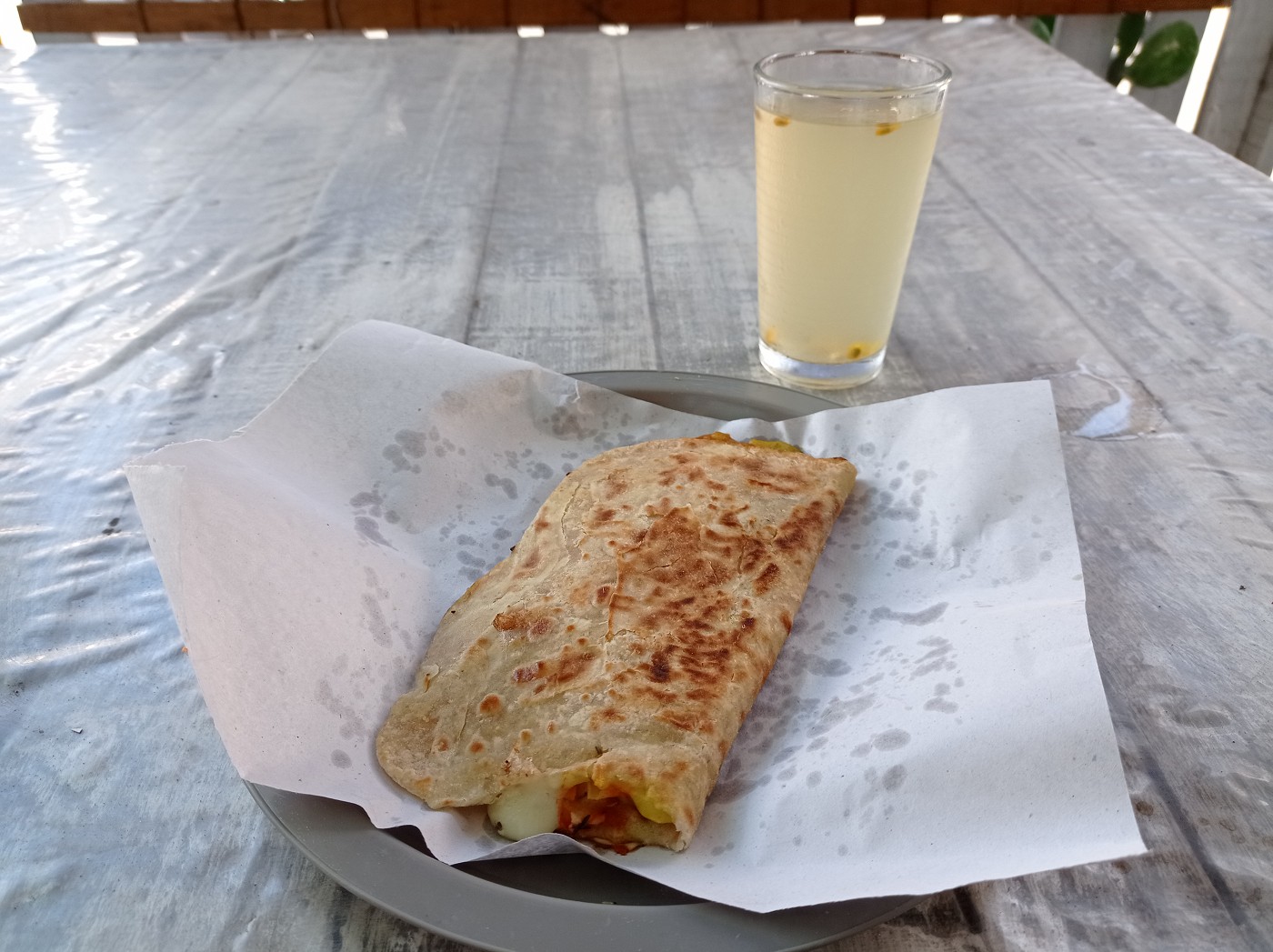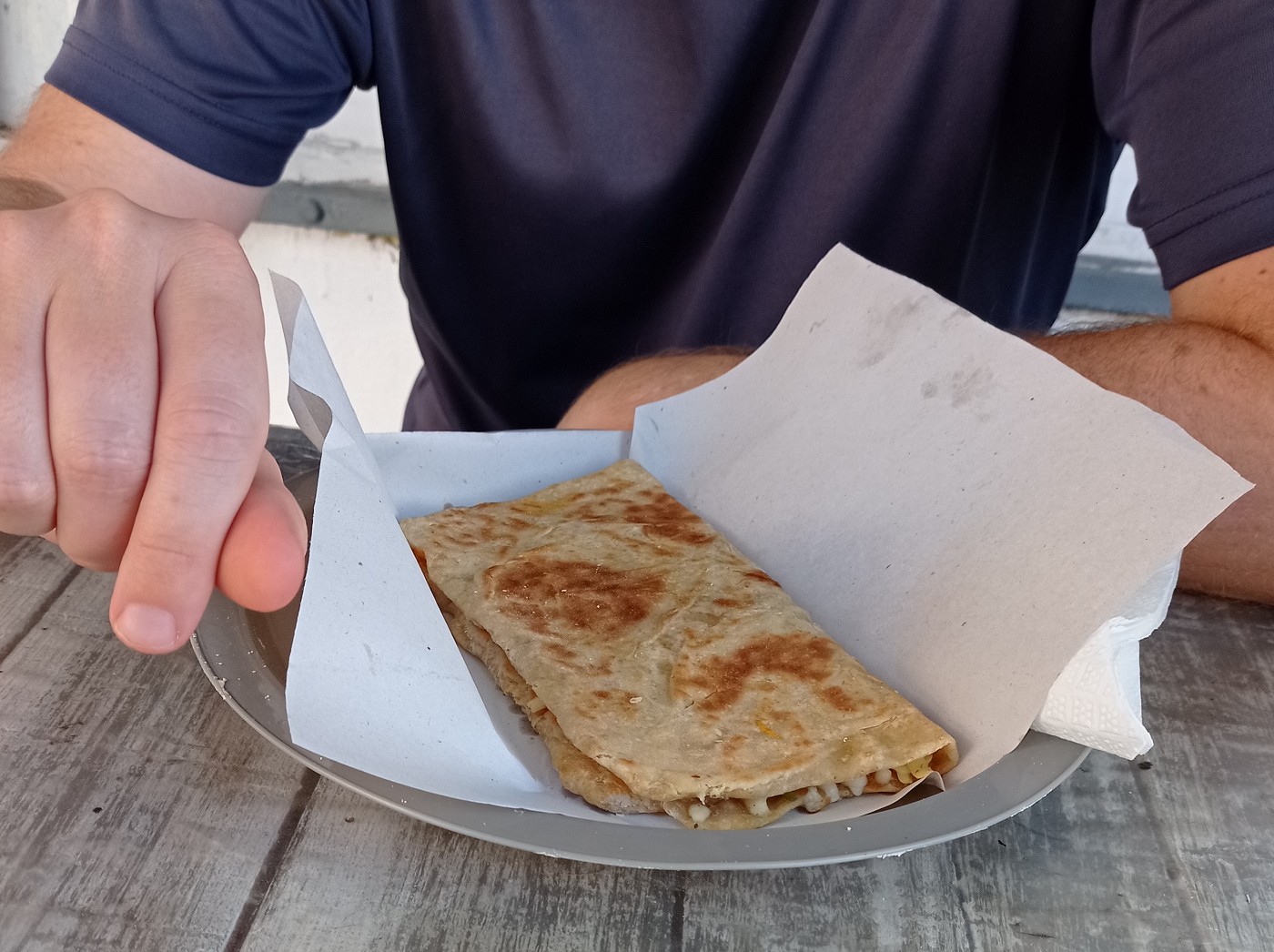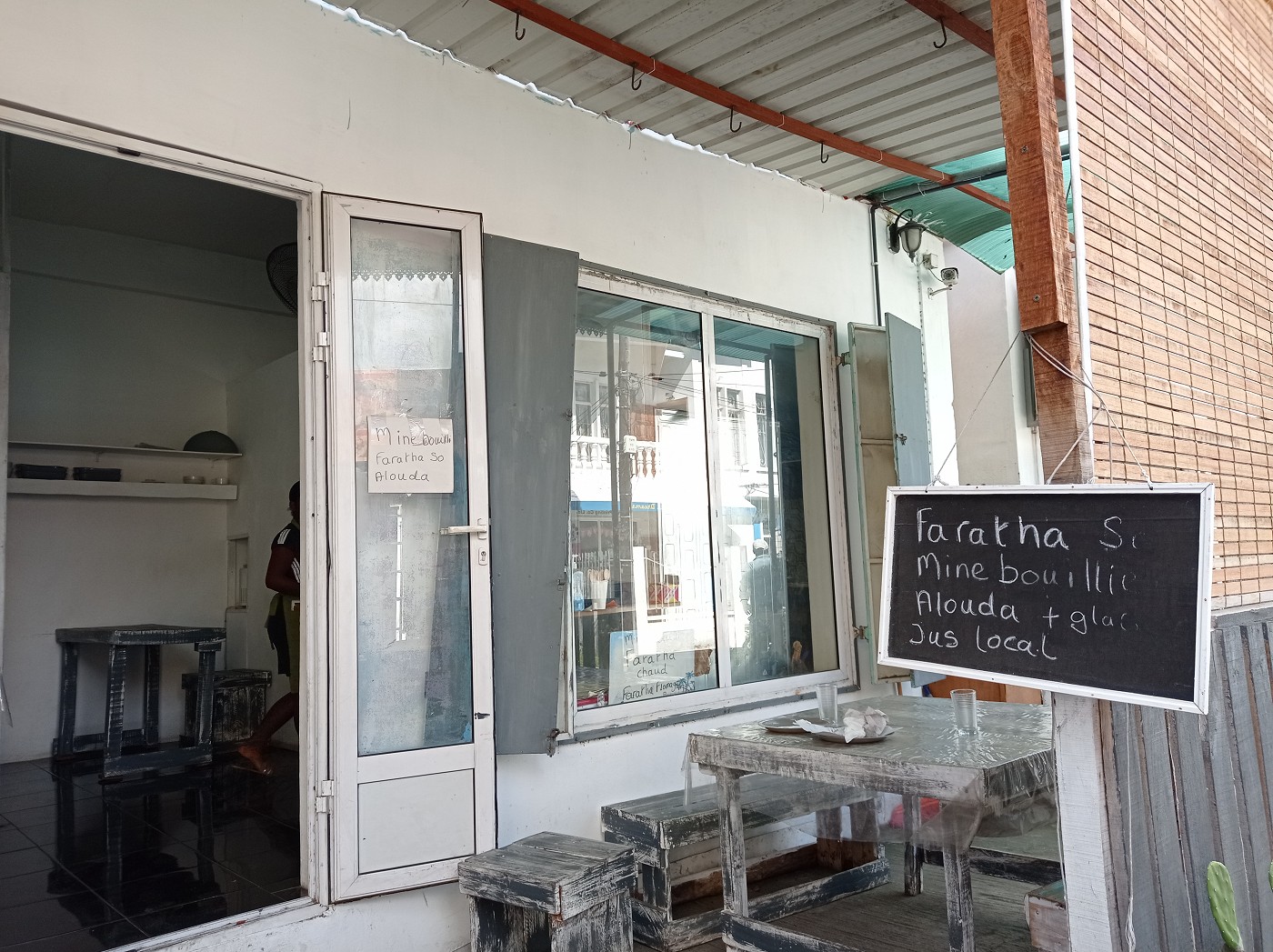 Opening times: 9:00 – 14:00 from Monday till Friday. Closed on Saturday and Sunday. Contact them on: +230 5973 8976
It's a little hidden away because it doesn't have the name on the building, but going to Faratha Chou is absolutely essential. It's one of the few places that has vegetarian things pointed out on the menu. Though we had tried the two other prevailing types of mine before, we had never had mine bouille. But this place has a vegetarian version on the menu, so we tried it and then regretted not eating here all the time. It's a bit like a laksa like we tried in Malaysia.
Our initial obsession with this place was with their farathas. They make a mean cheese faratha with vegetables that almost tastes like a quesadilla. Their (maracujá/lime) lemonade is also the best in town. It's right across from the bakery Loul & Co., so during your trip in Rodrigues, you'll definitely come by this place.
Manzé Lakaz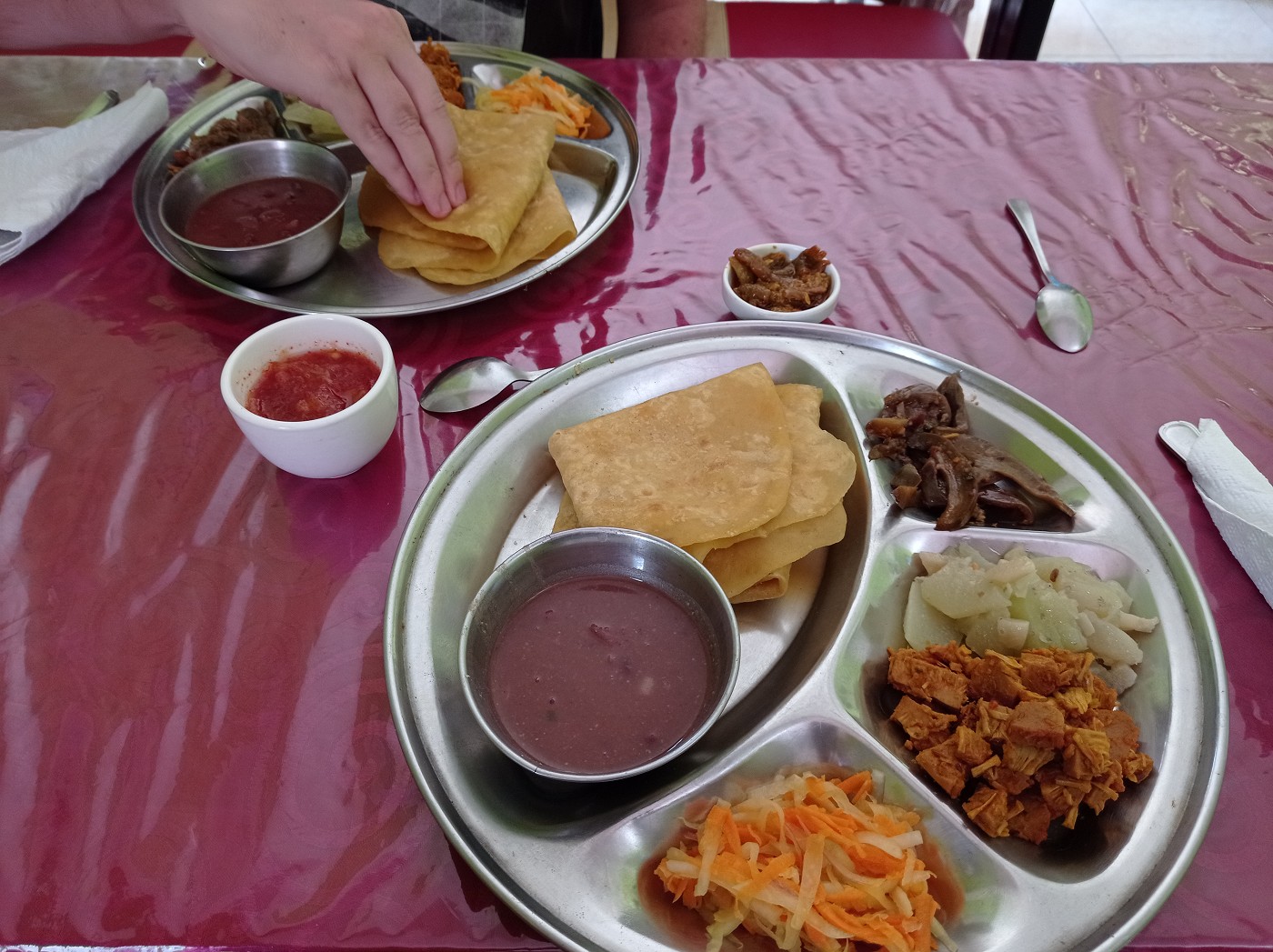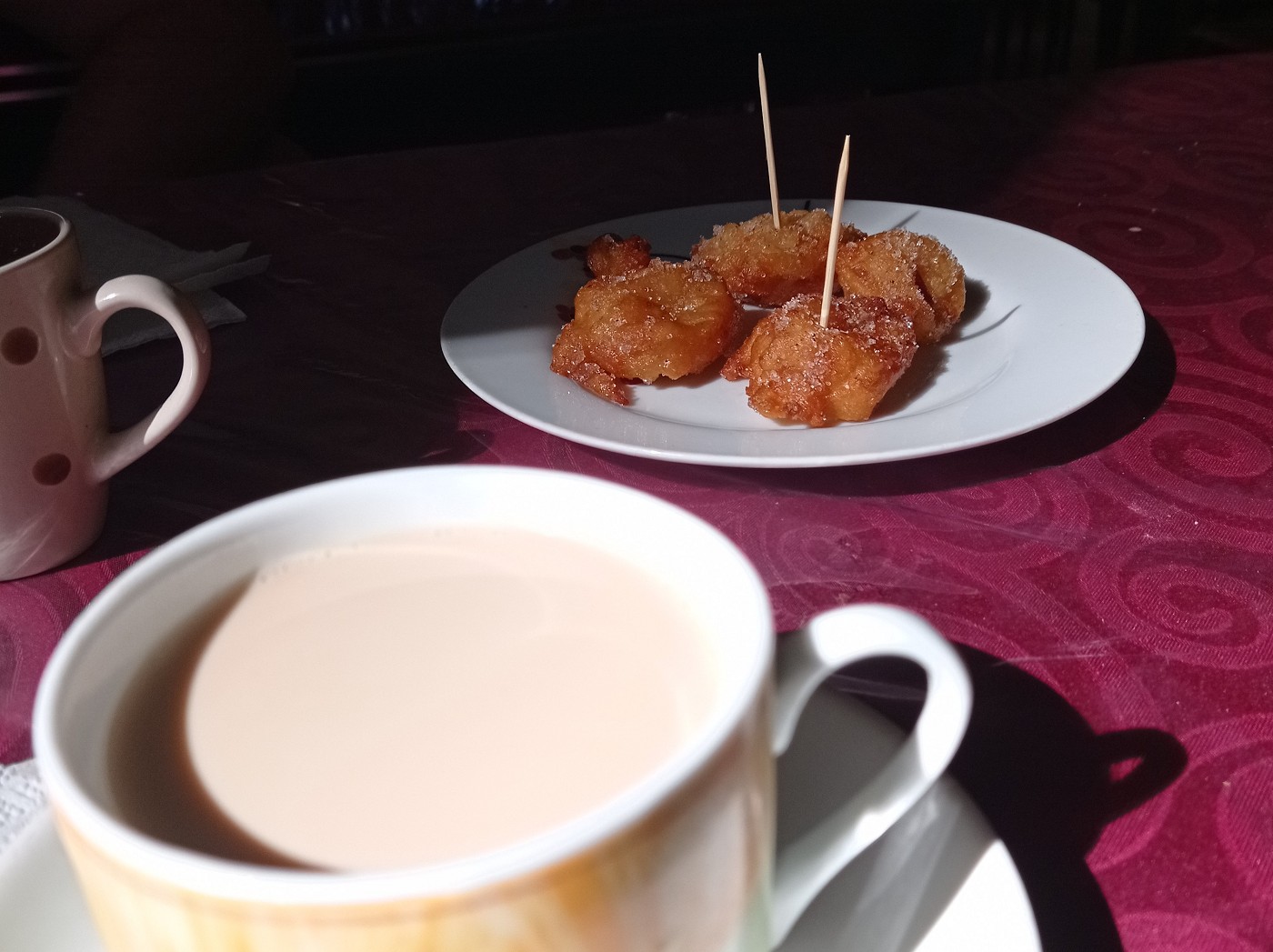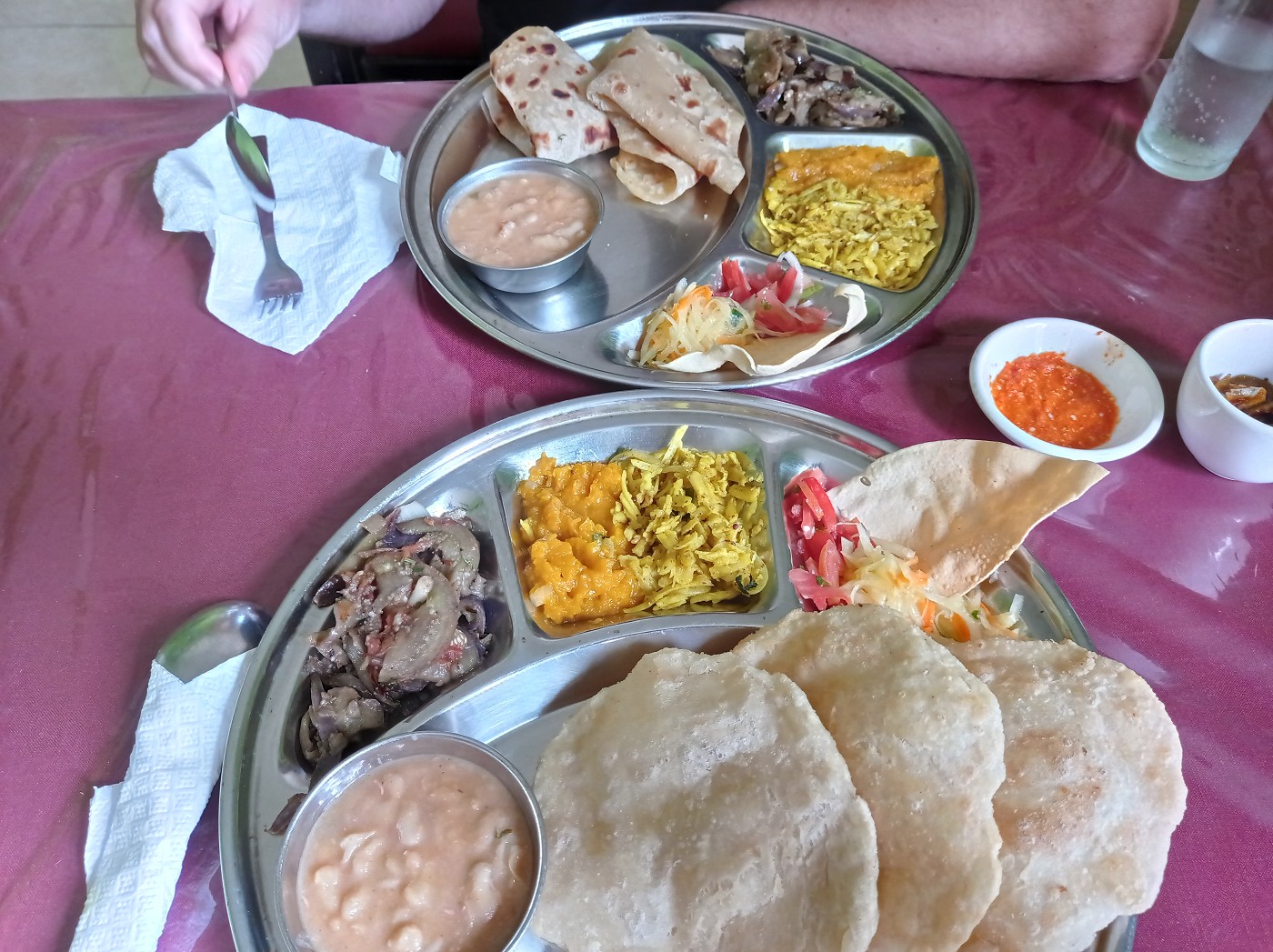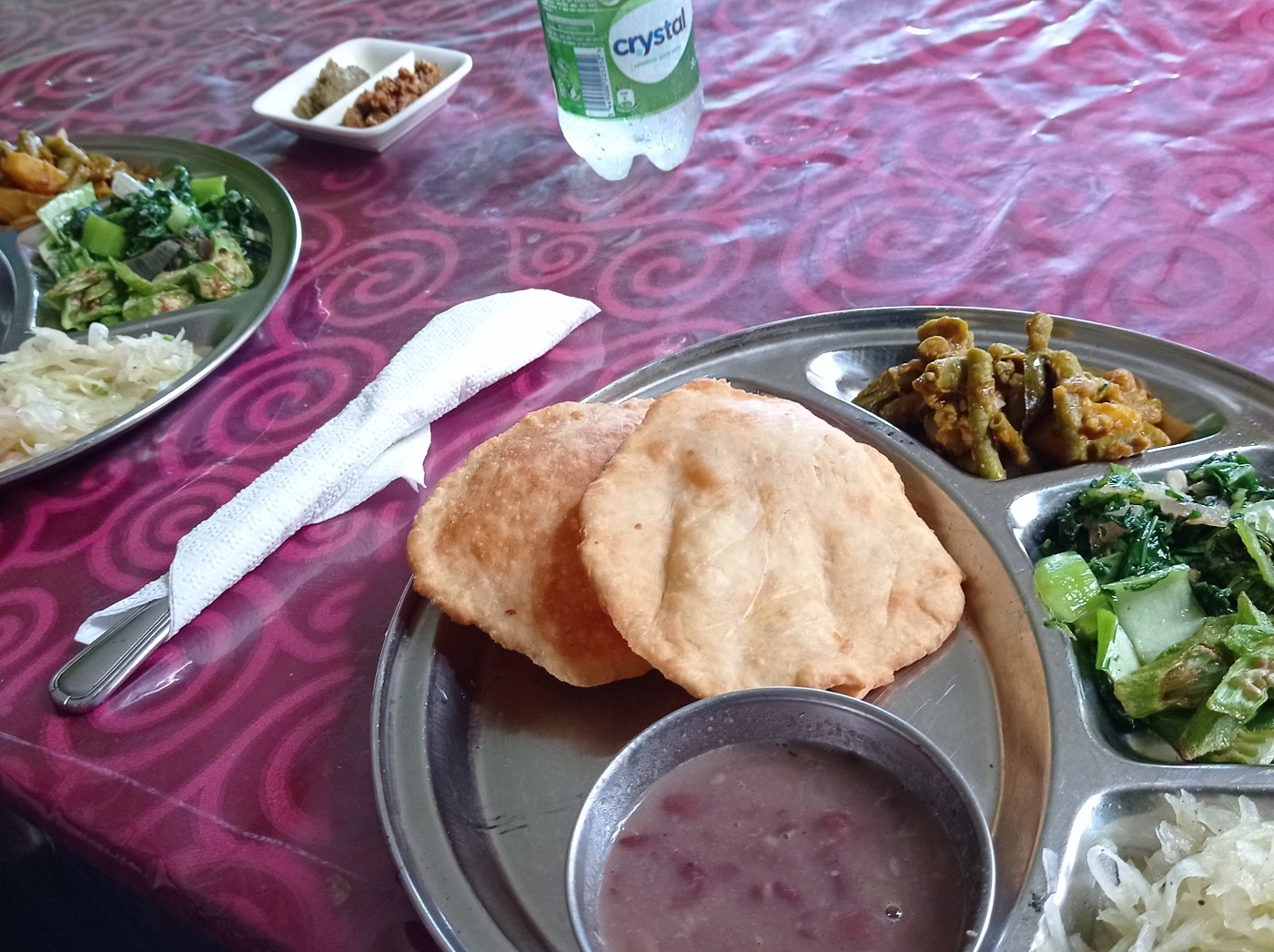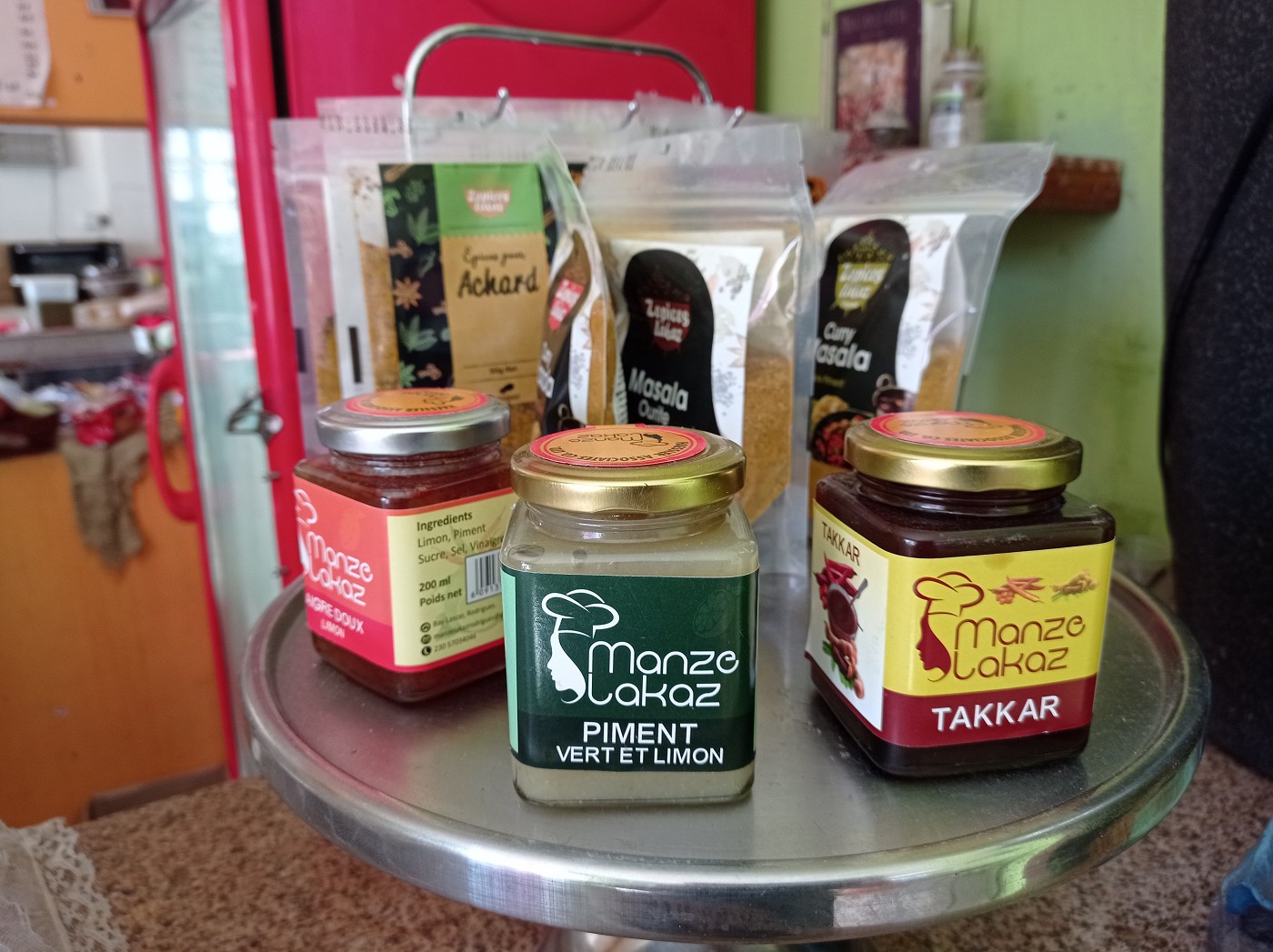 Opening times: Monday – Saturday from 8:00 till 16:00. Closed on Sunday
If you've been living mostly off Indian vegetarian food in Mauritius and then come to Rodrigues, the transition to non-Indian food can be quite harsh. To our knowledge, there aren't many places that make a curry or a thali. So you can imagine our happy surprise when someone at the bus station pointed us in the direction of Manzé Lakaz and the first thing the friendly owner suggested was vegetarian thali. And it's so good!
In the window, you can often see chilies drying out. They make their own spice mixes that are for sale as well. Every time you go there, the vegetarian thali is a bit different. Expect it to be with local vegetables that are in season, such as okra and eggplant. If you come as early as the opening times suggest, you will have to knock on the door.
Kafé Rose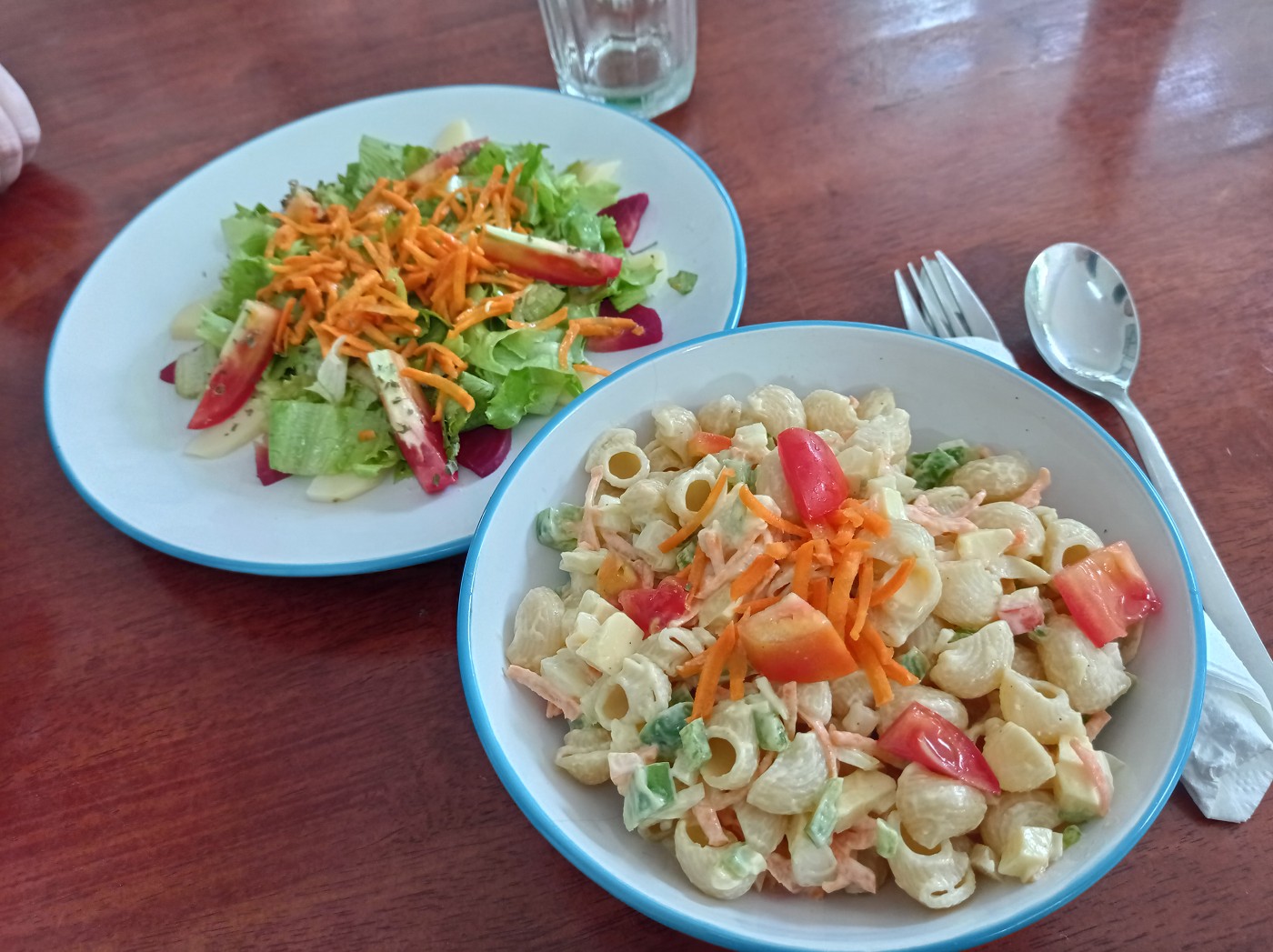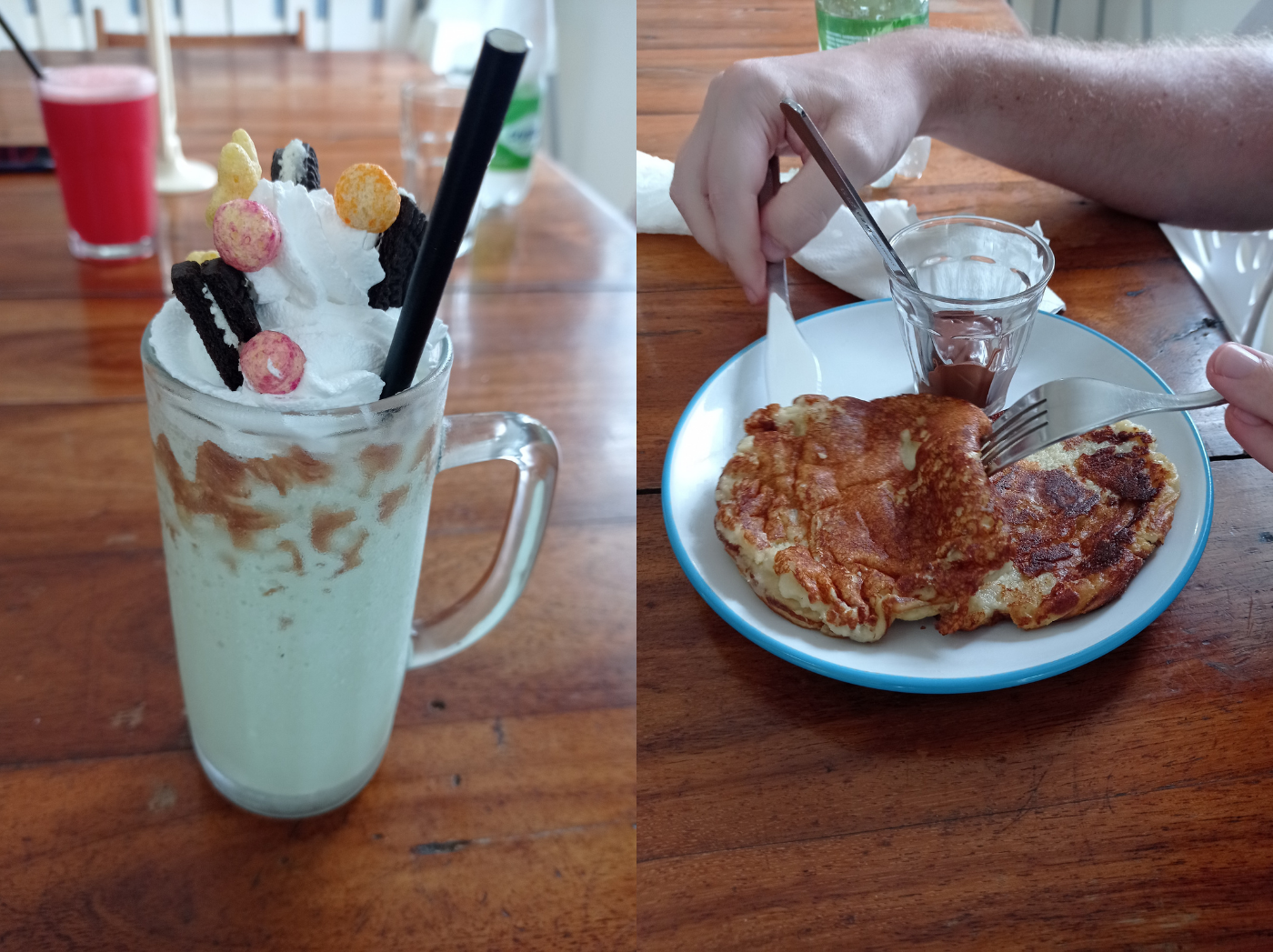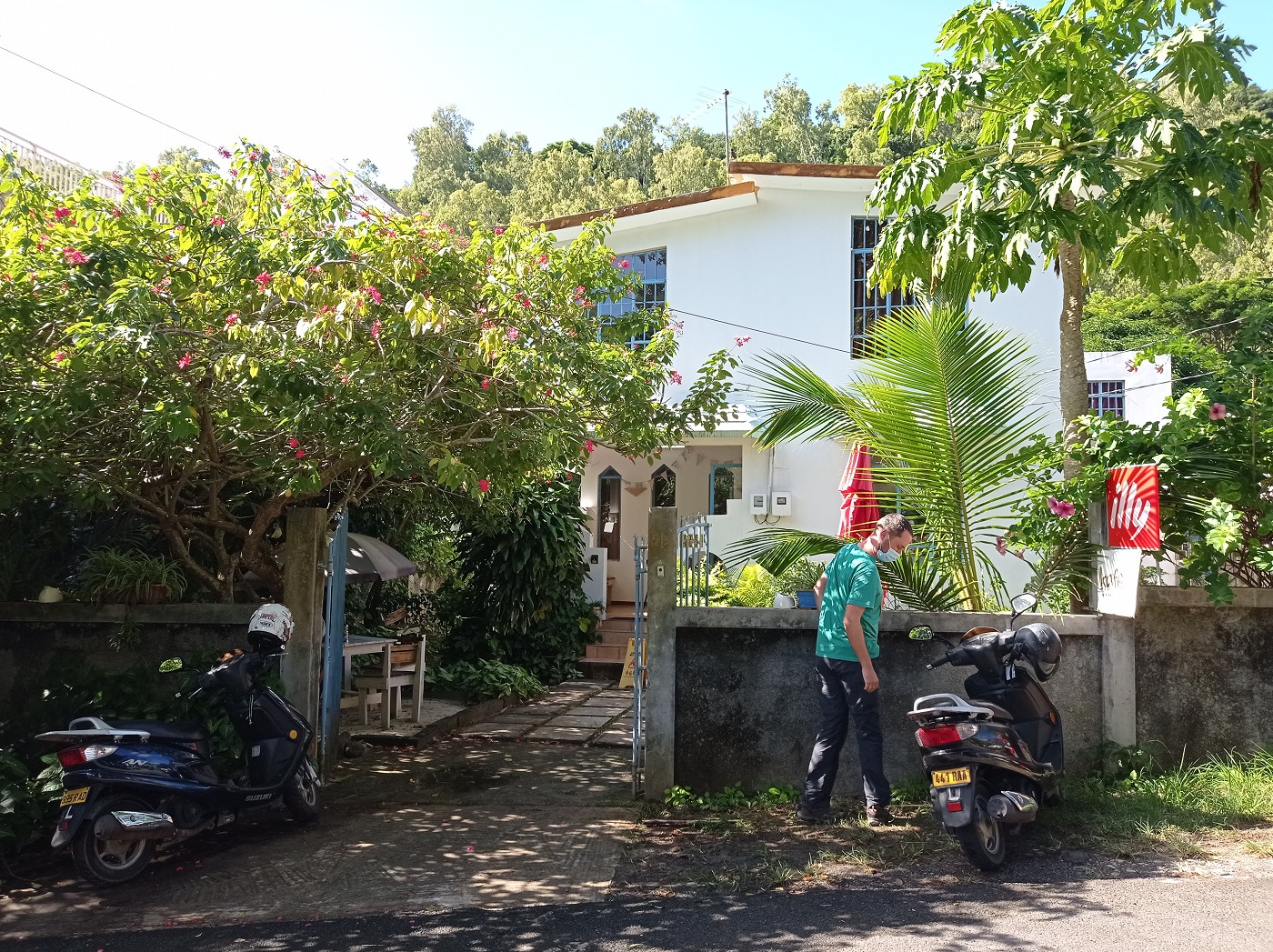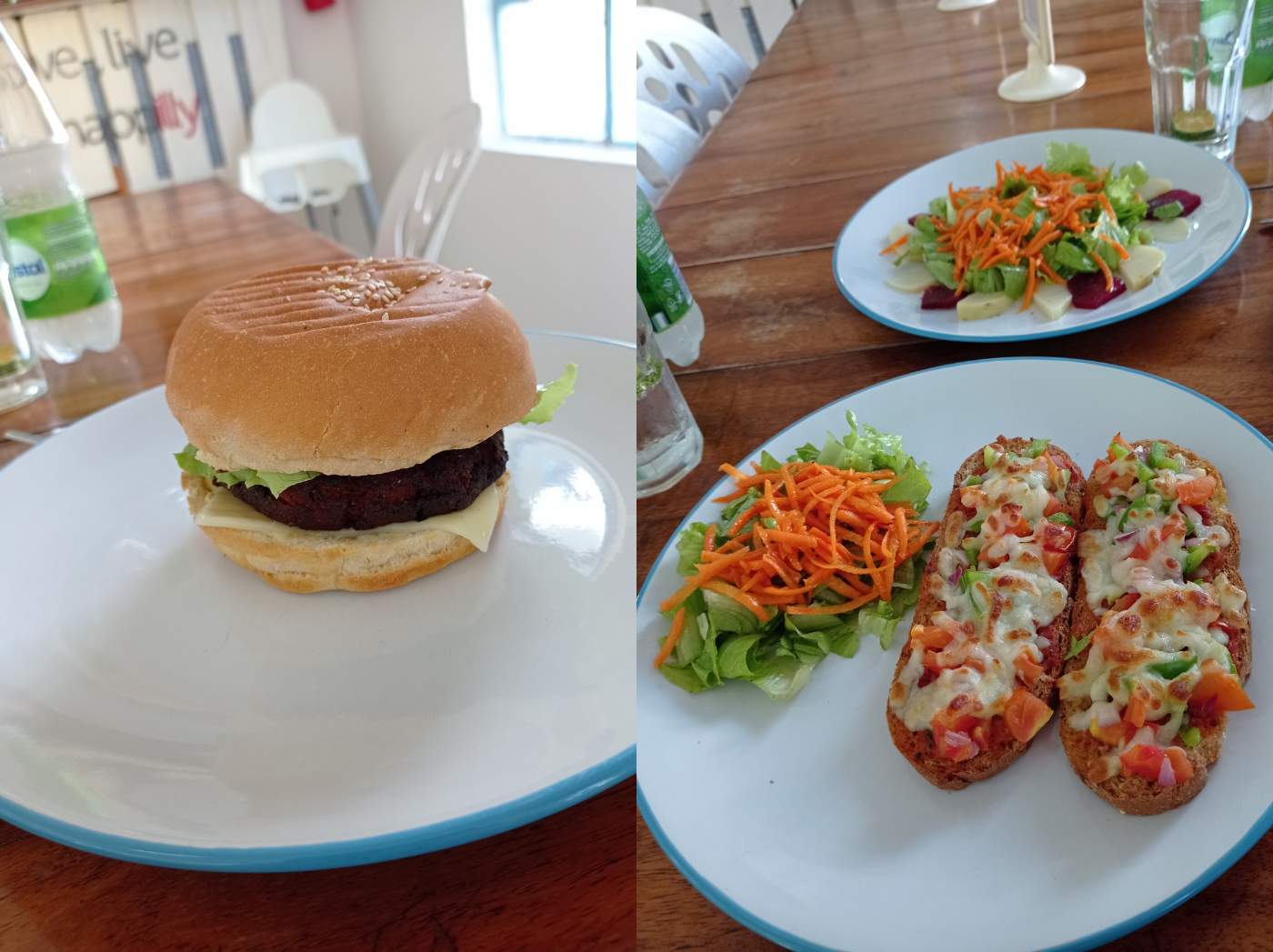 Opening times: Mon – Fri from 8:30 – 16:30. Saturday from 8:30 – 15:00. Closed on Sundays. Contact them by telephone: +230 5875 0534
For a nice and quiet garden atmosphere away from the main road, visit Kafé Rose. The owner Carine comes from Germany and together with her staff makes wholesome salads, pastas, and burgers. Though not always available, we recommend the vegetarian burger. They also have very epic milkshakes and good strong coffee. If you have a sweet tooth, this is also the place to be for Nutella pancakes.
Chez Stephan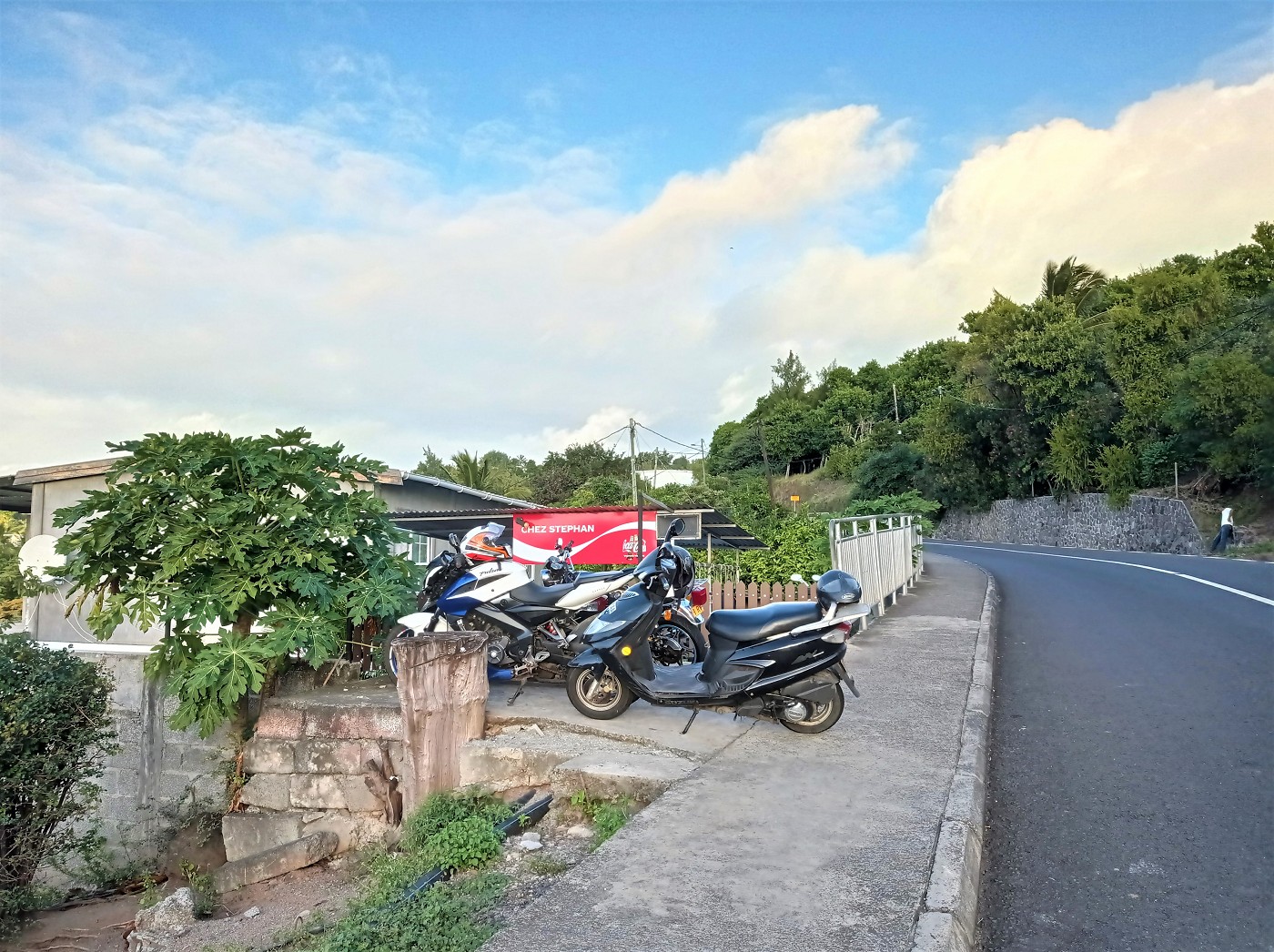 Opening times: Monday – Saturday from 10:30 till 14:00 and then again from 15:30 till 18:45. Closed on Sundays. Reserve vegetarian boulettes a day in advance by telephone/WhatsApp: +230 5785 0859
The two things Chez Stephan does really well are boulettes and countercyclical opening times. In fact, this is the perfect place to combine watching the sunset from the nearby parking lot and stuffing your face with some dumplings. Because they don't always make vegetarian boulettes, it's best to call or WhatsApp them a day in advance to place an order with a pickup time. Note that if you ask for dumplings in bouillon (broth), it's made with chicken and therefore not veg.
L'Atelier Gourmand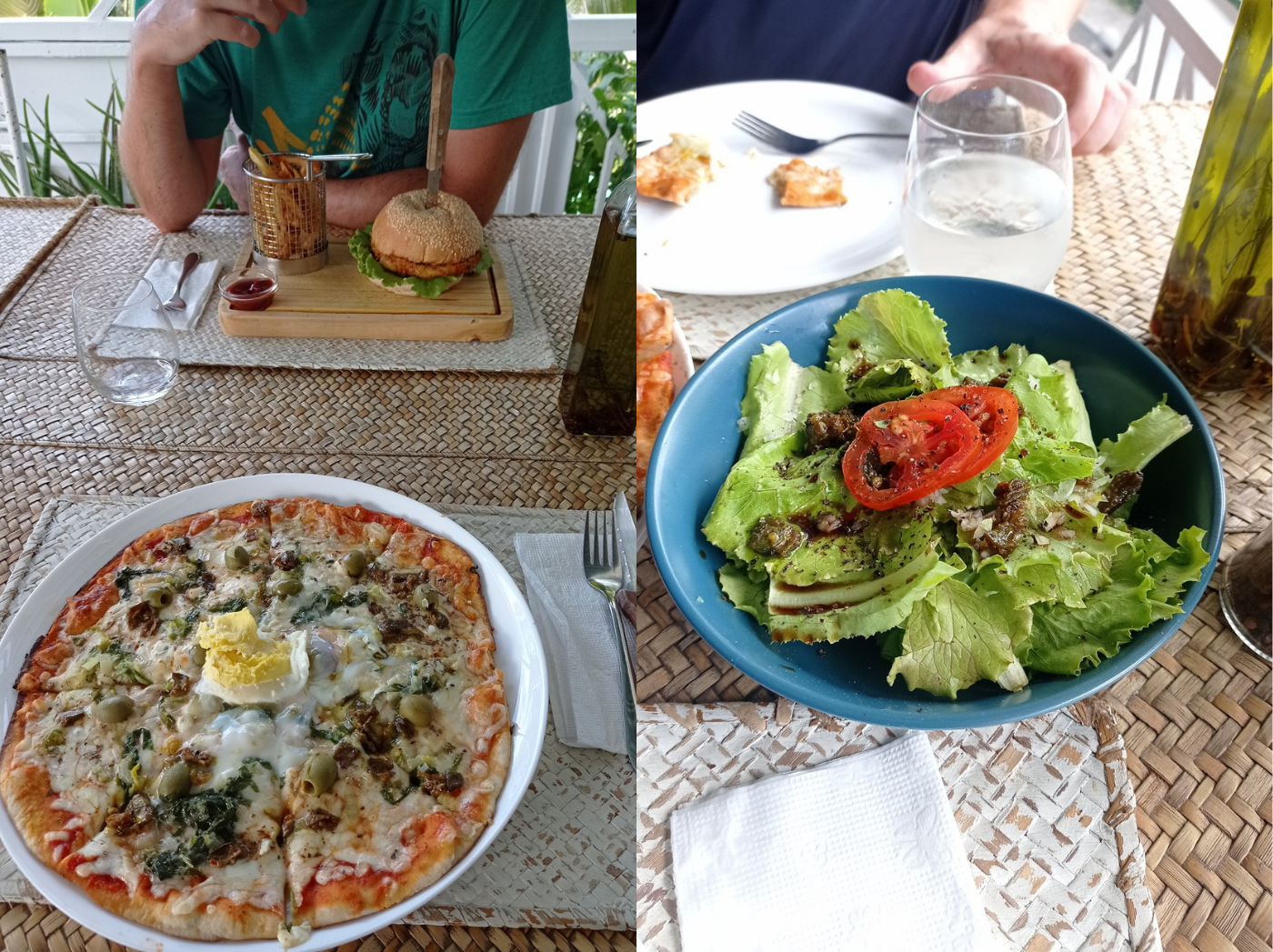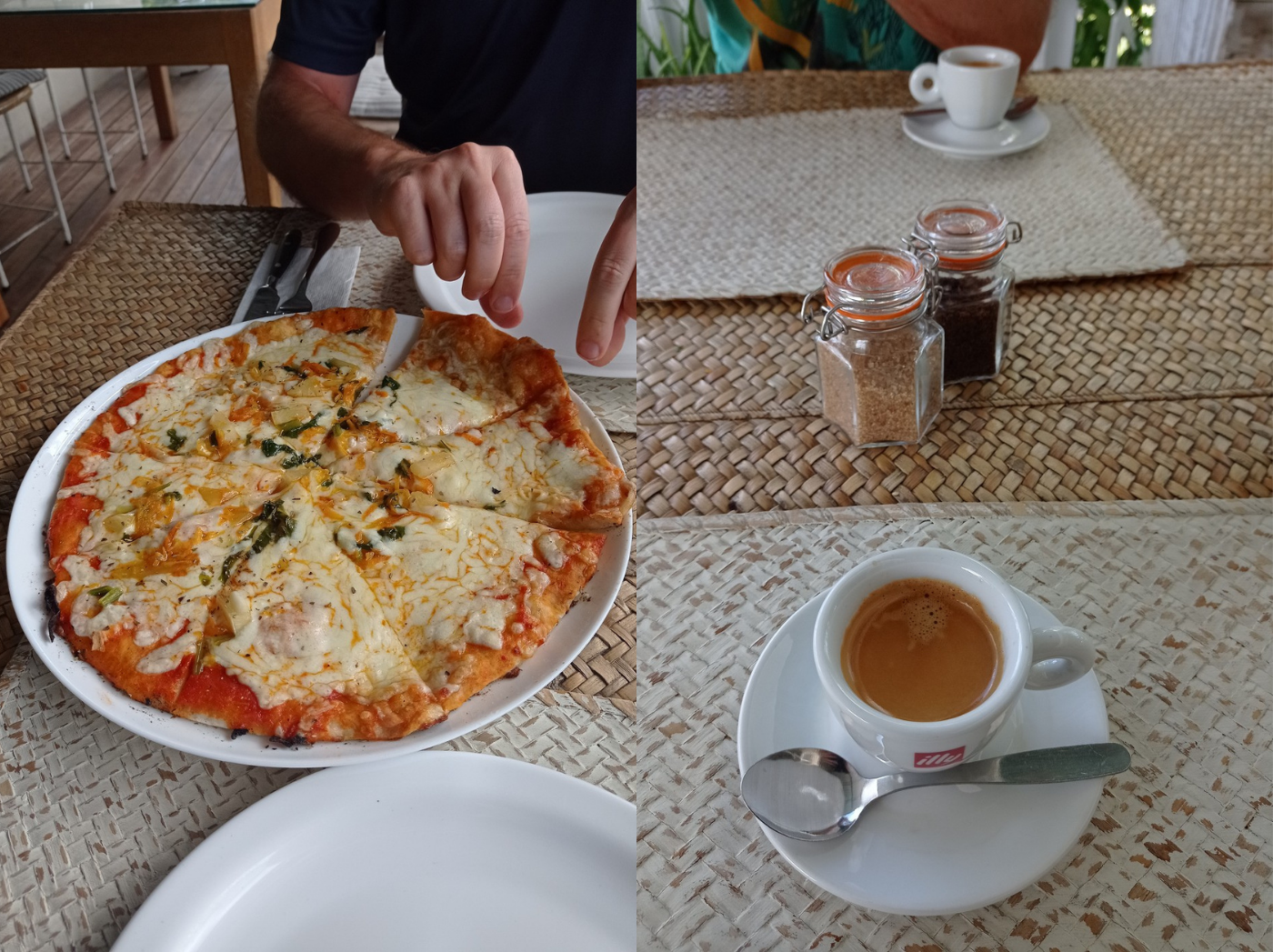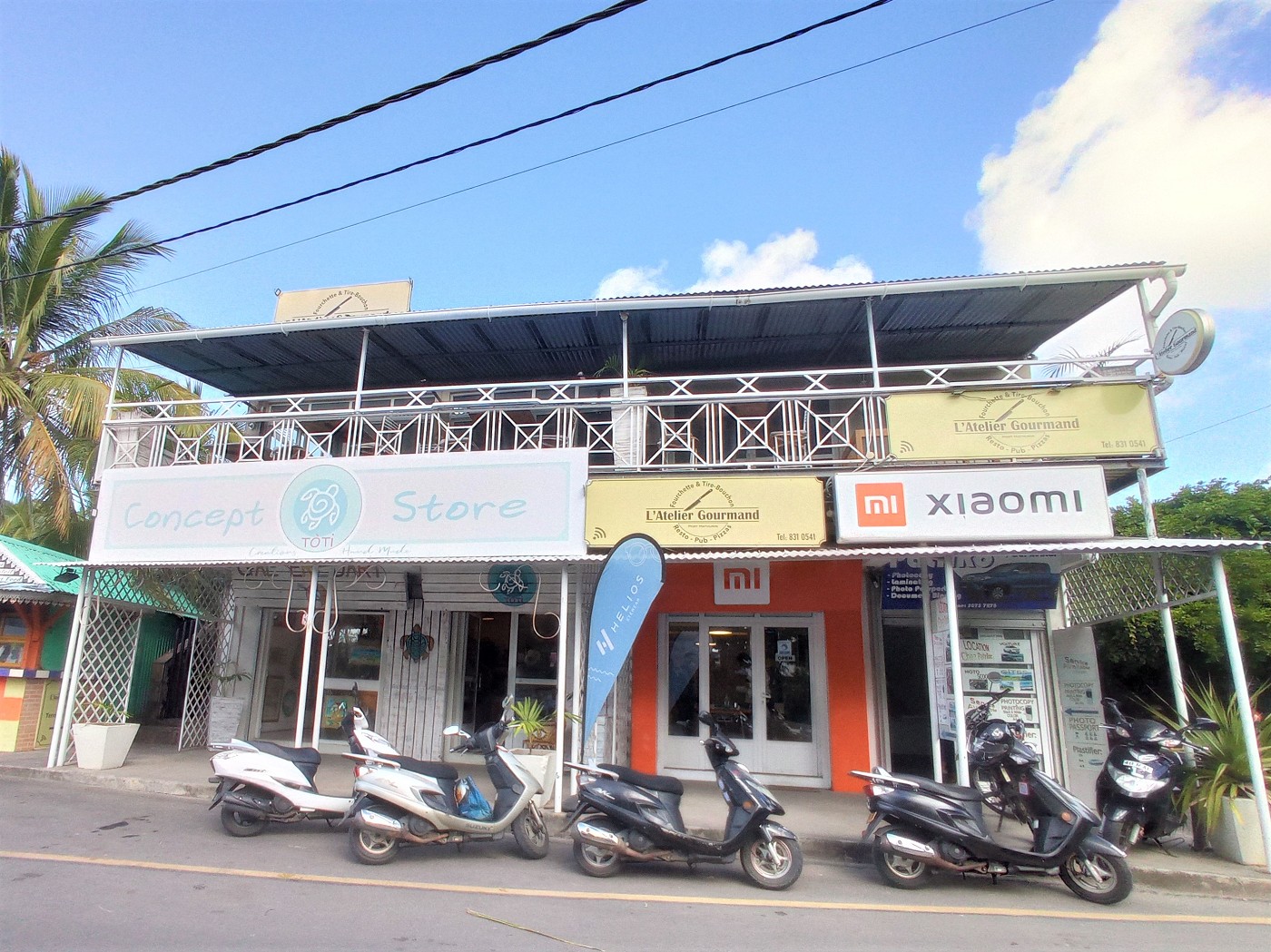 Opening times: Monday, Tuesday, Thursday and Friday from 11:30 – 14:30 and then again from 18:30 till 21:30. They stay open later if there are still people. Closed on Wednesdays and Sundays. Call them on +230 5496 0714
This is probably the fanciest of restaurants in Port Mathurin and on the whole island. It's also the place to have a fancy alcoholic drink and a cigar with your meal—if that's your thing. The owner and his staff are very hands-on to make sure everything is to your liking. They have some vegetarian food on the menu such as pizza and salad. But they're very creative here, so if you say you're vegetarian, they will think about what they have and what's in season and make something from scratch. We had a burger with a made-from-scratch vegetarian breadfruit patty harvested from the tree next to the restaurant. They have a very nice balcony here and a rather large booze list with fancy wines.
Snack 2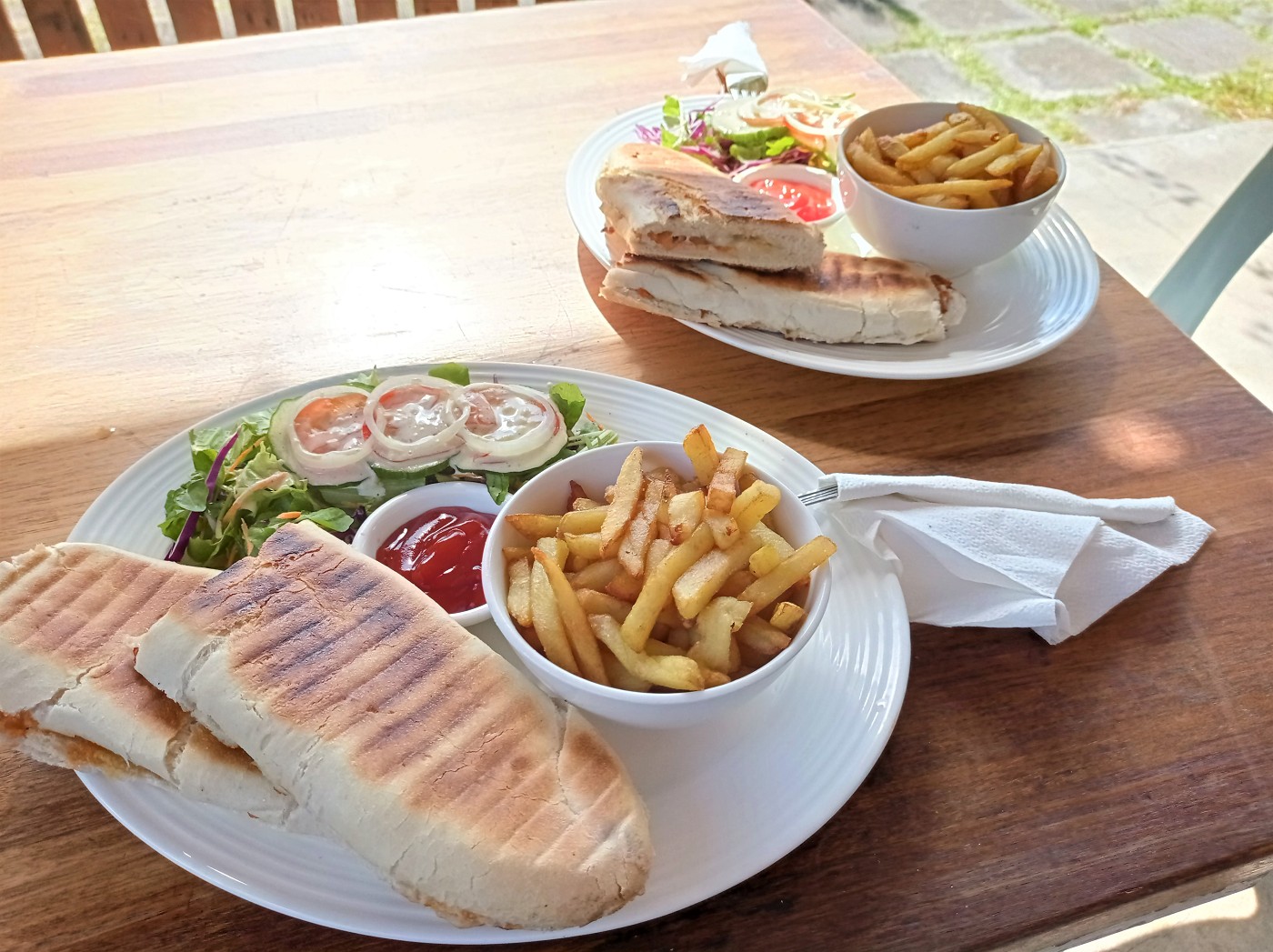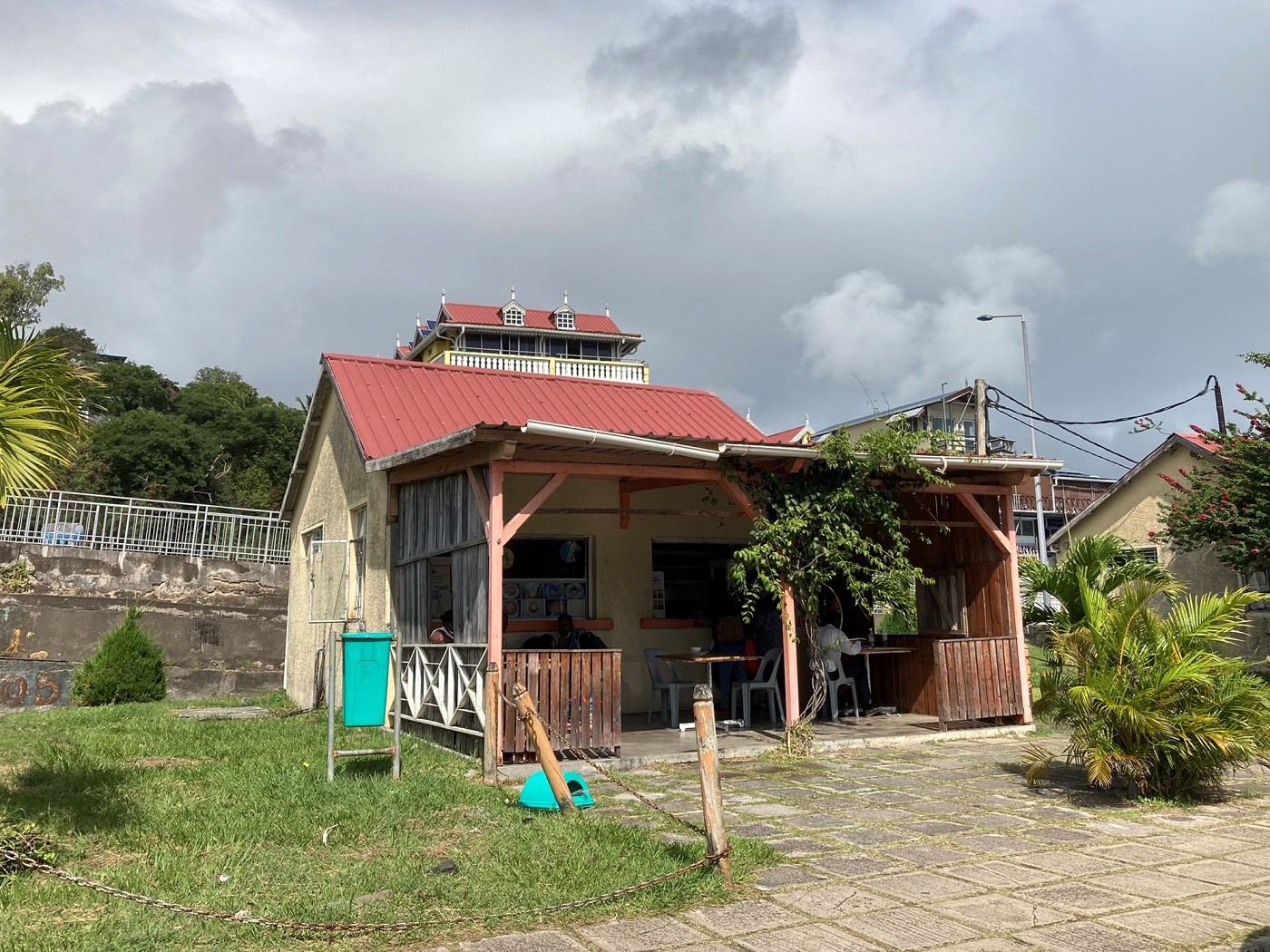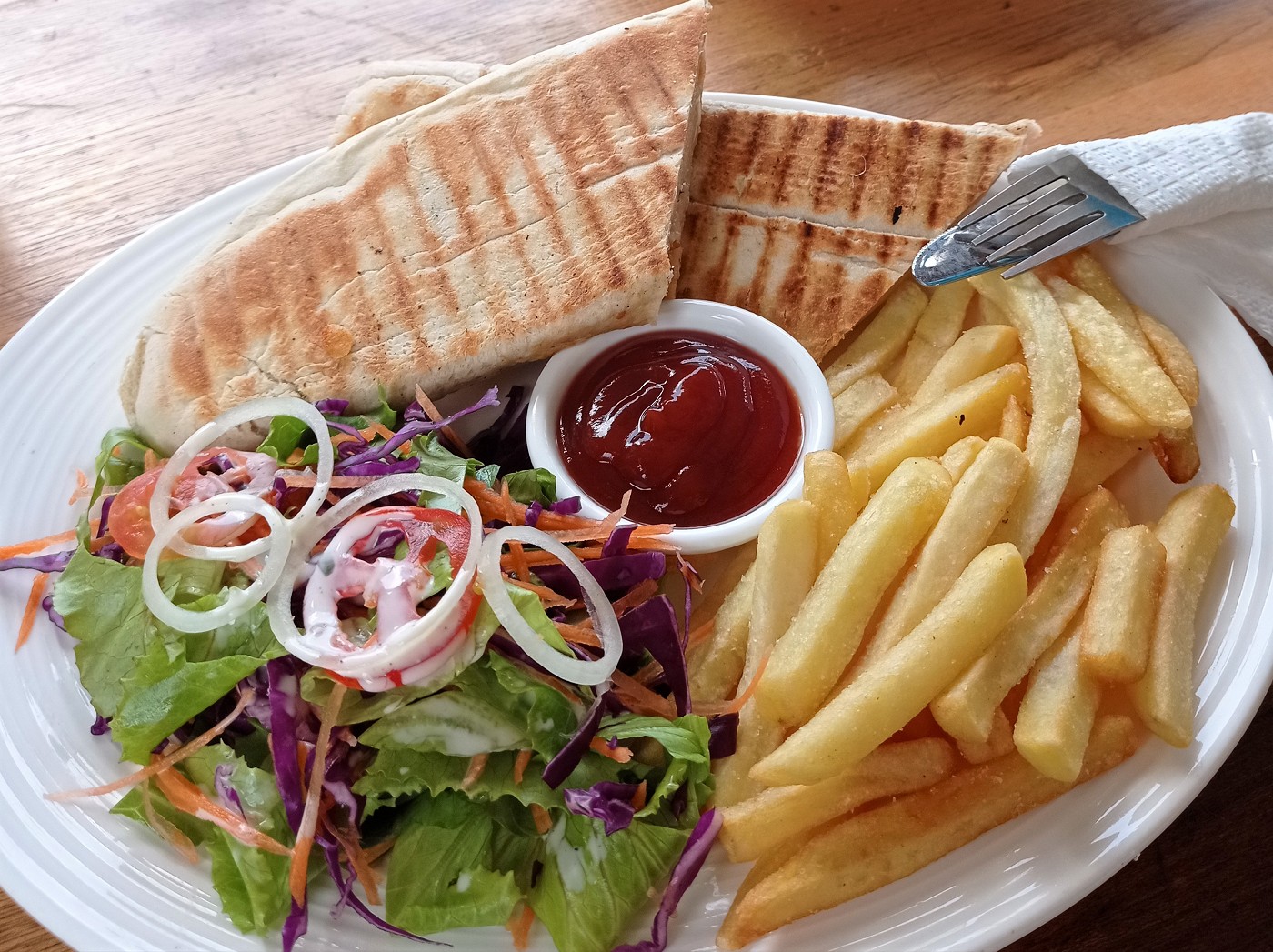 Opening times: every day from 8:30 – 15:30. 
Snack 2 is one of the shops at the bus station. It seems to be the one that's open most often. This is the place to eat an epic-sized panini for dining in. Just ask to make it veg, with cheese, tomato, and whatever else she has available. The bloody hot panini comes with a generous portion of fries and a side salad. If it's too much panini in one sitting for you, just take the leftovers home.
Chez Berno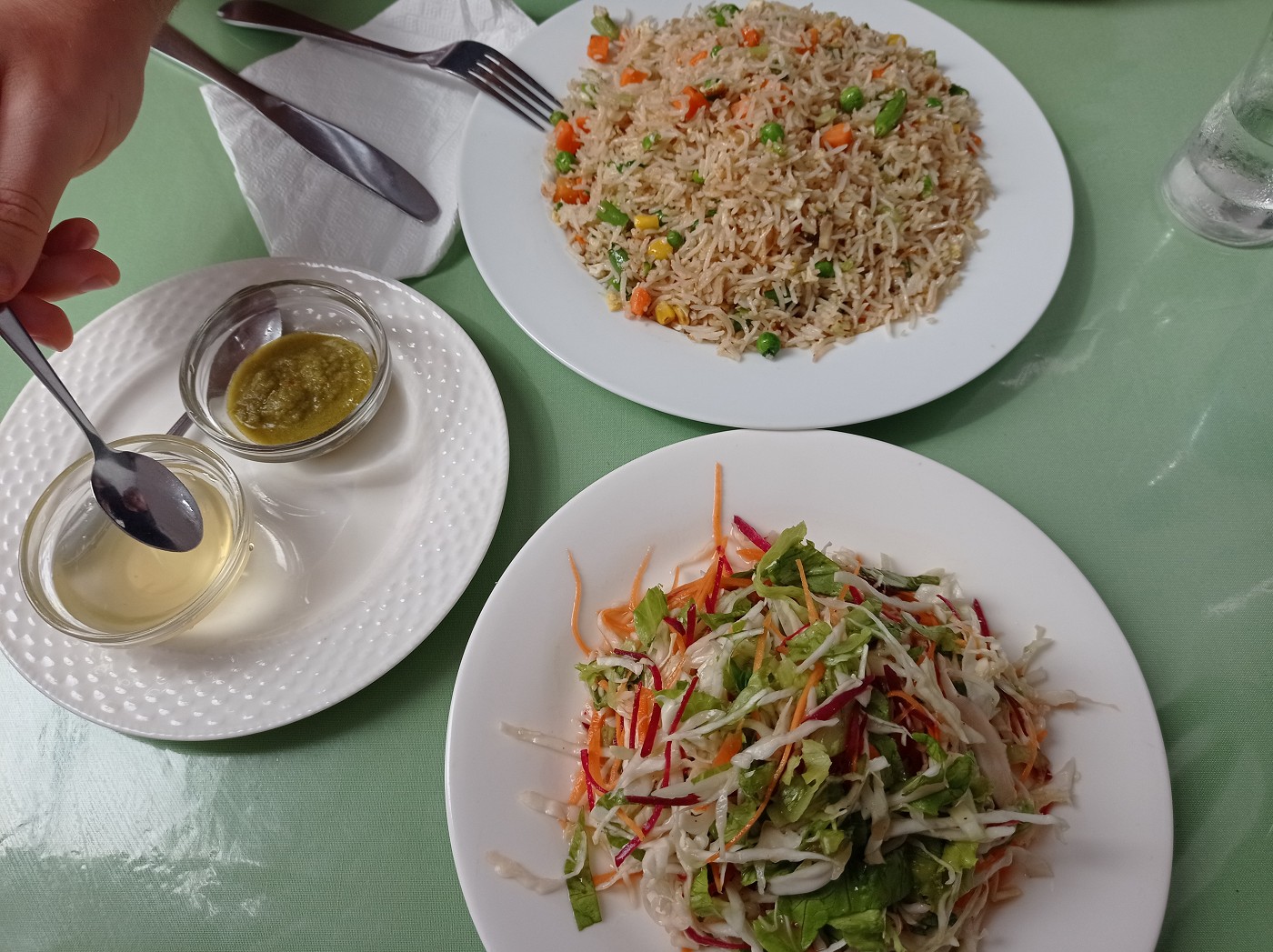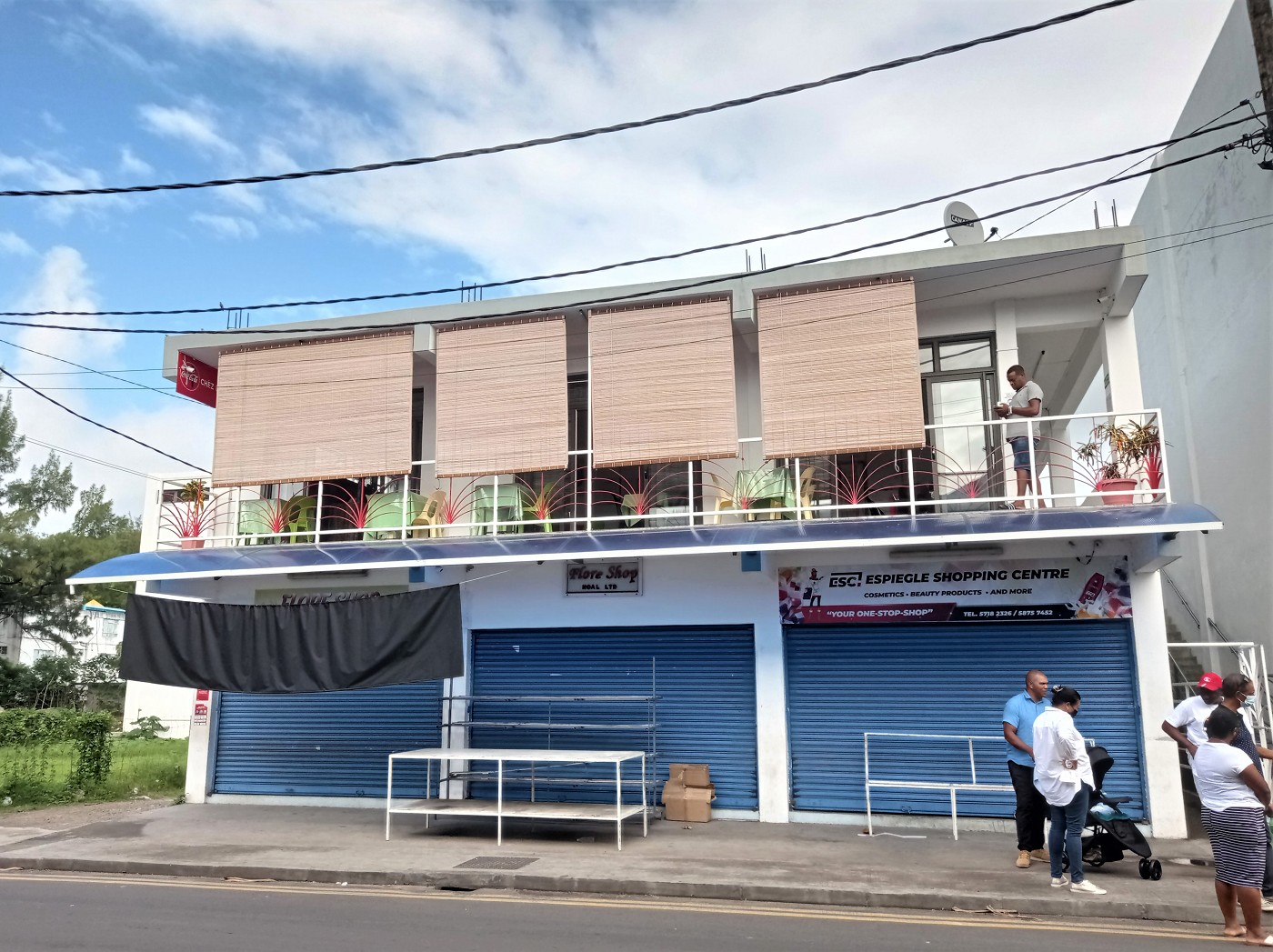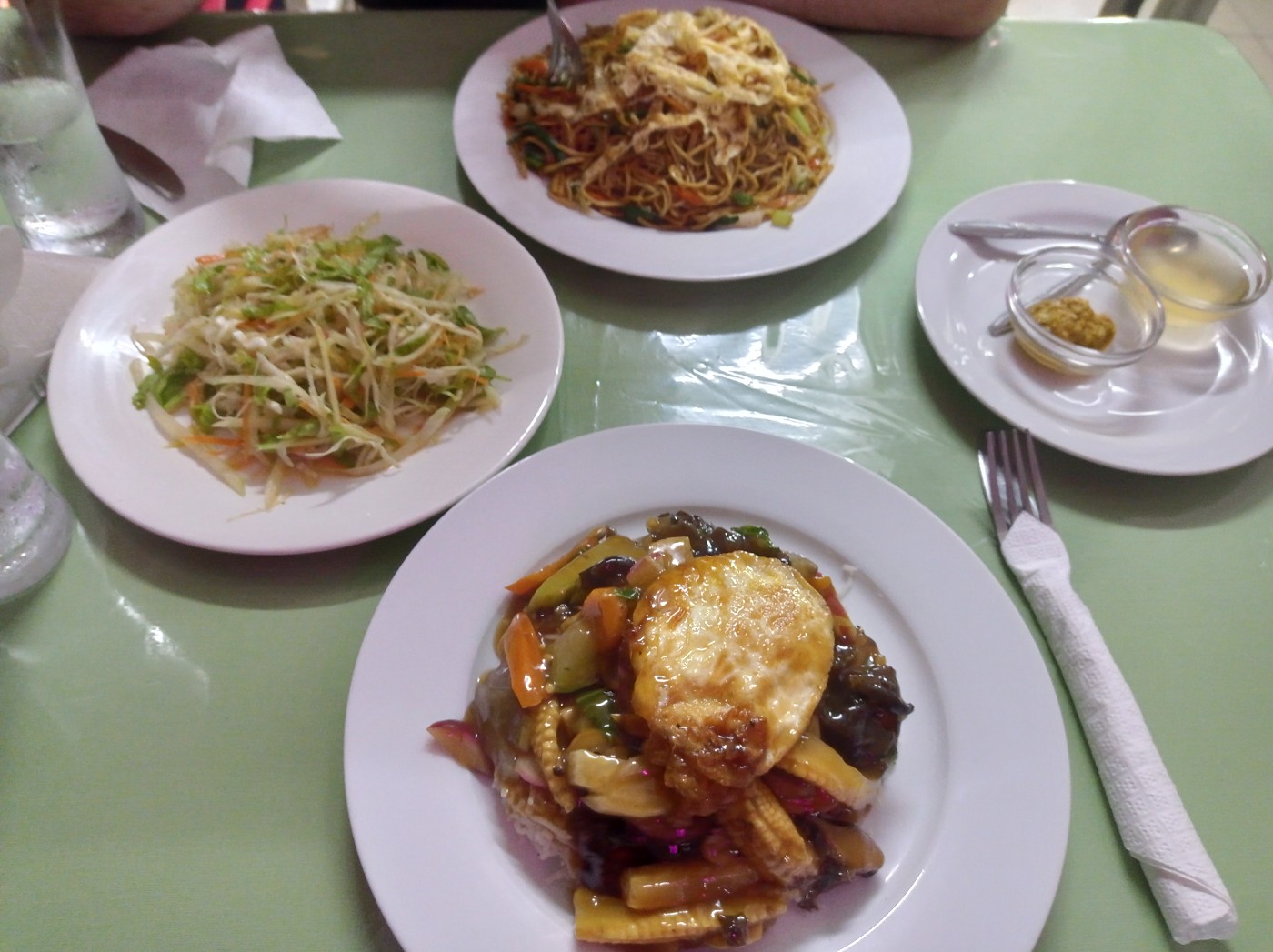 Opening times: every day from about 10:00 – 15:00 and from 17:00 – 21:00. Contact Berno on: +230 (5) 712 5364
Chez Berno is one of the most reliable restaurants in Port Mathurin and on the island. It's one of the few places that are open Sundays. You can get Mauritian staples here such as mine frite, riz frite, and bol renversé. You do have to specifically ask to make it vegetarian. If you eat egg, you can ask to add that to your meal. Otherwise, these dishes will be vegan. They also make a delicious salade mixte, which we sometimes take home in our tupperware box to eat with our homecooked food.
Le Point Chaud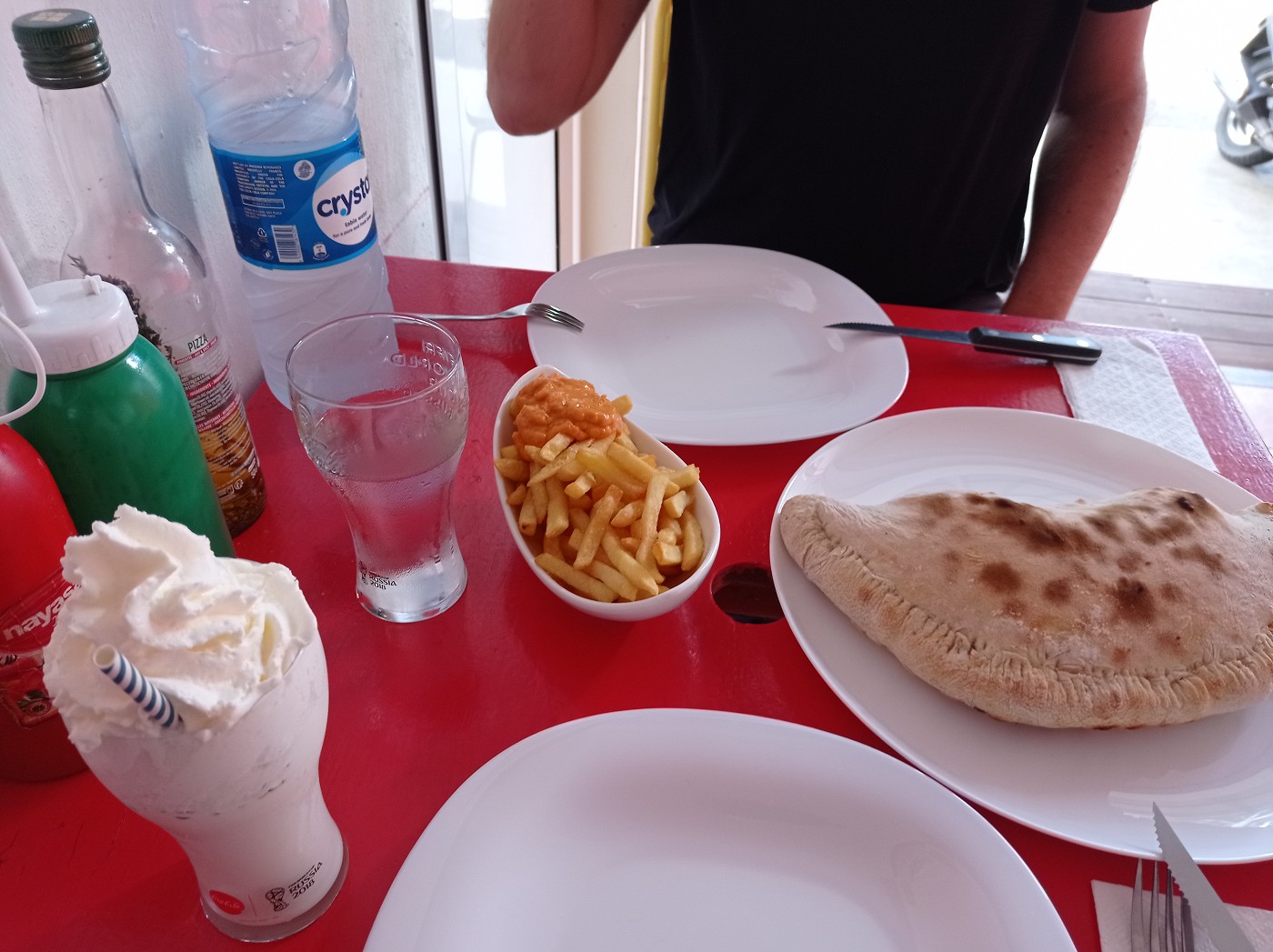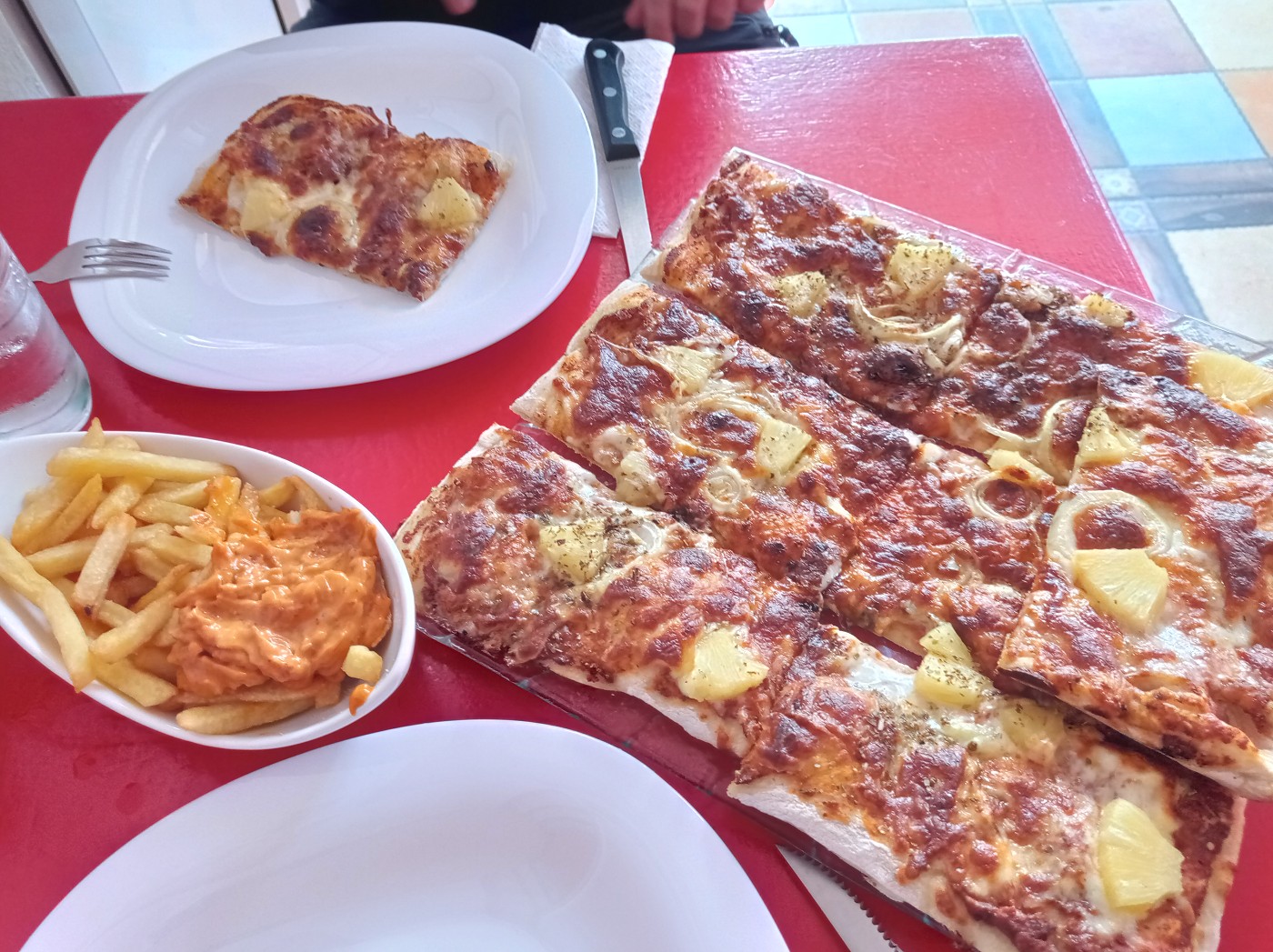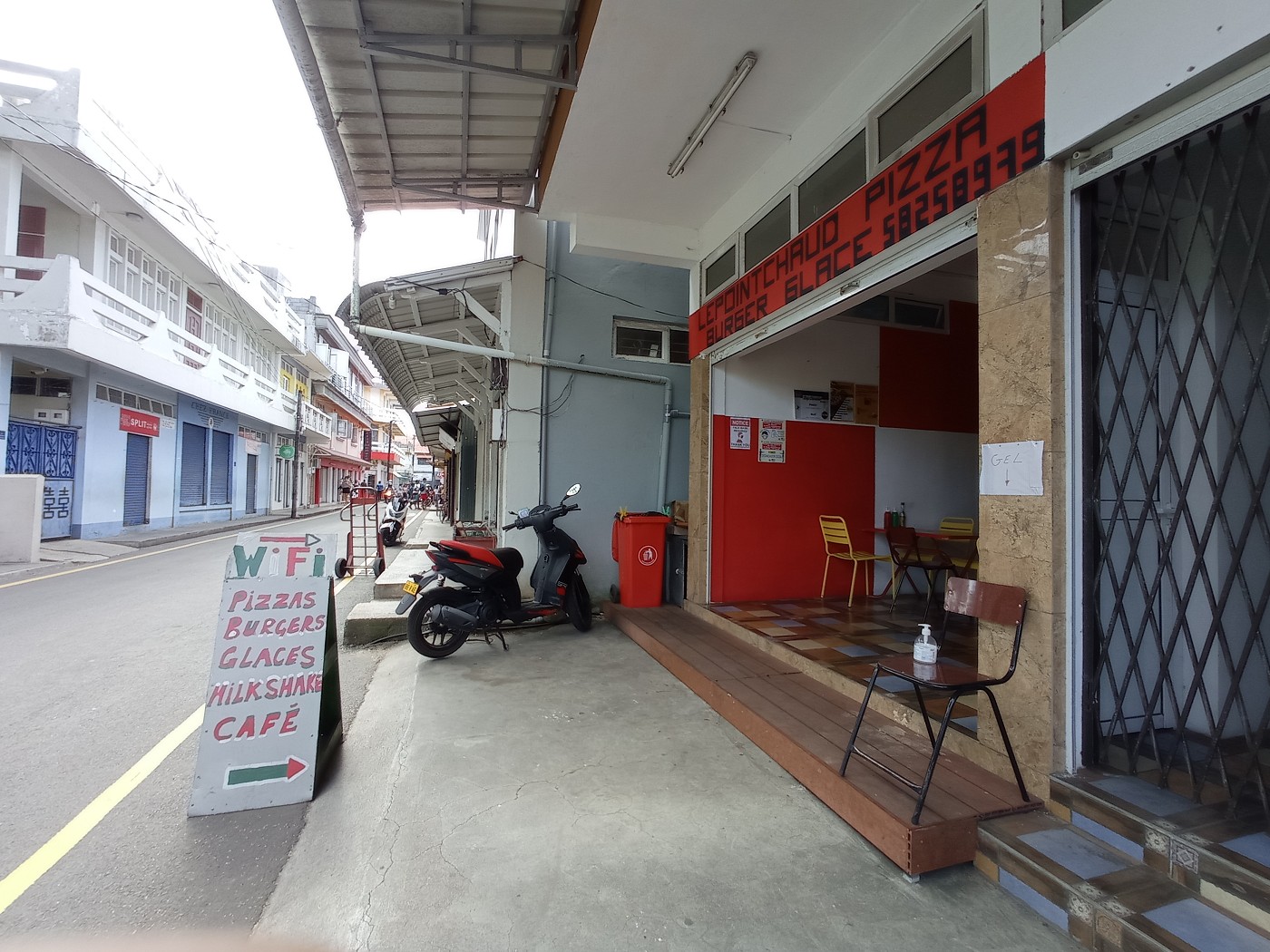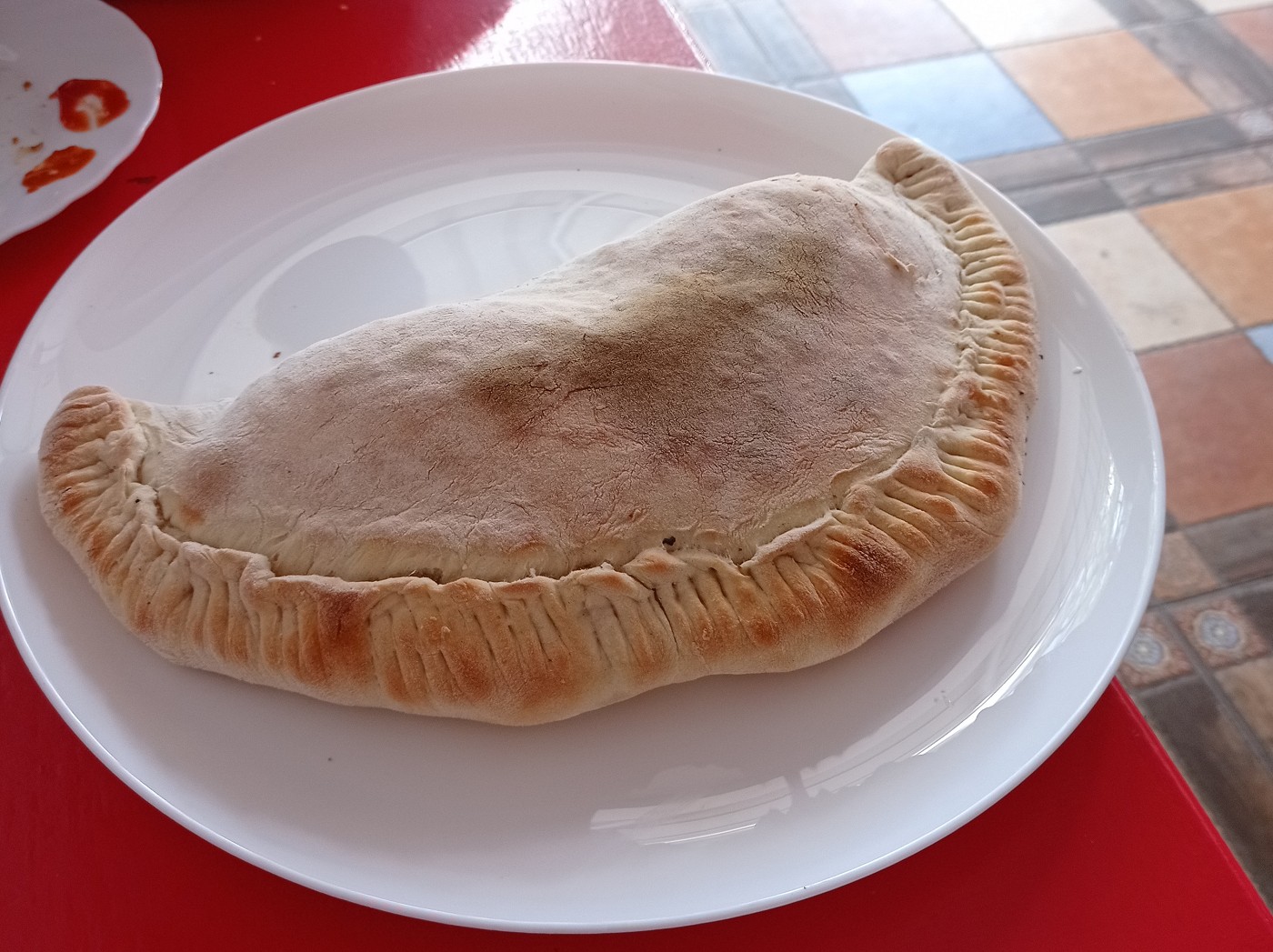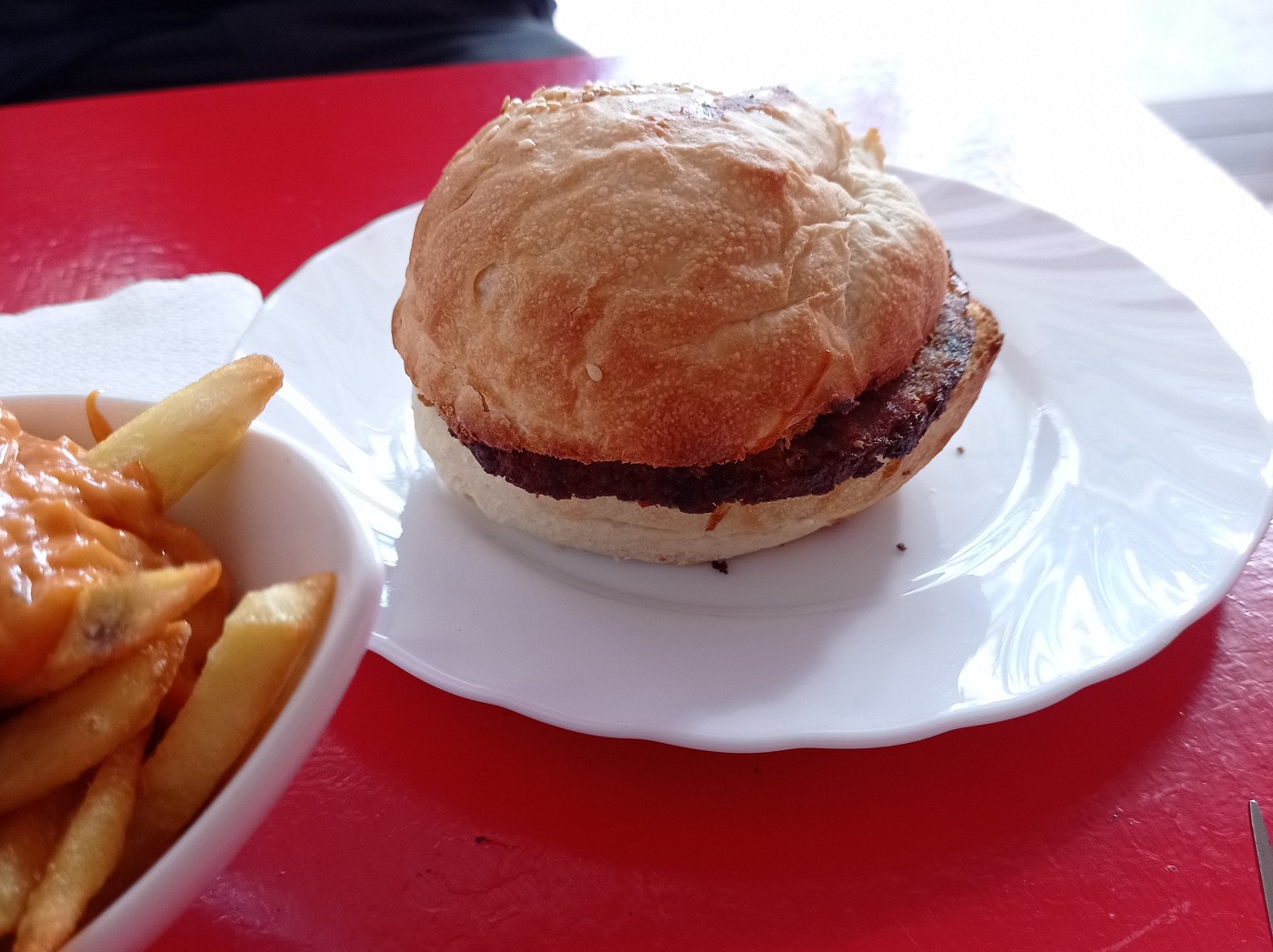 Opening times: Monday – Saturday from 9:00 till 15:30. Contact them on +230 58258979
This place does fantastic fast food in a wholesome way. We love their pizza calzone, their fries with sauce Algérienne and mayonnaise, and coconut/pistachio milkshake with chantilly. They're open to adding ingredients, such as pineapple and egg. There's also a vegetarian burger and regular XL pizza on the menu, which we liked, but it didn't spark as much joy as their fantastic calzone with a drippy egg inside. The owner seems to have a direct supply of the meltiest cheese on the island. He closes in the afternoon each day to go fishing on the south coast—a true work/life balance.
Le Point Chaud's target audience appears to be high school kids, so expect an influx of uniformed youngsters whenever the bell rings.
Bismillah Snack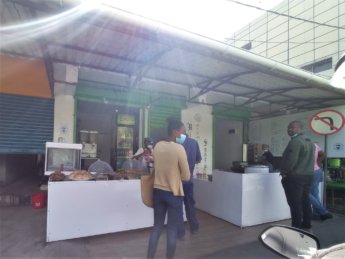 Opening times: from about 8:30 till they're sold out, usually around 13:00.
You will always see a queue of hungry people outside Bismillah Snack. They make a big variety of foods, some of which are vegetarian. Try to get your hands on a salade gato piment en pain, which doesn't sound impressive but is an absolute banger. They also have very good gato brinzel, which is an eggplant fritter. There's almost never place to sit inside, so do like the locals and bring a container to get the food for takeaway. If the meal feels a little too unbalanced, get a salade mixte from Chez Berno 50 meters away and take both boxes to eat at home.
Food Court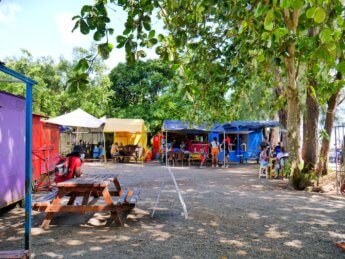 Opening times: from about 9:00 till the early afternoon at around 13:00. Individual businesses will close whenever they're sold out or just not feeling it today.
The food court area is not far from the market of Port Mathurin. It's an area with a very cool vibe where locals share meals from different small food businesses. You find your typical mine frite and other local delights here. Across the street is a man who sometimes slaughters coconuts (from Agaléga?), so you can get a fresh coconut water with your meal.
Le Gourmet Snack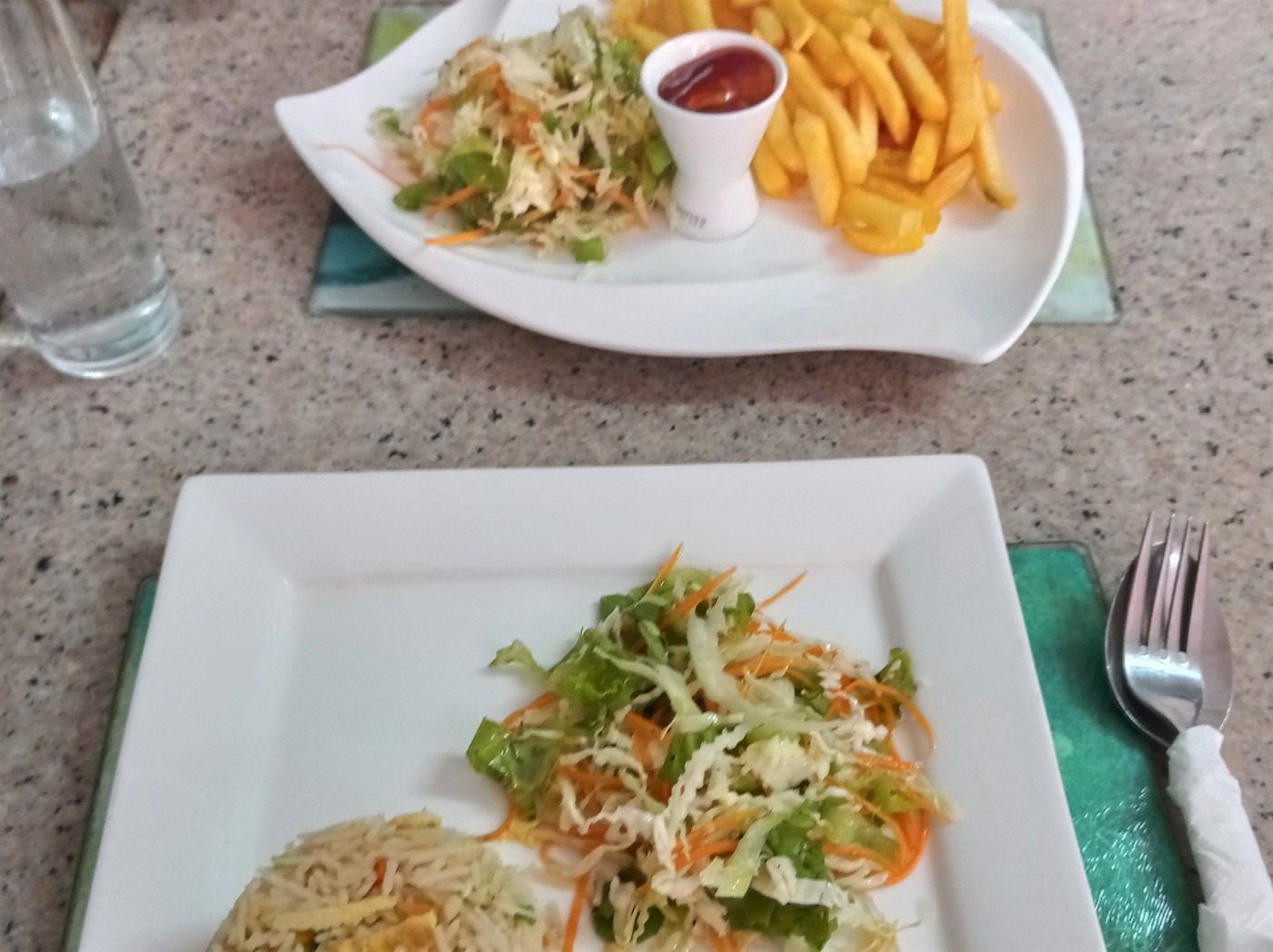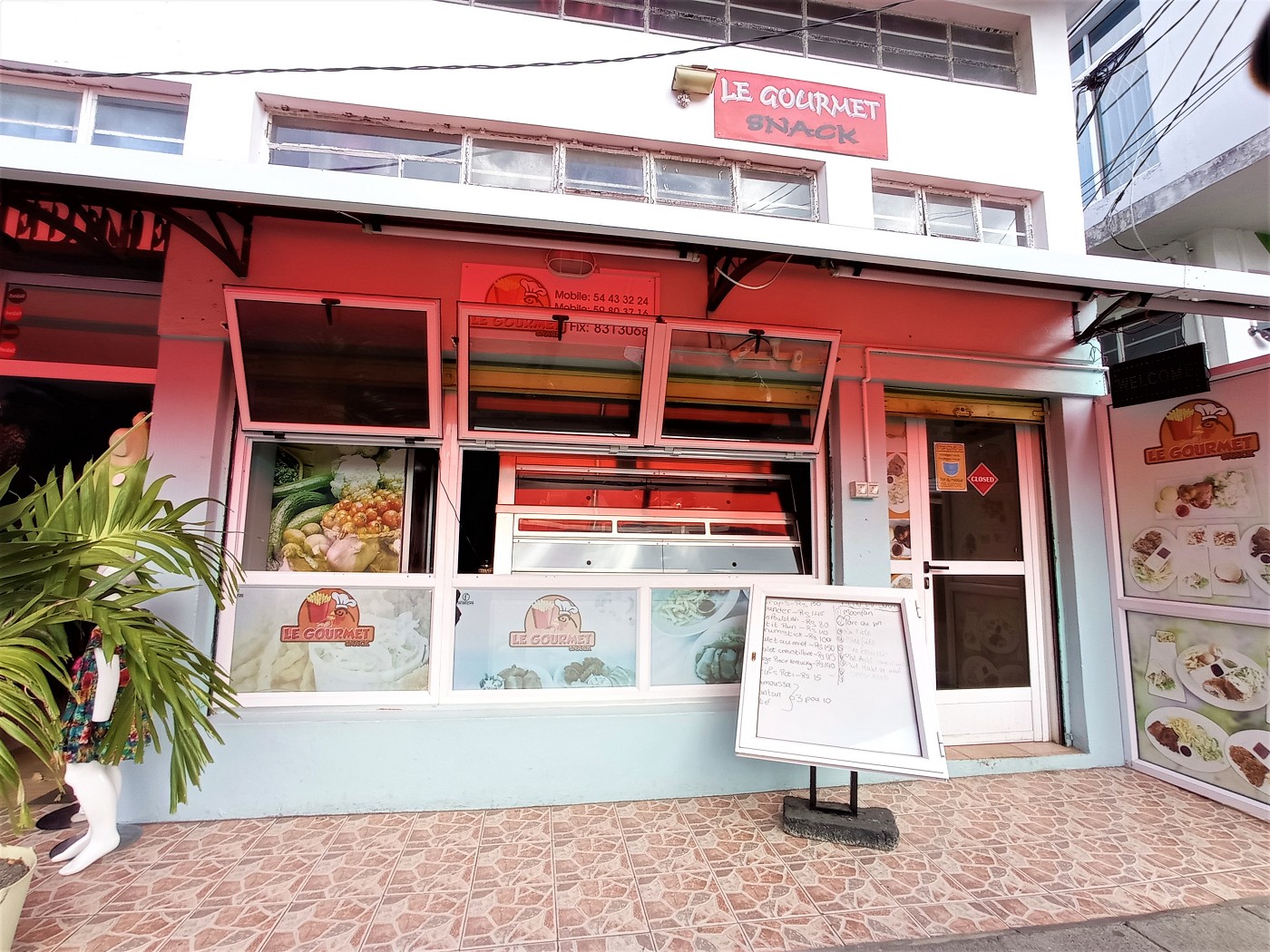 Opening times: Monday till Saturday from 10:00 – 16:00. Closed on Sunday.
This was one of the first places we ate at after arriving in Rodrigues, so we didn't know yet how difficult or easy it would be to find vegetarian food. Though this is definitely a fried chicken place, we went inside and asked the chef if she could make something vegetarian. She suggested rize frite and something she called 'frite salade', so we thought it was some kind of fried vegetables. Turns out it's salad with fries. Makes sense.
Veg-Friendly Restaurants Elsewhere in Rodrigues
Le Marlin Bleu (Anse aux Anglais)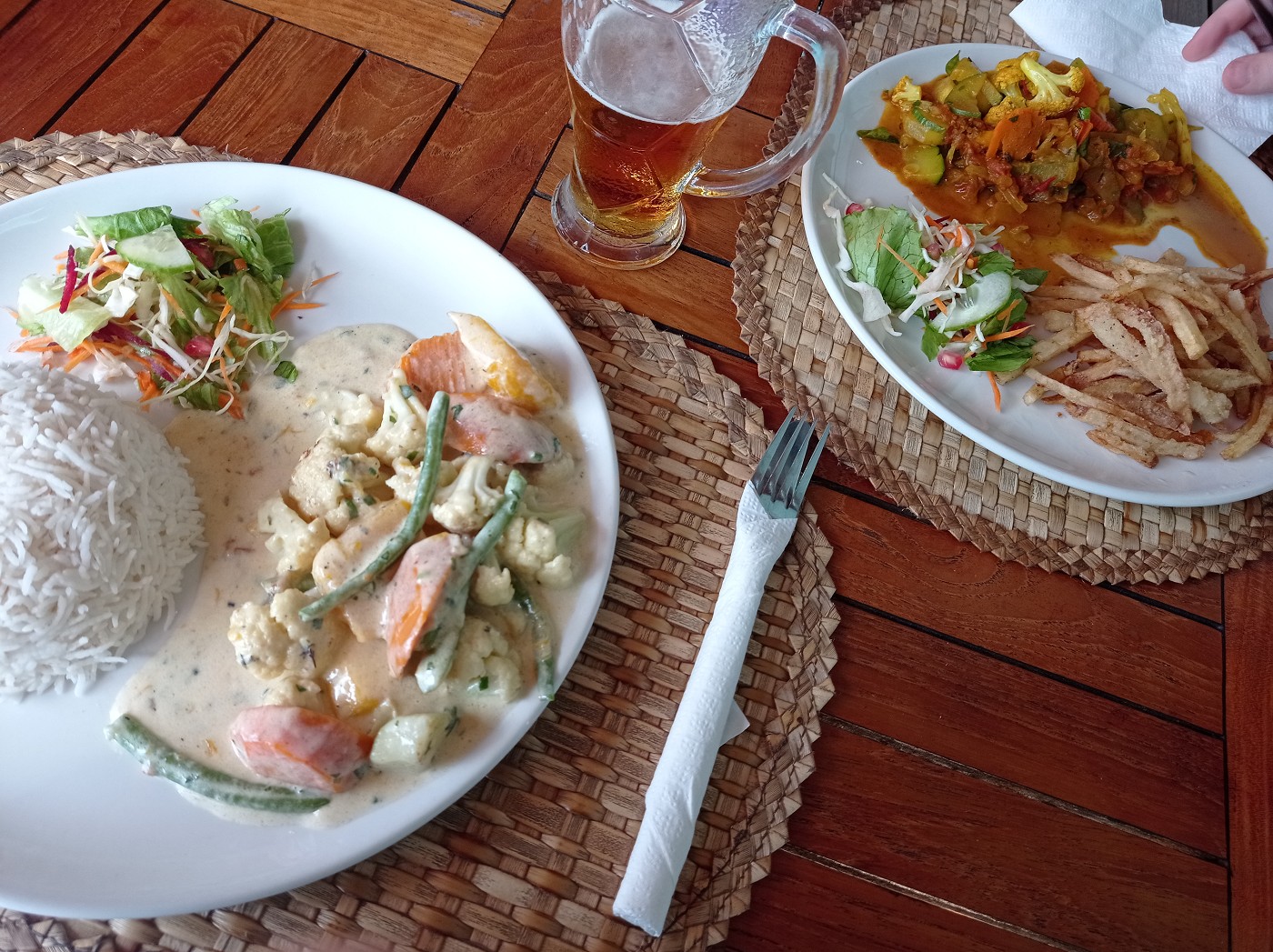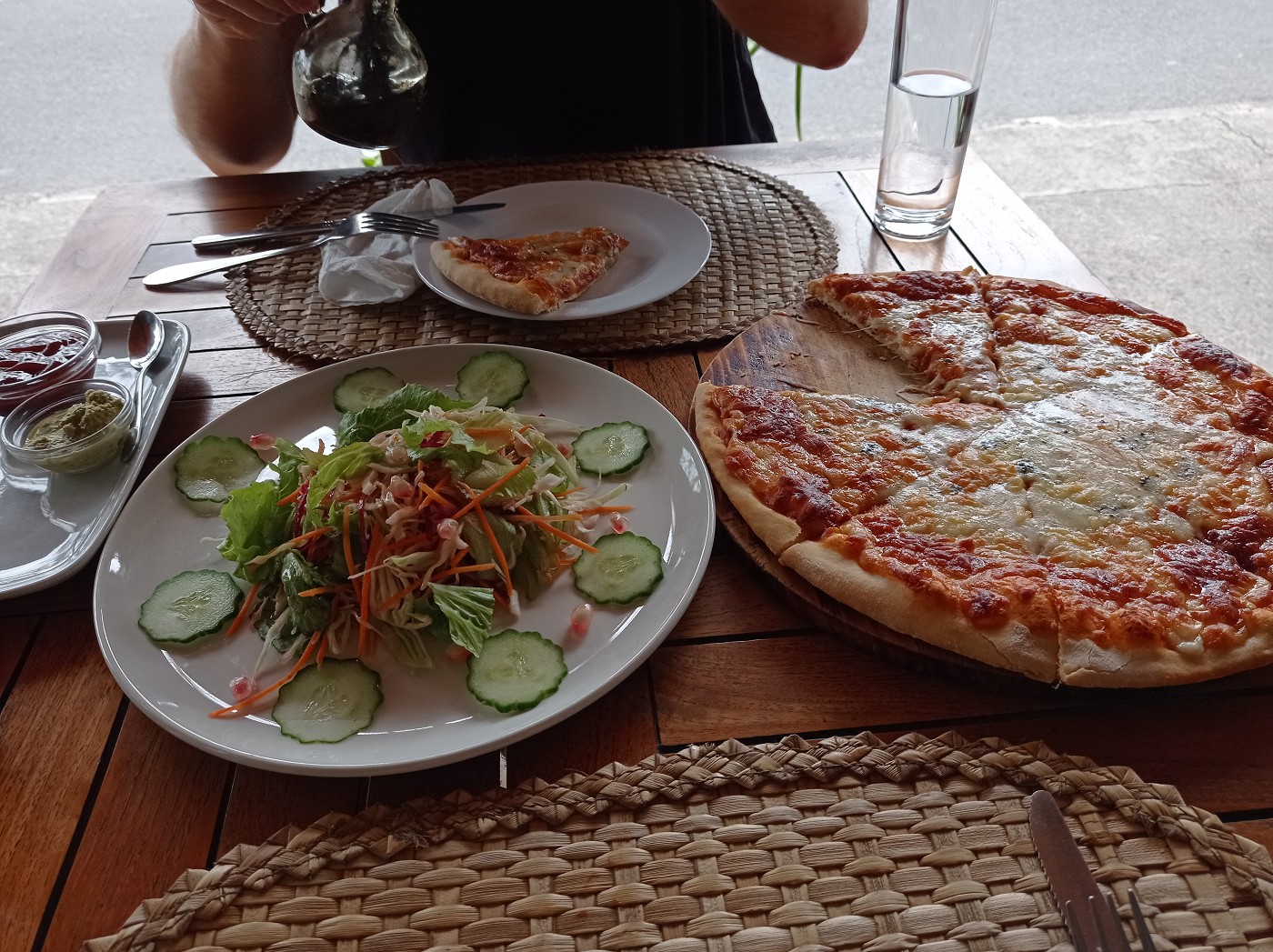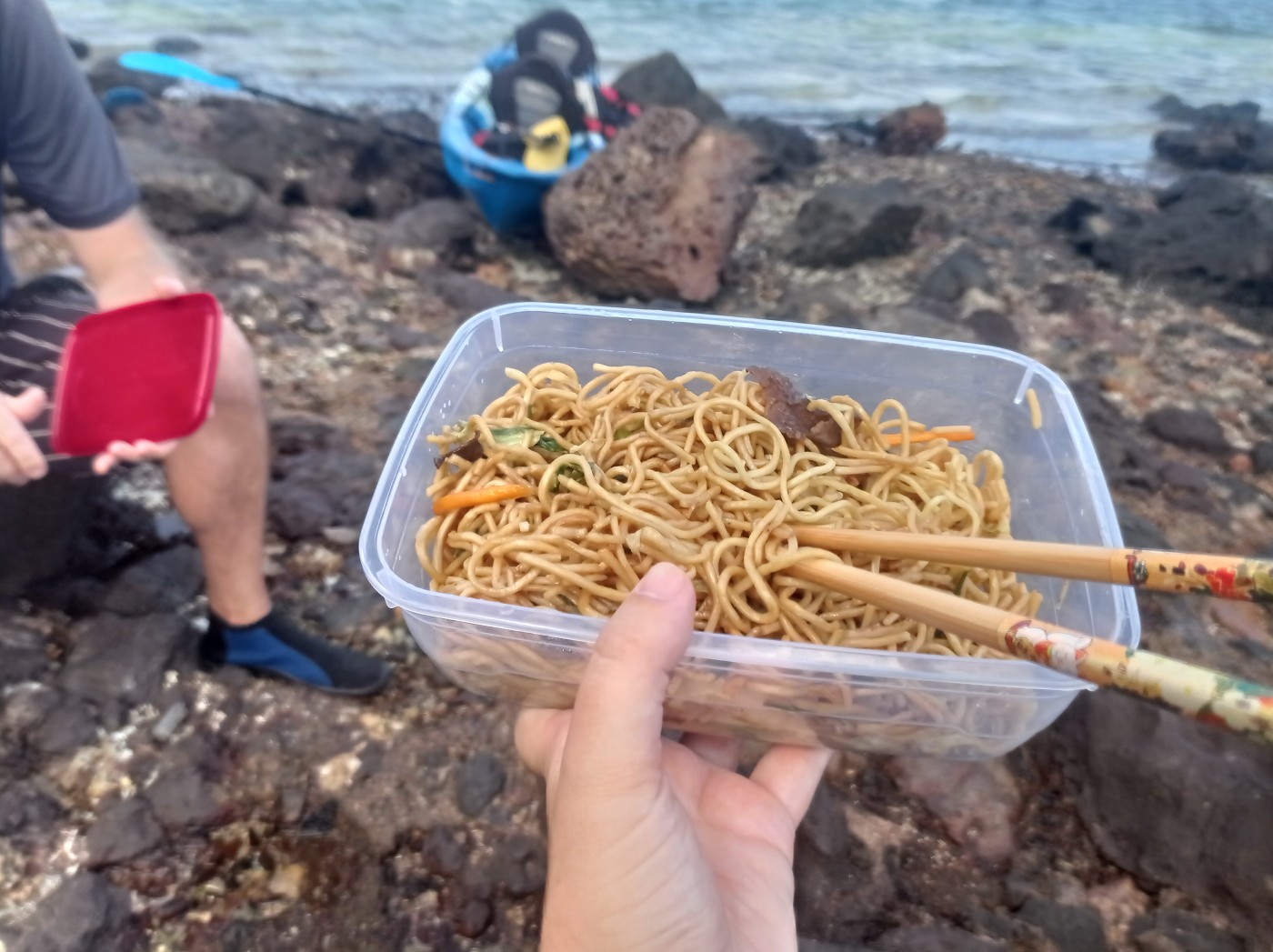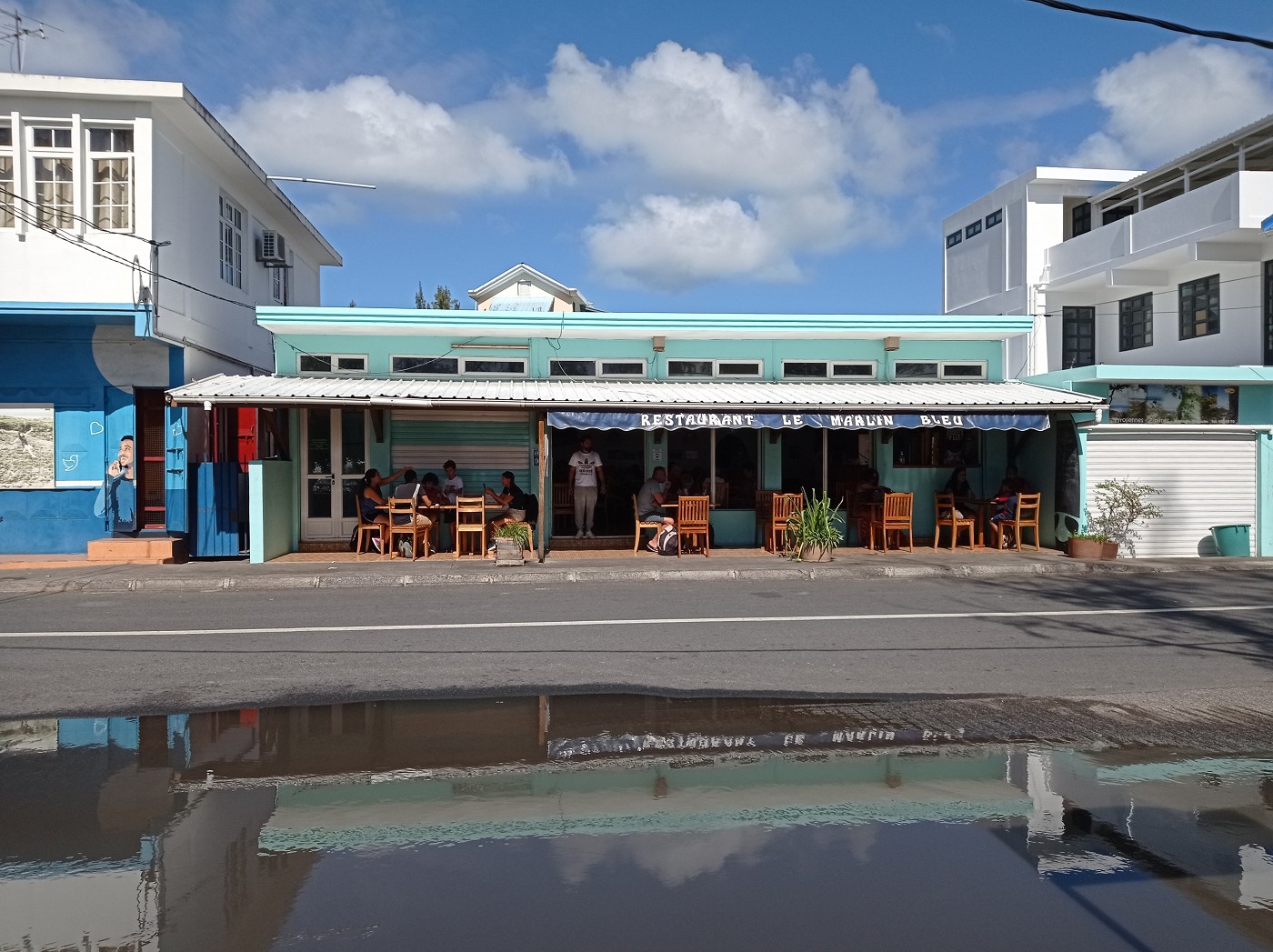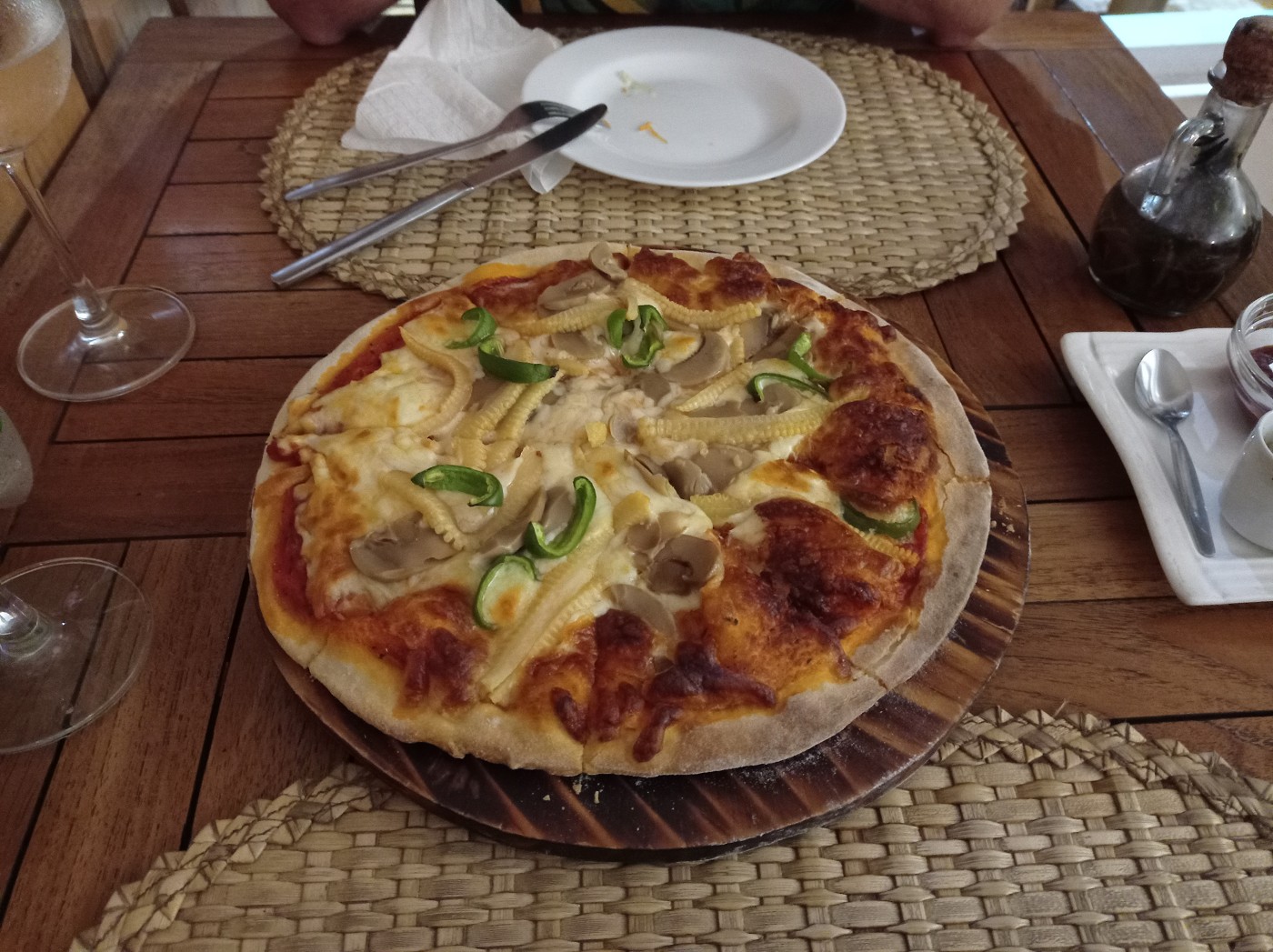 Opening times: Wednesday till Monday from 11:00 – 14:30 and again from 18:00 – 21:00. Closed on Tuesdays. Contact them on: +230 832 0701. Coordinates: -19.67476,63.43351
The most well-known restaurant in the Anse aux Anglais area is Le Marlin Bleu. It does get busy here at times, so if you want to make sure you have a table, just call them to make a reservation. It's the only restaurant on the island with a vegetarian section on the menu, so you don't need to search hard for a veg-friendly meal. We had the vegetables curry and vegetables in white sauce. In the pizza section, you'll also find some vegetarian choices, such as vegetarian pizza and four-cheese pizza. This is also one of the restaurants where we bring a box to take food home for next day's kayaking adventures.
Miami Snack (Baie Topaze)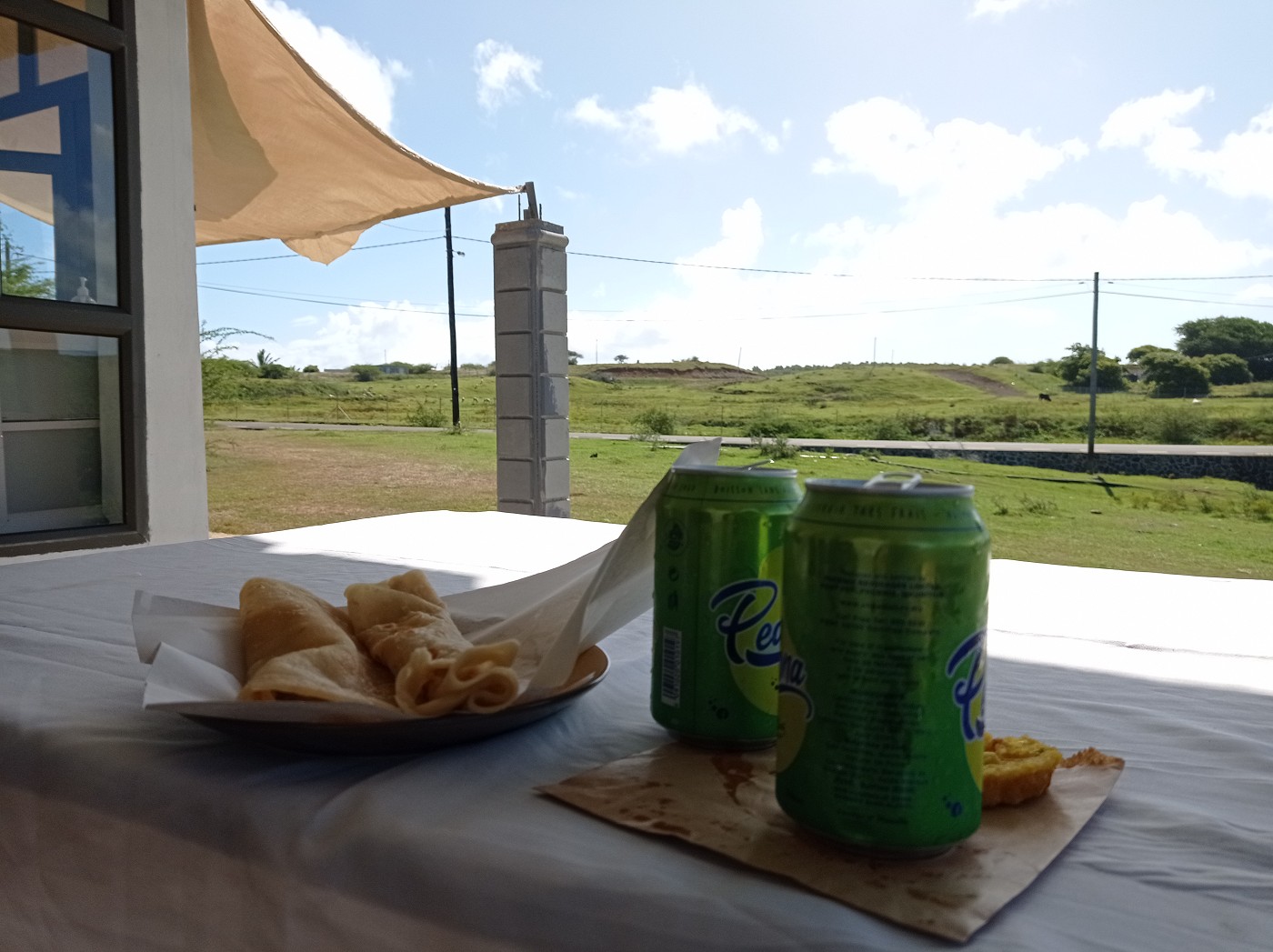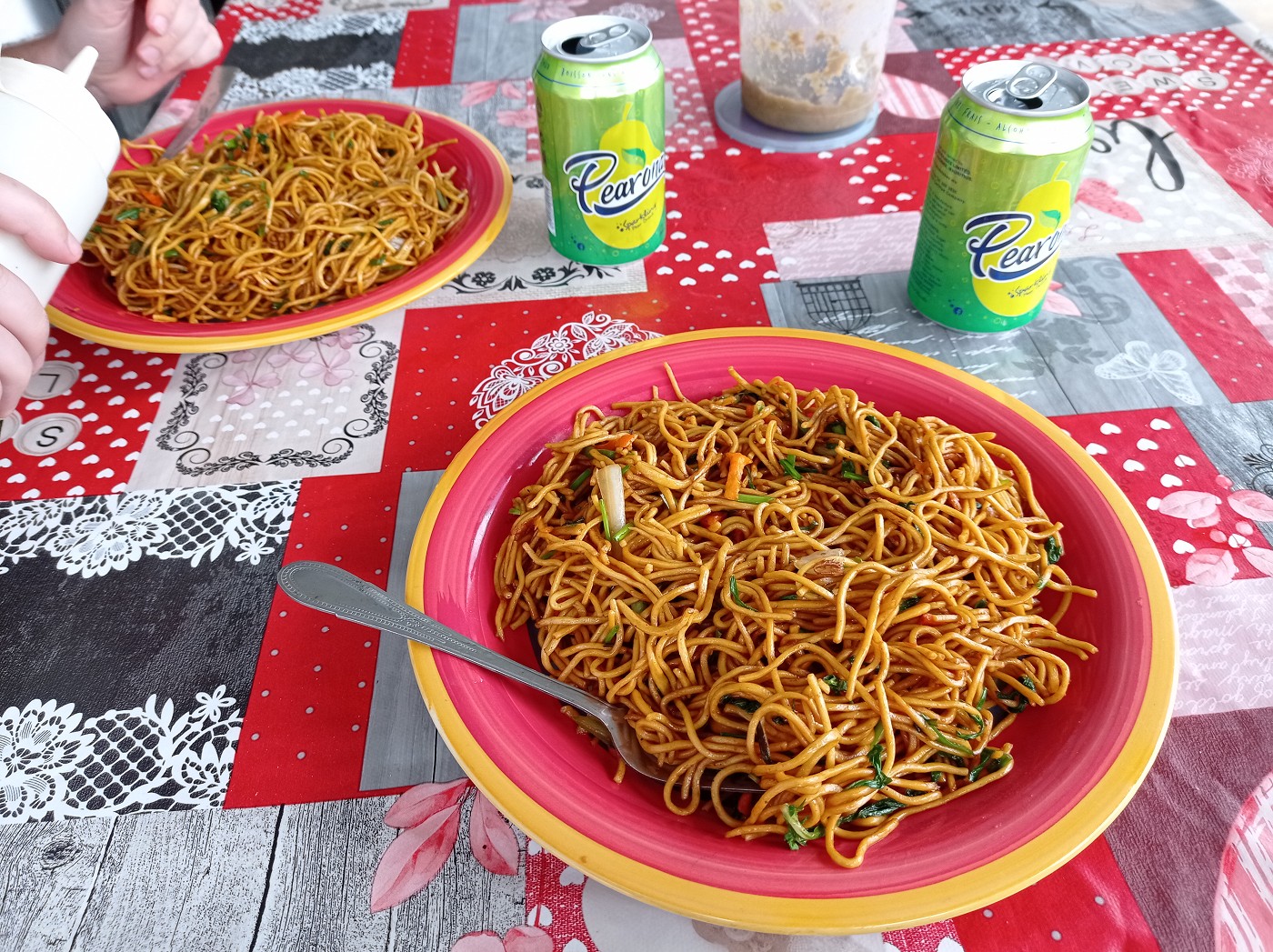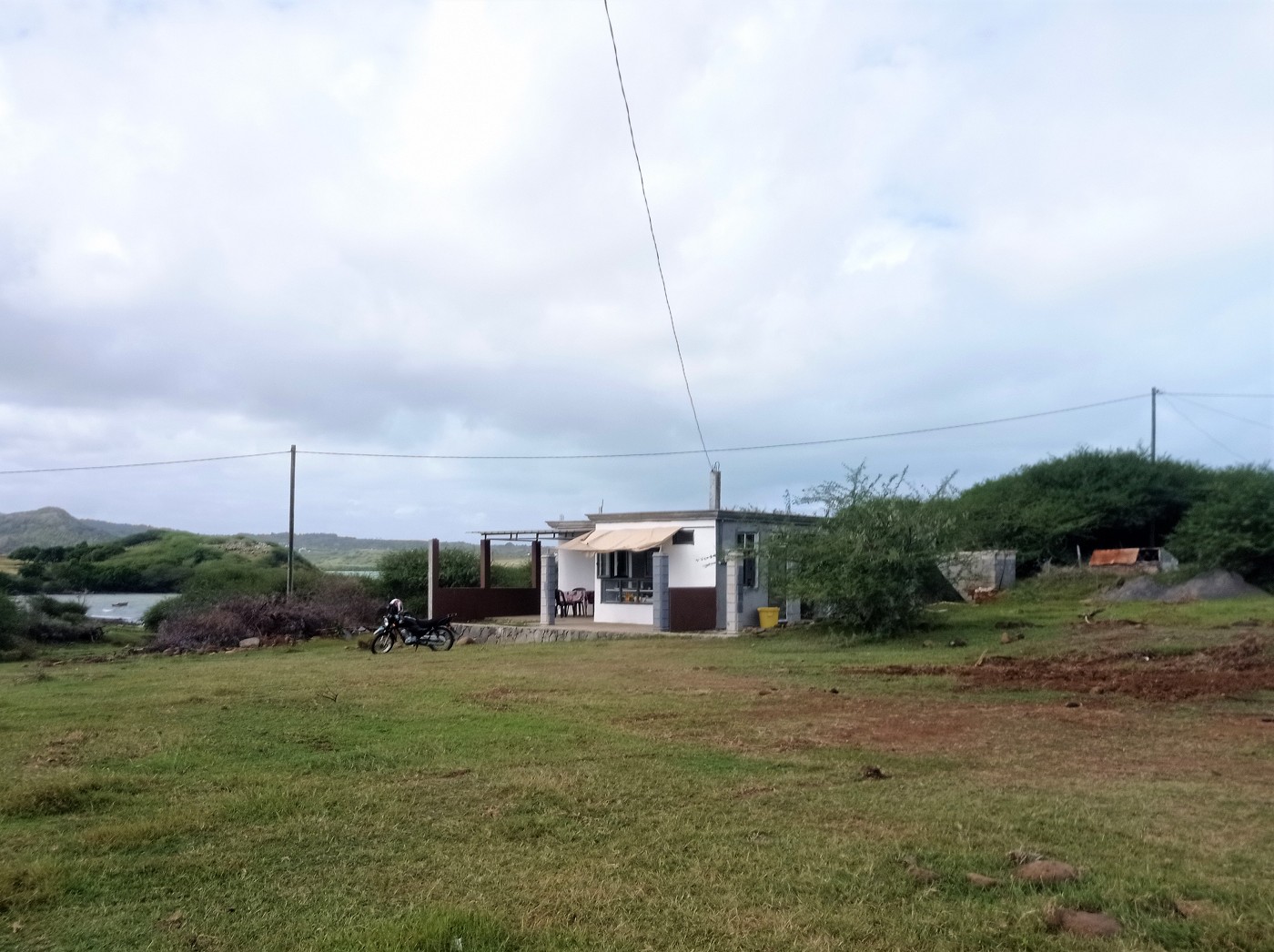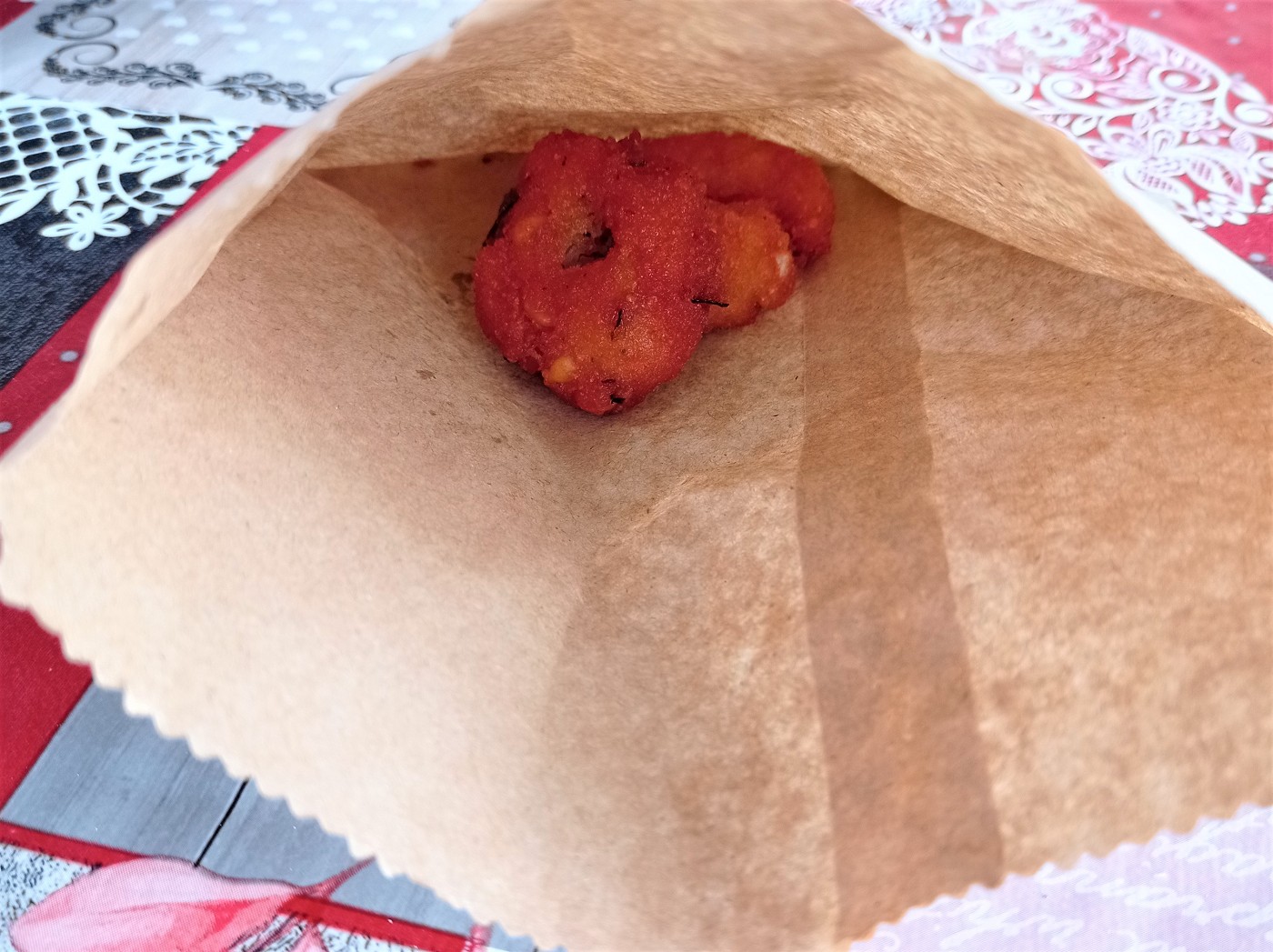 I don't know the exact opening times, but probably from 9:00 till 16:00 from Monday till Saturday. Coordinates: -19.7464517, 63.3406333
At the end of the world in Rodrigues, there's good food. On our first visit to the Plaine Mapou area, we spotted this small restaurant without much of a sign. The lady makes delicious foods that can be vegetarianized on request. The first time, we ate faratha with only the vegetarian fillings. The second time, we each got a big plate of mine frite with legumes and a little gato piment on the side. If not for food, definitely make a stop for a cold pearona when you find yourself on the western end of Rodrigues.
François Leguat Reserve (Anse Quitor/Grande Caverne)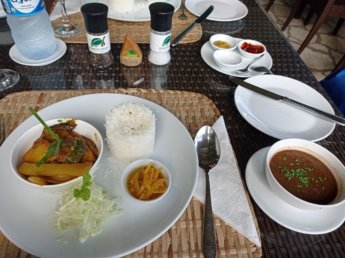 Opening times: every day from 9:00 – 17:00. Contact them on: +230 8328 141. Coordinates: -19.7577561, 63.3706217
One of the fanciest nature reserves on Rodrigues also has a great restaurant. Before or after doing the guided tour where you meet giant tortoises, make sure to eat lunch here. Though there weren't any vegetarian items on their menu du jour, we asked and the server made a trip to the kitchen to see what's up. She returned with the suggestion of curry with rice, which was delicious and very filling. They also have a great coffee machine, so get that espresso.
Le Pandanus (Baie Malgache/Anse Pansia)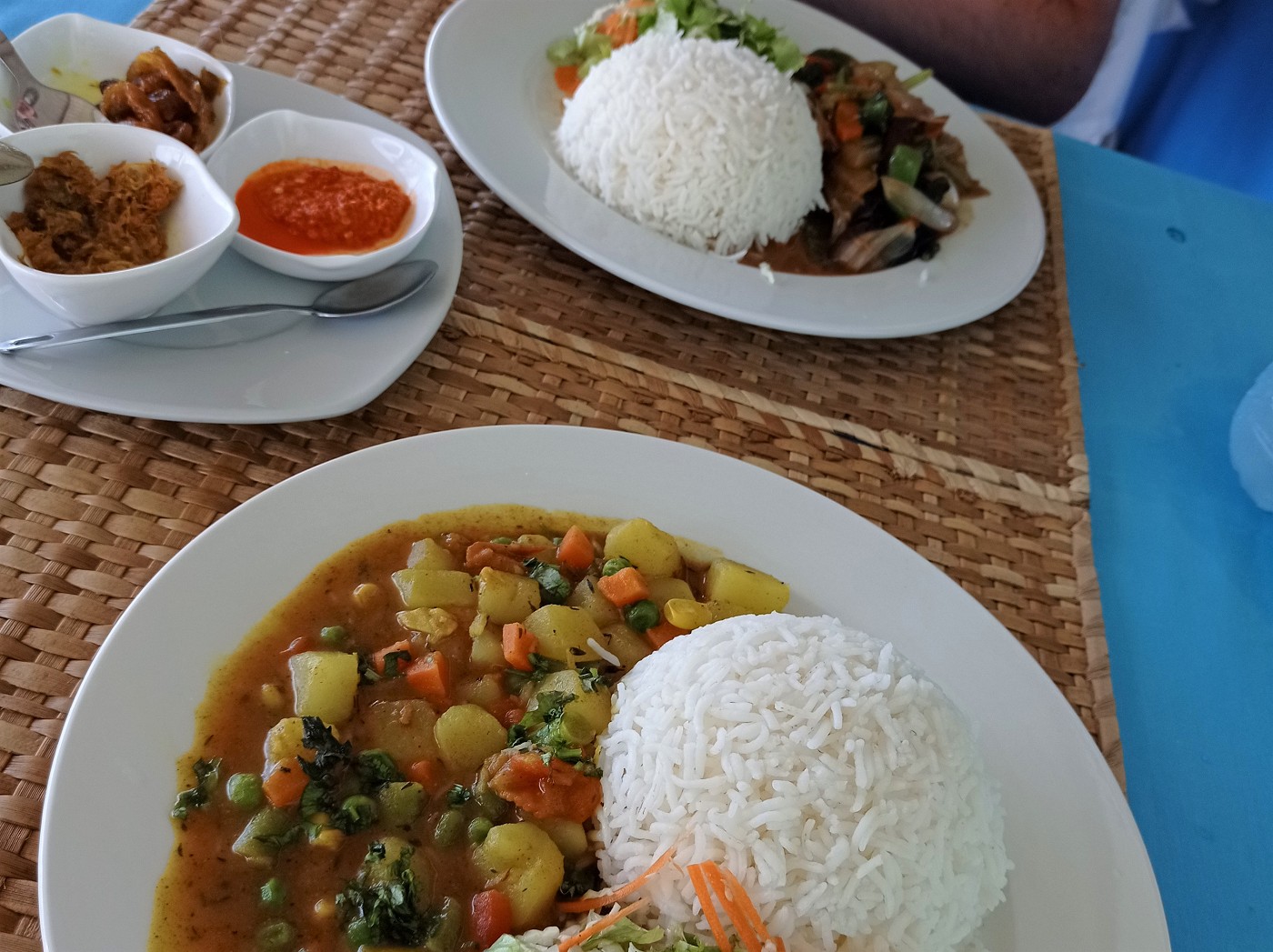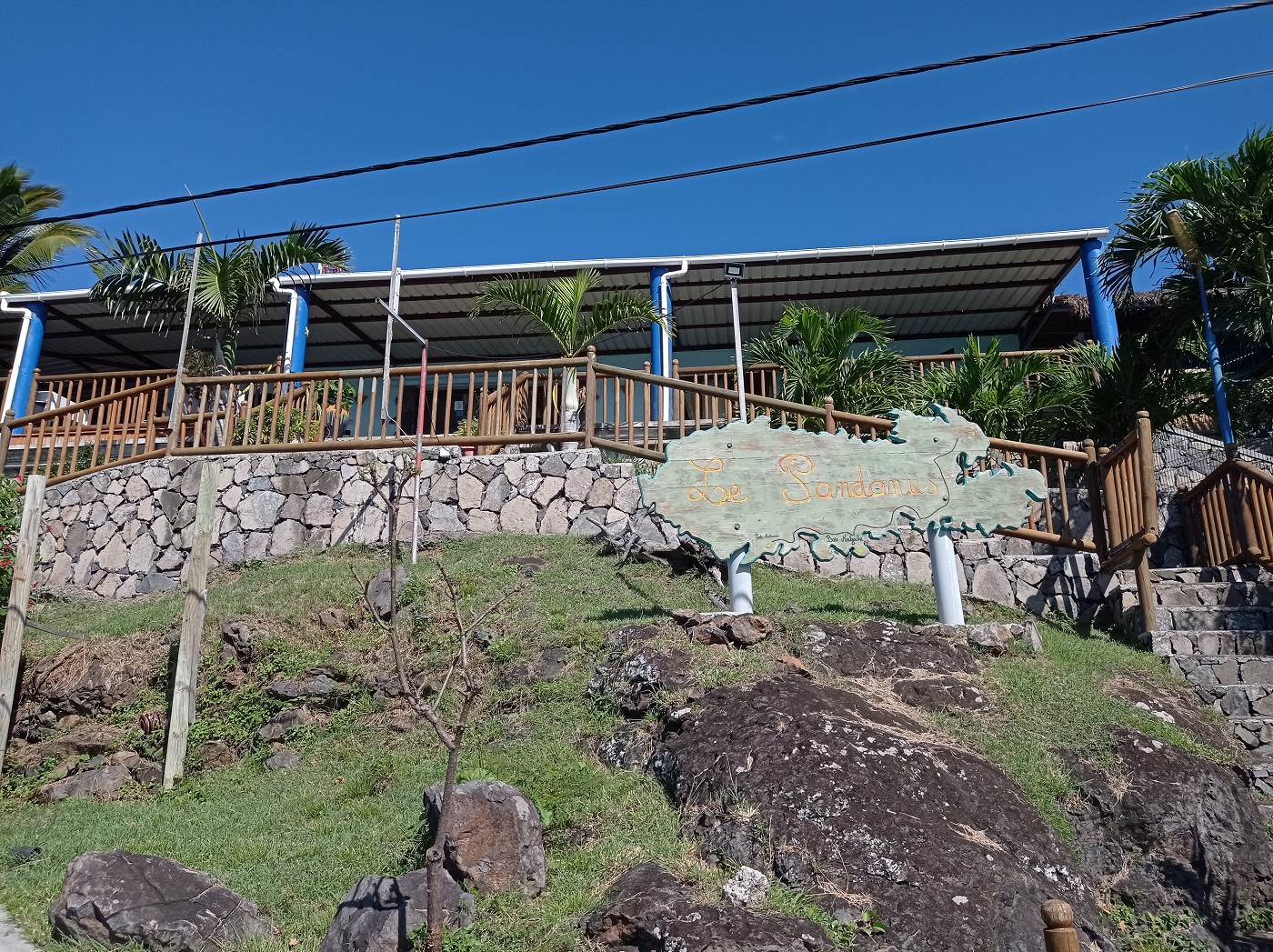 Opening times (unverified): every day 9:00 – 21:00. Contact them on: +230 5440 2580. Coordinates: 19°41′24.9″ S, 63°23′22.9″ E
Basiano Snack (Roche Bon Dieu)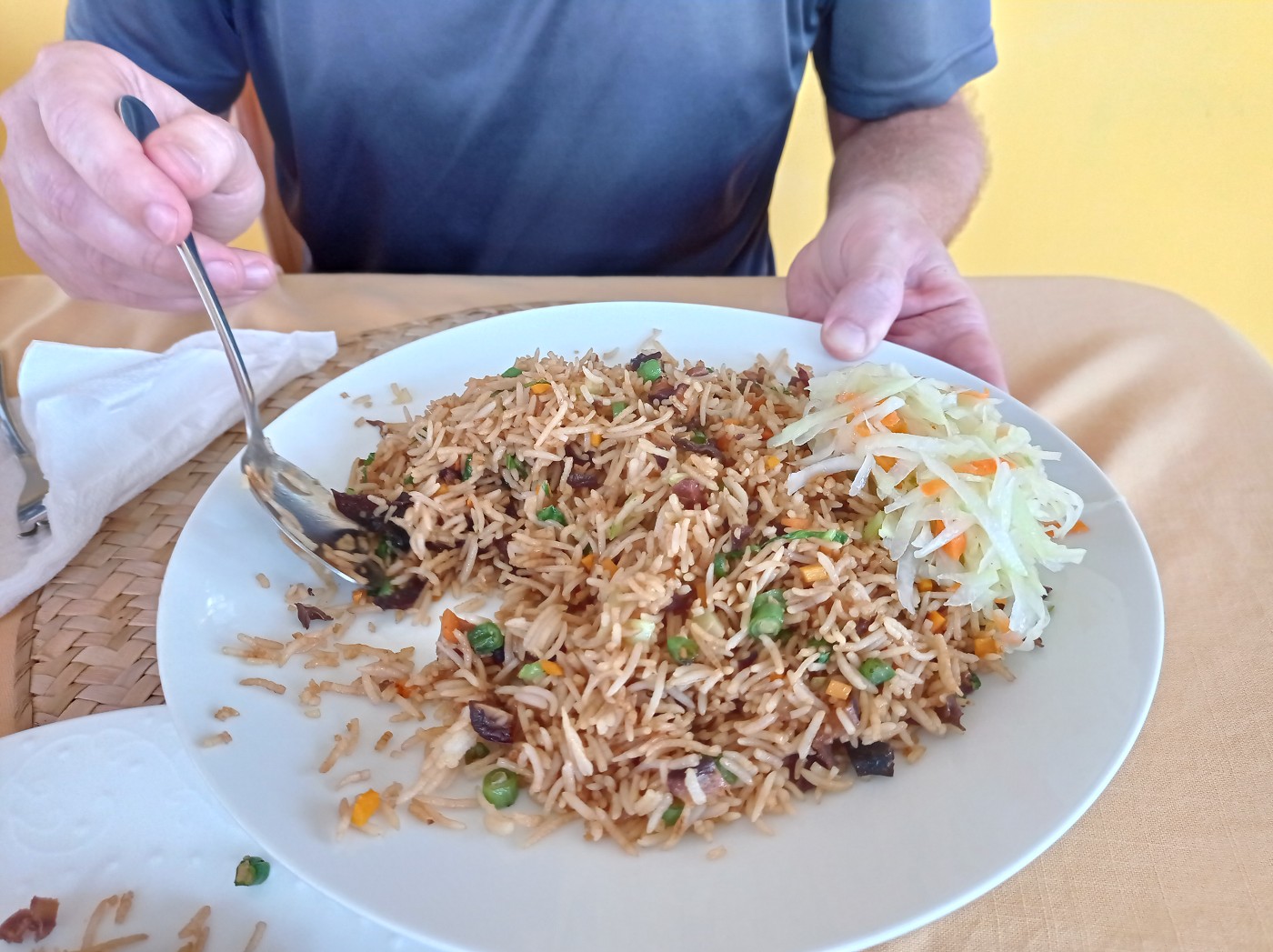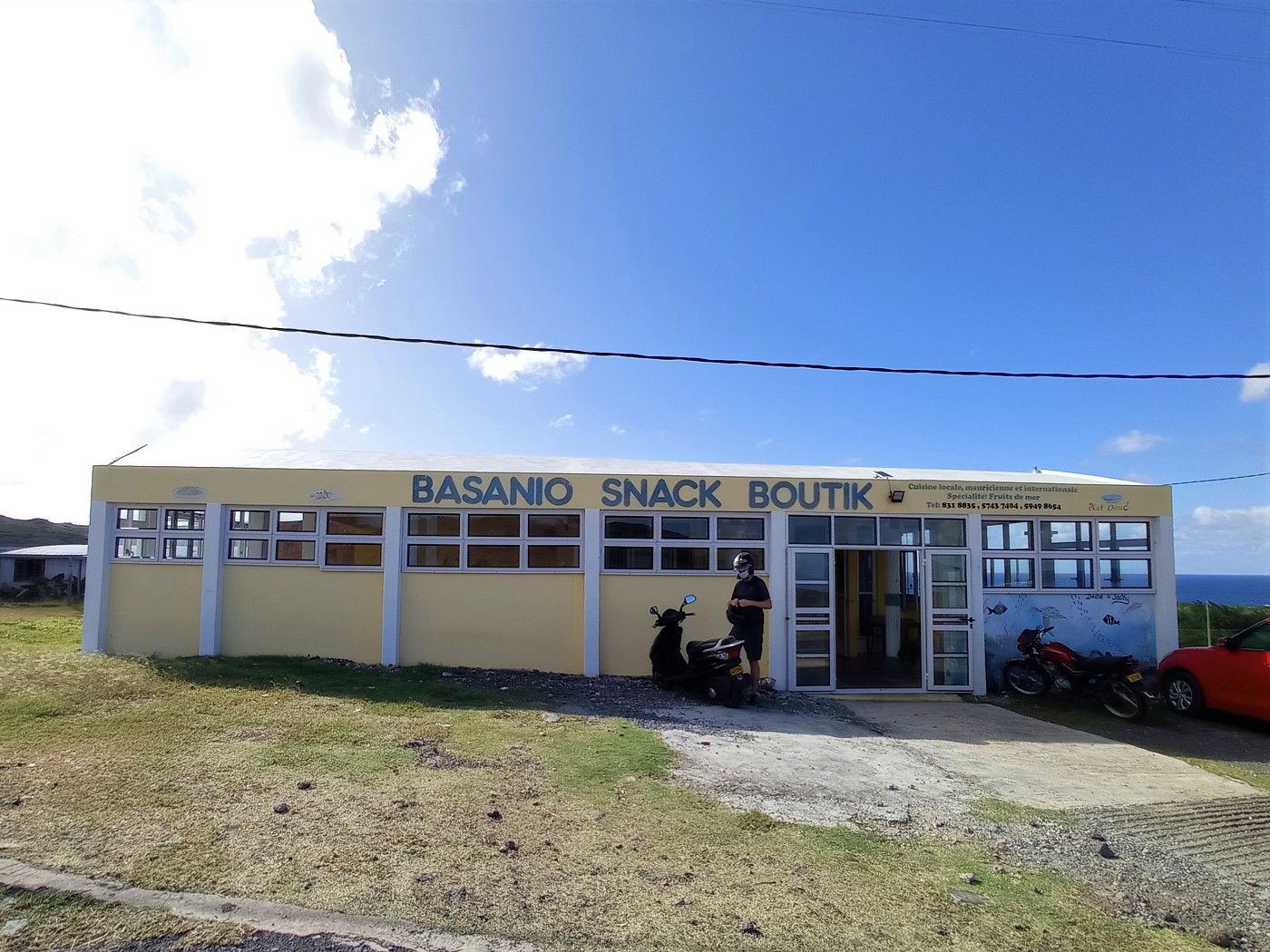 Opening times: every day from 9:00 – 15:00. Contact them on: +230 831 8835. Coordinates: 19°41′32.1″ S, 63°29′27.5″ E
Between Roche Bon Dieu and Pointe Coton is a roadside restaurant everybody knows. Though they don't always have vegetarian food available, it makes sense to ask here because of its strategic location. My first time here wasn't a big success, since the mine frite we had smelled like fish sauce and I ended up not eating anything. But the second time, we specified that the riz frite should be without fish or oyster sauce, and it was good. Crack open a cold drink and enjoy your meal at this windy outpost.
Maps of Veg-Friendly Restaurants in Port Mathurin + All of Rodrigues
Google Maps is useless in Rodrigues, which is why I made this map with OpenStreetMaps. I recommend you download that map app on your phone before traveling to Rodrigues. I added all these restaurants in Port Mathurin and beyond to the map as well, so you can use the app to search for them.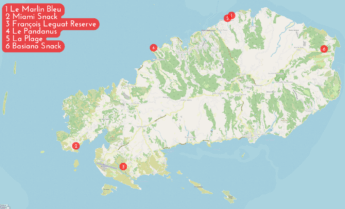 Good info? Contemplate buying me an alouda!
Bitcoin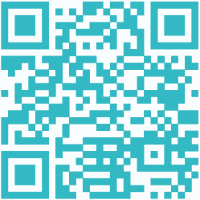 bc1q9a6w08a4gkx4gdvnh7w2vlkfzx4tlwfpfe6jm6
Open in wallet
Did I miss a great veg-friendly restaurant you love?
Comment below! If you've traveled to Rodrigues or are Rodriguan and know some more great restaurants in Port Mathurin and elsewhere in Rodrigues, feel free to share your experience and other relevant details. That way, other people who read this article will find your favorite eatery as well!