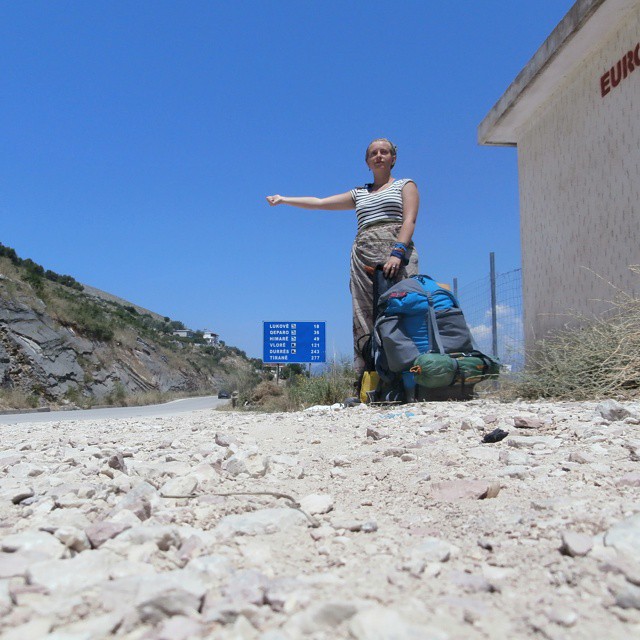 Goodbye Sarandë and hello Vlorë! Though this road was desolate and there was only a little bit of shade left to stand in at noon, I caught a direct ride with a truck driver from Berat on this amazing coastal route.
Tea and Tears
But before I caught a ride to Vlorë, I had to walk along this road in the sunshine. It was quite a long walk. With the heat getting to my brain, I made a stop at a building on the south-west side of the road that I hoped would be a shop of some kind. I was thirsty as hell. I knocked on a door, and an older man who resembled my late grandpa opened up. He provided me a chair and some tea in the cooling shadow of his garage. We didn't exchange many words, but I just sat there sobbing for a while, which must have been weird for him.
Once I'd gathered my courage again, I said a thousand faleminderit for this spontaneous hospitality. He shook my hand and slapped me on my back before waving me out. I continued walking to the edge of town until I came to what it felt was the last building on the north-east side of the road. Its shadow was minimal, but it would do.
A Heavy Truck from Sarandë to Vlorë
My driver to Vlorë spoke Italian, I responded in Spanish, all was fine and understood. The winding road goes ear-popping high through the mountains at the point where the Ionian Sea connects with the Adriatic. With a loaded truck, it's not fast, but breathtaking views need more time for appreciation! I'm couchsurfing with a lovely Israeli couple in Vlorë who are fluent in Albanian too. But unfortunately, I'm a bit ill (a cold) so I'm not that fun of a guest at the moment.
Plans? Just chill out and about and appreciate the gift of a much-needed shower!
#Albania #Shqipëri #truck #seaside #coastalroad #hitchhiking #hitchhiker #hitchselfie #Italiano #Español #Israel #hitchhikersofinstagram #autostop #nonstopautostop #ttot #travel #hospitality #vlorealbania (at Saranda)