We did this paddling trip on Monday the 23rd of May, 2022. The route went from Pointe Monnier in Port Mathurin to the artificial Îlot des Hollandais, Île aux Fous, and Île aux Diamant. All these islands are located in the gigantic lagoon of Rodrigues, Mauritius.
The Idea to Paddle to Île aux Fous
The first time Jonas and I drove the northern coast of Rodrigues, I knew I wanted to visit Île aux Fous (Fool's Island, English alternative name: Booby Island). The island is quite far from the mainland, but it's still within the safety of the reef. The bulk of our kayaking experience is on rivers, but we have also done quite some paddling at sea at this point. Mostly in Mauritius.
I only learned about the true nature of Îlot des Hollandais (Dutch Islet) on the Port Mathurin walking tour. The guide from Rodrigues Friendly Café, Christian, told us it's actually an artificial island created in the 80s by a Dutch company to facilitate the docking of big ships like the Black Rhino. Before that, the entry to the lagoon was too shallow and big ships had to anchor offshore. Then, some smaller boats would greet it outside the reef and the goods would be craned down. That's quite a risky operation. Since much of today's goods are construction materials, you could say that the dredging of this channel really helped Rodrigues develop into the comfortable island it is today.
Île aux Diamant (Diamond Island) is really close to the shore of Rodrigues. I think it's possible to walk there at low tide, which was the original plan. But perhaps the sand there is very suction-y and full of fish and octopus, so that would make me rather uncomfortable. If we're renting a kayak to go to the first two islands anyway, we might as well include Île aux Diamant in the itinerary.
Calculating this distance on the map, it would be a paddling day trip under 10 kilometers. That's good. My idea was to paddle out at sea with the falling tide so we get a little help getting to Île aux Fous. Then we'd wait for low tide to pass and paddle back with the raising tide
Where to Rent a Kayak in Rodrigues?
After Jonas' MacBook broke in Rodrigues, I messaged a local tech repair shop called Qwerty Solutions. More than a week after buying a new laptop, I got a reply from their Facebook account. I told the person behind it we already solved the problem. He apparently went to my profile and checked out my blog. He invited us to go snorkeling at the mystic "aquarium" in Rivière Banane, but snorkeling isn't my strong suit. I asked if he knew anyone who rented kayaks in Rodrigues. He had a contact who delivered kayaks anywhere on the island.
First, we thought that perhaps he'd like to join us, but it didn't fit his schedule. So we planned the kayak trip just for the two of us. We contacted Jean Maurice from the kayaks. He asked for our general plan and level of experience, so we forwarded the route and a link to the many blog posts I have about kayaking. We decided to get the kayak delivered in front of our accommodation in Pointe Monnier. There's a little inlet of water where many boats are moored. Jean Maurice sent a picture of the kayak strapped to a pickup truck the night before paddle time.
Kayak Time!
The following Monday, it was time to paddle. We had prepped our backpacks in advance, filled up the hydration bladder, and sealed up a box of mine frite veg from a restaurant in Anse aux Anglais called Le Marlin Bleu. Jonas met up with Jean Maurice at the bus stop and secured the kayak while I finished packing and slapping on sunscreen. We ran into our host Sandy before we left and he asked about our kayak plans. He thought that was a very short trip, so he suggested paddling to Anse aux Anglais as well. I think he might have underestimated how tough even a trip less than 10 kilometers can be at sea powered by only our arms while battling both the current and the wind.
(Sandy owns a motor boat)
Speaking of the wind, today was not a windless day. We know the lagoon in front of Port Mathurin can be smooth like a mirror. We're not that lucky. There's a strong off-shore wind. But if the wind proves too strong for us, we will only paddle to the first island Îlot des Hollandais and then return. Today is not a good day to die at sea in a small kayak drifting beyond the safety of the reef and off into the unknown parts of the Indian Ocean. That's a sincere fear of mine.
Paddling to Îlot des Hollandais
We put the boat into the water. It's a heavy boat, but as long as the embankment is not too steep, we can put it into the water anywhere. I strapped in our luggage and fixed the seat a bit for a better angle. Then it was time to put on the life jacket and gloves and paddle out of the harbor. We could immediately see our three island goals for today.
The distance to Îlot des Hollandais is less than a kilometer. It's a good place to first paddle to in case we need to still troubleshoot something. That something for me was the life vest. It was way too tall for my back and I couldn't sit comfortably, so I took it off while paddling past the coast guard before we even left the safety of the harbor. Though it was windy and the sea sprayed a bit into the boat, it wasn't too tough yet. Also, the water was extremely shallow—less than half a meter. So if something really went sideways, we could still hop out and walk with the boat.
Upon arrival at Îlot des Hollandais, we realized it's not a sandy island, but one made of dead coral. That actually makes quite a lot of sense, as a sandy island would need constant maintenance as it would shift rapidly. We hauled the boat out of the water and secured our stuff with the weight of the paddles. It was very windy and the chance that something flies away is ever-present.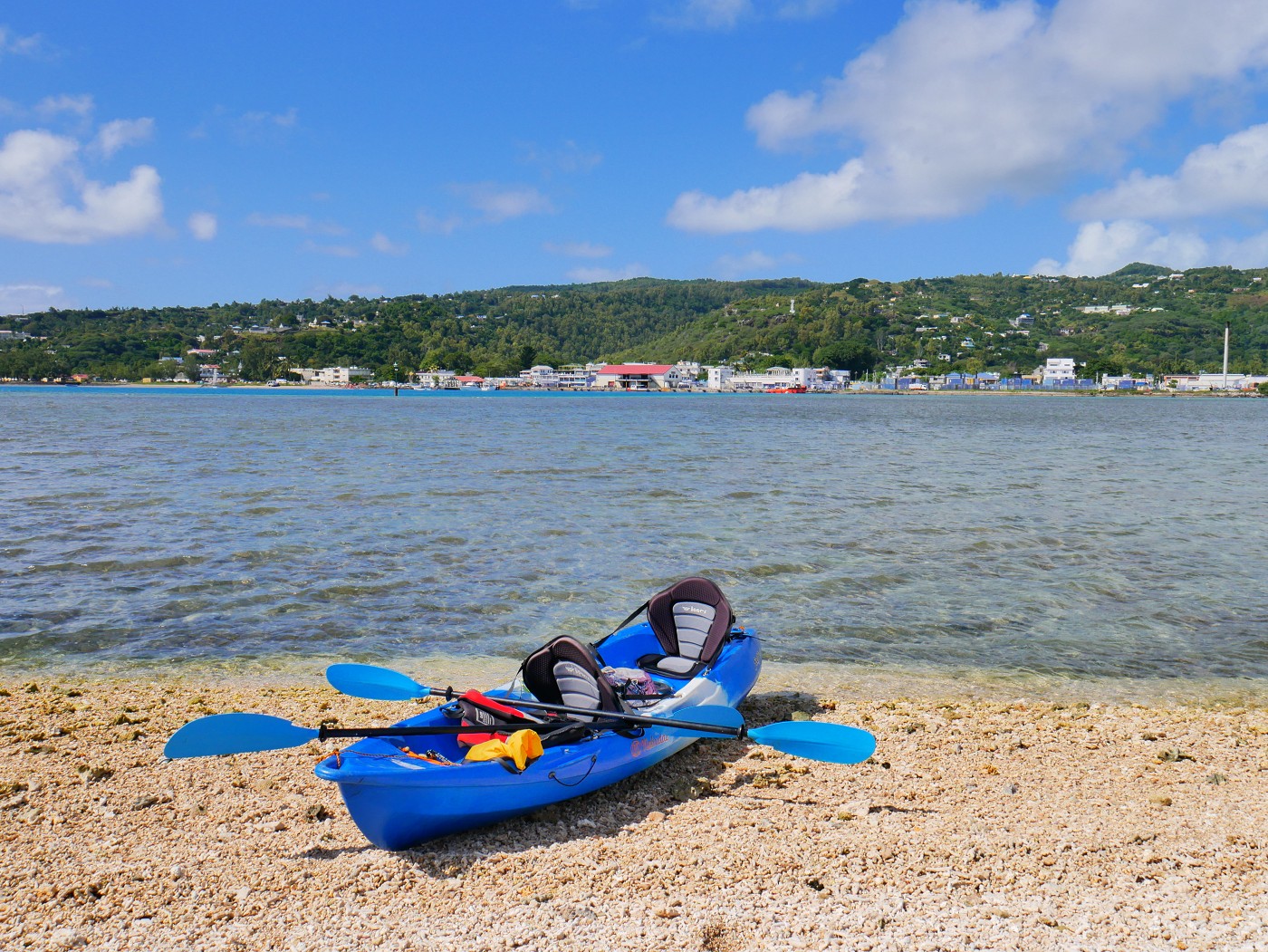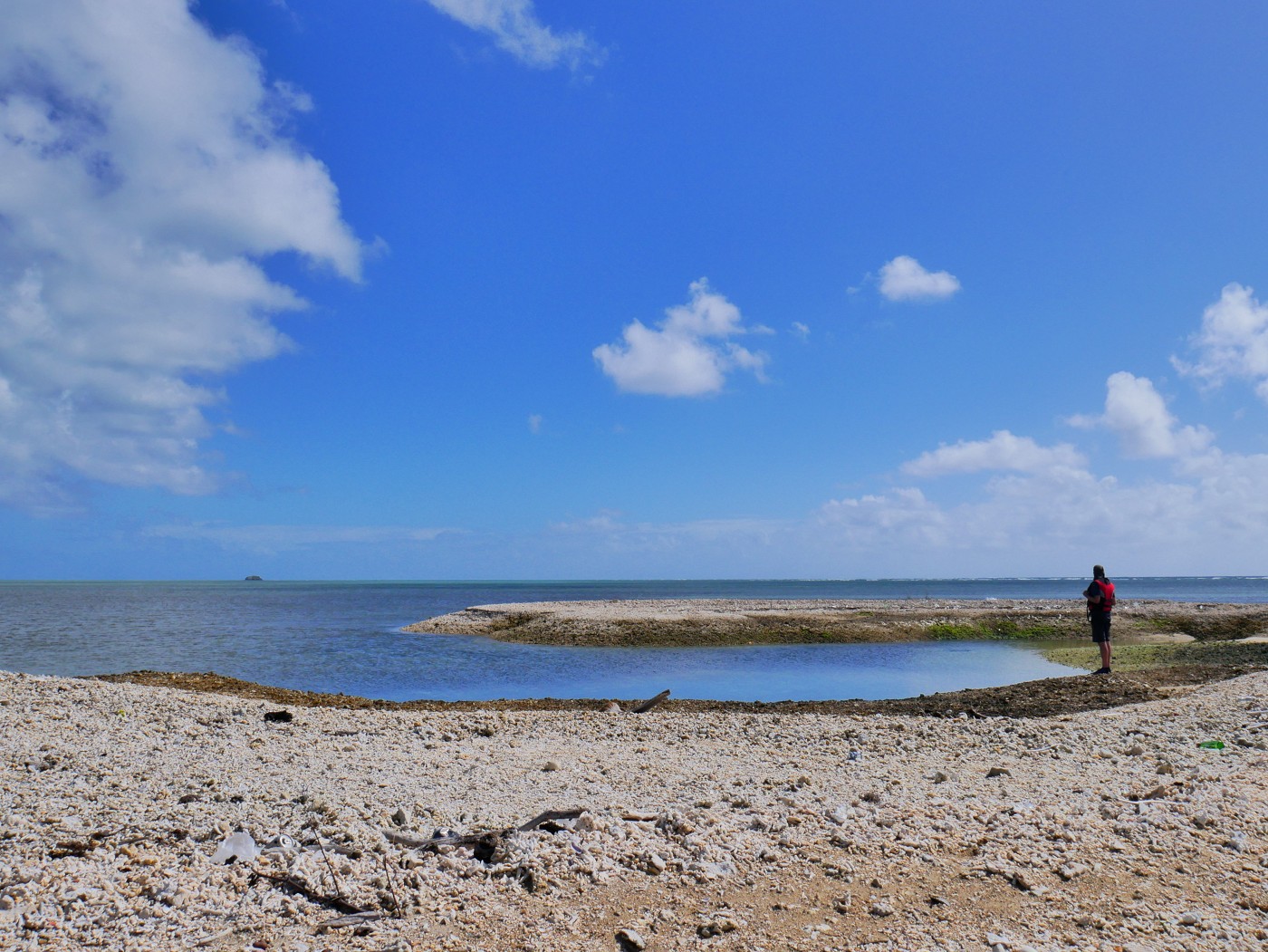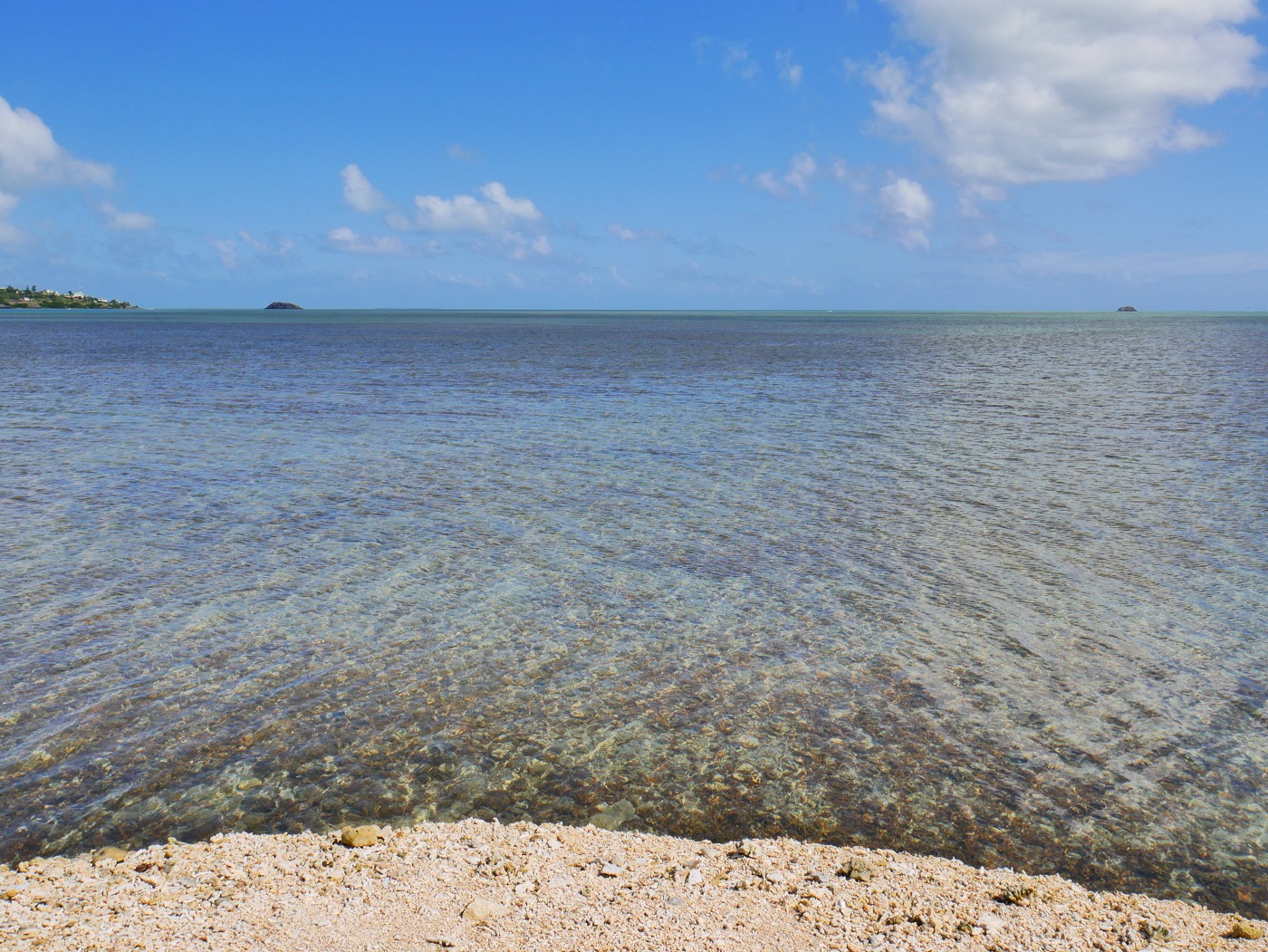 Île aux Diamant on the left and Île aux Fous on the right in the distance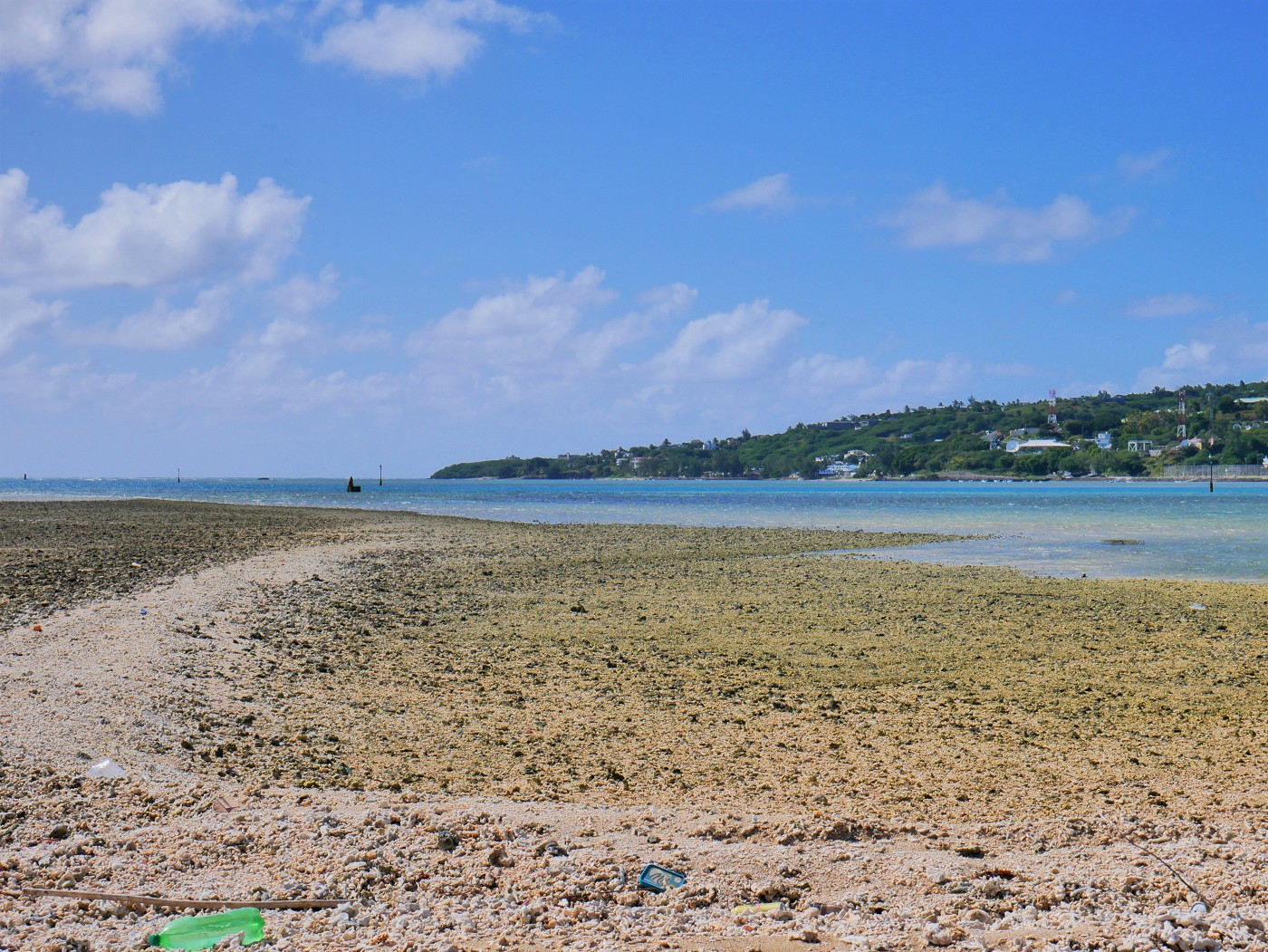 Where the water color becomes darker is the dredged zone that allows the ships to come to Port Mathurin and created this islet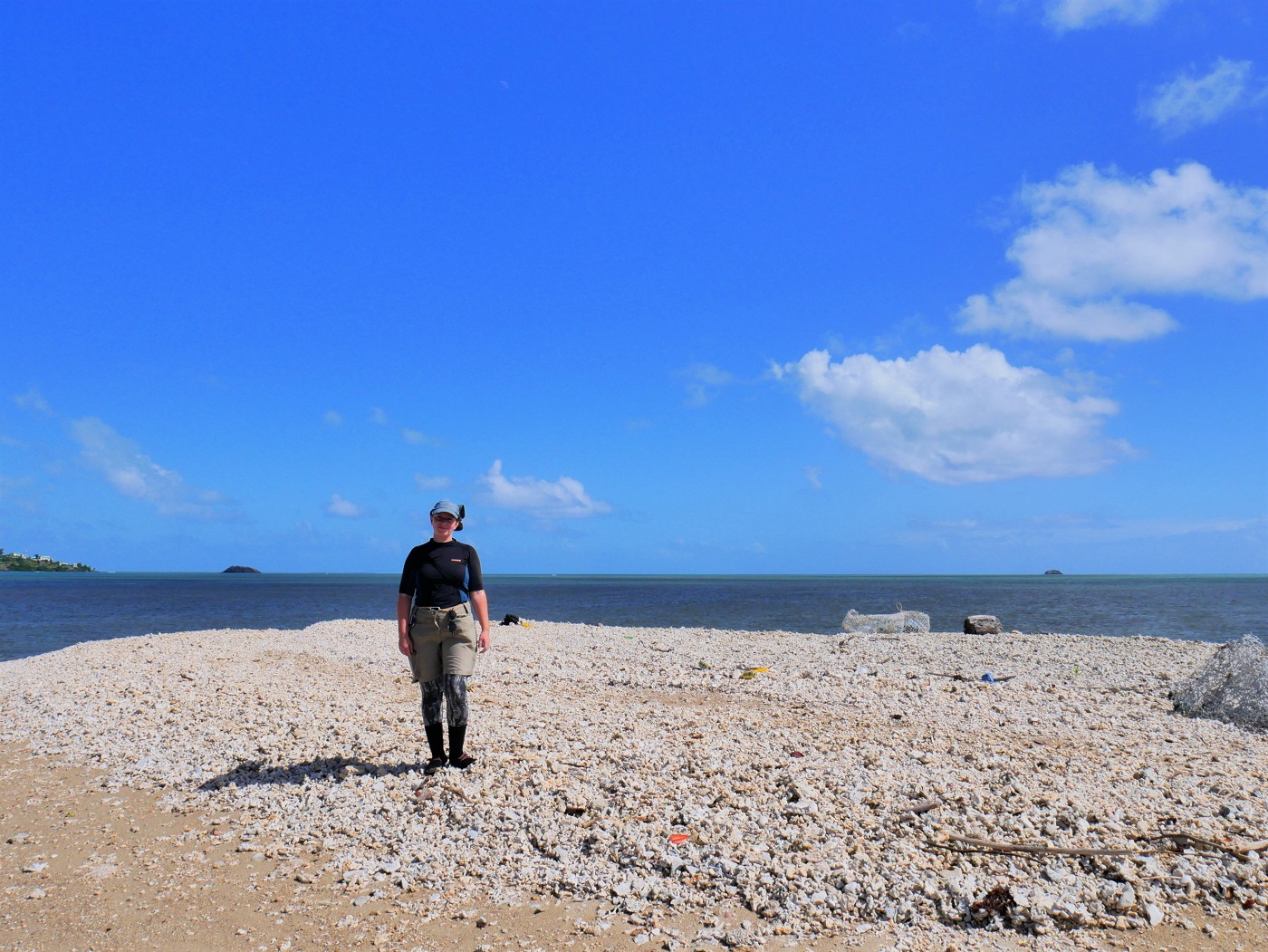 This artificial island isn't much. The fishermen sometimes leave their crab traps on the island and there's quite a lot of trash – for Rodriguan standards – washed ashore. I only spotted one bird on the islet. Unfortunately, I managed to spook it and it flew off to the shallow patches that are submerged at high tide. This islet has a very different shape depending on your satellite map. On Google Maps, it looks elongated like an anchovy. If you look at OpenStreetMaps on the edit function, the shape is slightly different with each satellite footage (Esri/Maxar/Bing/Mapbox) and sometimes shows the small bay of stinky water we saw.

Paddling to the Main Objective: Île aux Fous
From here, it was time to discuss paddling to Île aux Fous. We looked at the water choppiness and the wind direction. We'd have the wind exactly in the back to paddle to Île aux Fous. As long as we didn't miss and drift past the island and out at sea via the reef gap called Passe Île aux Fous, we'd be fine. But after that? We'd need to paddle mostly against the wind to Île aux Diamant.
We got back into the kayak and began the great distance of more than 3 kilometers to Île aux Fous. In the beginning, we were actually being pulled out despite the tailwind. I guess that the current and lowering tide wanted to pull us out via the Passe Port Mathurin.
The water remained variably shallow the entire way. Sometimes, it would be so shallow that the kayak would receive some tickles from the plants at the bottom of the sea. When the wind would pick up, it would create these waves in our travel direction that were surfable.
Upon closer examination, we spotted some fishing boats around the reef behind Île aux Fous. I had my whistle in the boat and I suggested that if we'd get into trouble on the way to the next island, we'd whistle for help and pay a fisherman for a tow back to the mainland. That would only be slightly embarrassing, but it's better to be embarrassed than dead.
I took some photos with my big camera from inside the boat once we got close. We could see the lighthouse or beacon atop Île aux Fous. It's generally too tough to see that from the mainland.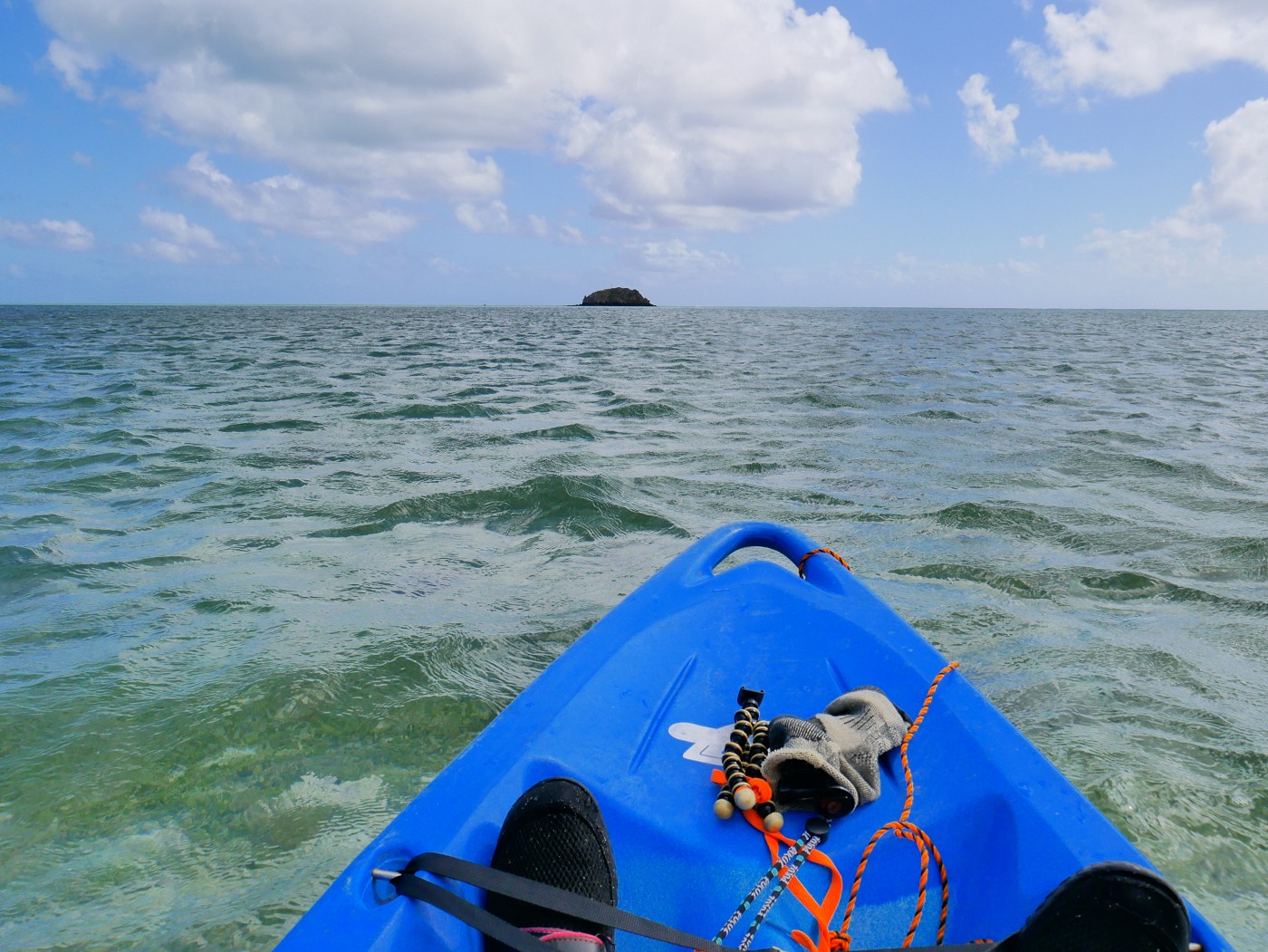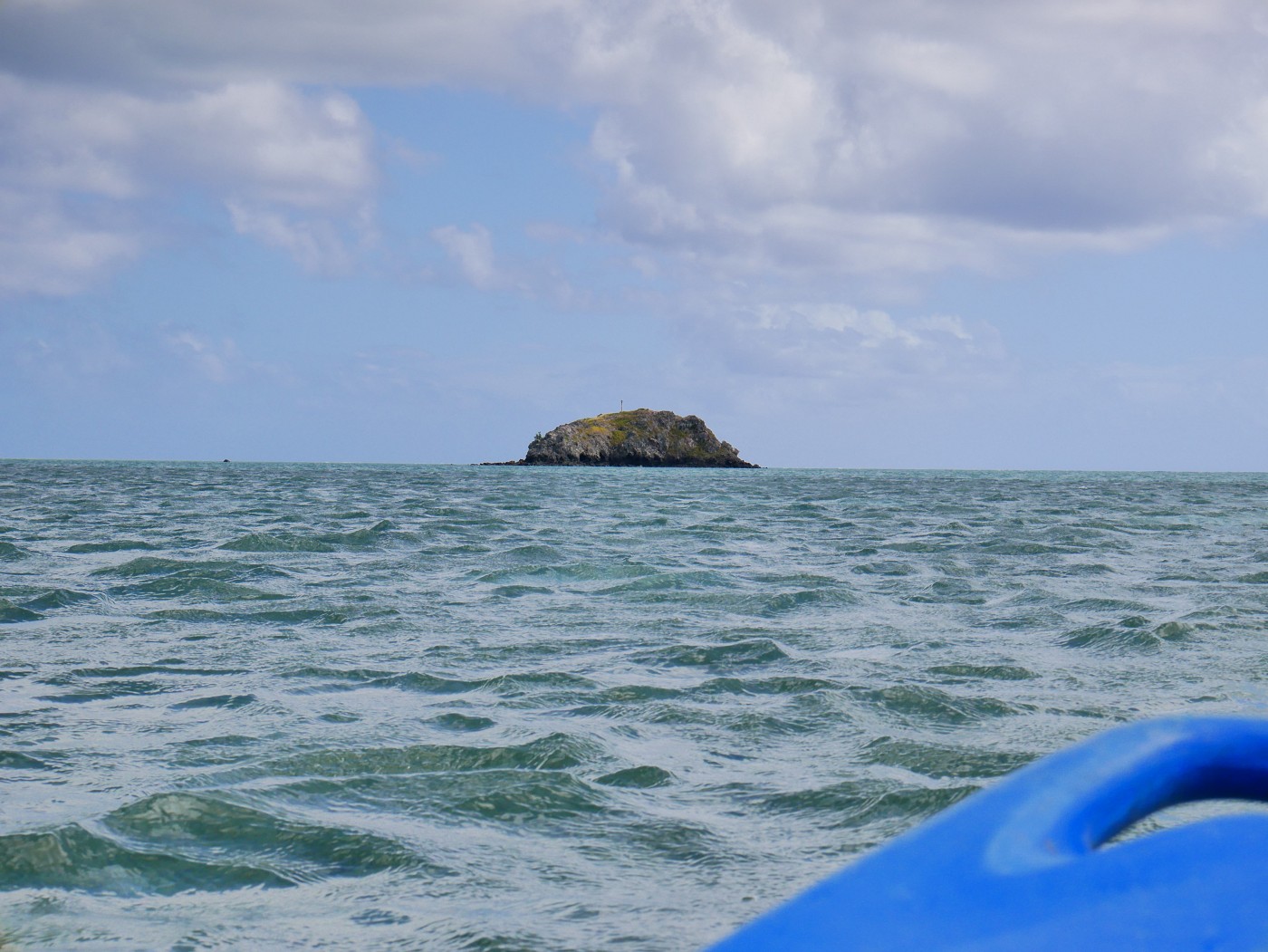 The left side of the island had a rocky beach, so we aimed to land our boat there. The last stretch was an easy paddle. We hauled our boat ashore and put her quite far up so we wouldn't be stranded here in case of a powerful wave.
Hiking to the Beacon of Île aux Fous + Lunch
Though we had landed on the easy side of Île aux Fous, there wasn't a clear path to the top of the rock. I packed a dry bag with my cameras, improvised a strap, and suggested a way up via some grassy section that became rocky the higher you got. I thought it was possible, so I began the climb. Jonas waited it out down at the rocky beach. I reached the top, but was a little bit worried about getting back down.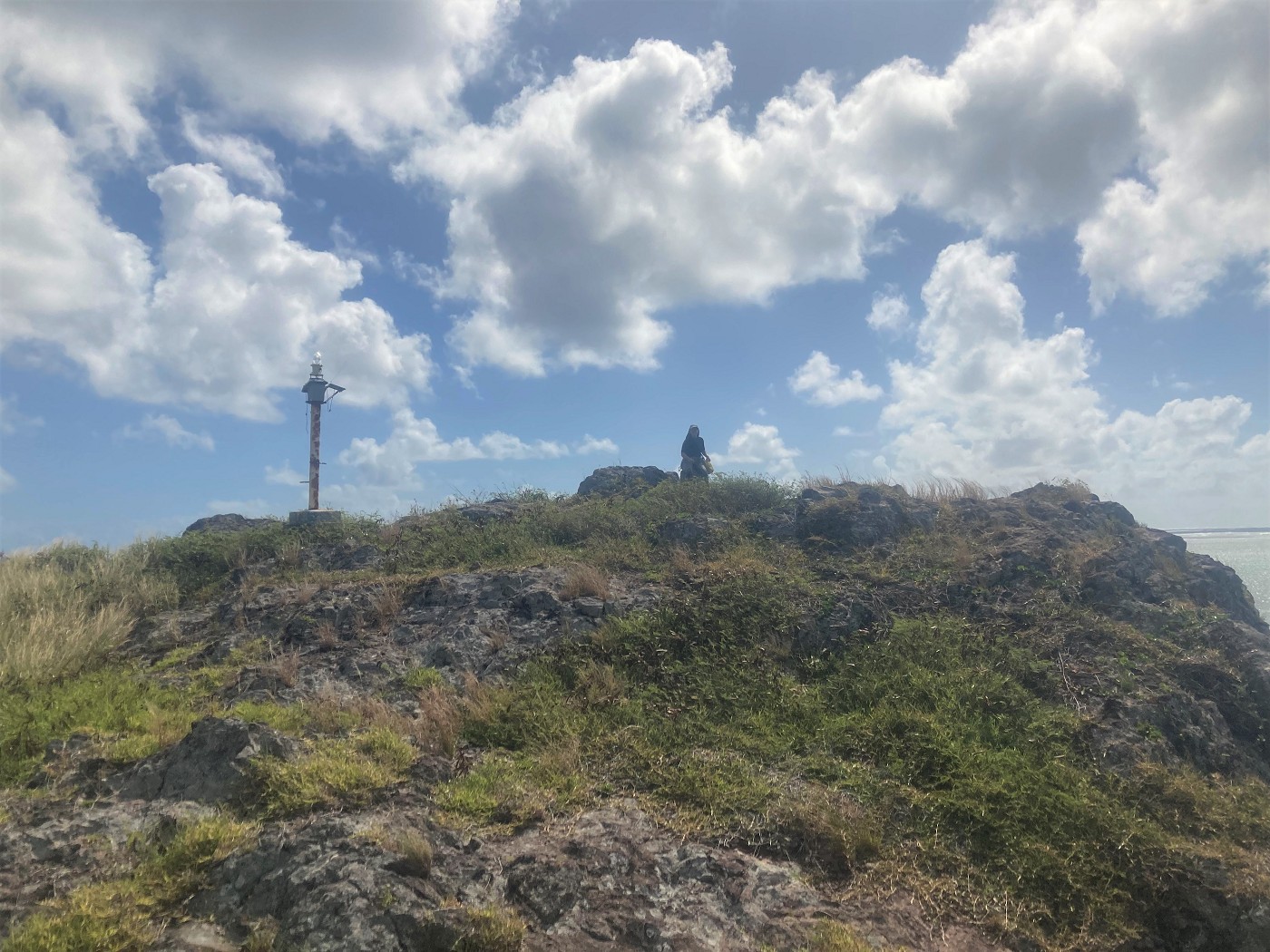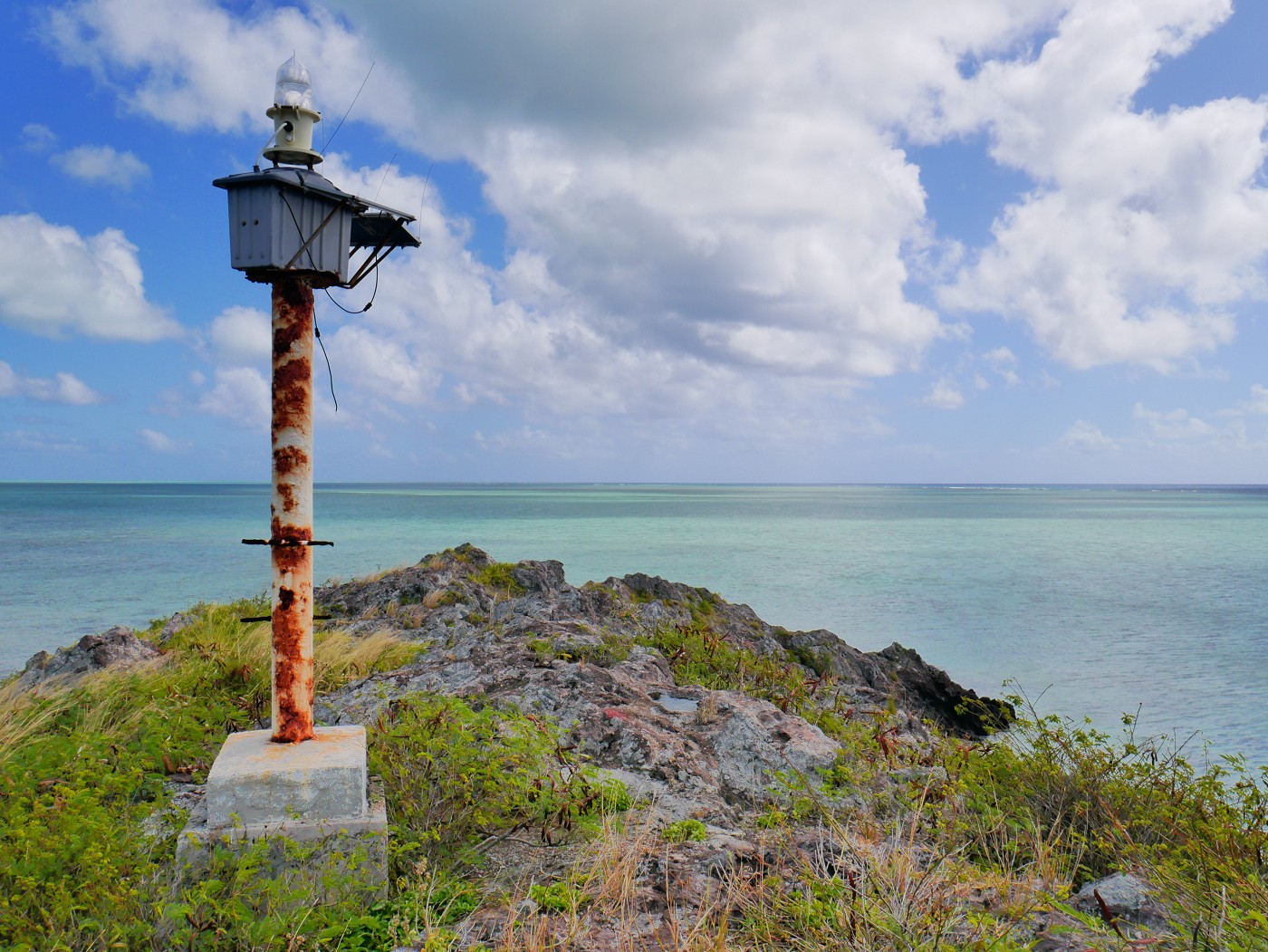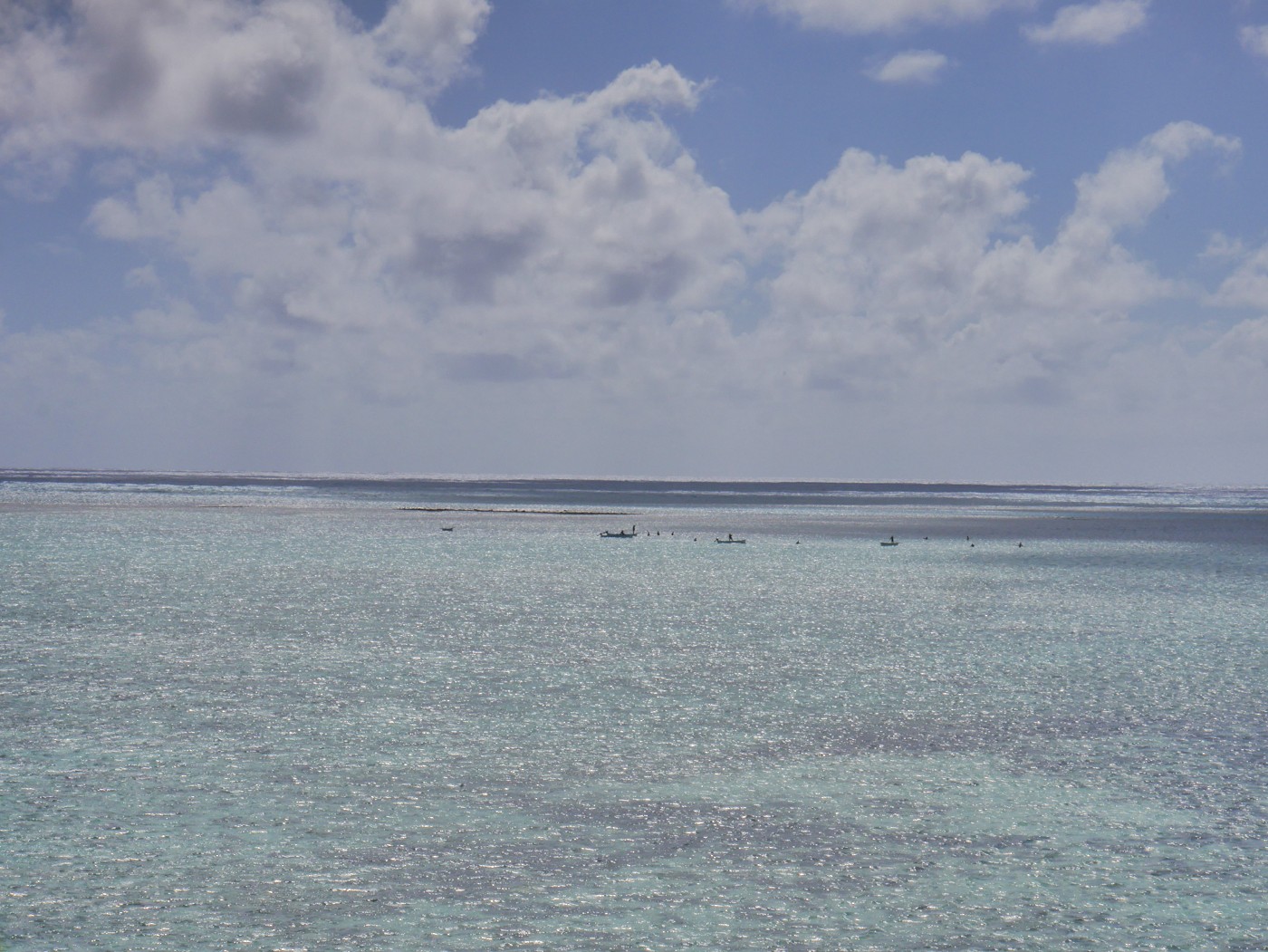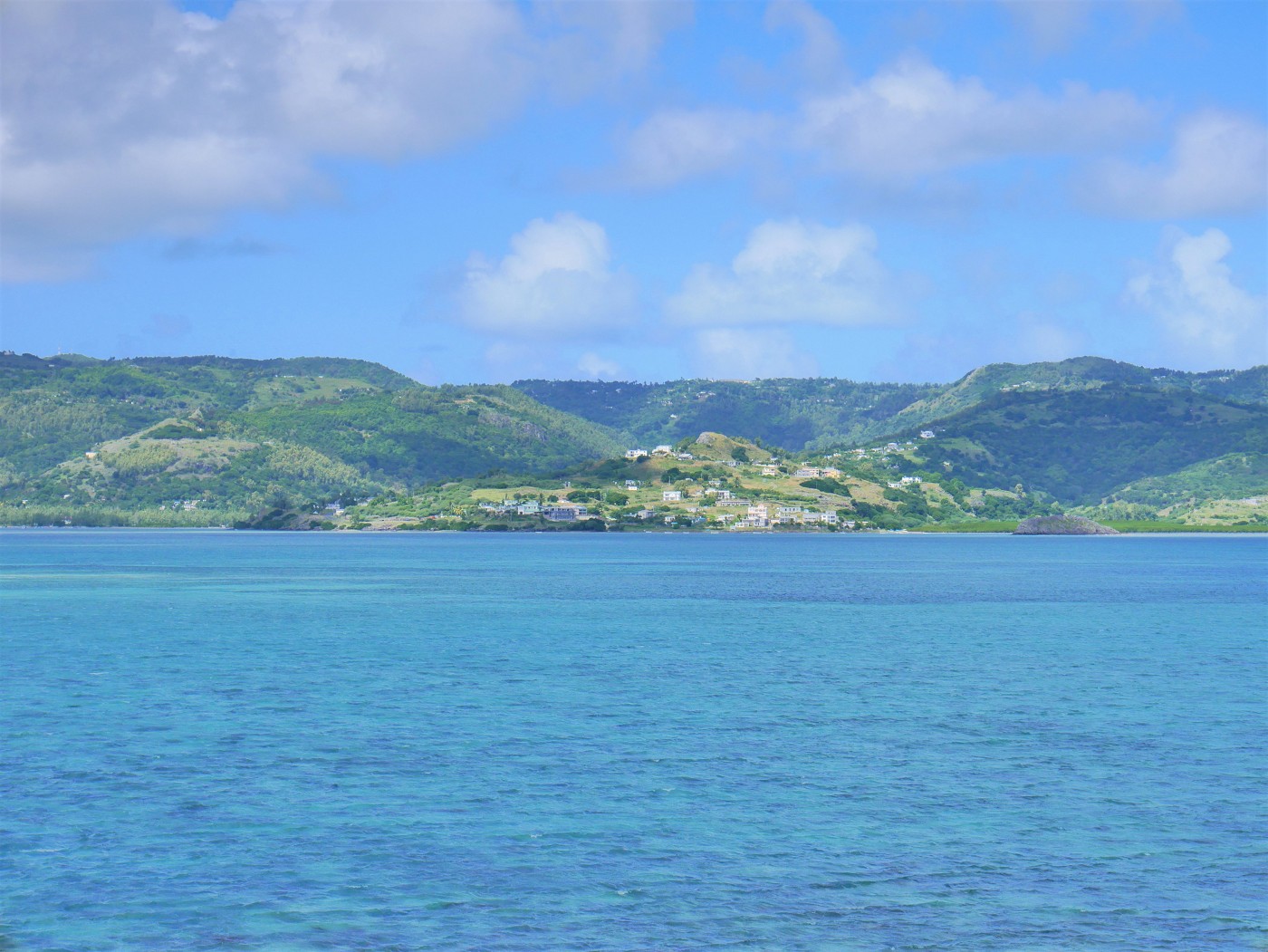 I visited the rusty beacon atop Île aux Fous, wandered around to the trig point, and hopped over some puddles of water that were left behind by the latest rain storm. There were many of the familiar spikey plants that you find all over Rodrigues – I recognize them by the leaves – but none of them actually had spikes, thank goodness. To my surprise, there weren't any birds chilling in the grass here. I guess Île aux Sable and Île aux Cocos are close by enough to make those the quieter area. Then I spotted Jonas' holding his hat on the windy climb. I was happy he still decided to come to the top after all.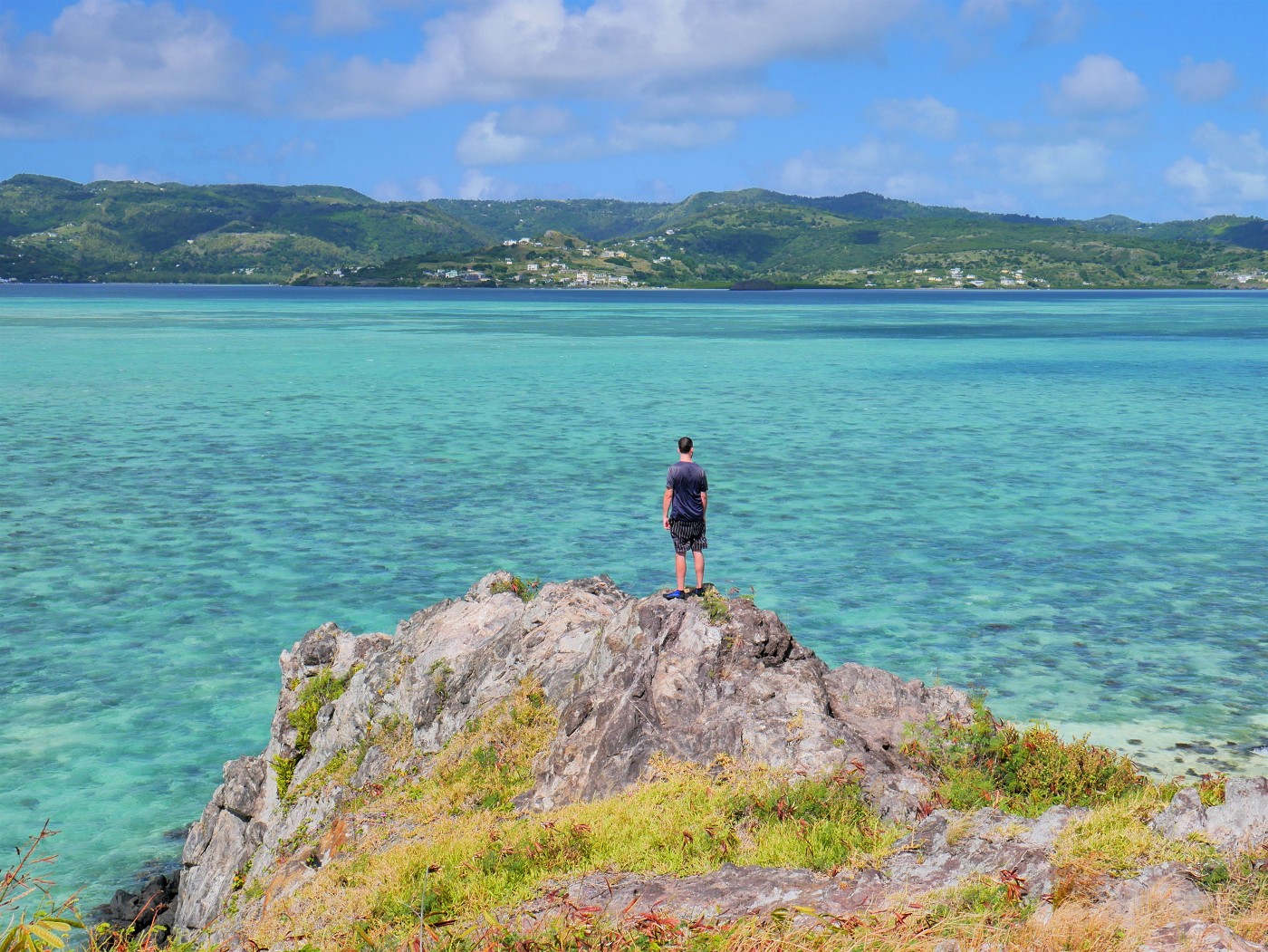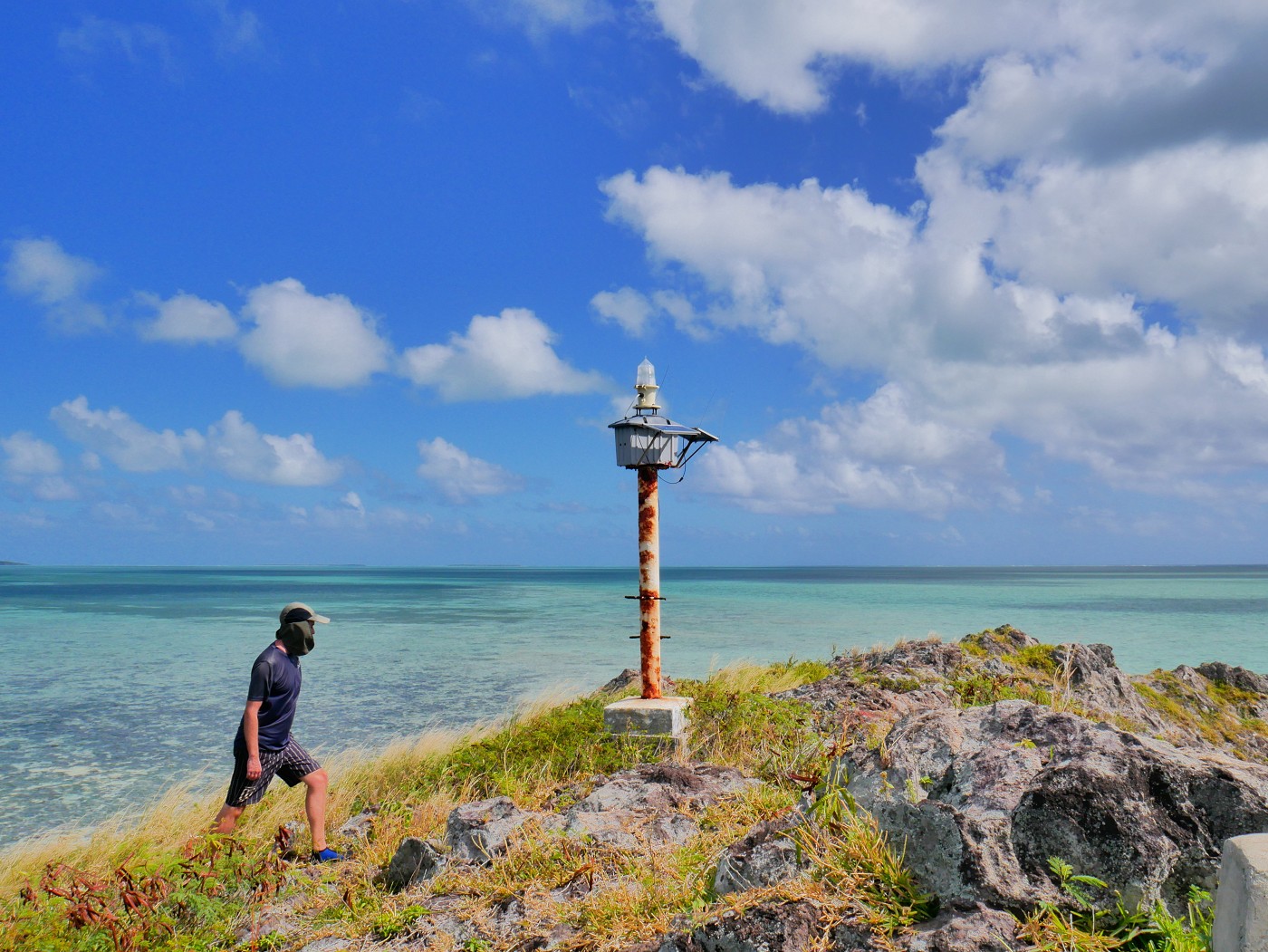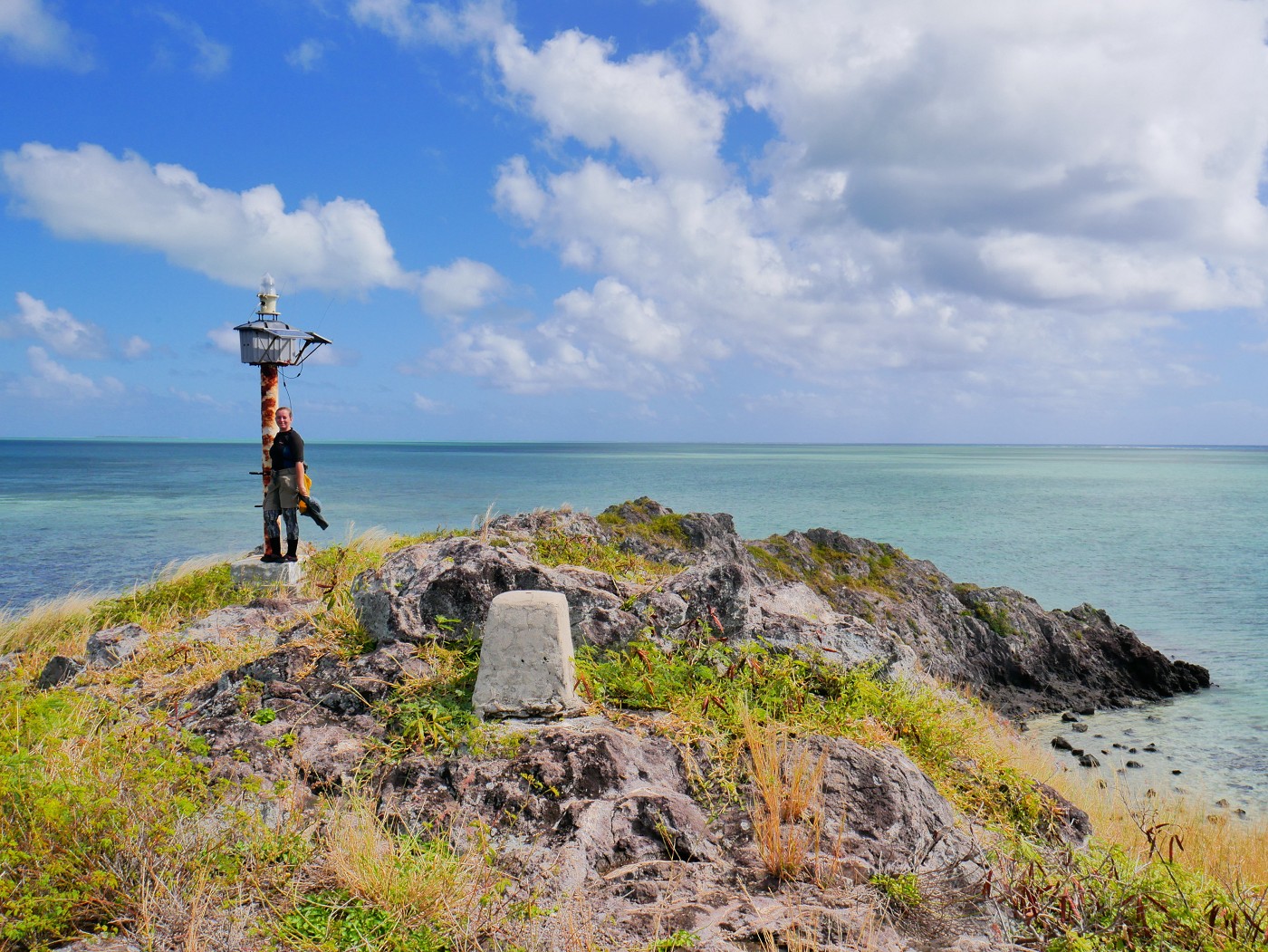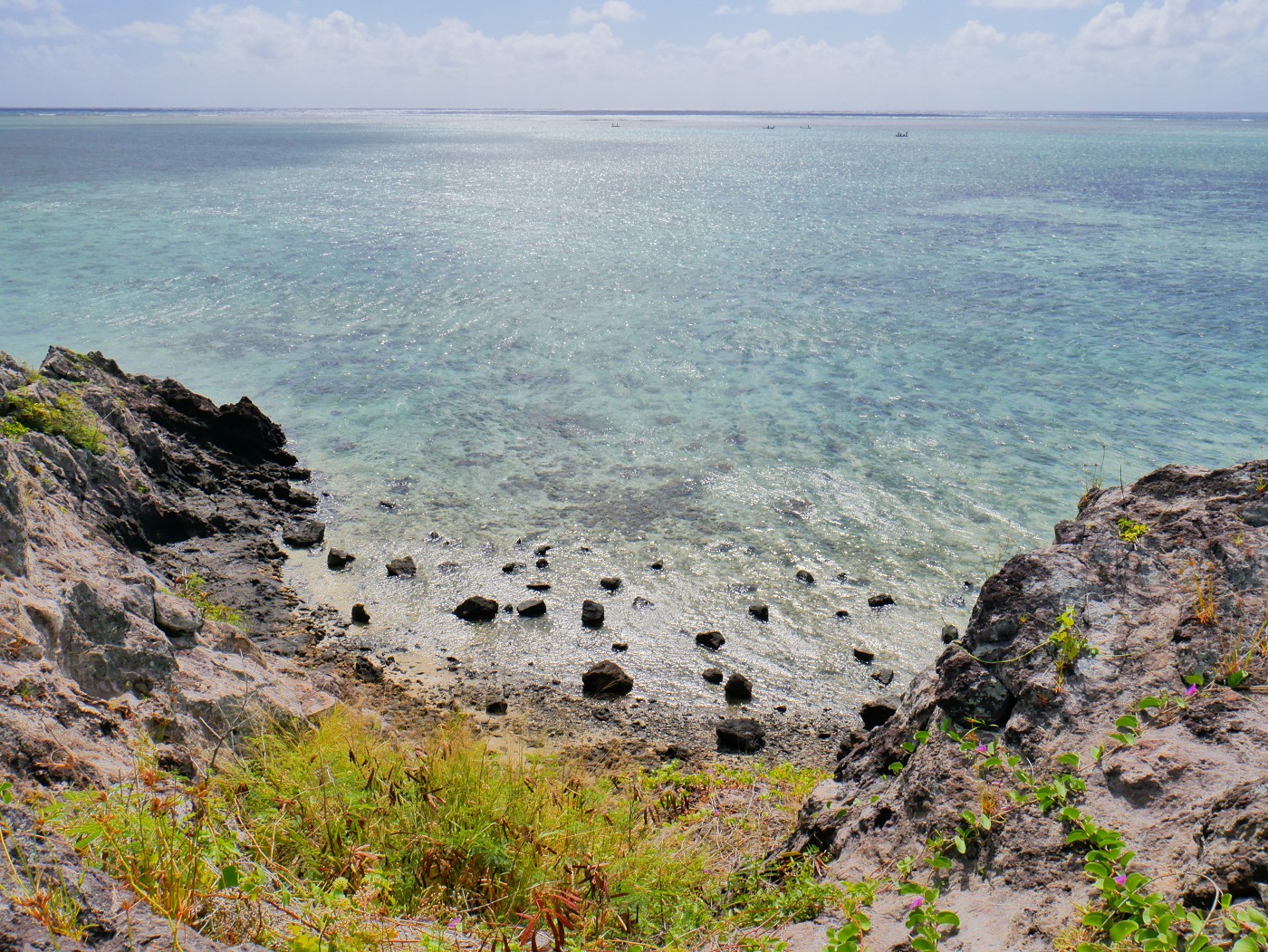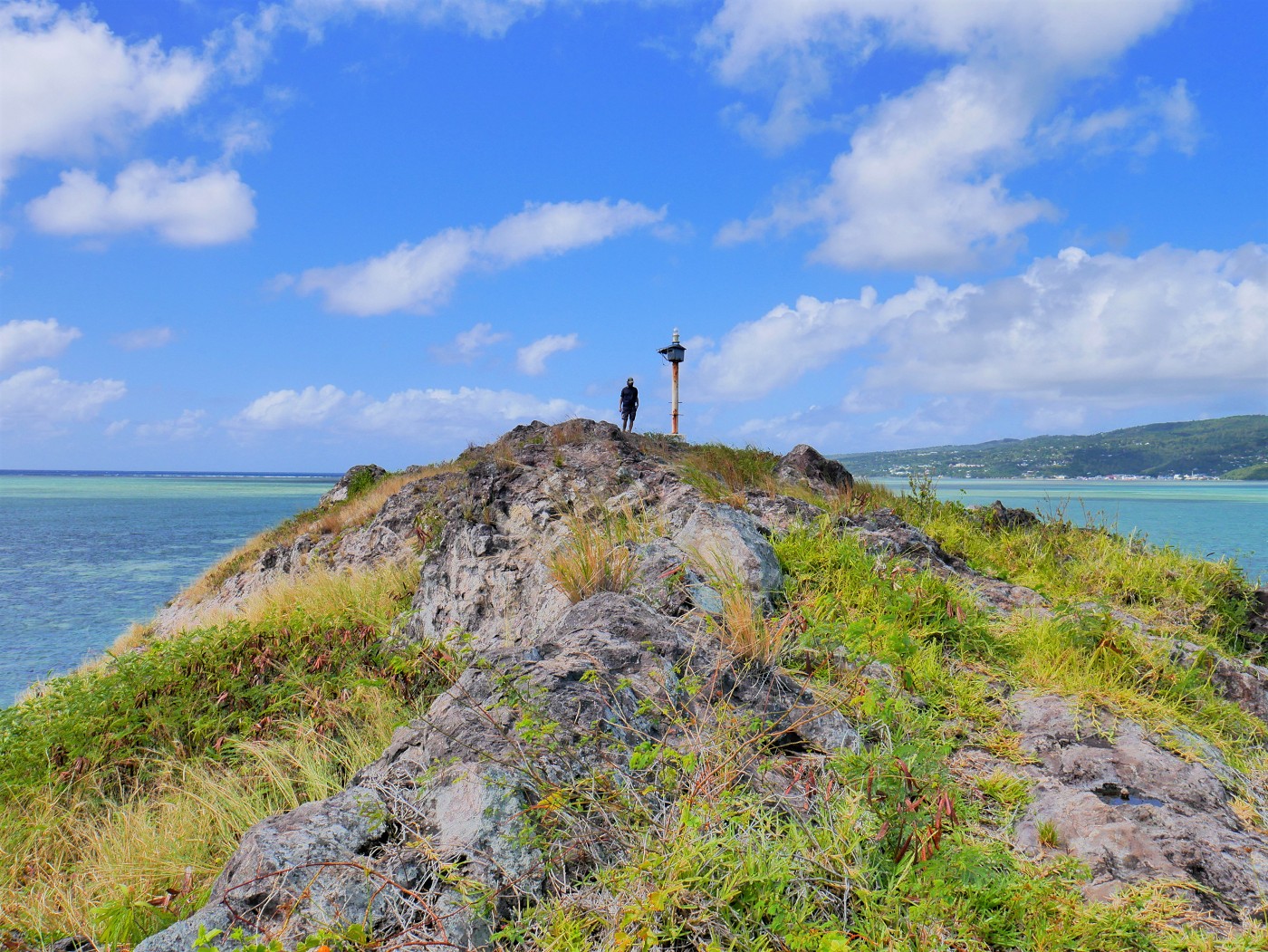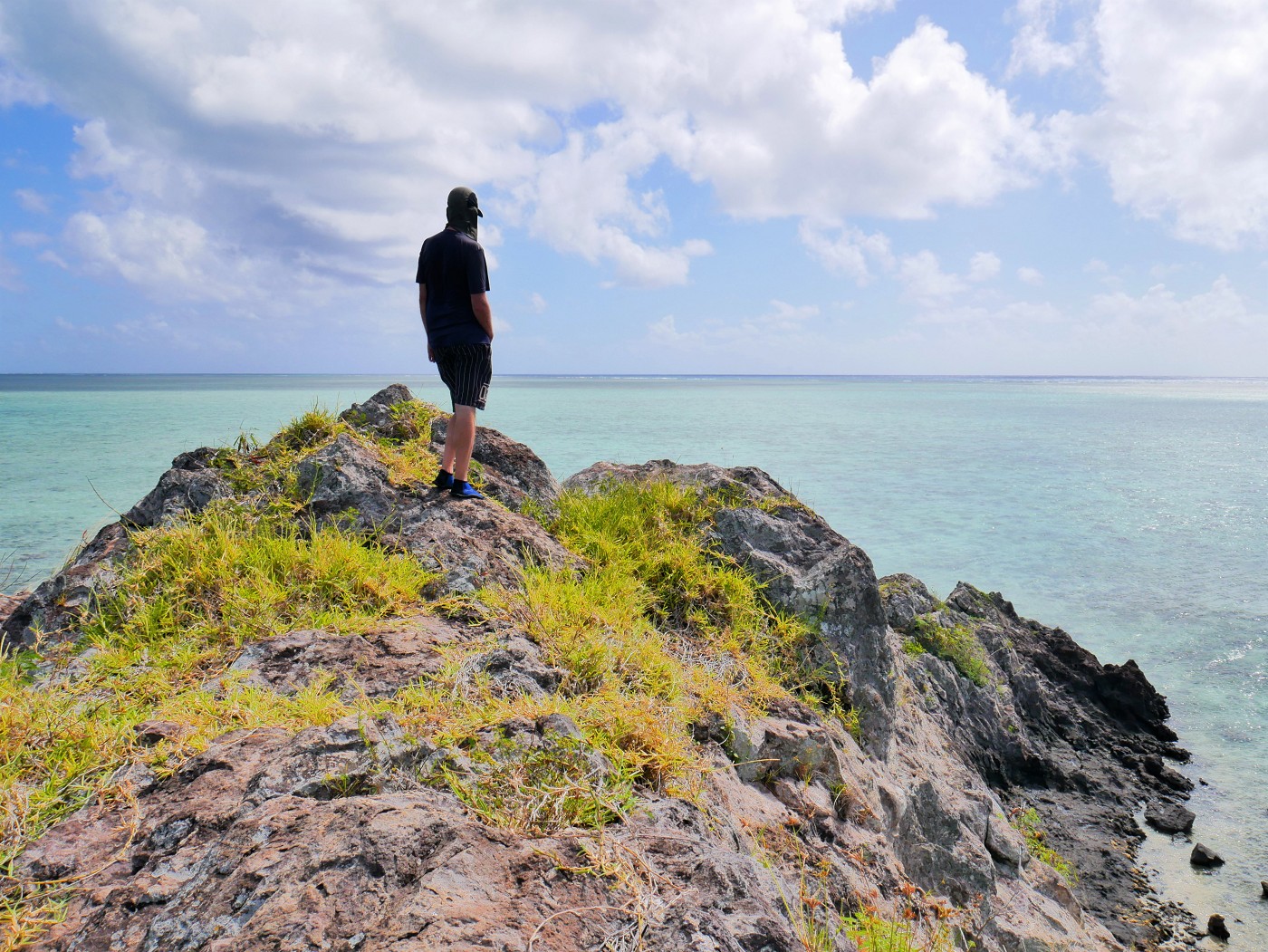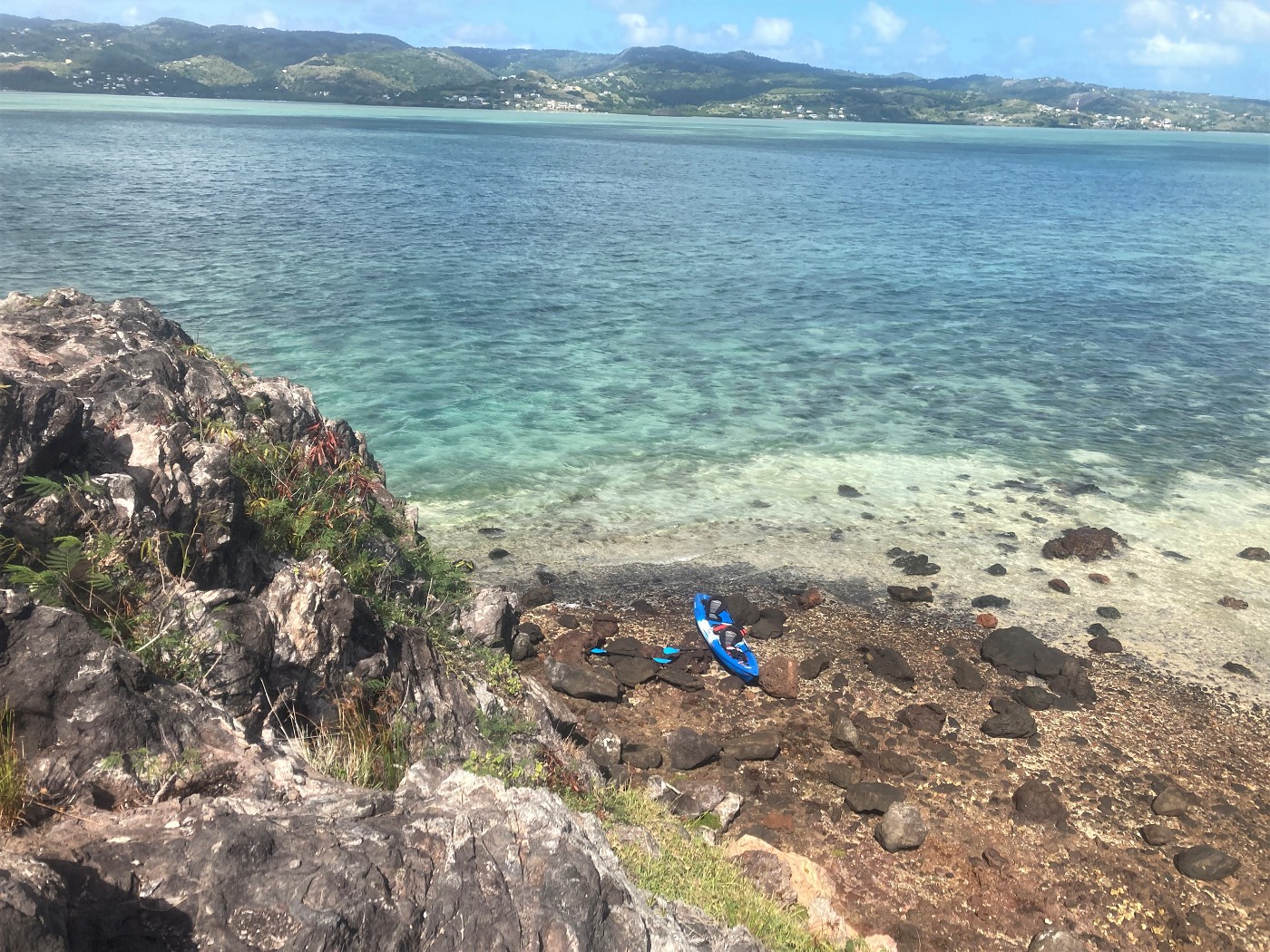 We both walked around the long ridge for a bit, trying not to trip over the long plants I call 'tripwires'. I took photos and looked at the fishermen at the reef. It's still so shallow that they often hop out of the boat to stand in the water and do some… fishing things. There's a pretty good vista of the north side of Rodrigues. We recognize a lot of places, but the mountainous areas are still a little fuzzy. Though you can't see Île aux Fous from Mont Limon, I do think I saw the general shape of Mont Limon from this little rock.

Jonas was hungry, so we returned down to the beach. I took an alternate route down that was grassier. I kind of just did a controlled slide down in my fuck-it pants and even took a little break to admire the view. For the final section, I gave Jonas my improvised dry bag on a strap. On the downclimb its shifting weight makes me lose balance.
Once on the beach, Jonas grabbed the box of mine frite veg with my trusty chopsticks and found two flat rocks to sit on. It tasted all very good, but I wish we had brought the second box too because Jonas was hungry.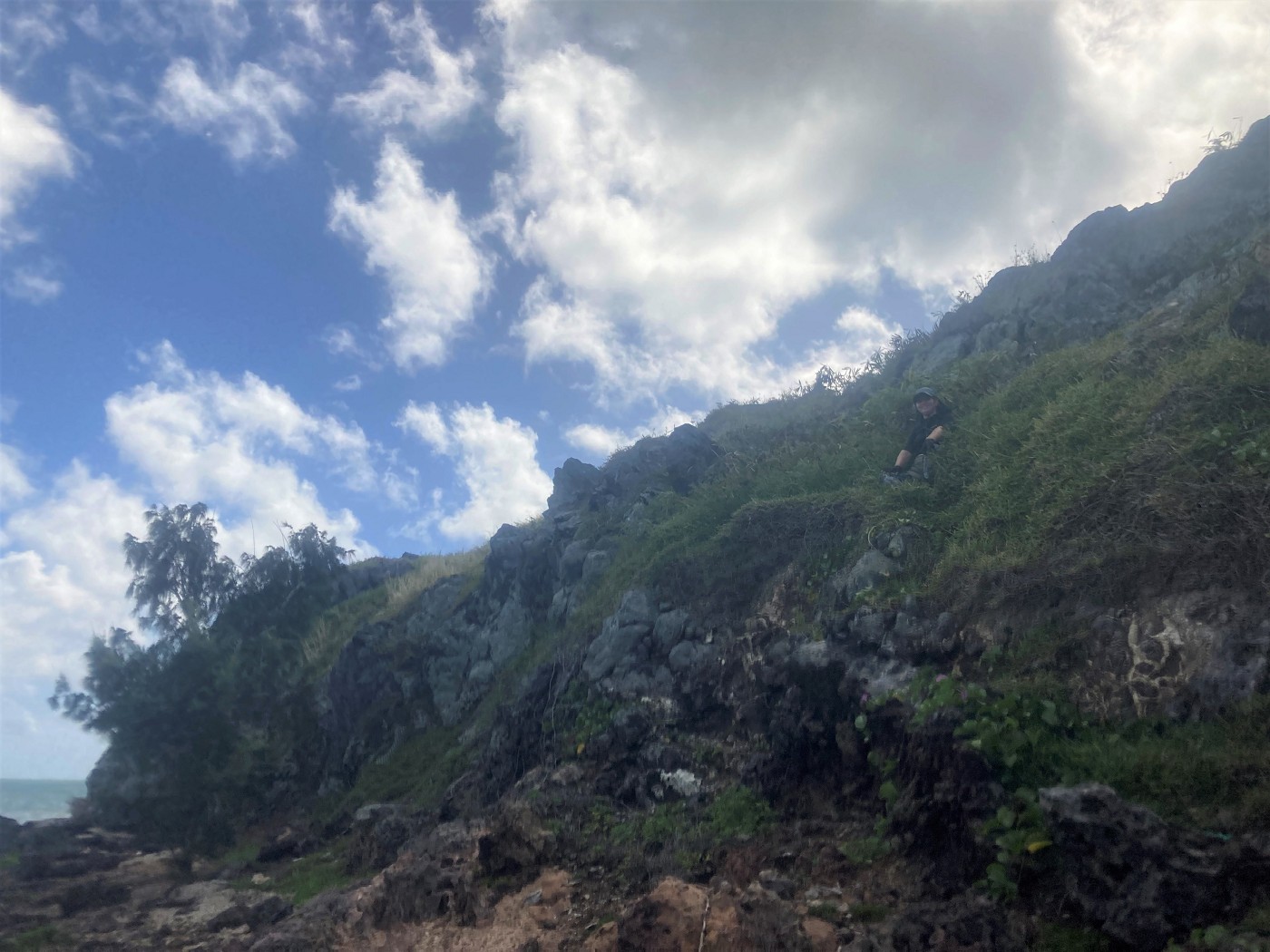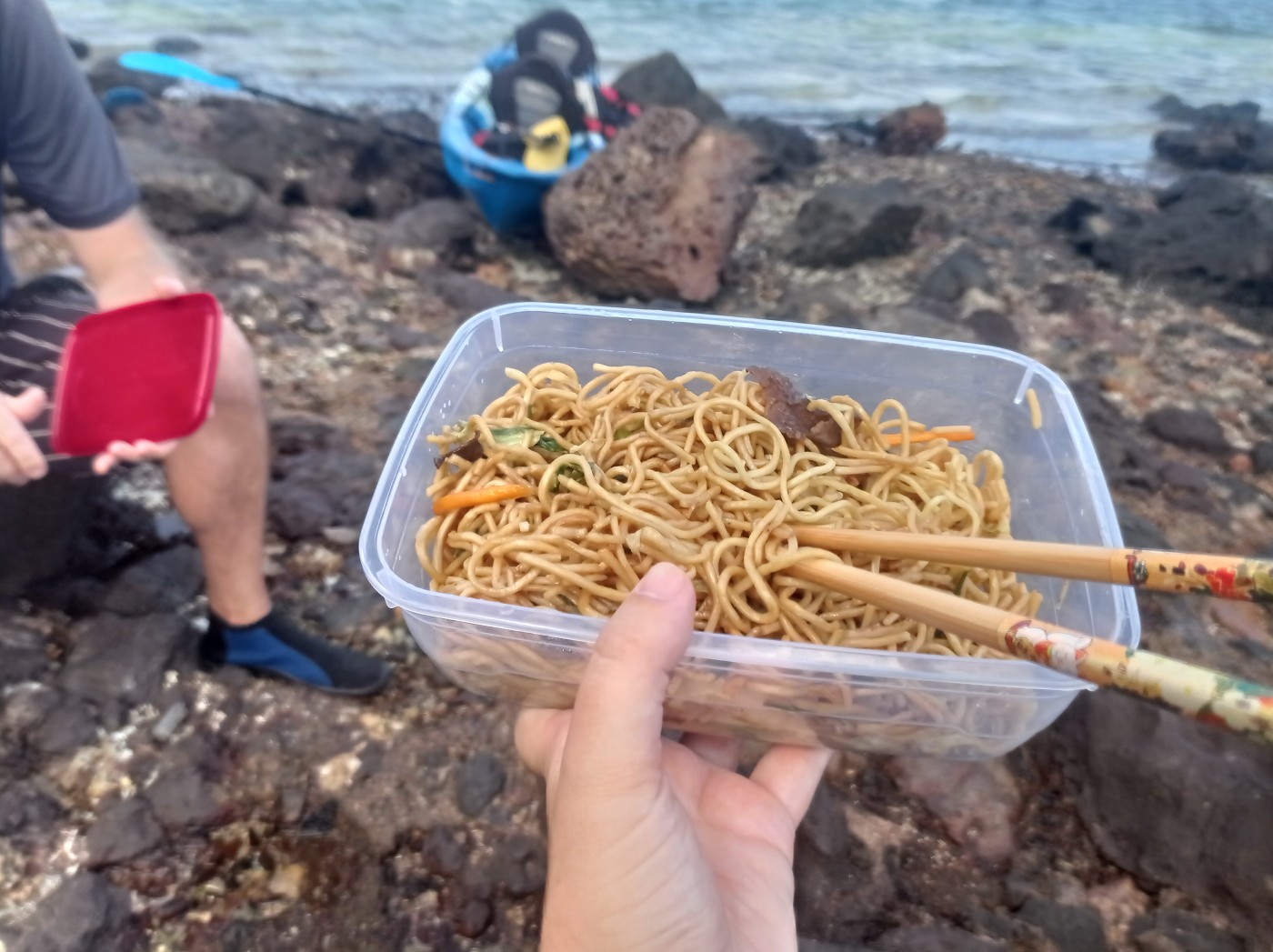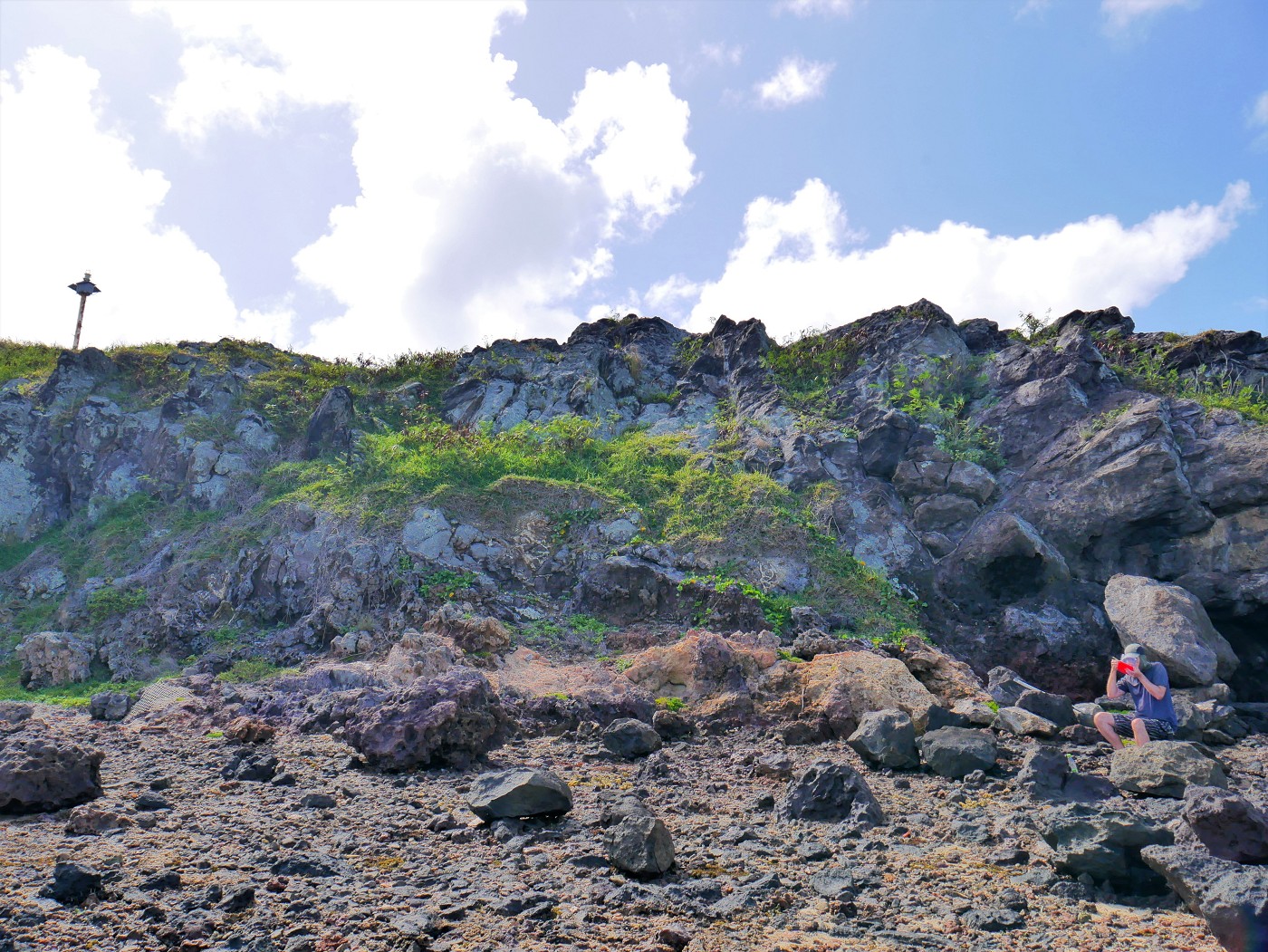 The part of Île aux Fous we had to climb with Jonas eating mine frite in the foreground
While Jonas was finishing up the mine frite, I wandered the rocky beach past a stack of fish/crab traps. I think there would have been another way up to the beacon there, but it would have been a rockier climb. The fishermen had now gathered at that side of the island to find fish.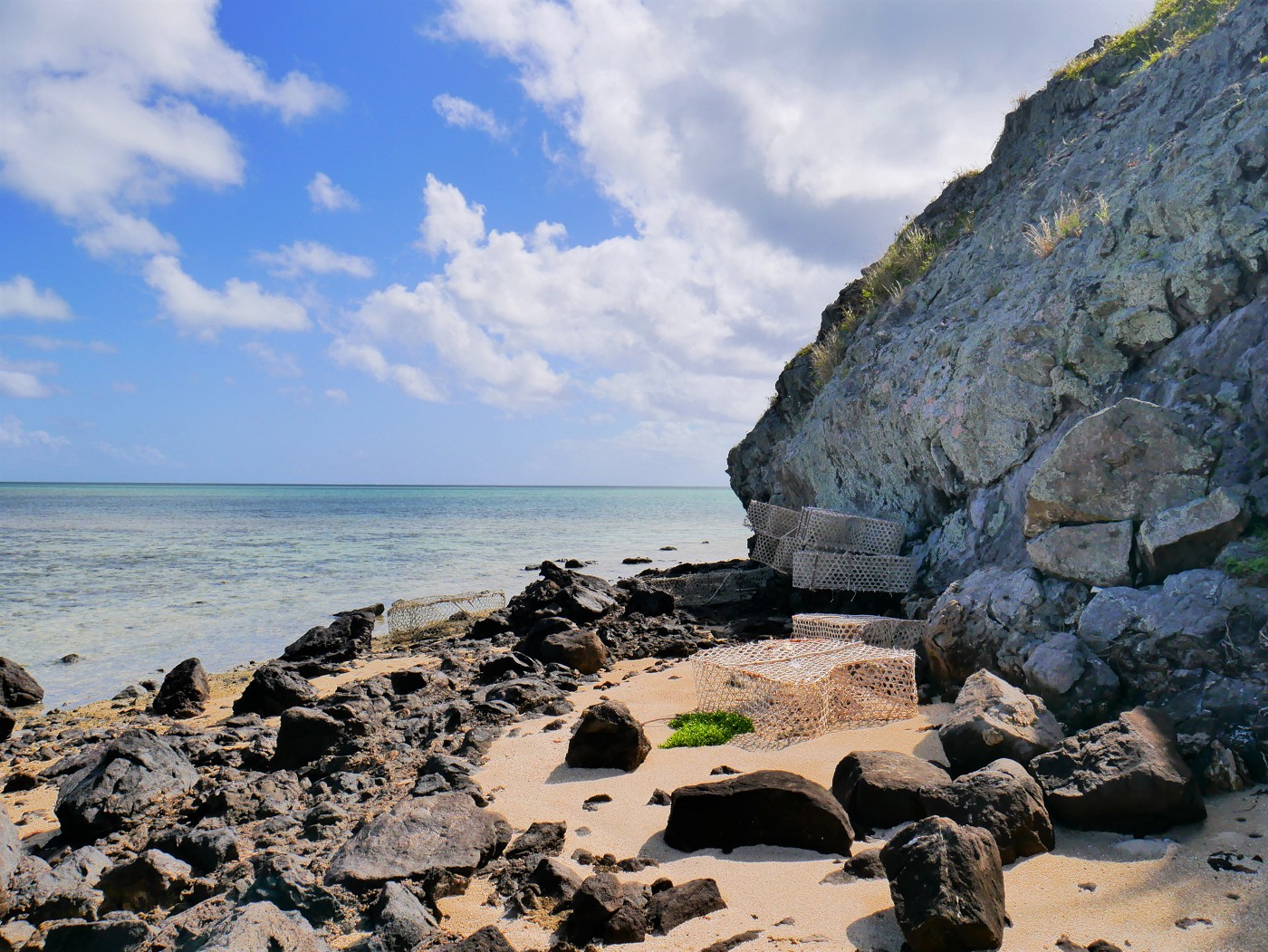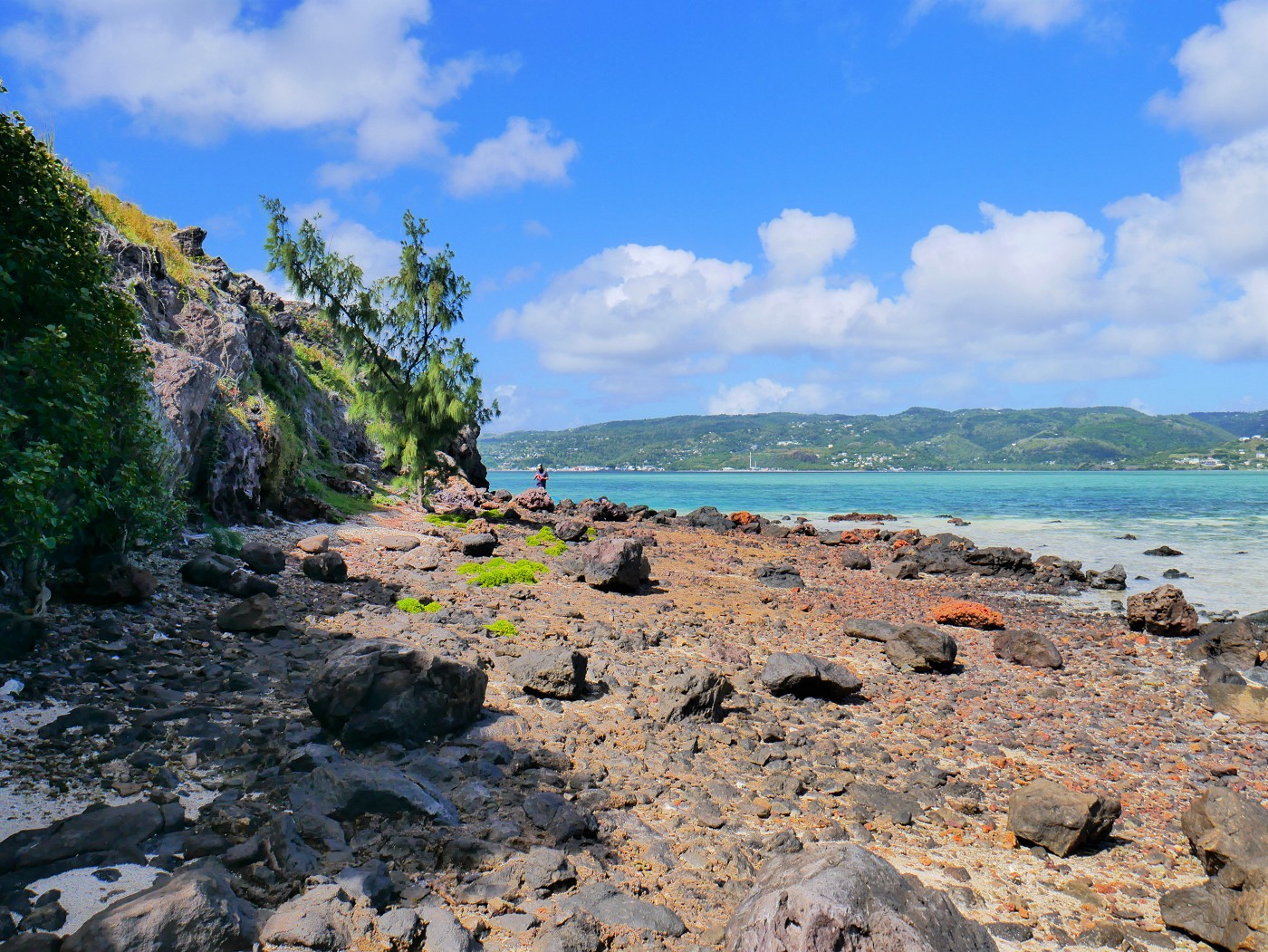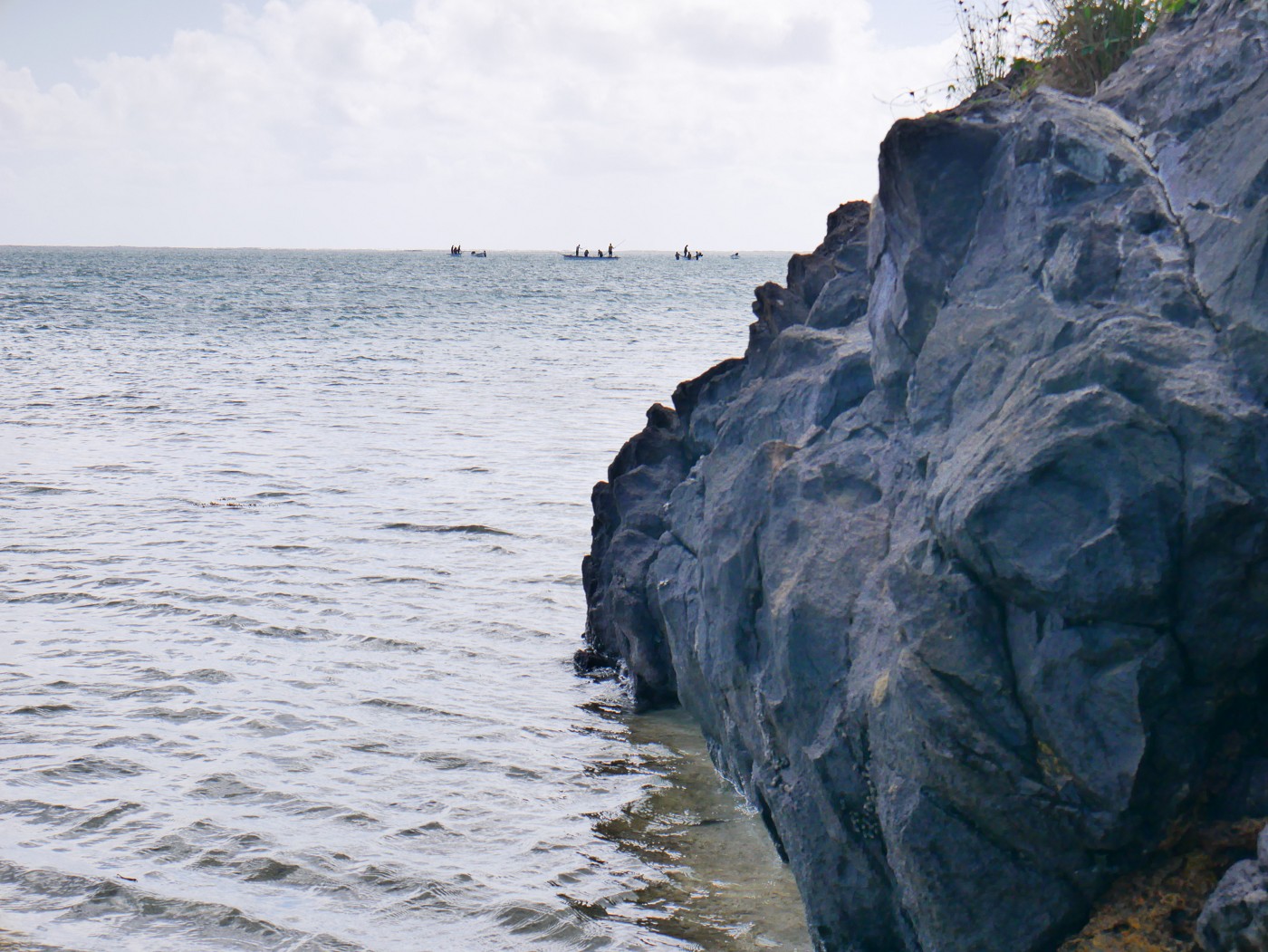 Paddling to Île aux Diamant
It was time to head to the next islet. Jonas measured a straight line distance of 2.2 kilometers from Île aux Fous. We discussed how to paddle there with the strong wind. I thought it was best to aim for Baie aux Huîtres so that we have the perfect balance between going upwind and making forward progress to Île aux Diamant. We can't just aim at the islet because then we'd drift too much sideways.
When prepping the boat, we realized the back of the boat actually has a little wheel so one person can roll it into the water. How nifty!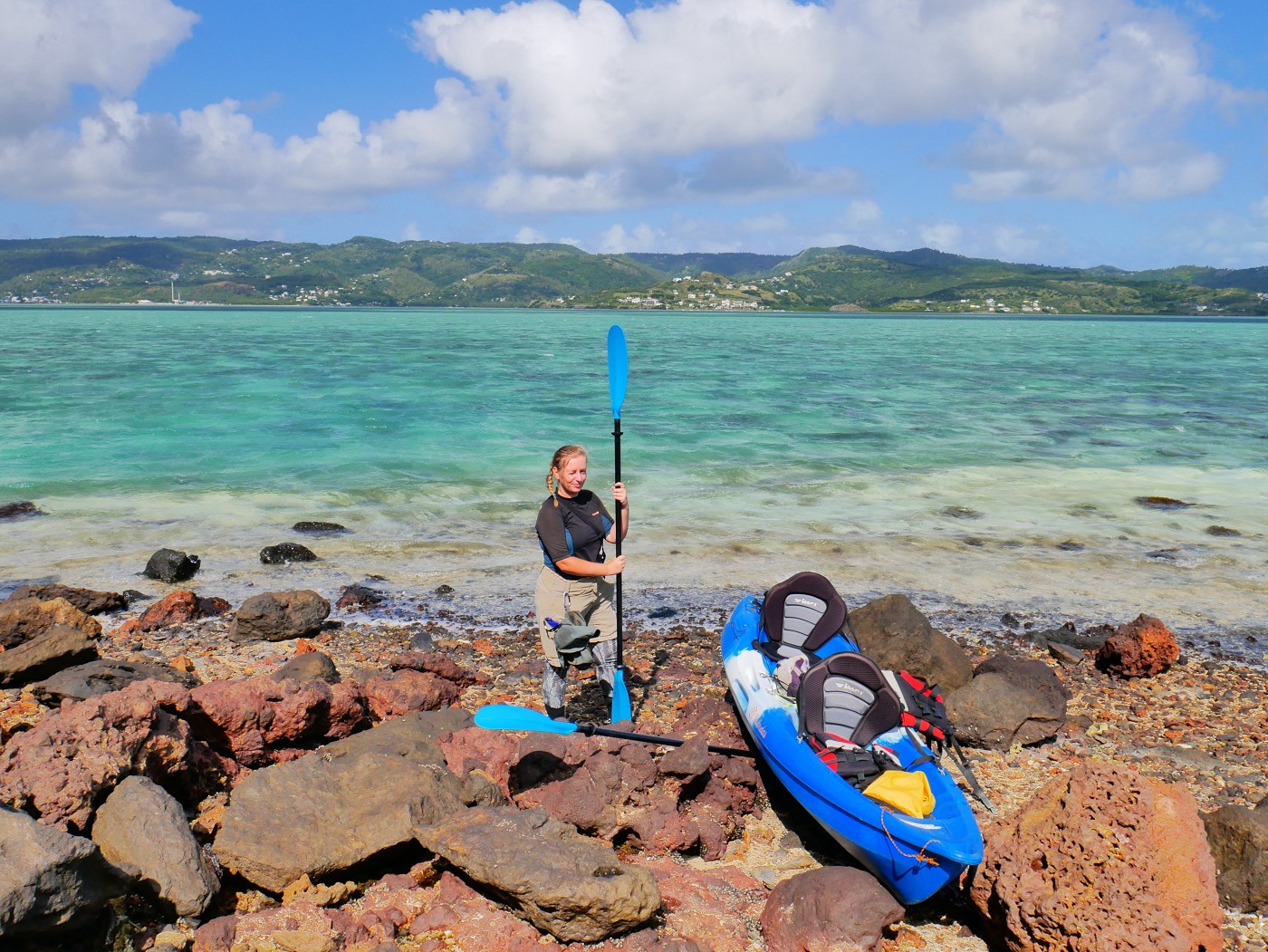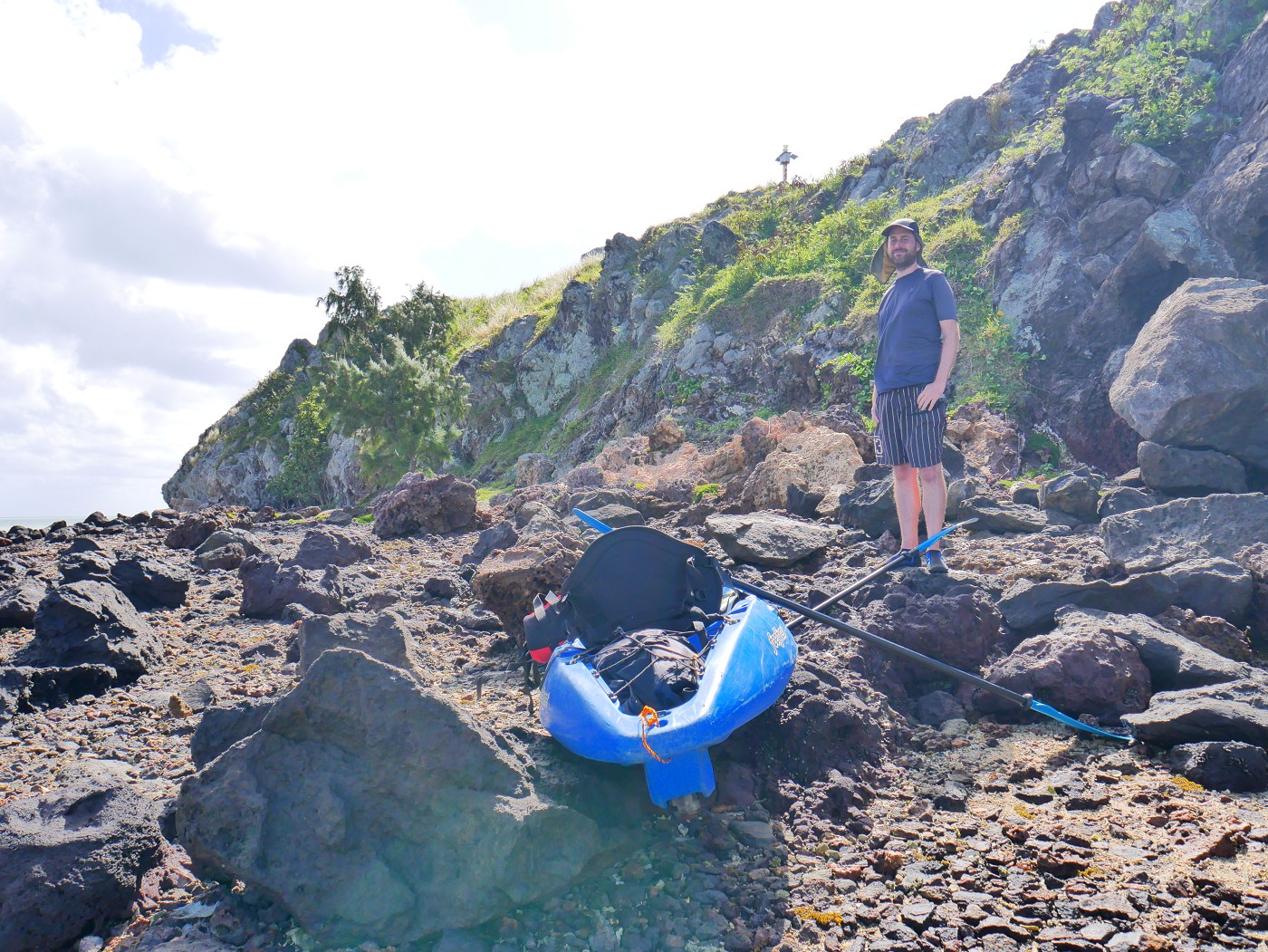 See that tiny wheel we can roll the kayak on!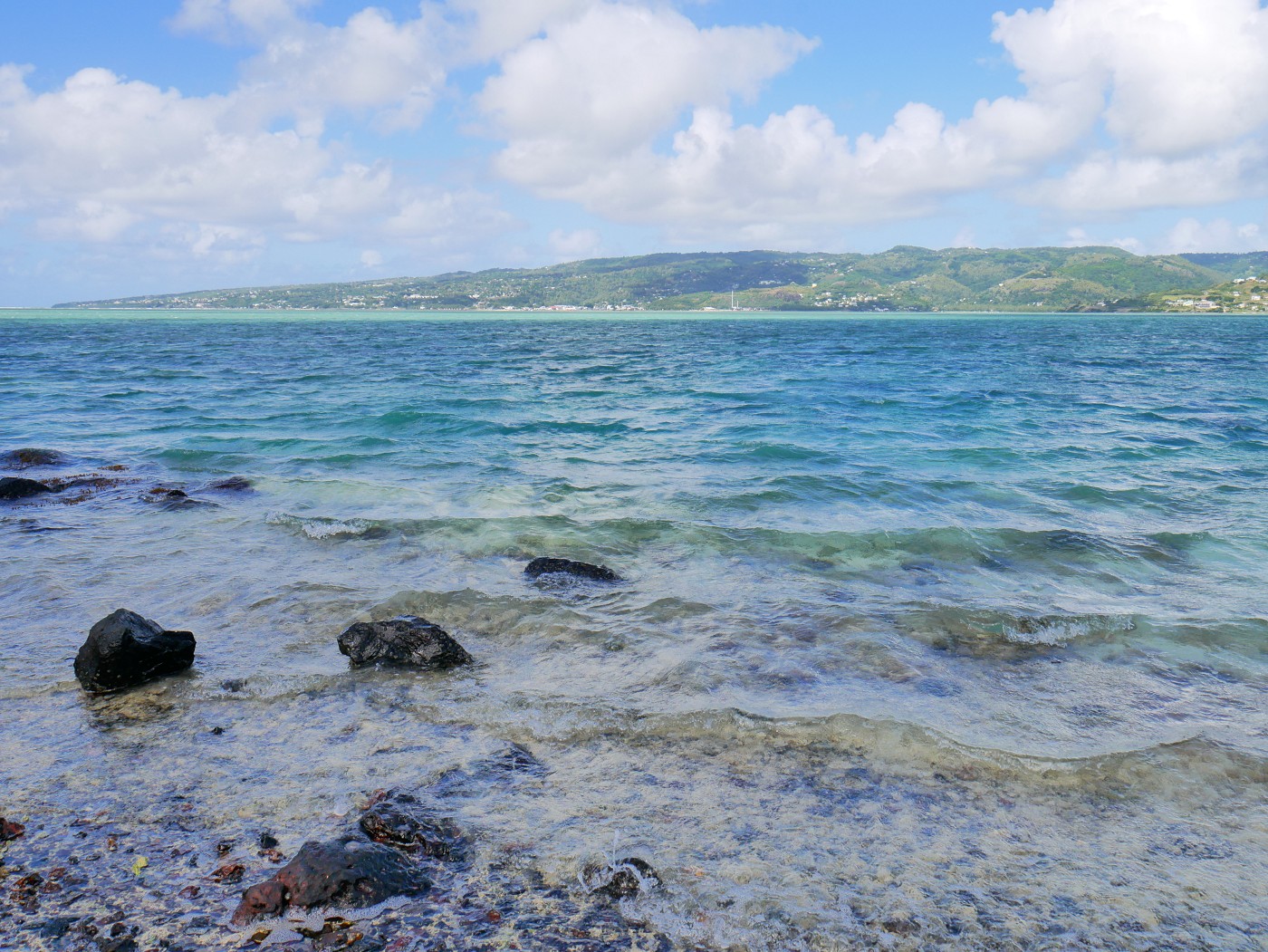 We got back into the water and began the paddle session. The wind was immediately very strong, but since we discussed the plan extensively beforehand, we just had to execute it. The entire way to Île aux Diamant was very shallow again. There was a section with a lot of coral rocks that we had to snake in between to not get stuck on them, changing direction always on short notice by my shouts saying left or right. Only once did we get properly stuck. Jonas hopped out of the boat to free us and then hopped back in.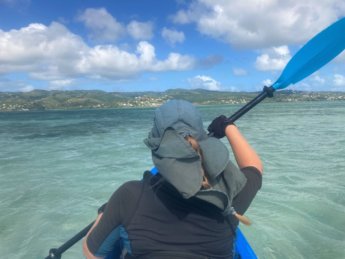 We were making good progress. Looking back to Île aux Fous, the islet was getting smaller only slower. It's in the middle between the two that is a little nerve-wracking. Whenever the wind died down, we could paddle directly to Île aux Diamant, until we were close enough to confidently paddle in a straight line.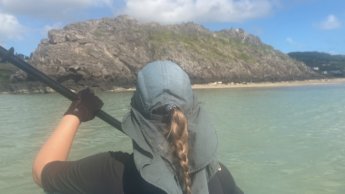 I asked Jonas to film our arrival and I paddled the home stretch, landing our kayak on the sandy tip of the previously unknown side of Île aux Diamant. Jonas hopped out of the boat and immediately walked to the little cave.
The Cave + Peak of Île aux Diamant
We put our kayak on the sandy beach and first took some time to relax in the cave. There was a little shadow and no crabs and other critters. Jonas suggested we reapplied sunscreen. It was a pretty good cave.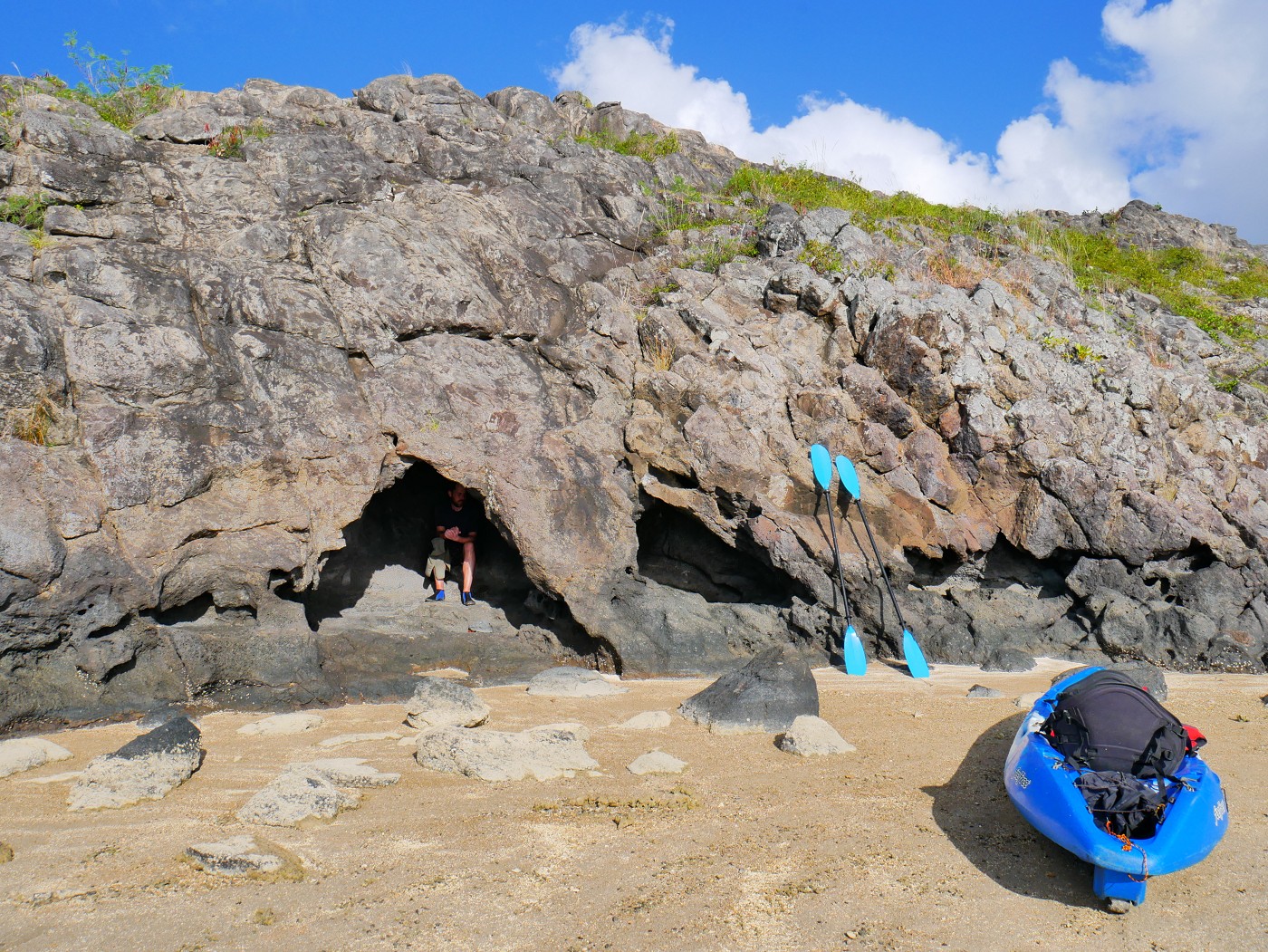 It ain't much, but it's an honest cave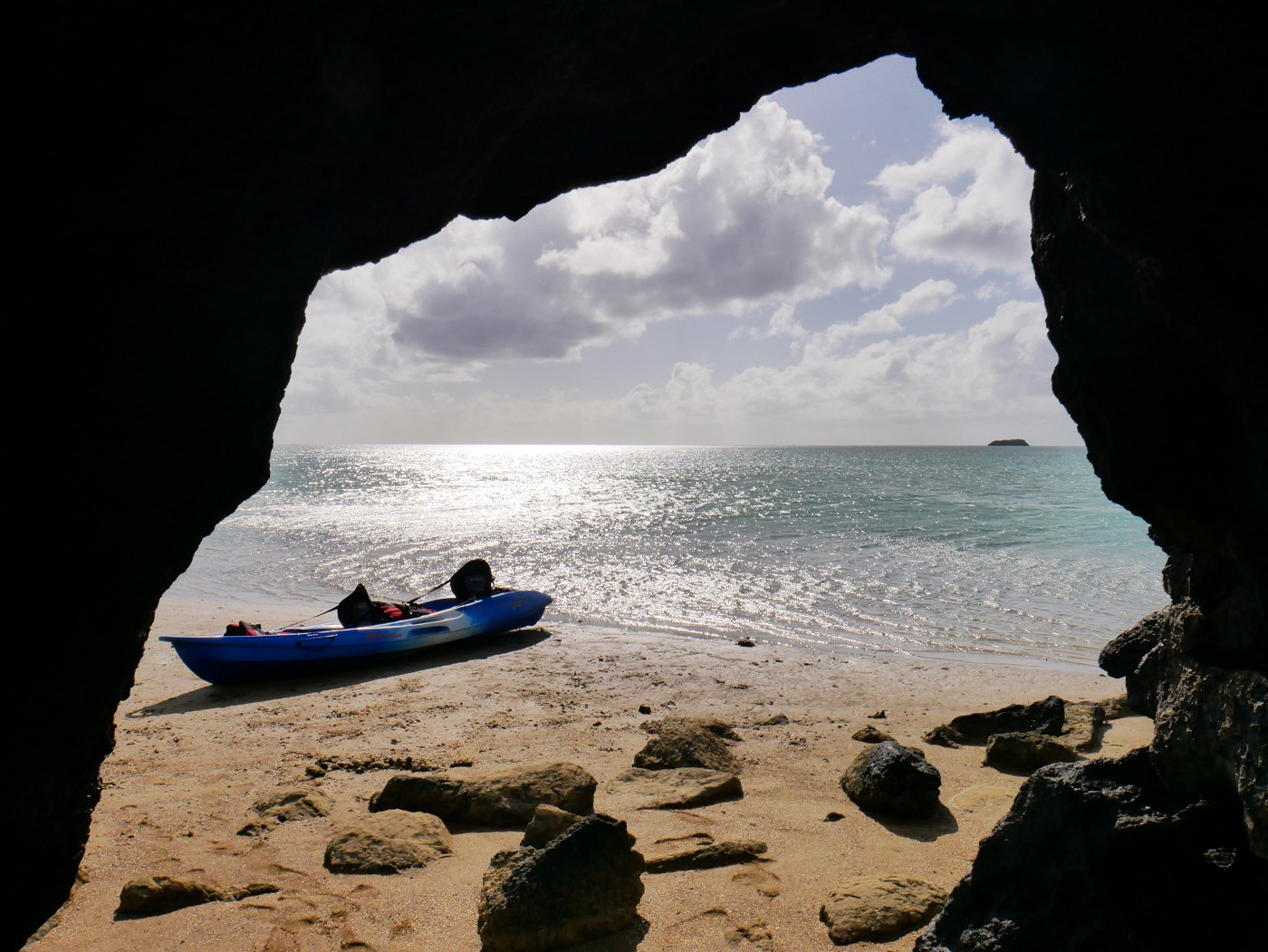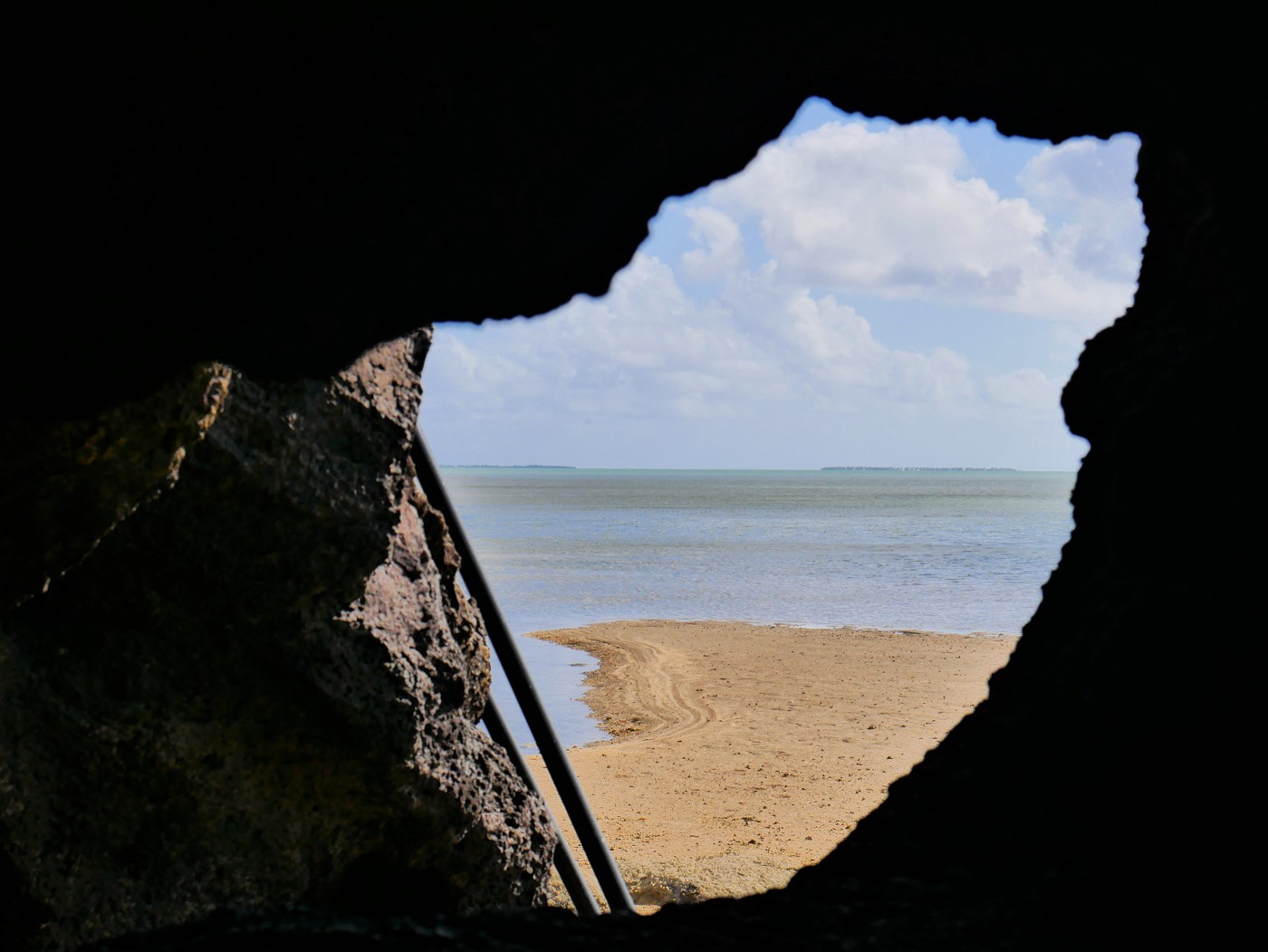 Île aux Cocos on the left and Île aux Sable on the right in the distance
Next, I wanted to climb the peak of Île aux Diamant. I walked away from the rock to see where would be the best place to ascend it. The southern end of the island looked like the gentlest slope. This time, Jonas went first. There was a bit of a rocky path until things became steep. I was happy to still wear my kayak gloves to protect my hands from the hot sunbaked rock. Jonas came to a comfortable ledge and thought this was good enough. I overtook him and went to the actual peak, but only slowly because I was getting a bit of vertigo. The other side of the islet is really steep down and the wind is tricky.


Jonas came up as well and we admired the view and the robustness of plants in nature. There was a pretty good view of Île aux Sable and Île aux Cocos in the distance and the nearby mangroves of Baie Diamant. The low tide made the beachy south side of Île aux Diamant extra long.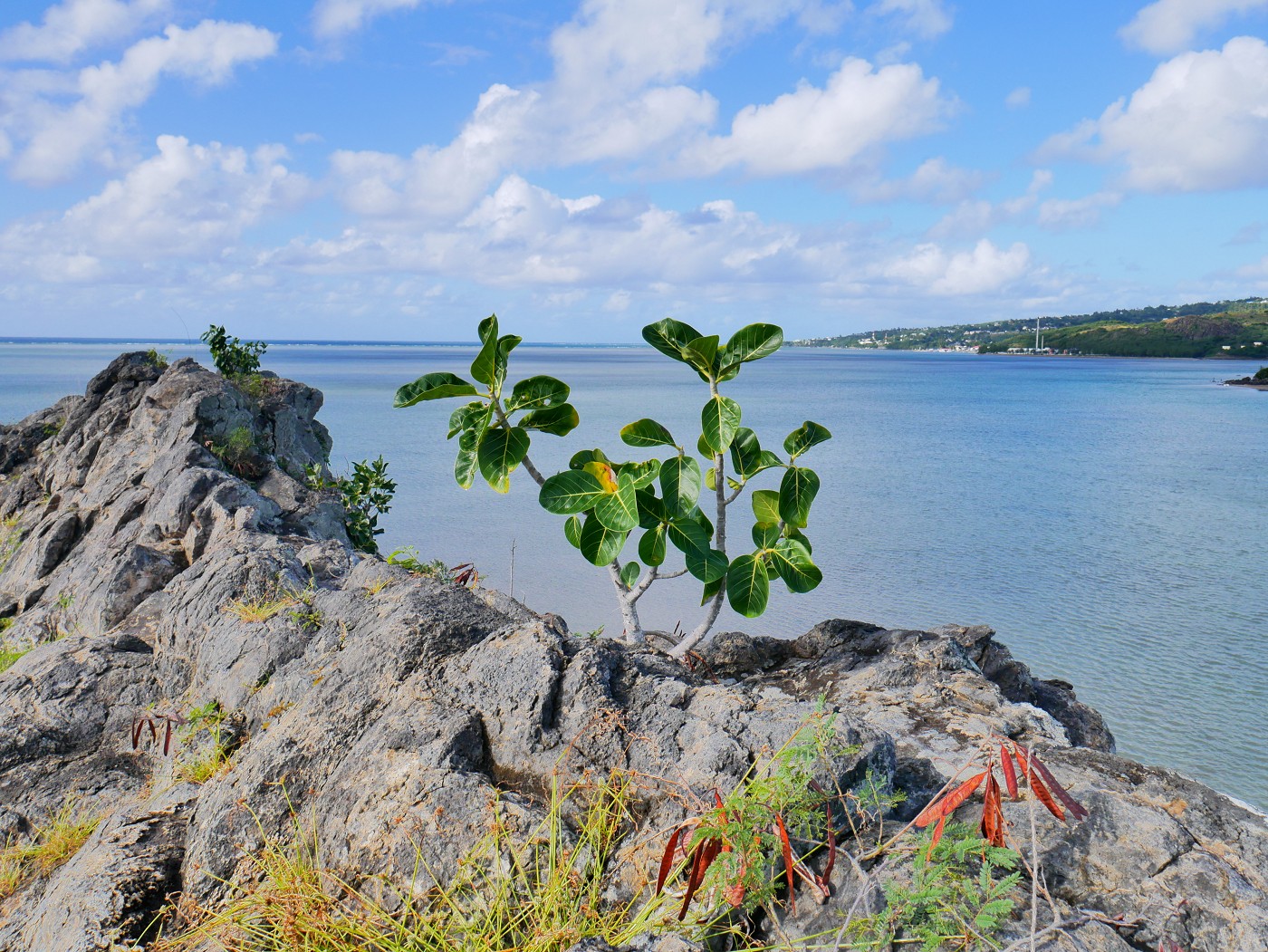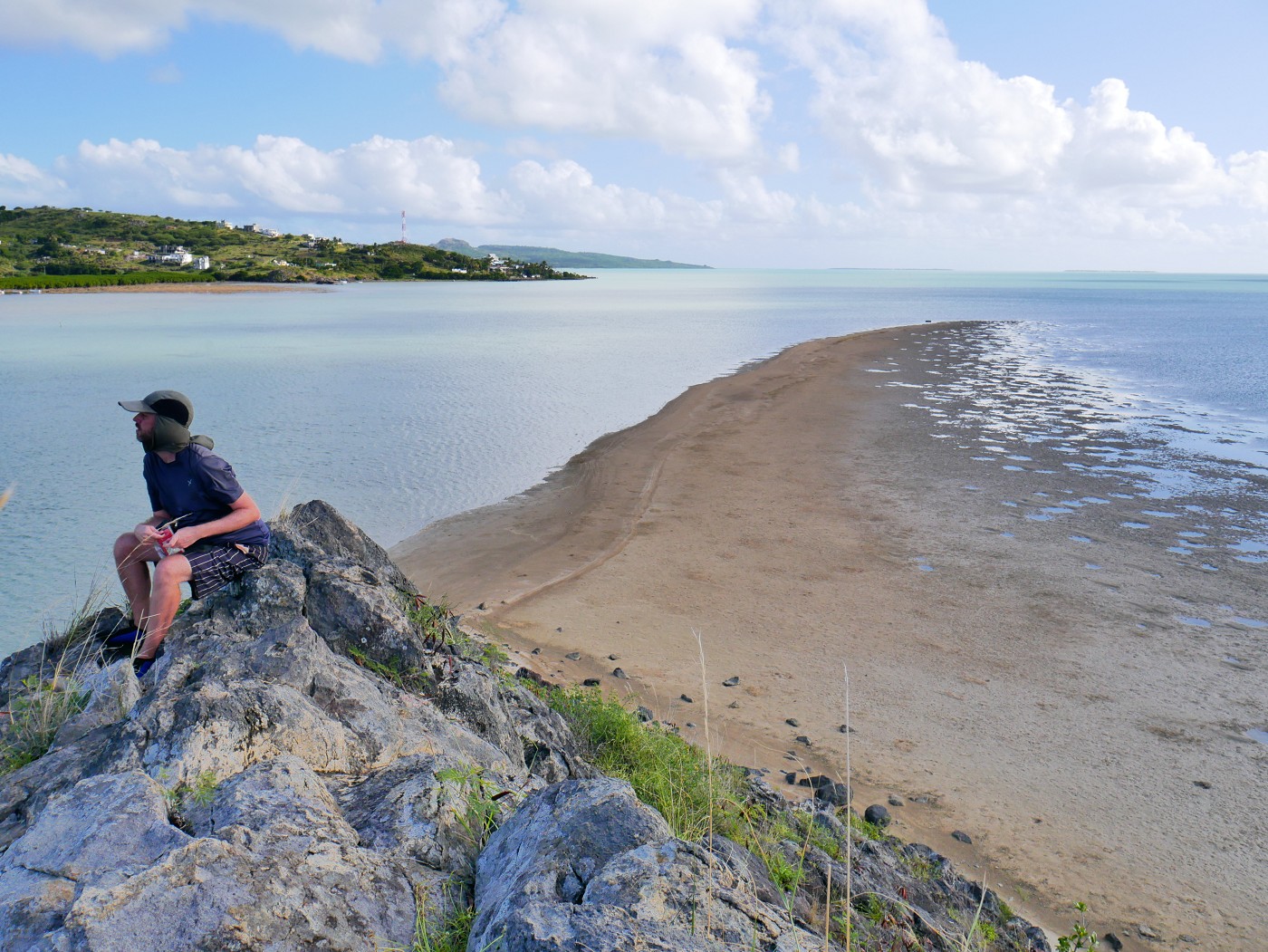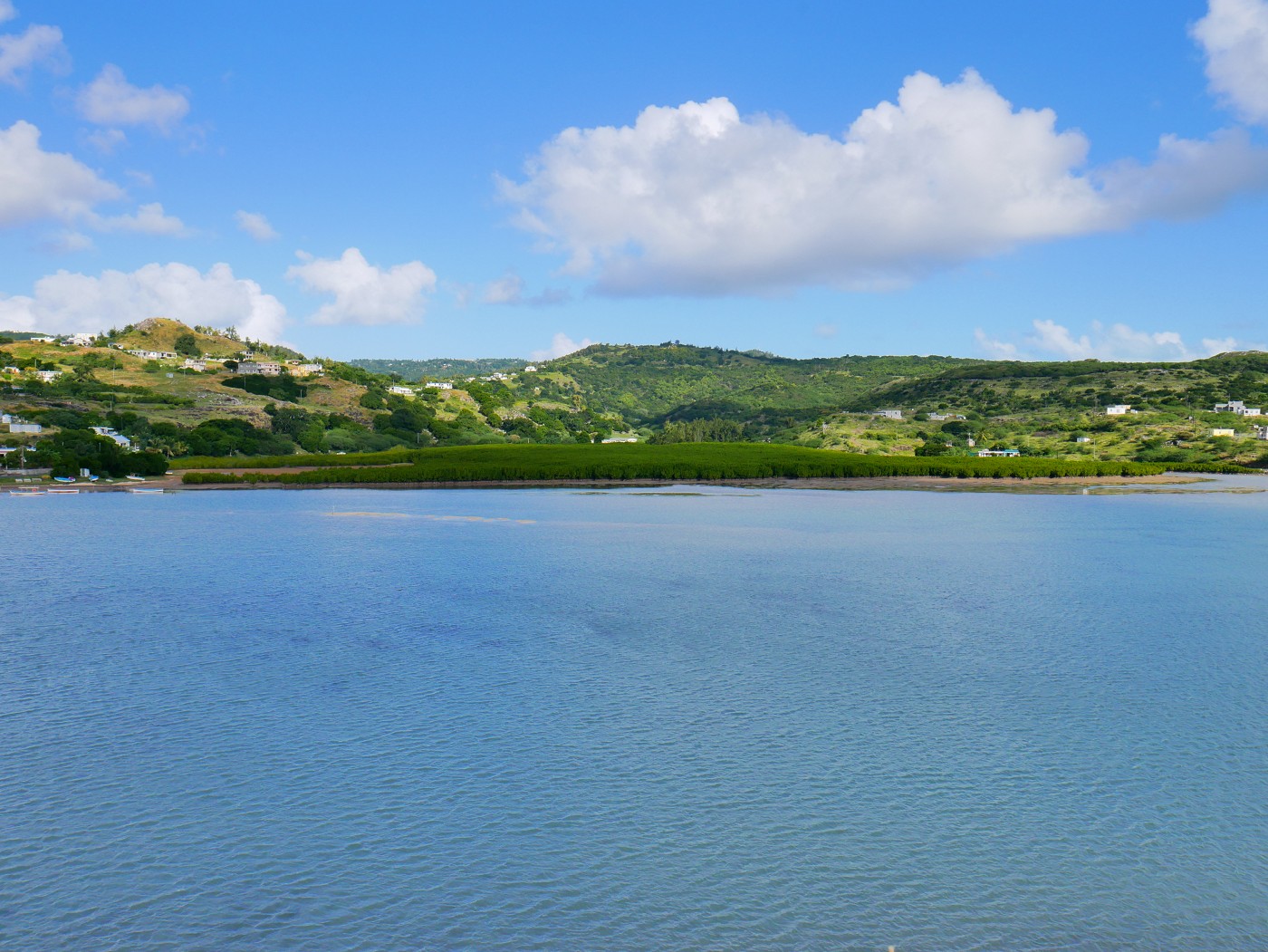 The mangroves at Baie Diamant. Many bays in Rodrigues are forested like this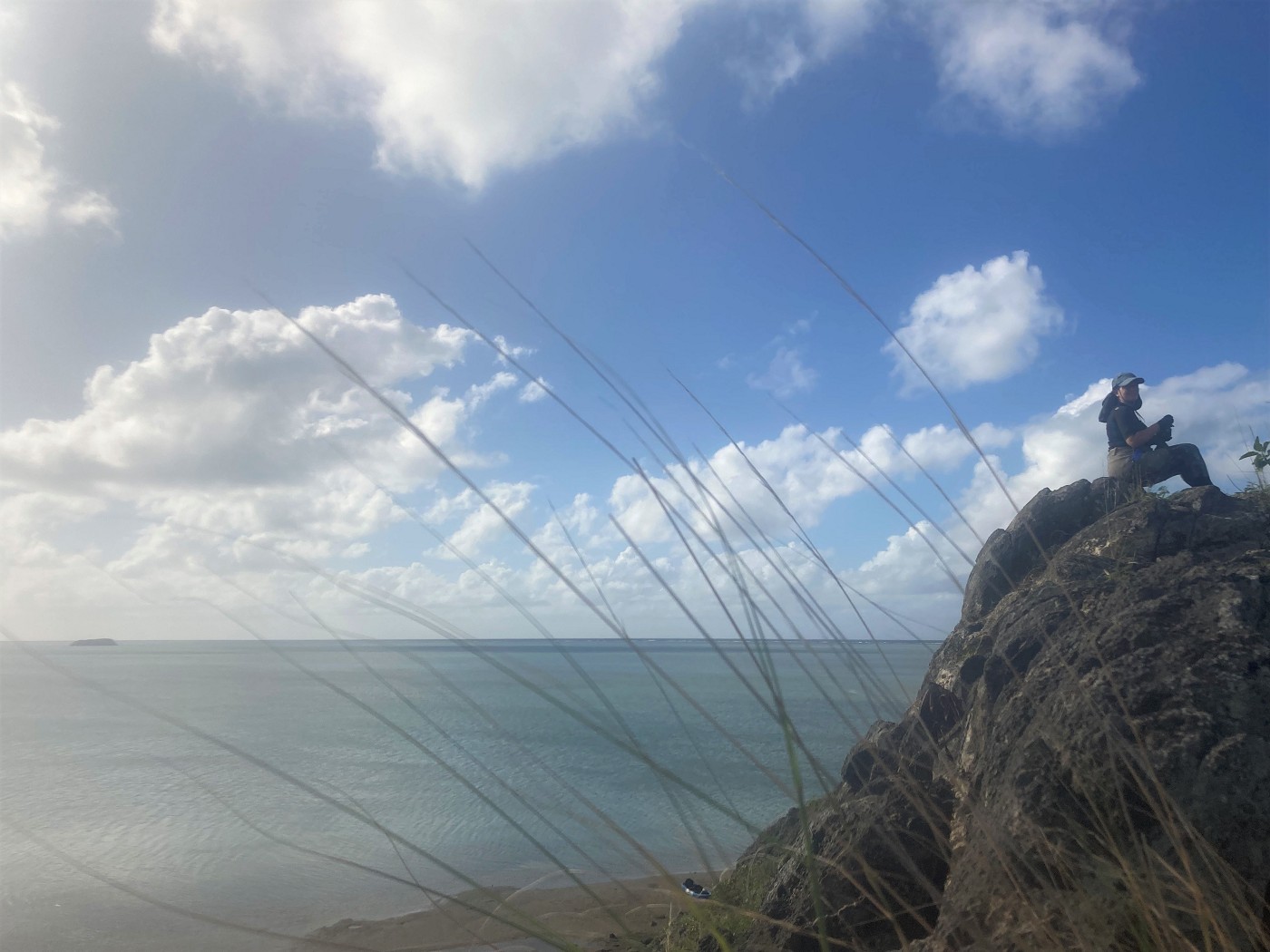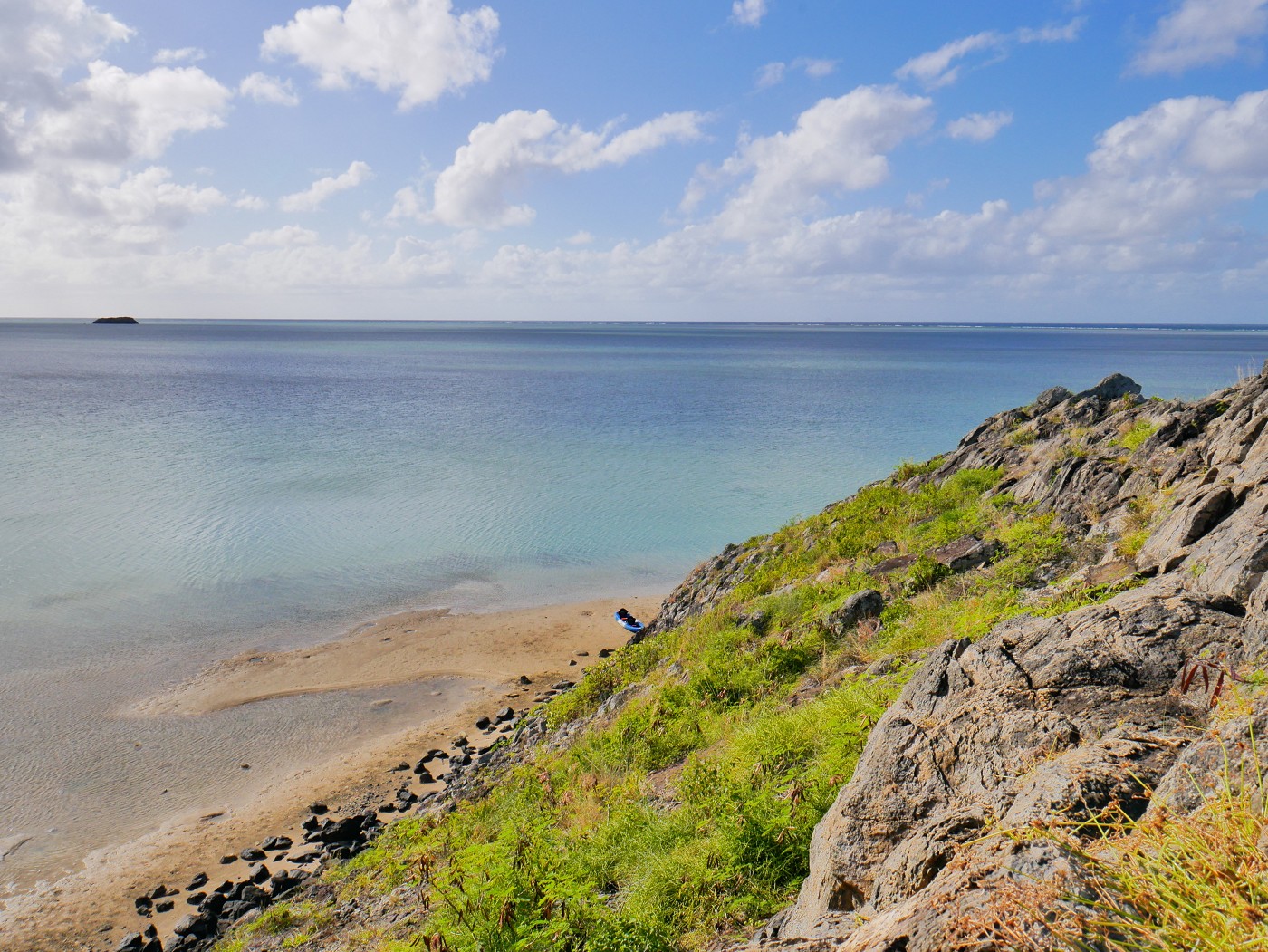 After some time, we climbed down. Back on the beach, Jonas walked back to his favorite spot on the islet—the cave. I decided to take a peek at the steep side of the islet. There was a little bit of beachiness there and a pleasant shadow. I continued walking, thinking I could probably circumambulate the islet.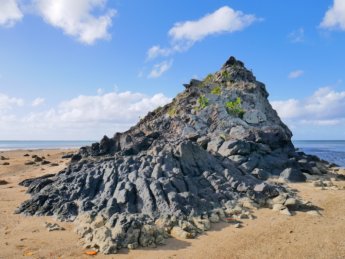 Every time I thought I must almost be at the northern tip, it was a bit further. Meanwhile, the beach had gone, but I was fully committed now. I walked through the shallow water and spotted some kind of sea slug or sea cucumber thing. I made sure to carefully step over them without disturbing them. Eventually, I had to wade through 30 centimeters of water or climb over the rocks. The rocks had crabs and in the water, I spotted one spiky sea urchin. This made me panic a little until I found a way up onto the rocks above the crab line. I also hadn't really discussed my sidequest with Jonas and I was wondering if he thought it was kind of fucked up I did this unannounced.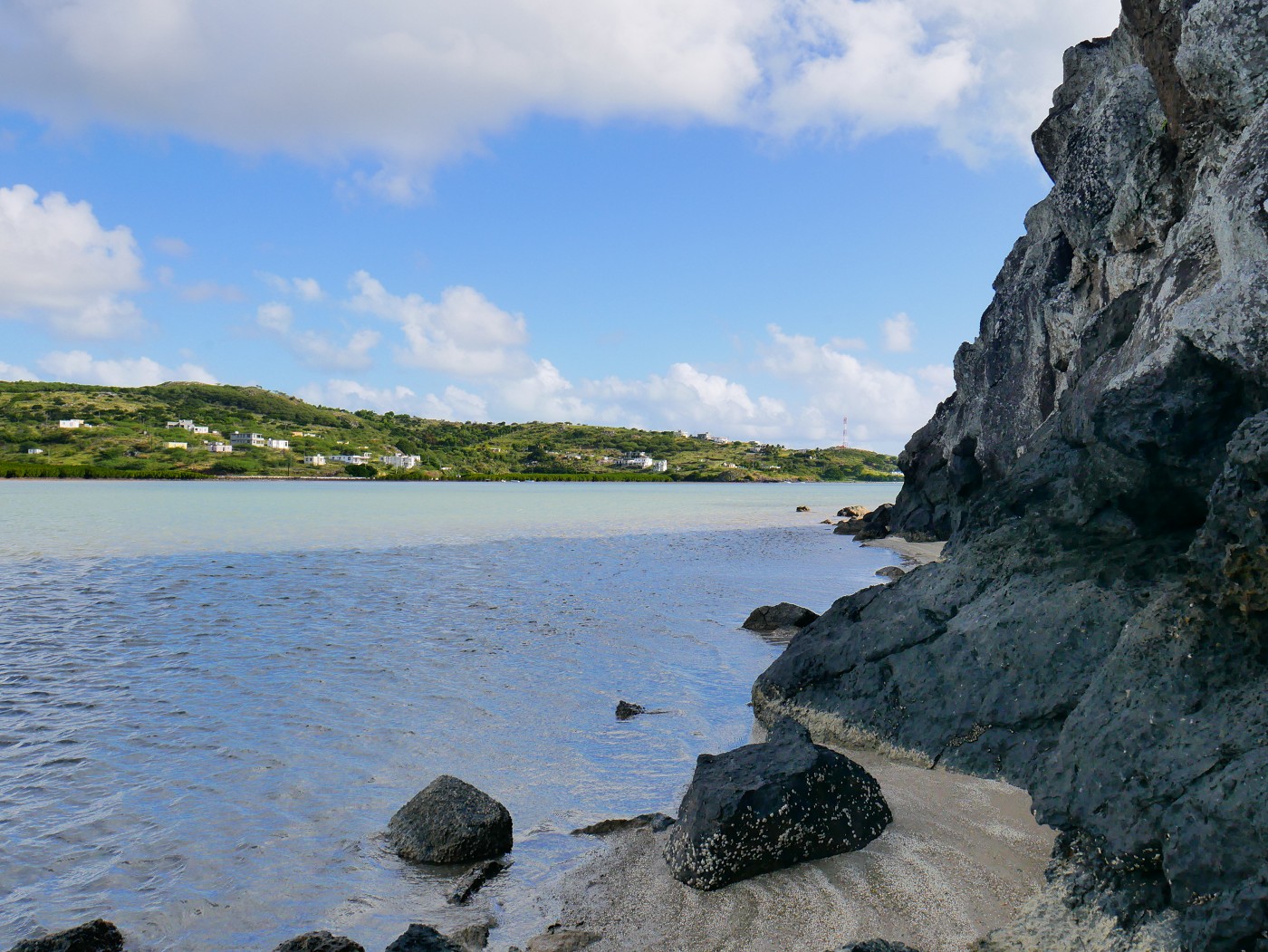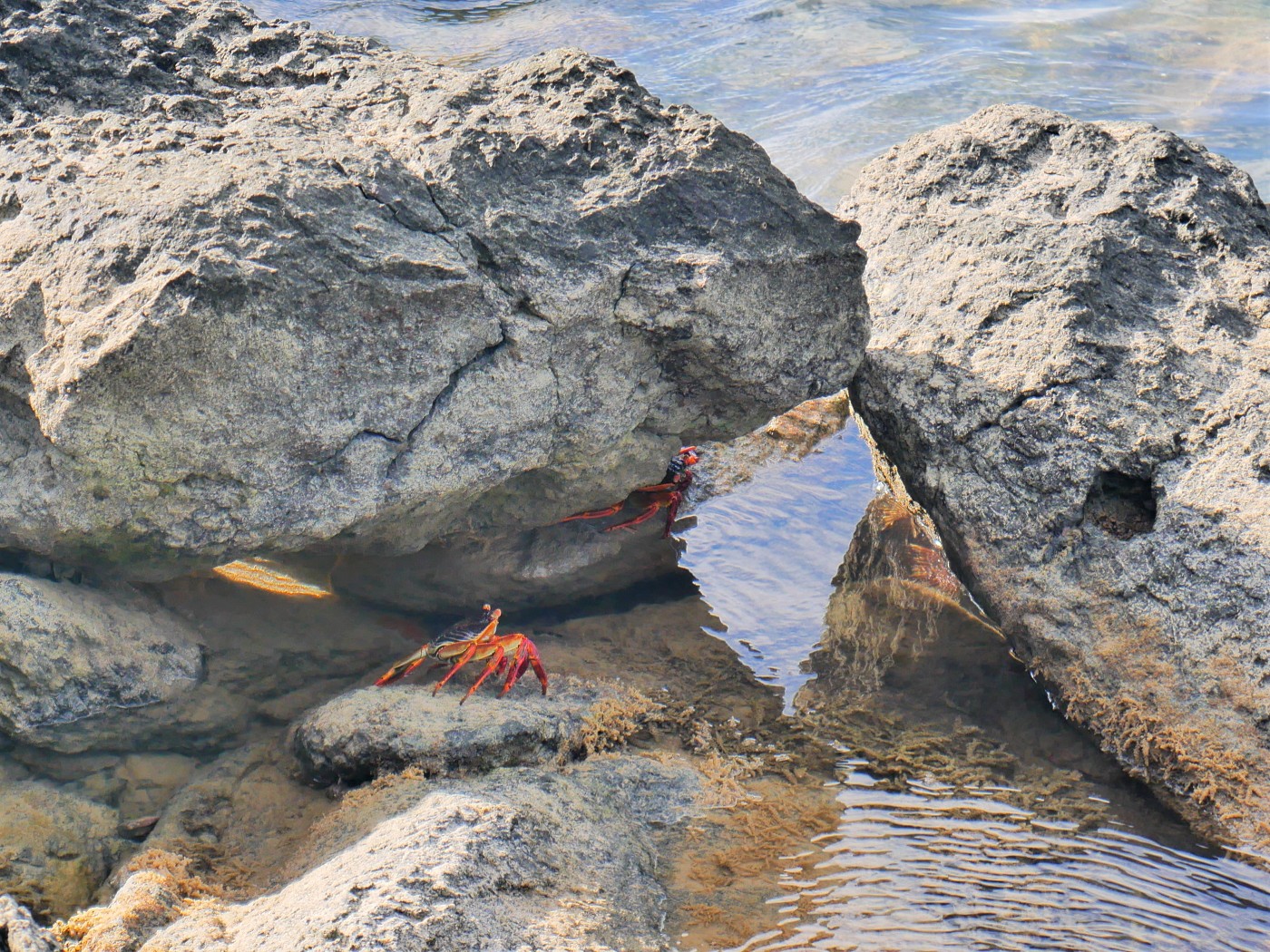 Carcinization is unstoppable
While climbing the rocks, I finally surrounded the northern tip of the islet and saw the beach and our kayak. I shouted something so Jonas knew I was back. I climbed down onto the beach and headed into the cave for some shadow. Jonas pointed out I hadn't drunk anything since Île aux Fous, so he gave me the hydration bladder and told me to chug. That was wise.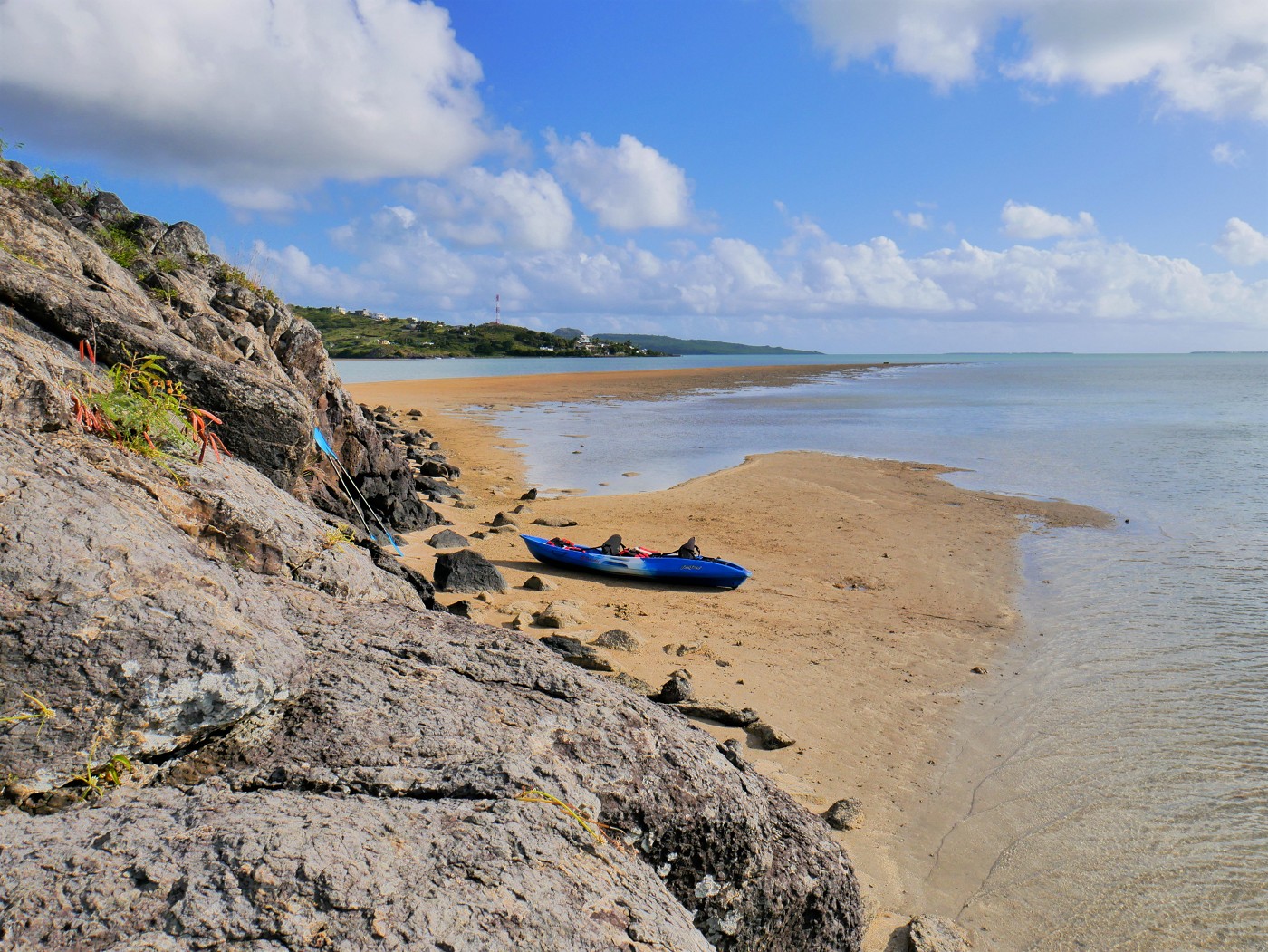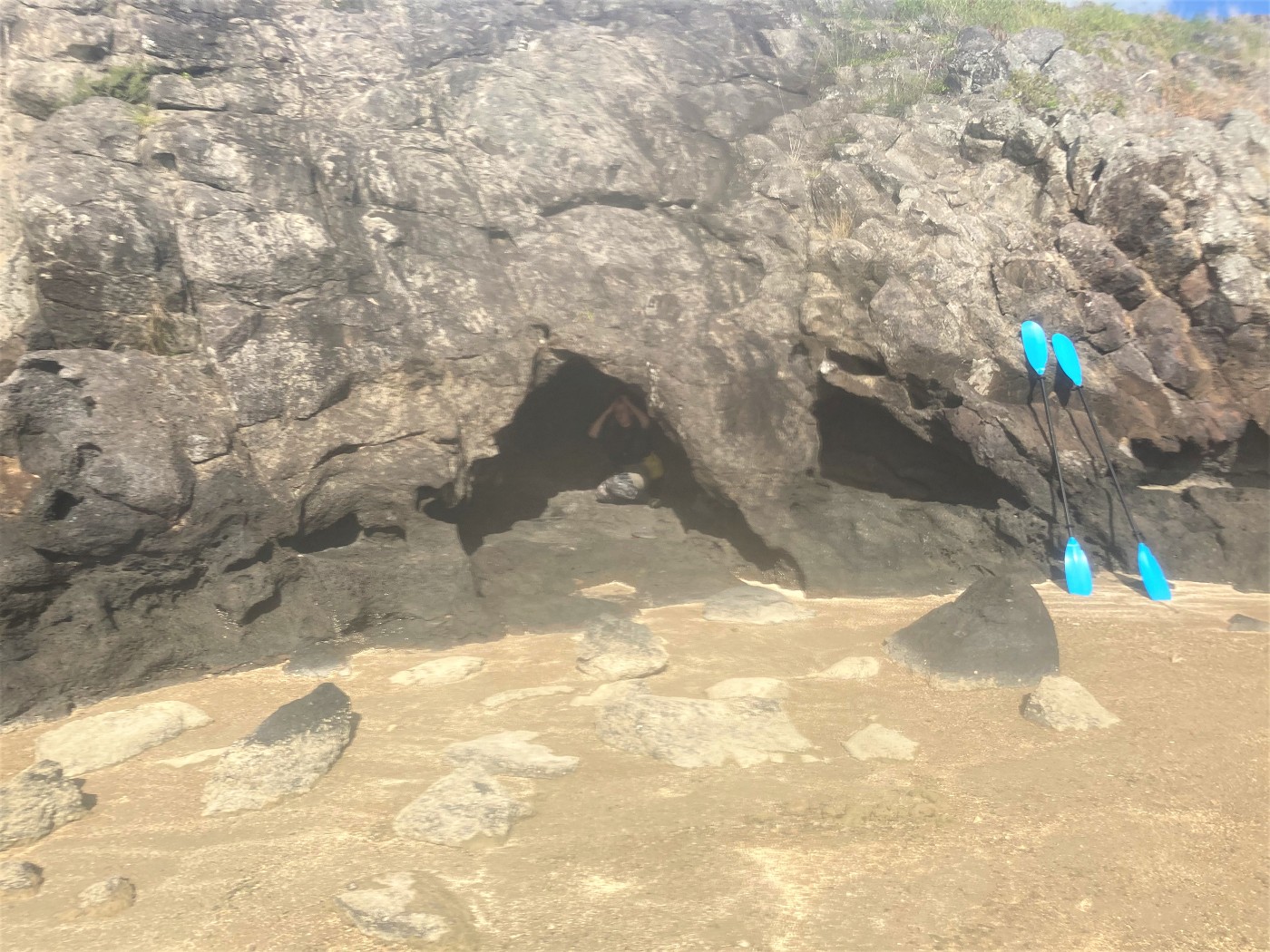 Now it was time to prepare for the home stretch to Port Mathurin. We'd be paddling pretty much straight into the wind.


Kayaking Back to Pointe Monnier + Fish!
With this new knowledge, Jonas singlehandedly rolled the kayak with its kickass back wheel into the water. I hopped in and Jonas joined. Once we were around Île aux Diamant, the protection from the wind stopped and it was tough. Our arms were pretty tired from today and I think I would have liked to eat another box of mine frite in that cave.
The water remained shallow for a very long stretch. It happened a lot that a fish would feel trapped between a rock and our boat and then make several panic jumps until they were away from us. Spectacular. But also, one day, such a fish will end up in our kayak, in my fucken lap, and I will have to somehow yeet it back into the ocean without flipping the boat, punching Jonas with my paddle, and screaming too much. I guarantee you I will scream.
We got stuck on a shallow rocky bit once more and Jonas graciously got out of the boat to unwedge us. We were paddling on and it happened a bunch more that we scared the living daylights out of a local fish and it would jump as far as it could. One of them did at least 10 meters with little hops across the flat water against the wind. Jonas had asked me not to film too much because anytime we'd stop paddling we were pushed back by the wind. But I still managed to capture one fish jump on camera.
Paddling this close to shore, we entered the downwind zone of one of the two gas/coal plants that produce our electricity. It smelled pretty bad and we didn't have our masks on us. However, the bad smell was a good motivation to keep the paddling rhythm so we may one day leave this smell behind us.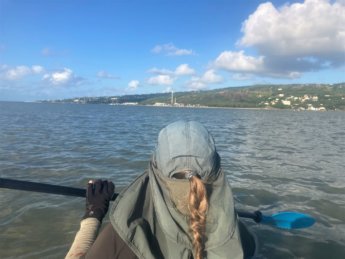 The water became suddenly deep and then shallow again. Closer to the shore was apparently a deeper channel for motorboats to race through as there were quite some small fishing boats making their way out for an evening fishing session or back to Pointe Monnier to haul the catch on land. We were also almost home.
Jonas didn't really recognize where we had to enter, but as we got closer, it all became clear. We paddled into our little quiet inlet past the coast guard and the many fishing boats. There are also many larger boats in a poor condition at Pointe Monnier. One half-sunk yacht stripped down to its basic shape really stood out as someone's abandoned dream. Perhaps we can still depart Rodrigues by crewing a sailing boat. One day.
After landing back at our starting position, we hauled the boat out of the water and sent a WhatsApp message to Jean Maurice. He told us to leave the boat at our neighbor two houses down, who happens to be the kayak guide for the mangroves. This trip to Îlot des Hollandais, Île aux Fous, and Île aux Diamant was our own unguided trip, but if we asked for a guided trip, we would have gone paddling with our neighbor. Small island vibes!
We crossed the road with the kayak and rolled it up to his property. He wanted the boat parked vertically up against a tree. It looked odd but hey, it works. Then we returned home and high-fived for a successful paddling trip.
Map + Contact Details + Packing List
Here's an interactive map of our route to Île aux Fous and the other islets. I've measured that the entire trip was about 8.8 kilometers of paddling. Before you copy this itinerary, ask yourself if you can do it. Every year, a couple of people do drown or disappear at sea in Rodrigues. That includes tourists.
If you're serious about renting a kayak in Rodrigues, get into contact with Jean Maurice Ravina. To unlock his phone number, please sign up for my newsletter with your email address:
PHN0cm9uZz5KZWFuIE1hdXJpY2UgUmF2aW5hJiM4MjE3O3MgcGhvbmUgbnVtYmVyOiAoKzIzMCkgNTkzOSA5MTUxLiBZb3UgY2FuIGFkZCBoaW0gb24gV2hhdHNBcHAuPC9zdHJvbmc+
Suggested packing list:
Dry bags
Waterproof phone case
Food (with cutlery)
~4 liters of water (for two people)
Sunscreen
(Cape) hat
Gloves
Water shoes
Sports clothes that cover most of your skin
Sunglasses
Straps/carabiners to attach your luggage
Some cash in case you need to pay a fisherman for a tow
Good info? Consider buying me a mine frite!
Bitcoin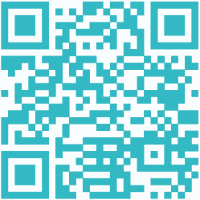 bc1q9a6w08a4gkx4gdvnh7w2vlkfzx4tlwfpfe6jm6
Open in wallet