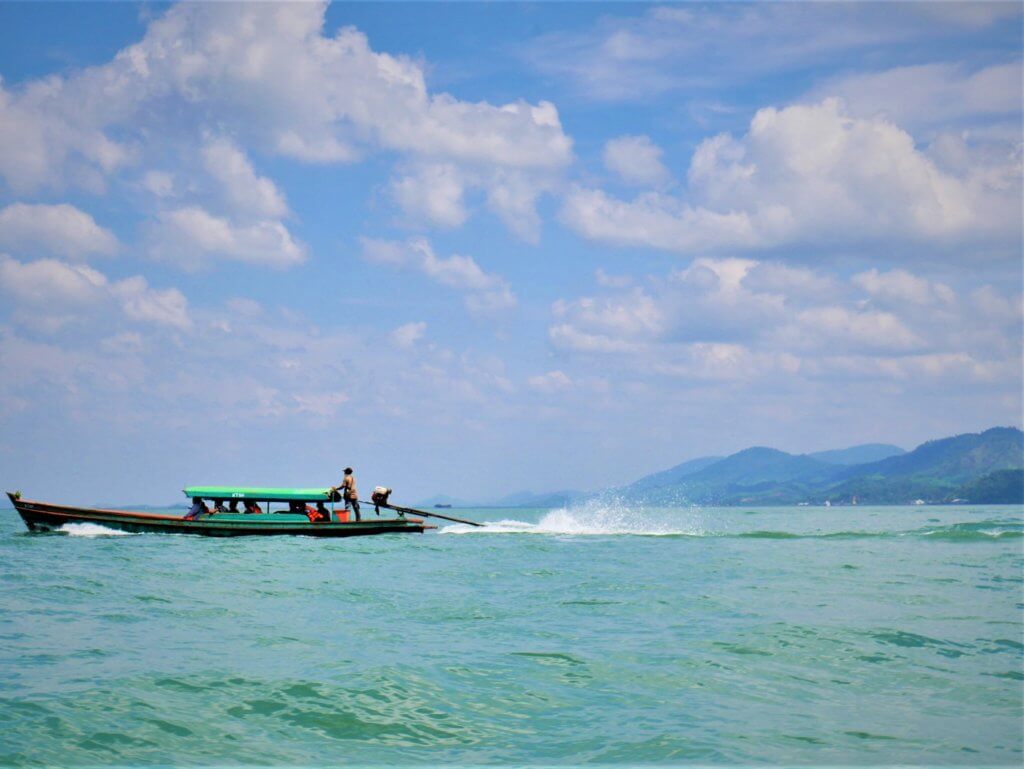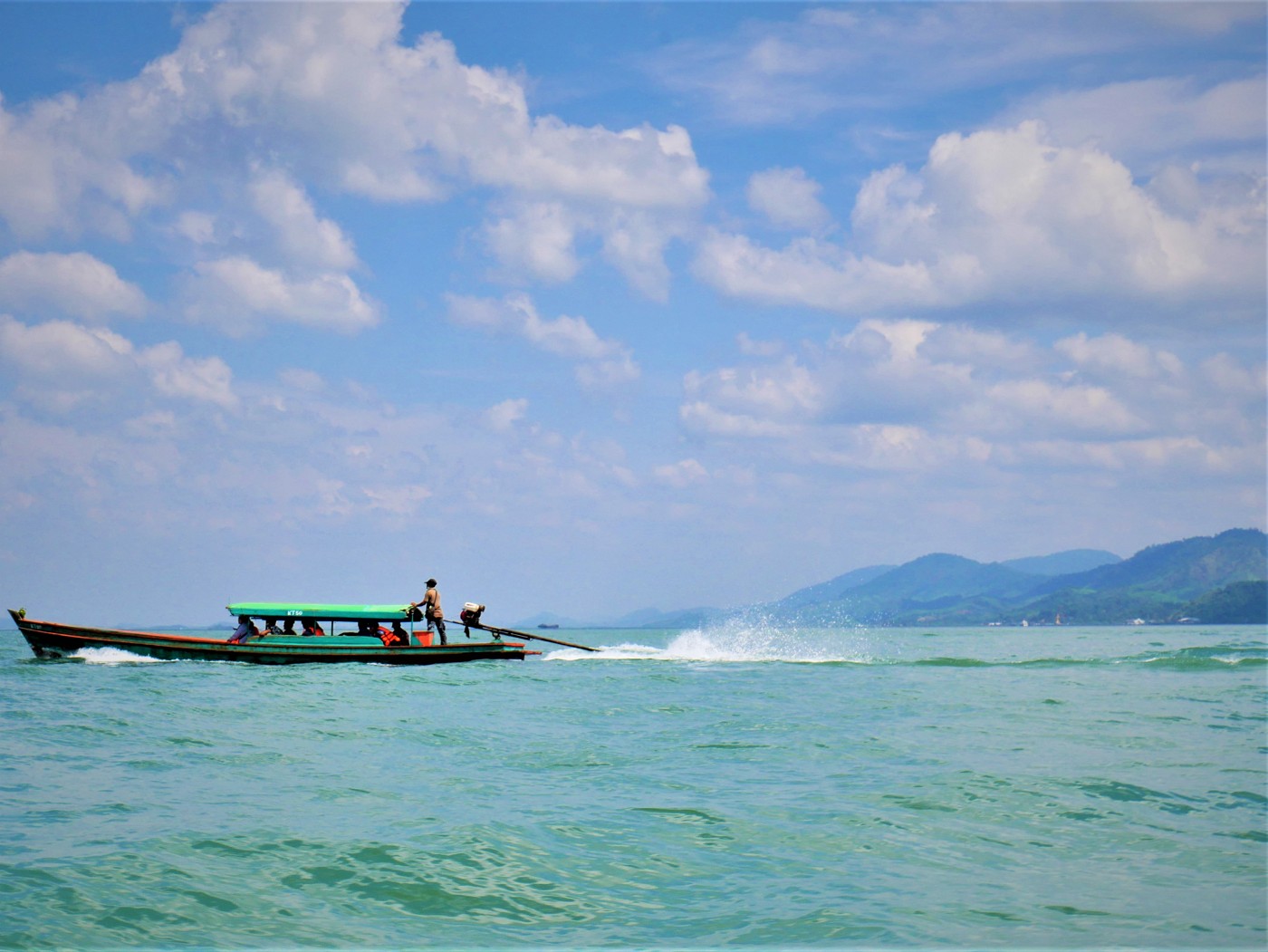 The events in this story happened on Friday the 31st of January 2020. We reentered Thailand near Ranong after one month in Myanmar in the southernmost city of Kawthaung. There it's possible to travel to Ranong across the Kraburi/Pak Chan/Kyan river mouth in the Andaman Sea. Mind you that these were the early days of the coronavirus outbreak and Thailand already had its first 14 confirmed cases. Click here to skip to the summary of tips for what to bring and what to expect.
Preparations
The Kawthaung-Ranong border is one of the few border crossings between Myanmar and Thailand that is open to foreigners. It's a little bit tricky since it's a river/sea border instead of a land border. There is no scheduled ferry crossing for those that want to take a more semi-official approach. Instead, the people that ferry travelers across the river are entrepreneurs with longtail boats that will hustle you across at a negotiated price.
Most of the information about this border comes from Thailand enthusiasts who make visa runs just to return back to Ranong on the same day. They are the ones that need "a crisp US$10 bill" to do a visa-free stamp-in-stamp-out magic trick. They just go to Myanmar to go back to Thailand the same day and get a fresh thirty days. Kawthaung isn't really Myanmar anymore; everyone assumes you'll pay in Thai Baht, caters to the idea you'll go back the same day, and makes the transition between countries as unnoticeable as possible.
I think it's a pity these people aren't staying longer in beautiful Myanmar. But it is what it is.
Our Experience
After hitchhiking 417 kilometers over two days to get to Kawthaung, we stayed the final two days of our Myanma visa at Penguin Hotel. We rented a scooter on the day before leaving Myanmar to check out this city and the nearby Pulo Tonton (ပုလုံးတုံတုံး) and its really cool bridge. We'd also casually checked out the vibe of the border crossing pier without dealing with pushy people. Then we returned to our hotel and packed everything again in anticipation of this border crossing.
Jonas and I discussed at the hotel how we'd approach it. Dealing with touts really stresses me out and they always come between us to prevent us from discussing what we want to do. They tend to become more aggressive the longer it takes you to make a decision, which makes me even more averse to giving them money. Afterward, I always resent the experience, even if we depend on these people.
We'd decided we would not get stressed out by them and just accept the price if it's under ฿300 or 14,000 MMK at that time. Jonas didn't have enough Kyats anymore to pay for a boat, but perhaps it would be possible to get rid of our last "Myanma money" by paying it in both currencies.
We checked out Penguin Hotel before 11:00 and walked the 500 meters downhill to the pier of Kawthaung. The touts were already gathering outside the immigration office.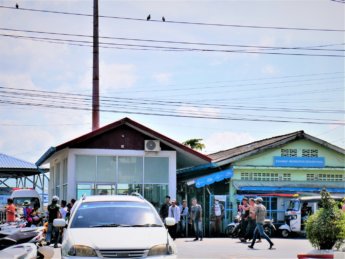 A boat tout chose us and started harassing us while we were just looking for the exact immigration office to check out of Myanmar. This already stressed me out immensely. The guy was pushing us to directly go to his boat without stamping out of Myanmar first.
Once we found the exact building that we needed  (see map for the exact location) without the guy's help, he left us alone again.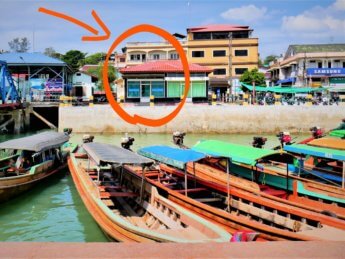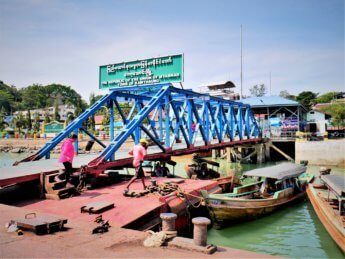 Stamping Out of Myanmar
There was a little bit of a queue in the immigration office. It also happened to be their lunchtime or something. There were foreign visitors from Germany and China and a few other countries. I gave Jonas my passport and stayed with our backpacks at one of the few free seats. We saw the visa runners with their crisp US$10 bills waiting to be served as well as some tour guides who helped their clients through the process.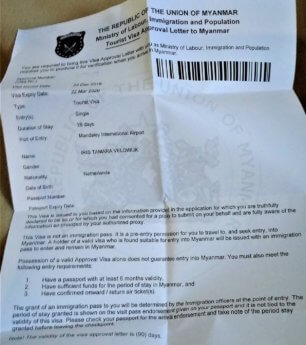 It took about 30 minutes before it was our turn. One competent guy returned from lunch and suddenly things moved very quickly. To our surprise, they wanted to see our e-visas to Myanmar in addition to just our entry stamps. They needed to snap a photo of us and stamp our exit stamps into our passports and then we were ready to go. They kept our visa letters.
That was that. Our 28-day visa to Myanmar was finished. Such a nice country!
By 11:30, we were out and there was our water tout again, looking irritated at us that it took so long.
I was still hoping for another group of tourists to show up to go to Thailand to split the costs or at least pay a different guy than this one. They didn't show, and eventually, Jonas got onto the boat. I reluctantly handed my backpack and followed it down into the boat to leave at 11:35.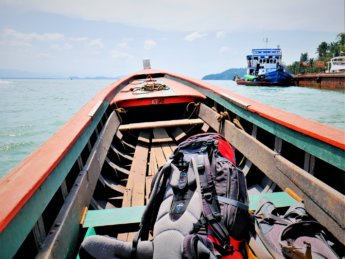 Crossing the Kraburi Delta/Andaman Sea
We left immediately and didn't stop by the Myanma military/immigration checkpoint on Mwe/Browning Island (မွေတော်ကျွန်း). I was under the impression that our boat needed to make a stop there again to show we're departing legally. Either that or there were people with binoculars sitting on the island taking note of our departure.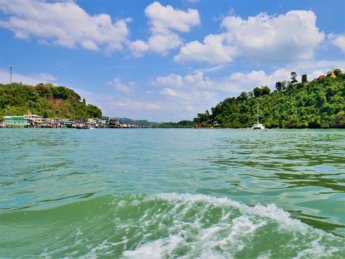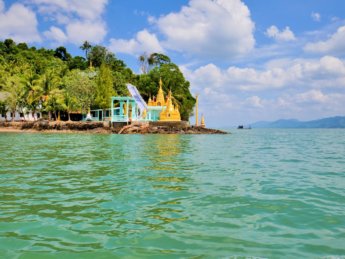 We followed a southeasterly direction across the Kraburi delta or the early Andaman Sea. I'm still not sure if it's a sea or river there, but we could look upstream quite far. Hills and mountains flank the river on both sides with plenty of islands in the middle. I follow on my nautical map of how fast we're going and where Ranong's lighthouse is relative to our position.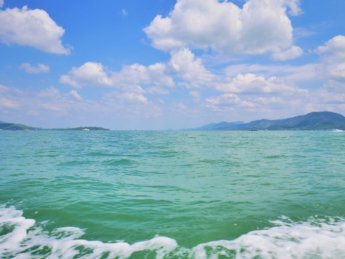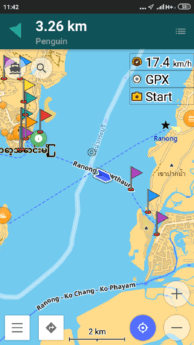 It was nice that there was a canopy to provide us some shadow on our boat. The crossing time is definitely enough to give you a nasty sunburn without further protection beyond sunscreen and a hat.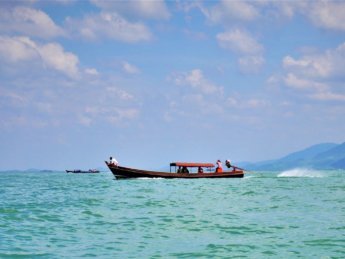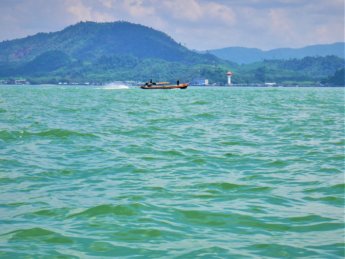 A slightly faster boat overtakes us with a group of white people we've seen at the immigration office. I'm a little irritated that we couldn't share our boat to Ranong and save the waste of two boats doing the same thing.
On the Thai side of the thalweg/boundary, Ranong's lighthouse stays visible for a while until we get too close to the Thai side. That's where we approach the small islet of Koh Sarani (เกาะสะระนีย์), which is the Thai equivalent of Mwe/Browning Island and has a military/immigration checkpoint. On Koh Sarani, there's a large golden statue of Guanyin facing Thailand that appears to be almost as tall as the beacon.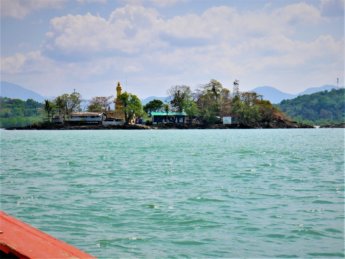 Our boatman surrounds the island and slows down in the water to communicate with some men in military uniforms on a pier. Most of them look bored, while one of them supposedly writes down our boat's registration and the number of passengers. They wave us off and I snap this photo on our way out.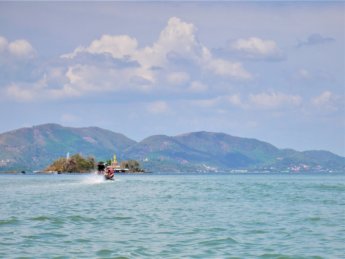 Even though it looks like peaceful cooperation, this international border isn't without its troubles. East and south of the Myanma leased-to-Thailand-casino-island Thahtay Kyun lie two islets and one rock that both countries claim (see map down below). The navies of both countries occasionally clash here with their ships and brand-new submarines over illegal fishing. It would be nice for both countries if they could settle their maritime territorial dispute before the subs see any action.
Next, we duck into the inlet between Koh Khon Thi (เกาะคณฑี) and mainland Thailand on the outskirts of Ranong. There, we approach an official-looking building. Our boatman tries to land there for a good three minutes while we're bobbing in the wake of other boats. I anticipate having to disembark, but then he turns his boat around to go to our target landing spot deeper in the narrows on the mainland. I have no idea what's going on here.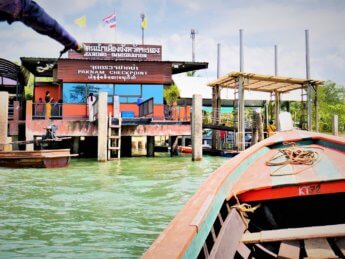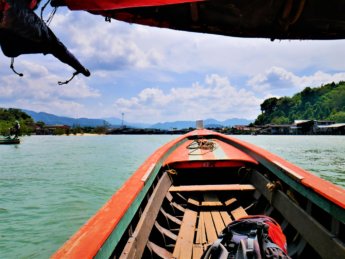 We pass between many buildings partially built over the water on stilts. It's incredibly busy with longtail boats. At the immigration of Thailand, we finally land for real. It's even busier here with boats arriving and departing than at the prior stop and all the boats are constantly bumping into each other. Jonas and the boatman carry our backpacks onto the shore via at least two other boats. I try to follow them via the same two boats, but I miss my window when my boat gets squeezed out of the squeeze-fest of longtail boats fighting for the same spot.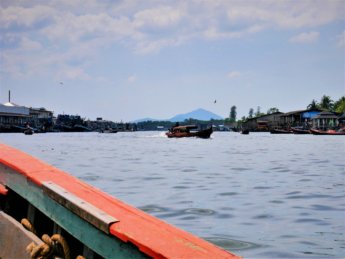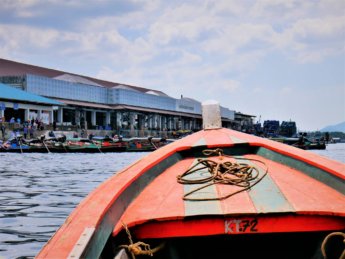 Another boat rams its bow in-between and I lose my balance. I make eye contact with Jonas ashore who looks at me like "it's not that hard". I'm trying hard not to fall in the water or lose my fingers. In a low squat pose, I balance while holding on to the pointy end of the longtail boat while looking around trying to predict which boat will still be there when I eventually hop over. It's really frustrating. Some men on other boats get involved and encourage me to leap but I really don't want to be touched. An older Thai woman shows up to my left and grabs the pointy end of another boat nearby to hold it still enough for me to finally make the leap. Another man near the shore grabs my hand and pulls me over the last two boats onto the concrete.
I khabkun khaaaa them but also oof, what a mess. Jonas has by now paid the boatman, who has vanished.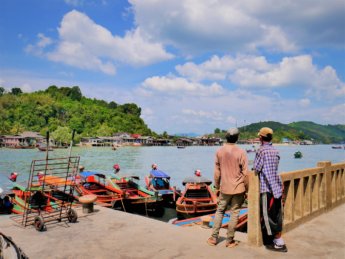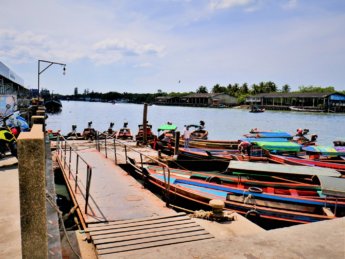 Going Through Thai Immigration at the Sapanpla Pier, Ranong
The trip across took 35 minutes and it's 12:10 in Myanma time, but because it's 30 minutes later in Thailand it's now 12:40. We rehydrate after that stressful experience. Reactivating my Thai SIM card and deactivating the Myanma SIM card is simple, but Jonas has to physically open his SIM card slot. We decide to first check into Thailand since there was only a small queue at the moment.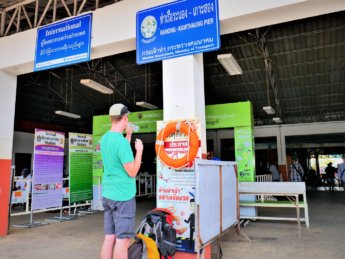 Next to the main office is a new-looking sign saying in big red letters "CHINESE PASSPORT 中国护照". I wonder if they just cater to the Chinese tourists that often use this border or if it has anything to do with the recent coronavirus outbreak. Someone in my favorite serious traveler Facebook groups had posted a link to a COVID-19 dashboard a few days earlier and I'd seen that Thailand and Malaysia already had 14 and 8 confirmed cases respectively. Thailand was the first country after China where the virus had been confirmed on the 13th of January.
Besides windows for arrival to and departure of Thailand, there's also a whole door that says "overstay". Thailand has a huge problem with people taking a dump on its tourist visa rules; it's not uncommon to hear stories of people men overstaying their visa by 7 years or even 19 years. By the arrivals window hangs a list with all the fines and penalties for overstaying a few days, a few months, or a few years.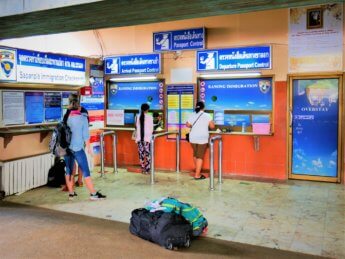 We need to fill in another arrival/departure card for Thailand. Technically, it's our second visit to Thailand this year, although we didn't leave Chiang Mai the last time. We directly snap a photo of the very important code on the departure card. The officers tend to staple (grrr!) this departure card in your passport, but it's still something you could easily lose when making passport copies or letting hostel/hotel people write down details. Losing this bit makes departing Thailand much more troublesome.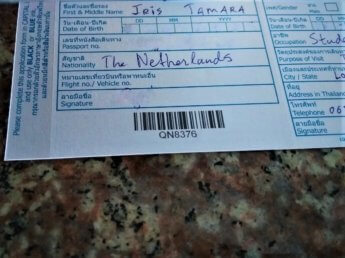 Once filled in, it didn't take long to get our entry stamp into Thailand. At our relaxed pace, it took about 30 minutes to get through Thai immigration. We didn't need to get any more Thai Baht at the ATM since we still carried some from before Myanmar. Here in Ranong, it comes in very handy.
Getting to Savika Guesthouse in Ranong
At 13:10, we were out of the immigration building. Land touts were waiting to hassle us for a taxi ride to our hostel in Ranong's center. I told Jonas that he could make any deal he wanted, but that I was out. They all seemed to drive ridiculous pick-up trucks instead of tuk-tuks.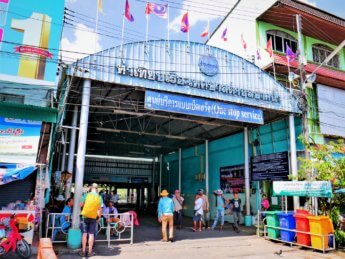 He didn't come to an agreement for a reasonable price ฿300, so I suggested we'd walk to the main road one block over to either catch a songtaew and walk or to catch a tuk-tuk from there.
On the main road, there wasn't much public transportation for traffic. And zero tuk-tuks, unlike Myanmar. We eventually found a little bus shelter to wait until we saw something we could flag down. I tried to stop one songtaew with a central-sounding destination, but the driver didn't stop for us since it was close to full. Some songtaews only drove to the other jetty where the boat to Koh Phayam and Koh Chang departs from. No one really seems to travel to Ranong for the city.
Jonas found some kind of delivery driver rehydration station and asked one of the tuk-tuk drivers if he could drive us. He had one of those empty cargo tuk-tuks. It has a very flat cargo bed and also skinny benches, and is asymmetrical. For the price of ฿160, the guy would drive us to our guesthouse at Ruangrat Road. It was a 15-minute drive with this very cool vehicle and we arrived at our new home at 13:20.
We would stay in Ranong for five nights until we would finally hitchhike for the first time in Thailand.
Tips + Route Map for the Kawthaung-Ranong Border Crossing
The borders on both sides are open between 7:00 and 17:00, but I wouldn't recommend pushing it to the later end. Try to avoid lunchtimes on both sides between 11:00 and 13:00.
The time zone changes by 30 minutes: it's half an hour later in Thailand than it is in Myanmar. Take this into account with the opening times in both Ranong and Kawthaung.
Carry copies of your passport, your Myanma e-visa confirmation, and proof of sufficient funds for entering Thailand.
You won't be able to still use your Myanma SIM card on the Thai side (it's too far). You can reactivate your Thai SIM if you already had one and have a dual-SIM phone like I do. Otherwise, keep it near and reactivate it first thing when you're at the Thai immigration office. If you don't have a Thai SIM yet, you can buy one there at the border for quite an extortionate price.
There are ATMs on both sides of the border near the immigration offices, but currency exchange offices are more prominent in Myanmar. Assume you won't be able to exchange your MMK in Thailand.
The Thai rules state that you can only enter Thailand by land border twice per year. For all intents and purposes, the Kawthaung-Ranong border counts as a land border.
If you're entering Myanmar from Thailand and want to stay there, tell your boatman not to wait for you. They will assume you will want to return to Thailand immediately.
Always pay for your boat after you've received the service.
There were lifejackets on board, although our boatman didn't point them out to us. We only noticed we weren't wearing any when we were almost across.
Expect to get a little wet; the propeller of the boat is like a giant hand blender on a very long stick that they can move around about 270°. It will splash on you at certain angles.
Keep your passport and documents you'll need near but also safe. Having a 10-liter dry bag for your hands-on valuables such as your phone and camera is a good idea.
The boats that run this border crossing aren't wheelchair-friendly. It might be possible to arrange something with the help of the many strong people that work here, but I wouldn't assume this is possible. Lots of spaces on both sides of the border aren't level.
Thanks for Reading! Was this Helpful? Consider Supporting me!
Bitcoin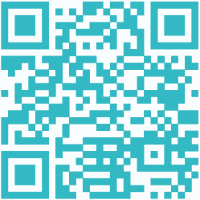 bc1q9a6w08a4gkx4gdvnh7w2vlkfzx4tlwfpfe6jm6
Open in wallet
If You Wish, You Can Also Share this Post