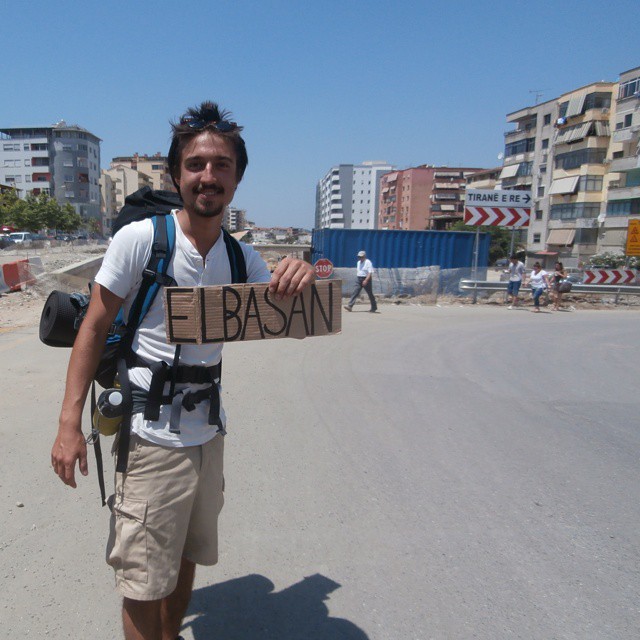 After a beachy freecamp in Durrës, I picked up this hitchhiker from Austria. By 'picking up' a hitchhiker I mean that I talked to another backpacker and he joins my plan to also hitchhike. He told me he was not traveling by hitchhiking in Albania because of the scary stories going around. But he generally had hitchhiking experiences. Good. Even better was that he didn't have a fixed plan. So he joined me hitching back to Tirana (pictured, holding my beautiful hitchhiking sign at a road in the city that was under construction) from Durrës and then onward to Elbasan. In Elbasan, we had a picnic in the shadow of a tree next to the road to much curiosity from local Elbasanlli? (How do Albanian demonyms work?)
We're hitching on towards Pogradec at lake Ohrid after the afternoon heat has passed a little. He's going all the way to Greece, so at some point, our roads will split. But for now, it's chill to hitch together 🙂 I'll shepherd him to Greece.
Funny thing is that I've been to Lake Ohrid before in… 2013. If you don't know: Lake Ohrid is an endorheic lake split between Albania and the country known as Macedonia/FYROM/North Macedonia. I was still at university, so I did one of those notorious week-long trips with a WizzAir flight into Belgrade (Serbia) and one out of Skopje (Macedonia). I made a little stop in Prishtina (Kosovo) as well, which wasn't a great success. The picturesque Macedonian side of Lake Ohrid was definitely a highlight of that week of pure chaos.
#Shqipëri #Tiranë #Österreich #trampen #hitchhiking #Hellas #joinforces #teamup (at Bar Stop 24 Ore)