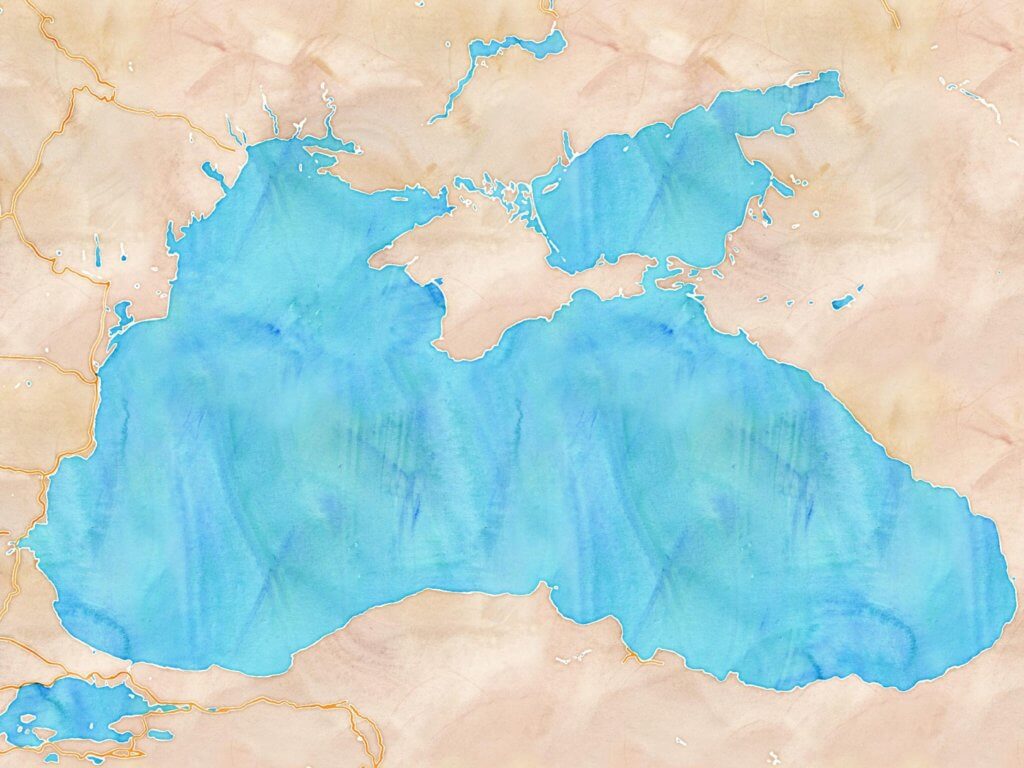 26 February 2022 update: originally published on the 19th of October, 2021. I moved this post to 2022 so this info about the Black Sea ferry from Chornomorsk shows up on the homepage of my blog. Do I recommend taking this boat from Odesa, Ukraine to anywhere else right now? No, I wouldn't want to be on a ship that says UKRFERRY on the side right now. As far as I know, the ships named Greifswald (link leads to current location of ship), Kaunas, and Vilnius aren't leaving the port of Chornomorsk at all right now. You can follow the ship movement on MarineTraffic, which is what I'm doing. Perhaps the land border to Moldova or Romania is a good option?
On the 22nd of October 2021, we're hoping to depart Ukraine after staying there for 88/89 days via a Black Sea ferry. These ferries leave from the town of Chornomorsk outside of Odesa, southern Ukraine. Out of several destinations, we eventually decided to take the Chornomorsk to Karasu ferry. Karasu is in northern Turkey some 200 kilometers east of Istanbul. This article is about booking the ferry and our preparations. To read about our experience, visit the page about the journey [To Be Announced | 26 February 2022 update: I am so sorry this isn't finished yet].
The Black Sea Ferry Idea
Plans after Ukraine
Though we had a generous 90 days upon arrival in Ukraine, we only spent one month not thinking where to go next. With the pandemic, there is no 'winging it' anymore. Also, I learned for the second time that Ukraine is absolutely humongous, so we needed to make sure to keep an eye on those 90 days and end up in a town with (several) escape routes by the time the 23rd of October arrived. Since we couldn't do both, I asked Jonas whether he wanted to leave from Odesa or from Lviv. He chose the coastal city of Odesa, mostly because we had to leave in October. October in Europe.
Since we restarted our travels in January 2021, we've only taken planes between countries. There's one reason for this: land borders are unpredictable and there's no money to be made in them. Air travel? That equals money. And where there's money to be made, there's information out there on the internet to help people put their ducks in a row to make the journey.
Though Odesa has an airport which I'm sure is as lovely as all the other airports on earth, the city has one feature that's even better: an international ferry terminal. I pitched the idea to take a ferry across the Black Sea to somewhere to Jonas and he was hesitant. Is the Black Sea wild? Will I vomit the entire journey? How long is the journey time? Does this boat even exist?
Basic research: finding a ferry across the Black Sea
All I could say is that I remembered from the Mongol Rally people that there are several ferries across the Black Sea. The most famous ones travel between Odesa (Ukraine) and Batumi (Georgia), or Varna (Bulgaria) and Batumi. I didn't remember exactly that there was also a ferry to Turkey, but Google Maps was very confident one can take a ferry from Odesa to Istanbul.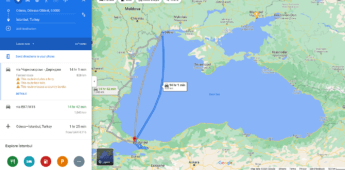 I showed it to Jonas and he was intrigued. He's been trying to go to Istanbul since we first thought of leaving Malaysia. I've been less enthusiastic about the idea because it's a city you can easily spend 90 days in and still know nothing. But if I can arrive by ferry instead of at the terrible, terrible Istanbul Sabiha Gökçen International Airport, I might budge. And I've always, always wanted to be on a boat on the Black Sea.
But whatever looks pleasant and feasible on the map isn't always in real life. The first question is: which ferry companies operate on the Black Sea routes? This was easy to find out with a simple Google search. But most of these posts were from 2019 or earlier, which leads to the second question: did these ferry companies survive the pandemic?
Not all of them did:

And other companies had terrible websites and the very America-centric notion that one isn't worthy without a vehicle: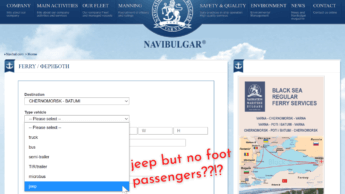 Which left us with only one company that not only operated but also had a very nice 21st-century website with an online booking system: UkrFerry.
Other people's experiences
Next up on the feasibility study's agenda was to figure out what other people's experiences were aboard ferries on the Black Sea. And there's only one group that reliably gives you the answers you're looking for without bitching a non-answer such as "Why don't you just fly?" or "Isn't Turkey/Ukraine/Anywhere a dangerous country??"
And that group is Every Passport Stamp. I asked and received a few answers from people whose journeys often took longer than planned. All of them had done a Black Sea ferry route to or from Georgia and none of them had Turkey in their itinerary.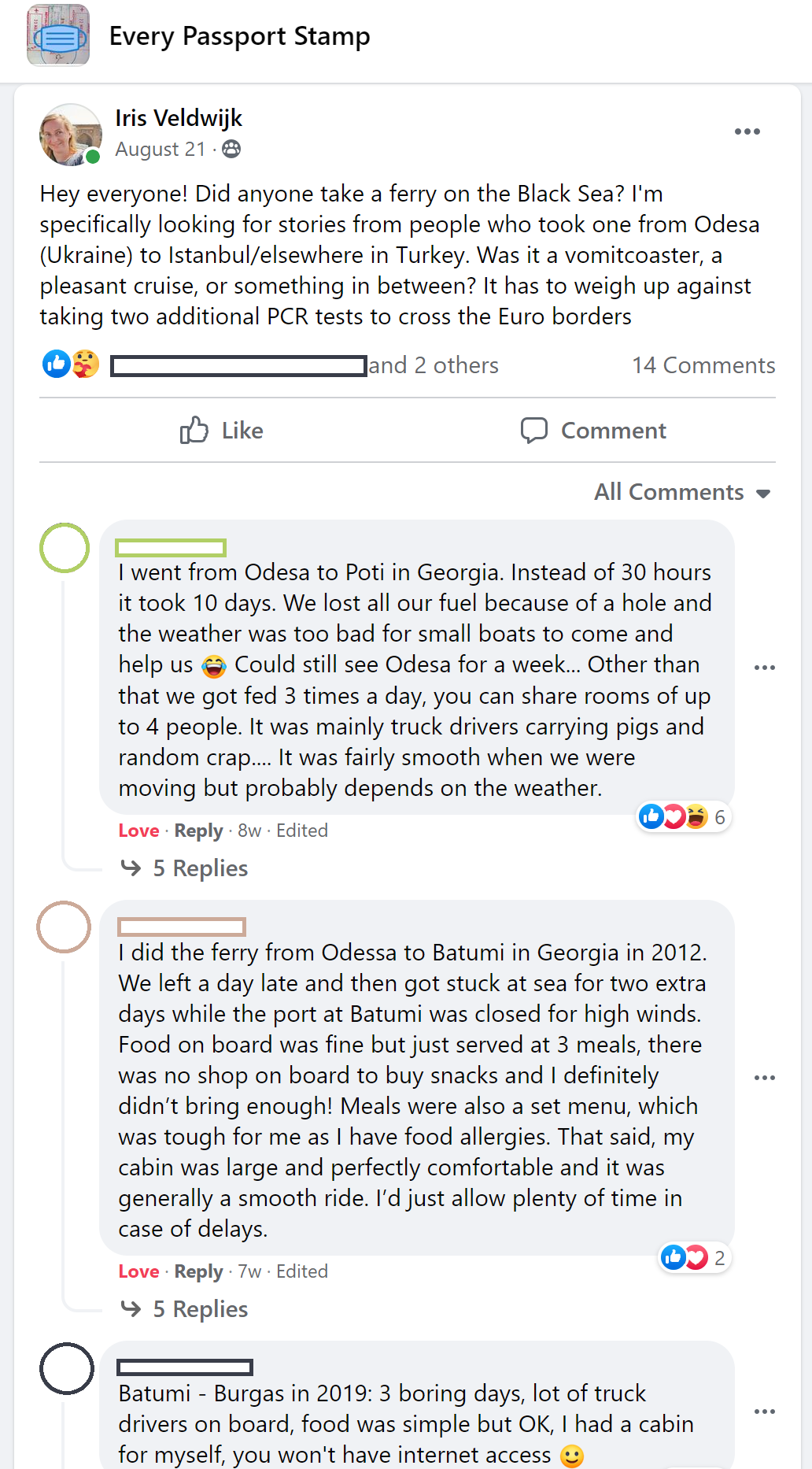 These were great responses and took away the primary fears about seasickness for Jonas. So this meant we were gonna do it and not fly..?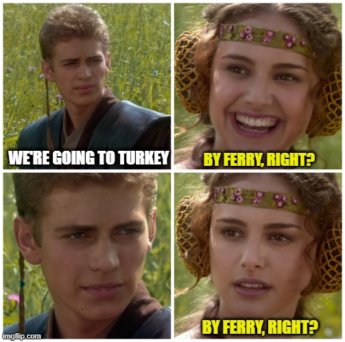 Aaaah fuck I really want to take that damn boat now and not be on a plane. But we were still in August or early September and it was too soon to set anything in stone.
Pricing and the online booking system
Toward the end of September, we'd made the journey down to Mariupol in southeastern Ukraine. Our journey in Ukraine would have to end in Odesa as both Lviv and Kyiv were too far away for our geriatric hitchhiking style.
It was time to look deeper into the Black Sea ferry. We'd looked together at the cabins available on the three different ships: m/v Greifswald, m/v Kaunas, and m/v Vilnius. We hoped that our ship would either be the m/v Greifswald or the m/v Vilnius because their standard rooms looked the nicest. The room on the m/v Kaunas had a worse table and chair, so I was hoping it wouldn't be this ship.
By this time, I was checking the UkrFerry website every day to see if the October schedule had been published yet. They had the Chornomorsk – Karasu boats on the schedule until the 1st of October and no later. It felt like maybe they'd stop all operations till next season. But I patiently waited and checked the schedule even twice a day until there were only nine days left in September. I couldn't stand the suspense anymore and sent an email via their website.
Within two hours, I got a neat response from someone who gave me the hope that they had their shit together. He confirmed that the ships sail year-round and that the schedule should be up soon:

So I kept checking the website each day for the October schedule. By the time the 28th of September came around, finally something new happened… It was up! But the latest sailing for the Chornomorsk – Karasu ferry was on the 15th of October… They only planned two weeks ahead.
Booking the Chornomorsk – Karasu UkrFerry
By this time, we'd of course realized that the Chornomorsk – Karasu boats would depart every Friday and Monday. The latest two boats for our expiring visa would depart on either Monday the 18th or Friday the 22nd. After some quick discussion, we decided we'd take the one on Friday with only one full day on our Ukrainian visas left. But this boat wasn't bookable yet.
We predicted that our ship would be the m/v Vilnius decided that the 'Standard C' room (sea window, two beds, inside shower and toilet) was our preferred cabin. This came at a price of €115 per person for our own cabin.
Jonas analyzed the booking system while the schedule for the second half of October wasn't up yet. He found out that the ferries only become open for booking 10 days before departure. That's a very short notice in my opinion. He went through the booking system till payment to see if we still needed to prepare something. He noticed that the Friday ferry gets booked out quicker than the Monday ferry and that there are very few cabins of our preferred type left—if any.
On the 8th of October, the last journeys of the month were finally scheduled.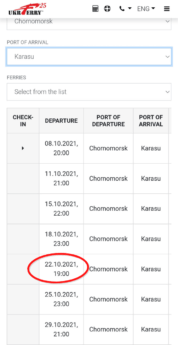 If departing on the 22nd of October, the boat will only become bookable on the 12th of October. We set an alarm. On the evening of the 11th in Kherson, Jonas waited till the clock struck midnight. He immediately went to the booking system to see if our boat had become available. It had. He booked it immediately and went to the payment page, where he paid with a VISA card. He also received an email in case the redirect to the payment page didn't work, in which case we had still one hour to complete the booking before the room would become available to others again.
A curious thing: on the website, it said there were 10 cabins of the Standard C-type in total, and just after midnight there were already only 6 available.
Preparing for the Black Sea Ferry in Odesa
Arriving in Odesa: the to-do list
After taking a train from Kherson to Mykolaiv and hitchhiking from Mykolaiv to Odesa, things started to become real. We were now inside our final city in Ukraine. I'd found an office of UkrFerry inside the city, but Jonas said it would probably be rather useless. I found it on Streetview too, see the UkrFerry logo on the left:
The next items on the to-do list were as follows:
Find out where to get the Black Sea ferry ticket
Fine-tune the time and date of our PCR tests to enter Turkey
Figure out what the heck a Turkish HES code is and how we can get one
Book or reserve a hotel in Karasu so we have somewhere to go
Print our preliminary ferry tickets at a copyshop
Buy boat food that stays good and is rather simple and vegetarian (just in case the provided meals are no bueno. The menu actually looks rather doable as a vegetarian at first glance)
Optional: exchange some Ukrainian Hryvna (₴) for Turkish Lira (₺); Google Maps reviews of Karasu Port say there are no ATMs or exchange offices and we do need to take a taxi to the hotel
Let the Fuckery Begin
Monday the 18th of October
We contacted a hotel in Karasu about 24-hour check-in and arriving late. We made a reservation at the one that was the most responsive and felt pretty good about that.
Then we went into the city and got our hands on our first ₺10 at an exchange office that only had this much—but at a good exchange rate. All the other places I asked "У вас есть турецкая лира?" the answer was a resounding "Нет" and a swift closing of the window on my nose.
While wandering around Odesa on foot, Jonas received an email from UkrFerry. Our ship the m/v Vilnius had been replaced with the m/v Kaunas. Fuuuuuuuuuck. Also, the boat would depart later than planned, but somehow it would arrive an hour earlier on the 23rd at 23:00. I told Jonas about my disappointment because the cabins on m/v Kaunas looked shittier in case you want to get any work done. I'd hoped to do some video editing or offline writing from the ship to pass the time since I think that being on a boat you're not sailing yourself is the perfect spot for undistracted work.
He said that it was unlikely we'd get any work done on the ferry because he thought the ship would roll too much, or there wouldn't be an electrical outlet. I pointed out that even the boat we took on the Ucayali + Amazon rivers in Perú had electrical outlets in our camarote.
Inside the center of Odesa, we walked to a laboratory called Нова Диагностика (Nova Diagnostika) on Karterynynska Street. I'd asked the day before in an Odesa expat group where people recommend getting a PCR test. The topic hadn't been discussed since August so I thought it would be a good idea to start a new thread. But post approval was on and the admins didn't accept my post in time for us to use their advice, so Jonas found this lab.
Half an hour earlier, we had thought about getting a rapid antigen test instead of a PCR test. Jonas had said that these were valid only for 48 hours instead of the PCR's 72 hours, so we'd have to do it on the day of departure with all our luggage before taking an Uklon to Chornomorsk. This sounded more efficient to me than taking a PCR test the day before departure and picking up the results the following day with an Uklon ride, with or without luggage. The women working in the lab spoke English and were like hurry up, make a choice. We eventually made an appointment for the day before departure (Thursday).
Next, we got our hands on more Turkish Lira (TRY – ₺). This time we got the motherlode of ₺ 165 after sacrificing a bill of ₴ 500. We were content with this amount of money for our arrival.
Coming to terms with the m/v Kaunas
Tuesday, 19th of October
In the morning I looked over the pictures of the room of the m/v Kaunas again. It's really not great. Jonas told me that since they bait-and-switched the ships, there are suddenly 32 cabins of our type available out of 37. Is the m/v Kaunas more passenger-focused? It seems so.
Anyway, there's nothing we can do about it. And a ship is a ship is a ship. It's fine. We'll make do.
Since we achieved so many things on our to-do list the day before, we could take a chill day. I decided to look at the menu aboard the m/v Kaunas again to see how to shuffle around our meals. Jonas said he wouldn't be a vegetarian aboard the ship, so I could probably shove some mackerel in his direction in exchange for some baked bell pepper or whatever the hell 'runner beans' are.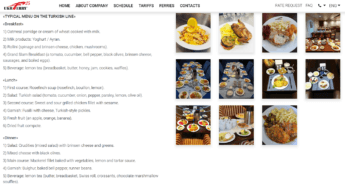 Fun fact: Chornomorsk used to be called Illichivsk. But in 2016 during Ukraine's 2016 renewed decommunization policy, they changed it to Chornomorsk. Because Ilyich is Lenin's patronymic; his full name was Vladimir Ilyich Ulyanov.
Getting the Turkish HES code
Wednesday, 20th of October
We spent this sunny Wednesday riding the Swamp Tram, which was great.
In the evening, Jonas went through the process of getting us a Turkish HES code. That's the QR code they use in Turkey to let you travel on public transit etcetera. All it needs is your name, date of birth, passport number, and… I was doing something else so I'll update this once I know more. I do know they didn't ask for proof of vaccination to get the HES code.
He then put that on a USB stick so we could print it, along with our booking confirmation for the Black Sea ferry.
The Day Before Departure
Thursday, 21st of October
PCR test
After such a lovely Wednesday, Thursday came with a lot of fuckery. First of all, it was super heckin' windy. We're staying on the 14th floor of a building and it's intimidating up here. Down below, it's a mess of trees being stripped off their leaves and those leaves whirling around at eye height. I'd made a late-nighter and was feeling very tired because someone in our huge condo started drilling very early. There's always someone with a fucking drill.
We took an Uber to our 14:00 appointment for the PCR test. We hadn't eaten beforehand because of some (old?) belief that the PCR test is more likely to become invalid if you eat. I have no idea where we got that from. The plan was to head out after the PCR test to a kosher restaurant called La Casa around the corner. They spent the first 10 minutes figuring out what we wanted after we gave them our date of birth, name, and passport number. Then the woman we spoke to three days prior was like "What do you want?"
Eh, we want that PCR test we have an appointment for. Then it took another ten minutes of paperwork before I went in to let this man tickle my left nostril followed by my throat. It was uncomfortable as always, but still not as bad as my first PCR test in Malaysia. This was my fifth PCR test.
Screw our customers
After Jonas let the lab tech fondle his mucus, we went out to La Casa to eat. On the way, we passed a shop that looked like a copyshop and we tried to enter. A man opened the door and told us that next door it's possible to print. That was a shop where they mostly repaired printers but also did the printing. Jonas handed over his fleshka (флешка) and we printed out the HES code and the ferry booking confirmation.
Things were going well, right?
Well, La Casa was closed, so we had to find a plan B for food. That plan was Vegano Hooligano, three blocks away. There was some idiot kid with a tambourine on the sidewalk 20 meters from the food shop who was incessantly slamming it with neither rhythm nor talent and making everyone miserable.
We went inside the basement vegan restaurant and found a QR code menu. The lady said because Odesa is a 'red zone' for covid-19 right now, we couldn't dine in. That's okay, we could find a park. We ordered our two dishes that were easy to eat in a park and paid for them. Then we sat down at a table, waiting for them to make the order, but that wasn't okay. We had to wait outside, you know, covid. Perhaps I should have brought up that we're fully vaccinated, will keep our masks on, and will probably have a negative PCR test tomorrow. But I thought how hard is it to make one bowl with all cold items and
We should have asked for our money back right then and there because there were no chairs outside and the idiot boy with his tambourine apparently had a brother also aged 14 or something like that and two parents that were equally annoying. As in, the parents would also grab the tambourine and make noise for no good reason. It took a long time to figure out that they were also waiting for their food from the same vegan place. They looked more like hooligans than vegans, and honestly, the latter part of the name of this restaurant was probably what drew them to it.
A delivery guy from Glovo also showed up and waited with us for these people who just needed to smack some cold food into a takeaway box and give it to us. It took 30 minutes before the hooligan family had their bag of food and another fifteen for our bag of food to come out. I'm sure the delivery guy is still waiting.
Side note: as I understand it, during a 'red zone' in Ukraine, food and beverage businesses may continue serving customers inside as long as all employees are fully vaccinated. So in all likelihood, the employees of Vegano Hooligano in Odesa are little bitches who would rather have their customers suffer outside than run a pleasant business. I messaged some other businesses about being open for dine-in (Georgian place called Givi to me and a craft beer bar called Varvar) and they said dining in was no problem.
After this ordeal, we were cold, hungry, and miserable. The original plan was to eat inside, then walk to Silpo and Vegetus to do some food shopping for aboard the ship, and then go home. But we had no energy left and took an Uber from this shitty place to our home to eat it there.
The cherry on the pie
We ate our first meal of the day at 15:30. I was so done, so through physically and mentally. Our boat would go the next day and there's still so much to do.
Then after a midday nap, Jonas told me that our Black Sea ferry had been swapped out yet again.
So we're apparently not going on the m/v Kaunas. Okay. But the m/v Vilnius neither. Which leaves…
The m/v Greifswald!
Okay, so all fuckery aside, if this is our ferry, that's pretty cool. Because the cabins are as good or better than the m/v Vilnius. But more importantly, the m/v Greifswald holds the world record for being the world's biggest roll-on/roll-off/passenger/rail ferry. And supposedly there are even more facilities aboard—though it's still a question if they will man these positions because covid.
But all enthusiasm for this bigger boat aside, I have a REALLY BAD FEELING ABOUT THIS.
No, I'm not worried that the incessant wind will cause big waves or that we'll encounter storms at sea. No, I'm also not worried about vomiting aboard or sinking or whatever. Not worried at all.
What worries me is that they swapped out the ferry for the Chornomorks to Karasu route twice. The obvious next step is to delay the journey by one or two days – in which case we're fucked with the tourist visa – or to cancel it completely.
I'm eyeing the border of Moldova more and more as a contingency plan.
Black Sea Ferry Departure Day Has Arrived!
Friday, 22nd of October
Picking up the PCR test + food shopping
Jonas woke up early and checked our PCR test results online. Surprise, surprise—we don't have covid. We took an Uber to the lab to pick up our results with a wet stamp for extra validity. From there, we walked through the city to an area where there's a Silpo supermarket, Vegetus vegan shop, and falafel stand nearby. A good triangle of businesses, I must say.
At Silpo we picked up a baguette, some croissants, and our favorite size of bubbly water bottle. I also tried to get a tetra pack of wine (screw cap and not heavy glass) to bring aboard, but they didn't have any tetra pack wine at this Silpo. I knew we should have gone to the other one in the center that had an excellent dry red in gigantic juice box packaging.
Next, we walked to the Vegetus in the same street. We picked up some buckwheat porridge in a cup and something we call "pashtet" (паштет) for some reason. It's vegan and it's sooo gooood. I intend to lather this generously onto the baguette if the food aboard is fishy.
Lastly, we ordered two falafel from a halal place called Maestro Falafel. Then we took an Uber back home and ate almost the entire falafel roll with an episode of Luna Park. Then it was time to do some pre-packing. I thought we still needed to order one easy meal (like a bowl) for today, but when we looked at the half-eaten falafel roll and the impulse buy croissants, we concluded we're good with the food.
Departing to the port of Chornomorsk/Burlacha Balka
Jonas had arranged a bunch of other important things, such as a late checkout at 19:00 from our apartment for an extra ₴ 300. The Black Sea ferry departs not exactly from Chornomorsk, but a town on the other side of the estuary called Burlacha Balka. Jonas had received an email from UkrFerry that we didn't need to go to the office one normally has to visit to get their ticket from. That meant we could directly go to customs/immigration and depart the Airbnb later. We had to be there at 20:00.
The drive from our Odesa Airbnb to the UkrFerry port is 20 kilometers and it should take between 25 and 45 minutes. We decided that leaving at 19:00 would be perfect for a 20:00 customs/immigration session followed by embarking on the m/v Greifswald.
We showered on land one last time, finished packing, and then our host came to pick up the key. She seemed to like the Одеса sign I was leaving behind.
Downstairs, we found our Uber in total darkness and got in. I think the guy at first didn't seem to like the idea to drive all the way out there and I felt a little bad, but also that's the job and I think longer rides still pay better than short ones (you may correct me on this if you have inside knowledge). And how else are we gonna get to some obscure port facility 20 kilometers away? Explain it to a regular taxi guy with broken Russian and geographical uncertainty?
Our driver was very irritated with the major traffic jam that basically went all the way from the center of Odesa to the outskirts. It was very slow and I was also worried we wouldn't arrive at the port in time and that the Greifswald would say toodle-fucking-oo and travel to Turkey without us. We'd honestly been quite stressed about this day the whole day.
His mood improved once the traffic jam was gone and we were on these very straight roads in the nighttime. We arrived in Burlacha Balka, we had to make a right turn at a spot where a sign said "don't turn right" in order to take the road under the bridge. Our driver thought this was the destination and he was like "Здесь? Сюда?" and breaking and I was like "Нет, нет, нет! Прямо и направо пожалуйста."
It would not have been fun to walk those final hundreds of meters to the customs building at the port because it was so dark outside. There would have definitely been some street dogs coming out of nowhere. But our driver dropped us off at our desired destination. When he got out of the car and snorted up the fresh, salty air, he was so happy. He tried to explain to me how it felt and I chimed in "Свежий?"
Da, zvezhiy.
We thanked him again and I think he lingered around for a while before accepting the next customer.
TL;DR: How to Book the UkrFerry Black Sea Ferry + Get to the Port
Pick a route (Ukraine to Turkey — Ukraine to Georgia (Poti/Batumi) — Turkey to Ukraine — Georgia (Poti/Batum) to Ukraine)
Look at the entry requirements for your target country to make sure it's feasible
Check the schedule
If the schedule isn't up yet, check again 15 days before departure
Once your boat is scheduled, book it at midnight 10 days before departure
Fill in your names and passport details in the booking form
Pay it by VISA, MasterCard, or some local Ukrainian bank transfer
Receive your confirmation and celebrate having a ticket
Read the emails you receive from UkrFerry REALLY well to make sure you understand the instructions correctly
…Wait for the departure day. If you aren't in Odesa yet, now is a good time to travel there. Perhaps print your booking confirmation at a copyshop so you have something to show that has your name on it
Take a taxi or an Uber/Uklon/Bolt to the port
Depending on step 9, you either have to pick up your ticket at the "business center" nearby the port or go directly to the customs and immigration area
Congratulations, you have made it to the port! The next post will be about going through the customs and immigration process and how to board the boat [I'll insert a link here once I have something].
Map of the Port + Routes + POIs
Use the menu button on the left to make things appear or disappear. Click the icons or routes to read information about it.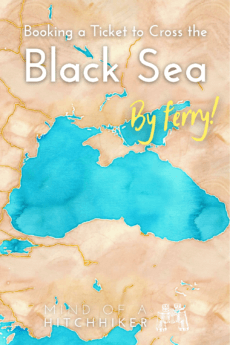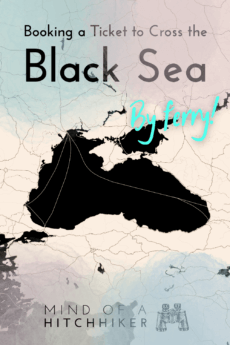 The maps from the featured picture of this article and the pins come from the website maps.stamen.com