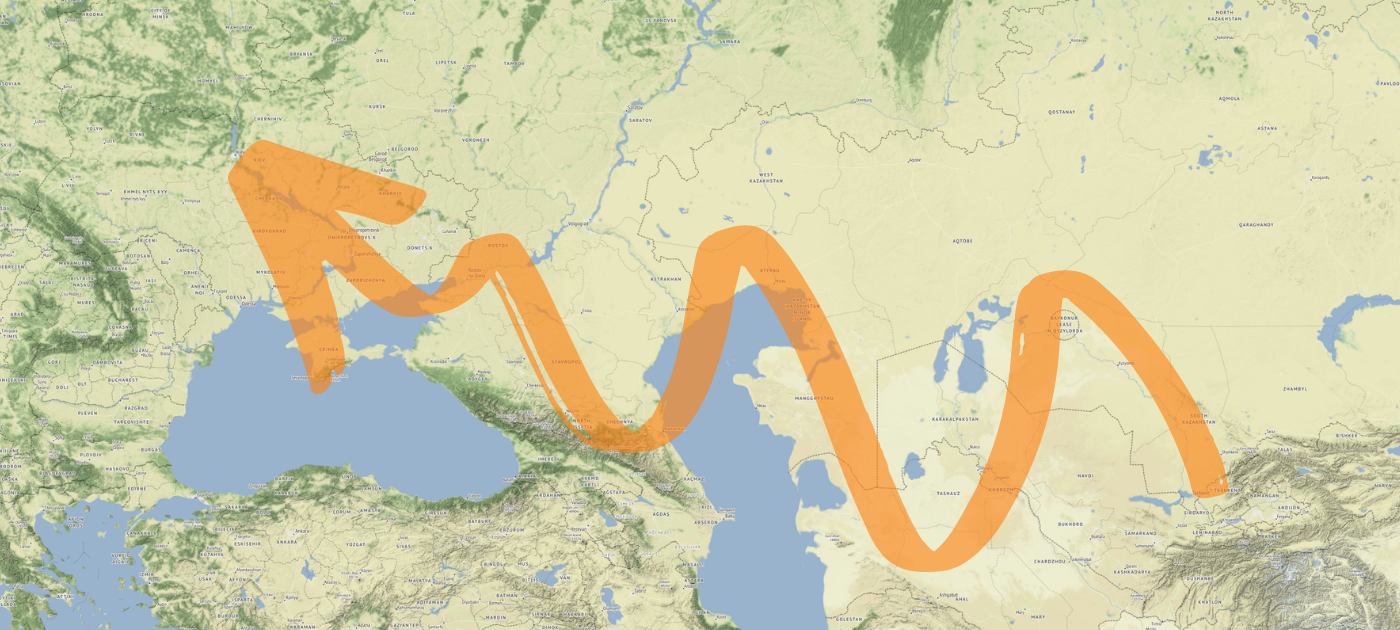 These events happened on Sunday, the 25th and Monday the 26th of July, 2021. We hoped to fly from Islam Karimov Tashkent International Airport (TAS), Uzbekistan to Boryspil International Airport (KBP) nearby Kyiv, Ukraine. I'm trying to update this blog as a sort of semi-live blog while on the move.
Quick update because I need to sleep. We arrived well in Kyiv but the long wait for check-in to our apartment was excruciating. Peace out I'm gonna catch some zzz's before finishing this
Monday, 26th of July: Shattered in Kyiv
Ugh
Train to Kyiv, killing time
The train ride is quite pleasant. We have a great introduction to Kyiv by crossing the Dnieper River. Everything looks so much more European (familiar) to us.
At Kyiv-Pasazhyrskyi station, we find a Vodafone shop to buy Ukrainian SIM cards. The guy tries to upsell us both on screen protectors, headphones, and power banks. It's 260 but then all of a sudden it's another 50 for the unlimited internet package. By 9:35 we are online. Jonas orders a Uber taxi to a vegetarian restaurant in central Kyiv called Zelenka.
We hoped that we could stay at Zelenka for a couple of hours, but after eating, drinking a cappuccino, and trying to do 10 minutes of work from my laptop (during which I learn that scammy Vodafone doesn't allow you to share your unlimited internet with another device. Well, not until you pay another 50. I hate this company with a passion.), we need to leave the restaurant because they're building up for an event.
At 11:45, we walk to a nearby restaurant called Levo where we hope we can stay put till check-in. I order a witbier (Kronenburg 1663 blanche, it's the tits). Jonas and I share a plate of hummus and wait till it's 13:15.
We take another Uber to our new home in Kyiv, which is nearly in walking distance from here. An older man gives us the keys and rides the elevator up. We all take off our shoes and he shows us the apartment. We say everything is perfect and thank him for the tour.
Once the door is shut behind him, we unpack real fast and take a necessary bath. After that, we catch up on sleep.
We're too old for this shit. No more waiting for Airbnbs or hotel rooms. From now on, we want to check in ASAP after arrival.
Arriving at Kyiv Boryspil
We made our descent. The last bit flying over Ukraine goes quite fast and we've made up our delay. We arrive 10 minutes early even, the flight attendant says in an "I told you so" way.
The back area of the plane bursts out in a clapping frenzy when we touch down. It's short-lived, because we need to brake scary hard to make our turn off the runway.
It's 4 something in the morning when we have gathered all our documents to pass Ukrainian immigration. Jonas goes first. Immigration lady looks like she had a rough wake-up. Jonas waves me over to this individual affair, so I walk over and ask him what's up. He doesn't answer me, but immigration lady tells me in Russian to step back over the yellow line. I'm like what the fuck, Jonas? Why did you call me over? He says he didn't. Jonas gets stamped in and shouts that I need to show my negative PCR test.
Now it's my turn. She snaps at me a little more with that 4AM happy attitude and isn't impressed by my vaccination certificate either. So I also hand over my suddenly surprisingly useful negative test and also get my stamps. A very warm welcome (back) to Ukraine, I must say.
The remorseless screaming child keeps following us around from the plane to immigration to the luggage area. We get our luggage, get money from an ATM, and walk through customs hoping to buy a Ukrainian SIM card. But all shops are closed.
We cannot check-in to our apartment till 13:30 for chrissakes.
We spend three hours at the Heineken bar (no coffee) taking turns napping in each other's laps till it's time to check the SIM card office again. Still not open. We decide at 8:00 that it's time to head into Kyiv, so we walk to the train station.
Huge-ass baby kicking my chair
I take many short and unsatisfactory naps: I wake a little, check the route, make sure my face mask is tight, then close my eyes again.
The route goes over the Caspian sea, Azerbaijan, Turkey, the Black Sea, Ukraine. This is definitely a dodge Russia route. MH17 etcetera. I knew 5 hours and 50 minutes for this flight was absurdly long. Now I know why.
Though far away for plane standards, there are kids crying and that one kid isn't even crying, it's screaming. For fun. Controlling your kids is an illusion.
Little did I know that the guy behind me is also one huge baby. He often kicks or slams my chair, snores likes a hoover craft, and wakes up coughing with a nasty slime cough. He's acting like he'd fake his covid test. I double-mask once again. He's a monster because when getting up, he put his fucking elbow on my head. Luckily I had already grabbed my buff to protect my head from hair grabs and other such touch. I'm sure if I hadn't done this the big man would have ripped out my hair just to get up to take a huge dump in the toilet. Fuck this.
Jonas naps a lot too. Arm space is in limited supply and though it's his legal right to have both since he's in the middle seat, I often receive it or we share the space. I look at the map to see how much longer I have to endure this discomfort that's also definitely threatening.
Takeoff to Kyiv
We take off soon after and make a sharp turn that gives me only slightly less the heebie-jeebies than the pilot on the flight to Tashkent did. One last vista of the Tashkent TV Tower. Nice.
But it's 0:45-0:50 by the time we hit the skies. If we're not getting food on this plane I swear that the draftees behind me will revolt.
Soon after takeoff, everyone receives two half-liter bottles of water. Better than RyanAir and a complete surprise. We now have 7 water bottles in our possession and no front pocket to stick them into.
After the water, there's also food. Beef lasagna. We asked for vegetarian but they have none. Not ideal, but I'm hungry and defo a hypocrite. The first few hot bites are amazing. Salty, carby, fatty. Then my conscience kicks in. I scrape off the meat and eat the pasta, cheese, and patches of bechamel sauce. Hmm. Jonas told me later that the guy next to him did the opposite (only eating the meat after scraping it off).
During the meal come more drinks including wine. I'm having my hopes up, but someone else orders a coke and has to pay by card aboard. Alas, no red wine to knock me out. I guess I'll stay awake and keep writing.
We're flying only over Uzbekistan for more than an hour. Just westward over the nothingness and oil. At 2:15 we make a turn to enter Kazakh airspace. I think we're headed for Aktau. I wonder if we're flying over Russia or staying away from there.
I'm a little nauseous from the nasty food, but it's time to try and take a nap. I hope I won't be absolutely shattered. It's still such a long way to go.
Finally, boarding the plane to Kyiv
At 0:05 I panicked. We're supposed to fly in 15 minutes. This can't be true. We must be keeping an eye on the wrong queue or some other fuck up on our end.
But no, it's not us. There's still no movement at all.
The clock strikes 0:15 and people get to hand over their boarding passes. Things still don't move fast, but they move. We join the walking queue and finally move through the gate only to arrive at a wide-assed airport bus that's completely filled to the rim with people. We have to await the next one with another devil child who gets fully encouraged by their caregiver to be noisy and loud. They are screaming together. What the fuck is wrong with you.
The bus comes and I find seats as far away from these idiots as possible. After another delay, we drive to the plane.
At the plane, the entire vibe of happy incompetence changed. What is this? Does this mean we won't crash because did some dumb, definitely human error?
The Ukrainian crew has a tight grip on not having too many people on the stairs at once. A happy flight attendant greets us and all the other flight attendants inside are conventionally attractive in a white way. They're professional and friendly and make sure people don't just sit down in business class as if it's Tashkent Metro.
We're in seat 31A and B, so I have a window seat. There's a guy sitting there and from afar I make eye contact and point out that I'm gonna sit there. He looks a bit intimidated and gets out. Jonas finds places for the handluggage, which is scarce despite our small backpacks.
Before takeoff, one bloke at the emergency exit was giving some trouble. The blond flight attendant threatened him with a fine of sorts and put him in his place, commanding respect from the back of the plane. Speaking of, the back of the plane was filled with pretty much only conscript-aged men. They of course kick chairs just as much as babies, but only because they're big and restless. And they can control their urge to scream.
The interior of the plane is pretty much exactly RyanAir. The blue fake leather seats are of a higher quality, but there's no flexi front pocket for us to stuff things. Space… Is a problem.
Sunday, 25th of July: Departure to Kyiv
Waiting for the flight to Kyiv, forever
Beyond security lay the small duty-free and gates area. There was no gate yet on the sign, so we found a seat with a charging point, bought new water with our last So'm. All prices were listed in Euros, curiously enough. Paying for the water felt somewhat illicit after that dude asked us if we carried foreign currency.
Jonas and I chatted a while. Phones charging, children screaming. I walked by once and saw it's a full-blown 5 year old or something like that. Parents have given up and they made the world a worse place.
I try to focus on my Duolingo lessons since travel days are usually when I accidentally lose my streak. A TV starts blaring ads and I need to put my green owl on max volume to drown it out.
I wonder, when people say Salam Alaikum in Uzbekistan, what definition of 'peace' are we applying? Inner peace or externalized peace? Because I'd like some generalized outer peace and quiet right about now. (And yes, I know noise canceling headphones exist.) I remember Dubai is a 'silent airport' and though it sounds heavenly on paper, it ain't all that; it just means they have fewer airport-wide broadcasts, which are definitely unnecessary.
Speaking of something definitely not unnecessary: no news on the flight. It's 23:40 and we should have heard something by now. Our flight is leaving in 40 minutes. Why isn't anyone informing the passengers?
A queue begins to form around gate B8 and we think it's serious. Jonas buys some more water with some last So'm and I unplug the charger. But it's nothing. Just people queueing for no reason as they do.
The extra water is because there's supposedly no drinks or food on this nearly 6-hour flight. Why it takes so long? Beats me. But my guess is that we have to dodge Russia and taking the long route around. But the bigger question is why isn't there food on the plane when it takes this long? Even on domestic flights in Cabo Verde they managed to squeeze a cookie into your hand on the way in or out of your 20-minute flight. And this flight to Ukraine wasn't cheap.
Besides the colors matching, is Ukraine International Airlines RyanAir in disguise?
The clock strikes midnight (continued up under the heading "26th of July")
Security
Before security, there was one man whose sole job was to ask "do you have cash money?" Definitely a trick question. We said no and continued in with just a few thin bills of Uzbekistani So'm.
At security you had to grab your own baskets, take it elsewhere, fill it up, and then come to the x-ray scanner. There were loads of people in full-body suit casually hanging out.
There was this first-time flyer in front of us with no handluggage (it was probably too big and had to be checked in). He did not grab a basket and put his cigarettes, belt, passport, documents, flip phone, and other light items on the moving thing. If I'd been behind him, I'd have grabbed a basket for him. I was amazed that the guy in full pandemic gear didn't give the fellah a basket for his stuff. Because of course, his stuff didn't enter the machines because of the flaps and had to be pushed in and out on both ends.
We also put our stuff through the machine and a lady gave me an intense handsy pat down for how sweaty I was. But she was dressed in full plastic so I doubt she even noticed.
The first timer's shit completely scattered, we picked up our stuff and he almost grabbed Jonas' leather belt from his hands implying we had stolen his belt and flip phone, which were 30 centimeters further down the table. Then he bothered an x-ray guy asking where his cigarettes were. It was painful to see he didn't get any help nor was willing to watch and copy paste how to security.
Uzbek immigration on day 30 of our visa
Next was immigration. We went to the booths for foreigners. Jonas went first and had his documents with him and I had mine. We had registration from every Airbnb/hotel we stayed at in Tashkent and Samarkand.
But the main concern was that it was day 30 of our visa with only a few hours left till we'd officially overstay. Perhaps we'd get shit for that.
But *stamp stamp* Jonas went through easy. Immigration man just asked me something which was presumably Uzbek, to which I responded "Sorry?" And then he asked in Russian it I speak Russian and I said chut-chut. Boarding pass and passport got stamped. No need to see our gathered registrations.
I love it when that's no trouble.
Entering Kyiv with only a vaccine and no PCR test??
Eventually, the check-in counters for our flight to Kyiv open up. They still don't tell us on the screens that this is for Kyiv, so we ask people in the queue. An old man asks us if this is the queue for Kyiv and we spread the same info.
It takes forever for our turn to come. Meanwhile, they put Kyiv in big letters on the screens. Too many complaints about it, perhaps.
We have a guy who clearly does this for the first time. There are two other guys helping him. Jonas hands over our proof of vaccination instead of a PCR test along with health insurance and passports. They chat a little about our nationalities and vaccine proof, but no need for a negative PCR test. We receive our boarding passes and a senior guy asks us "How do you feel with the vaccine?" and I gave a thumbs up and said it's all good but it has also been two months. I don't know where he's from, but I guess this is still rather novel.
At the airport
So, at this point, we've already had a rather heavy dose of : 3.6 MegaFucks on the scale of Jesus Fucking Christ. Not great, not terrible.
Since Yandex doesn't allow you to drop your destination on the departures hall, we had put it on the arrivals hall. If we had a taxi driver who did not have violence in his eyes, we might have asked him to drive us to departures instead. The Yandex app compensates for any extra distance.
At arrivals, we made our way to some office where a guy told us to go all the way to the right. Not completely unexpected, but the walk there required us to either walk 600 meters extra OR go through two open doors that duck under the road. Terrible pedestrian infrastructure. Hostile as fuck. On top of that, the open doors were apparently the trash room. Nope, the hot steaming garbage room. I found that out three steps in, too late to hold my breath. I deploy the face mask but I still take it all in. Jonas follows with better info.
On the other side, there are a thousand people loitering outside the airport. We go through the first layer of security. It's similar to how security at the train station works. The first security is a metal detector. You have to drop your luggage on a side table and the stuff in your pockets too so you don't beep. Meanwhile, a guy wands your luggage which always beeps but is never checked. Then you go through to the main building, where there is another metal detector but this time also a luggage scanner. The big luggage goes through, but phone and wallet stay on the little table.
Once inside, we found some seats and Jonas went to search for an exchange office. He didn't find it. I went armed with some Russian words and asked around till I found it. The bored ladies seemed spooked that there was suddenly business. I asked if they exchanged Kyrgyz Som, which was a resounding no. Only US Dollars, Euros, Russian Rubles, Japanese Yen, British Pounds, Swiss Francs, and Kazakh Tenge. We always knew this was a long shot. I guess the Kyrgyz Som Will be the new Indonesian Rupiah (Jonas carried some of the latter around for half a decade, asking in Argentina if they exchange this, not even at a shit rate).
A child is screaming bloody murder for 30 minutes straight. Why isn't the check-in counter open? Oh yeah, we didn't manage to do an online check-in for this flight. It always said "could not find your data" super sketch. We suddenly realize that with these few flights, that screaming hellspawn will 100% be on our plane. Probably behind me kicking my chair.
Taxi to the airport: fuckery!
What did disappoint one last time was Yandex. Well, not the app, but the drivers. After our dinner and croissant buying spree at Bon! we ordered a Yandex with a big trunk to our location. When we went downstairs to await it, we saw on the map that it was waiting a few blocks down the street. Just waiting.
The license plate had something with MB at the end and I was scanning the street for if it would still come. Jonas was about to cancel it when it raced by and pressed that he had picked us up. Scamming asshole. Just what we needed, filing a complaint with Yandex to get our money back and letting them know this wanker shouldn't be driving for them.
So we ordered another car, this time of any type, big or small, fancy or shit, we don't care. We ended up getting a big and fancy one from the most expensive category. It's UZS 28.000 (€2.28) instead of half that. We were getting quite warm and clammy standing in a heat like dying embers. The sun had set but there was still twilight on the horizon. But what the fuck.
The next car came and we stopped it on time. The guy looked a little perplexed and mumbled something in Russian I didn't get straight away. We dropped our backpacks in the trunk with his reluctant help. I sat down in the car and it was fancy. The driver said something to Jonas outside the car and he just got in the car.
Once inside the driver didn't want to drive. "Наличные," I gathered. We said "Nyet, app." Then he said "Карта" and we repeated "Yandex app, platit'". This went back and forth with more and more aggression from his side and Jonas was ready to get out of the car when he suddenly started driving. He kept blabbing about cash, but I said we don't have any because we're LEAVING Uzbekistan. Hence the airport as a destination.
How can you work for the fanciest class of Yandex and not know how it works? Did he need urgent cash because he gambled himself into debt? How is €2.28 gonna help that? We know Yandex only pays out once a week, but his possible money problems are just that: his problems.
Once again: what the fuck.
He went silent in the car for a bit, which I also don't see as a good thing per se. Occasionally he'd make angry noises that could have been classics like "chyort" and "suka". We arrived at the airport a few minutes later and I wasn't quite sure if he'd beat us up, keep our luggage hostage, or wish us a good trip.
Miraculously, he wished us a good trip.
To the restaurant
The day prior, we had found a suitable cafe to spend the time from 18:00 till 20:00. Uzbekistan still has this nationwide rule that fun businesses must close at 20:00, but on top of that, fun businesses are only allowed to seat patrons outdoors. And the only time of day when it's nice to be outside and away from the safety of air-conditioning is after 20:00.
The place we found has these terrace sprays that put a fine mist of water over the dining area. This makes it sort of nice and cool. So that's where we headed when we'd finished packing and received our last registration from the hotel (Grand Art Hotel).
It's also one of the few places that points out vegetarian dishes on the menu. The combo of an outdoor cooling system plus veggie food makes it our #1 choice (Café Bon!). It did not disappoint.
Morning + afternoon: killing time
Since our flight is in the late evening, we had to book our hotel room for a late checkout. After the hotel breakfast, we paid for the room and the extension till 18:00. We can't do an early check-in in Kyiv, so it would be really annoying to check out at 12:00 on a day that will see 43°C. I am so sick of this heat, y'all.
I still managed to finalize my blog post about how to get a SIM card in Uzbekistan (a little bit of drama) and some other project stuff. Then I started packing but only the low-hanging fruits. We ate some daal tadka we still had in the fridge with some bread to cover that weird time when you eat too early and your next meal is too late (some people call it lunch). We usually only eat lunch and dinner, but with hotel breakfast we shift our appetite window to such a degree that we need to eat three meals. The only alternative is to go to bed earlier but I'm not about that.
After doing some internet stuff, would you look at the time! We had to check out at 18:00 and it's already 16:45. Packing for a flight requires some extra thinking, because of pedantic rules like no lithium ion batteries etc. I managed to pack real fast but Jonas was faster.
Saturday, 24th of July: Slight Panic Over the PCR Test
The next day, Jonas checked the results of our PCR test with the QR code. It was still less than 24 hours since the test, but he thought he might check whether it was in. He was sent to a screen that said "Chek qalbaki ravishda yaratilgan", which translates to "The check is counterfeit".
What the fuck?
We ignored this result and continued doing other important stuff in Tashkent like visiting Kosmonavtlar metro station, trying and failing to exchange our Kyrgyz Som for Euros/Hryvnia/So'm, printing our health insurance policies and tickets to Kyiv, drinking a cold beverage on a terrace, and walking by the Malaysian restaurant to see if they're open for terrace dining. When we returned to the hotel, Jonas checked the QR code again. Still the same sketchy message. I checked with my phone and it was the same. Shit…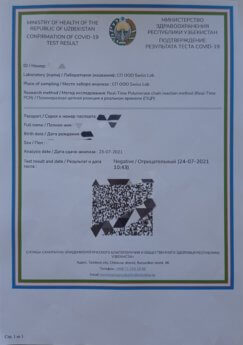 We panicked and decided to go to Swiss Lab to get the wet stamp version of our test. Jonas had this idea that if the same counterfeit QR code would be on our (presumably) negative test, we'd need to ask for a copy that blocks out the QR code so nobody at the airport thinks we faked our PCR tests.
When we picked up the tests, there was a different QR code that led to the most legit-looking government negative test web page we've ever seen. It was beautiful. We got a color-printed version of the negative test and all our worries were gone. We wanted to celebrate this by eating out in our favorite beer restaurant in Tashkent.
Friday, 23rd of July: PCR Test in Tashkent
For our fourth PCR test ever, we found reliable info in the Facebook group 'Tashkent Expat Community'. They all vouched for a laboratory called Swiss Lab. To be fair, anything that casually mentions Switzerland sounds like good quality. I can't help but associate the two. Their tagline also happens to be "precision, quality, uniqueness". Sold.
We traveled there the day after traveling from Samarkand to Tashkent. There were two women behind the desk, one in hijab the other not and we asked for a PCR test. We handed over our passports, phone numbers, and other info and paid the UZS 270.000 or €21.50 for the test. Now, you know that we're slowly becoming experts on PCR tests. This one was the second-cheapest PCR test, after the one in Kyrgyzstan. The tests in the UAE and Malaysia were both much more expensive.
The Muslim lady opened up an adjacent room to do the test. I went first because Jonas was still busy paying. She opened up her bunch of swabs and asked me to pull my mask down. Mouth first, then a new swab, followed by my nostrils. The mouth scraping was gentle to the point of ticklish, but the nose poking was a little more painful. It was pretty much as painful as the one in Kyrgyzstan, which leads me to this ranking:
UAE (least painful, didn't even feel it to be honest)
Uzbekistan + Kyrgyzstan (slight discomfort)
Malaysia (physical and mental trauma and scarring)
We received a receipt with a QR code to check our test results the following day.
Friday, 9th of July: Booking Kyiv
Why not return to Bishkek, Kyrgyzstan as intended?
Though the initial plan was to return to Kyrgyzstan, I felt like I didn't deserve it. I'm trying to move a project forward and Kyrgyzstan isn't a country where one should sit inside most of the day behind a laptop; it's better to head into the mountains, get close to horses, and learn from the Kyrgyz nomads how to survive a thunderstorm and such. If we'd return to Kyrgyzstan now, I'd be in the same situation as the first time: I'll be unhappy with the level of adventure I can pursue. So we decided to save our return to Kyrgyzstan for a moment when I'm in a better place.
Am I sad about this? Yes, devastated. Is it the right choice? Also yes.
Our method of covid travel planning
Then it was time to pick a new destination. Counting the day of arrival (26th of June), we would have to leave Uzbekistan after 30 days on the 25th of July or earlier. We prefer to stay as long in a country as possible, so a flight on Friday the 23rd, Saturday the 24th, or Sunday the 25th would be best.
Tashkent is better connected to the outside world than Bishkek, so a bunch of new options opened up. There are also flights from Samarkand to Almaty (Kazakhstan) and Istanbul (Turkey). The first choice was Kazakhstan, but we'd have to buy a proper visa and it would only be for 30 days. In those 30 days, I can't move my project forward, so it would be expensive for basically sitting still in Almaty. Spending August in Turkey also seemed like a bad idea because of the heat, which has been our main pet peeve in Uzbekistan. That's why we added climate data.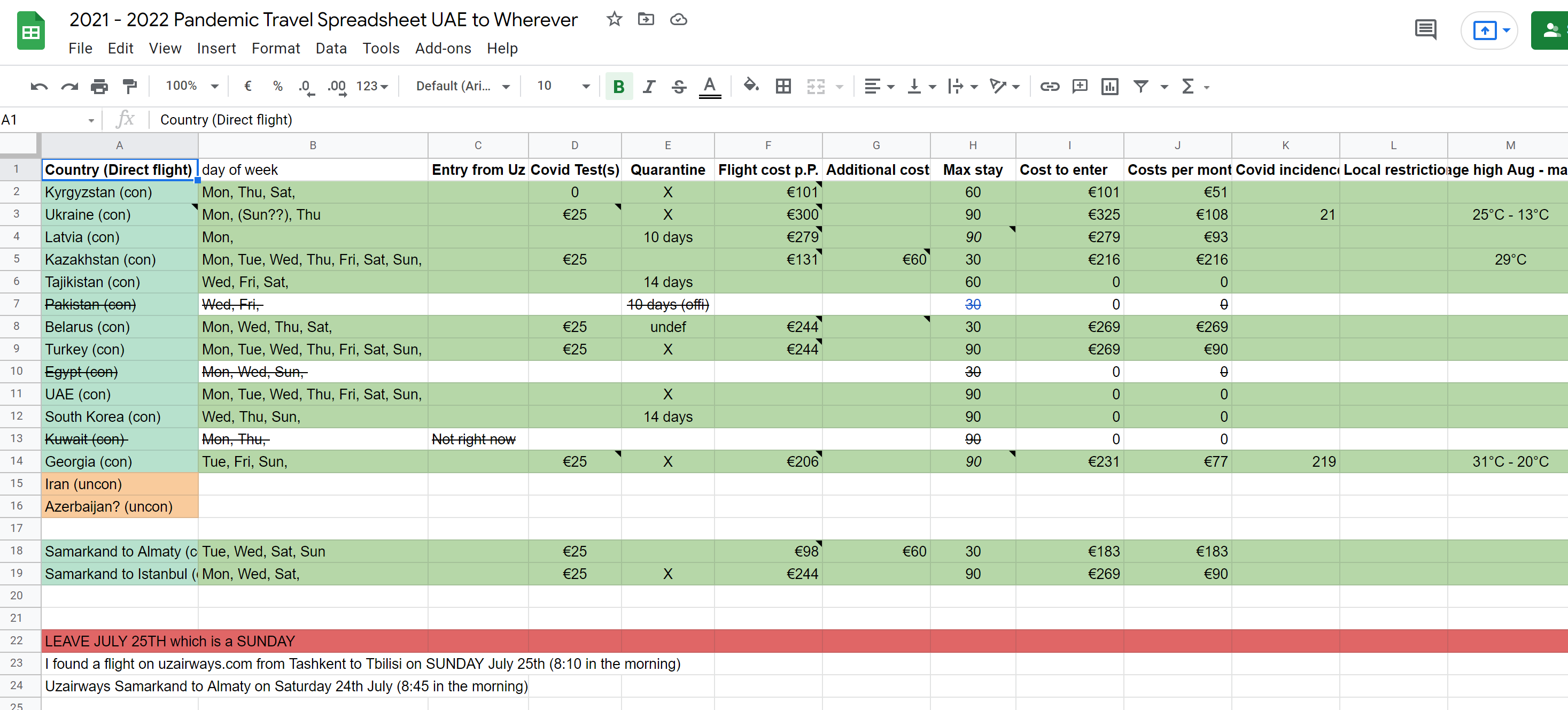 We added a whole bunch of direct flight options, including Latvia (EU; doesn't accept Sinopharm vaccine. Also been there 'recently' in 2018), Pakistan (hot), Kuwait (not unless you're Kuwaiti), Tajikistan (only 60 days of which 14 are quarantine), the UAE (just been there and it's too hot), South Korea (thousands and thousands of euros spent on hotel quarantine), Belarus (only a 30-day visa, also been to 'recently' in 2018).
The only two legitimate options were Tbilisi (Georgia) and Kyiv (Ukraine). There are both countries I've been to before and they allow us to stay a generous 90 to 360 days. Both countries also accept Sinopharm as a legitimate vaccine and technically you can enter without doing a PCR test if you're vaccinated. We're ready to use some of these vaccine privileges.
Jonas really wants to go to Georgia, but I've been there in 2014 last and Ukraine was one year earlier in 2013. I also experienced how hot Tbilisi can be in August, so I argued in favor of Kyiv, which is only pleasant in late spring, summer, and early autumn. I think Jonas didn't really know a lot about Ukraine except war, so I told him of my experiences and some advantages. We've been to Belarus before and it's a little similar to that. Jonas had a great time there.
Kyiv, we choose you
Till the bitter end, I was still kind of arguing in favor of the fantasy trip to Kazakhstan, putting it back on the table every time next to the very legitimate Ukraine and Georgia. Jonas eventually said he'd do Ukraine instead of Georgia as long as I drop the idea of Kazakhstan. So Kyiv was kind of a compromise.
We found a flight with Ukraine International Airlines that departs on the 26th of July, so one day too late. But then we found out it departs at 0:20, which means that we will still clear immigration on the 25th of July. This is definitely pushing our visa-free stay in Uzbekistan, but it should be legit. As long as the flight doesn't get delayed.
In the meantime, we left Tashkent, visited Samarkand for 12 days, then returned to Tashkent on Thursday the 22nd of July to spend our final days in Uzbekistan in the capital doing bureaucratic things like finding a PCR test. Because yes, even though we could enter Ukraine with just our vaccination proof, I don't trust that the person who gives us our boarding pass has gotten the memo. Jonas doesn't trust that Ukraine will accept our Kyrgyz vaccinations. We both have different reasons, but since the last two PCR tests were neither painful nor expensive, it's a good backup to have when traveling during this pandemic.
Ukrainian health insurances for COVID-19
You need health insurance based in Ukraine that covers COVID-19 treatment to enter the country. Jonas booked a small health insurance policy with the flight for €1 per person, but it's only valid for one week and he couldn't change the dates. Since our own non-Ukrainian travel health insurances already cover COVID-19 in Ukraine, it felt a little redundant.
A week or so after booking the flight, Jonas got a little panicky about the one-week validity of the €1 Ukrainian health insurance. What if they ask us how long we're staying? If we say one week, they might ask us for an onward ticket which we don't have nor plan on getting. If we say 90 days, they might ask us for our COVID-19 health insurance for the entire 90 days. But Jonas came across another Ukrainian health insurance policy with a validity of 6 months for only €6 per person. This is cheaper than renting an onward ticket, so we got this in addition to all our other health insurances. So we're triply-insured for our trip to Kyiv and elsewhere in Ukraine.