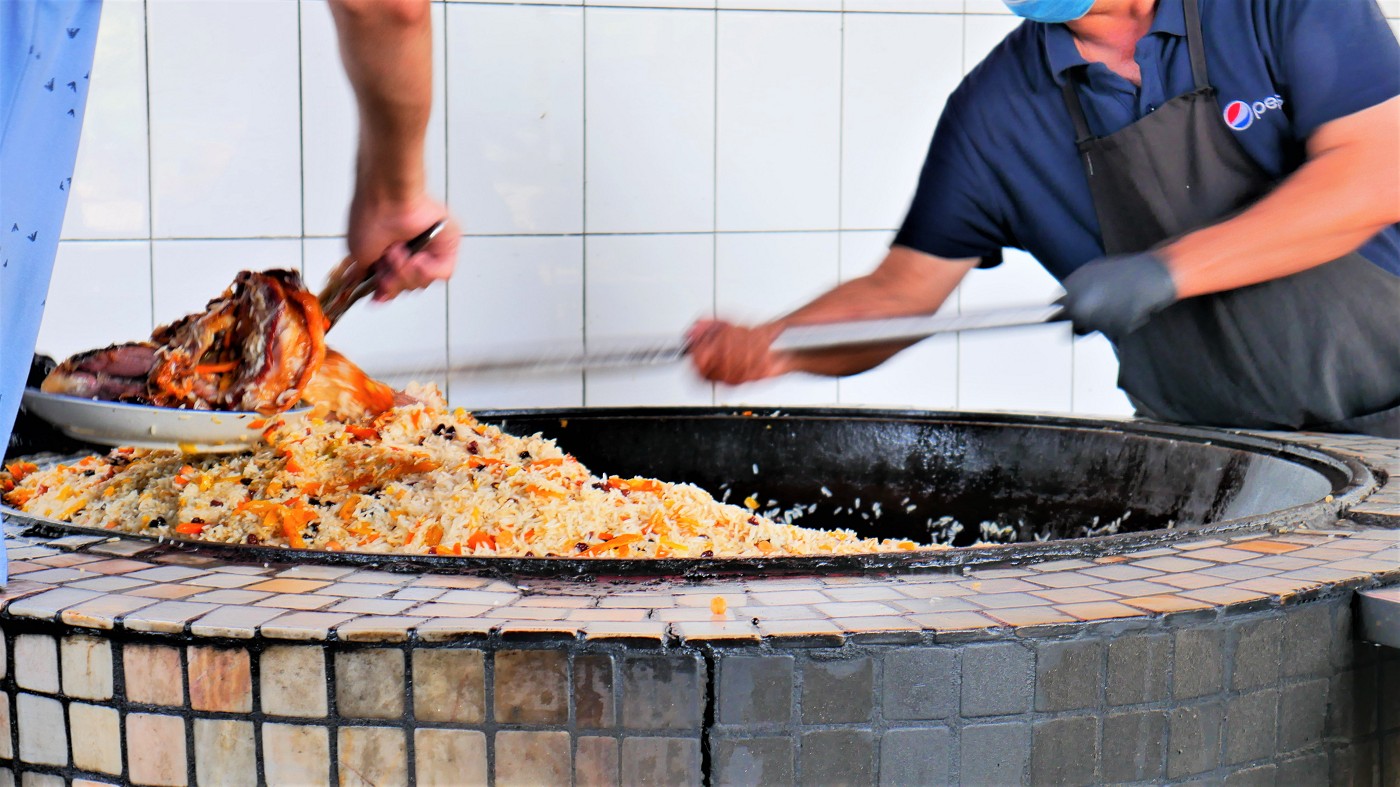 Jonas and I spent 30 days in Uzbekistan. Though since April 2020 I consider myself mostly a vegetarian, he's more flexible and sometimes eats meat and fish. But this is about my eating habits and struggles to be a vegetarian in Uzbekistan. If you're a vegetarian or vegan and have been to Uzbekistan, I'd love to hear your experiences and tips if you found something that worked for you. You can comment at the bottom of this article. Other vegetarians and vegans can then read your replies.
Trigger Warning: there will be pictures of food with meat in this article
The First Days
On the first few days in a new country that isn't known for its status as a vegetarian/vegan safe haven, I'm flexible. Arriving in a new country is always a little stressful. And though I usually look up some restaurants in our area before arrival to make the transition smooth, that doesn't always work. To keep the harmony between Jonas and me, I'm willing to go to town on a chicken kebab or chicken shashlik first thing in a new city. I'm still capable of doing that a year after going vegetarian. And so I did that in Tashkent in a basement kebabery.
This was fine and I even enjoyed it with the cilantro seeds seasoning. It all felt fine until I kind of had that moment of awareness hitting me right about the time my jaws tire from chewing. I felt full enough, so I gave Jonas my ¾ eaten kebab. He finished it. We didn't waste the bird. Something similar happened upon arrival in Kyrgyzstan.
But I always want to move back into vegetarianhood as soon as possible. And that's where I kind of kept failing as a vegetarian in Uzbekistan. Over and over.
Plov: So Good, Yet So Dank
In Kyrgyzstan, I'd managed to order plov without the meat on top. I even managed to communicate I wanted to switch out the meat with some egg and it came back as requested. And everyone understood my reasons for changing their dish. So it was in Kyrgyzstan, not Uzbekistan, where my plov-eating experiences peaked.
Upon suggestion by a friend and Google, we went to the Plov Center nearby the Tashkent Television Tower. The sheer scale of the cooking is something awe-inspiring. And it legitimately smells good.
Inside the restaurant, we asked if they had a menu. The menu is plov. So we ordered two, eh, plov. Since I 1) felt that asking for vegetarian plov would result in us being asked to leave, 2) really dislike sheep, and 3) find chicken the most neutral meat out there, I tried asking for "с курицей". She said yes, and then she asked another thing about eggs that I didn't understand. Great, eggs too. And our standard 'fresh salad' if there's no Greek salad. And lepyoshka – Uzbek bread – and kompot with our food. Yes please.
Our plates of proper Uzbek plov arrived. The meat was finely chopped inside the oily rice. I ate until my immediate hunger dissipated and then noticed a distinctly dank animalic smell off the meat that I also smell on sheep cheese. After that, I couldn't eat it anymore. I tried to fish out the little pieces of meat and shoved them aside, though the smell was kind of everywhere. The only chicken-derived part on the plate was the chicken egg next to a smaller quail egg. Ah, so she thought I asked for a chicken egg instead of chicken meat. I ate the salad and focused on chomping down on the raw onion to cover the smell of sheep flesh and then washing that down with the kompot and some bread.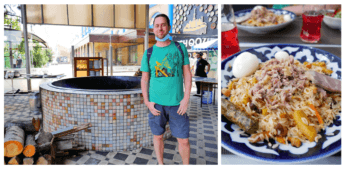 I wasn't mad. This is just the regular travel miscommunication 101. The restaurant was a well-oiled machine that just does one thing well and that's what draws in the crowds.
FREE BUSINESS IDEA: It's just that I can totally imagine the success of the first business in Tashkent that makes a batch of vegan and vegetarian plov each day and advertises the shit out of it. Like, all it needs is to be added to Google Maps and any vegetarian in Uzbekistan will come swarming.
Accidental Vegetarian Food: Living in Appetizer Land
Then there were some restaurants that put things on the menu that are only vegetarian by accident. Think four-cheese pasta or pizza, pesto pasta, pasta aglio e olio. At some point, those dishes entered the menus here and they taste so good that people forget that they don't have meat or fish in them.
This applied to a place in our neighborhood called VkusnOff. They had one vegetarian pizza and a Greek salad. They also had a club sandwich with duck. I asked the server to leave the duck off, but she just said they can't do that. Hmm, okay? I gave Jonas the duck, which was apparently excellently spiced with cilantro seeds (a pattern). Jonas picking off the meat is also fine with me.
The same goes for places that have an appetizer menu that happens to be full of vegetarian things, with the implication that you have to order something that's a 'real meal' after that. Think hummus and falafel. We went to a nearby place called Stories City Cafe a bunch of times to eat their appetizers: fried khinkali, falafel, and different blends of hummus. When we order these three things and say "Это всё" at the end, there's often this moment of confusion. But that's okay.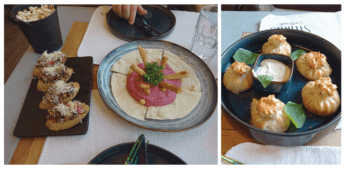 And lastly, accidental vegetarian food applies to many breakfast cultures, Turkish breakfast being my most loved example. One day, we went to a Turkish restaurant in our neighborhood to eat such a breakfast, but it was "too late" for breakfast. This is some class-A nonsense, of course; just crack some eggs in a pan with some tomatoes and peppers and you have menemen. All the available meat dishes also came with peppers and tomatoes, and eggs don't just disappear from a kitchen's fridge the minute the clock strikes noon. I left hungry and even the Turkish supermarket below wasn't the glorious place they usually are.
Breakfast is an arbitrary meal anyway, and I'm a big proponent of all-day breakfast.
Homecooking: Chorsu Bazaar + Supermarkets + Street Vendors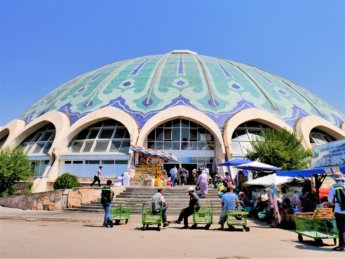 Since we're staying mostly in Airbnbs, we always make sure we have the option to cook something for ourselves. Any traveling vegan or vegetarian in Uzbekistan at a loss of what to do should contemplate taking back control by cooking at home.
One day, we went to the central market of Tashkent: Chorsu Bazaar. Even if you're not cooking, the building itself and the vibe is something worth experiencing.
Though it is time-intensive, you can get the best veggies, fruits, nuts, herbs, cheese, honey, and eggs at Chorsu Bazaar. We just ignore the large sections of ripped-up animals and their intestines sorted by type. I don't even come to the fish section because I can't stand the smell. We returned home with delicious tomatoes for salads and a plastic cup full of cloudy honey from Uzbekistan (most honey in Uzbek shops is imported from Kyrgyzstan).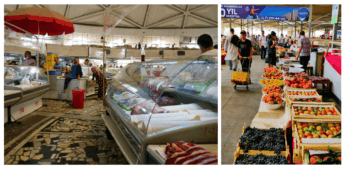 There are guys walking around with bread (Uzbek: non) carts constantly. It's very easy to just buy a single lepyoshka off of them. Though for the vegans I must mention that not all Uzbek (or any Central Asian country's) bread is vegan; some recipes call for milk or cream (source: Russian wiki).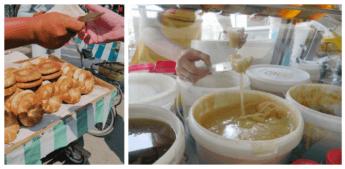 Supermarkets are also a must. We rely on them for the same products as mentioned before. Most supermarkets had okay veggies. It's just that some more 'lux' products such as ready-made hummus weren't available, but they did sell chickpeas and nut pastes. So we made cashew-paste hummus at home with the food processor. We also learned to never buy 'pomace olive oil' because it lacks the olive oil flavor completely. And in the style of Uzbek food, we bought some sesame and cilantro seeds to roast and add to everything.
Regular supermarkets in Uzbekistan don't sell beer or any other alcohol. Here's a guide on where to find (Uzbek) (craft) beer – and by extension local/import wines – in Uzbekistan.
We almost never bought bread from the supermarket, because around our metro station Buyuk Ipak Yo'li, there were many street vendors. They mostly sold bread that was somehow always warm, but we also got an absurd amount of small grapes one time. Whatever is in season will be sold at rock-bottom prices in absolutely unreasonable quantities.
Chinese + Indian Food Saves the Day
After staying in Malaysia for 11 months, we know a thing or two about Chinese and Indian food.
We first went to a Chinese restaurant called Kharbin. I prepped both a Russian translation and a Chinese one to ask for vegetarian dishes. I scanned the menu for this character: 素—my favorite. But it wasn't mentioned in any of the dishes. We both leafed through the menu to the noodle section and ordered some fried noodles with egg, some noodle soup, tofu in a spicy sauce, and plain rice with the addendum – in Russian – that we don't want meat, fish, or seafood in the meals. It was a gamble, but the food arrived and it was delicious and wholesome. We ended up taking much of it home because that was obviously too much to order. This restaurant also serves draught beer, so it's absolutely a good one.
Our absolute favorite restaurant in Tashkent is the Indian place called The Host. They have clearly marked vegetarian meals and vegan meals on their own pages in the menu. It's in Cyrillic and Latin and the staff speaks English. It is honestly such a breath of fresh air to just be around a cuisine and a culture that understands why a person would or wouldn't eat an ingredient. To top it off: they have lovely tables next to a canal where the water cools down the surrounding air. It's also next to a place that sells live beer (Beerkovich). We even ordered food from the host once to our home, which was delicious but not a smooth process over Telegram.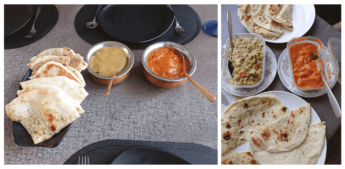 I guess the only downside for other vegetarians and vegans is that most dishes are spicy—though I think that's a feature, not a bug. We returned to the Host multiple times.
(By the way, a place called Shalimar Pakistani Restaurant also does excellent Indian vegetarian dishes. But the place is a bit chaotic towards the 20:00 pandemic closing time, so I recommend going there for lunch or outside of regular eating times like 15:00 or something)
Happy Encounters: Sote, A Vegan Dish?
In Samarkand, I looked at reviews for restaurants that would have vegetarian food when I came across this gem for Bibikhanum Teahouse: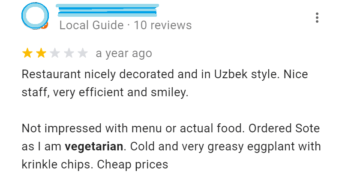 Though this review isn't very gracious, it mentions something called sote. What is that? Is it native to Uzbekistan? I Googled for "sote" with extra terms like "Uzbek food" or "Uzbek vegetarian dish" and all I got was just this mystery review by this Englishwoman who doesn't like greasy food.
We visited the teahouse and ordered the sote from an Uzbek menu written in Latin script, not Cyrillic. The server corrected in our pronunciation: saté or… you know… satay. But sote has nothing to do with satay. The food arrived and it was just chopped roasted veggies with olive oil and spices and it was delicious. We ate it with a lepyoshka and a Greek salad on the side.
We returned to Bibikhanum Teahouse many times to eat exactly this. I saw at another table that someone ordered half a lepyoshka and since we often had too much bread left at the end, I decided to try to ask for the same. When ordering, I said "lepyoshka" and made a gesture like chopping the palm of my hand in half. "Пол?" the server asked. I remembered from my wine vocabulary that in Russian "semi-dry" wine is "полусухое". That sounded right, so I confirmed I wanted the lepyoshka "pol". And what do you know, it worked and we got a reasonable amount of bread for two people.
Many weeks later, I was speaking to my born-in-Ukraine vegan friend Nina from Roaming Pencil. I had encountered sote in the delicatessen section of a supermarket and I wanted to know if she knew what this was and if it's indeed vegetarian or vegan. It turns out her mom has made it all her life and that it's always been vegan. So I guess it's a former Soviet country thing?
Anyway, here's a vegan sote recipe. The teaser says "Vegetables steamed. Familiar from childhood." which is just…
Defying Lockdown: Speakeasies
So this doesn't have anything to do with eating vegetarian in Uzbekistan, but it helps contextualize our troubles a bit more.
In the summer of 2021 during our visit, Uzbekistan had this strange rule that businesses such as restaurants and cafés must be without customers by 20:00. That time in the evening is also when sunset happens. Summer in Uzbekistan is no joke, so it's legitimately nicer to be outside and eat around or after sunset. This was difficult enough for us to manage and several businesses closed the lights on us or were pushing us to depart early even though there were still 45 minutes on the clock Very unchill, but okay, we can sit inside before sunset under the air conditioning.
Then towards the end of our 30 days, they added another rule: customers can only sit outside. This poses two problems: 1) not all business have a terrace and 2) it's unbearable on any terrace before 20:00.
Stupid rules will result in predictable workarounds, so there were many businesses – even before the second rule got added – that secretly kept open. There was this one shisha and kebab place in Samarkand that let us eat, drink beer, and smoke shisha inside after 20:00.
In Tashkent, one of our favorite restaurants looked closed from the outside with black plastic bags covering its windows. We chose it because it had a terrace last time, but all outdoor furniture was gone. When we were ready to turn around and leave, I said we should at least try the door. It opened and a server inside told us to come in quickly and shut the door. We had one of the best food and beer nights in Tashkent that evening as only cool people were there. It had become a real speakeasy.
And if you're thinking that coronavirus cases must have been really bad in Uzbekistan in June/July 2021: they weren't bad at all.
The Last Vegetarian Successes
In Samarkand, we found a restaurant with the unassuming name 'Old City Restaurant'. The owner is a really friendly man who speaks good English. The menu has this rare feature that it somewhat mentions which foods are without meat or fish. But the real feature is that this place makes vegetarian versions of local foods, including plov, somsa, and something I forgot the name of but it was carby and good. We wanted to go back here, but then it was Eid Al Adha and closed on the two days we tried going here again. If I were to revisit Samarkand, I'd book an apartment nearby this restaurant because it was so good.
On the same day that we visited Kosmonavtlar metro station, we also ended up going to a French café and restaurant called Cafe Bon! They have three locations across Tashkent. What's special about this place is that they do something we hadn't seen a lot in Uzbekistan: mark their vegetarian dishes with a 🥬 symbol. It's so simple but makes such a big difference in how I experience a place. Someone thought about us who want to eat vegetarian in Uzbekistan.
They have delicious vegetarian breakfasts, omelets, wraps, soups, pancakes, croissants, salads. Too bad we only encountered this place a day before departure, because we would have traveled off to one of their businesses to eat nice vegetarian foods from anywhere in town had we known about it earlier.
So the day of departure, we also went here for dinner and brought some extra croissants for our late flight from Tashkent to Kyiv, Ukraine.
The Last Vegetarian Failure
Our 30 days were coming to an end and we decided to travel to Ukraine. Though not famous-famous for its vegetarian or vegan food scene, I knew it would be a lot more doable over there.
The six-hour flight with Ukraine International Airlines to Kyiv originally sounded like it would be without food—which honestly sounds illegal for a flight that long. But then the food cart came and they only had one meal: beef lasagna. Just to make sure, I asked if they really didn't have anything vegetarian, but they didn't. I was hungry and it was a warm meal, so I decided to wolf most of it down until I just noticed it's… gross. I scraped the meat pieces off and ate the pasta layers and the béchamel sauce.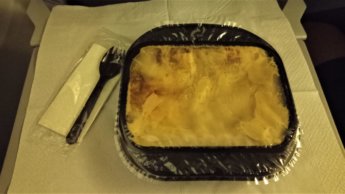 But there, somewhere above western Uzbekistan on our way to fly over the Caspian Sea, was my last non-vegetarian meal. For now. Until the next difficult country, I'm sure. Ukraine will be a breeze.
Conclusion: Can I Be a Vegetarian in Uzbekistan?
It's possible to be a vegan or vegetarian in Uzbekistan, but it's hard work and it's very tiring. There are moments in miscommunication when something arrived and it had meat or fish. I had Jonas the flexible omnivore with me for those moments, but if you travel solo or your travel partner(s) are also strict vegans or vegetarians, you don't have the option to shove the plate to your partner while keeping a smile on your face. Know that you're responsible for your diet and that supermarkets, street vendors, and bazaars are your best friends.
Remember that you're a guest in the country and that you can't change their meat-loving habits (nor should you want to do that). If you're in an Uzbek restaurant and not an international one, you'll basically just ask the people to make the usual, but keep the most expensive ingredient for themselves. Often, people are more than happy to keep it or switch it out with a fried egg.
List of Vegetarian Dishes + Russian Phrases That Worked in Uzbekistan
Dishes:
Свежий салат – svezhiy salat – 'fresh salad' (vegan): tomatoes, raw onions, sometimes cucumber, usually a herb like dill, lemon juice, and some salt and pepper
Греческий салат – grecheskiy salat – 'Greek salad' (vegetarian): tomatoes, cucumbers, feta-like cheese, herbs, oil, olives, yum
Лепёшка – lepyoshka – 'flatbread': the most common bread you'll find in Uzbekistan
Пицца (четыре сыра/с овощами/с сыром и грибами/Маргарита) – peetsa (chetirye sira/s ovoshchami/s sirom i gribami/margarita) – common vegetarian pizza types (four cheese/vegetables/cheese and mushrooms/margarita)
Клубный/клаб сендвич – klubniy/klab sendvich – a club sandwich
Сотэ – sahteh – a steamed veggies dish that's usually vegan. Might also be pronounced sohteh
Tip: we didn't visit any Georgian restaurants in Uzbekistan, but they're usually also not bad places to get some mushroom khinkali and cheesy khachapuri with a salad and a glass of wine
Phrases:
Я вегетарианец/вегетарианка/веган – ya vegetarianyets/vegetarianka/vaygan – I am a vegetarian♂️/vegetarian♀️/vegan
Это вегетарианское? – eto vegetarianskoye? – Is this (meal) vegetarian?
Это веганское? – eto vayganskoye? – Is this (meal) vegan?
Вы можете сделать это без мяса/рыбы? – viy mozhetye sdyelat to byez myasa/riybiy? – Can you make this without meat/fish?
Я не могу есть мясо/рыбу – ya nye mogu yest myasa/riybu – I can't eat meat/fish
Disclaimer: I don't promise 100% success with these phrases as a vegetarian in Uzbekistan. Sometimes you will talk to someone who has no clue what it is you want.
Good info? Consider buying me a kompot!
Bitcoin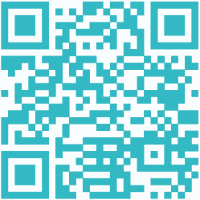 bc1q9a6w08a4gkx4gdvnh7w2vlkfzx4tlwfpfe6jm6
Open in wallet
Wish to share or save for later? I'd love that