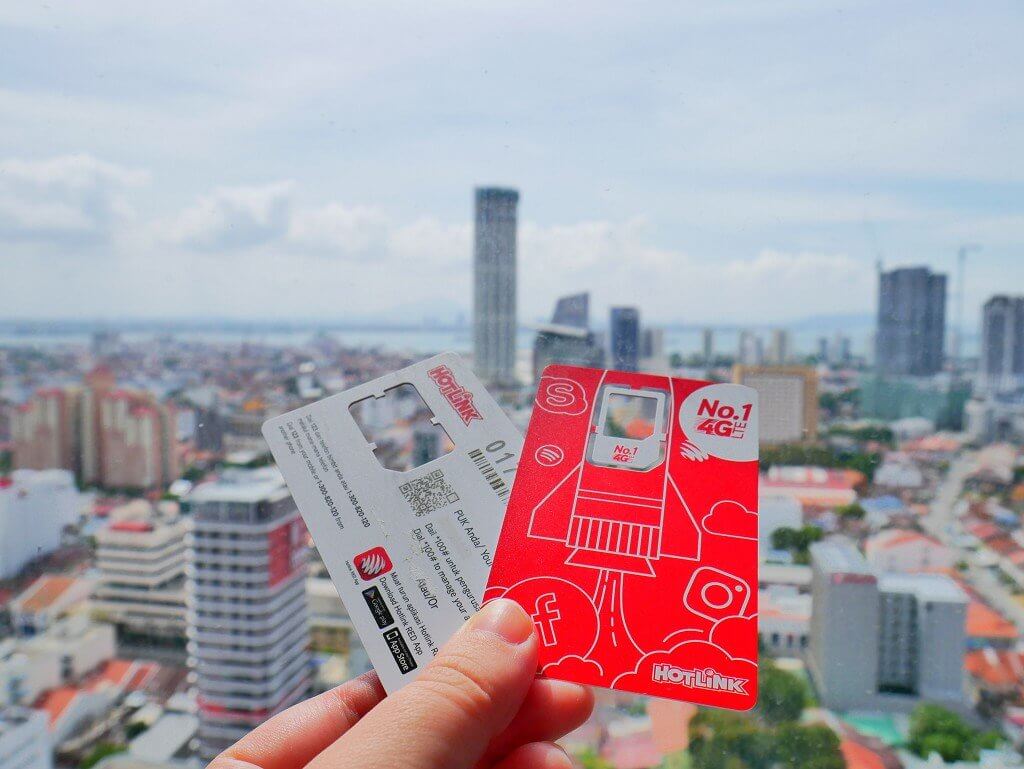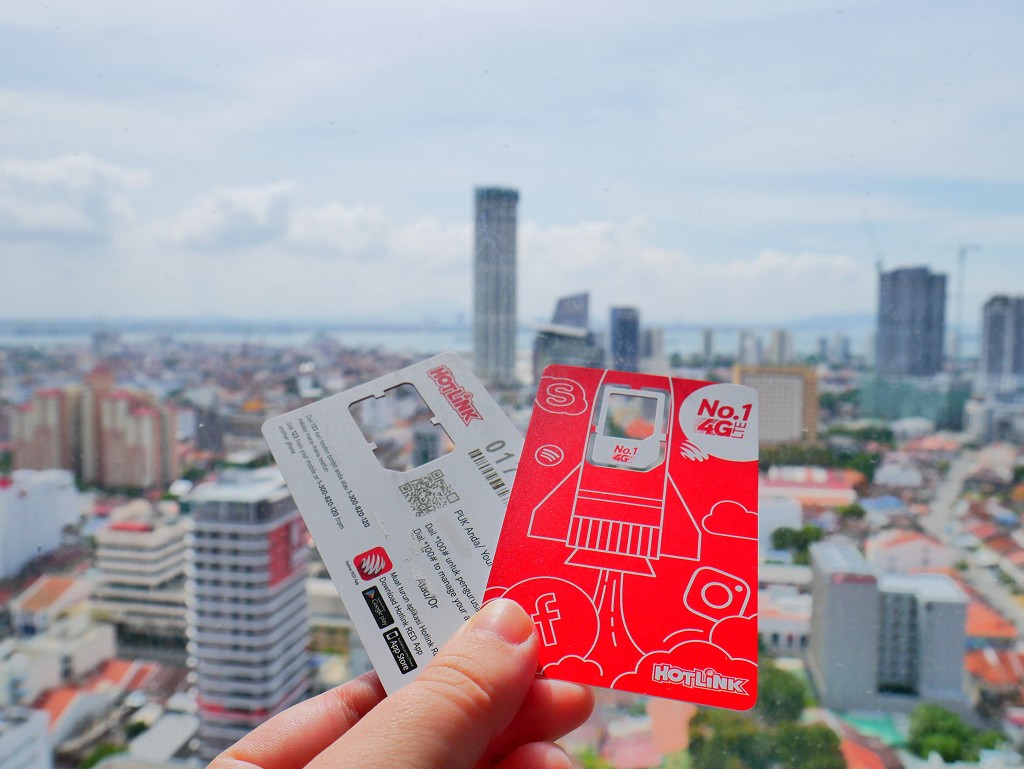 This article is a comprehensive guide to getting the best prepaid SIM card in Malaysia. "RM" is short for Malaysian Ringgit—their currency. Click "In Short" in the table of contents to skip over the text and get a step-by-step guide. For starters, the Malaysian country code is +60
Telecom in Malaysia
Malaysia is a country that has two parts: a mainland Asian part called 'Peninsular Malaysia' and an island part on Borneo referred to as 'East Malaysia'. Peninsular Malaysia is where its capital city Kuala Lumpur (KL) is located. Though East Malaysia is larger in size, more than 80% of the country's population lives in Peninsular Malaysia. As a result, mobile coverage is a lot more extensive in Peninsular Malaysia. Most short-term travelers will also only visit Peninsular Malaysia.
There are four main providers in the country: Celcom, DiGi Telecommunications, Maxis Communications, U Mobile. There's also the 4G/LTE only Unifi Mobile.
Why should I Get a Malaysian SIM Card?
If you're only staying in Kuala Lumpur or another major city for a couple of days, it's probably not worth the hassle to get a Malaysian SIM card. If you're staying longer than two weeks, it's probably a worthy investment.
Everyone who has the intention to travel around Malaysia and go on hikes will benefit from getting their own SIM card. Many businesses in the country offer free WiFi, but it's best not to rely on this. Besides, it's nice to stay connected any time you travel between places.
Which Provider Should I Choose?
You can go by price or coverage for your prepaid data SIM. Jonas and I always choose coverage, which is a bit tricky in Malaysia; the differences in nation-wide coverage are slim between the competing providers.
Doing some research, DiGi and Maxis had the best coverage at 92% of Malaysia's total population. We knew it would be one of those two.
Our original (pre-COVID-19) plan was to stay in Malaysia for 42 days and stay in four or five cities before moving on to Singapore and much later also Indonesia. Since we'd only stay in Singapore for one week, we also took into account which provider had a good roaming deal for Singapore. Depending on your travel plans, that is something you might want to take out of the equation.
Hotlink RED had the best roaming deal for a short-term stay in Singapore, so Hotlink RED became our prepaid SIM card winner.
Should I Get the Tourist SIM Card?
Never.
Before You Travel to Malaysia…
Download the app of your chosen provider. This will help you hit the ground running in getting connected. Most people in Malaysia speak English, or enough English to get you what you want.
Click here to go to the Hotlink RED in Google Play and here for Hotlink RED in the Apple Store.
If you choose not to go for Hotlink RED, you can check the app/play store for the Malaysian app for your chosen provider. Every provider seems to have an app.
Story Time! How We Got Our Hotlink SIM Cards
Upon arriving in Kota Bharu, the first thing we did was walking around the city and finding a shop. Hotlink has a very noticeable logo in bright red, but most of the shops we encountered were closed that Thursday. We asked in a convenience store if they sold SIM cards, after which they pointed us in the direction to the nearest operating shop.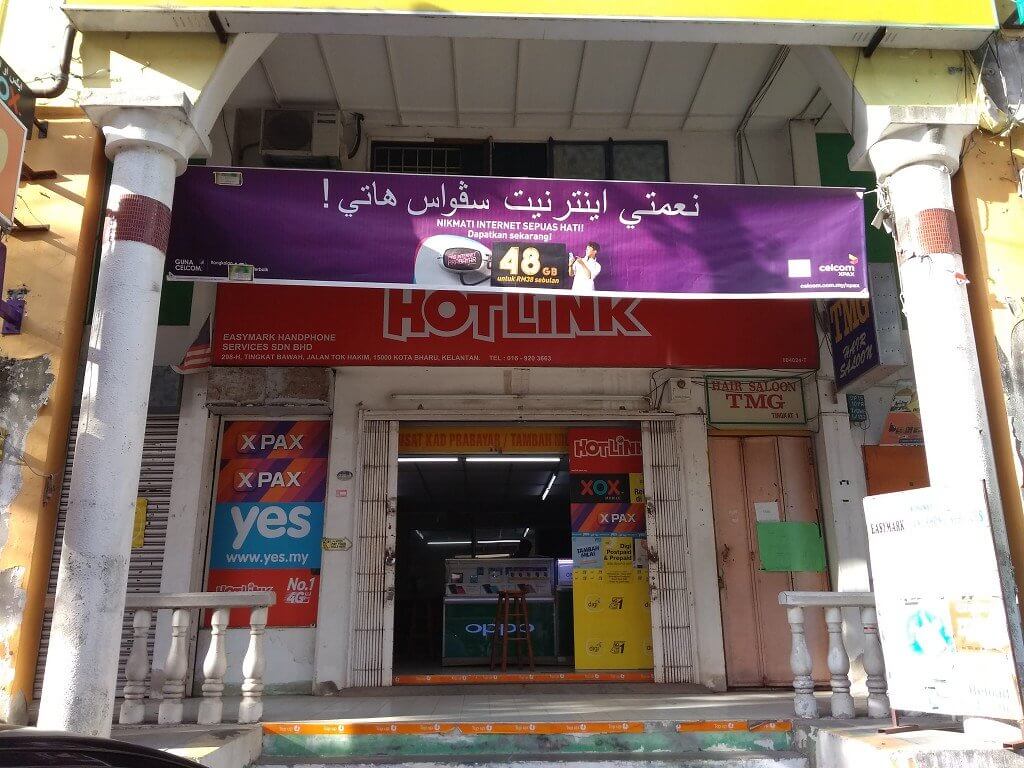 We found it and walked in. A bored guy behind a disorganized counter awoke from the midday slump. It was also a repair shop, judging by the great amount of disassembled smartphone parts and tiny screws everywhere in the room.
In the showcase, we spotted a variety of SIM cards, including our precious Hotlink ones. He was very eager to help us and talked a lot about the SIM cards, even though we'd already made our choice before going shopping. We asked for two of the Hotlink ones, after which he asked for our passports. Only Jonas carried his passport with him, which wasn't a problem for getting two Malaysian SIM cards. He added Jonas' passport number into some government app to activate the SIM cards.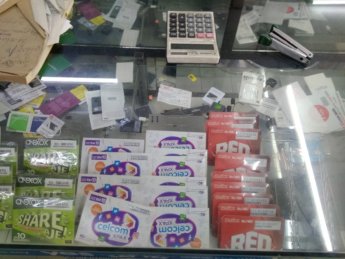 He wanted to set up the SIM cards as a service, which wasn't really necessary. We're comfortable doing that ourselves. He was looking for a SIM card ejector needle in his mess, so I made mine available. I handed over my caseless phone with one empty slot in my dual-SIM phone. The other slot was occupied by my Thai SIM and I'd taken out my Myanma SIM card. Then he did something strange and swapped the Thai SIM for the Malaysian SIM and put in the Myanma SIM in the remaining slot. It was so confusing.
Then he jammed my SIM cards into the phone upside down. I tried to stop him verbally, but he kept squeezing it in the wrong way around. What's the word for the anguish you feel when you see someone blunder big time? Fremdschämen, perhaps?
I was about to grab my phone when he noticed the error and flipped it around. He then laughed about it awkwardly and began setting up the phone. Jonas had just bought a Thai roaming package, so after he saw what the guy did to my phone, he insisted that he didn't need to put the SIM card in right now.
We asked to put RM35 on my card and RM10 on Jonas' SIM card so we could buy data packages. He wanted to prove that he'd put the RM10 on the SIM card, so he grabbed a crappy old phone to put the SIM card in and texted the USSD code to get the balance. For my phone, the man wanted to download the Hotlink RED app so I could see where the money went. I told him I didn't have that, so he also used the USSD code to get the money on there and then to book the 6GB internet package we wanted for RM35.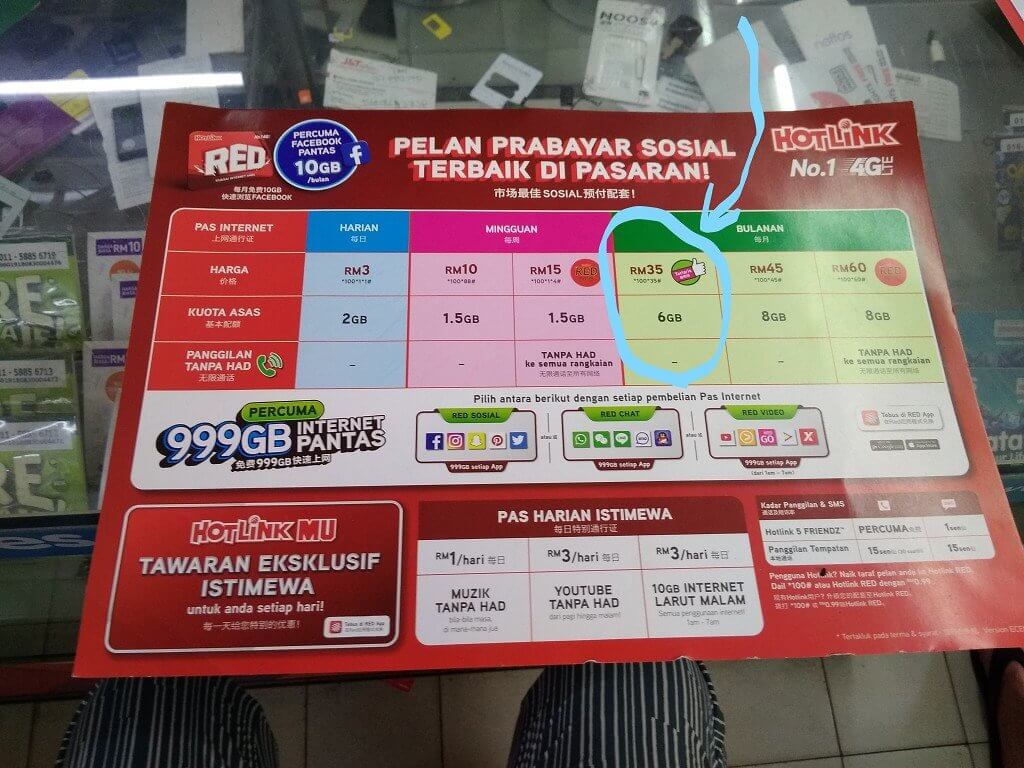 Our guy here really wanted to make sure that we wouldn't feel cheated, so he was eager to set it all up and show proof that the money is there. Why wouldn't we trust him to put the money on the SIM? We'd been in Malaysia for three hours and apparently already uncovered a (very unsustainable) potential scam or grievance for the locals. Perhaps I'd double-check with a street vendor, but absolutely not with a guy who owns a shop like this.
Now that everything was set up and working, we paid our bill and headed home with fresh Hotlink SIM cards. I made sure I got my SIM card ejector needle back, so it wouldn't end up in his pile of ejector needles. Jonas said "Terima kasih" and I said "Thank you" to the man and then we left.
Back at the hotel, I downloaded the Hotlink app and finished setting up. I already noticed that the (Android) Hotlink RED app isn't as nice as the Dtac app from Thailand and the MPT app from Myanmar, as it somehow blocks switching between apps and doesn't want to be closed. Hotlink RED wants to be ⍨✧❁✹The Only✹❁✧⍨ app on your phone.
A few days later, my phone glitched and kicked out both SIM cards. Though this only happened once since the 'let's make it fit' incident, I'm pretty sure this was because of that treatment. Poor phone.
Using the Hotlink RED App and Topping Up
Installation
Download the Hotlink RED app in Google Play or the Apple Store. One of the first things that happen when you open the app is asking whether you want it to speak English or Malay to you. The other is that you need to add your phone number to the app. It's important to hold on to the plastic card that says your phone number until your app is installed and operational, as it has some back-up options like a QR-code to get you verified.
Once you're in, you'll see why this app isn't exactly a happy place to be; the whole design screams at you and wants your money. If it's any consolation, all Southeast Asian provider apps are like this.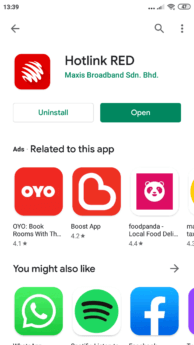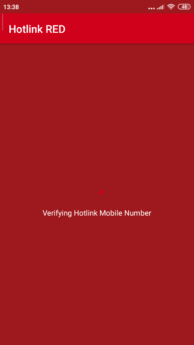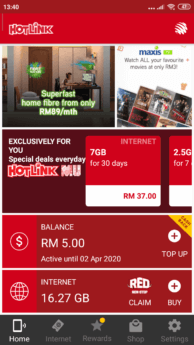 Getting Packages
You can find the internet packages under the 'Internet' and then the 'Passes' menu in the Hotlink RED app. Data – defined by price per gigabyte – is cheap in Malaysia, but Hotlink has a relatively high minimum commitment.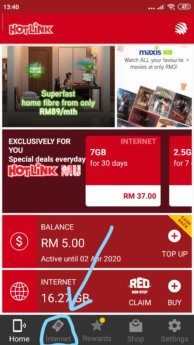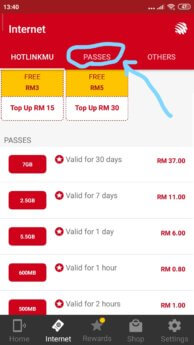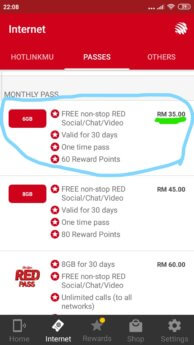 Checking Your Balance
It's right there when you open the app.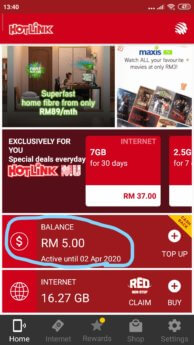 Topping Up Your Balance
You can do this with a credit card. Next to the balance, you can top up. You could also buy a top-up card at a convenience store, but we have no experience with this. The online banking top-up option only works if you have a Malaysian bank account.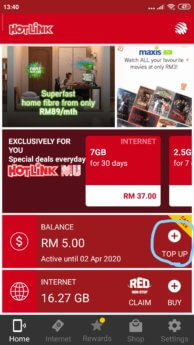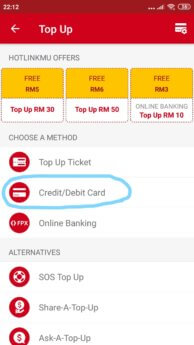 The minimum amount you have to buy to top-up is RM10. Generally speaking, Hotlink doesn't charge any fee to top-up your balance, but your credit card might.
Getting Rid of the (Near-Daily) Spammy Texts
Since we got to Malaysia, most texts are about COVID-19. They're exclusively in Malay. The most important text that you'll receive – the one that says your balance will expire, three days before it does – is also in English.
What does the Rewards Button Do?
It's not relevant. Ignore it.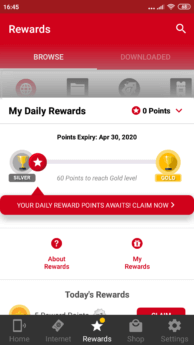 When Your Balance Expires
You can see the date when your balance expires right under the amount of balance left on the app's homepage. Every top-up over RM X extends the validity of your balance by X days, which is really short! In other words, you have to spend RM1 per day on average.
Keeping Your Malaysian SIM Card Alive
Fifty days after your balance expired, your SIM card will be shut down. We have a theory that you can keep your Malaysian SIM card alive by topping up remotely with RM10. We think that would extend your SIM card with another 60 days (10 days for the RM10 plus another fresh 50.
In Short:
Download the Hotlink RED app in Google Play or the Apple Store. You can already put it on the English language before you obtain your Malaysian SIM card.
Travel to Malaysia and find the nearest Hotlink store that's NOT in an airport.
Do not fall for the tourist SIM.
Make sure to bring your passport to the shop. It's vital.
The Hotlink RED SIM card costs RM10. Buy it but perhaps put the SIM in your phone yourself to avoid manhandling.
Upload enough balance onto the SIM card to buy a package from the comfort of your app later.
A 6GB package for one month costs RM35. You can find this package under the menu 'Internet' in the Hotlink RED app. Even though that's a huge package, that's the smallest monthly package they have. There are also bigger packages available if you're going to watch Netflix on your mobile internet.
You can also top up your balance from the Hotlink RED app. You can use an international credit card (VISA or Mastercard), which means you don't have to be in Malaysia to keep the SIM alive.
The number of days your balance is valid equals the amount of RM that's on there. I added RM35 worth of balance on the 27th of February 2020. At the end of the 2nd of April 2020, the balance (would have) expired. You'll get a threatening-sounding text: "Your Hotlink will be inactive in three days. Top up to stay active." We topped up.
We haven't tested this as of now, but it seems that your Malaysian prepaid SIM card will stay activated for 50 days after your balance expired. Our theory is that if you add another RM10 to your balance – or ten days worth of balance – on the 50th day, your SIM card will stay alive for another 60 days. I'm not 100% sure about that, but it might be relevant if you're traveling around Southeast Asia for a long time like us and will very likely veer back towards Malaysia another time.
Did This Help You? Gift me a Lemonade
Bitcoin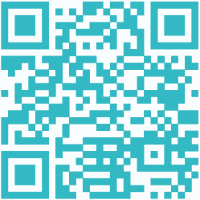 bc1q9a6w08a4gkx4gdvnh7w2vlkfzx4tlwfpfe6jm6
Open in wallet