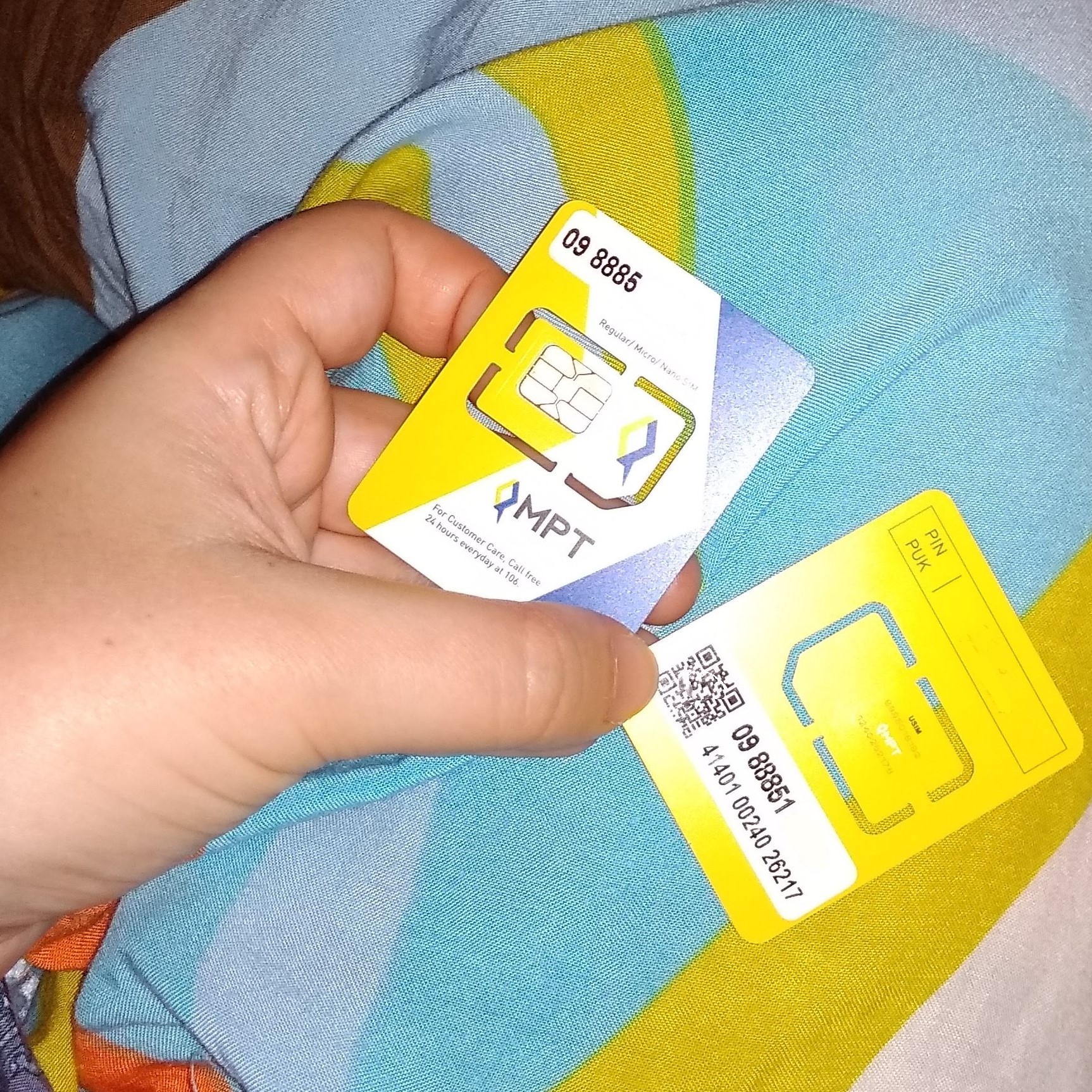 Telecom and internet are developing very rapidly in Myanmar. Everything we read before we visited the country in January 2020 was already outdated. By the time I hit publish on this article, some information might already be a little off. So here's the most recent info we acquired. Please leave a comment at the bottom of this article if you have additional or new information about the SIM-card situation in Myanmar. The country code for Myanmar is +95
A Brief History of Myanma Telecommunications
Until the mid 10's, there was only one telecom provider in Myanmar: Myanmar Post and Telecommunications (MPT). Since there was a government monopoly, the prices were exorbitant. Regular citizens couldn't afford to get a SIM card and pay for minutes and data. Of course, the government also regulated who could have access to telecommunications, unintentionally creating a vast black market. In short: only the Myanma elite and foreign diplomats had access.
In 2013, the government began to liberalize the market and allow competition. Since then, the price of SIM cards, data, and calling has plummeted. Besides MPT, there is also Ooredoo, Telenor, MyTel, and a few more.
I spoke to someone who visited Myanmar around 2010. They said that there was no mobile reception anywhere in the country. To access the internet, they relied on sketchy internet cafés in the bigger cities. That has changed completely now and the landscape is completely filled with cell towers. Especially along the Mandalay – Naypyitaw – Yangon route, you'll have perfect reception whichever provider you chose.
Why Should I Get a SIM Card in Myanmar?
If you're staying only for a short time in Myanmar, you might get away with not getting a SIM card. In the major cities, hotels, cafés, and restaurants usually have WiFi available. But if you're traveling around the country, it's probably worth getting your own SIM card.
Perhaps you're coming to Myanmar from Thailand just like us and have the Thai Dtac as a provider. You could get a roaming package from them and this is an idea we briefly entertained. Their prices are quite favorable but not as good as getting your own Myanma provider. Rember: roaming is usually very expensive.
Whether you're an Instagram savant, a digital nomad, or just like to be online, it's probably worth it for you to get your own SIM. You'll likely be somewhat dependent on Google Translate to communicate with the locals. Google Translate doesn't have a Myanmar (Burmese) language package to download onto your phone—yet. So whenever you need to use Google Translate, you'll also need mobile internet.
Which Provider Should I Choose?
As a traveler, you'll have different mobile needs than locals. You can prioritize coverage or price.
Jonas and I knew we'd be hitchhiking in Myanmar, so we prioritized coverage. Since MPT has been around the longest, its coverage of Myanmar is the best. Their prices are of course a bit higher than the highly-competitive foreign competitors, but the price difference is still negligible. Please be aware that the coverage of the other providers might make giant leaps in the near future.
After reading the brief history of MPT and telecom in Myanmar, you might have a problem with investing money in a provider that was so bougie. If you want to not buy the government SIM card on principle but still want to leave the big cities, choose Telenor; they have the second-best coverage.
Should I Get the Tourist SIM?
No. It's overpriced.
Before You Travel to Myanmar
If you've chosen MPT as your provider, it's a good idea to install the MPT 4 U app on your phone before you travel to Myanmar. This way, you can make a quick stop at any shop with an MPT umbrella outside and get a SIM card before you travel on. You'll need this app to make the SIM card work and you won't depend on your hotel's WiFi to get back online.
Here's the link to the Android app. Here it is for Apple iOS people.
If you choose not to go for MPT, you can check the app/play store for the Myanma app for your chosen provider. Every provider seems to have one.
How to Get a SIM Card?
We got our MPT SIM card on the ground in Mandalay after we checked into our hotel. Before we flew from Chiang Mai (Thailand) to Mandalay, we both downloaded the map of Myanmar in OSMand (Android) and MapsMe (iOS). Jonas had found a Google Streetview image of a shop selling SIM cards a few blocks from our hotel.
In the darkness, we walked there together. At the shop, we simply asked for "MPT" and "SIM card" from the two ladies who ran the place. They pointed us to a plastic sheet with all the SIM cards just hanging in there. But they wanted to know whether we wanted a SIM card or a "Monica."
Uhm, excuse me, a what?
Jonas figured it out quicker, but a "Monica" is simply a "Money card" aka a top-up card. We emphasized "SIM card" and "New card" to let them know we were fresh arrivals to their country. They gave us packages which we double-checked that they had SIM cards in them that fit both our phones (micro and nano). We paid 2000 MMK for each SIM card and left for food. Only later we installed the SIM cards, trusting that we got the right thing.
We didn't need to show a passport or let strangers take photos of us to get the SIM. Apparently you officially have to register the SIM to your name in the app, but our SIMs already had some fake data in there, so we decided not to touch it and didn't have any issues.
Using the MPT App and Topping Up
Installation
Slide your new SIM into your phone and see what changes. Check the MPT app to see if everything is working. In our experience, everything worked immediately. In our case, it seemed like there was already 1.000 MMK on the SIM card, which means the whole SIM card effectively only cost us 1.000 MMK which must be a new record for cheap SIM cards.
Add your own phone number to your contact list and if you have any travel buddy, add them too. Mobile phone numbers are 11 digits long. Snap a photo of the PIN and PUK codes on the back of the SIM card frame and keep it or toss it.
Changing the Language to English
We never needed to change the language, but in the hamburger menu you can find "My Profile". It's a great section to check out just for giggles. At the bottom, it says that your language is Burmese. In English.
Getting Packages
Go to the Package Purchase window and select the amount of data you need for the amount of MMK you have. We usually get 1GB of data or 2GB in one go.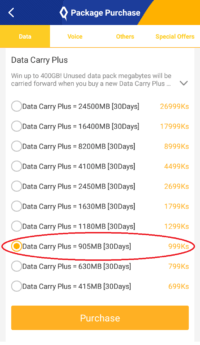 Checking Your Balance
The home screen of the app conveniently shows you how much balance and data you have left.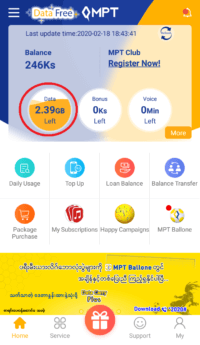 Topping Up Your Balance
Yes, topping up is still done in Myanmar with physical cards. On it, you'll find a grey zone where you'll have to scratch until it reveals a code. We usually got the 3.000 MMK top-up cards, though you can also get a smaller one for 1.000 MMK.
In your MPT app, you'll find a top-up button where you can enter that code. Make sure to double-check whether your balance got topped-up before you trash the card.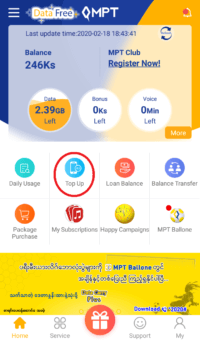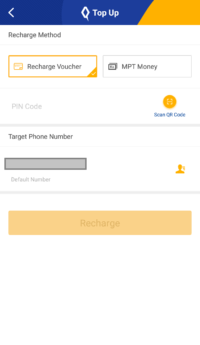 Getting Rid of the (Near-Daily) Spammy Texts
Unfortunately, we didn't crack this code. The longer it went on, the easier it became to ignore.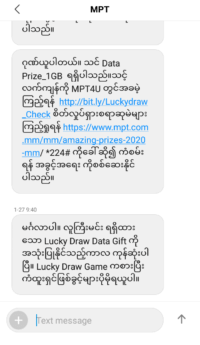 Participating in the Lucky Draw to "Win" Extra Data
If you press the gift button in the bottom middle of the screen, the app will take you to the lucky draw. Here you have a chance to "win" extra data packages. Over the 28 days Jonas and I were in Myanmar, Jonas harvested 3GB from this stuff. Playing is free but it's a questionable feature.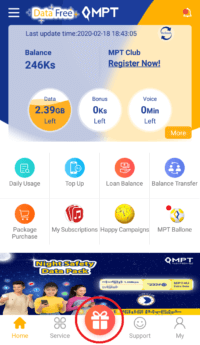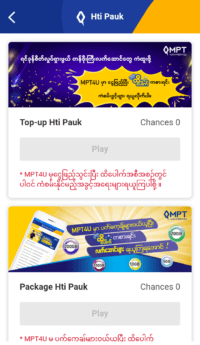 Useful Vocabulary
With these words, we made ourselves understood:
"SIM card" or "New card" = yields a new SIM card, hopefully.
"Manicah" = money card = top-up card.
The shopowners usually type in the price in a calculator to show you.
"CHAY-zu-baa" = thank you.
Rating of Myanmar's Telecom Situation
During our 28-day stay in Myanmar, we were very happy with MPT. We virtually had coverage everywhere in the country. Even on stretches in the southern Tanintharyi region, every village usually had a cell tower.
In the government-approved foreigner hotels, we always had WiFi except for in Bokpyin. Internet speeds were usually fast, but sometimes there was a little mishap which would usually solve itself. As we are digital nomads, we worked from those hotel rooms. We think Myanmar is not a bad country for digital nomads to travel to.
If you'd like to hear a critical view of Myanmar's telecom situation, especially with regards to the free Facebook use with MPT, watch Last Week Tonight's video about it by comedian John Oliver.