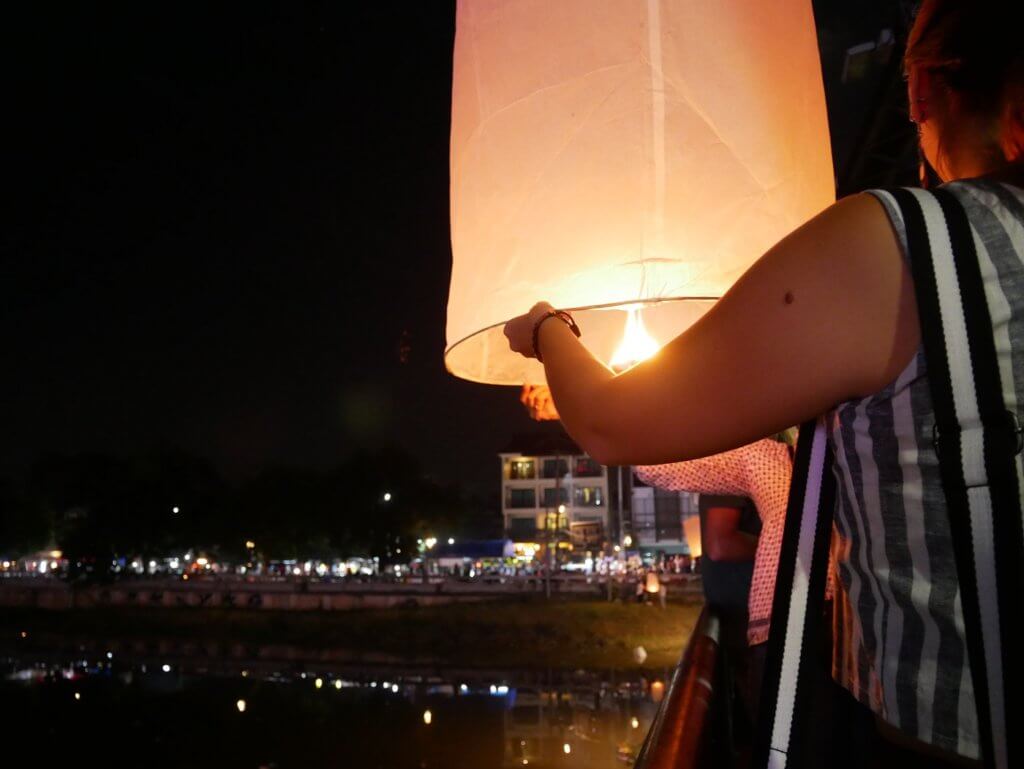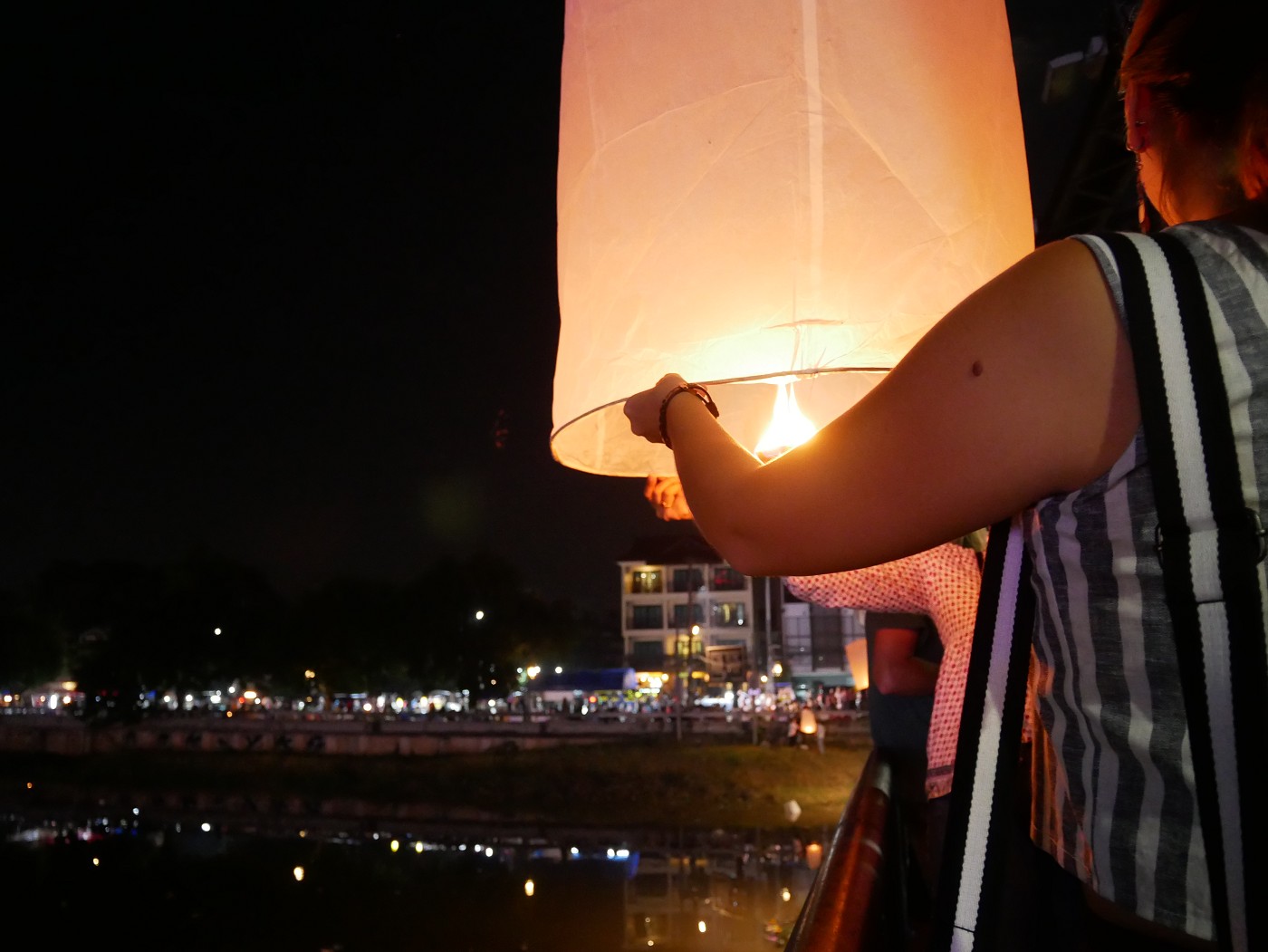 I entered  Chiang Mai, Thailand by plane from China on the 5th of November, 2019. Jonas and I received a 30-day entry stamp initially, which we needed to extend. I wrote this piece partially during my stay in Chiang Mai and partially afterward. Months later I'm still puzzled by this city and its appeal to other foreigners. An unsolved mystery.
Expectations Set
People praised the shit out of Chiang Mai.
For those who don't know: Chiang Mai is Thailand's second-biggest city. In recent years, it's become the biggest hotspot for digital nomads; everyone we met in the scene had been there. Chiang Mai, along with Bali, were places which stories would root an image in your mind. A place that promises affordability, community, comfort, and a decent dose of foreignness to gaze at. Oh, and "Buddhism equals vegetarian food" was something I'd heard. At least one of these things would appeal to everyone, making them flock to this city in the cool hills of northern Thailand.
Jonas was really looking forward to finally going to the city that's the source of all the digital nomad lore. He enthused over meeting his digital nomad friends, attending meetups with like-minded folk, and having stimulating conversations with people. He wanted to drive a scooter between work-friendly cafés, distinct neighborhoods, coworking and event spaces. And then there's food. He looked forward to Thai food, especially street food.
Though he hadn't been there yet, Jonas told me some things that appealed to me about Chiang Mai: it was 'mountain Thailand' and the city wasn't as big or busy as Bangkok. I was looking forward to writing a Digital Nomads Guides for Chiang Mai. A woman we'd met in Neu-Ulm during our kayak trip warned me that Chiang Mai was full of bromads and pick up artists—which is disappointing, but not surprising.
Yes, we'd heard about the burning season before. That's why we planned to be in Chiang Mai for two months during the dry season and the non-burning season (November-January). This was also the height of the digital nomad season, which we hoped would overlap with lots of Jonas' friends.
So we were aware of the few red flags in Chiang Mai before departure. But overall the stories were incredibly promising and positive. Under the circumstances of being so hyped, I unfortunately already had preconceptions and expectations before even touching Thai ground.
Arriving in Thailand
Our arrival in Thailand started out very smoothly; we got our 30-day stamp on arrival, used the ATM, then left the airport by pre-arranged taxi. Our Airbnb lady checked us into the apartment, which was right in the flight path of the planes taking off from the airport we'd just been to. After a few days, we decided to extend our stay for the whole 60 days we had yet to secure.
Our apartment is rather fancy since we have a proper water filter, our own washing machine, a kitchen, fast WiFi, a TV, and lots of space for a studio. It was very hot, but there was an AC to remedy that. The floor above the parking lot featured a large swimming pool and there are a few restaurants located inside the condominium on the ground floor. We like it here!
Though I must say that our condominium seems to attract lots of older retirees from the Anglophone world. Our first elevator rides, we always shared them with some old man starting a conversation with us that was rather one-sided:
"I'm so fat! Haha! Don't you think I'm fat?!" said one dude when we had to fit four people (including that guy) and both of our backpacks in the tiny elevator. I was all crickets.
When Jonas held the elevator for a guy with a cane "You're such a gentleman. Did you know he's a gentleman? He's a keeper!"
A third elevator ride was with a guy who just said "I'm so old!" repeatedly. How does one respond to that?
Every now and then, one such man would enter the elevator with a young Thai woman.
Jonas picked up a scooter from a rental place with two (ill-fitting) helmets on day two. We pledged our stay here to use the swimming pool as much as possible. On the third day, we took a grab taxi to a clinic to get up-to-date on our vaccinations. We'd already eaten tons of spicy foods by that time and our stomachs handled the food well wherever it came from. We showed up to some local digital nomad events and joined many interesting Facebook groups, including one kayaking group that paddles on the Ping river.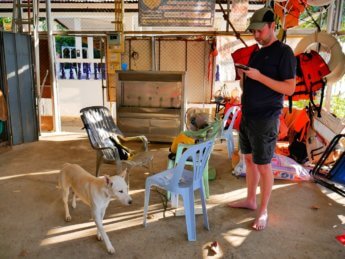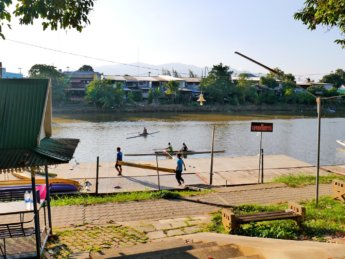 Ecoviolence: the Yi Peng/Loi Krathong Festival
The Yi Peng/Loi Krathong festival happened in the early days since our arrival in Chiang Mai. Encouraged by FOMO, we scootered here at nighttime. That's something legitimately terrifying, but I had hope that as Jonas would drive more often, things would get better.
The festival itself was simultaneously very beautiful, environmentally reckless, overrun by tourists, and deeply frightening.
One of the first nights of the festival, we witnessed hundreds of women performing a slow and precise candle dance at the Three Kings Monument. That was beautiful and very soothing. But it was also incredibly busy there and the median demographics definitely qualified as white-gazey and male-gazey.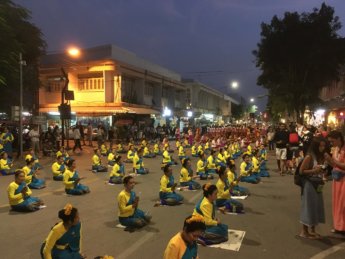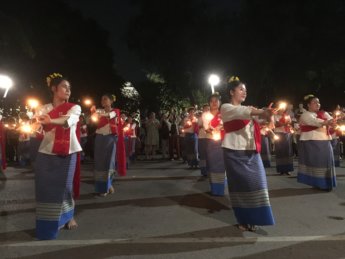 The second night we attended was also the main event of the festival. The swarms of sky lanterns and the floating of little banana-leaf boats with candles and incense. While this initially sounds very nice, traditional, and mesmerizing, it's not really a great picture; the forest fires started by these lanterns are very real. Also, the non-biodegradable nature of both the lanterns and the floaty boats causes perma-trash from here to the Gulf of Thailand and the world's oceans. Even though municipalities have taken action against the styrofoam floats, we're also talking about the plastic-headed sewing pins that hold them together and the metal wire from the lanterns.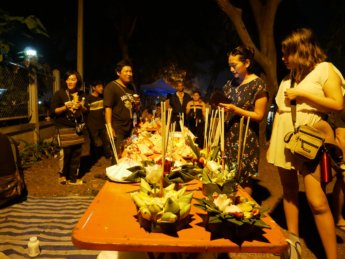 I've seen burning lanterns land on someone's head, fireworks shot back and forth across the Ping river, foolish people letting lanterns fly up underneath a fucking tree or fucking powerlines, and the occasional ambulance to collect the victims. About half of all the people participating in this festival were tourists. I thought about whether I'd be willing to put a firey lantern in the sky or a meticulously-decorated float in the river to join the flotilla. The answer was no; I do not want to contribute to the trash this river will have to deal with for the coming year.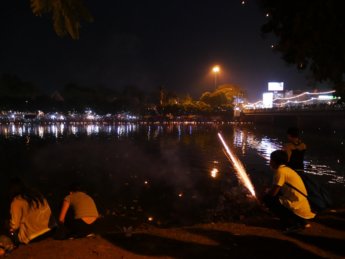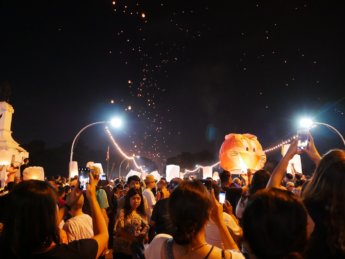 But yes, it was also very beautiful and somehow there were no drunk people nowhere. As I said before, I'm very uncomfortable in big crowds. But somehow, the fact that I hadn't seen a single drunk farang or local made me feel safe enough to witness the festival up-close. That leads me to the side note that the Thai Baht is currently very strong and alcoholic drinks like beer are very expensive. So far, I haven't noticed anything at all about Thailand being "…so cheap!"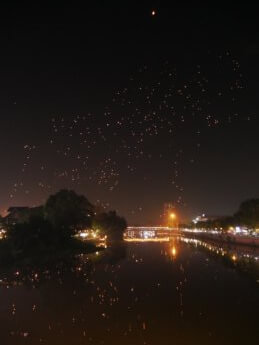 Ill in Chiang Mai: Welcome to Foodpanda
All that smoothness went downhill rather quickly in the days following the festival. All the expats talk about in the Facebook groups is how bad the air quality is in Chiang Mai. I don't know whether I caught something on the plane or whether the air quality got me good, but the day after the festival I was seriously ill.
I had a hot-then-cold fever and a sore throat. It was a Thursday, and I wanted to join the coworking morning and the afternoon kayaking event so badly. That wasn't going to happen in my condition, so I stayed in bed the entire day. As I wasn't going downstairs to eat lunch, Jonas looked up how to order food to our apartment. He thought of using Grab Food but eventually gave the elusive Foodpanda a try. I only had one craving… for something that's in neither food nor beverage: bubble tea. It soothed my throat and it tasted good while my ability to taste had been reduced to a minimum. The drinks arrived 20 minutes later and Jonas picked them up downstairs.
It was so good I cried.
The cold and the ice soothed my sore throat and the irresponsible amount of sugar was the first non-water sustenance I absorbed that day. But most importantly: we'd unlocked the power of delivery. There was no going back now.
That night, we ordered two yellow curries from a neighborhood restaurant. Jonas went downstairs again with the elevator to pick it up. On his return, he shared the elevator with an older man again.
"What in God's name is that?" he said, nodding in the direction of the food.
"It's curry," Jonas replied.
"So your wife is Thai?"
"No, we just like Thai food."
"Then you're braver than me."
A Slow Recovery with Delivery Food
I spent four more days in bed, inside the apartment, or inside the condominium. We had a steady stream of bubble tea, curries, and pizza arrive at our condo. On Sunday the 17th of November, I felt not contagious and slightly more powerful. So we picked up our daily swims again. Jonas picked up some throat lozenges to get rid of my nasty cough. That cough had yet to disappear completely for a few weeks.
Then it was Jonas' turn to be ill. His illness only lasted a day, but the feebleness remained a bit longer.
Meanwhile, we used the opportunity that an address brings to order some things online. After hunting for one in Shanghai, I finally got a digital drawing board and I replaced my defective camera lens. Our packages got dropped off at our building's reception whenever we couldn't receive them in person.
Our indoorsiness allowed us to plan what we'd do after Chiang Mai as well as experience the 4.2 magnitude earthquake on the 21st of November. We knew we needed to extend our visa before the end of November. With another 30 days, we could plan our departure from the city. We settled on going to Thailand's westerly neighbor and decided we'd travel Myanmar from north to south, starting in Mandalay. The flight from Chiang Mai to Mandalay wasn't cheap, but it was direct. We booked it exactly for the 60th day of our Thai visa. Once I found a suitable cardboard box, I began making hitchhiking signs in Myanma script. Plotting that trip made my heart beat faster, similar to what planning our continuation of the Danube kayak trip does.
I was secretly already looking forward to leaving.
Traffic Troubles
We worked a lot and ordered various dishes from Foodpanda, even when we weren't ill. We soon noticed that most of the restaurants in walking distance served very similar food and that we could only have the diversity we craved by ordering online.  I started keeping a sort of food diary and we soon had our favorite places and orders. To be honest, none of the food places, cafés, and coworking spaces really stood out because they were all great. That's one of the reasons we decided not to write a Digital Nomads Guide for Chiang Mai.
Jonas didn't really want to drive us to a restaurant to eat since traffic was quite dangerous. There was only one restaurant (ImmAim) within our neighborhood that we regularly drove to. The drive there was short and didn't require us to cross any major streets.
The same applied to the yoga place I chose. It was only 600 meters away from Nakornping Condominium, but there were no sidewalks. Jonas would drive me there and pick me up again once I called after class. This way, we still used our scooter almost five days a week, but definitely not as much as Jonas had anticipated.
Actually, Chiang Mai's traffic was really getting to us. I mostly lamented the shitty sidewalk situation since I prefer to walk. Jonas had really hoped to live the scooter dreamlife he had in Bali, Indonesia while here. Whenever he spoke about Bali, his praising stories mostly featured scooters. I never understood it, but it's some kind of freedom he experienced there. He really hoped to replicate that in Chiang Mai. But he was terrified in some scooter situations. It wasn't just that he was more confident (or reckless) on the scooter back in Bali, but that there was also just something wrong with this city's traffic. All the motorists in Toyota Hiluxes also drove more aggressively, according to him.
Yoga and Swimming
We directly made it a point to use the swimming pool every single day. Our rhythm was to work in the morning, swim in the early afternoon, then get our first meal of the day. Jonas was working on a client project about intermittent fasting and it appeared that's also what we were doing.
The old Anglos would usually complain about the cold temperature of the pool and then gossip at the table. We sometimes got caught in conversation with them and it was always about their most recent motorcycle accident or how Chiang Mai has changed for the worse over the 19 years they've lived here on a tourist visa. It was indeed unfortunate that the building cast a shadow over the pool most of the day, but we were just glad to have a pool. It was always great to discuss what we'd worked on while doing some laps in a pool that requires you to swim to be comfortable.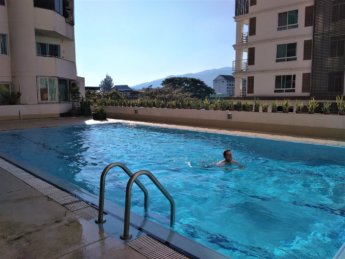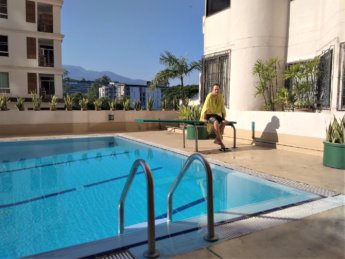 But what I really wanted (expected) to do in Chiang Mai was going to yoga classes. Since leaving Maastricht at the end of 2018 I hadn't done any yoga anymore because I'm not disciplined enough to DIY it. That's a problem for another time.
I'd searched for a yoga studio already weeks before we went to Chiang Mai and a ton of places popped up. There was one place across the street, but when I visited the place was empty. I messaged them on Facebook and the teacher was traveling herself at that time, returning only in December.
If I do yoga, I tend to do it every day for weeks on end. That's why I was looking for a place that had classes every day, preferably of different yoga types, from yin to ashtanga. But no studio offered that in our neighborhood. On recommendation from some guy, I got in contact with Yoga Rang Nok. They offered classes from Monday till Friday in the morning or evening. I joined one evening class, which was good but almost undoable with the heat. So I decided I would only join the morning classes – merely thrice a week – from now on.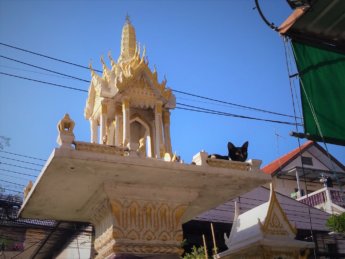 The teachers were amazing and super competent as usual. All three teachers I saw were Thai women from Chiang Mai or Bangkok. I wasn't a fan of them taking photos during class and possibly sharing them on social media without our consent, but the incredibly warm Kru Dim mostly sent them to my Facebook inbox, including some funny edits.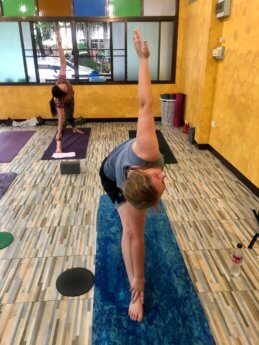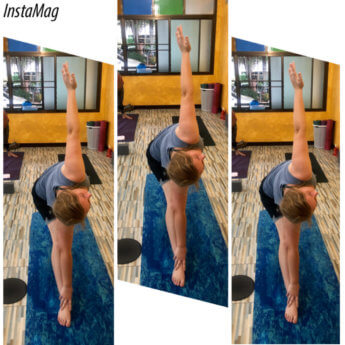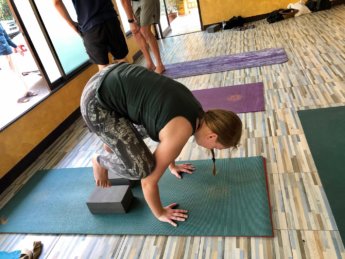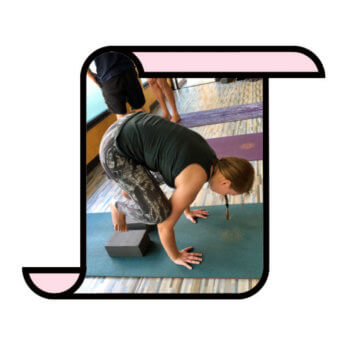 The morning classes were manageable and I had a good time with the teachers and fellow students. But just at the time I was making progress again, I underwent surgery. Nine days after surgery I was back on the mat, but I had to take it easy.
Doing both yoga and swimming in one day was actually a bit much. It often drained me more than I realized, which meant that I couldn't move as much work forward as I'd hoped.
Socializing, but Actually Networking
I had imagined that Chiang Mai would be a great place to connect with people with similar lifestyles. There was one weekly event in our neighborhood café/coworking space, which we often joined when we felt better. By this time, we'd already decided to go alcohol-free during our time in Chiang Mai; even a simple beer was too pricey for the fleeting joy it brought. So there we were, with a soda lemonade talking to people.
The crowd was young, but most of them didn't seem particularly excited to be there. Everyone seemed tired and distracted by something, except for when they struck up a conversation. The mood would change from meh to social butterfly when someone approached Jonas, introduced themselves, asked what kind of business he's running, and then light up even more when they heard he's a web developer. Especially the hetero women got rather flirty with him. The only time eyes shimmered was when people got thirsty for Jonas, which is understandable. Lean in, I guess.
There was a large swath of people who would just make their way through the crowd, shake hands with everyone, pitch their business, then add the people that were relevant to them on Facebook. The networking game was strong there and that's not what we were here for and it made talking with them just unenjoyable. But the choice was between engaging in a conversation about some uninteresting online service or get trapped in a conversation with a white guy with a Thai boyfriend who he was ignoring the whole time while he shat on the country and its culture. And yes, there were the digital nomad bros and pick up artists with an Asian fetish, but I successfully avoided interaction with them.
I haven't met one charismatic person at these events. I don't know, perhaps these events are for singles. Perhaps the whole city is for singles or people who don't commit. Leaving or just talking to Jonas was the best part of the evening. Never before in my life have I experienced ennui from talking to new people. Why now and why here?
The Visa Extension
Anyone who wants to live the digital nomad life in Chiang Mai will have to go through a visa extension at some point. It's a rite of passage. We made the pilgrimage by scooter on the 26th of November, nine days before our 30-day visa would expire.
What sets you apart as a shepherd from the sheep while performing this monthly ritual is how prepared you are; if you read the requirements and prepared everything, you'll be quick to go through it without much ado. Then there are the people that go to the immigration office at a terrible time with an incomplete set of documents and waste their and everybody else's time. That will be about €60 for a (lousy) 30 extra days. To get a 60-day Thai visa before arrival (€35) and then extending it with another 30 days would set you back something like €95 for just 90 days.
I just don't get it. Passport holders from the global west can travel to most Latin American countries for 90 days visa-free. And in many countries, such as Colombia, you can extend your visa for free or for less than €60 to make a total of 180 days. Since we had real data on both cities, Jonas helped me do the math comparing Medellín in Colombia with Chiang Mai. The prices are monthly and assume a 90-day stay as a duo/couple.
Medellín vs. Chiang Mai Comparative Table
| | | |
| --- | --- | --- |
| (€/month, for 2 persons) | Medellín (2017) | Chiang Mai (2020) |
| Rent | €750 | €560 |
| Food | €350 | €440 |
| Transport | €54 | €100 |
| Visa Extension/Run | €0 | >€190 |
| Coworking Space | €220 | €220 |
| Yoga Classes | €80 (unlimited classes/month) | €68 (10 classes/month) |
| Social Events | €120 | €200 |
| Tourism | €160 | €200 |
| Total | €1.734 | €1.978 |
Apartments in both cities can be spacious, but our search on online platforms excavated a few weaknesses in Chiang Mai. One is the lack of a large working table, the other is not having a real kitchen. As a digital nomad couple, having a good table (with back-supporting chairs) is essential to getting work done. Even though we've done a bit of coworking here and there, nothing beats working from your well-picked apartment. Even though you can get apartments in Chiang Mai for rock-bottom prices, there's a hidden cost to not being able to work or live in it.
Now about kitchens. Chiang Mai apartments will have a sink, fridge, kettle, and hopefully a microwave. In most cases, there won't be a stove, let alone a four-burner stove. No pots, no pans, and definitely no knives. You'll probably find a few plates, bowls, the fork-and-spoon combo, and chopsticks. An oven? Never heard of it.
In my opinion, there's also a cost of not being able to cook for yourself. Pad Thai is delicious, but eating it seven days a week so you can also fuel your alcohol habit isn't very sustainable for your health. If kitchens were equipped enough and if supermarkets had cheap, healthy, produce, you can take back control over your diet and eat some greens.
Moreover, the variety of foreign foods is greater in Medellín than in Chiang Mai, and the price difference between local food and foreign foods is really big in Chiang Mai. If your tastebuds simply crave a pizza, you'll pay top Baht for something that actually resembles the original. Pizza is almost native to Colombia. And if you want Thai in Medellín, you can even take a cooking class.
Despite traffic being shit in both cities, traffic in Chiang Mai is worse than in Medellín. You can actually be stuck in a traffic jam with your scooter in Chiang Mai and wherever you go, you'll always have to risk your life by being routed via the moat.
As you can see, perhaps there's a bit of money to be saved in Thailand. But just the effort you need to take to stay inside Thailand legally is expensive and time-consuming. There's a cost in having to visit an immigration office and queuing. The same goes for all the stress that prepping for a visa run brings.
The fact that foreigners are paying this much to have their visa extended is a clear signal that Thailand is sick of your shit. There's probably a reason Chiang Mai is twinned with Pyongyang: they want you to fucking behave.
Making Gal Pals
After the kayaking event on the Ping river, we'd made a friend who is also a digital nomad and had been coming to Chiang Mai more often. She invited us to join her friend group for rooftop drinks, which was fun and greatly informative. Everybody was just enjoying themselves and not networking. Lots of these people were Chiang Mai connoisseurs, so some patterns started to emerge.
They'd spend their time between (usually) the USA and Chiang Mai and not really see any other part of the world, except for the few places convenient for a visa run fur a week, tops. After a dirt-cheap Air Asia return flight, they'd come back to Chiang Mai where their apartment and stuff was at. They didn't even pack everything up, fully trusting that they'd be let in again by the Thai immigration officers—the definition of fearlessness.
All of them knew the Chiang Mai of just a few years ago. And though not all changes had been positive, they just kept coming back here. All of them also drank beer, despite most of them having arrived by scooter. They'd just take a Grab back home and then another Grab the next day to pick up their scooter. Meanwhile, Jonas and I were dead-sober and dreading the way home.
A few days later, I got invited to a group chat. Three of the women I knew from that one evening were present. They were making plans to go to the onsen on the ground floor of one woman's Japanese-themed condominium. I had to read up on what exactly an onsen is and what the rules are. That's when I learned that it was an invitation for me and not for Jonas and me, and promptly checked the membership of the group chat to figure out it was an all-female ensemble. Despite my uneasiness about the many rules and the nude strangers, I decided to join the bathing experience. You know, for when we're going to Japan next year.
Actually, this onsen is a sentō, because there's no natural hot spring beneath the bathhouse.
Jonas dropped me off at the Japanese condominium. I'd taken a thorough shower before going. We were a group of five. The staff at reception got us some baskets with towels and locker keys, then guided us to one side of the bathhouse past the curtain with the kanji for 'women'.
Going by the name Miss Cis makes me feel like a fucking liar.
Once we'd undressed and the organizer alleviated the initial awkwardness with an awkward nudity joke, we went to the bathing area where we washed and then dropped into the hot and cold fizzy waters. The room echoed a lot when we spoke. The baths were nice, but I couldn't follow the conversation at all because of the echoes. So I couldn't participate in the group talk, which started out with dating men troubles and then moved on to talking about women's body issues and wellness stuff like hair treatments beyond shampoo. At this point, I hadn't even undergone a massage yet – which is usually why people go to Thailand – so there really wasn't much to relate to.
I'd rather we bond over common experiences like being constantly underestimated and the outright sexism and misogyny, than over body parts and functions. And talking about feminine energy or moon cycles absolutely makes me gag. There's the assumption that all of us think that menstruation makes us whole, even if menstruating is just an objectively shit thing to do. I do not want someone telling me I should feel #blessed to have a uterus. And I would rather have a two-way conversation about our root chakras, thank you very much. Bodies are boring. Having a uterus is not a personality trait.
That soaking experience was also the latest in a life-long string of feeling like I'm looking from the outside in on 'the feminine experience'. Many 'female-only' experiences are completely alienating to me, to the point I want to alter my body to subject it to my own will rather than its will. I think there's nothing charming or worth embracing about one's bodily functions, especially if the medical technology to end that suffering already exists. There's absolutely no good reason to bleed every now and then. And don't try to use an appeal to nature tactic to get me into your corner. Menstruation, pregnancy, and childbirth are all forms of body horror, end of story.
The one-on-one conversations were better and more about (net)work stuff instead of "I menstruate and I assume you do too and are happy about it" topics, but let's just say it's hard to relax when you feel like you don't belong. So I spent most of my time doing my own thing in the bathhouse. I don't even really know what I was hoping for, but maybe I finally found something that's outside of my comfort zone.
Despite this, I kept my eyes peeled for other activities these women were undertaking, especially the two that I'd connected with prior to the onsen. I still don't know what "intention setting and releasing" is, but you apparently need a full moon to do it. Meanwhile, I suggested meeting "post yeeting my tubes", which was met with crickets. And that was the end of my short stint making friends based on gender.
I think I tried ¯\_(ツ)_/¯
Trying to Tourist
In the meantime, I really wanted to see the sights and do some touristy stuff. Jonas warned me that I don't like touristy stuff, which is usually a good point, except for that it was my first time on this continent and in this country. It was really strange that after spending more than a month Chiang Mai, I'd never been to a Thai temple yet and had never received a massage. I can't know what 'temple fatigue' is until I visited one. Jonas' unwillingness to drive us frustrated me, but because we rented the scooter he also didn't want to pay for a Grab vehicle to get there.
Eventually, as a compromise, we made a day trip to a cat café called Cat Brothers.This is the second cat café we've ever visited, the first one being in Vilnius, Lithuania. While the cats looked well-cared for, I kind of realized this might not be in their best interest. Am I actually exploiting these animals for my own entertainment? Essentially, yes. And their motivation to stay near to us usually ended when the food was out of sight. Only two of them were interested in playtime.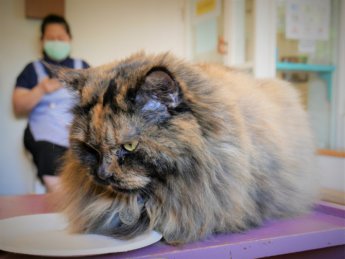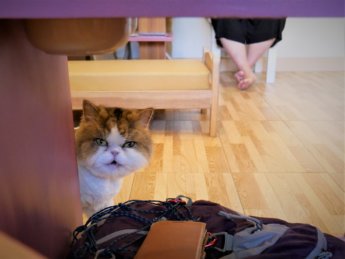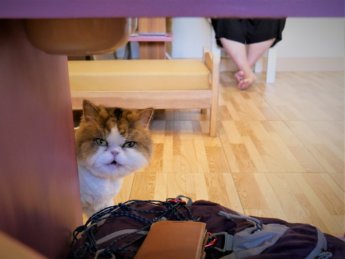 I mean, I get it. It's annoying when you're surrounded by mostly strangers all the time who might or might not respect your boundaries. I think Jonas enjoyed it more than I did since he's rapidly becoming a cat man. Next time I'm thinking of visiting a cat café, I'd probably vet the place a little better; none of the cats looked like rescued mutts, while many looked like purebred cats, including an all-white Van cat. All the while, Chiang Mai also has a stray pet problem.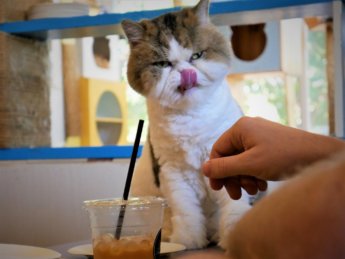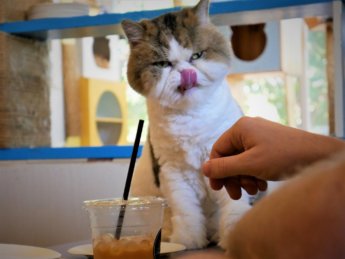 Even though we loved the cat café for other reasons, we didn't return. Jonas had found out about a VR Café on the other side of the old city. Going there was his birthday wish – six days after my surgery – so we took a Grab around the emptied moat. The first time we got there, it was closed upon arrival even though we'd reserved a specific time slot. Some 10 minutes late, a guy showed up to boot up the system and fit us with the virtual reality goggles and hand thingies. The place looked a bit grimy, but it was comfortable enough.
We'd looked up some games on their website before we went, so we knew exactly what we wanted. For me, it was an okay experience, since I couldn't do much yet. Jonas, though, he reveled in it.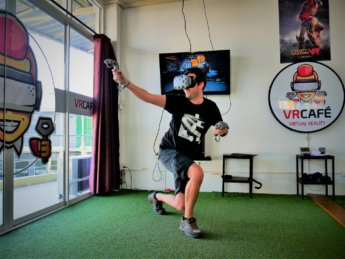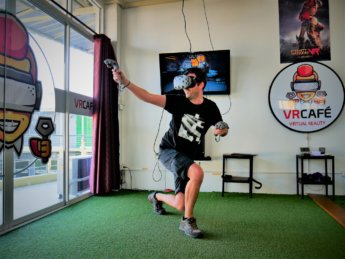 He made plans to buy a small 'travel-friendly' VR headset in South Korea once we'd be there in July 2020. The model he wanted wouldn't ship to Thailand. He loved it so much that we planned on returning there for another session.
A few days after his birthday, we went to the cinema to watch Star Wars: The Rise of Skywalker. You might have heard that in Thai cinemas, it's mandatory to stand for the king and the national anthem before the movie starts. What we didn't know, was that there'd be 30 minutes of ads before the national anthem and then another 10 minutes afterward. By that time, we'd nearly finished our popcorn and drinks and no, there was no break during the movie. The royal video itself was very up-to-date with pictures and videos from the life of the fresh King Maha Vajiralongkorn, from child to king. Though his father died in 2016, Maha Vajiralongkorn's coronation didn't happen until May 2019. The music video contained footage from those events.
Medical Tourism
Besides acquiring my vaccinations, we also wanted to do some other medical stuff in Chiang Mai. Before departure, I'd spoken to a friend of my grandma's, who praised the hospital in Chiang Mai back when she'd visited in the 90s. Jonas wanted to do a general health checkup. My main medical goal (and my next life goal) was to get sterilized. After rejections in the Netherlands, Hungary (by e-mail), and Slovakia (by a lack of time and mandatory 30-day waiting period), I'd all but given up on it.
Then in late September, I decided to email a few clinics with the question if they perform bilateral salpingectomy. A few emailed back that they had surgeons who did this, so I emailed them asking if they'd do it on women under 30. None of them were very forthcoming, asking me to make an appointment, so I decided to give it a try at Ram Hospital.
Jonas and I drove there on our little scooter on Friday the 6th of December. The waiting was really awkward among so many people pregnant or trying to. A nurse weighed me, took my blood pressure and temperature before I could see the doctor. I explained my situation to him: I want to either undergo a bilateral salpingectomy or a bilateral tubal ligation and that I'm childfree and under 30.
He said, "OK, does tomorrow work for you?"
But the price at Ram Hospital was quite high, so after a the euphoria of a yes, the melancholia of "but money" was pretty devastating. So Jonas and I decided to drive to a nearby hospital to ask for the price there. We drove to Sriphat, McCormick, and Bangkok Hospitals in a frenzied journey with one goal in mind. All doctors said yes. Nurses weighed me, took my temperature and blood pressure everywhere.
At McCormick – originally a US American missionary hospital that actively evangelizes – the price for a laparoscopic bilateral tubal ligation was right. So I signed on to do the procedure on Wednesday the 11th of December by a different doctor to the one I spoke to.
When the doctor I'd faced asked at the end of the consultation how many children I had, I said "Zero." This sparked a quick call to the actual surgeon to ask if he had a problem performing it on me, but he said it was fine. Phew!
A mere five days after our crazed scooter journey through Chiang Mai, Dr. Manatwi Manopanya and his team severed and closed my fallopian tubes – just like I asked for. Another major life goal accomplished in 2019, just like becoming debt-free after graduation back in January. Now I'm forever childfree!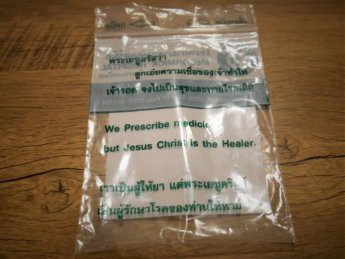 Finally, Touristing in Thailand
In the recovery days after surgery, I had some time to think about the things I still really wanted to see and do before leaving for Myanmar. After joining yoga again nine days after surgery, I knew I was ready to do things further from our condo.
One thing was visiting the Wat Sri Suphan, aka "the silver temple" in the city. We took a Grab vehicle there instead of scootering around. The temple did not disappoint. Especially the temple cats were cute and friendly.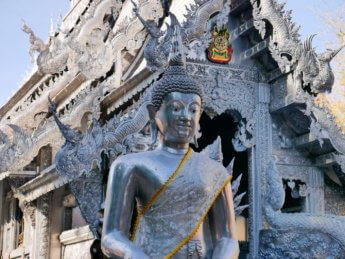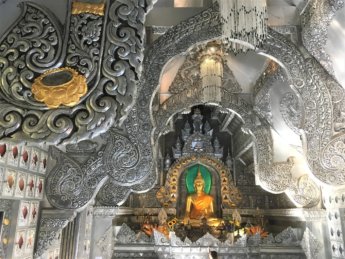 Another thing I really wanted to do is going to Doi Inthanon – Thailand's highest mountain. Since I couldn't sit on a scooter for one or two days, we decided to splurge and arrange a taxi through a website. It included witnessing the sunrise near the summit, a visit to the summit, several waterfalls and temples, and the cloud forest. We added a visit to Southeast Asia's largest telescope.
Though this wasn't the adventurous way in which I wanted to visit Doi Inthanon, it was pretty cool.
Lastly, we'd completely skipped over the nearby Doi Suthep mountain and temple. We'd looked out on it from our balcony for over a month. This time, we decided to go by scooter.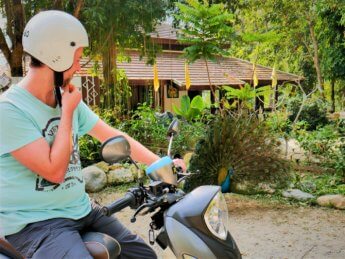 It was really amazing and not hard at all for Jonas to drive up with our 125cc mean machine. The big highlights like the temple were quite crowded. But there were also many quiet areas in this pleasant green area with cool air.
I guess my experiences in Chiang Mai were quite standard. But Thailand just seems to be a country that's difficult in terms of off-the-beaten-path things to do. My postoperative weakened state certainly didn't help.
Our Last Days in Chiang Mai
In the days preceding new year's eve, people had already started several fires in the hills of Chiang Mai province. People talked about an early start to the burning season. This went together hand-in-hand with news about the Australian bushfires.
New year's eve itself wasn't much to write home about. Especially in direct comparison with Loi Krathong. The fireworks from Doi Suthep also started half an hour late. It was very strange but made us feel quite safe. As always: the fewer fireworks the better.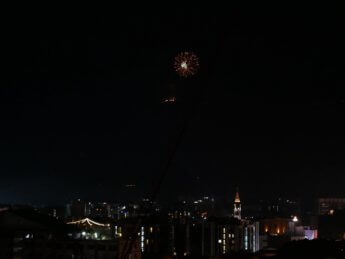 After new year's eve, it was time to pack up all our luggage for Myanmar. It felt quite good to fit everything back in my backpack that had been stowed away for two whole months. I was looking forward to finally experiencing actual adventures again.
Verdict: Chiang Mai wasn't The Dream
Thinking back about my stay in this city just makes me a little sad. Everyone else seemed to live their best life in Chiang Mai. It felt like I was missing something; there was something everyone saw that I couldn't see. I still have a hard time pinpointing what exactly the issue was. I tried discussing it with Jonas, but he felt the same way and couldn't tell why. We have some theories though.
To be completely honest, our biggest mistake was renting a scooter. That thing was mostly a liability and didn't spark joy. Yes, I wouldn't have been able to go to yoga at all if we didn't have a scooter. But having one, we felt like we had to constantly use the cursed thing, too.
Remember the "Buddhism equals vegetarian food"? Yeah, that's a lie. There were so many restaurants on Foodpanda (and the real world) that categorized themselves as vegetarian, but then there would still be fish and shrimp on the menu?! Either they're operating under the premise that "fish don't count", or there's something that's lost in translation. We navigated around this by quickly finding our favorite ten trusted places to order from, even though one of those still betrayed my trust by putting a shrimp tail in my salad.
The best thing about Chiang Mai was our apartment. We've never gravitated so much towards our home. Nakornping Condo really became our home over those 60 days—and I even had a hard time leaving. Outside our apartment, I'm forever grateful to Chiang Mai for sterilizing me. But that's about it.
In conclusion: I just don't get it. I don't get the general obsession with Thailand. I also don't understand what makes Chiang Mai so outstanding for digital nomads. Out of all the good places in the world, why here? Does it qualify as a great digital nomad city once it has an international airport? That's a low bar.
That's not to say I had a bad time, but I definitely didn't have a good time. In one word, Chiang Mai was… meh.