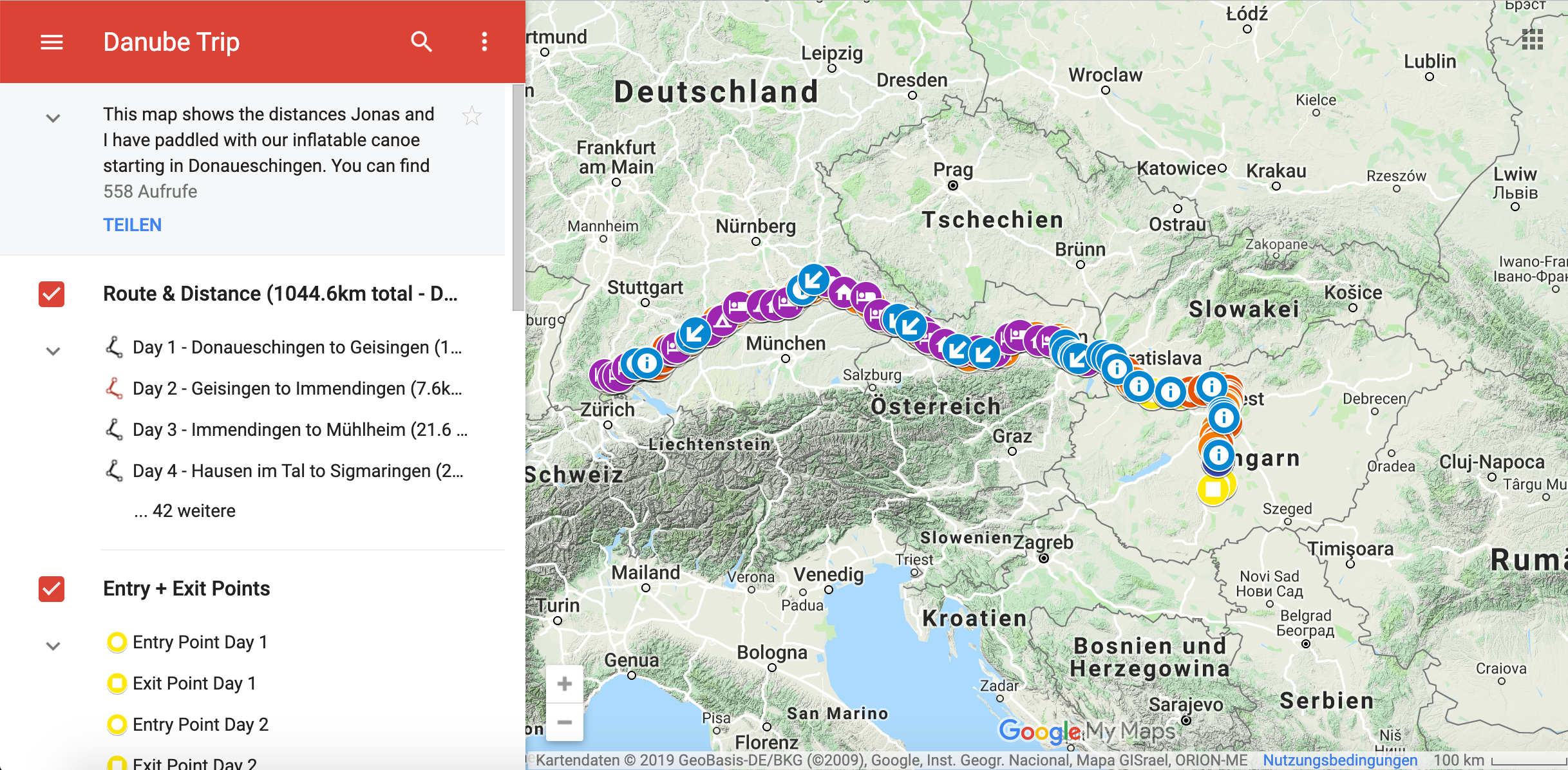 This is the fully-operative map of our Danube trip so far! You can use the left-side panel to summon or dismiss the information you're looking for. I included information about the route, the distance, the obstacles in between, the places we've stayed at, which stretches require a permit, and which parts we (had to) skip on the Danube. Each paddle day has its own related blog post you can read. I'll update this map the more we travel this majestic river with our inflatable canoe.
Click in the upper right corner of the embedded map to open the map in Google Maps or click here!
If you have any questions or suggestions for the map, please leave a comment!
The Stats on This Map
After 42 days of traveling the Danube, we:
paddled 1044.6 kilometers in total out of 1129.4 kilometers of river
portaged around 52 obstacles like weirs and locks
used a kayak slide or brush pass 4 times
had to skip 76.5 kilometers due to protected nature
skipped or shortcutted the river 16.3 kilometers
arranged two permits to paddle some protected stretches
fell in the water 1 time (just Iris, not Jonas)
swam in the river 1 time (both of us, out of our own free will)
paddled in 4 different countries and many different states/provinces
stayed on 3 campsites and went freecamping 1 time
patronized 19 döner kebab/çiğköfte/falafel establishments
had 2 dogs nearly pee against our kayak
experienced 1 snowy day and about 11 rainy days
successfully used the kayak sail 8 times
broke 1 kayak sail (RIP)
ate Käsespätzle 6 times (of which 1 was homemade)
experienced 1 case of bird shit on Jonas' life vest
got bitten by mosquitoes about 2270 times
worked on our own projects about 70 days
drank the river water 0 times
took an absolutely ridiculous amount of photos
wrote 35 blog posts about the trip
Here are the statistics we gathered
Read The Blog Posts Related to Our Danube Trip
Kayak Trip Day 3: Immendingen to Mühlheim via the Donauversickerung
Kayak Trip Day 14: Vohburg to Kelheim and the Donaudurchbruch
Kayak Trip Day 21: Passau to Engelhartszell – A Border Crossing
Kayak Trip Day 33: Vienna to Haslau – Birthday on the Danube
Kayak Trip Day 34: Haslau to Bratislava – Austria to Slovakia