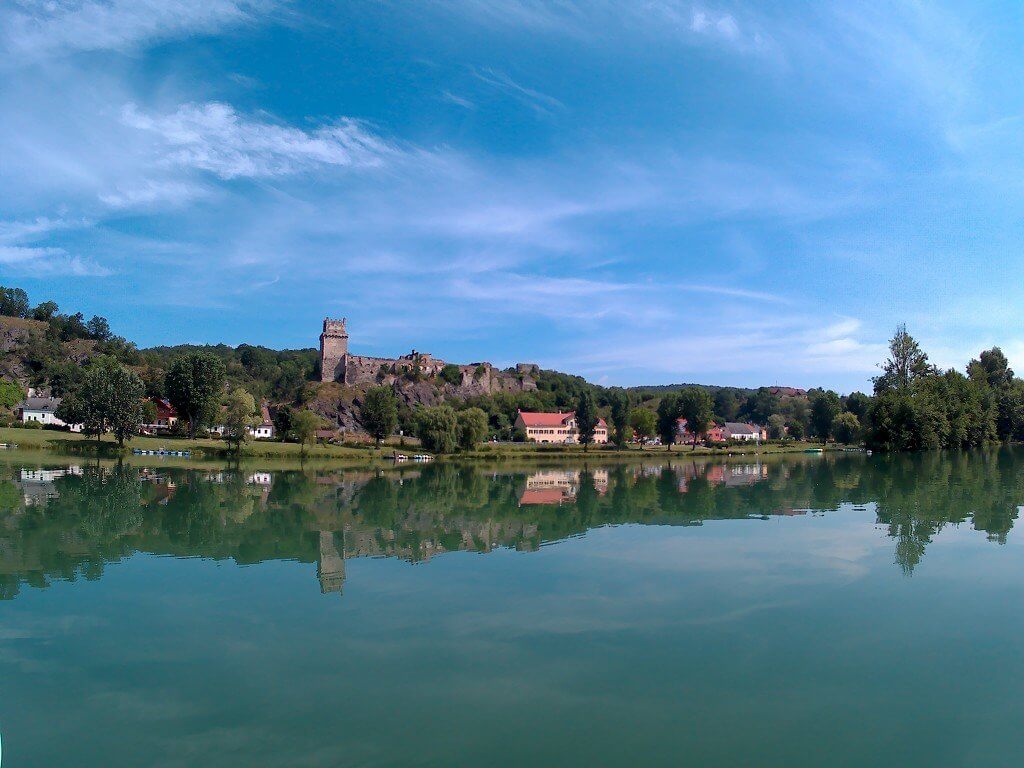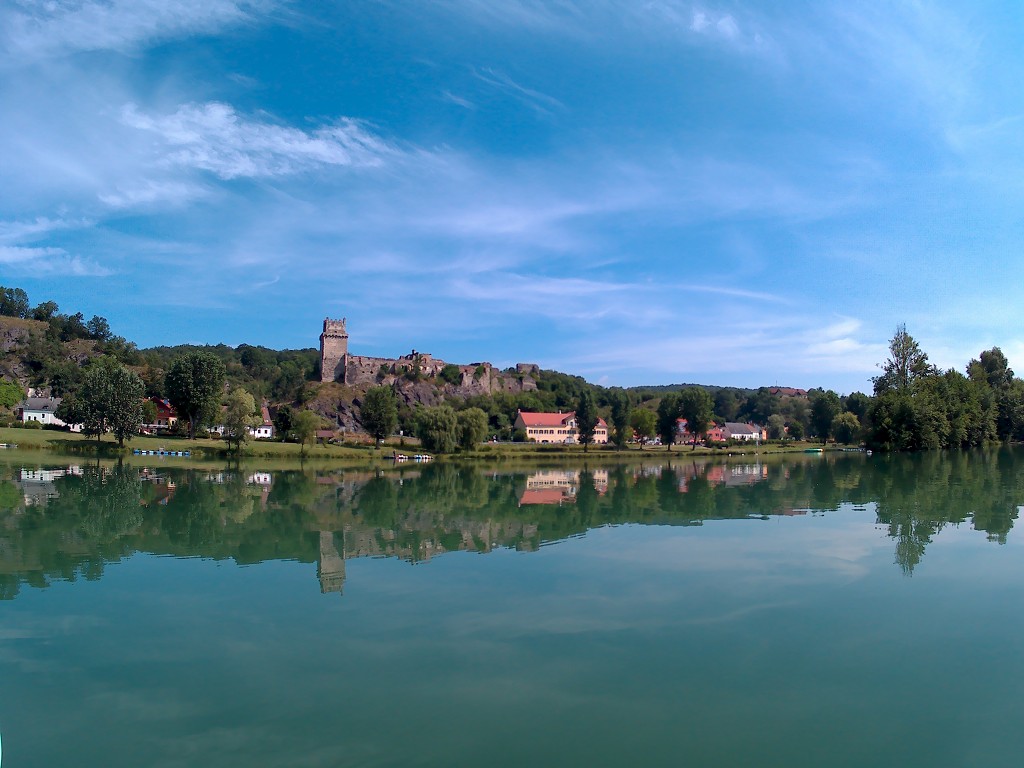 Events told in this story happened on the 17th of July, 2019. We kayaked Zucchini from a village named Krummnußbaum to the larger town Spitz in the state of Lower Austria. This was a distance of 29.4 kilometers.
Our Stay in Krummnußbaum
We stayed in Gasthof Zum Guten Kameraden for two nights. The room was very pleasant and our hosts very kind. On our off day, we coded/wrote a lot and then tried finding the next accommodations after Spitz. It was very frustrating, but eventually, we found an imperfect solution to our problem.
In the afternoon, we hiked up the hill behind our inn to a village named Maria Taferl. It's the town with the prominent church on top with two towers. I thought it might have nice views, and would be a hike of about 6 kilometers when making a full circle via Marbach an der Donau.
Not completely unexpected, there were the shell signs on our route to indicate that this is one of the many ways to pilgrim your way to (or from) Santiago de Compostela in Spain. It was a very pleasant hike and we indeed had good views of 'our' river below. Again, we had a clear view of the impressive Ötscher mountain to the south. We hiked down via the Bußweg (Atonement road) down into Marbach an der Donau, where we bought some groceries for the next paddle day and went out to eat at Wachauer Hof.
Leaving Krummnußbaum for Spitz
The day before, I'd found out that my watch had stopped working. That's probably from hiking extensively in the rain in Grein/Wiesen. That's why I had troubles keeping the time this paddle day. In case you're wondering, timekeeping helps me evaluate what we can actually do under the conditions we face, which is useful for planning other paddle days.
We picked up our (still) inflated boat from the garage at our inn and carried it across the road to the little pier. Jonas had taken out the fin when we arrived here, and now we had to put it back in. The thing is, you can't really put the fin in when the boat is inflated. I'm not sure why you can take the fin out while the boat is inflated, but this thing works in mysterious ways.
So we deflated the boat in part, mounted the fin, and reinflated the boat to appropriate pressure levels. The valve of the bottom chamber was leaking a bit, but by poking our manometer into the valve until it self-closed again. For a moment, I was really afraid that this would be the end of Zucchini, our buoyant comrade.
The First Stretch
We start paddling at 8:05. There's almost no wind and the river is flat as a mirror.  Kind of like how most mornings start before the big ships and increasing winds inevitably change that. There's a cargo ship moored to the shore on the other side, whose people haven't awoken yet. We calmly paddle on the left-hand shore today. By the looks of it, we won't need to cross the river.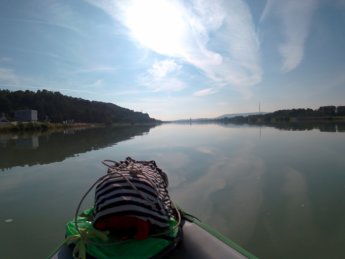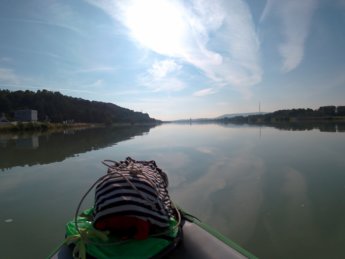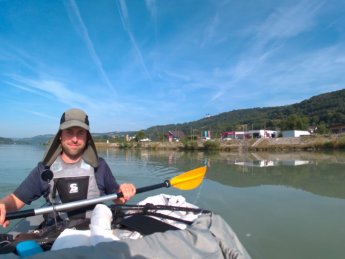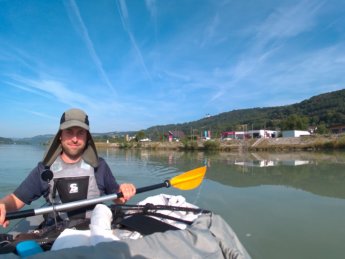 First up is the village of Pöchlarn and its church on the right-hand shore. After the town, there's a huge pet food factory and a big car bridge crossing the river. I realize that since we crossed the border into Austria, the number of bridges across the Danube has decreased dramatically. This hasn't really been compensated by more (car) ferries across the river. I swear we paddled under 200 bridges in Germany alone. But since the river has become so much wider, the costs of building a bridge have probably increased exponentially, too.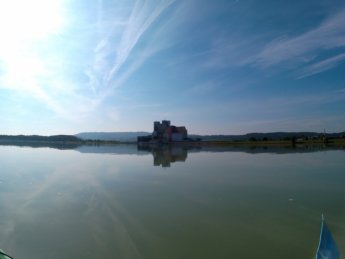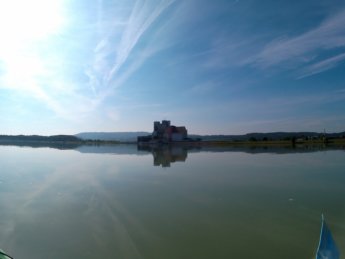 After we pass the bridge and enjoy its short respite from the sunshine, the first motorboat shows up in Jonas' boat mirror. It's 9:05 when the first big ships show up. The river is fairly straight here, so we can see the outline of the faraway dam already. That dam is Kraftwerk Melk, which has locks for the big ships. The useful PDF from the Austrian hydroelectric plants on the Danube informed us that we have to portage our boat twice to get past only one dam.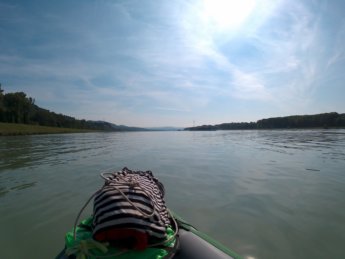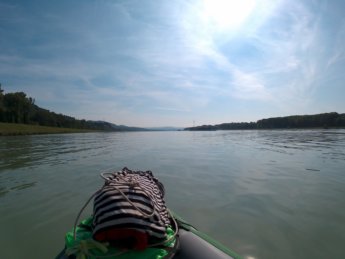 While the current comes to a full stop, the traffic picks up significantly. A cruise ship here, a cruise ship there, and then a gazillion small military boats pop out of the lock, just like the previous paddling day from Grein to Krummnußbaum. Their individual waves aren't that annoying, but since there's 10 of those, their collective waves are really short, sharp, and splashy. Combine that with a bit of headwind, and you've got a nasty bunch of waves that take forever to disappear.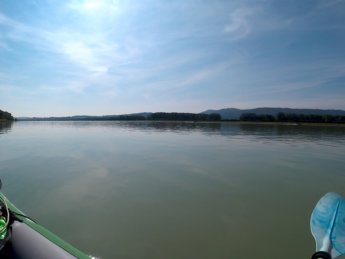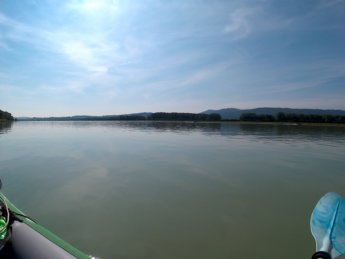 In the distance, the towers of Melk Abbey (Stift) appear. We're approaching our ramp to carry our boat around, but first another big cargo ship overtakes us quite closely. We've noticed that the cargo ships are… kind of okay. They usually travel quite a bit slower and their wake usually isn't that much. We're really close to the ramp when we see a cruise ship coming up from the back. We make it a point to arrive at the landing spot as soon as possible so we won't need to turn our boat into the waves and waste time that way.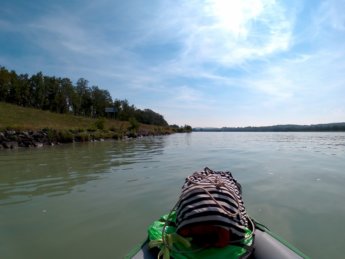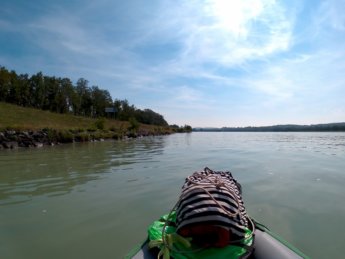 Kraftwerk Melk's First Portage
The cruise ship slows down because it has to wait for the locks to process all the traffic. It's not an issue to land our boat at 9:55 before that ship passes. We decide to switch roles. Jonas empties the boat of its luggage while I pick up the boat wagon from the other end of the portage road. We both also really need to go.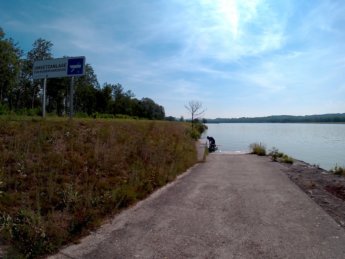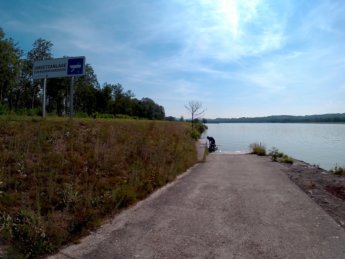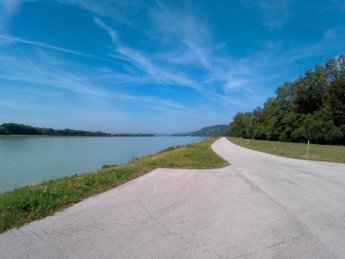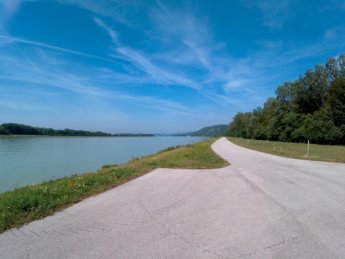 I find our usual design of boat wagon attached to a pole on a cable in front of a beautiful castle. I don't have time to look up the castle's name right now because Jonas is waiting. So I detach the boat wagon with its carabiner and take it back uphill to Jonas. Jonas looks very relieved when I return with the boat wagon. I think it's one of the first times he feels what it's like to wait with the boat while there's not really a guarantee that there will be a boat wagon. It might all be for nought.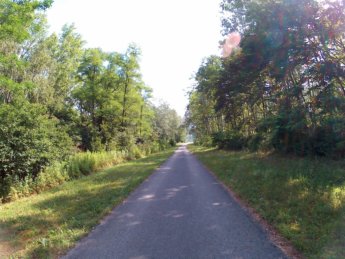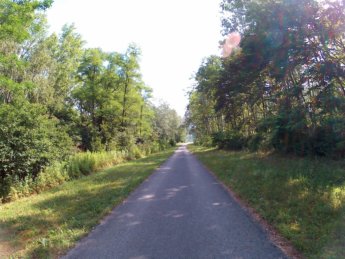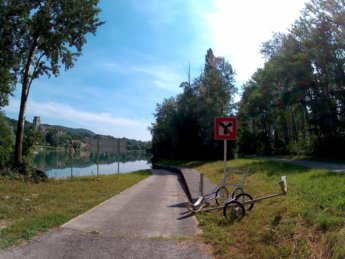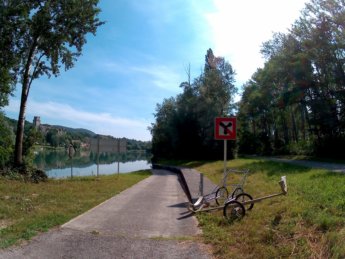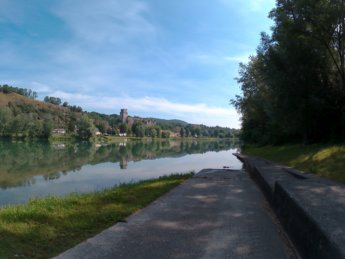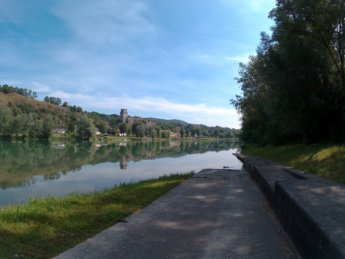 Even though Zucchini is centered and level on the boat wagon, one of the wheels snags our boat a little bit. We decide to roll with it anyway because it's not so far and the snag doesn't really stop it from rolling. Granted, we did put our category 'heavy' luggage – the dry bags and the CabinMAX – back in the boat, which we usually carried on our backs. Jonas takes control over the boat wagon.

On the other side, there's a pleasant ramp into the old arm of the Danube in front of those beautiful ruins. I try looking up its name. As usual, there's very little current in this area, so the water becomes greener and reflects the ruins of Weitenegg very beautifully. There are two women with dogs on a leash. One of the dogs is of the tricolor breed that seems to be very popular in Austria. This particular dog even has heterochromatic eyes: one blue, one brown. They leave when we turn our boat around to put it in fin-first. It's 10:20.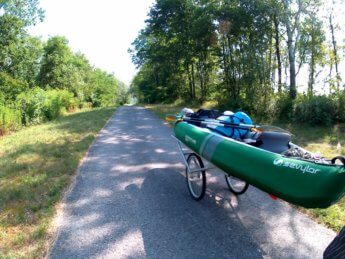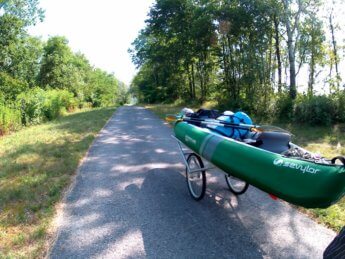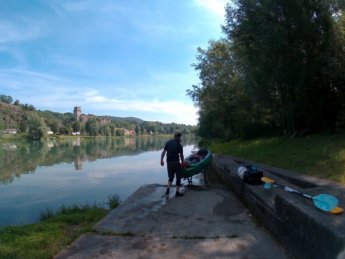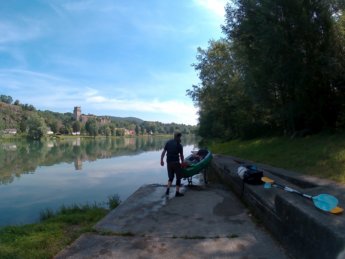 Paddling through Donausee Weitenegg
The name of this artificial lake is 'Donausee Weitenegg'. Donausee translates to 'Danube lake'. We're really enjoying the passive sightseeing that we get on this trip to Austria since every hilltop or river bend seems to feature some castle, ruins, church, or palace.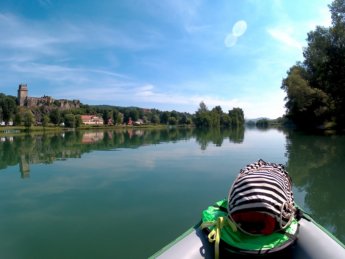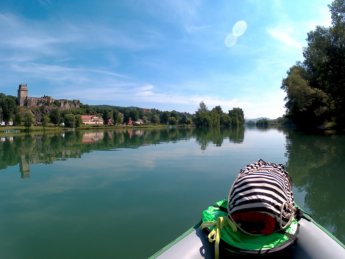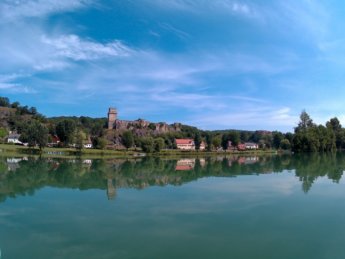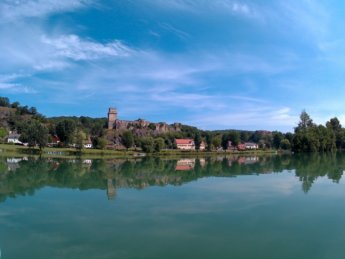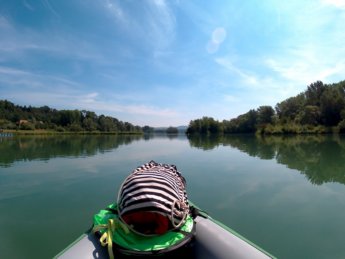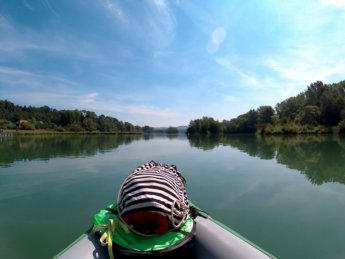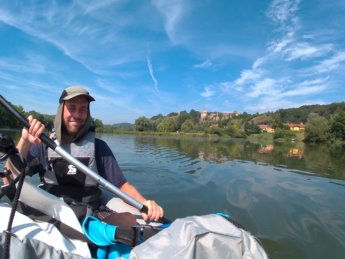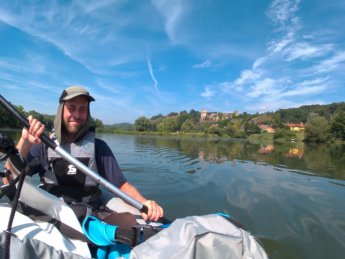 We paddle through the lake and see many piers for recreational activities. There are little overgrown islands in the lake where the birds hang out and the swans ominously guard. The Danube bike path (Donauradweg) follows us on the left-hand side.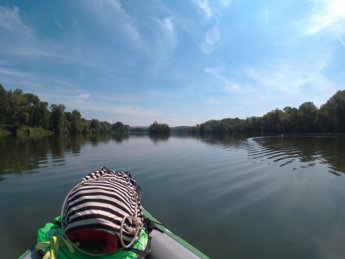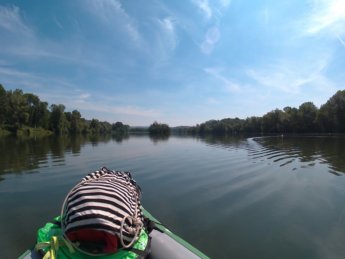 Up next is getting out of the boat again after having paddled a mere 2 kilometers to carry our boat around another small dam. This infrastructure is new to us because usually you just carry your boat into the old arm and then paddle out of it on the other side. This time, we see a bridge on the map with the current going under it to reconnect to the main Danube. We're contemplating paddling under that bridge so we don't have to get out.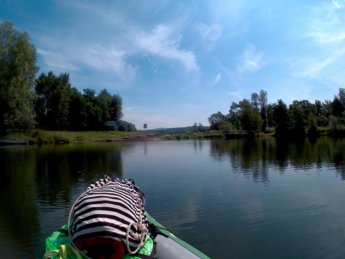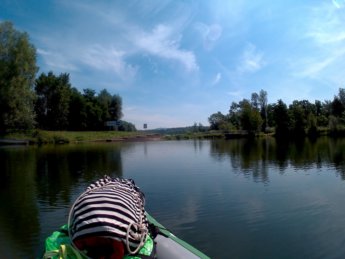 Kraftwerk Melk's Second Portage
We see the little bridge in the distance. It looks very low. I can't believe they'd make us carry our boat around just because they couldn't build a higher bridge here. There must be something else going on. But what's the harm in approaching the bridge, seeing if we fit, and then still land at the slipway in case we don't?
As we approach, the crisp sounds of dropping water become much clearer. Uh oh, there's some fuckery going on. The wise choice is always to get out of the boat, scout the location, then make a decision. I get out at 10:50 and check out on the bridge what we're dealing with here. It's a proper weir with the water dropping diagonally about 1.5 meters while passing through the branches of an overhanging tree. We have to carry the boat around.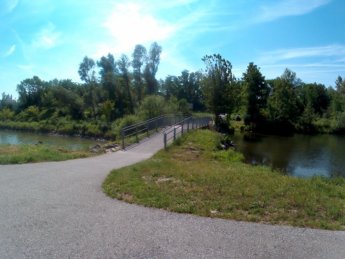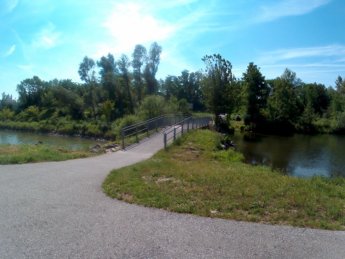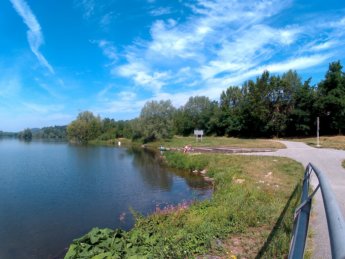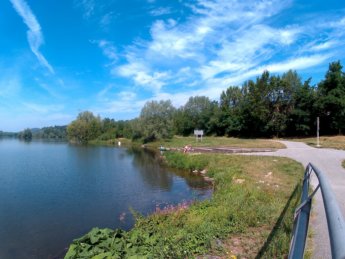 I'm getting the only cart that's here. It's the design of boat wagon we've never used before, with no handles and two fabric slings to hang your boat in. I see it's attached on a very long cable and see if there's again a carabiner to detach it. No. This one can't be moved more than exactly the lenght of both slipways. I drag it to Jonas across the bike path. Some cyclists look confused about driving over the cable.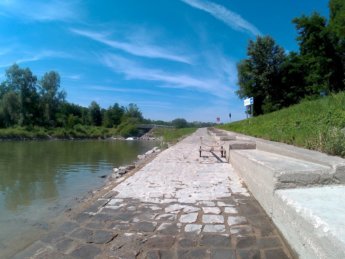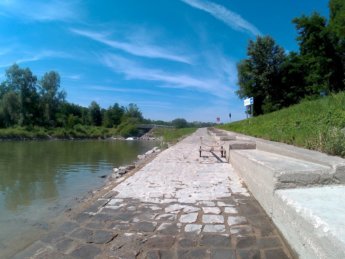 I roll the boat wagon a little into the water next to Zucchini. Shit. The boat wagon is actually too long for our boat. Our boat would actually lean on the middle bar of the boat wagon and not hang in the slings at all. The wheels will definitely snag onto our boat.
Jonas argues for just carrying our boat around without a wagon, but I'm determined to try this model. It seems to be made for long wooden rowing boats instead of (relatively) short inflatable canoes. We lift Zucchini onto the boat wagon and put our luggage on our backs. We roll the snagging wagon the 50 meters across the bike path and into the main Danube. I'm walking behind the boat wagon, where the fixed cable drags over the ground. I pay attention to my feet to not step on the metal cable.
While negotiating right-of-way with the bicyclists and talking to Jonas in the sun's heat, I stop paying attention to my feet. I step on the cable and slip on it and nearly fall face-first. Now I'm pissed off. We soon put the boat back into the water and load her up. This infrastructure of 'portage your boat twice for the price of one dam' is not funny. And Austria has two more of these fuck-ups before we arrive in Vienna.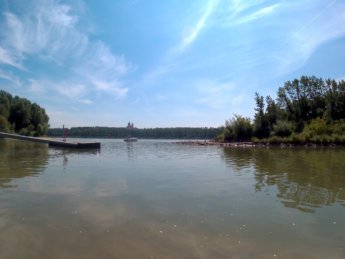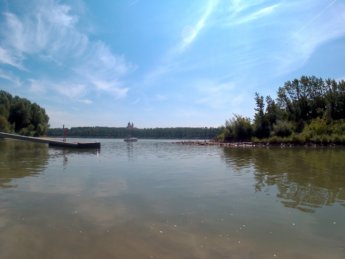 Side note: when we read up about this kind of double portage infrastructure on flusswandern.at, they advised to just carry your boat overland for the whole two kilometers instead of paddling in between. This is probably the reason why they locked this boat wagon in its place. It's a real dick-move to use a publicly provided boat wagon and move it two kilometers away from its base. Because let's face it: nobody is going to grab a boat wagon, walk their boat 2 kilometers away, then bring the boat wagon back the 2 kilometers, and then walk back the 2 kilometers to their own boat. That's why I think the blogger meant that it's a good idea to carry your boat two kilometers over land only if you have your own boat wagon. Having your own wheels means you're fine making the trip just once.
Speeding Past Melk Abbey
We're paddling on our trusty Danube again at 11:05. There's a whole new world after the dam, where the left-hand shore is a beach instead of riprap rocks and the river narrows. The right-hand shore is the city of Melk, known for its famous abbey. Of course, the shores are lined with big piers for even bigger cruise ships. At least five in a row. One pier is occupied by two Viking cruise ships that are moored on the same pier and onto each other. The current picks up so we can get out of this danger zone rather quickly.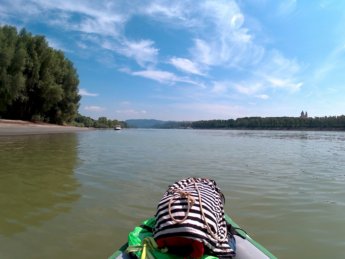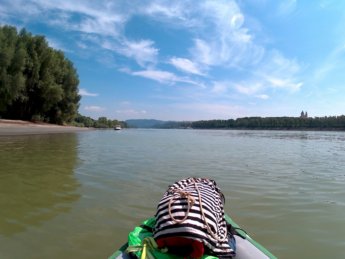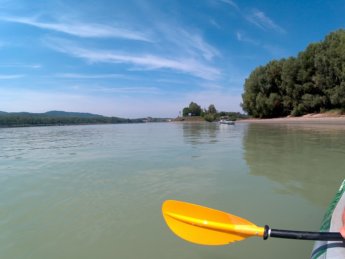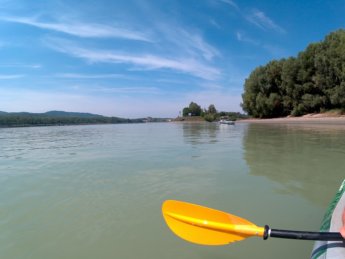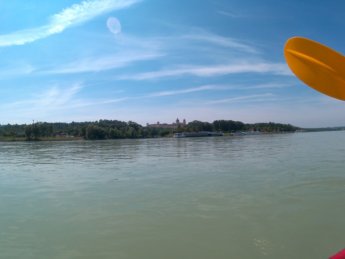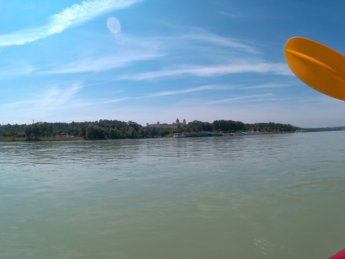 In the summer of 2013, I went on a 10-day road trip with a Dutch lad and a lass from Luxembourg. We drove through many countries including Liechtenstein and also visited Salzburg and Vienna in Austria. We were close to Melk in the evening and decided to freecamp next to the Danube for the night. That was the first time I ever freecamped as an adult. We had – what I thought at that time – a pretty good view of the Melk Abbey in the distance from our riverside spot.
That warm night, the rain started, followed by a big thunderstorm. My travel buddies abandoned their tent in favor of the car, but the excitement of using my one-person tent for the first time and the thrill of adventurous travel kept me outside that night. The lightning turned my green tent canvas into the white of a cinema's silver screen. I wasn't afraid of such things, even though perhaps I should have been. There's not a line between adventurous and reckless, but a rather large grey area. Today, I have more respect for nature's tantrums.
And now I'm paddling past Melk Abbey instead of driving or hitchhiking. And even though I can't actually see the abbey from my lowly point of view, I've never enjoyed this location on earth as much as I do now.
Schönbuhel Castle and the Cruise Traffic
After Melk, the river traffic picks up dramatically. The variety of traffic also increased, but not per se in a good way; big cruise ships, small cruise ships, fast cruise ships, slow cruise ships. Then there's still the occasional cargo ship and a few speedboats. We see some rowboats coming up from behind. There's a beautiful castle appearing in front of us named Schönbuhel castle. I can see the reason this area is popular with cruises.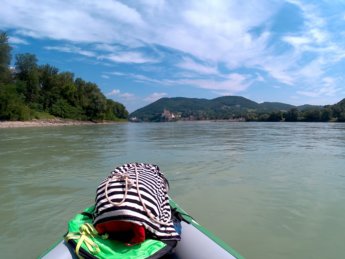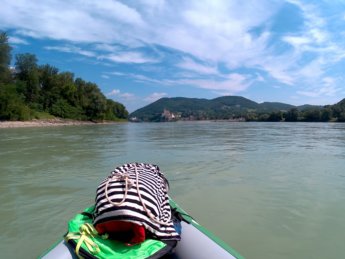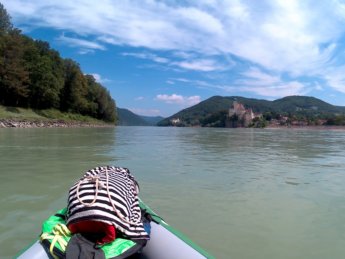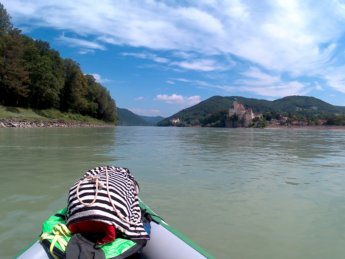 My research before we went here showed two little rocks in the river in front of Schönbuhel castle. The Kuh und Kalb (cow and calf). I thought they were rocks because the map showed them as peaks, but the reality was that they were just two little flat sandbanks that were just an obstacle for the shipping lane. After that, we had like two minutes without cruise ships to enjoy the beautiful surroundings of the river.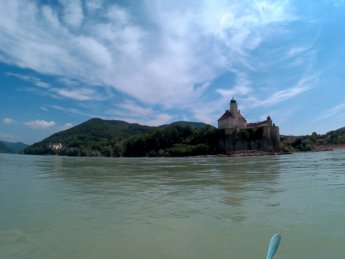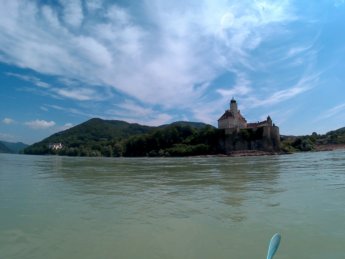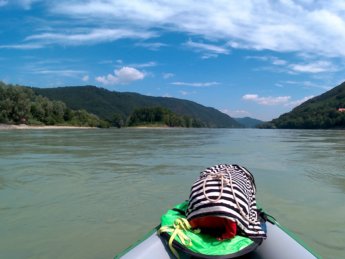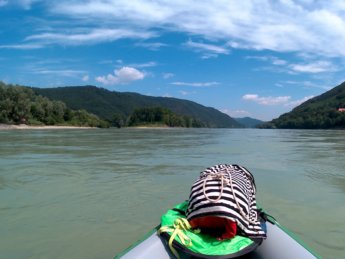 Then the river got much more shallow, to the point that there were more sandbanks breaking the surface. The shipping lane became quite skinny and we watched with an imaginary bucket of popcorn if something would go wrong there. In the background, we see the castle ruins (Burgruine) Aggstein.
UNESCO Site Wachau and Burgruine Aggstein
One of the places that were on our list to make a stop at was the village of Aggstein. On my map, I'd spotted a cool spot not too far away from a pension. The Google Images results were incredible. But we booked a place in Spitz instead, so I was just looking forward to passing the place on the river.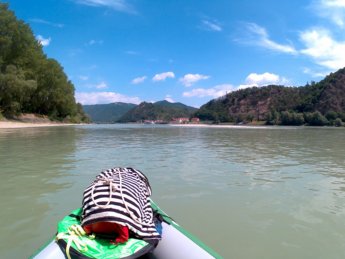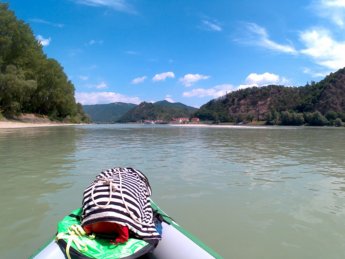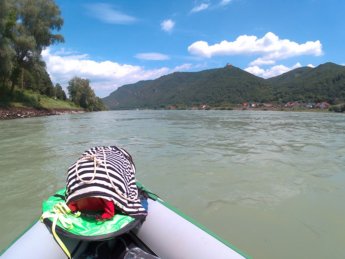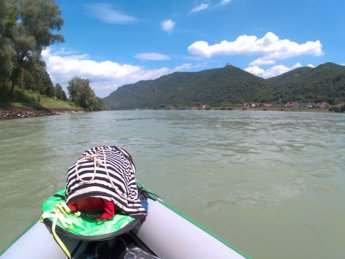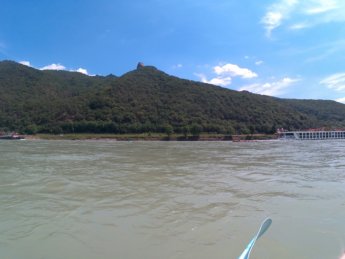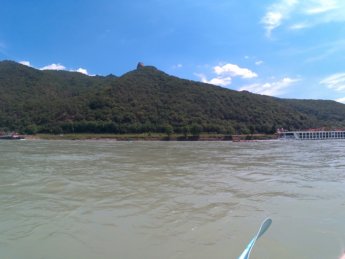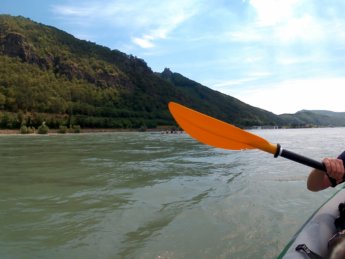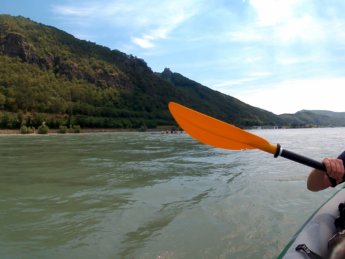 The shipping lane goes from wide to narrow very quickly in this area. We see a cruise ship overtaking another cruise ship against the current before a narrowing of the river by buoys. I'm never so sure what's the difference between a professional and an amateur. It's kind of always a matter of "trust me" until it goes horribly wrong.
A rather long rowboat of four rowers and one cocky coxswain floats downstream over the wobbly waves inside the shipping lane. We think we're being polite by being on the inside of the shipping lane, but we still presume other people know even better what they're doing. The rowers and the skinny dude take a break from rowing as the water isn't flat enough to actually row through. They're chatting and generally seeming to have a good time. All the while, a cruise ship is traveling upstream in their direction. They do not move.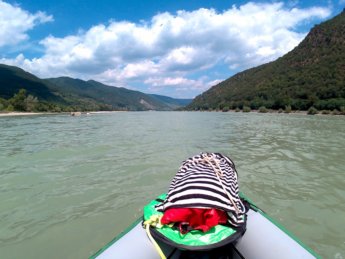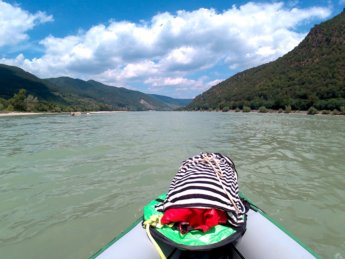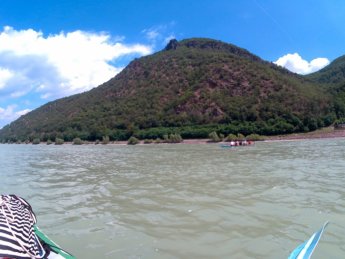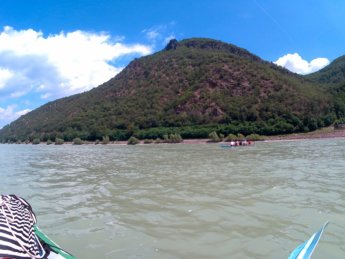 The cruise ship has had it, so it honks a long one to incite the rowing people to stop blocking their way. Jonas spots another rowing boat behind us and speculates they're protesting the shitty massive amounts of cruise ships on the river here. I postulate that the rowers are just acting like entitled wankers and they're no better or worse than the cruise ships besides their ecological footprints. And none of them are wearing life vests in this wobbly and fast-flowing river. Where did this come from anyway?
It's actually true that the faster the Danube flows, the more there must be to see. This area after the dam in Melk not only became quite fast but also incrementally more beautiful. The area here is named the Wachau and it's one of the few places in Austria that managed to secure that sweet UNESCO World Heritage Site status. All of this is fair enough.
The rowers reluctantly put their boat outside the shipping lane where we are. They're munching and chatting like there's no worry in the world, like their very high potential of dying a drowning death. But that's okay. Life is a choose your own adventure book. Some people might never hitchhike even when it's the best choice. Other people might not wear life vests because it makes their pittens feel icky. All these choices are still valid.
I make eye-contact with the coxswain of the leading rowing boat and immediately regret nodding in his direction. He makes one of the five faces that any white male university student can make when they feel like a million dollars but in reality only have their government's subsidies in their pockets. It's the face of privilege-dictated mediocrity.
Nudists
On the left-hand shore, we passed a kind of campground. Our paddle speed was quite good, so I only paid barely half attention to what was going on there. I just spotted two (inflatable) kayaks and then a mother with a child sitting near the boats on the beach. I nodded in their direction as an acknowledgment since we're both paddlers, at which point I noticed she was naked. And so was her kid. And so was everyone else on the beach and the embankment.
Some of them waved at us. Some just looked on as we continued downstream fully dressed. I guess we have very little in common right this moment besides being white.
I kept wondering about the people with the kayak and how the five-year-old or something would have his own one-person kayak. It didn't make sense to give a child that much responsibility in all this shipping and cruising madness. It's genuinely dangerous to paddle here if you don't know what you're doing and you don't have any guidance from someone who does.
But the bipolar need of a parent to put their offspring needlessly into harm's way while simultaneously trying to save them from the risk they put them in never ceases to amaze me.
Silly Hills to Die On
The Danube is on absolute fire on this stretch. We're speeding and having such a great time dodging the shallow parts outside of the shipping lane. And we're arriving at our destination, which is always a big motivation. The numbers on the right-hand shore are declining until they look almost reachable; 2025 seems imaginable. 2023 looks predictable. 2022 looks reasonable in the time frame of our lives.
It's when we're approaching the signs of 2021 – 2020 and 2019 zones when I really need a pee break. We stop at 13:05 on the left-hand shore just barely before Spitz on what's without a doubt an incredibly beautiful river beach. Too bad we had to defile it ever so slightly. I ask Jonas for paddling support while I take photos with my 'good' camera from the boat – that is the camera that won't give second chances after getting dipped into that sweet river water.
He agrees and we're paddling towards Spitz again at 13:15. I snap some mediocre pictures from inside our boat of the numbers that will be relevant in the years to come as long as we're alive, breathing, capable of paddling, and together. That's a whole lot of requirements.
People, don't put off your dreams until retirement. You really might fucking die tomorrow. The chances of you fucking dying tomorrow are larger than you living another hundred years. Thank you for paying attention to this Public Service Announcement (PSA, as they call it in the USA).
The literal only reason we're doing this trip is that I imagined it and Jonas was paying attention when I told him my dream. You really shouldn't be with anyone who dismisses your dreams or goals outright without further engagement. I was afraid of dismissal when I told him, but instead, he reacted positively. This, of course, could have not been predicted. But that's okay, because as long as you're being honest about your own desires, you're building a relationship built on honesty and trust instead of lies and societal expectations. I didn't even know Jonas enjoyed kayaking until I told him I might enjoy it more if I did it with anyone else but my teenage sister (at that very fucking time). Things change.
Arriving in Spitz
The final stretch to our destination Spitz went really fast. I snapped pictures of the silly kilometer signs on the right-hand side. Our landing spot was on the left-hand side of the river, so I really pushed it by not helping Jonas while he was taking the sole responsibility for us having control over our beautiful yet capricious boat named Zucchini.

We spotted the landing slipway before the fixed ferry that goes between Spitz and Arnsdorf. It had two people and a dog on it, but none of that stops us from taking up our space. We landed our boat parallel to the slipway at 13:35. The difference between moving in the fast river and now coming to a stop was kind of abrupt. The rope from the ferry is upstream from us, while its docks are downstream. Someone balanced some stones to make a cairn on our slipway, which is generally a nice thing to do unless people need to use that space. Like us.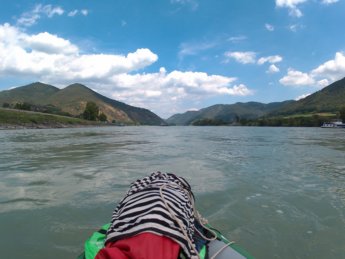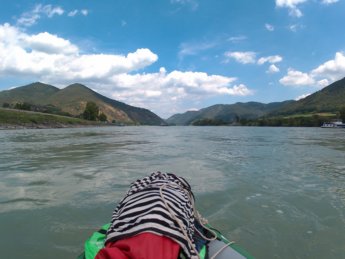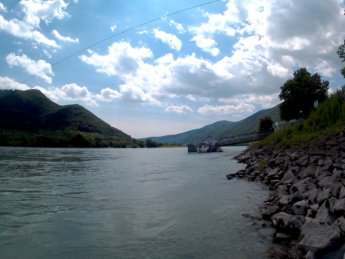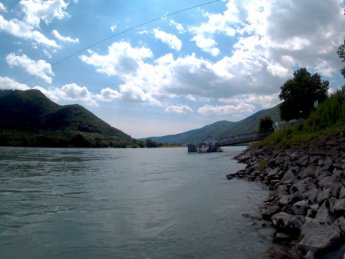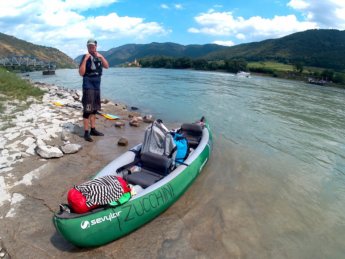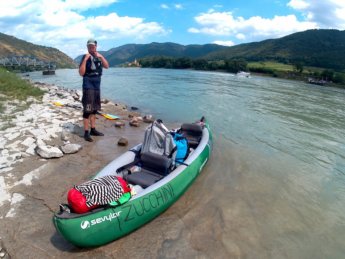 The dog of the man and woman didn't agree with us being there and started to growl at us. It was a curly and nervous-looking poodle kind of dog, so I wasn't immediately alerted. Then I heard the dog owners speak a familiar-sounding language. It was Flemish, which is Dutch but less authoritative. I asked them the dog's name ("Hoe heet jullie hondje?") so I can make peace with it in Dutch, to which they answered "Her name is Phoebe" in English. Okay, don't Dutch me. Fine.
We dried our boat and packed all our stuff in the sunshine while I could understand their conversations. They said that it must be dangerous to be in the sun all day (it is). Phoebe stopped getting nervous around us as we packed up as we relaxed on our inflated seats. At some point, they left and said a friendly goodbye to us.
I really wanted to go inside somewhere. We packed the boat and noticed the slipway was quite dusty. Then we walked the 200 meters through the center of Spitz to Café Bruckner. A young woman opened the back entrance to the pension. We walked past endless stacks of jam jars that smelled quite sweet. She checked us into our (fairly small) room.
We stayed in Spitz for two nights.
Thank You for Reading!