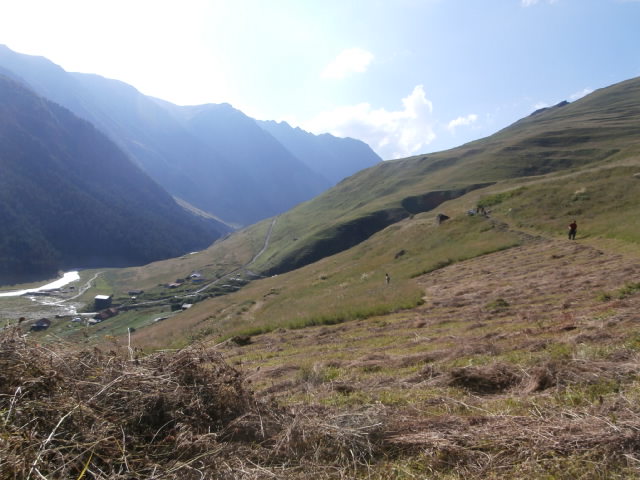 As you can see from this photo, the Tusheti region in the north of Georgia is pretty fabulous. I just spent a few days here at altitude in Omalo and Dartlo. To the north, the mountains form a natural border with Russia's Dagestan and Chechnya—both places I'd absolutely love to visit. There are several hostels here and the owners of one just invited me to stay for free. That's how huge hospitality is here.
I encountered some young Georgian women here who were excited to hang out with me and show me around. They travel the difficult road to Omalo every summer to visit family. To them it's boring, but they can see that I find it all very cool, which makes them reappreciate things.
And when I that the road to Tusheti is difficult, I mean it. I still feel the swinging and shaking in the four-wheel drive in my neck and back. And this road is the only way in or out by car since there's no border crossing with Russia (and perhaps we shouldn't ask for one either). I think there might be hiking/shepherd trails across the Caucasus mountain crests, but this option wouldn't be open to people like me. So I returned back through the Abano Pass on my birthday to Akhmeta.
As this is mountain territory and I don't have a device to plug in a Georgian SIM card with internet, updates are sporadic. But people do sometimes have WiFi here. Right now there are already people with solar panels to not rely on any kind of grid (if that exists here).  I wonder what this place will look like in ten years.