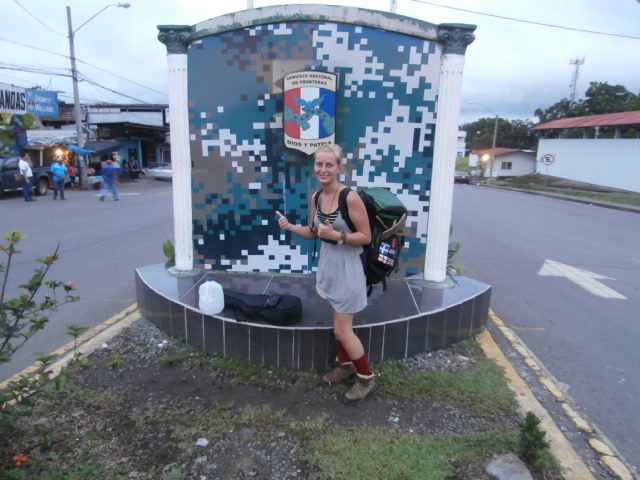 Welcome to Panama! But no, this was yet again more of an adventure than anticipated (and hoped for).
This picture is from yesterday's (11th of June) border crossing from Costa Rica to Panama at the binational city of Paso Canoas. I hitchhiked into a town called David around sundown with yet another good samaritan from Honduras. It was a tight call whether I could cross, but I made it!
The Panamanian immigration officer asked me for my (doctored in MS Paint) flight ticket to Madrid. And it worked! But then he asked me for proof of sufficient funds, which comes down to US$500. He wanted a printout of some kind. Instead, I showed him my credit card, saying "This one has a limit of US$500!". But that wasn't enough for him, so I showed him my three other cards from my wallet, leaned over, and told him "Trust me, I have money."
Never has my poker face been more powerful. Because all those cards except for one shitty debit card were absolutely empty.
The border man hesitated, then stamped my passport and said "For next time in Panama, you'll have to bring a bank statement." Somberly, I respond "Okay, muchísimas gracias señor. Next time I'll have a bank statement."
But internally I'm like: Ding ding ding! 
I'm in heckin' Panama! And I made it to my final destination in Central America! (Noo, I'm not crossing the Darien Gap just yet)
What would I have done if he hadn't let me in? I wonder. I guess I would have faked a bank statement at the nearest internet café. It was late at the border, so I would have probably had to try again the following day, hoping I'd get a different (easier) immigration officer from la República de Panamá. Perhaps they'd never let me in.
But I definitely promise that next time I will come to Panama with adequate wealth levels. Scout's honor!