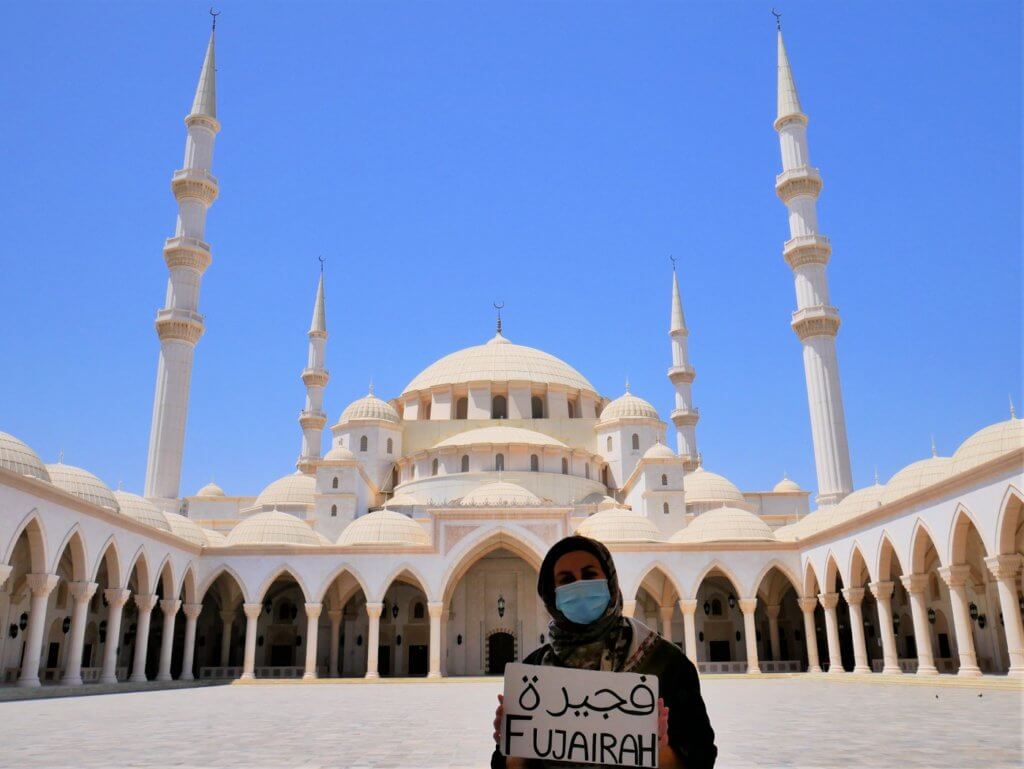 This article contains both a story of how we managed to visit the Sheikh Zayed Grand Mosque in Fujairah (as non-Muslims) as well as actionable tips. We visited on Wednesday the 7th of April, 2021. To skip forward to the how-to, click here.
UAE Mosques that Allow Non-Muslim Visitors
There aren't that many mosques in the United Arab Emirates where non-Muslims can enter. The most famous ones are in Dubai (e.g. the quite commercialized Jumeirah Mosque) and in Abu Dhabi (also called the 'Sheikh Zayed Grand Mosque'). On our journey from Dibba Al Fujairah to Fujairah City, we made a stop at Al Bidya Mosque. This mosque probably dates back to the 15th century and is the second-oldest mosque in the UAE. During regular times, non-Muslims can also visit and enter the Al Bidya Mosque. But we visited during the COVID-19 pandemic! Because the interior is so small, non-Muslims are currently also not allowed to enter.
I told Jonas that Fujairah's Sheikh Zayed Grand Mosque is the second-biggest mosque in the UAE after the one in Abu Dhabi. We wanted to just see it from the outside with the sunset, snap some pictures, and then go to eat some Nepali momos nearby. We didn't expect to enter or spend more than 10 minutes in its vicinity. And we didn't expect the need for a hijab on me since we wouldn't enter.
An Evening Visit to Sheikh Zayed Grand Mosque
A Stunning Vista
On the evening of Saturday, April 3rd, we took a taxi from our hotel to the mosque. The sun was already fading and it was a perfect temperature to be outside. The taxi dropped us off near the back of the mosque. There are nice sidewalks around with trees and flowers. Some people went for their evening jog around this massive complex. I took the first photos through the fence until we found an entrance that was clearly open for pedestrians, but not cars. In true UAE fashion, the parking lots of the complex are even bigger than the mosque's floorplan itself.
We hesitated a little, but there seemed to be no problem walking over the parking lot of the mosque to the front side. That's where I'd hoped to have been dropped off, but that was too difficult with the infrastructure which favors cars never stopping. There was a sign asking to wear the appropriate dress, which only included the standard cover your shoulders and legs advice you see everywhere from shopping malls to beaches. I could only fit the whole mosque with my wide-angle lens.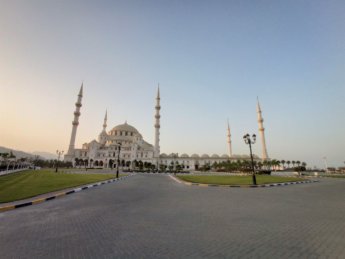 Lots of gardeners were busy maintaining the trees and the fountains. We kept to the parking lot, which was an adequate distance to observe the building.
Wikipedia wasn't kidding when it said this mosque is indeed huge, with six tall minarets and a cascade of domes that made Jonas wonder if there are different floors inside. The main aspects of the mosque are Ottoman in style. If I'd been brought here blindfolded, my first guess would be that this was a mosque in Turkey; it resembles the Selimiye Mosque in Erdine and the Sultan Ahmed Mosque in Istanbul. Wikipedia says it also has Moorish-style Islamic architecture but at the time I didn't really see it because I associate Moorish architecture mostly with square minarets like in Morocco.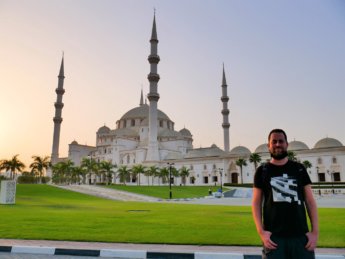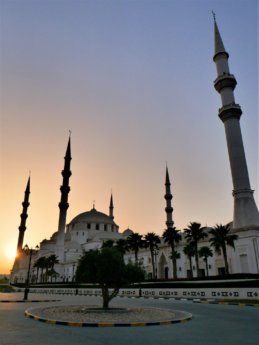 Employee of the Month
I'd brought my "Fujairah فجيرة" never-used-for-hitchhiking sign for the photos. Because it's cool, but also because otherwise, it's probably completely unclear where this mosque is at. The sun dipped behind the mosque into the Hajar Mountains. I still wanted to take some nice photos from the front side before all the light would disappear.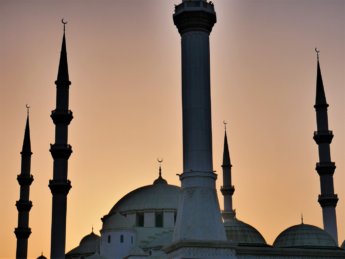 We were almost done with our visit when an over-eager guard approached us and asked Jonas if we're media. My camera is big, but not that big. Jonas said no, we're just tourists, and I was ready to walk away. But then he held us up for a good 10 minutes to give us an Islam 101 lecture. He said that we couldn't enter the mosque, which we had no intention of doing. Still, he wasn't done holding us up.
Then he went on that it was inappropriate for me to not wear a hijab in the parking lot. This isn't a rule I've ever heard of before; I just applied the rules followed in Jumeirah Mosque, where the guide asked the laydeez to put on a hijab before stepping on the mosque's foundations. He also didn't like my bare elbows and said "to enter a mosque ladies must wear long skirts and long sleeves and cover your head". I was really tempted to tell him that none of this info was new to me, but it felt like it would only encourage further discussion.
I looked over to the mosque and saw that the light had gone. Great.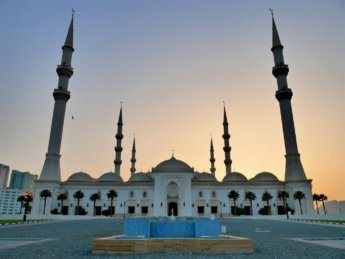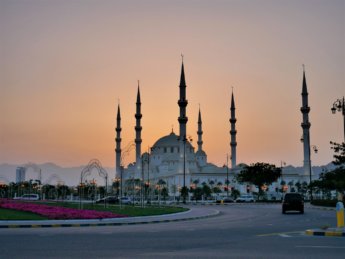 Finally, he said something that did pique our interest: "You can visit the mosque and enter between 9:00 and 12:00 in the morning on days that aren't Friday." Oh? So we can enter? That would be awesome. We thanked him and left via the grass to the front gate to snap some last pictures and leave. Walking over the grass wasn't an issue.
Online Research into Sheikh Zayed Grand Mosque
Back at home, we didn't do the research if what the guard said was true until Tuesday, April 6th. We'd wanted to visit in the morning, but I thought of verifying the information. The reviews on Google Maps said it wasn't accessible to non-Muslims. Huh. Some TripAdvisor reviews were a little more optimistic and recent, but they spoke about an online registration system.
I couldn't find their website immediately; Google Maps didn't link to it and if you type in "Sheikh Zayed Grand Mosque" you only find results for Abu Dhabi. If you add "Fujairah" to your search, the mosque's website still doesn't appear on the first page. This entire experience made me believe it's a good idea to write this quick blog post about this mosque. So that others may find this information with ease and reliability.
I guess it's not the best practice to book a visit and then immediately go to the mosque, so we decided to postpone the trip for one day. Jonas booked a timeslot for the 7th of April between 11:00 and 11:30 with the option to receive a guided tour.
A Guided Tour of Sheikh Zayed Grand Mosque
Dressing for + Taxi to + Entering Fujairah Mosque
Four days after our initial scouting session, we visited the mosque. At home, I put on my finest clothes and my makeshift hijab from my kayaking buff plus my forever scarf. I've used that scarf as my main hijab during my 28 days hitchhiking in Iran, though the semi-loose fit is Iranian streetwear and not (Iranian) mosque wear. What was trickier was putting on a face mask without my ears out for easy attaching. I don't have one of those hijab face mask tools, so the mask had to go underneath it all.
The sleeves on my finest dress are three-quarter length, so in case someone thought I showed too much skin, I also brought the arm sleeves (UV protection) that I'd made of an old shirt for kayaking to Pulau Tikus. Who knew there was so much overlap between the disciplines?
Jonas, as per usual, just wore his zippable pants and a generic t-shirt. He doesn't understand wardrobe anxiety the way I do because it simply doesn't apply to him.
It was a little weird to be so fully dressed in the elevator, but we were a little late—and putting on a hijab in the taxi is a recipe for disaster. Wearing it in public can also be a little weird because people react very differently to you, like when I stopped the taxi and the driver had to do a double-take to figure out how the two of us fit together. It all made sense when we said "To Sheikh Zayed Grand Mosque, main entrance, please."
Once at the mosque, I was happy the doors to the courtyard were wide open. We made our way to the main entrance. A guard or guide pointed us to the disinfection gel while simultaneously asking if we had a booking or just showed up. With still wet hands, Jonas fumbled for his phone, which had the email with the booking and the QR codes. I'm not sure what happened with the scanning machine, but I'm assuming it had trouble reading the code because Jonas' screen brightness is always too low.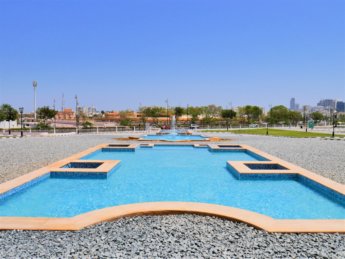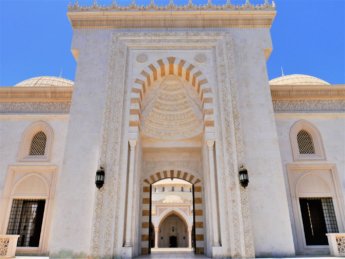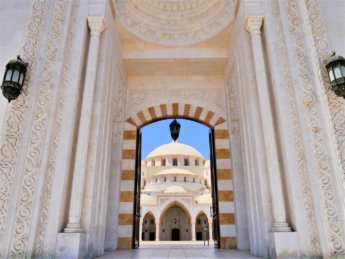 On Tour with Aisha
Once we were in, it had already been worth it. The off-white stone is so bright and inside is a bit of tranquility away from the busy roads.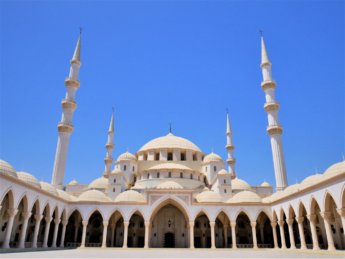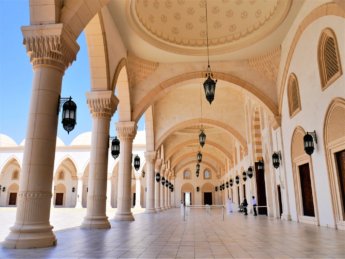 A smiling young woman in all-black welcomed us, introduced herself as Aisha, and asked if we wanted to take the tour or visit parts of the mosque on our own. She laid out the two options and reiterated that the tour would take approximately 30 minutes. We opted for the tour, and she said something along the lines of "excellent choice". We walked to a different spot and she began by saying that we're encouraged to take photos and videos of the mosque, but not of the tour itself. She also specifically mentioned the dress code for men and women and approved of my sartorial decisions.
It starts with the name of the mosque: Sheikh Zayed Grand Mosque. The name comes from the UAE's principal founding father, the late Zayed bin Sultan Al Nahyan, who united the emirates. You can still find his portrait and name in many public places in the UAE.
Many, Many Domes
Aisha talked about the construction and how they built this giant mosque in five years. It opened in 2015 and she asked us if we knew how many domes the building has. I remembered reading this on Wikipedia that it was more than 60. She asked a lot of engaging questions like this to us, but we also asked questions. The off-white stone for the exterior comes from the Levant, specifically from Syria. There were a lot of details about the immense size of the main dome and its many sibling domes, the six minarets, and the muqarnas and vaults. She knew her fact sheet about the Sheikh Zayed Grand Mosque by heart.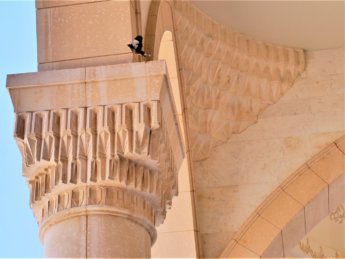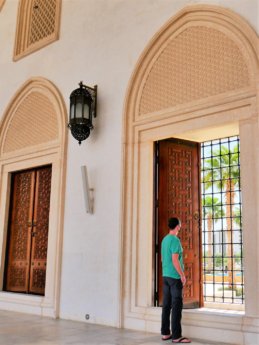 Specific areas of the mosque have space for certain numbers of worshippers. The courtyard fits several thousand, but the column-flanked gallery (riwaq) fits a thousand more. It's hard to imagine when the mosque is nearly empty except for one other small tour group with a male guide in all-white.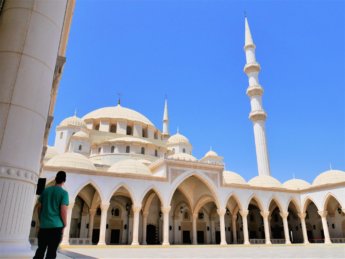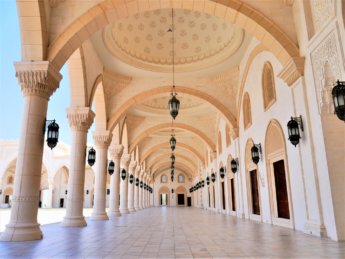 Aisha used the Arabic word for lots of the components of a mosque. She asked us to repeat the word for the courtyard, which we learned is 'saHn' with the hard H (ح) and not the soft h (ه). She thought we nailed the pronunciation. My two-and-a-half months of practicing Arabic on Duolingo have paid off.
The Main Prayer Hall
We made our way to the main prayer hall where colorfully painted details took charge over the white stone. We took off our flip-flops before entering the indoor carpeted area under a cool breeze of air conditioning.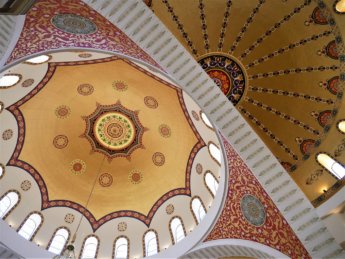 This hall fits 12.000 worshippers, she said. Though seeing the plastic prayer dot stickers spread out across the carpet to maintain social distance, I just had to ask: how many people fit inside the main prayer hall during covid? The answer is 6.000 people, meaning half. If you extrapolate that to the mosque's entire capacity, it will 'only' fit 14.000 worshippers coming Ramadan instead of the usual 28.000. Wowza.
Each major dome has a huge chandelier proportionate to the size of the dome. She called the huge ones in the corner "small chandelier", which must have been a joke if not for the huge HUGE chandelier hanging from the ceiling of the main dome. It's only hanging by one cable, but the colossal light weights 7000 kilograms and has a wingspan of 13.5 meters. We look worried, but she says it's well-secured to the ceiling. I don't mess with chandeliers.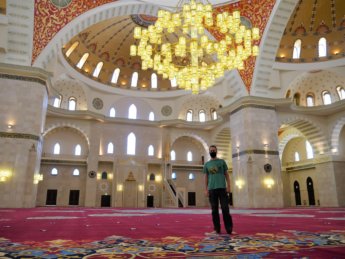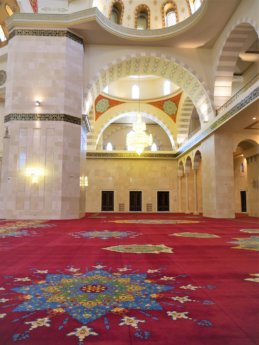 Then we learned about the mihrab and the minbar (pulpit) across the room. There are inscriptions next to the mihrab, which she translated, but very fast. I think they're Quranic verses, but I couldn't follow.
The carpet has a very nice arabesque design on a dark red background. Aisha asked us if we knew where the carpet was made. Based on the mosque's Ottoman design, my first guess was Turkey. No. In the UAE? Also no. Iran? Nope.
"It's a European country starting with a B," she said.
"B… B…Bulgaria?" I suggested.
"No, it's Belgium."
😳
I would have gone through Bosnia, Belarus, Bavaria, and Biceland before I would have guessed Belgium. It's not a country I associate with the craft of carpet weaving.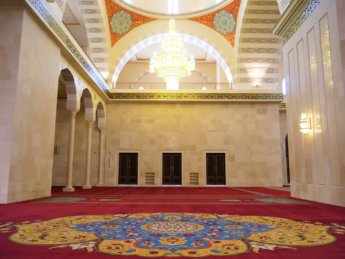 She also pointed out the hidden ACs smartly hidden behind a black-and-gold decorative panel in one of the huge columns.
Photographs Before Lunch
That marked the end of the tour. We thanked Aisha for her work and asked if she's from Fujairah (she is). We took some photos in the prayer hall with my "Fujairah فجيرة" sign with her permission. From there, we spent another half hour or so taking photos in the prayer hall, its door, the gallery, and back at the entrance before leaving. Of course, at the main entrance, a guard wanted to see what our sign said before we were allowed to take photos.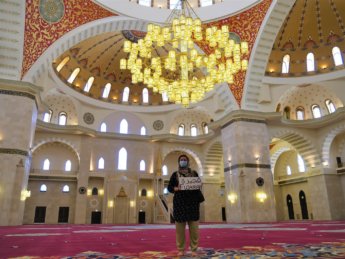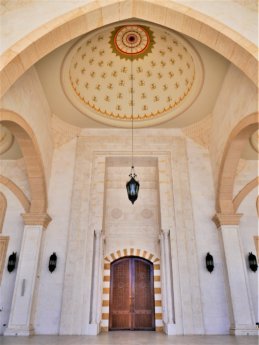 Walking in the harsh sunshine to the Malaysian restaurant just 900 meters away was doable but also the limit of what's comfortable. It's soon time for us to leave the UAE to colder pastures before our 90 days are over.
We had a very good time and learned a lot. I fully recommend going to this mosque and doing this tour. They're not as used to foreign tourists as they are in Dubai and Abu Dhabi and it's a lot less crowded. It's also not commercialized for profit. Most of all: it's a spectacular mosque that's in excellent condition.
How to Visit the Sheikh Zayed Grand Mosque?
The mosque is closed to non-Muslim visitors on Fridays
Make sure to check the prayer times for Fujairah on their website before you go to avoid visiting when it's closed to non-Muslims
Prayer times change a lot. The longest gap between prayers is usually between the sunrise and noon prayers, which is also when the tours happen. During our visit, this timeslot was between 9:00 and 12:00
Sign up on their website. This is the best way to make sure you're welcome. Make sure you have the right mosque because you can also book a visit to the mosque of the same name in Abu Dhabi on this website
Visiting the mosque is free of charge
Save your QR code or email to your phone so you can scan it when entering
The mosque is wheelchair accessible. The bathrooms in the basement are reachable by a ramp
Wear a comfortable face mask during your visit
Men should wear long pants and a shirt that covers their shoulders. Women have to wear a hijab, loose-fitting clothes that cover their legs and elbows. See this infographic on their website
The Sheikh Zayed Grand Mosque in Fujairah does not provide abayas or hijabs for visitors to rent or buy
You can bring water, but you can only drink it outside the prayer hall
Do not eat inside the mosque
Take off your footwear before entering any carpeted areas. Tip: wear shoes that you can take off and put on very easily, like flip flops or sandals
I don't know why, but you can't enter the courtyard
Some sections of the mosque are off-limits to visitors. Expect guards or your guide to ask you to stay in a certain zone