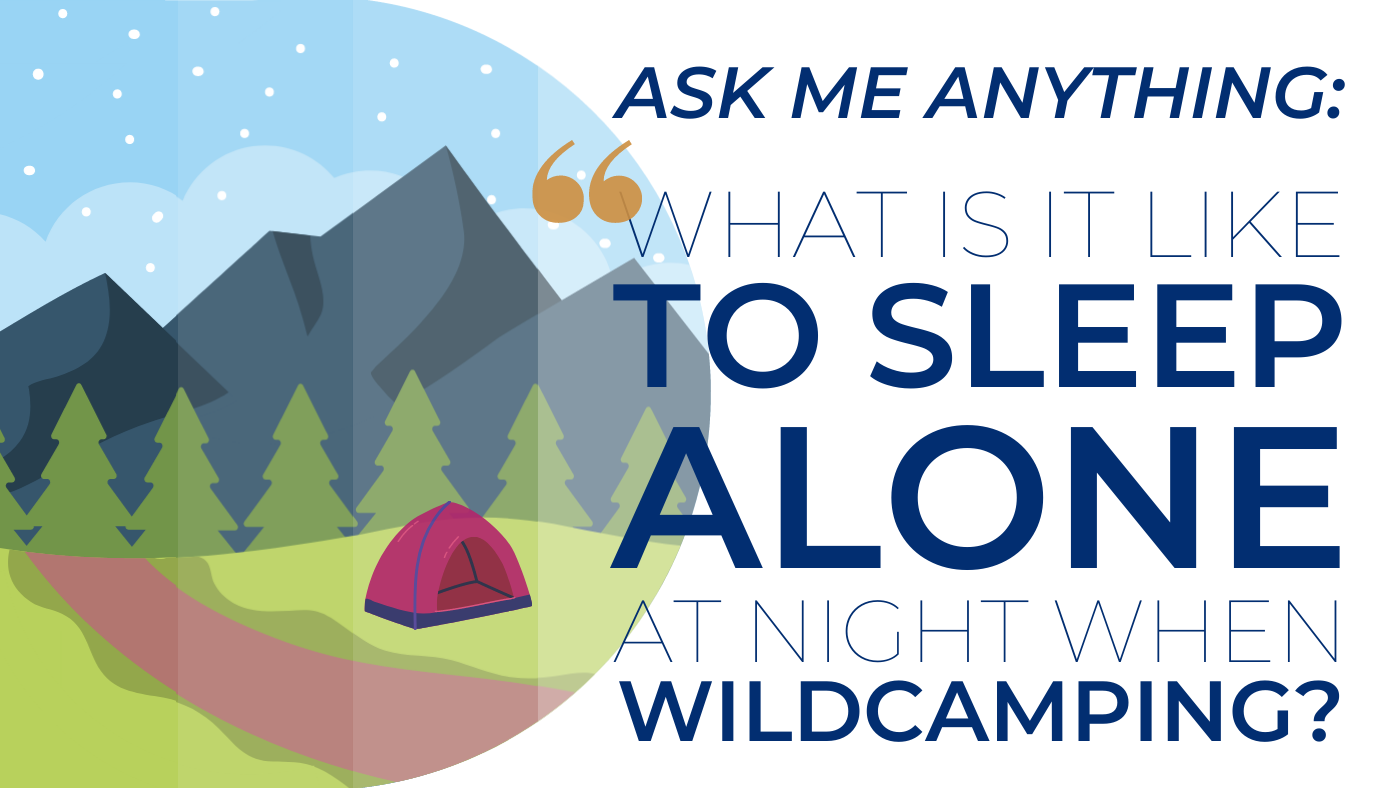 A new question for my Ask Me Anything (AMA)! This person wrote the following message in Dutch. I'll translate it to English and put the original in Dutch below. The topic is: what is sleeping alone like while wildcamping?
English translation:
Yoooo! You're Dutch I assume? Respect for your lifestyle anyway, few people hitchhike solo, great to see. I wonder: what is sleeping alone like? Is it always scary to some extent, or are you getting used to it? I am planning to hitchhike alone and go wildcamping soon and I am curious what I can expect!
My response translated to English:
Well spotted! Indeed, I am from the Netherlands. Thanks for your message! Sleeping alone depends entirely on the situation. I get the best night's sleep when I lie in my tent or sleeping bag somewhere out of sight of all people and nobody knows that I am there. When I'm in an urban zone, I make sure I can rest on a private property where the owners know I'm there and that also provide some protection, but usually you are invited inside anyway!

At first I still often think "oh shit, what if …?" but once on the road or rolling out the sleeping bag, that feeling goes away. It also helps to think about the other options: no night's sleep, or getting bored in an overpriced hostel. For urban areas, I always look for a couchsurfing host, but it could just as well be the case that I want to go wildcamping anyway.

Always make sure you are prepared for everything! So your flashlight/torch has to work (and preferably you carry an extra set of batteries), your hitchhiking gear waterproof in case of rain and enough warm clothes in case of cold, and most important: an excuse if the police / random people find you. Also look for which wild animals you might encounter depending on your destination. Bears are my biggest fear.

Was this helpful? 🙂 Have fun during your trip and take lots of pictures!

Peace, love, and tranquility,
Iris
Original in Dutch:
Joooo! Je bent Nederlands neem ik aan? Sowieso respect voor je levensstijl, alleen liften doen weinigen, tof om te zien. Ik vraag me af: hoe is alleen slapen? Blijft het altijd in zekere mate eng, of wen je eraan? Ben van plan om binnenkort ook alleen te liften en te wildkamperen en ben benieuwd wat ik kan verwachten!
My response in Dutch:
Goed gezien! Inderdaad, ik kom uit Nederland. Dankjewel voor je bericht! Alleen slapen hangt volledig af van de situatie. De beste nachtrust krijg ik als ik in mijn tentje of slaapzak lig ergens buiten het zicht van alle mensen en niemand weet dat ik daar zit. Als ik in een stedelijke zone zit, zorg ik ervoor dat ik kan tukken op een privé terrein waarvan de eigenaren weten dat ik daar zit en die ook een stukje bescherming geven, maar doorgaans wordt je dan toch binnen uitgenodigd!

In het begin denk ik nog steeds vaak van "oh shit, wat als..?" maar eenmaal onderweg of de slaapzak uitrollend gaat dat gevoel weer weg. Het helpt ook om te denken aan de andere opties: geen nachtrust, of me doodvervelen in een veel te duur hostel. Voor stedelijke gebieden zoek ik altijd wel naar een couchsurfing host, maar het kan net zo goed het geval zijn dat ik hoe dan ook wil wildkamperen.

Zorg er wel altijd voor dat je op alles voorbereid bent! Dus je zaklamp moet werken (en het liefst heb je ook een extra set batterijen erbij), je uitrusting voor liften waterdicht in het geval van regen en genoeg warme kleren in het geval van kou, en het belangrijkste: een excuus als de politie/random mensen je vinden. Zoek ook op welke wilde dieren je eventueel kunt tegenkomen afhankelijk van je bestemming. Beren zijn mijn grootste angst.

Was dit behulpzaam? 🙂 Veel plezier tijdens je trip en take lots of pictures!

Peace, love, and tranquillity,
Iris