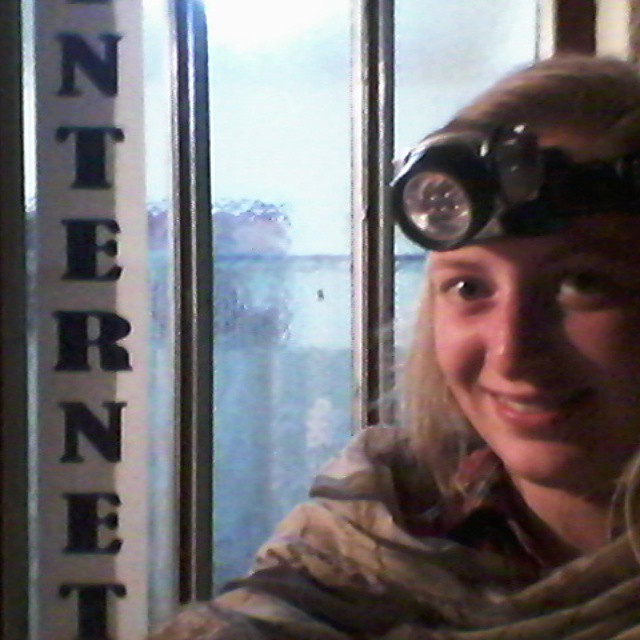 Yes, that's a torch on my head. I'm freaking night blind! The last few days were marked with the ultimate chill, beer, new friends, and Lu Lu the dog. Also this small thing: massive primetime thunder and lightning that was our TV for two days and the subsequent power outages (hence no internet and no posts!).
Though a bit annoying, this is the perfect weather for reading a book or fixing my backpack by candlelight—or torchlight. We've also cooked our meals – pancakes, lots and lots of pancakes – on a Real Fire™.
Tomorrow is the day I'll go to the local spring to fill up our drinking water reserves. Tomorrow we also celebrate Montenegro's Independence Day from the dock of the bay here in Kruče.
Did you know that Montenegro – abbreviated to MNE on the license plates – is only nine years old as of tomorrow? Yeah, they only became an independent country from Serbia in 2006. It's strange that this happened during my lifetime and I have absolutely no memory of it. I always thought there was Yugoslavia, and then there wasn't Yugoslavia. But in between, there was one country which was Serbia and Montenegro. I was definitely too young to understand the geopolitical situation here. (I still am.)
For now, I'm enjoying the short internet time at pizzeria Laki here in Kruče. They seem to have a generator to beat the power outages. After that, I'll go back to chill mode. Hitchhiking to Albania just has to wait a little bit longer! But I promise… soon I'll make the journey further southward. Kruče is just a little bit too nice at times.
#CrnaGora #unplug (at Pizzeria Laki)