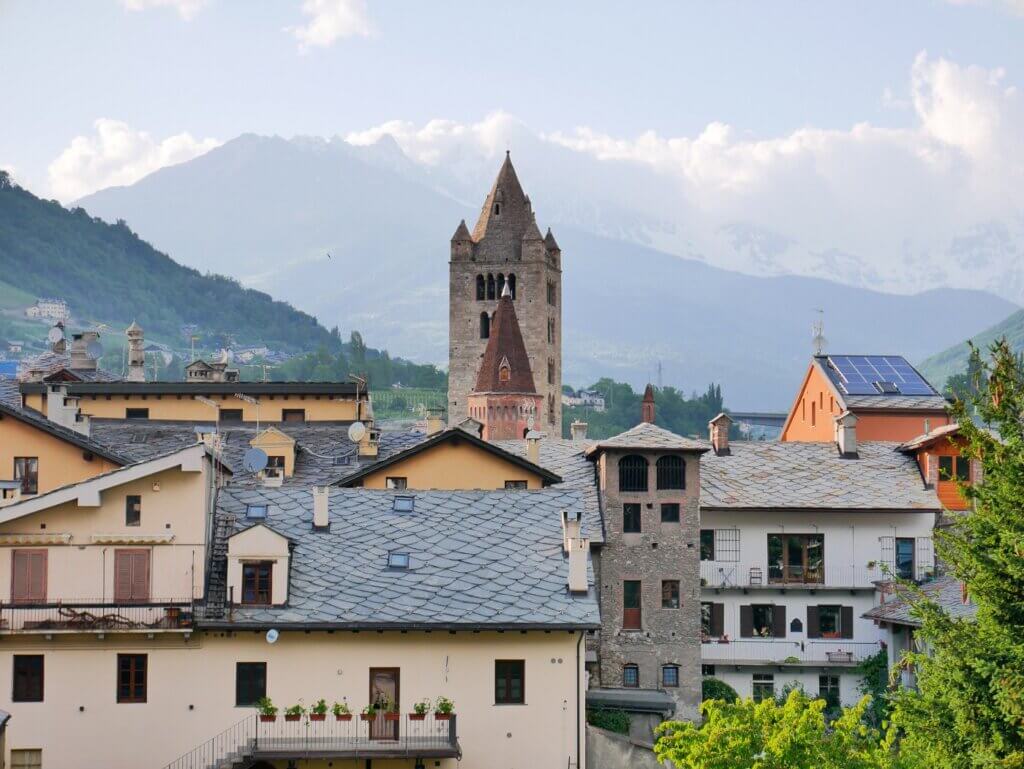 Between two catsits in Geneva, Switzerland, and The Hague, the Netherlands, we took the bus from Geneva to Aosta in Italy. Aosta is the capital of the autonomous Aosta Valley region, which is bilingual (Italian and French). From the 30th of May till the 3rd of June, we spent four incredible days in the Aosta Valley. We used the city of Aosta as a base for day trips to the surrounding villages.
Plotting Our Trip + Bus Ride from Geneva to Aosta
But First, Pizza + Gnocchi
I don't know man, but we got off the bus, saw some stuff in Italian, and my mood completely changed. Switzerland was fun and all, but there's just something about Italy that induces happiness.
We walked to the Airbnb in the city center. Our host was ready to receive us and showed us around the house. He and Jonas spoke French, which is the second most spoken language in the Aosta Valley. He gave us some advice on where to go and eat in the city and the Aosta Valley. It was a very nice apartment that had many little extras to make our stay comfortable, such as a kitchen drawer with little packets of extra virgin olive oil and balsamic vinegar. It stood out to me how much better value for money we got just across the border from Switzerland. And the views from the two balconies were stunning.
I unpacked and packed a day bag and a shopping bag. The first order of business was eating some hot food. We walked around the town a bit looking for a place, inadvertently doing a bit of a city tour as well; we visited the Arco di Augusto, the Buthier torrent, the base of the Collegio Saint-Benin tower we look out on from the apartment, the pedestrianized Via Sant'Anselmo, and many little side streets.
For dinner, we ended up going to the restaurant on the corner of our block called La Pace where a young waiter helped us with perfect English. We'd walked past it on the way to the apartment and the affordability stuck with us and the place looked quite low-key. Jonas ordered a pizza (he had been talking about that all day) and I ordered gnocchi with Aostan cheese. I could cry about how good the food tasted. The crispy pizza crust, the pillowy and cheesy gnocchi, and the generous bucket of grated Parmigiano I was gifted at no extra cost..! It's been so long since I had food that other people cooked, which is honestly one of my favorite things. Life in Switzerland had been… Austere.
With a salad to share and sparkling water, the bill for this feast came down to €23.50. That's when we knew we shouldn't cook for ourselves here. It's funny how a relative small reduction in prices makes us much more generous with patronizing businesses.
Afterward, we went to a nearby city Carrefour to buy wine, cheese, and some other local goodies for at home. The supermarket prices in Aosta were actually surprisingly high; I expected to get cheap wine for less than €1 like in Portugal in 2019. All of Europe seems to have gotten more expensive in the last 3.5 years. And local Aostan wine was more like €5 and up.
Taking the Bus to Cogne + Hiking to Lillaz Waterfalls
The next day, we ate the burrata we bought at the supermarket and prepped it in the typical style you see on YouTube. It was amazing and we'll be eating this again.
We prepped a day bag and walked to the bus station of Aosta, where we took the bus for €2.90 per person to Cogne. It's a cute village with its own contributions to Aostan cuisine and a hub to visit the Lillaz waterfalls. The bus ride was very pleasant compared to a similar bus ride we'd taken from Sion to Euseigne just a week earlier.
Once in Cogne, we walked around the town for a bit. We could see the abandoned mining facilities high up the mountains on the other side. Jonas arranged some focaccia sandwiches stuffed with grilled vegetables and cheese from a place called Edelweiss. Again, this was just a bar/gelateria whose main business isn't hot food per se, but the sandwiches were incredible. Just the default of flavorful food is so high in Italy.
Then we walked from Cogne to Lillaz via a trail on the other side of the Urtier Torrent. On the other side of the river, it might have been possible to hitchhike but this trail on the opposite side went up gently. This was a pleasant forest hike that climbed up to Lillaz very slowly.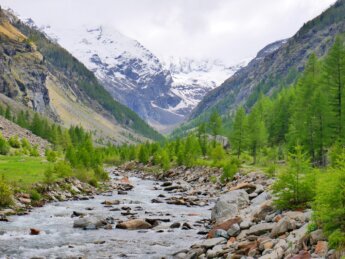 At Lillaz, there's a confluence of the Urtier and Valeille streams. We were feeling energetic, so I suggested first hiking into this side valley called Vallonde di Valeille before going to the Lillaz Waterfalls. The steep mountain cliffs had several long and thin waterfalls.
This sidequest proved to be the best part of the day, as we saw a majestic male Alpine ibex crossing the trail and looking at us from a rock above us when we passed. He hopped up the steep slopes like it was nothing like he was not carrying a hundred kilos of mountain goat up.
This trail led to another mapped waterfall, which was unfortunately dry. There we turned around till the trail allowed us to cross the Valeille stream at a weir. From there we followed the trails to the Lillaz Waterfalls.
The map showed about four consecutive waterfalls at Lillaz. We plotted a route to visit all of them. It was quite an ascent to the one at the top, but it was worth the bit of sweatiness. I noticed at the catchment ponds that the water didn't smell particularly fresh or mountain-y, probably because there are dams upstream.
Cogne to Aosta + Fonduta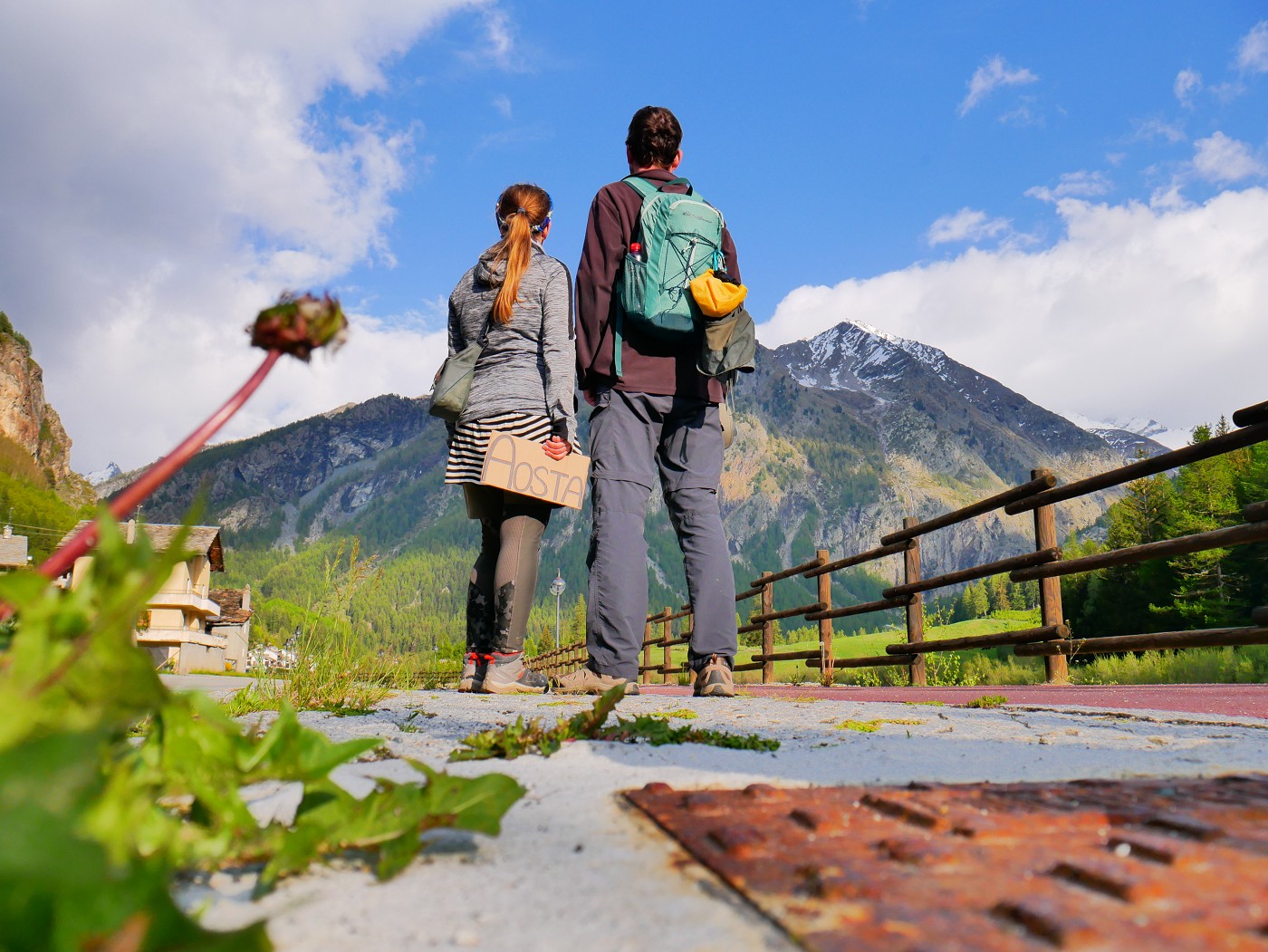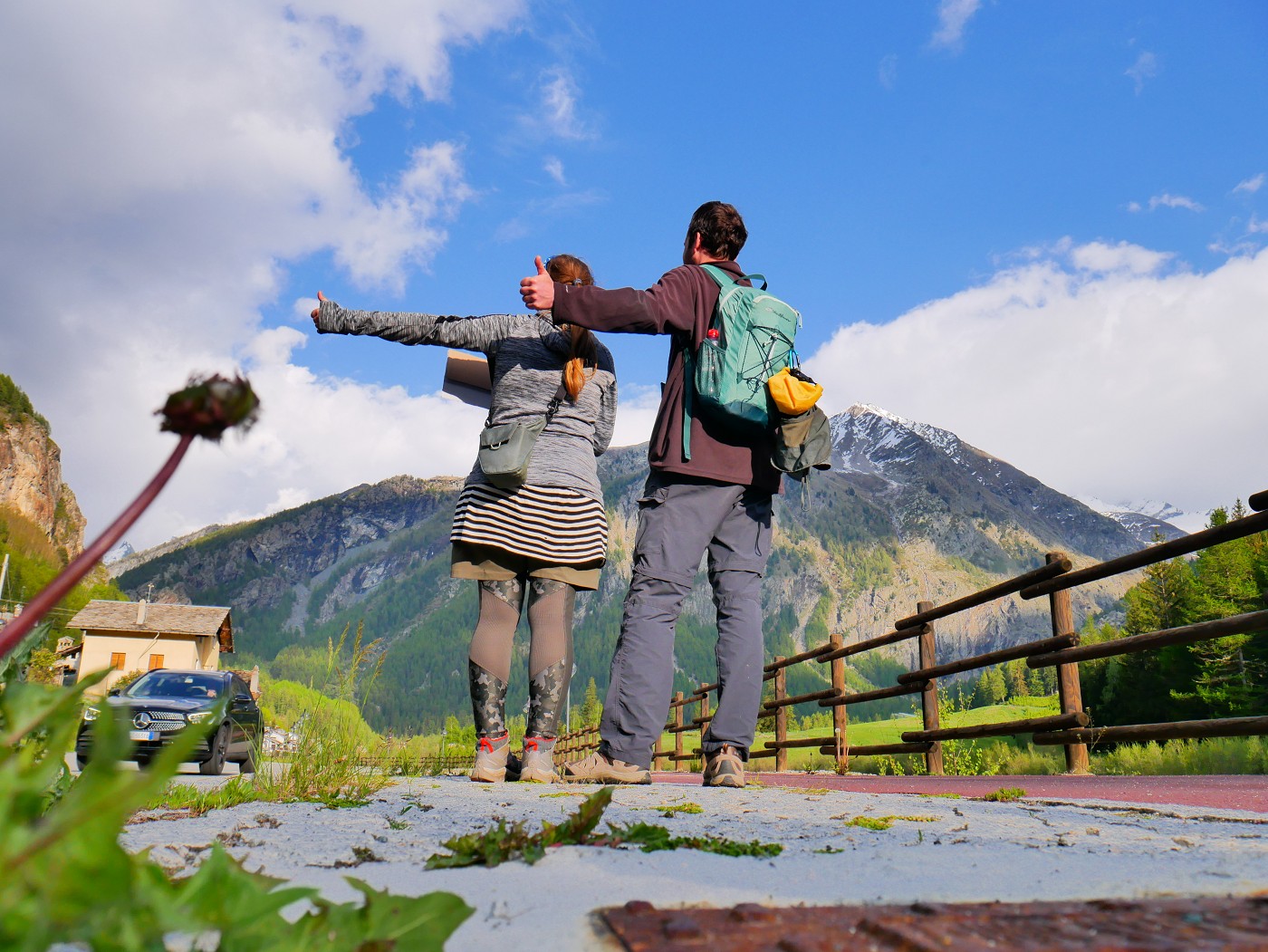 The day was ending and we hiked down rather quickly to the Parco Geologico (a bunch of big rocks). From Lillaz we tried to hitchhike back to Cogne or Aosta for a while. We took some very nice hitchhiking photos there, but no one stopped. As the sun dipped behind the mountains and it was getting cold, we decided to hike back via the forest trail on the opposite side.
In Cogne, we tried to hitchhike to Aosta again. But then Jonas saw that the last bus of the day was coming, so he made an executive decision to bus the last 27 kilometers back to Aosta.
In Aosta, we did an evening city walk in search of food. We tried many places, but they were either soulless fast food places, closing, or too pricey for what it was. Instead, we met a friendly local cat who was feeling lukewarm for pets.
So we ended up returning to our corner restaurant La Pace. For €27 we got fonduta alla valdostana (cheese fondue), porcini mushroom risotto, a salad, water, and a carafe of wine. This place is growing on us and it's reliably open.
Back at home, we relaxed and did research for the following day.
Aosta to Châtillon + Lago Blu + Meeting a Celebrity
The next day, we wanted to visit Breuil-Cervinia and Chamois. Chamois was a tip from our host. He said it's the highest European village not accessible by car. I couldn't find any sources for that, but a car-free village sounds great to us.
Jonas booked train tickets for €2.50 per person on the Trenitalia website to Châtillon, from where the bus to Breuil-Cervinia departs. The train ride was pleasant and had stunning vistas. We walked around the village and met some cats that were too shy to pet. We sat down in a café to have an espresso and Jonas a hot chocolate with some paninis to take away.
The bus to Breuil-Cervinia was unfortunately quite late. In hindsight, we should have gotten cash out of an ATM in Châtillon since the Aostan buses are always paid in cash. Had we known the bus was half an hour late, there would have been enough time to walk back.
Once we were in Breuil-Cervinia, everything was very ski-themed. This was Jonas' first time in a ski resort area like this. The ski resort town lies at the foot of the world-famous mountain associated with a certain triangular airport chocolate Matterhorn. I've wanted to see the Matterhorn either from the Swiss or Italian side. Unfortunately, there were a few clouds surrounding it. So we kept an eye on this 4478m peak while we hiked to the Lago Blu from Breuil-Cervinia after getting cash.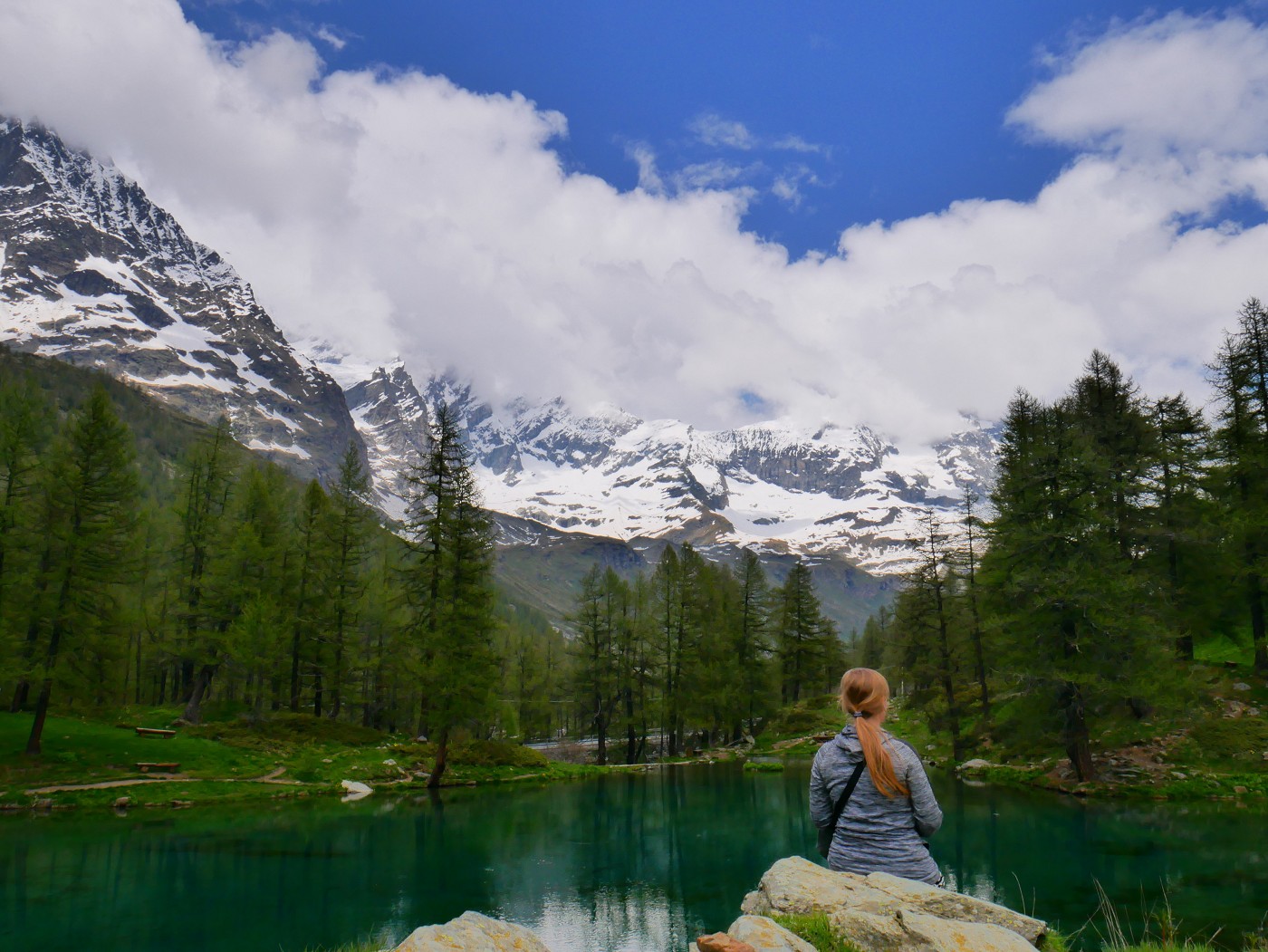 The little Lago Blu was very pretty. As it's next to the road, there were quite some visitors already. The small tranquil lake made beautiful reflections of the Matterhorn. We walked around it and sat down for a bite of chocolate while waiting for the clouds to clear. Though they never did completely, we did see much more of the peak in the end.
Hitchhiking to Buisson + Cable Car to Chamois
After the lake, we hitchhiked from the other side of the parking lot. Soon, a car with mother Sara and son Eduardo stopped and gave us a lift to the end of Valtournenche. We spoke French in the car with them as we rolled down the valley. They were just returning from a hiking trip and had lots of backpacking gear in the car.
Once they had dropped us off, it didn't take long for the next car to show. A guy popping out of a side street waved us over to come to his car and drove us to the village of Buisson. His name was Roberto and he asked me to hold some papers related to his work during the ride. We spoke English with him.
Roberto is an agriculturist and an enologist for local Aostan products. The ride was a lot of fun as Roberto was a bit more intense in the Italian way and told us a lot of things. He pointed out his house in the valley on the way down and said on his way to try a new local wine somewhere to bring it to market. He also had things to share about the valley hike that leads to Chamois from Valtournenche in about two hours. When he dropped us off at the cable car to Chamois, several people came out to greet him as well. A local celebrity.
At the cable car (funivia), we got return tickets at €5.50 per person. When we asked how long we needed to wait till the cable car would go, the young guy hesitated. He came back with the answer "Right now" so we dashed through the turnstiles into the cabin.
We departed the station soon after and experienced the heat inside the cabin with one other guy who might have been an operator and not a passenger. The ascent of about 700 meters was very steep until the first tower, after passing the cable car that's going down. Taking a cable car like this is always a little sketchy. The gallon of water, snacks, and pee bucket for if the cable car gets stuck also made those fears a bit more realistic. I guess that's just good preparation.
Chamois + Lago di Lod
It was a perfectly elegant way to get up to the village of Chamois at 1800 meters above sea level. There were viewing platforms of the valley below and a vague vista of Italy's first high-altitude airport, aka altiport. It's not that there are regular flights here and the weather conditions must be perfect. So I found a video of what it's like to land here on the grassy runway under a steep 20% incline. And if you're into flight simulators or want to see it in VR, you can download the altiport of Chamois (AO02) here.
In the village, we visited the church when it rained a little bit. There was also a shop that advertised a Chamois craft beer, called bière de Chamois. I was interested in taking that home for a little tasting, but the show was closed.
We decided to still hike some more, so we began the ascent to Lago di Lod. There was a chairlift going up there as well, but it wasn't operating. The hike was pretty tough but very rewarding. Lago di Lod (45.8453, 7.6228) had some magic carpet ski lifts and restaurants that looked open but weren't (we knocked). At the lake, Jonas spotted a patch of melting snow a little further up. So we had to go there and touch it.
We surrounded the lake and hiked back to Chamois via a very rewarding trail that led to a viewpoint called Belvedere. We both wished we had more time in Aosta. There are still so many more things to do in Aosta that I'm interested in, such as visiting the astronomical observatory, rafting or kayaking on the rivers, and sampling the local wines.
Further down we came past a mountain hut/hostel before reentering Chamois. Our return tickets for the cable car didn't seem to work at first and there were no people at the upper station who could help us. Considering we almost missed the cable car on the way up, we got nervous and hopped the turnstiles, and sat down in the cabin. Ten minutes later, some guy showed up and told us to get out and check in properly with the ticket. Now we were the last ones to board, and it was quite busy with people hauling stuff down the mountain. It was after 17:00, so this is what the commute looks like.
Hitchhiking to Châtillon + Train to Aosta
Back down, we crossed the road from the lower cable car station in Buisson and put up our thumbs and the Aosta hitchhiking sign. It took about 15 minutes before a car stopped with a young guy and a very large dog inside. He was driving to Châtillon instead of Aosta, so we could ride with him till there.
His name was Julio and his dog was named India. He lives in a town a little east of Châtillon these days but was born and raised at altitude in Chamois. Kind of cool to still hitchhike with someone from that small village with a population of slightly over a hundred people. Julio went there to visit family and go trail running in preparation for the marathons he runs. For work, he's a diabetes specialist.
This year he and his girlfriend are traveling to Rajasthan in India. They wanted to go to India earlier, but couldn't because of covid. I was wondering if the fascination with India is because of the high mountains there too, but Rajahsthan apparently doesn't have such tall mountains – the highest one being slightly lower than Chamois – so then it's probably the amazing food. I told him Jonas and I love Indian food and love how easy it is to get vegetarian food. Turns out he's a vegetarian as well and loves that about Indian food, too.
When discussing where to be dropped off, he thought about the bus to Aosta, but we said we can walk the last bit to the train station. Julio offered to drive us to the train station instead, and we also passed by the stop where the bus just left for Aosta. We thanked him for the ride and wished him a pleasant trip to Rajasthan. Perhaps Jonas and I should also continue planning a trip to India.
Jonas bought train tickets and it didn't take long for the train from Turin to Aosta to show up. It was a smooth ride back to the city, following the wild Dora Baltea River upstream.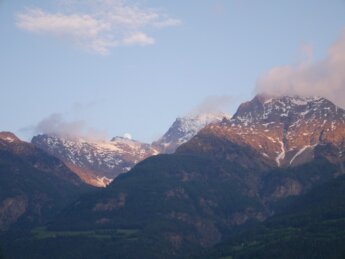 Back in Aosta, we got pistachio, fior di latte, and cinnamon ice cream at Gelateria Dolce Terapia. At Carrefour we got groceries and I got a locally-made white chocolate for myself. For dinner, we picked up two pizzas at Tony "Er Pizza" for €6 a pop. We ate those on the balcony of our Airbnb with a beautiful moonrise over Becca di Nona and Monte Emilius.
International Hitchhiking Preparation + Aosta City Walk
On our final day in Aosta, we worked till the afternoon. There was a lot of preparation work for our hitchhiking trip from Aosta to The Hague. We have about two days to make it from here to the next catsit at my sister's place in the Netherlands. It required a lot of discussing the route, marking relevant gas stations on our maps, and writing hitchhiking signs. Our minimum goal was to make it to Basel in Switzerland to catch the night train to the Netherlands.
In the early evening, we went to La Pace one last time to eat Aostan polenta concia with wine. Jonas got another great pizza and considered ordering more to have road food for the big hitchhiking trip. In the end, we got some focaccias from Tony's. That's going to be amazing hitchhiking food.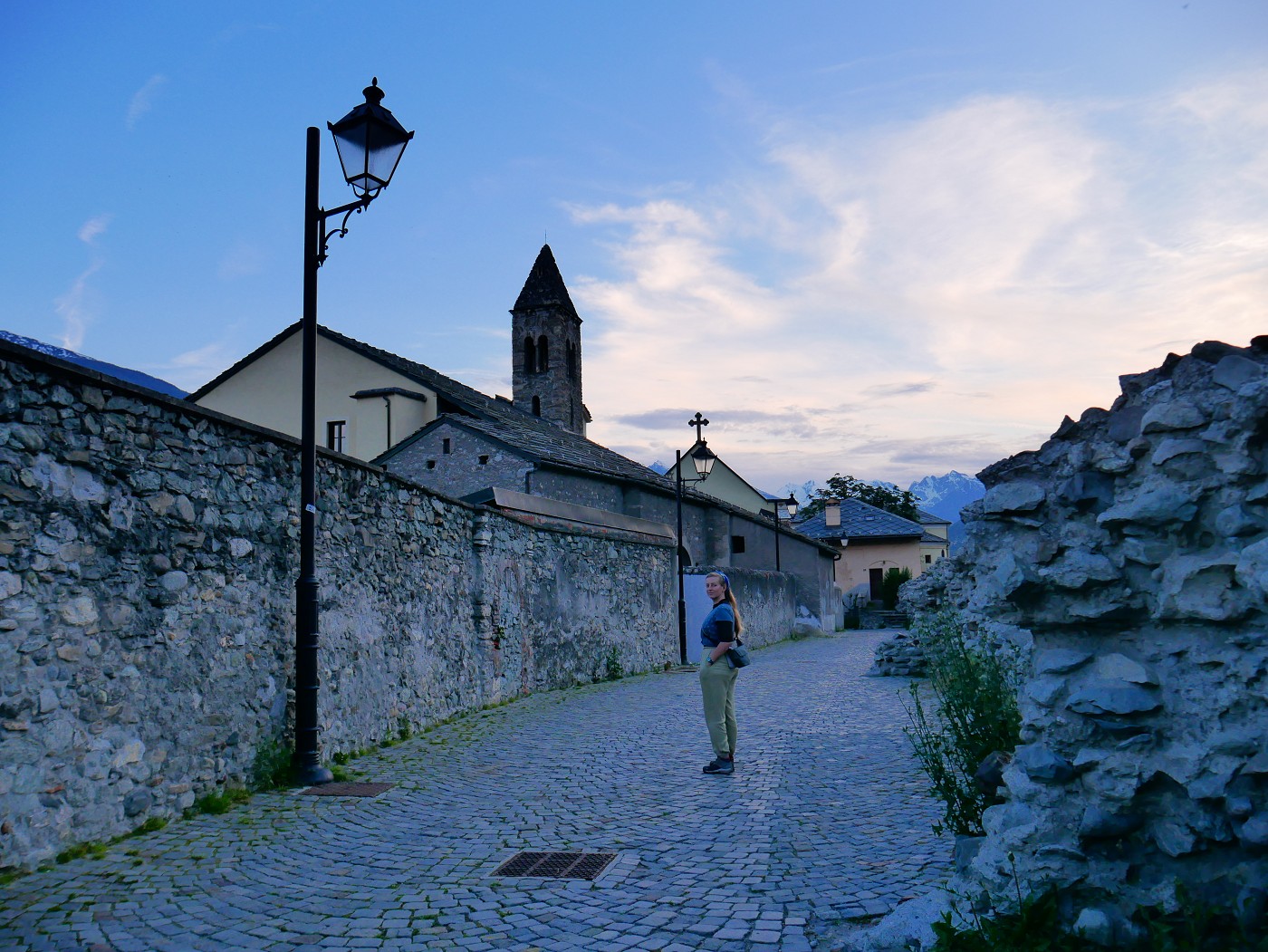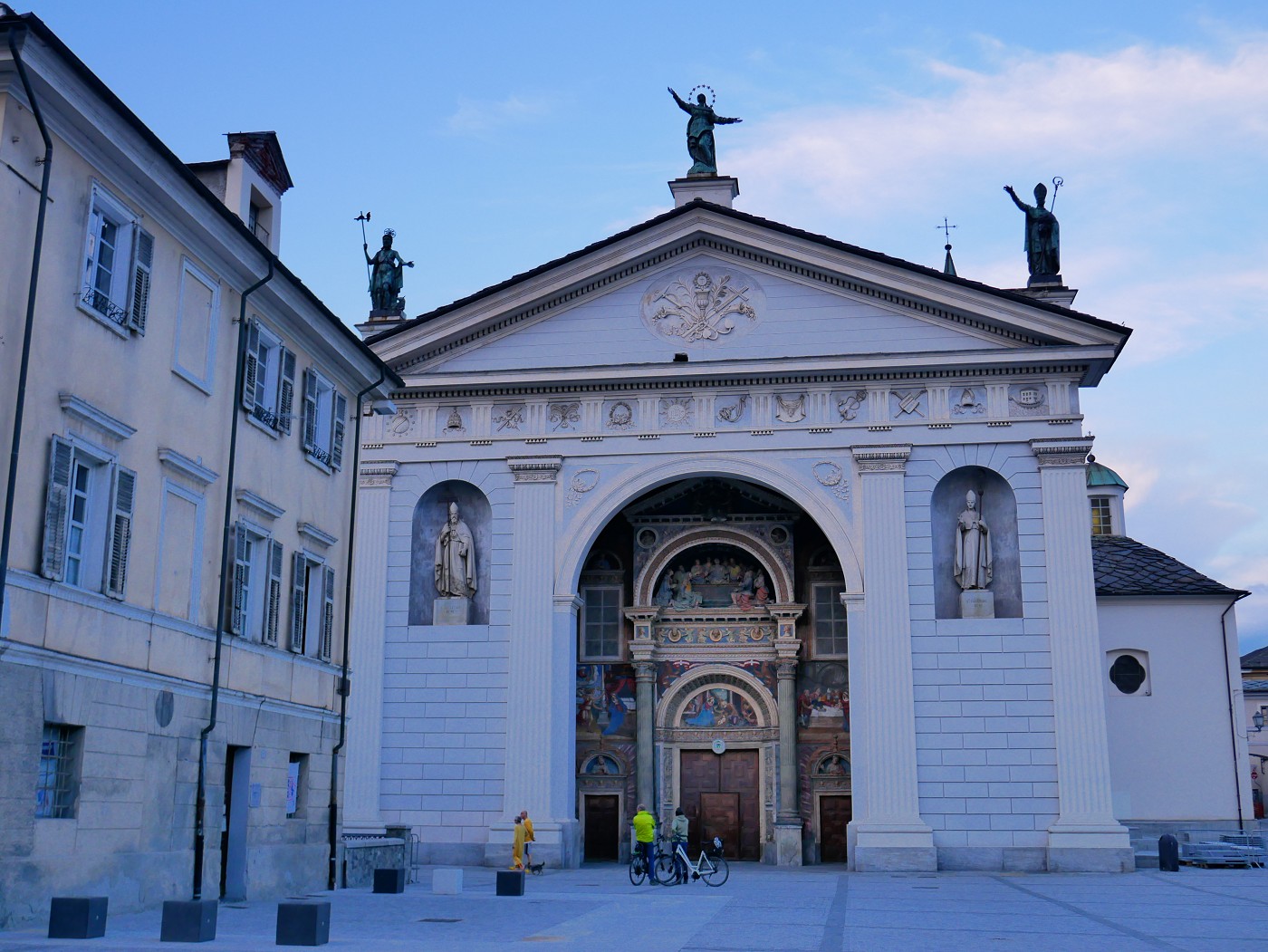 Finally, we went for one last city walk in Aosta. Doing this is better with ice cream in hand, so we returned to Dolce Terapia to get some scoops and wandered through the Porta Pretoria. The Roman Theatre was visible from the north side through an orchard with the cable car to Pila in the backdrop. We wandered past Aosta Cathedral and its ornate entrance vault back to the central square. Aosta is really the perfect mix of French and Italian.
Tomorrow will be a long day hitchhiking from Italy through Switzerland to Germany or the Netherlands. Better pack up and get some sleep.
Good info? Consider buying me a carafe of wine!
Bitcoin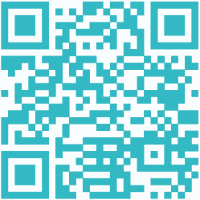 bc1q9a6w08a4gkx4gdvnh7w2vlkfzx4tlwfpfe6jm6
Open in wallet