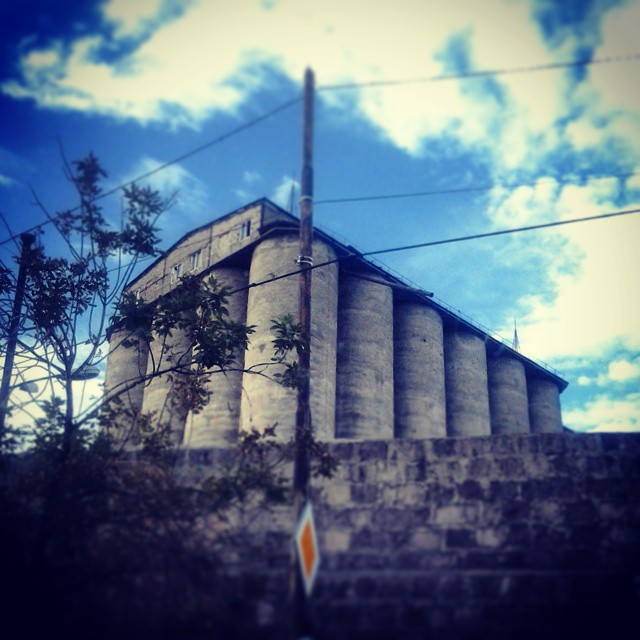 While waiting at a traffic light while taking a short ride in a taxi before hitchhiking to Vayk, we pulled up to this beauty of a building. Call it… the Soviet Acropolis in Yerevan, Armenia! I love it. I unironically love it.
You all know I have a weakness for brutalist architecture… right? If not, now we know. Also, adoring brutalism is absolutely a personality trait. Ah, I'm going to miss beautiful Yerevan.
Finding this Soviet Acropolis again on the map was a challenge that proved impossible. I searched everywhere, but couldn't find its coordinates for you. My best guess is that it's somewhere in the Nairit Chemical Plant area of Shengavit District. Honestly, there's a big chance the building won't exist for much longer because the plant is defunct. If you find this building, please leave a comment with a link to its location or the coordinates!
Rossiya Mall
A few days earlier, I walked past this mall in the center of Yerevan: Rossiya Mall. For the longest time, I thought that must house two screens of a cinema. Because of the shape. Just see: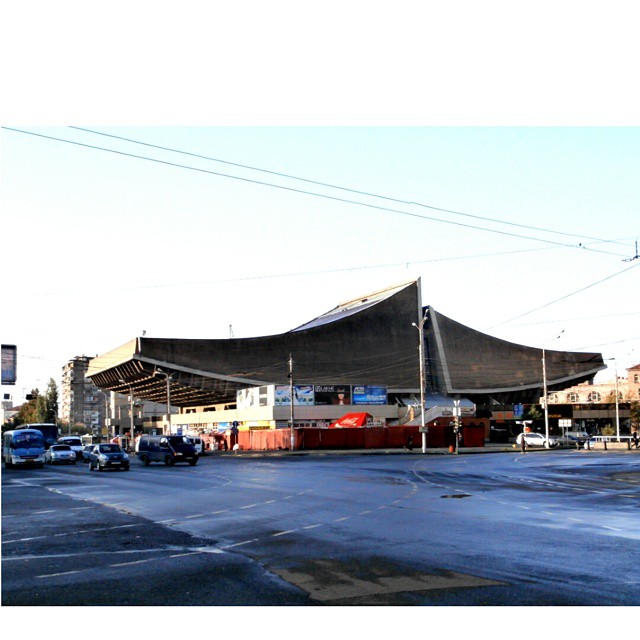 For more and better photos of Rossiya Mall, visit Soviet Modernism. To visit click here for Google Maps or absorb these coordinates: 40.17245422952735, 44.51309886930751
Edit: wait, it was a cinema. See quote from Architectuul:
The Rossiya Cinema was considered the largest cinema in Armenia, accommodating 2500 visitors. Constructed between 1968 and 1975 by Armenian architects Spartak Khachikyan, Hrachik Poghosyan, and Artur Tarkhanyan. Cinema Rossiya, later known as Soviets Rossiya and Aryarat, was built to resemble the lower and higher peaks of the revered Armenian symbol of Mt. Ararat. After the collapse of the Soviet Union, the cinema was abandoned, and then in the 1990s, commercial tents were set up here. Over time, Russia has become a shopping centre.
Ehm, I don't see how it resembles Mount Ararat, but go off I guess. I still think it's a masterpiece and should be on the bucket list of any brutalism lover.
(Originally published 6 Oct 2014 @18:13): #Soviet #Acropolis.. #nuffsaid. #Yerevan #Armenia (at Yerevan, Armenia)
(Originally published 1 Oct 2014 @10:32): Close up of the building with All The Answers #Yerevan #Armenia #architectureporn (at Yerevan, Armenia)